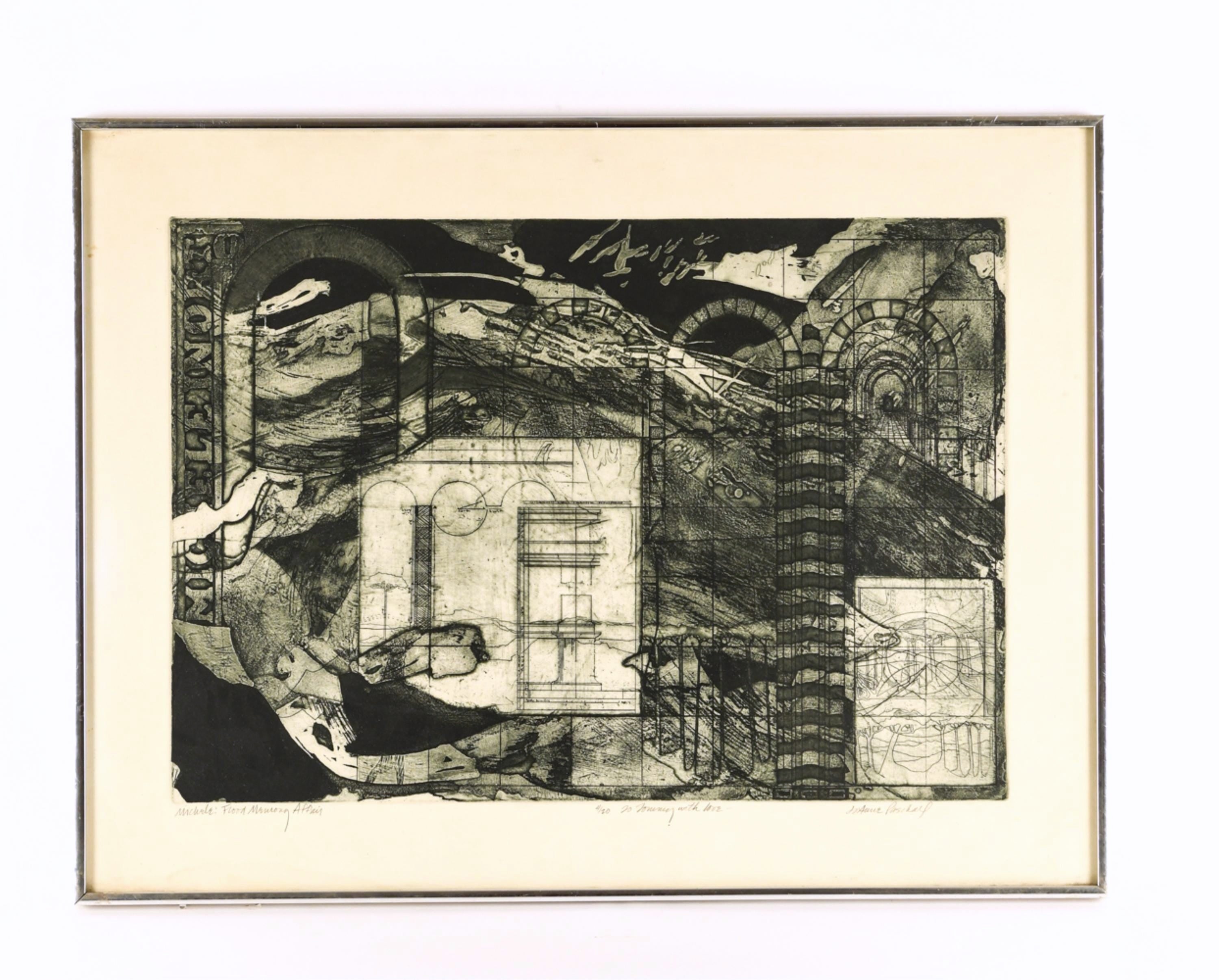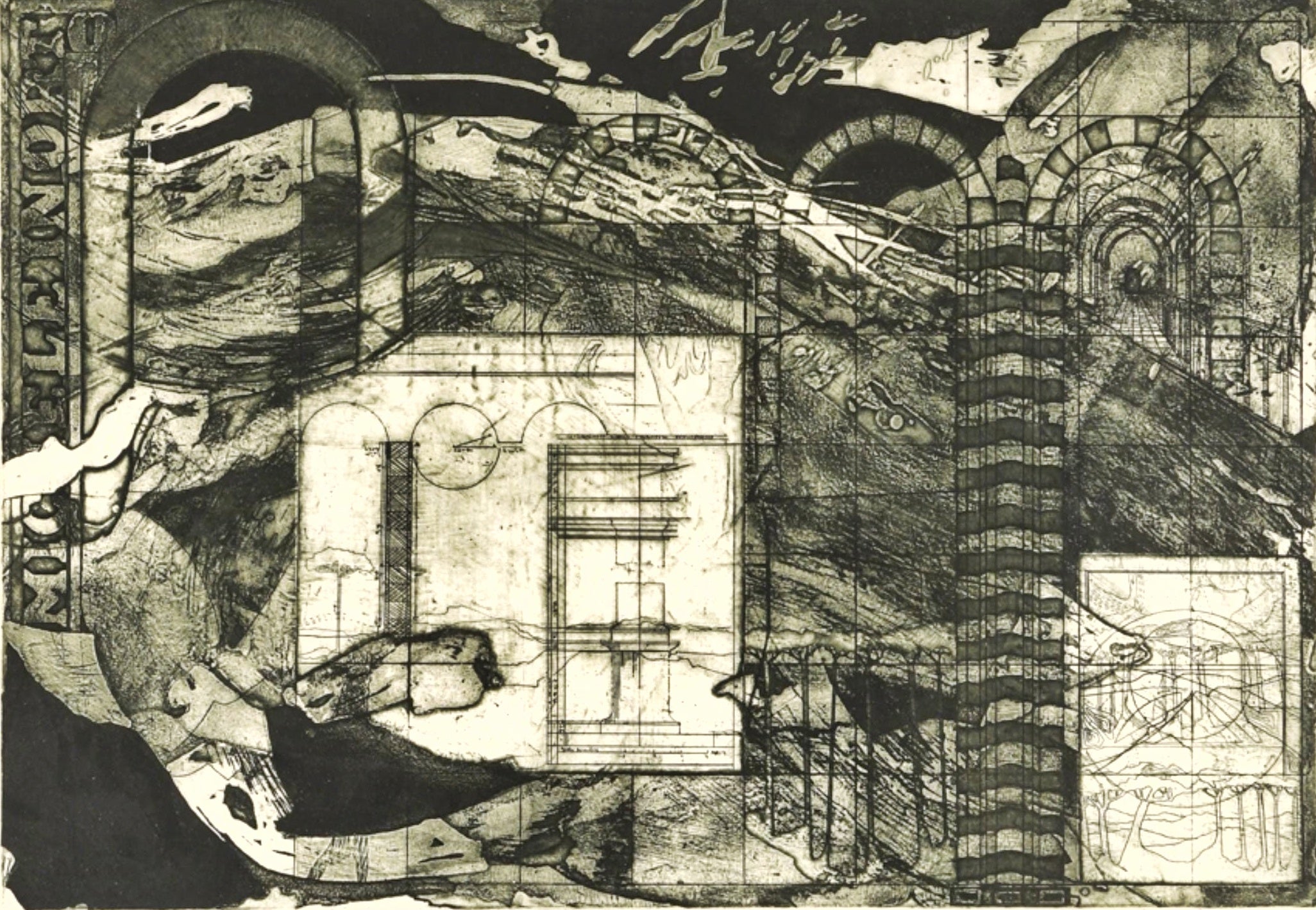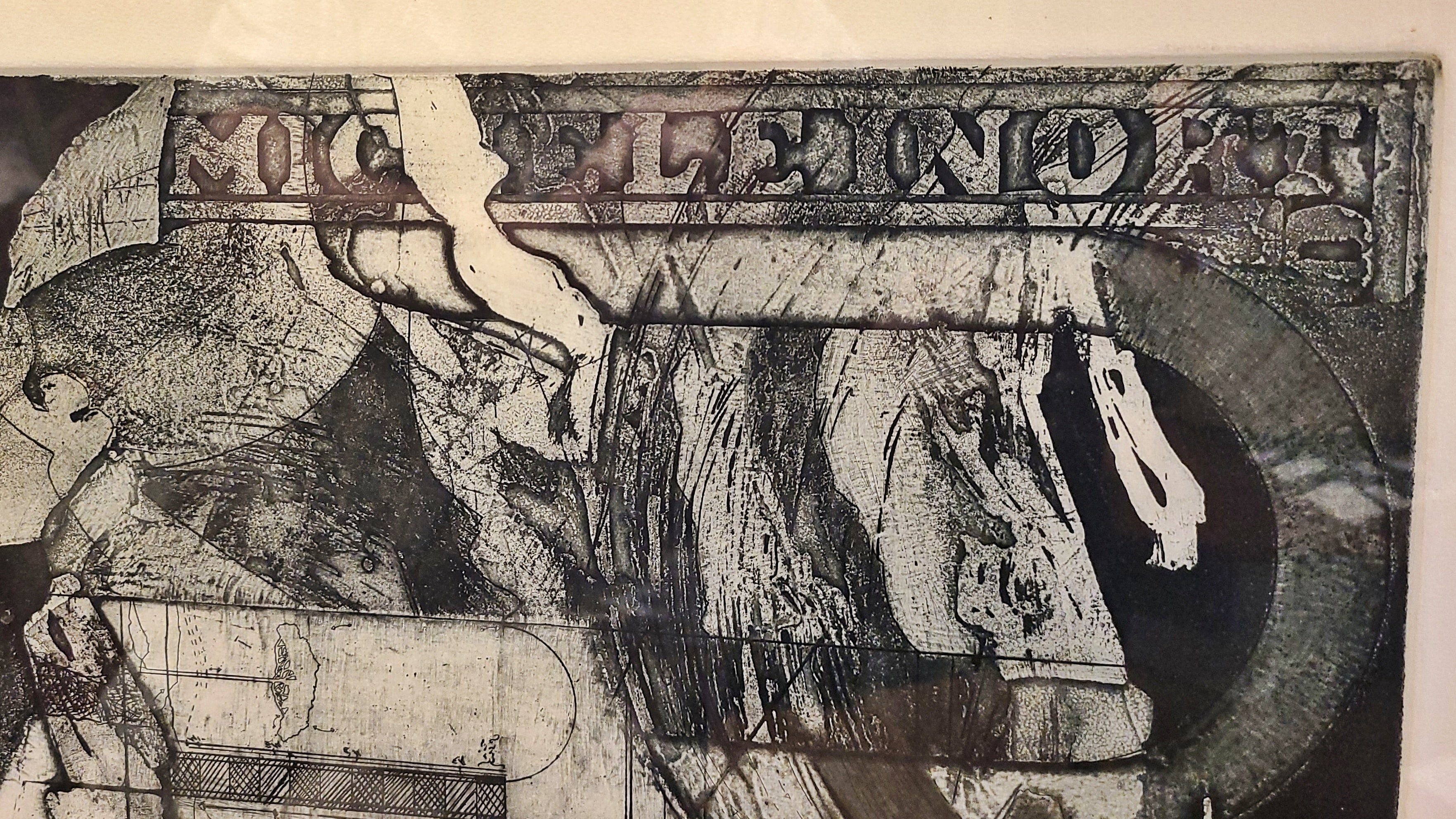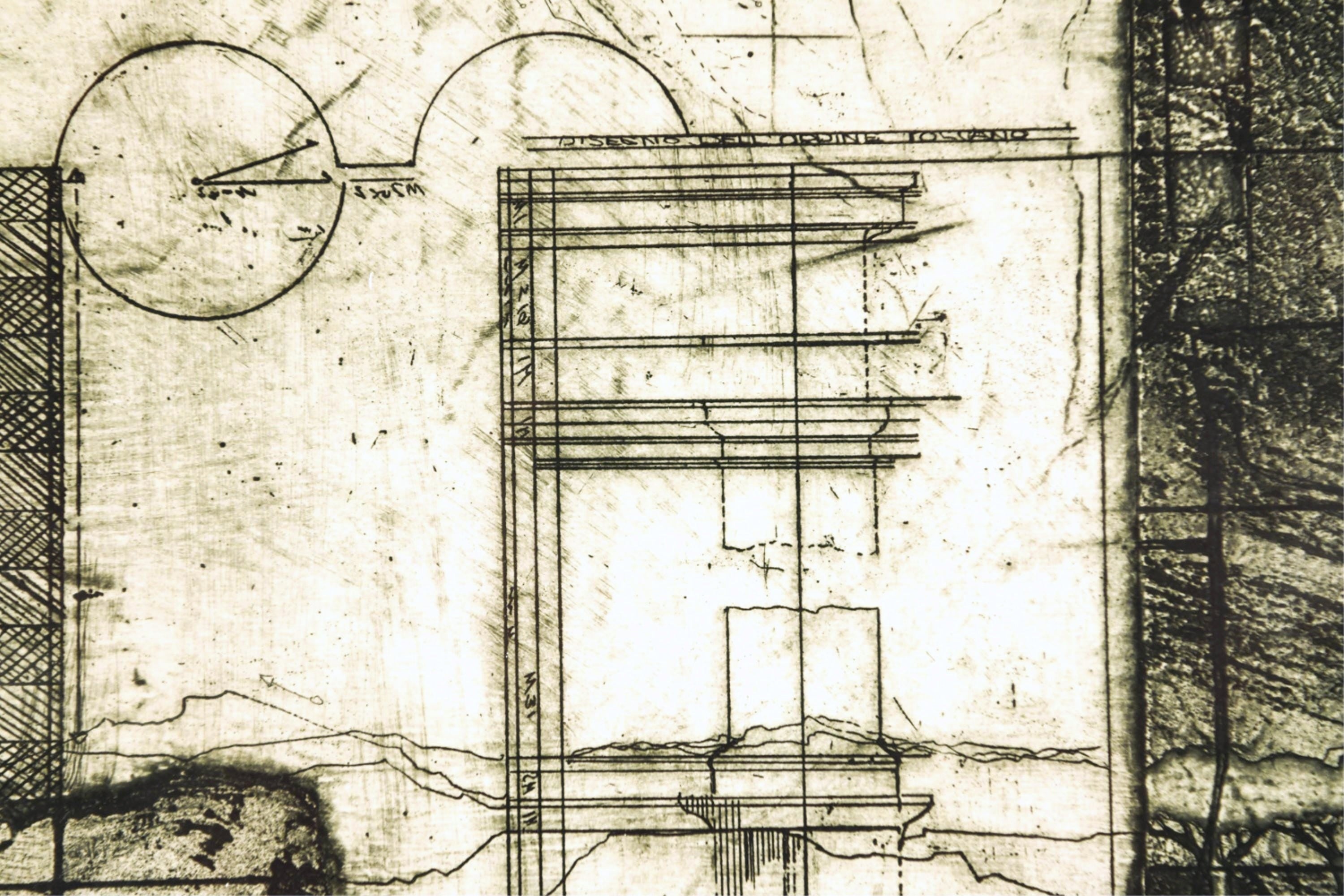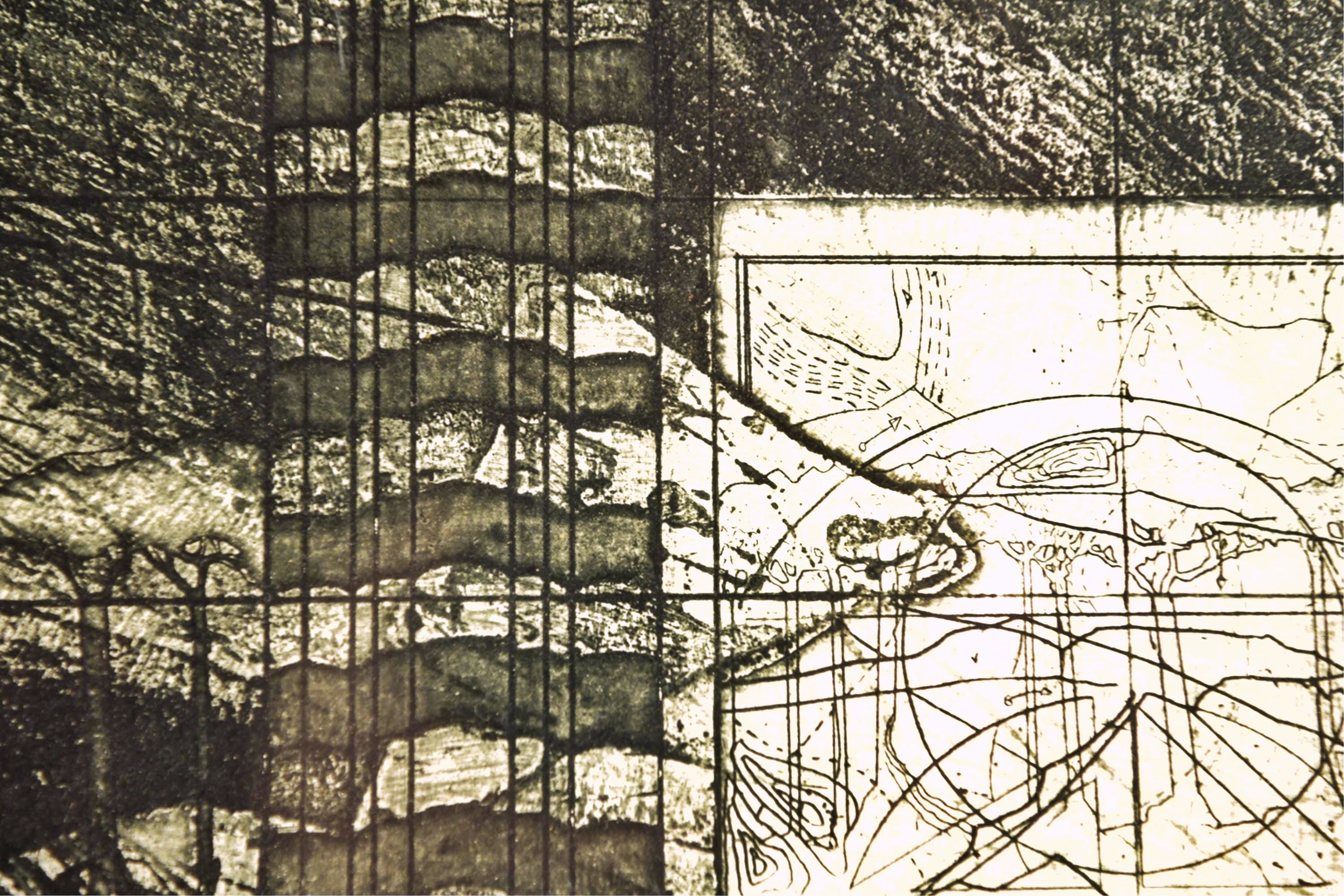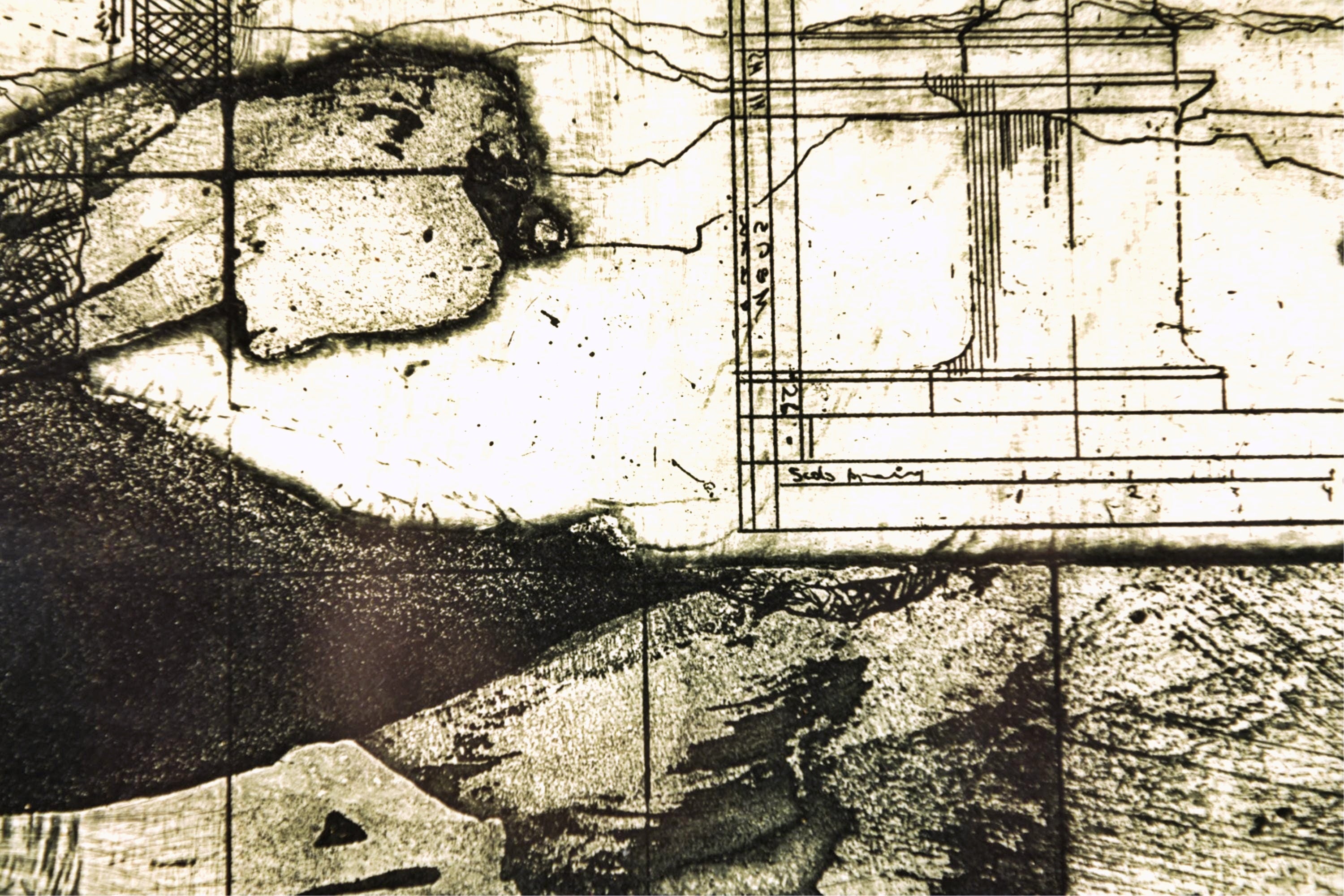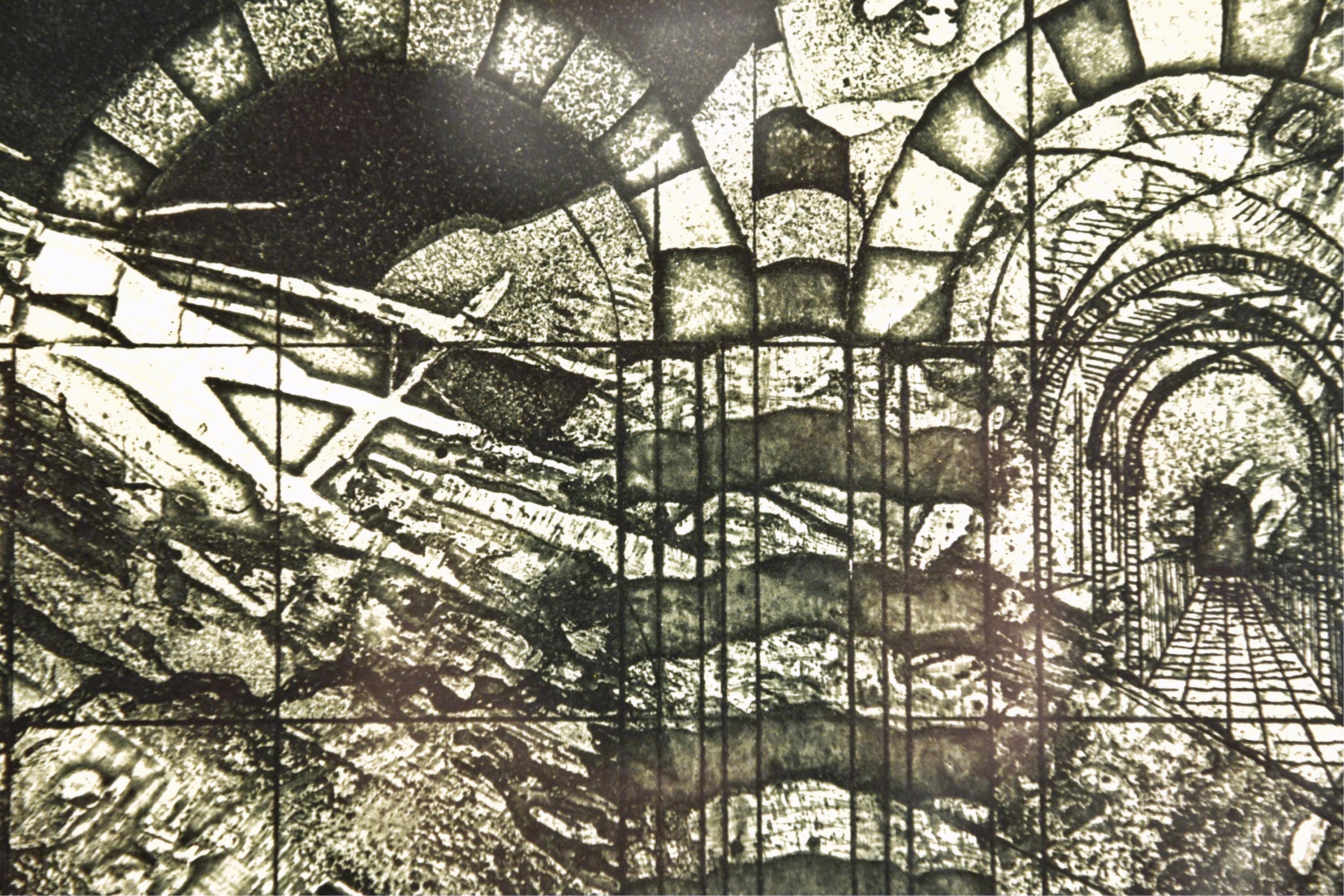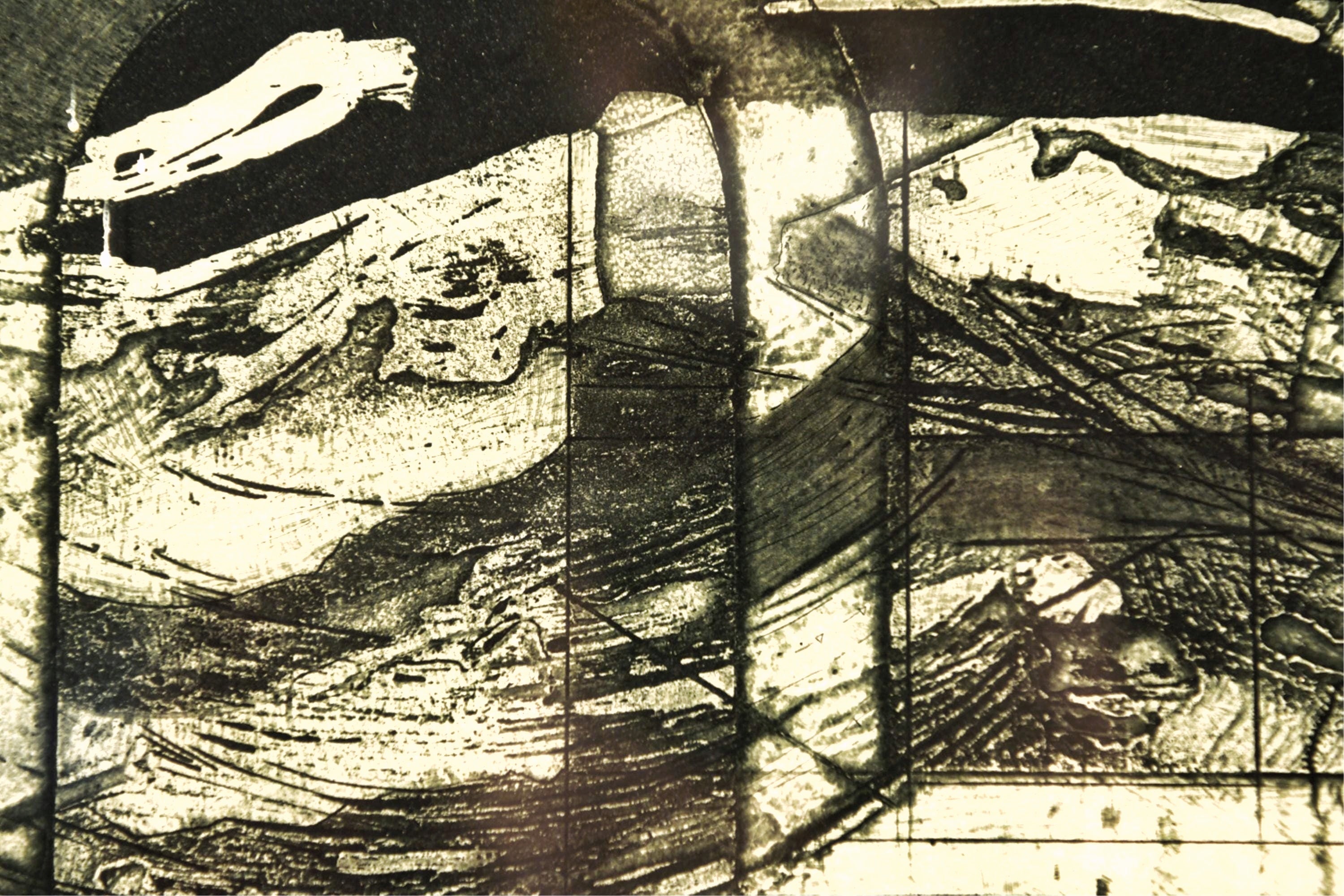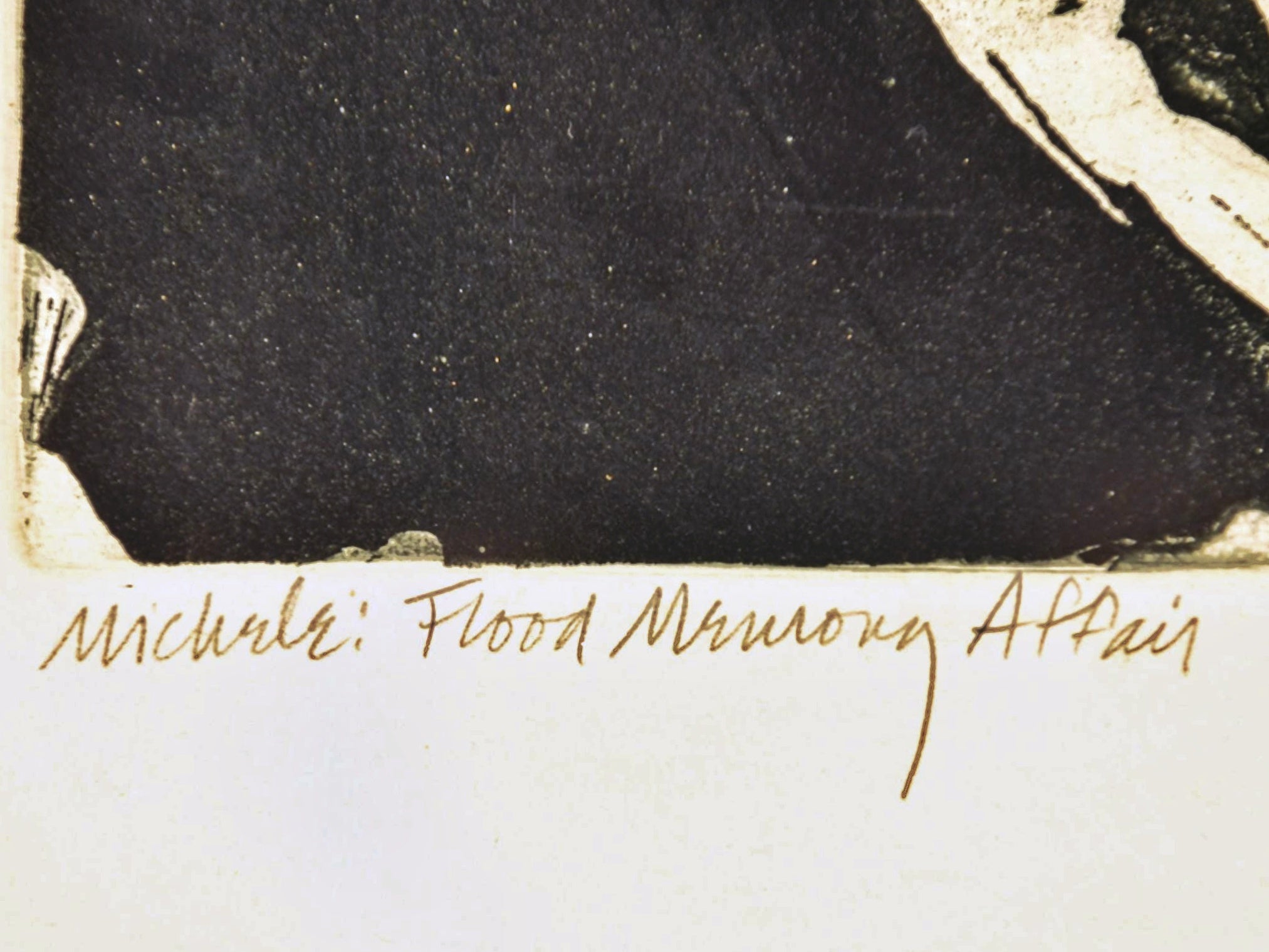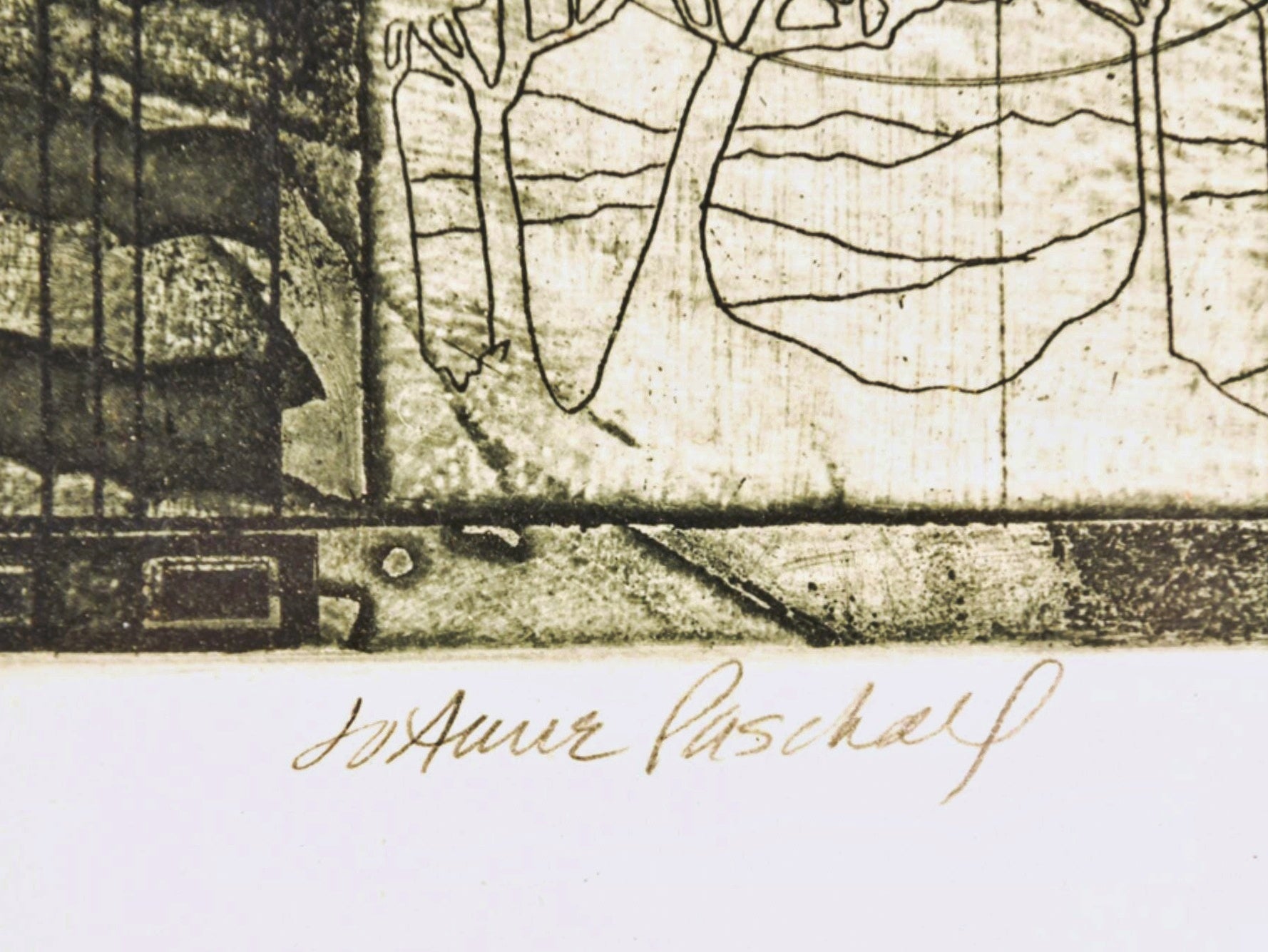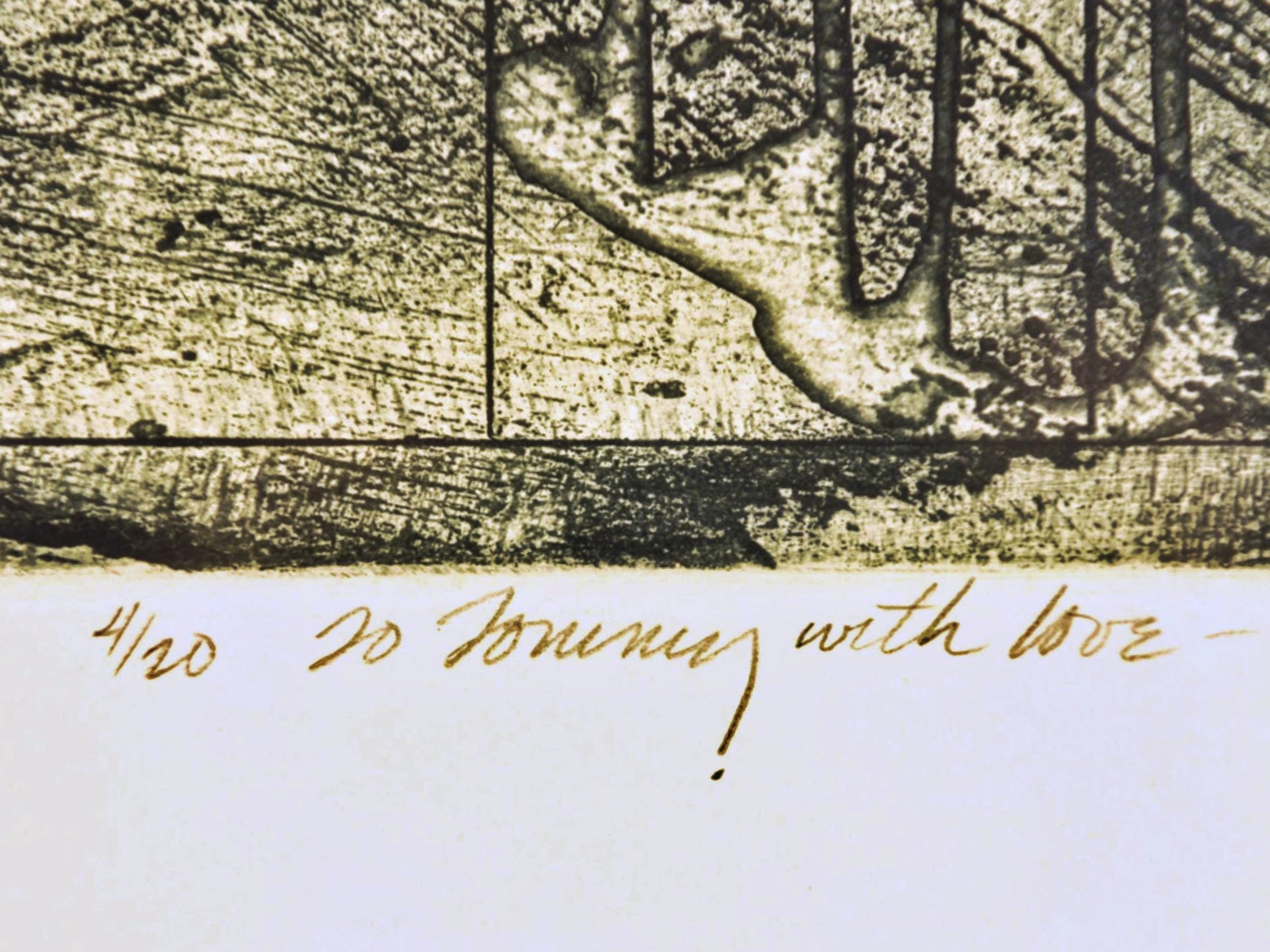 'MICHELE: FLOOD MEMORY AFFAIR' LITHOGRAPH BY JOANNE PASCHALL (1970s)
CONTACT US HERE ABOUT THIS ITEM.
An abstract—arguably surreal—limited-edition lithograph in black and gray on off-white rag paper, titled Michele: Flood Memory Affair, by Atlanta printmaker JoAnne Paschall. Numbered 4 of 20 and inscribed "To Tommy with love" in the artist's hand.
The subject appears to be certain architectural elements and landscape features, rendered in draftsman-like style, of the church of Orsanmichele (Kitchen Garden of St Michael) in Florence, Italy. Originally built as a grain market in 1337 on the site of San Michele monastery's vegetable garden, it was converted into a church sometime between 1380 and 1404. Paschall portrays the building's secular details; the ground-floor arches that formed the market's loggia are depicted.
The church was used as a chapel by the trade guilds of Florence. They were charged by the city to commission statues of their patron saints to occupy the niches of its facades. The artists who were hired—two Donatellos are among the sculptures—and the materials that were used speak to the chapel's prestige. Orsanmichele is one of 53 Italian cultural sites included on UNESCO's World Heritage List.
JOANNE PASCHALL is probably best known as the cofounder of Nexus Press, a non-profit fine arts press based in Atlanta (1978-2003). A leading publisher of experimental, artist-made books, Nexus Press produced over 200 original works, including a series of books by international artists that were released in conjunction with the Cultural Olympiad of the 1996 Olympic Games. Paschall served as the director of Nexus Press throughout most of the '90s.
Nexus Press books are held in major collections around the world, including MoMA and the Whitney Museum in NYC, the Victoria and Albert Museum in London, and the Rijksmuseum in the Netherlands.
The good news is I have plenty of wonderful things to do. – JoAnne Paschall
DETAILS
Artist – JoAnne Paschall
Period – 1970s
Origin – USA
Styles/Movements – Modern; Abstract; Surrealism
Media – Lithograph
Support – Rag paper
Edition – 4/20
Colors – Black, gray
Condition – Very good vintage condition. Some age toning.
Dimensions – 29 ¼" W × ¾" D × 22 ¼" H