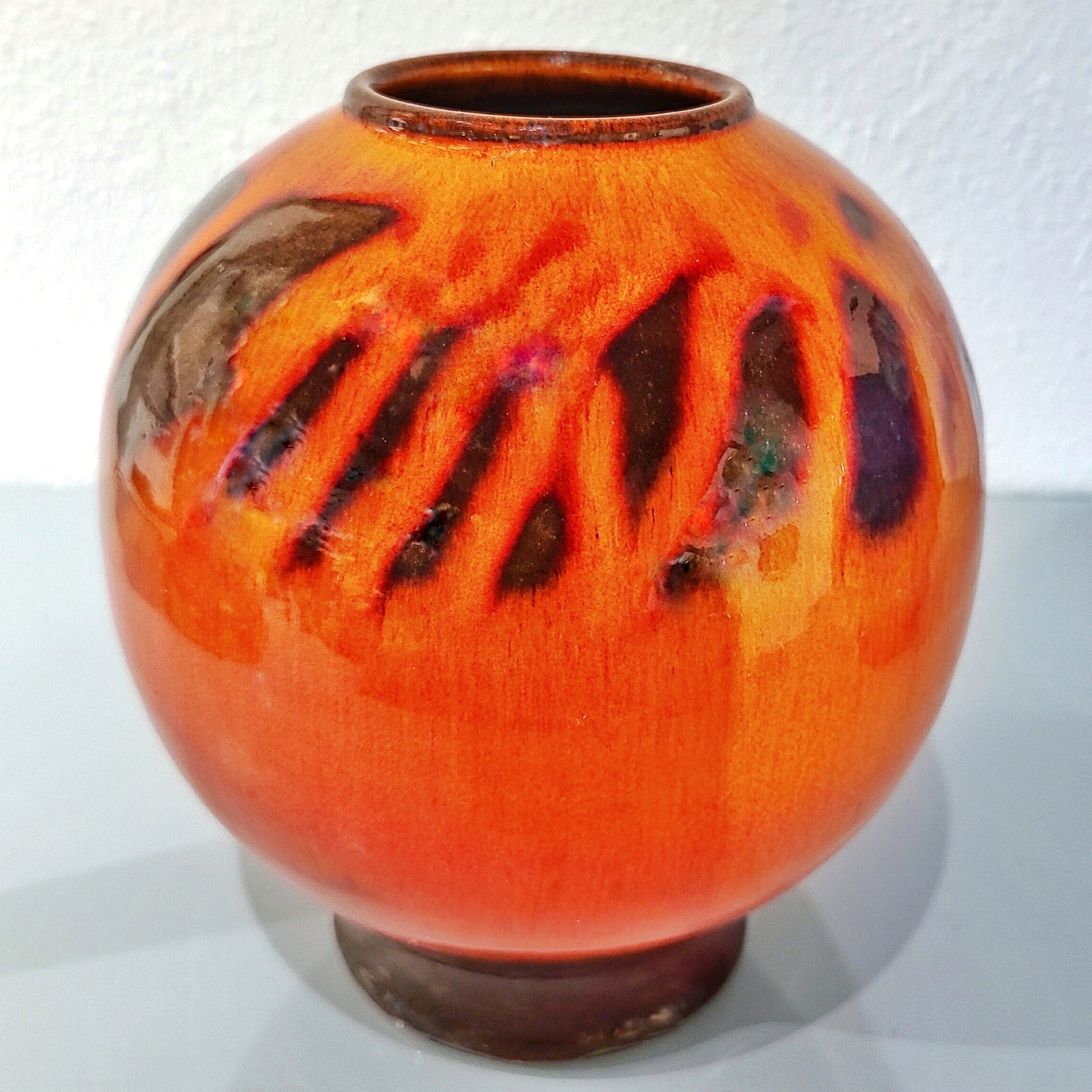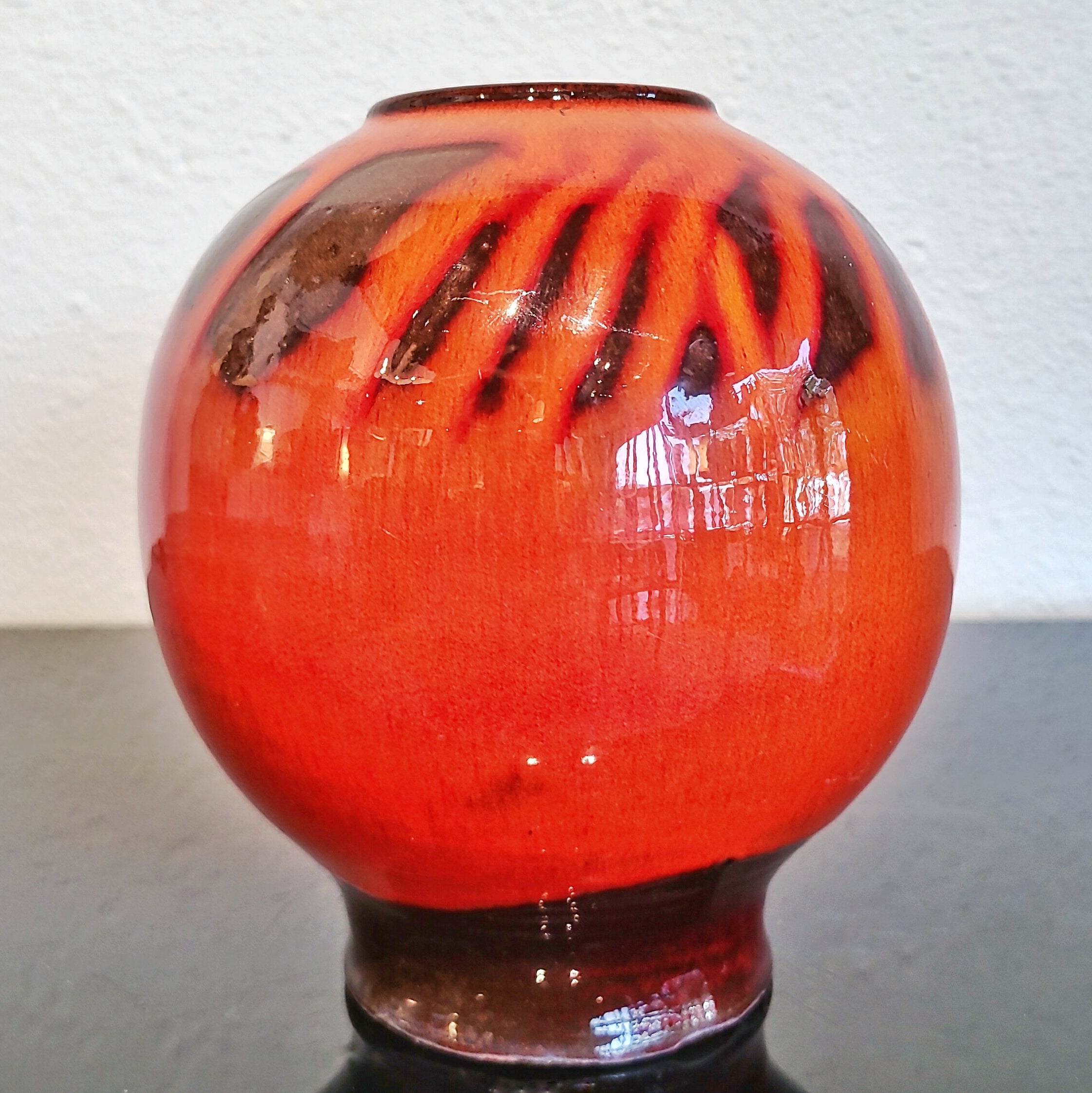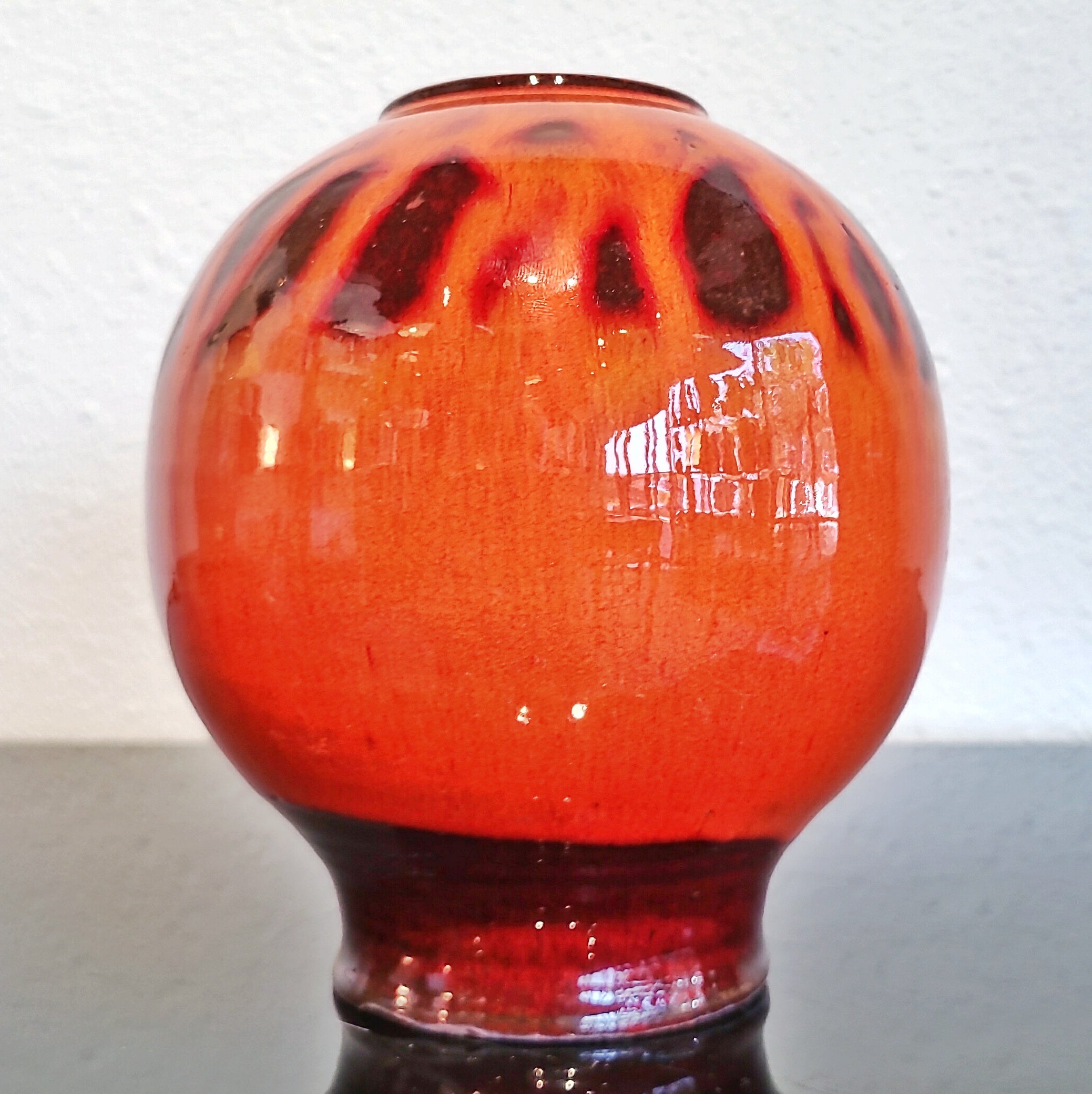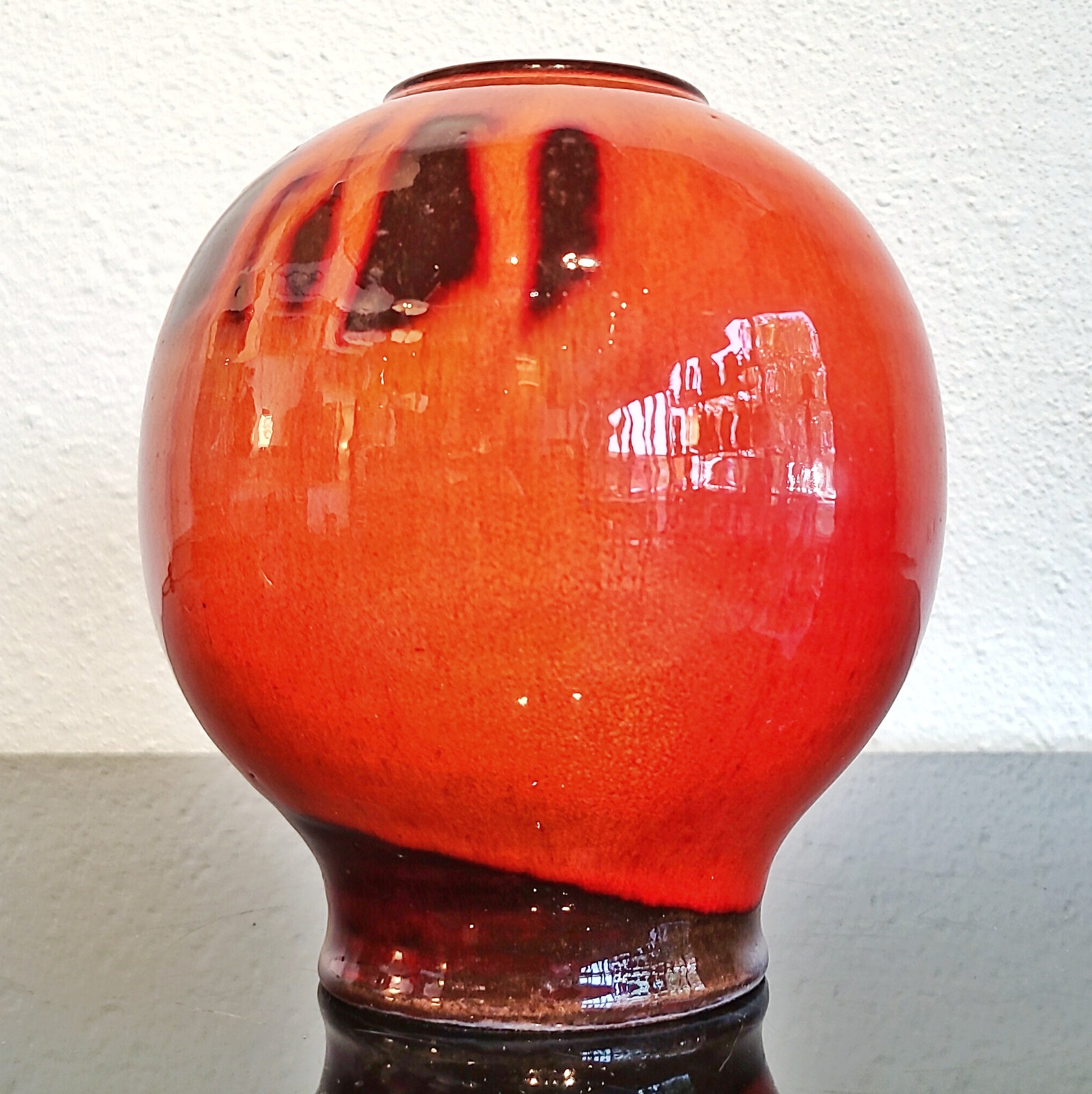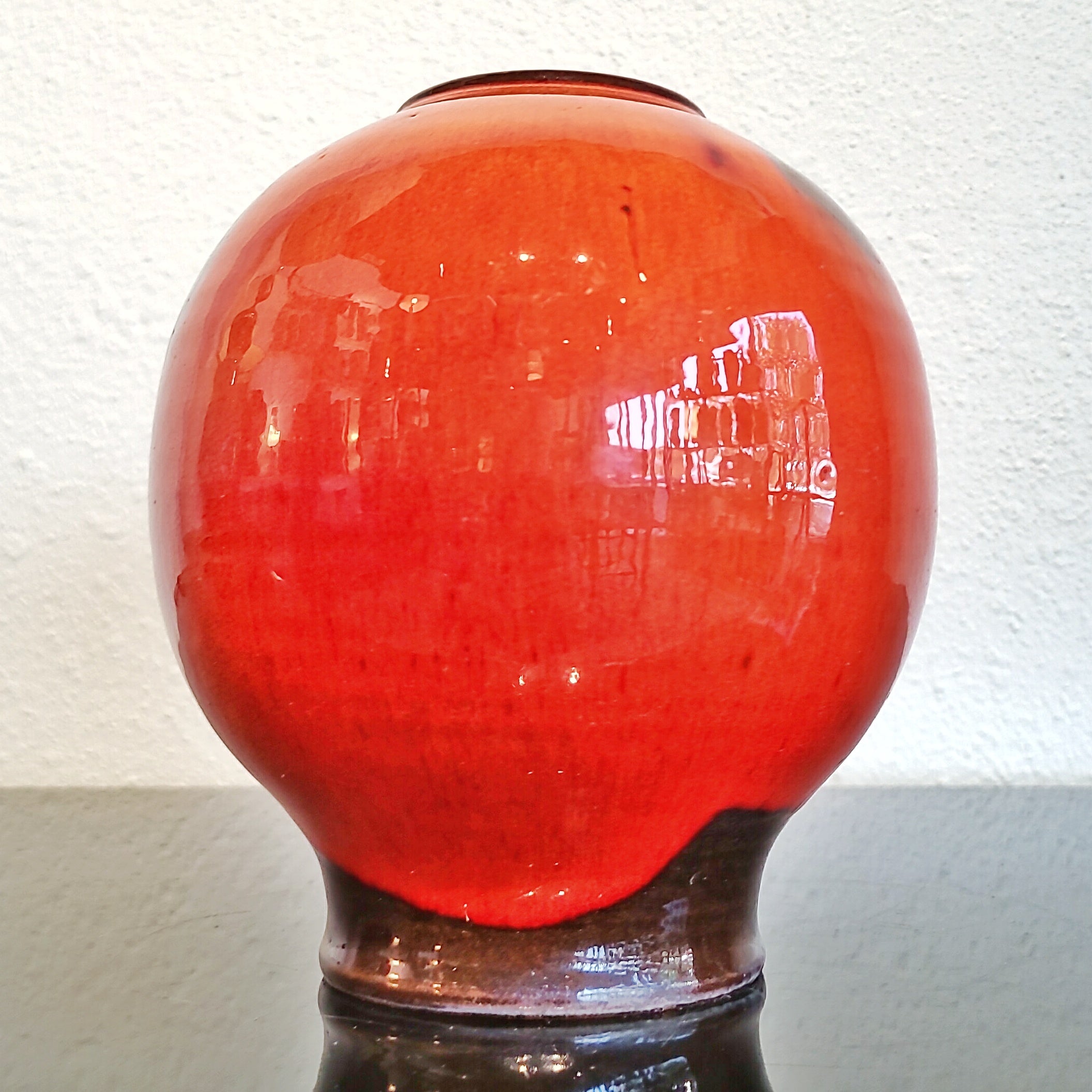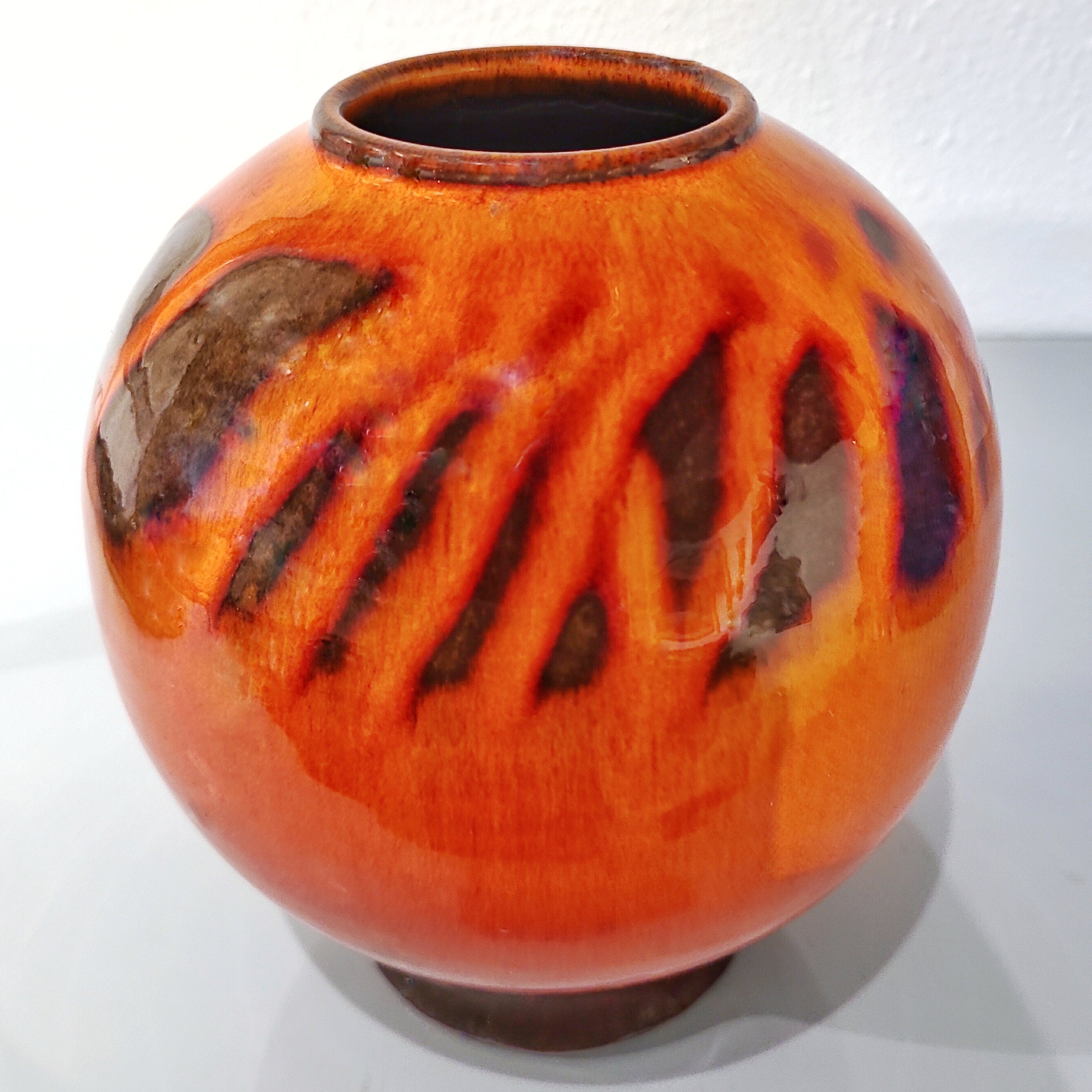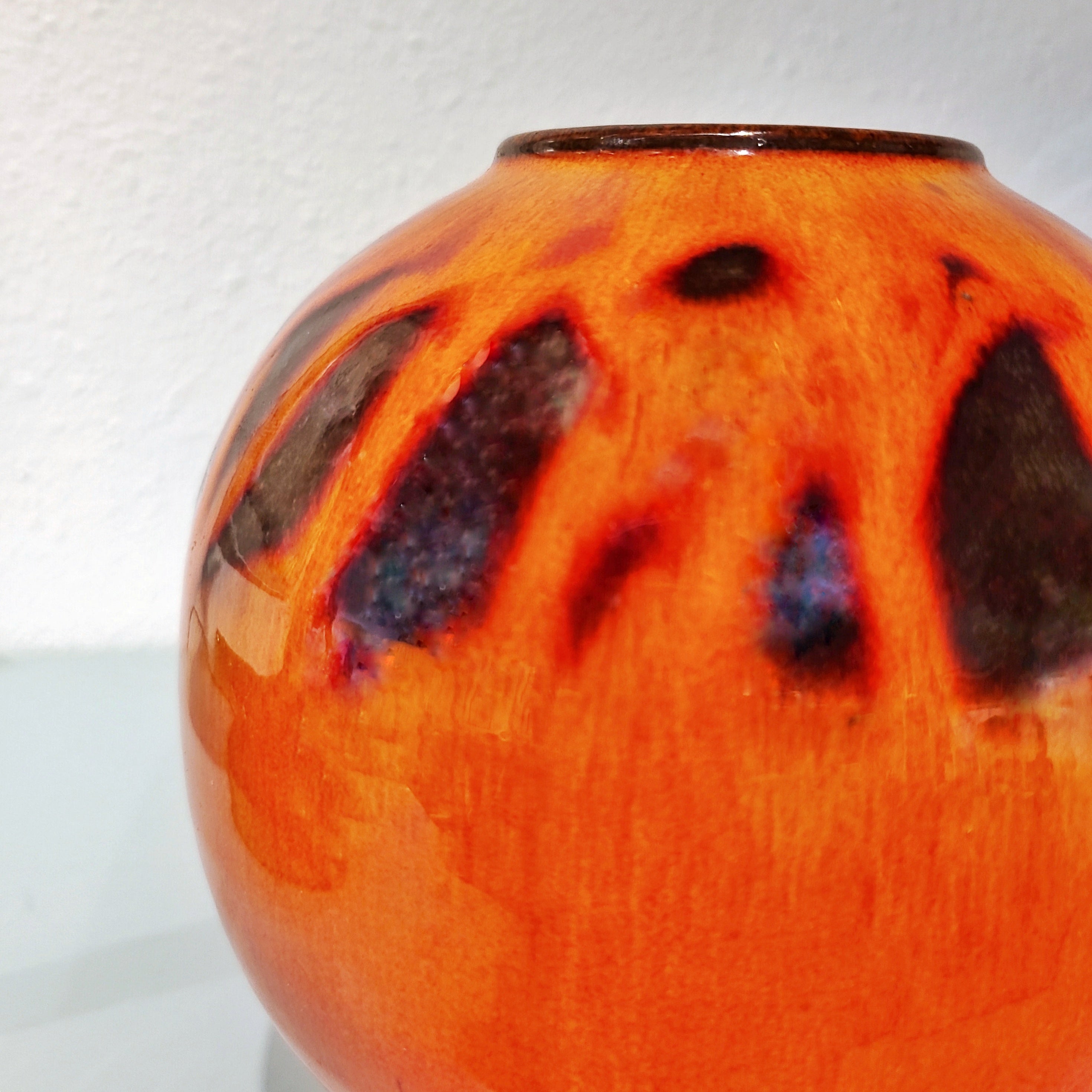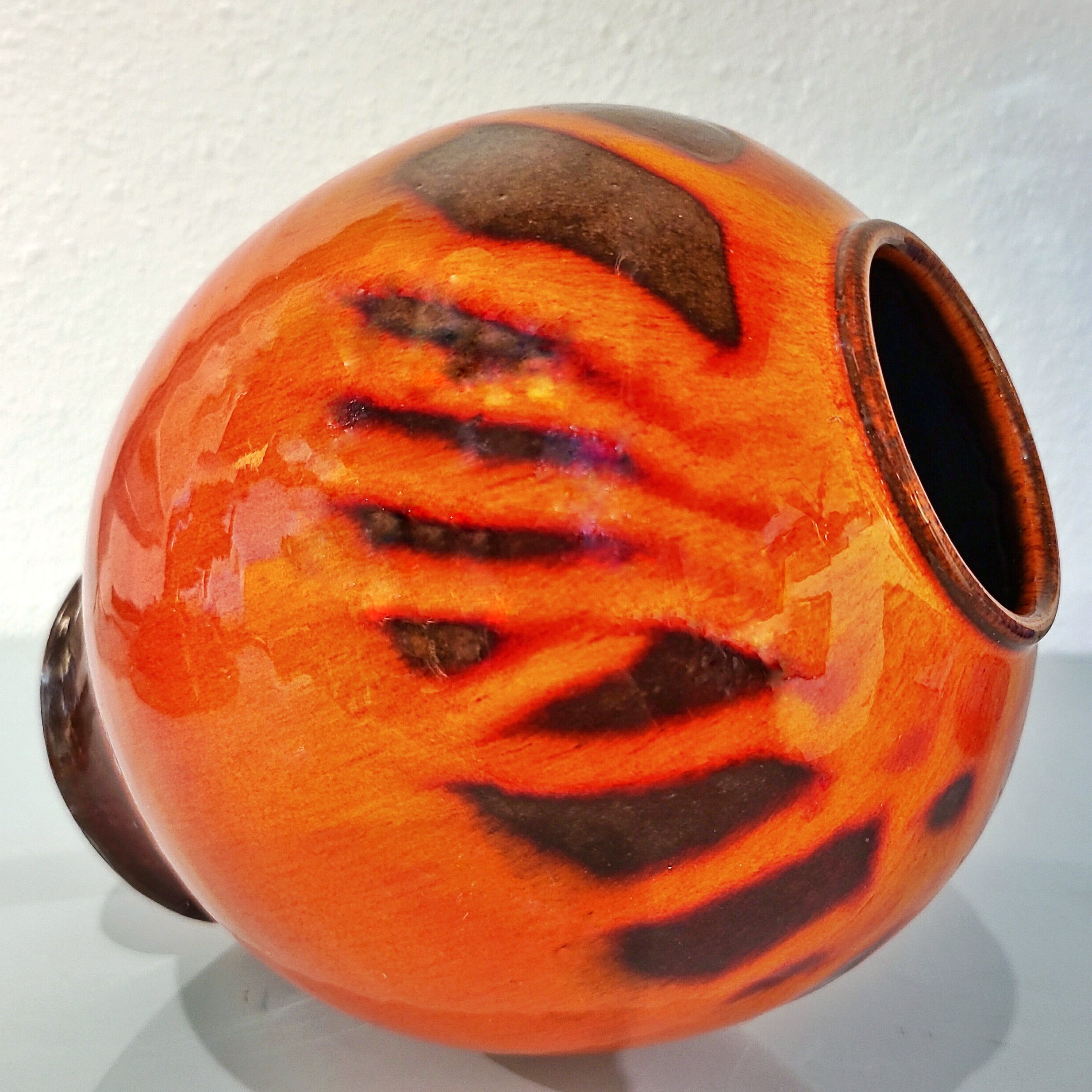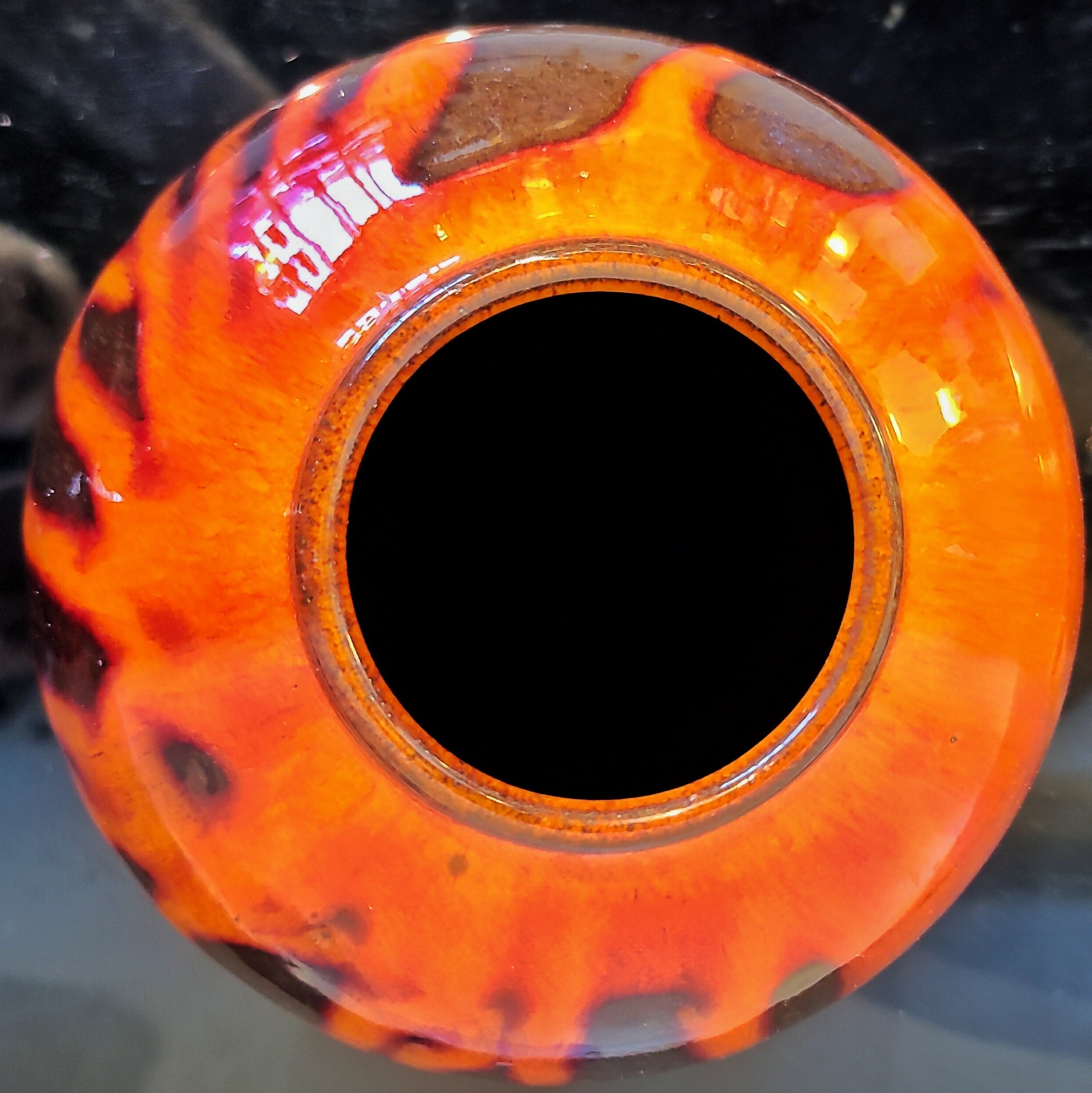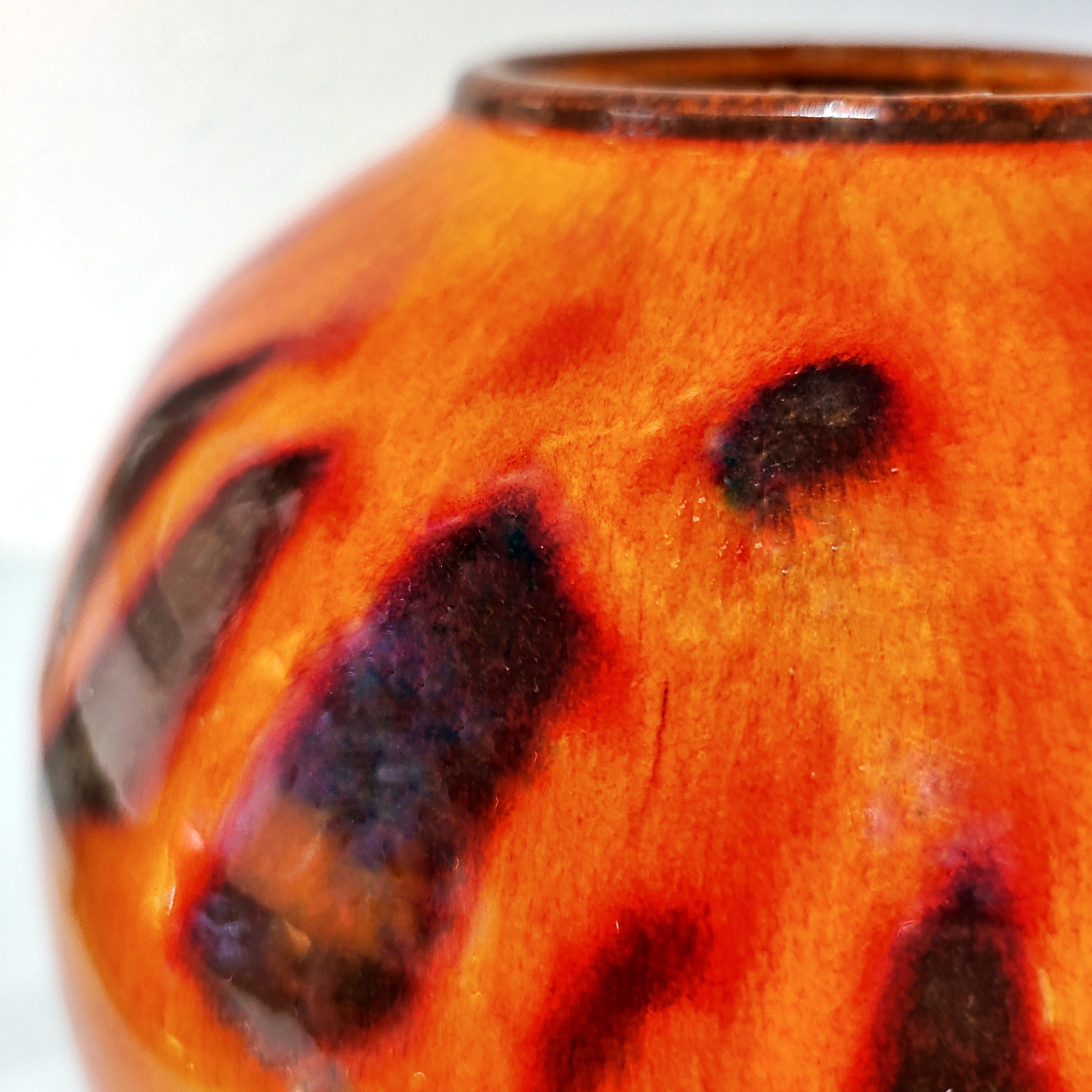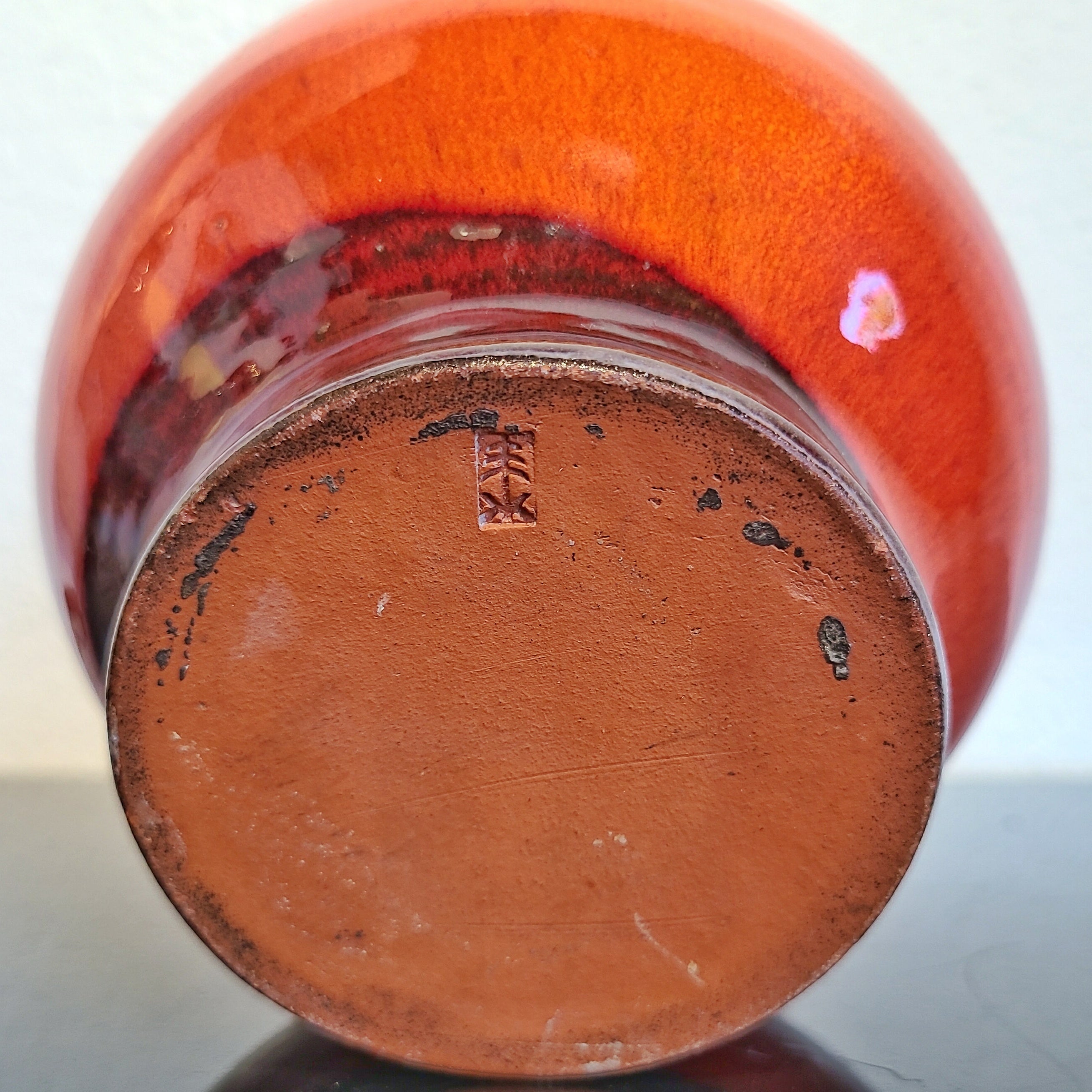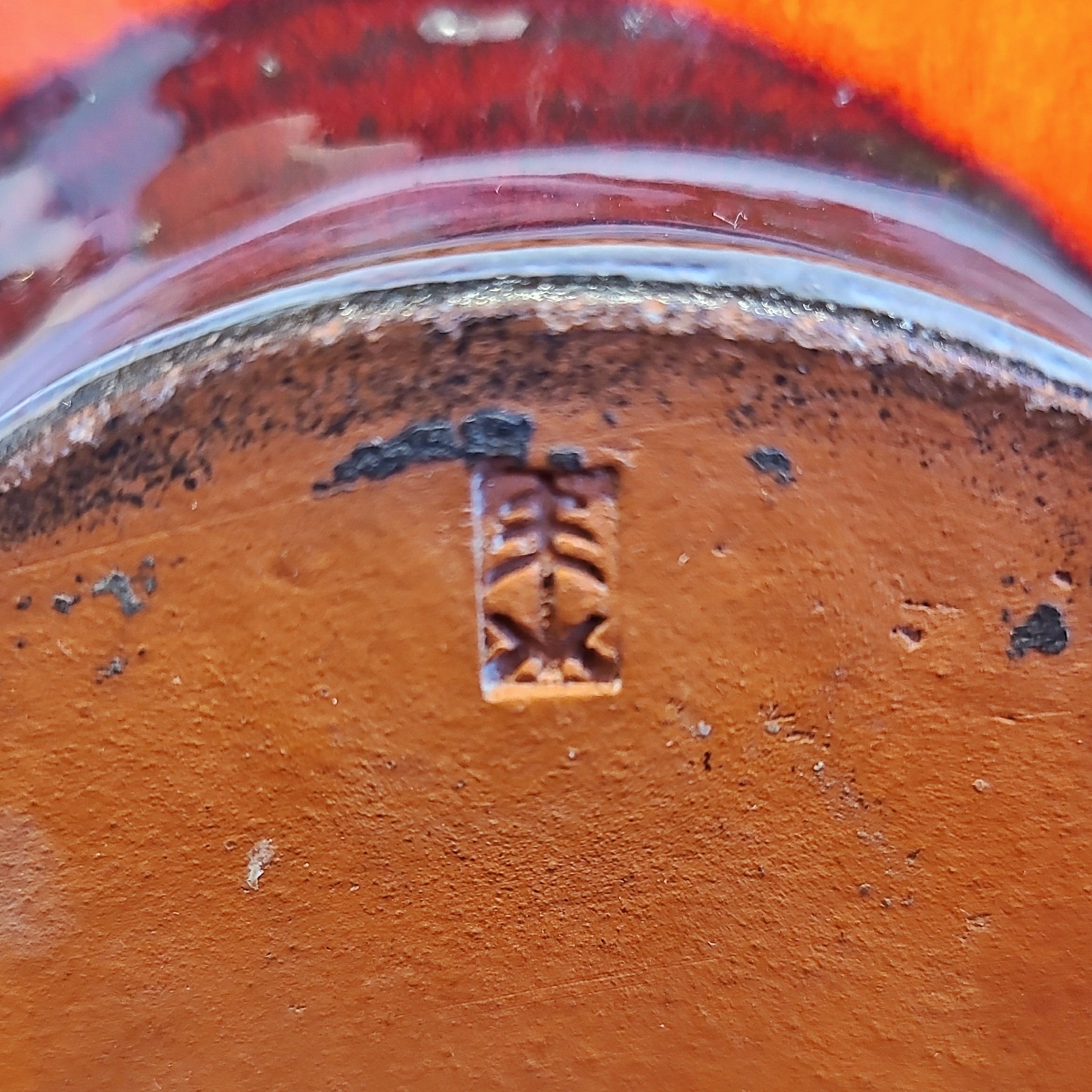 ORANGE ELLY & WILHELM KUCH STUDIO POTTERY ORB VASE
CONTACT US HERE ABOUT THIS ITEM.
A beautiful glossy orange and brown footed orb vase from the studio of Elly & Wilhelm Kuch, Nuremberg, Germany
TÖPFEREI WILHELM & ELLY KUCH began in 1947 as a workshop specializing in the production of art ceramics, with an emphasis on glazing. Founded by autodidact Wilhelm Kuch (b. 1925) in the Bavarian municipality of Burgthann, 20 km southeast of Nuremberg, it was rechristened in 1951 following Wilhelm's marriage to potter and goldsmith Elly Hauenstein (1929–2008). As a craft-oriented studio, TÖPFEREI KUCH continually worked with apprentices and journeymen, and the range of materials and techniques that were employed was subject to constant expansion. Both functional and ornamental objects, produced in small series, were represented in TÖPFEREI KUCH's manufacturing program—along with free-standing sculptural works, architectural ceramics, and tiled stoves. Since the mid 1950s, a number of individual pieces were created jointly by the couple. The shapes of these were usually up to Elly; the glazes and the painterly decoration were Wilhelm's responsibility. These efforts were provided with a name stamp in addition to the typical workshop mark. (Wilhelm passed his master craftsman's examination in 1953.)
In 1966 the Kuchs became the first Germans ever to be awarded the Premio Faenza by the Museo Internazionale delle Ceramiche in Faenzaone in its long-standing international ceramics competition—arguably the world's most prestigious—repeating their win in 1973. Elly Kuch represented Germany at the International Ceramic Symposium that same year at the Memphis Academy of Art, which gathered 25 artists from 13 different countries. The couple's awards also included a gold medal at the Ceramics International 73 in Calgary, Alberta. The Kuch's work is held in the collections of the Museum Boijmans Van Beuningen in Rotterdam; the International Ceramics Museum in Weiden, Germany; and the Kunstmuseum Hersbruck in Hersbruck, Germany. In 1983 the couple were founding members of Gruppe 83, a coalition of German ceramicists. TÖPFEREI KUCH remained popular until it ceased operations in 1990 Its output was exhibited across Germany with regular frequency. Elly Kuch was creating ceramics up until her death in 2008.
Elly considers her work more as forms than as sculpture. She thinks it is very important to see different ways of working in ceramics. She and her husband, Wilhelm, are now working with a gas kiln and reduction firing, which she feels is, for them, "a new beginning in ceramics." – 1973 INTERNATIONAL CERAMIC SYMPOSIUM CATALOGUE
GRUPPE 83 formed in 1983 when the German members of the International Academy of Ceramics (IAC) joined forces in order to promote ceramics as an independent art form in Germany; to support German ceramic artists internationally; and to encourage new artists. The secret of the group's decades-long cohesion is undoubtedly its renunciation of a common artistic program. Until 2013 membership in the IAC was a necessary criterion for involvement with Gruppe 83; that year a majority decision of the group severed the link to the IAC as some younger candidates saw it as an obstacle to joining.
DETAILS
Maker – TÖPFEREI WILHEM UND ELLY KUCH
Production Period – 1960s
Designer – WILHELM & ELLY KUCH
Design Period – 1960s
Origin – WEST GERMANY
Styles/Movements – MID-CENTURY MODERN
Materials – CERAMIC
Colors – ORANGE, BROWN
Condition – Excellent vintage condition. No damage. May show signs of previous use.
Dimensions – 4 ½" DIAM. × 11" H