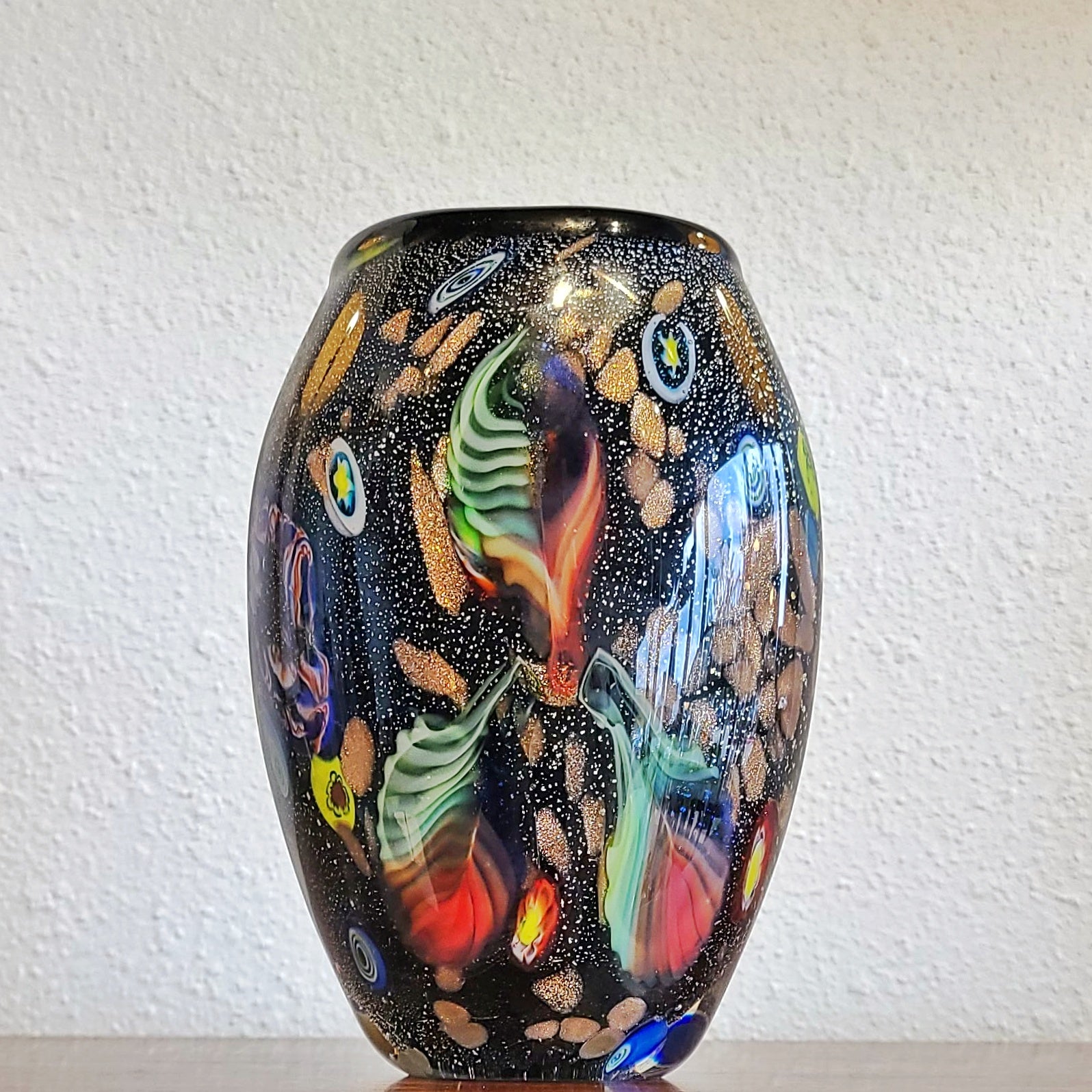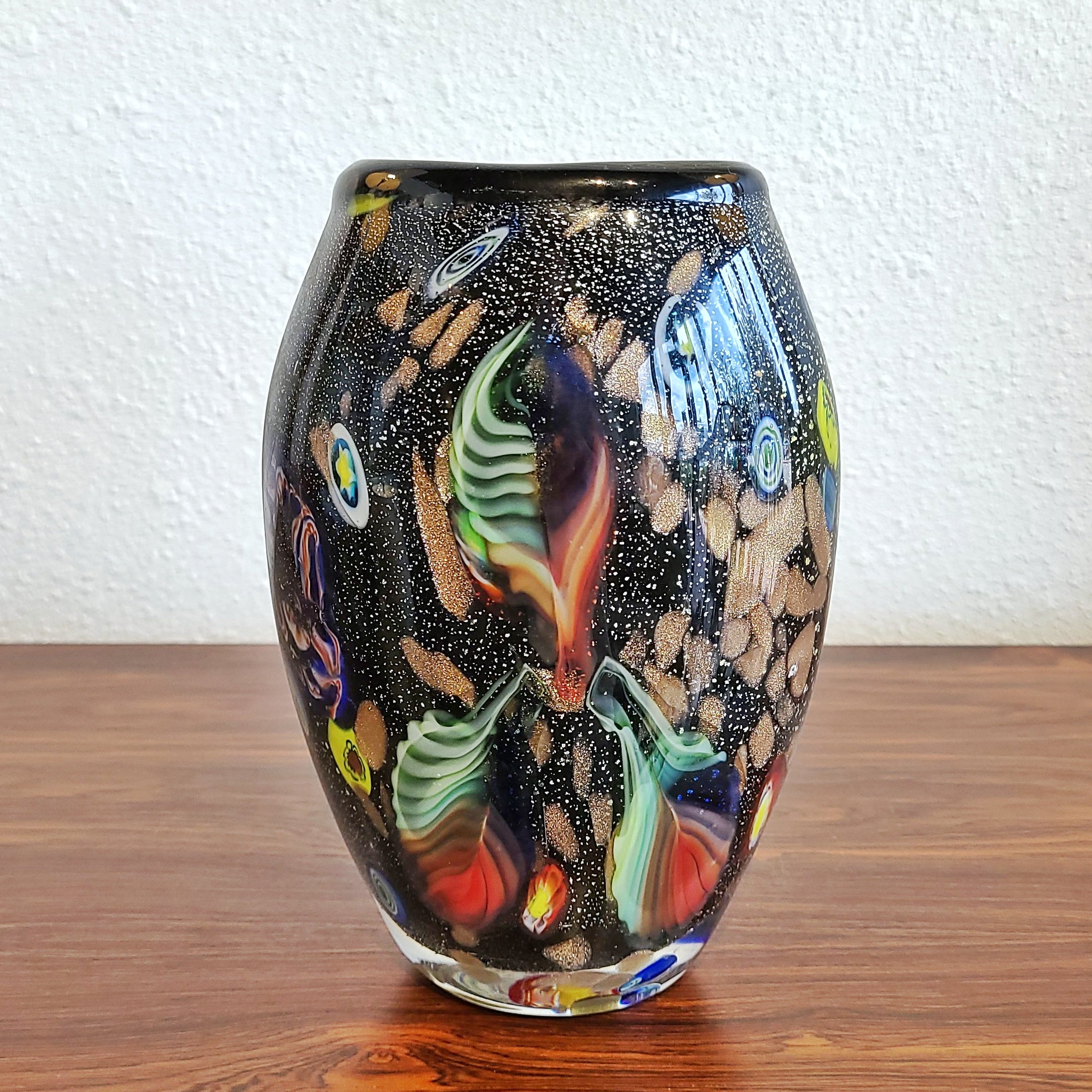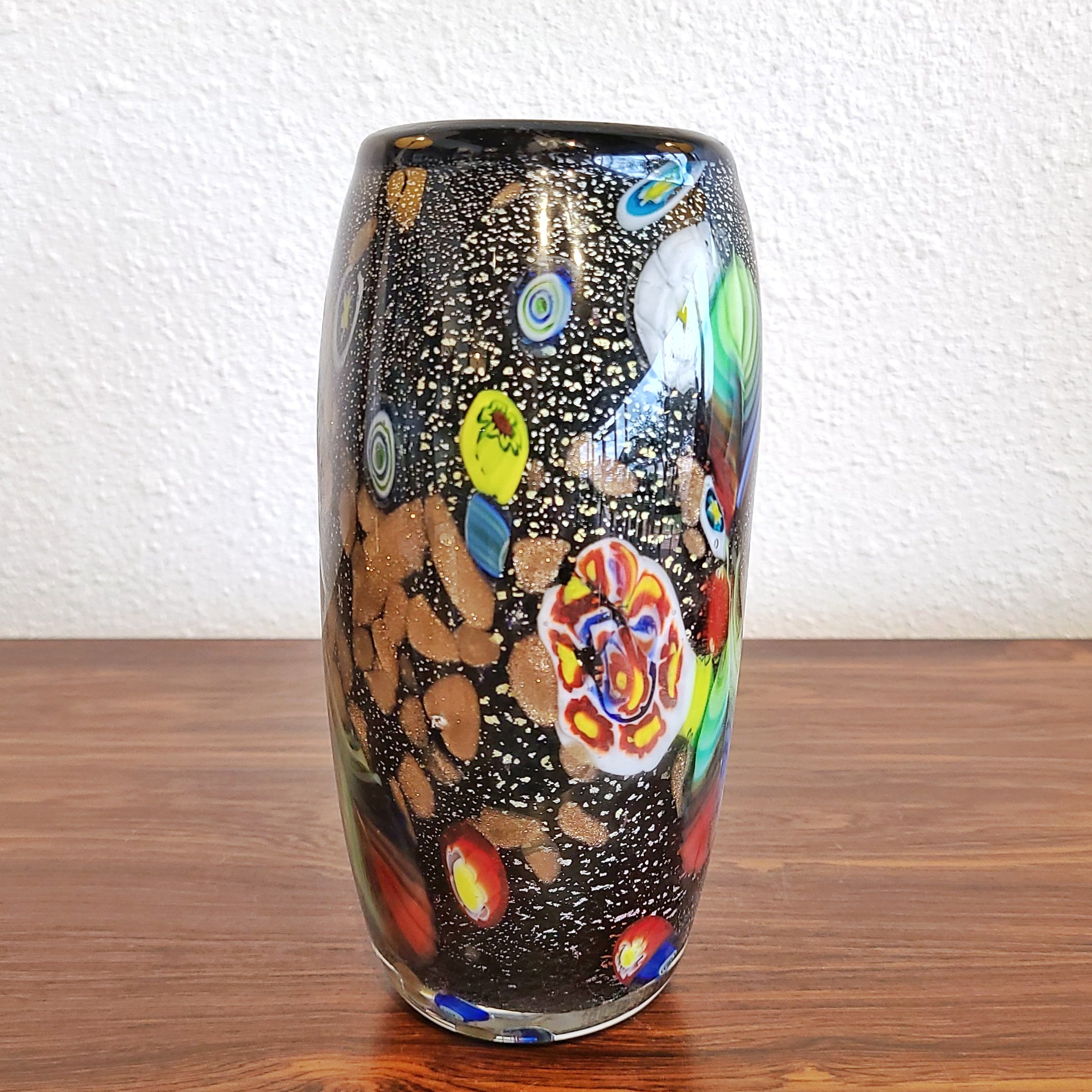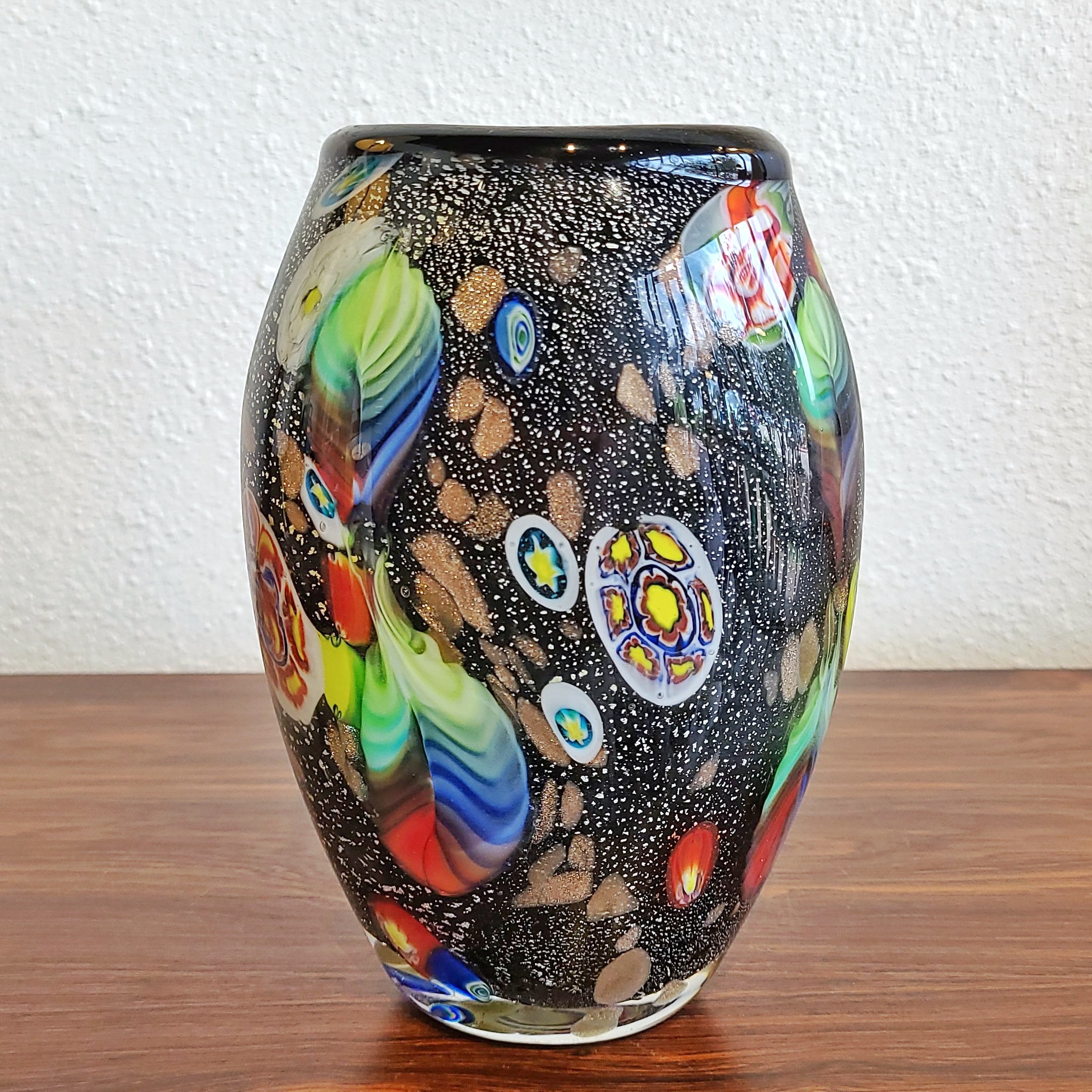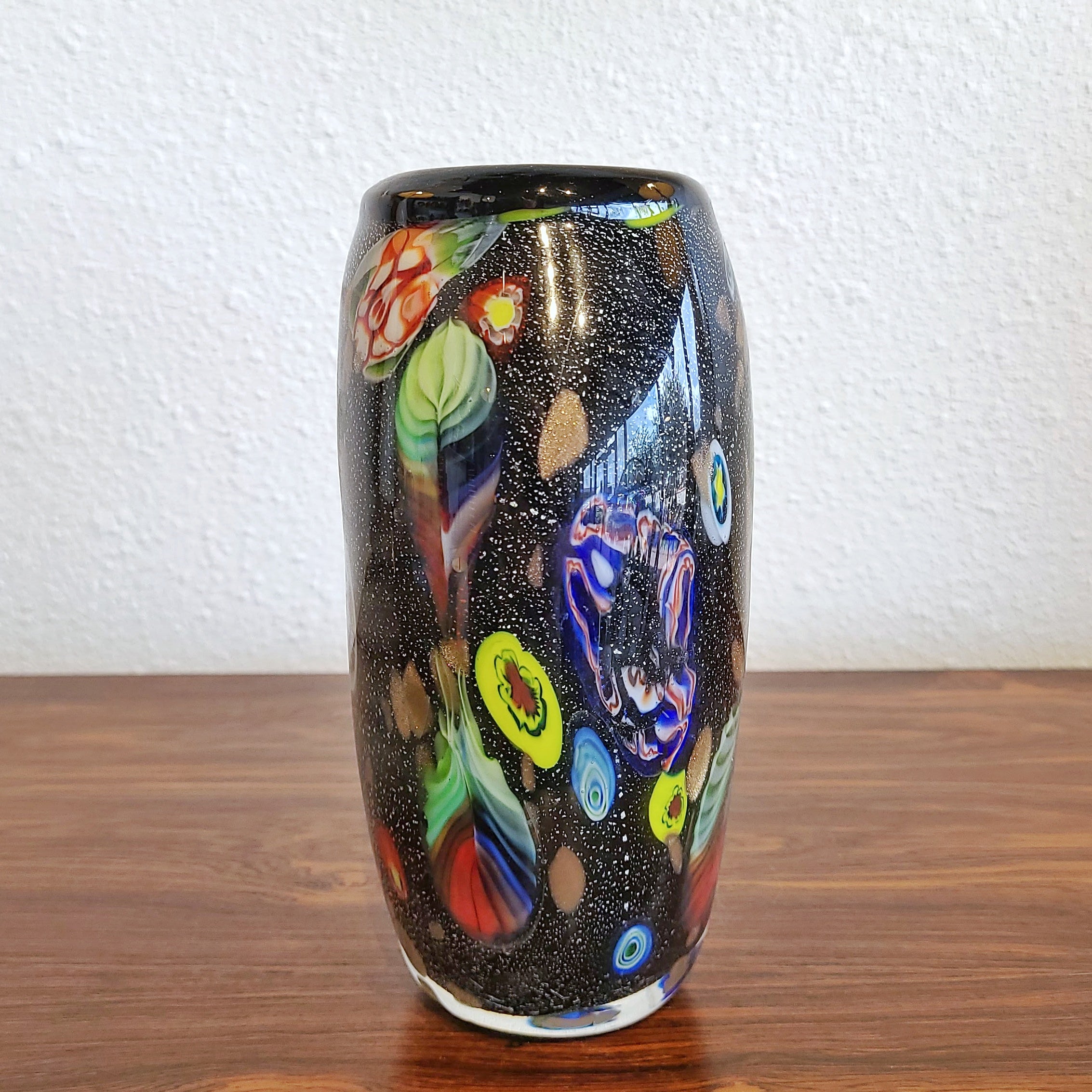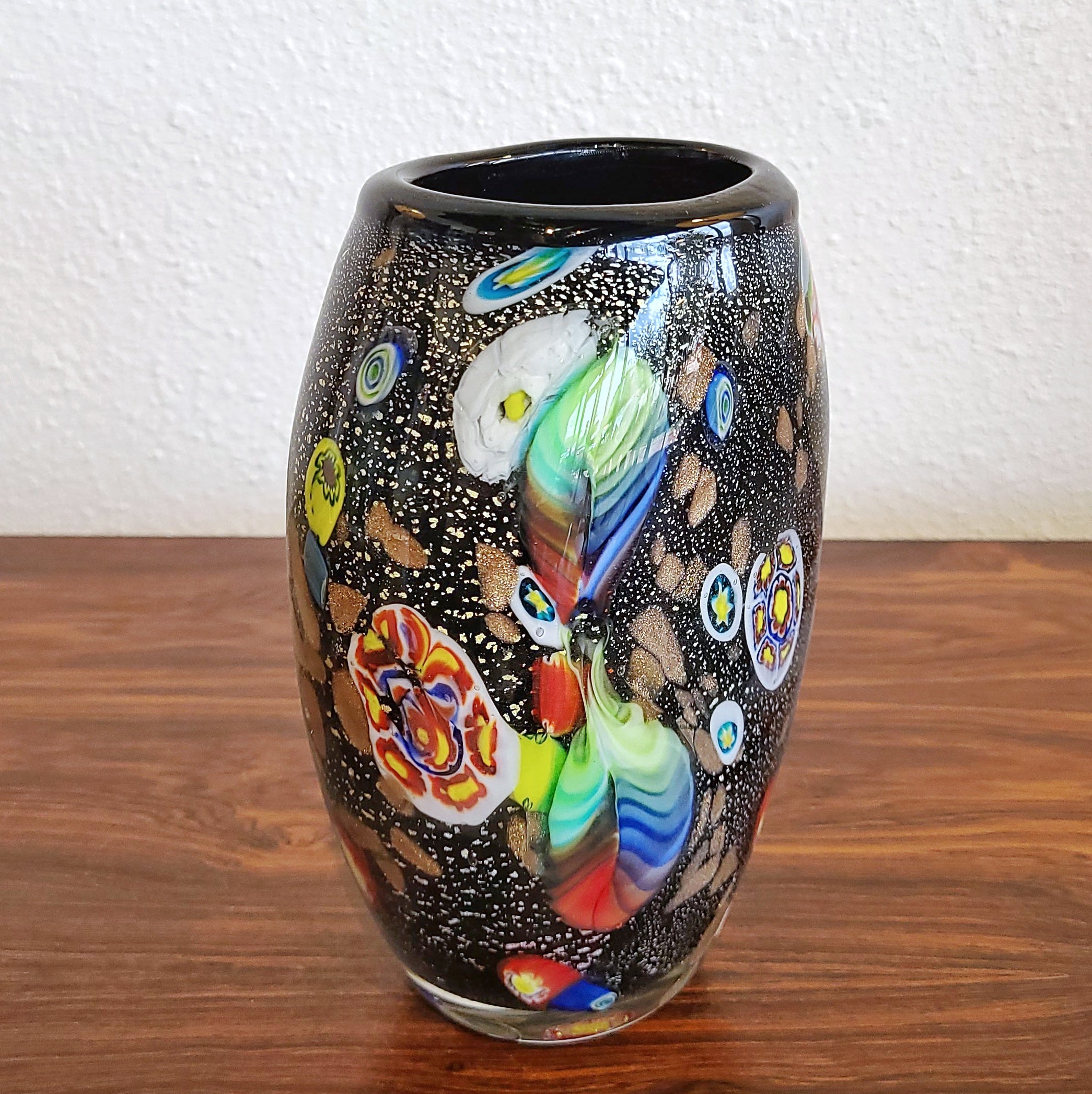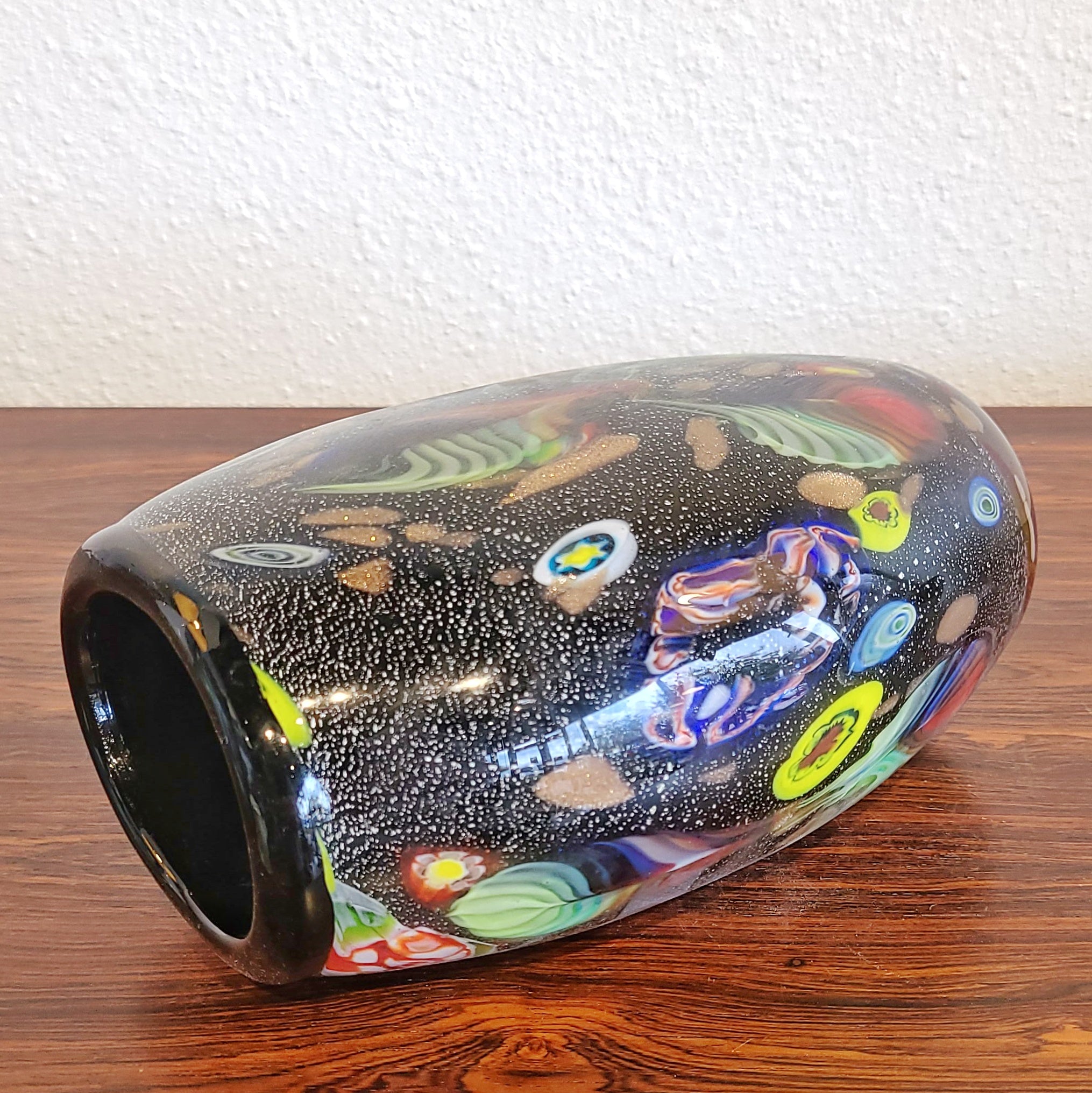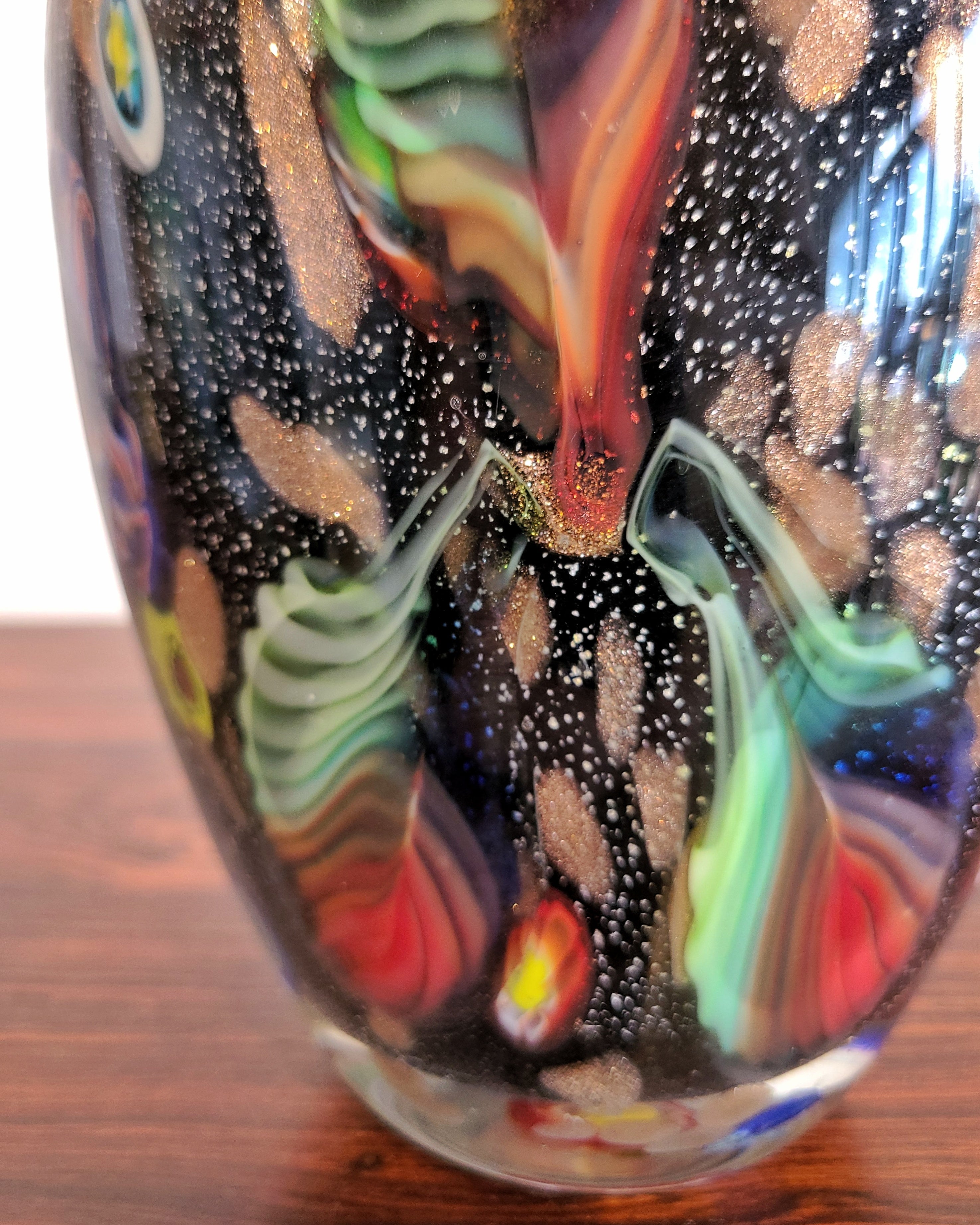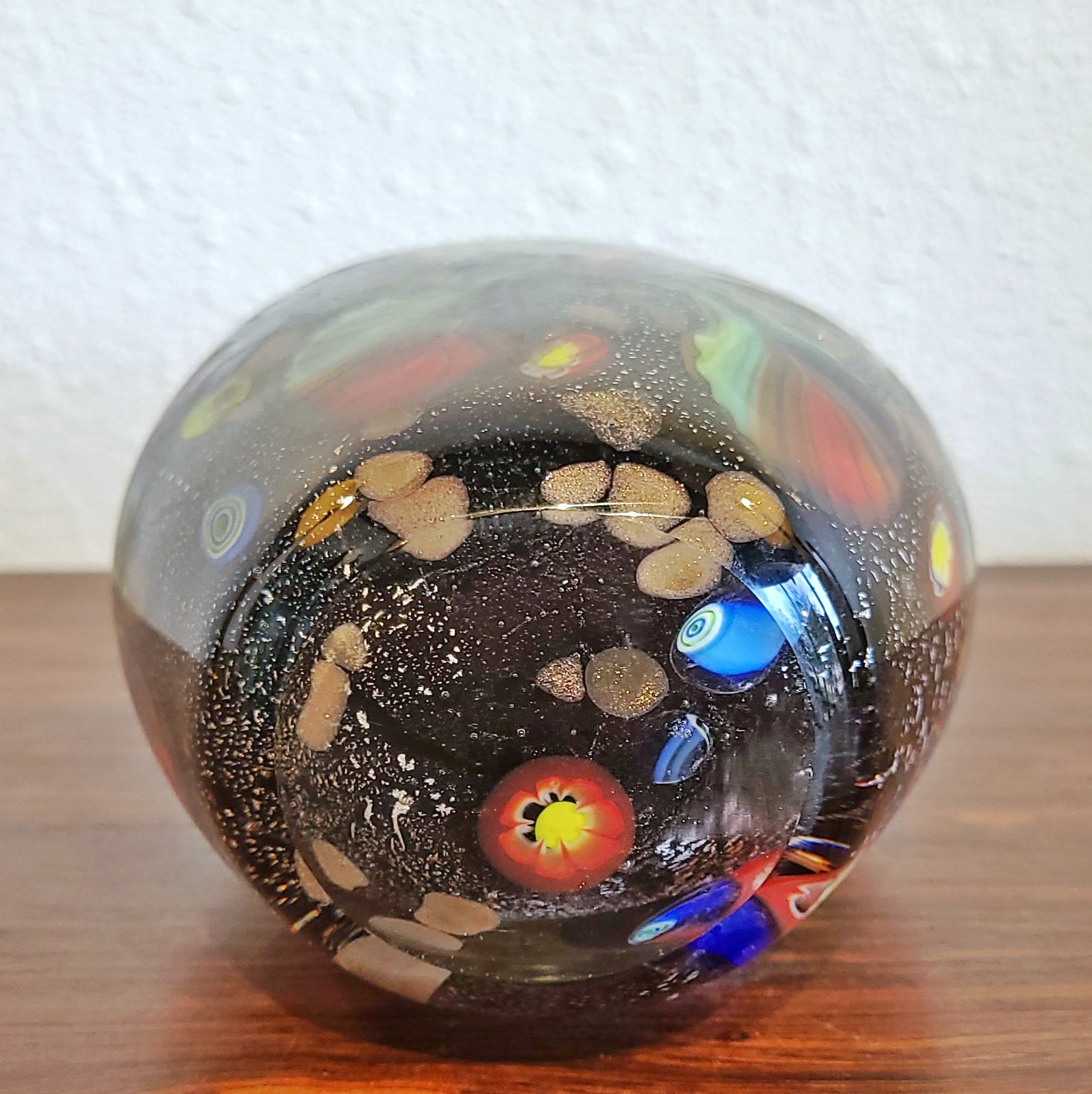 MURANO GLASS VASE WITH 'TUTTI FRUTTI' DECOR, 1950s ITALY
$280.00
Regular price
$350.00
CONTACT US HERE ABOUT THIS ITEM.
A beautiful AVeM rolled rim Murano Glass vase with an opaque black amethyst interior.  A dusting of silver leaf creates a background like a starry night sky, then decorated with copper dust and a myriad of colorful Murrine 'Tutti Frutti' inclusions cased and floating in an outer layer of crystal clear glass.

ARTE VETRARIA MURANESE, or AVeM (A.Ve.M.) for short, was founded in 1932, by a group of master glassblowers - Antonio Ferro with his sons Egidio and Ottone, Galliano Ferro and Emilio Nason.  The first products, mostly designed by the renowned painter Vittorio Zecchin, were characterized by their lightness and a purity of line.

Present right from the start at the Venice Biennale, the firm quickly changed its production to be in line with the new contemporary trends that favored thick materials, such as pulegoso glass or figures made entirely of glass. The most interesting period - artistically speaking - ranged from 1940 to the late 60s.
In 1939 Giulio Radi joined the firm as art director where he began in depth research into the reaction of metal oxides on glass and experimenting with chemical reactions of gold and silver leaf on a variety of glass masses and murrines, the so-called 'Reazione Policrome.'  By exploiting the differences in the coefficients of expansion of the different types of glass and highlighting them through the overlapping of gold and silver leaf, unusual chromatic effects are obtained and enhanced by submersion within layers of various thickness of transparent glass, mostly colorless, thus causing a kind of lens-like effect.  Very simple shapes of high quality were produced to emphasize the materials.  Unfortunately, this work was cut short by his premature death in 1952. In 1966 the Venice Biennale paid homage to him by dedicating a retrospective show of 15 of his articles, all executed by the master Luciano Ferro.  Maestro Aldo Nason took up this technique again by executing the fortunate "Yokohama" series of the 60s.
Other outstanding A.V.E.M. products are the "anse volanti" glassware, invented by Giorgio Ferro and exhibited at the 1952 Venice Biennale. These are exquisite biomorphic vases executed in dark colored glass, with an iridescent surface and large asymmetrical handles that are produced under heat from the main body of the vase itself.  This process is actually very difficult to execute, and it attained peculiar plastic effects that were especially suitable for the style characterizing 50s decorative arts.
AVeM are probably best-known today for their very popular "Tutti Frutti" range of bowls and vases from the 1950's. The Tutti Frutti range is often wrongly attributed to designer Dino Martens (who never actually worked for AVeM) due to a mistake in a popular book on Murano glass.
In 1955, after having worked together for 22 years, relationships between the partners turned sour and Galliano Ferro left the firm to open an independent furnace, taking with him some of the best maestros as well as his own sons.
During the same period the painters Luigi Scarpa Croce and Anzolo Fuga cooperated with AVeM. The second of these was already known as an independent maker of stained glass windows exhibited successfully at some of the past Venice Biennali: he appeared very frequently as the inventor of large asymmetrical pieces with an abstract decor, obtained through the use of lattimo glass combined with murrine or multicolored pastes, assisted in this by the experimenter's creative impulse of the master glassblower Luciano Ferro.  Fuga was also present in the capacity of designer, exhibiting at the Venice Biennale in 1966 with 4 vases and 2 goblets named "Folclore Ellenico" (Hellenic Folklore).
The firm exists to this day, but it ceased production long ago
| | |
| --- | --- |
| Manufacturer | AVeM |
| Design Period | 1950 to 1959 |
| Production Period | Unknown |
| Country of Manufacture | Italy |
| Identifying Marks | This piece is attributed to the above-mentioned designer/maker. It has no attribution mark |
| Style | Vintage, Mid-Century, Italian Modern, Hand-Crafted, Modernist |
| Detailed Condition | Excellent — This vintage piece is in near original condition. It may show minimal traces of use and/or have slight restorations. |
| Product Code | |
| Materials | Hand-Blown Glass, Murano Glass, Colored Glass |
| Color | Multicolored |
| Width | 13.3 cm |
| Depth | 8.9 cm |
| Height | 19.7 cm |
| Duties Notice | Import duty is not included in the prices you see online. You may have to pay import duties upon receipt of your order. |