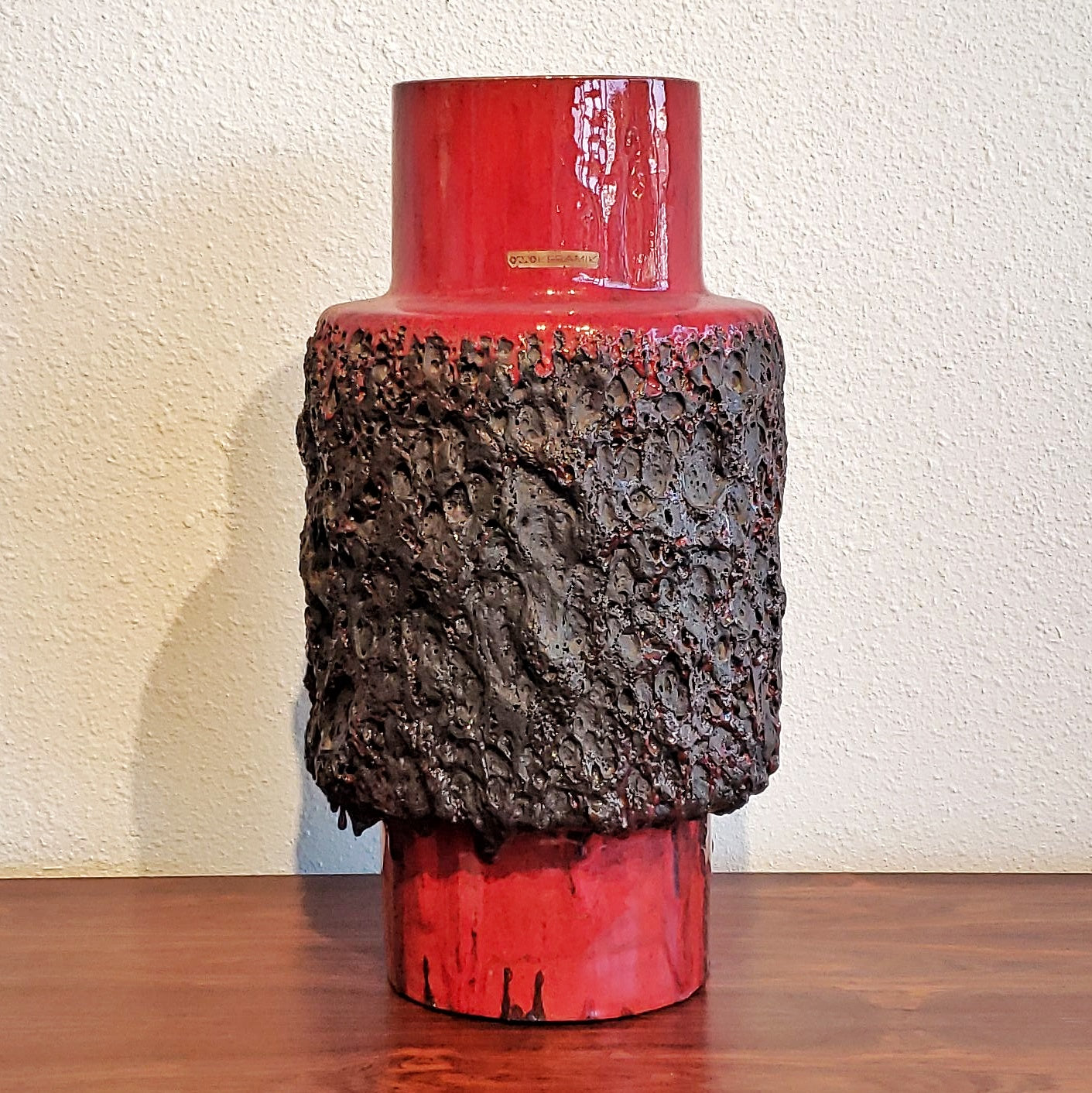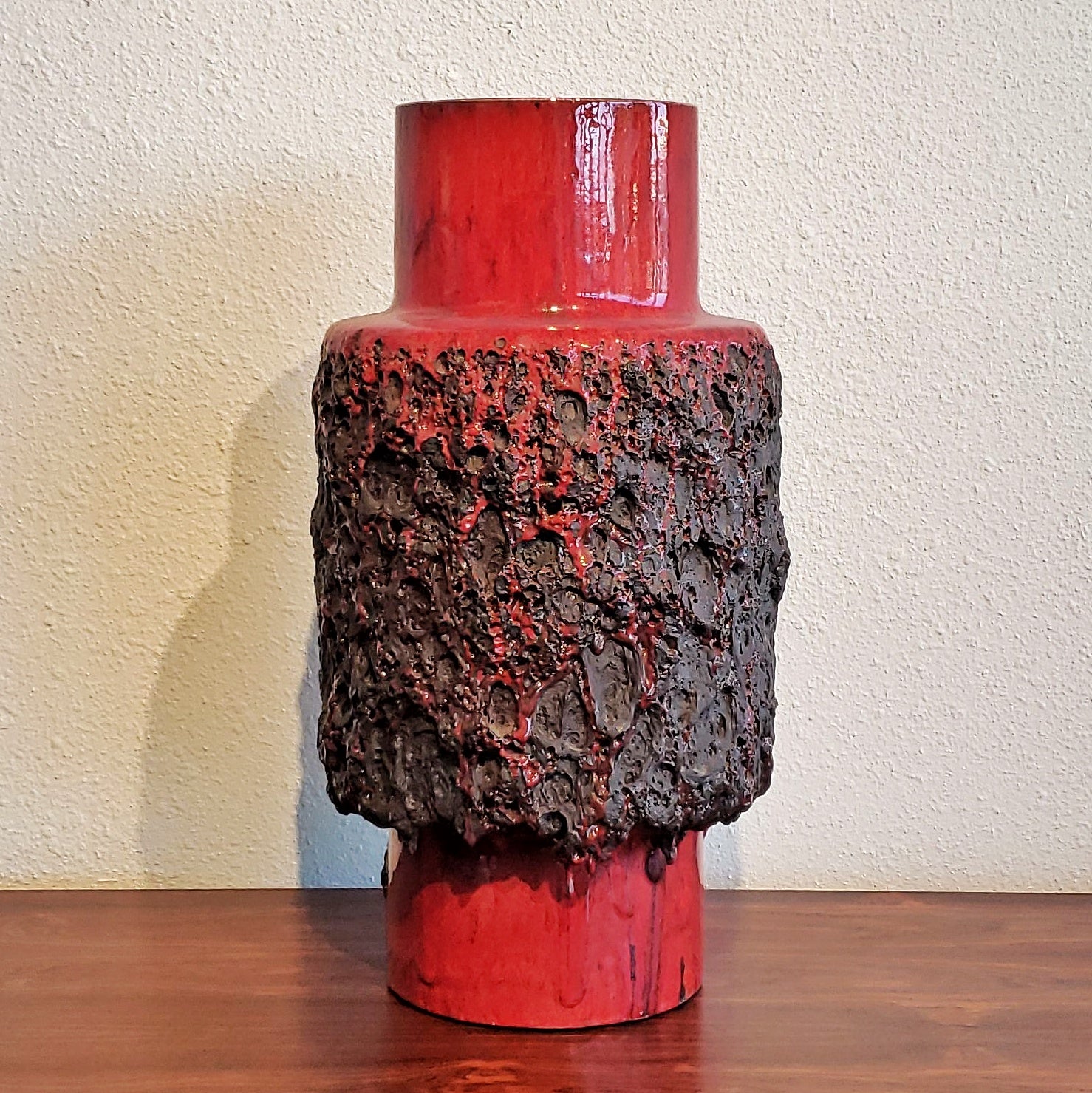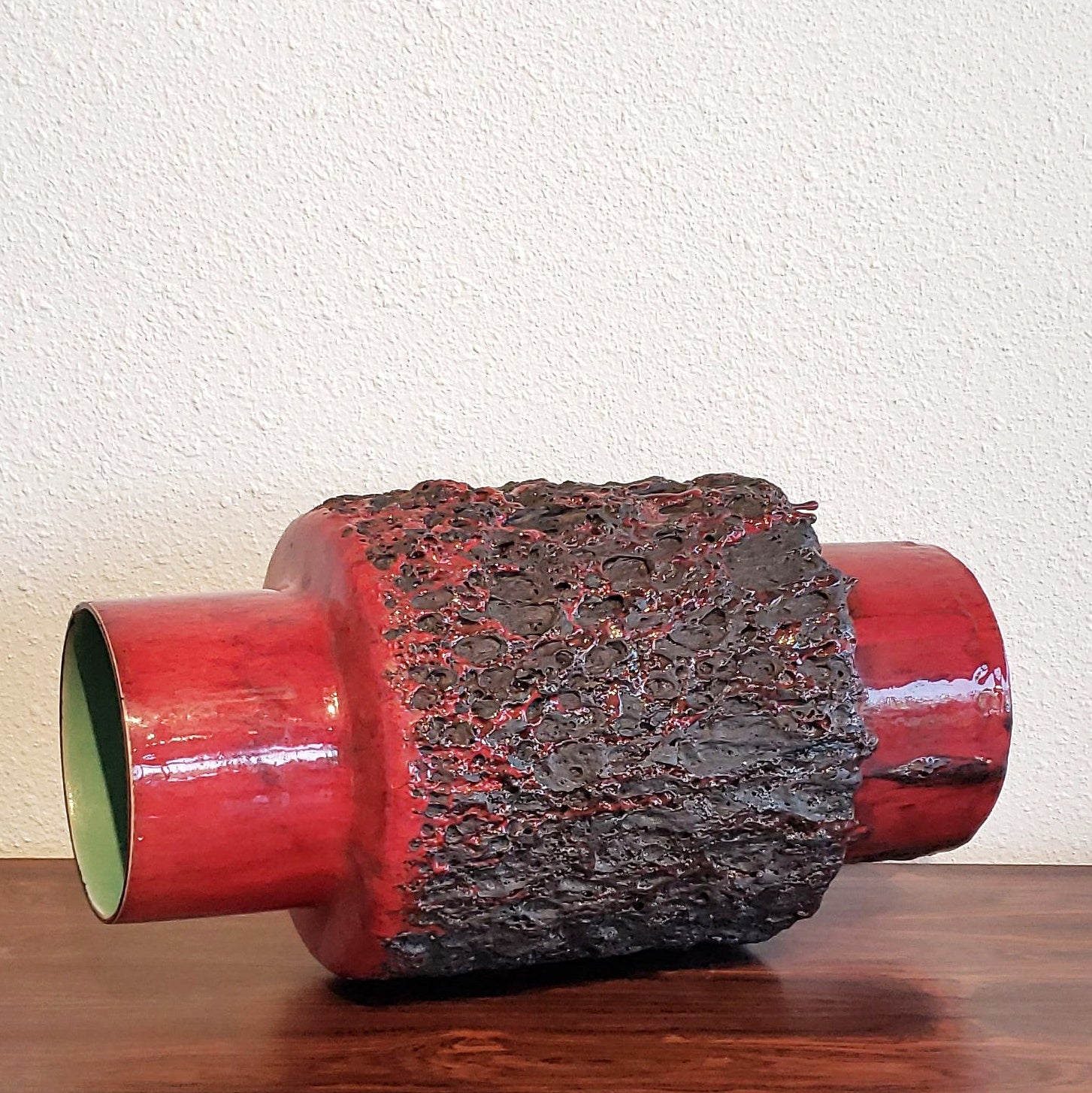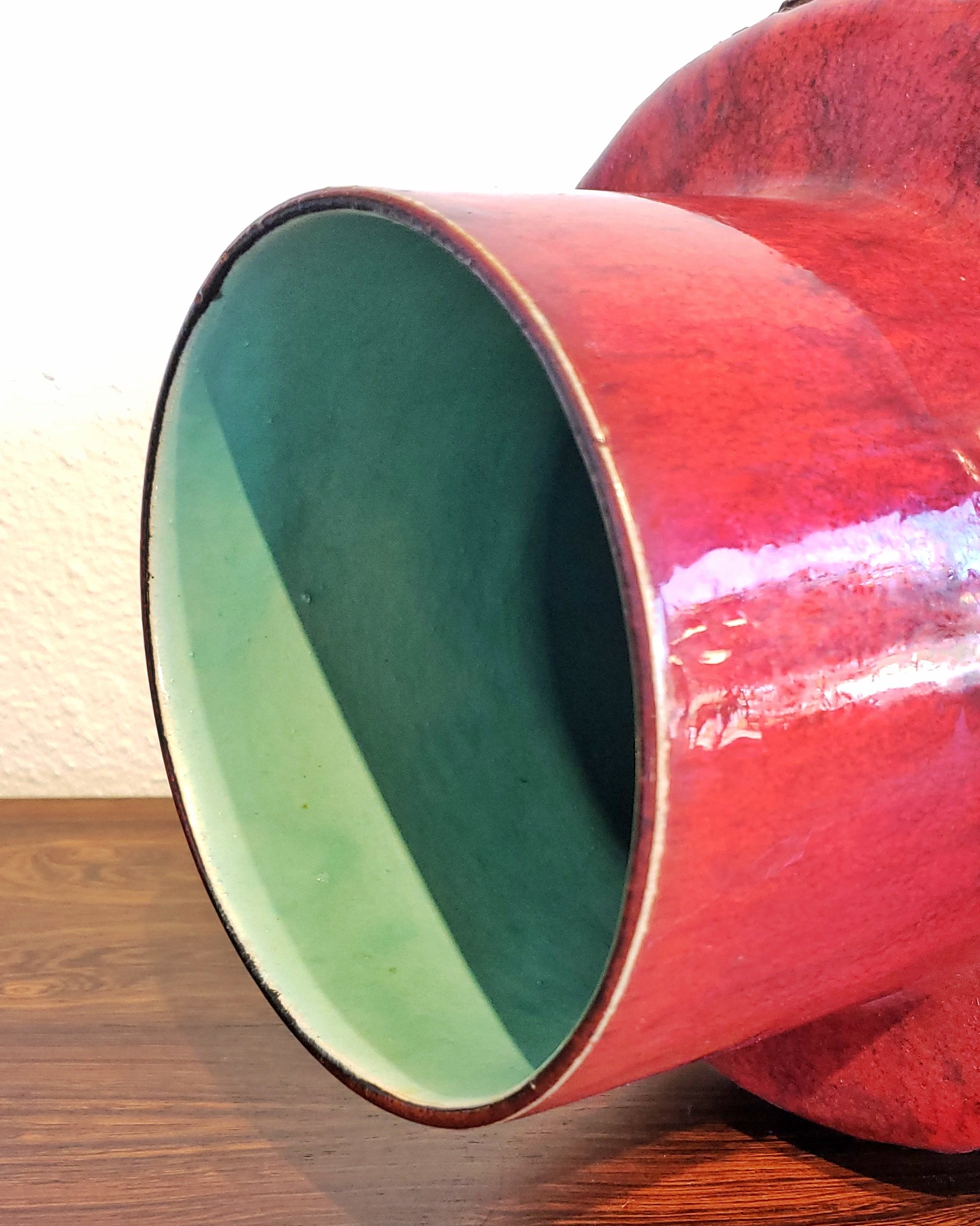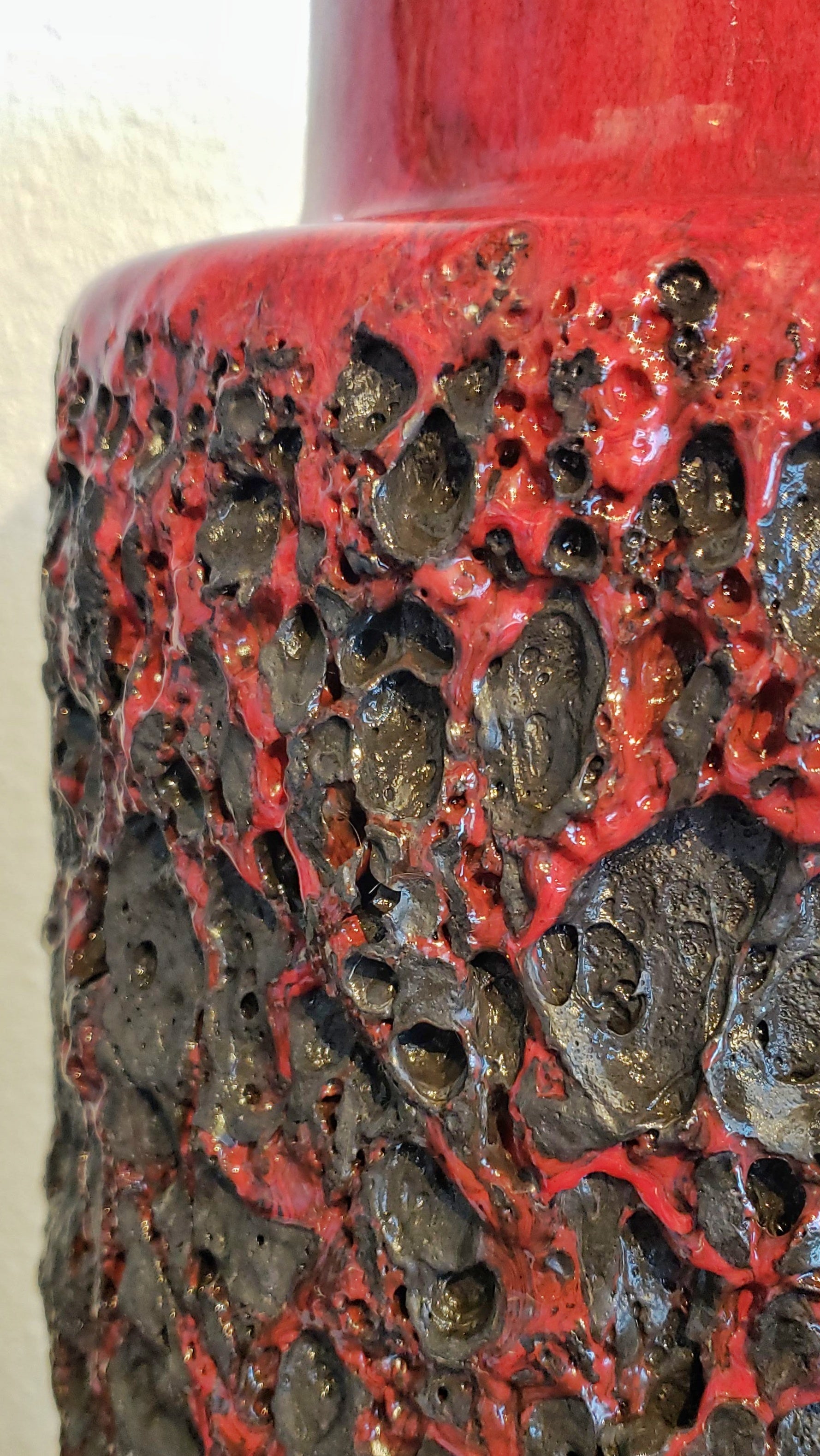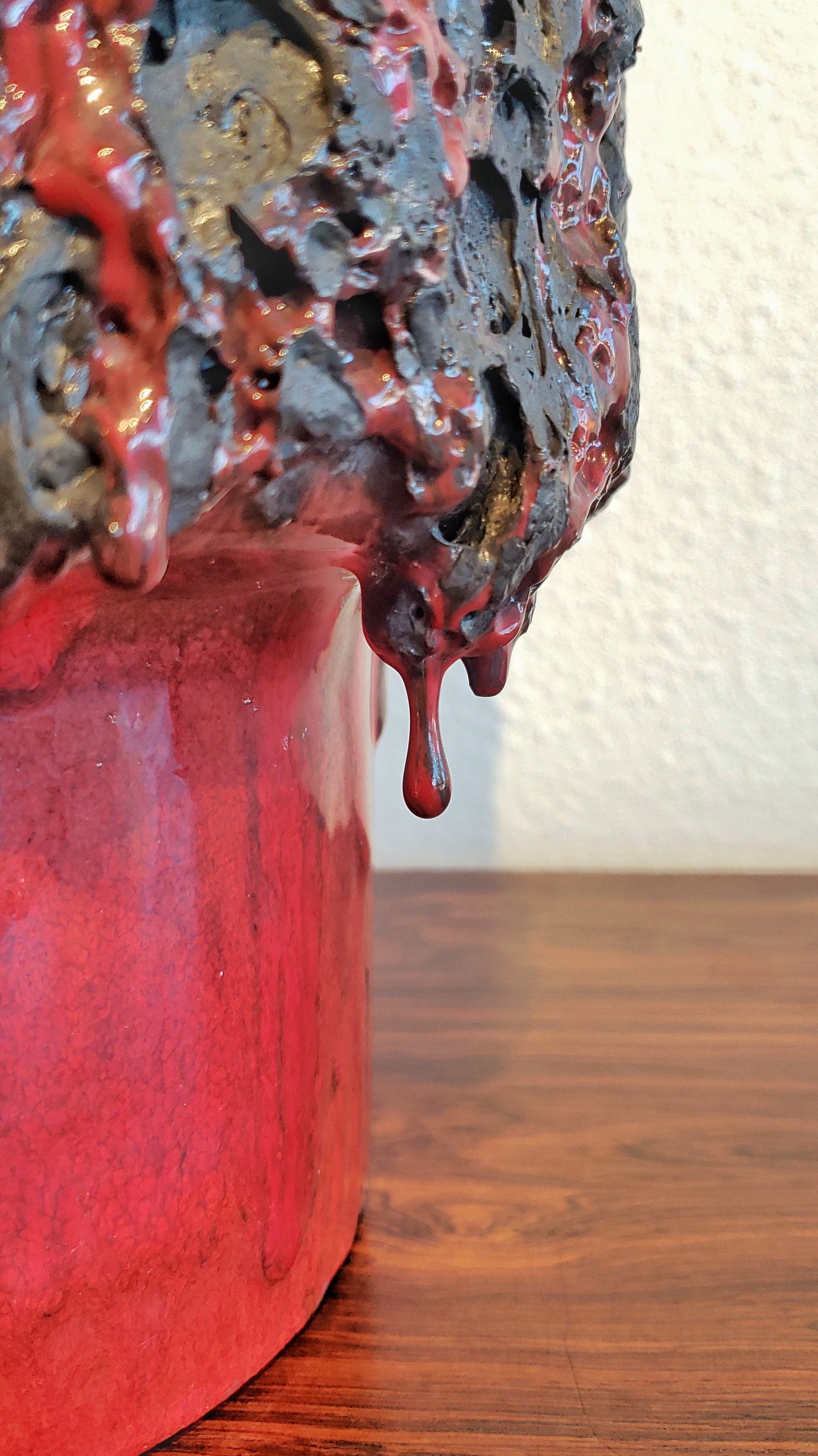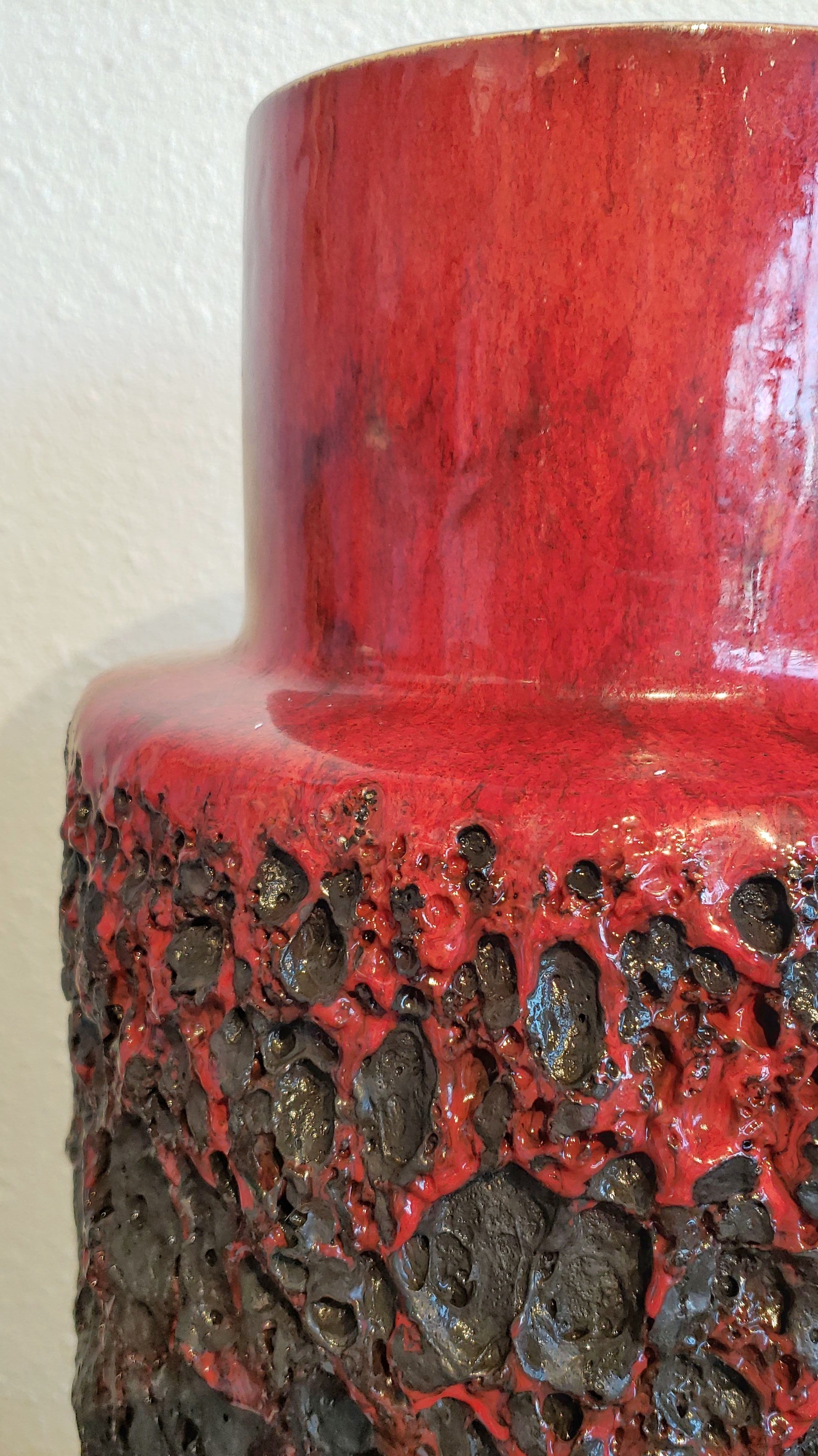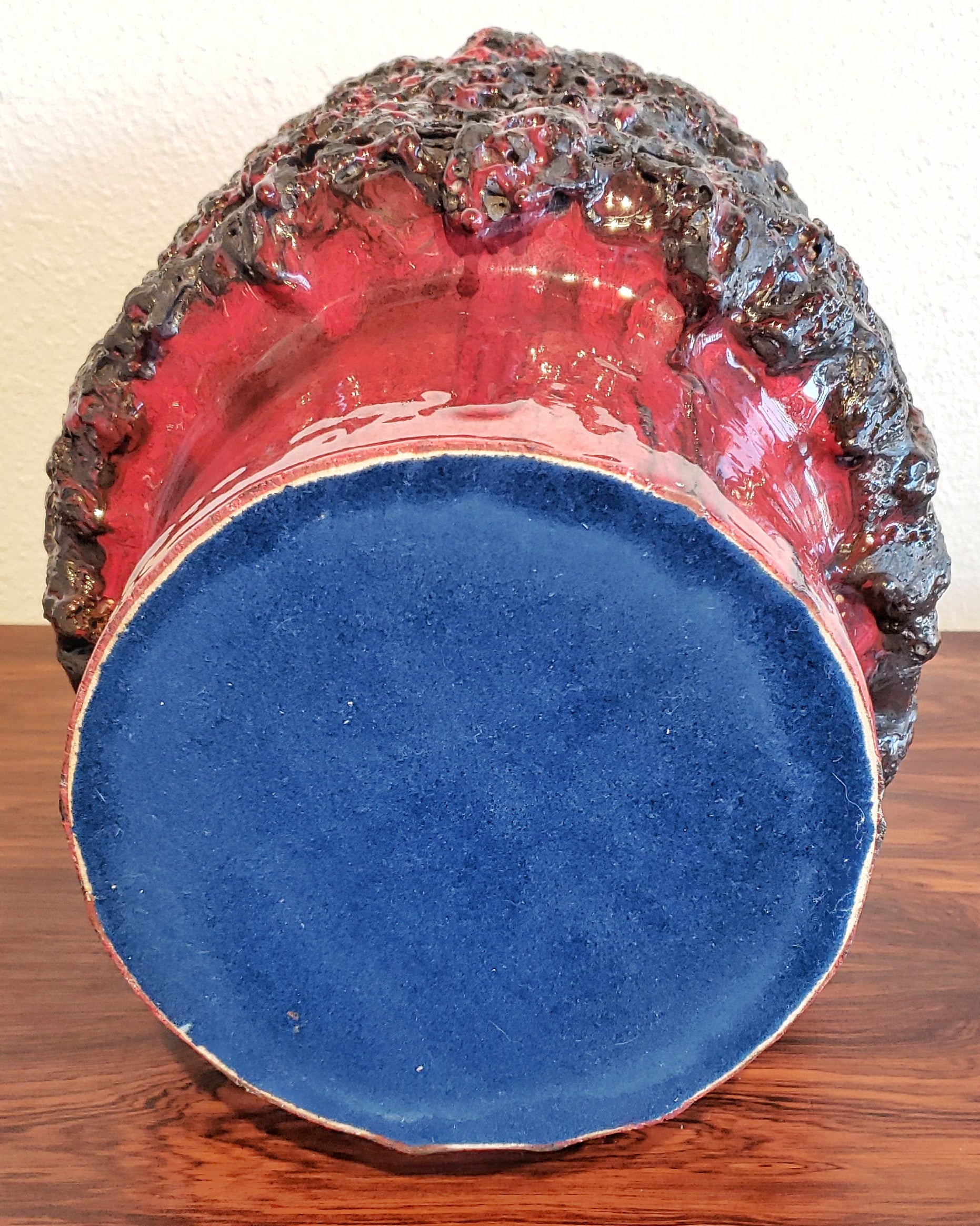 RED AND BLACK VOLCANIC OTTO KERAMIK FLOOR VASE
CONTACT US HERE ABOUT THIS ITEM.
An outstanding example of Otto Gerharz' volcanic crater glaze on a substantial form by Kurt Tschörner for Otto Keramik
OTTO GERHARZ (1927-?) was a chemist and glaze master who began his training as a ceramicist in 1942 with a focus on arts and crafts, but his apprenticeship was interrupted in 1944 when he was drafted into military service. By 1946 he had emerged from the military with his interest in ceramics intact, but a shift in focus from the art and craft of pottery making to an obsessive interest in glaze chemistry, so he began attending classes at the technical school at Höhr-Grenzhausen which had just reopened after the war. In his time at Höhr-Grenzhausen, he was able to complete his technical training and emerge with a degree in chemical engineering. He graduated two years later as a ceramic engineer, having written his thesis on ceramic glazes. Gerharz continued his education with complementary studies in electro-ceramics followed by laboratory and consultancy work in the industry.

In 1951 Otto Gerharz went to work at Ruscha Keramik in Rheinbach as their operations manager and lead ceramist. It was at Ruscha that he would develop a wide range glazes, thereby playing a decisive role in the emergence of the company as one of the most important in the field of artistically designed ceramics.

Gerharz retired from Ruscha in 1964 to set up a workshop at his home where he would continue his own independent research into glaze chemistry. One of Ruscha's best form designers, Kurt Tschörner, would soon follow him and help to form the eponymously named 'Otto-Keramik' by 1970. At "Otto", which never employed more than 20 craftspeople at a time, everything was hand-made and Gerharz was responsible for most of the glazing. His son (also named Otto) took-over the workshop 1994 and runs it to this day.
KURT TSCHÖRNER is probably best known for the ceramic forms he designed for RUSCHA, particularly the iconic jug vase no. 313 (1954)—considered to be among the very best shapes to have emerged from the post-war German ceramics industry.  Tschörner's tenure with RUSCHA was prolific. When its arts director Otto Gerharz left to form a company of his own, OTTO KERAMIK, Tschörner went with him.  Together they were there responsible for the production of all ceramics and glazes well into the 1980's.
OTTO KERAMIK was founded by Otto Gerharz in 1964 in Rheinbach.  Gerharz had always been fascinated by the chemistry of glazes, and when he left RUSCHA—where he had been arts director since 1951—he started a workshop at his home in order to research them.  In 1970 he set up a company at an industrial estate.  Gerharz produced all of the glazes for OTTO KERAMIK until 1996.  Designer Kurt Tschörner, who followed Gerharz from RUSCHA, was responsible for all shapes OTTO produced until 1987.
OTTO KERAMIK remained a small company with never more that 20 employees, and nothing it made was ever mass produced.  In 1994 Gerharz' son, also named Otto, assumed charge of production.  When RUSCHA closed in 1996, OTTO took over some of their old designs.  The company is one of the last of the great post-war German art potteries still in operation.
OTTO items are distinct in that, until quite recently, all the bases were covered with felt in a range of different colors.  Beneath the felt the clay is white and flat and the bases unnumbered.  (Some more modern items have numbered bases, not always covered with felt.)  They are often found with labels—older pieces having a long, thin paper sticker and more recent pieces an oval, gold-foil one.
| | |
| --- | --- |
| Designer | Kurt tschörner, otto gerharz |
| Manufacturer | Otto keramik |
| Design Period | 1970 to 1979 |
| Production Period | 1970 to 1979 |
| Country of Manufacture | Germany |
| Identifying Marks | This piece has been attributed based on archival documentation, such as vintage catalogs, designer records, or other literature sources |
| Style | Vintage, Mid-Century, Hand-Crafted, Modernist, Brutalist |
| Detailed Condition | Excellent — This vintage piece is in near original condition. It may show minimal traces of use and/or have slight restorations. |
| Product Code | |
| Materials | Ceramic |
| Color | Black, red, aquamarine |
| Width | 10.0 inch |
| Depth | 10.0 inch |
| Height | 19.5 inch |