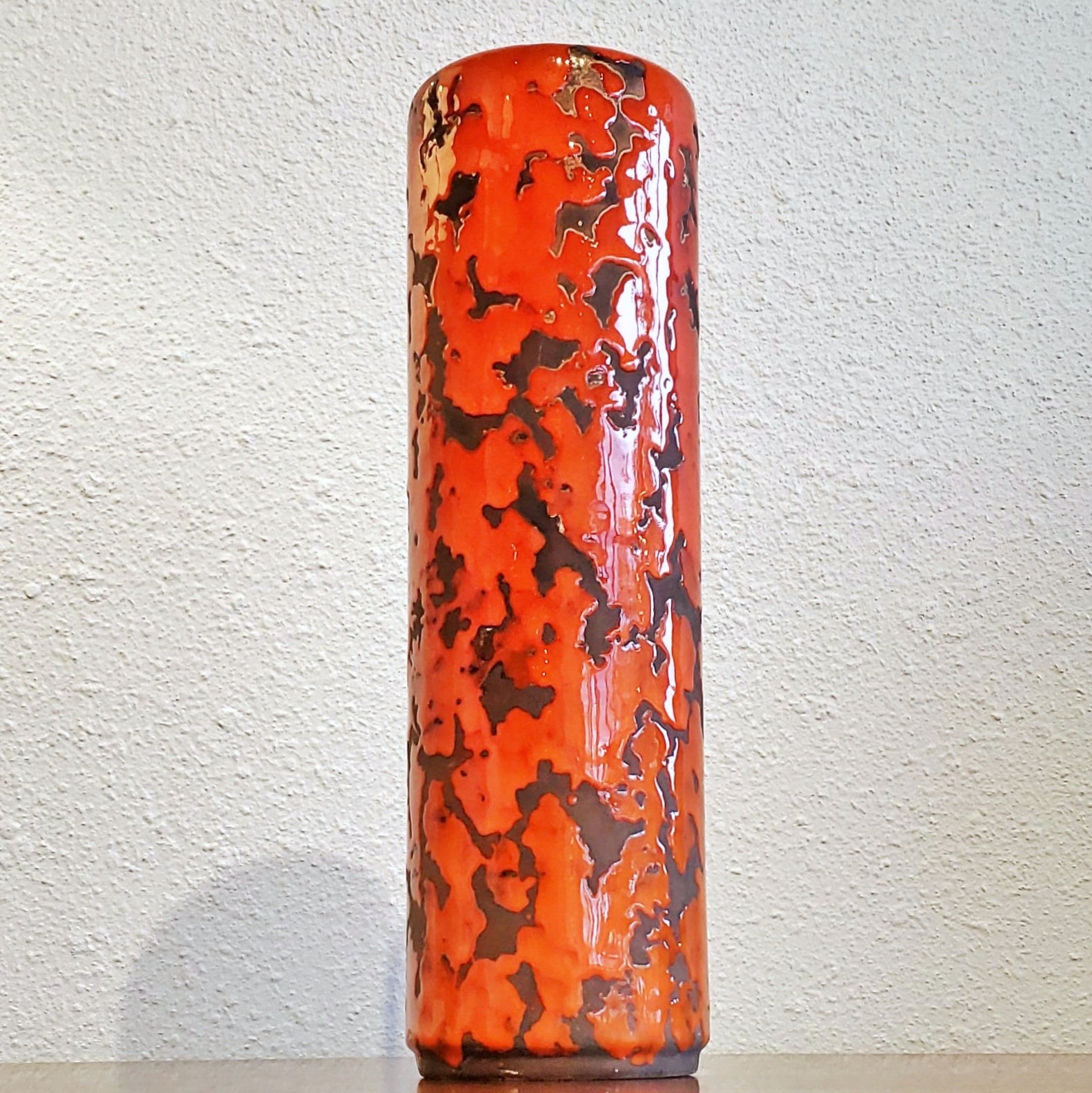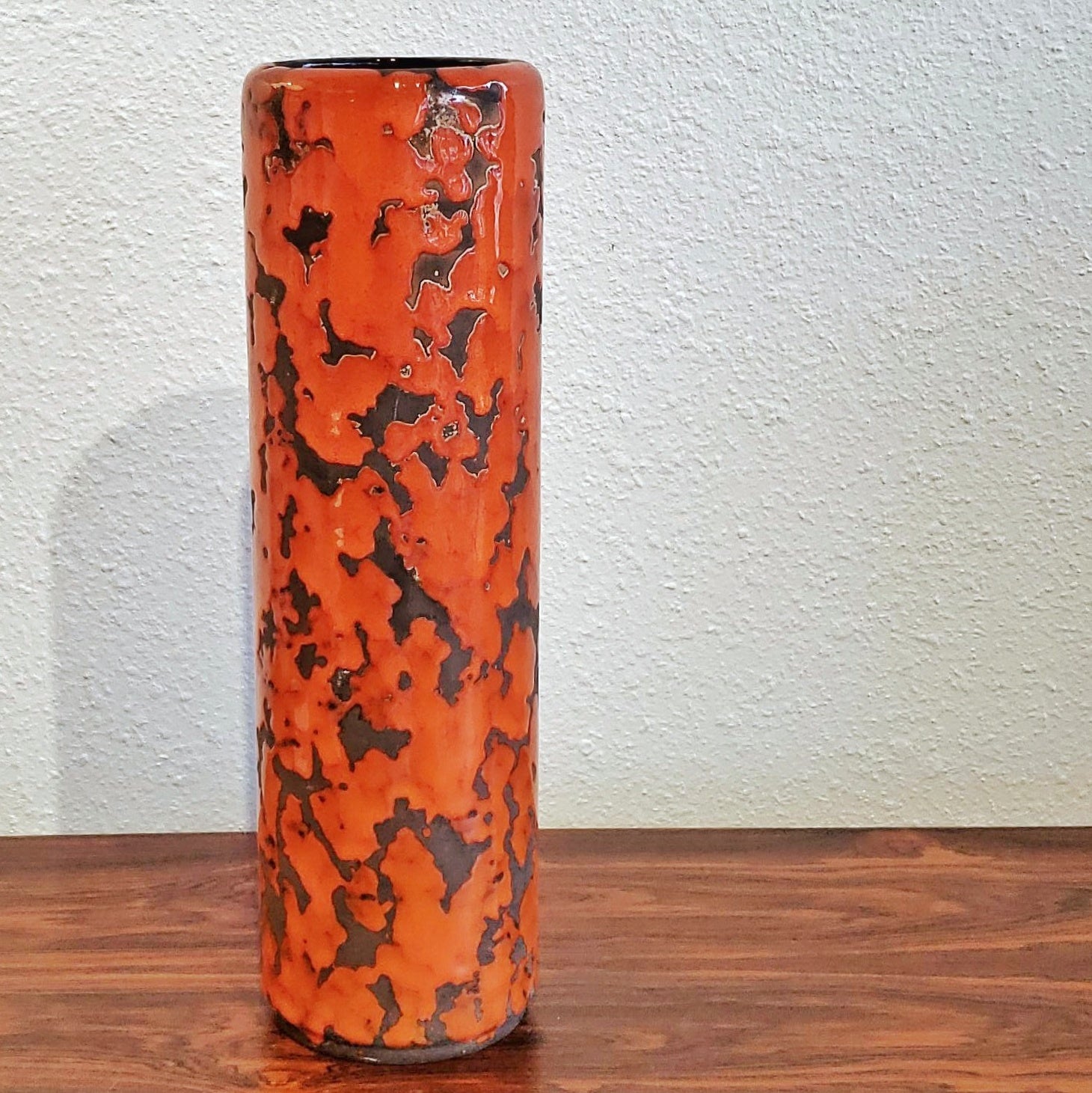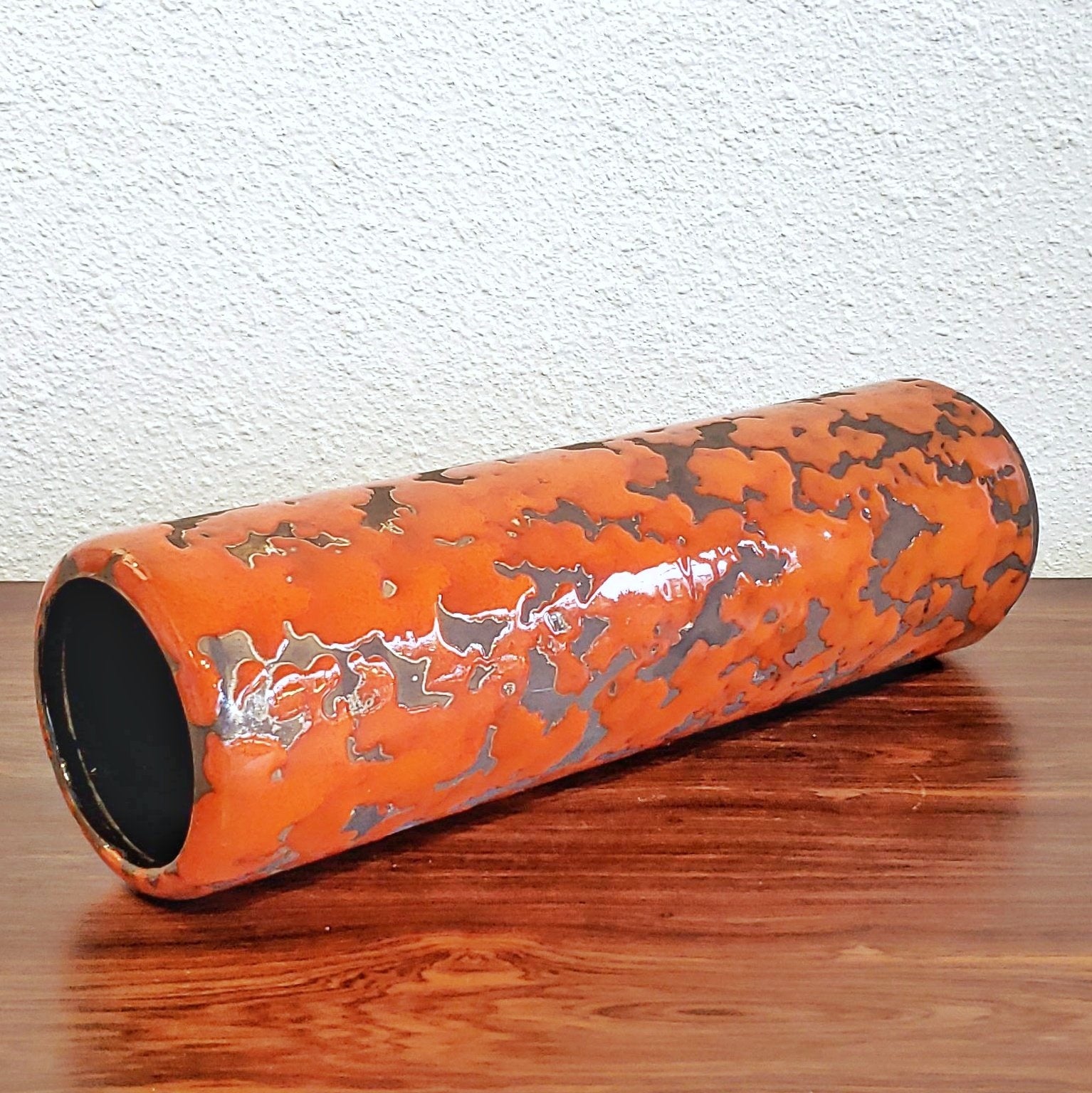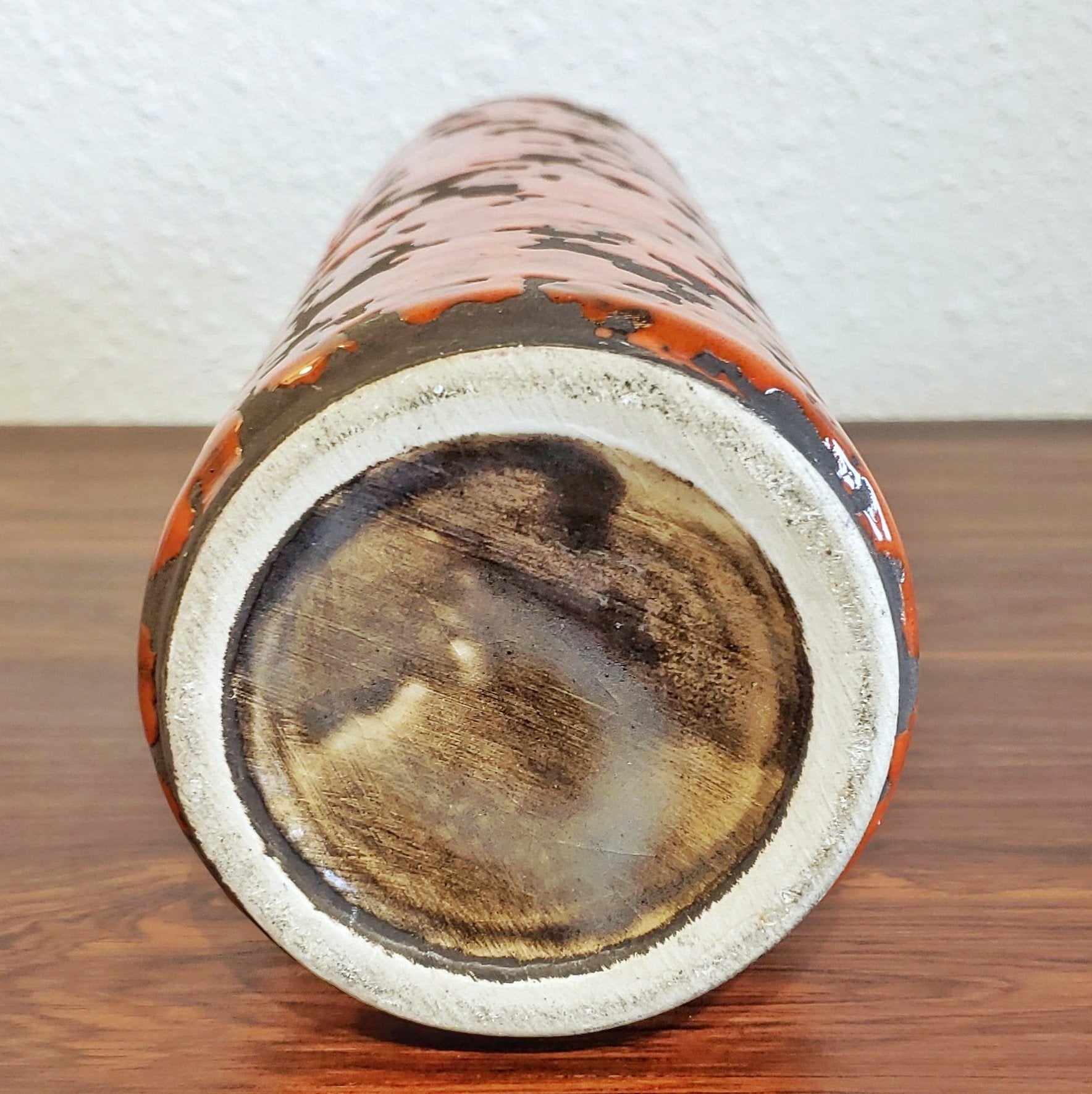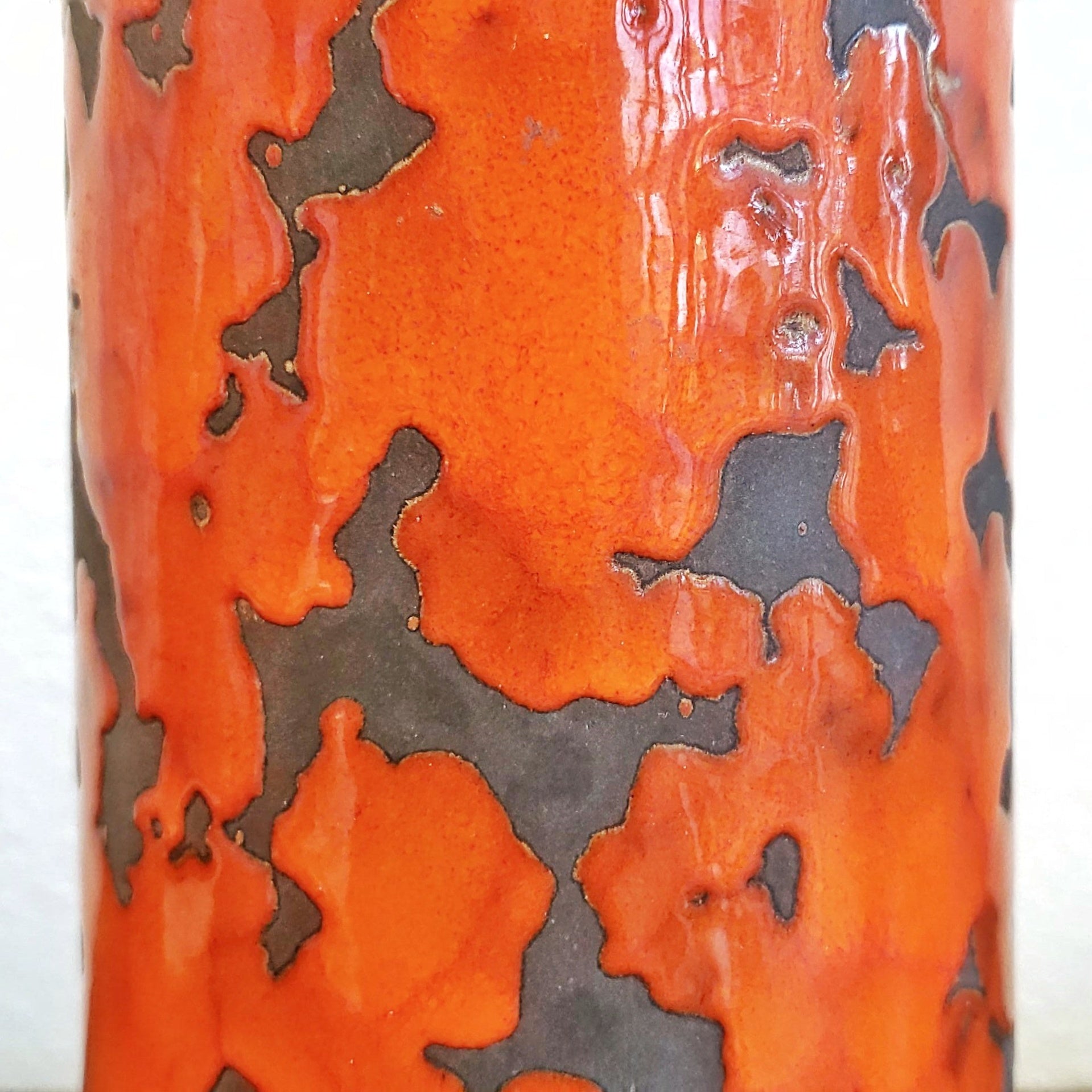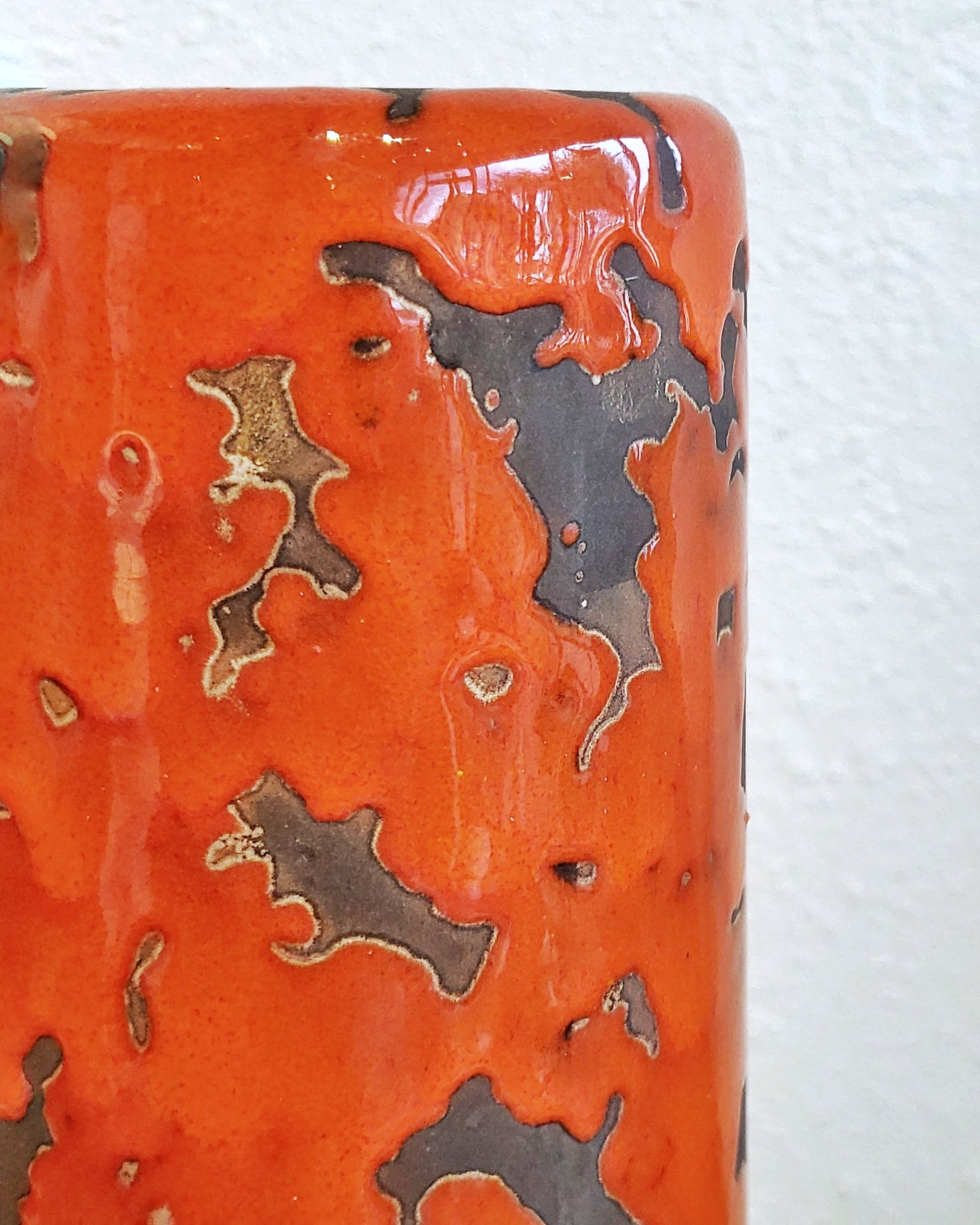 P-KERAMIK CYLINDER VASE (33.5 cm)
CONTACT US HERE ABOUT THIS ITEM.
WOW! An XL cylinder vase from the little-known P-Keramik, which was one of the lesser-known ceramics studios in post-war Germany. In fact, very little is known about them other than they were a very small concern with limited output. It was mainly known for modern-style pottery with heavy splashy glazes. On this particular vase, the white clay has first been covered with a matte black slip followed by a wonderful splatter of glossy red glaze to really set it off. The glazing pattern would appear to be the result of a randomized wax-resist method, and It's definitely one of the most striking P-Keramik vases we have seen.

P-KERAMIK has long been one of the great mysteries in West German ceramics. They appeared to have popped up in the late 60s or early 70s and then vanished just as quickly leaving no paper trail, but within the last couple of years, a bit of information has surfaced to shine a little light on the origins of the company. According to researcher Ralf J. Schumann, the original "P-Keramik" brand was used by Otto Pflugk who lived in Coswig, Saxony-Anhalt, during the 1930s, but In 1961, Otto's son Karl Pflugk, together with his family, moved from his hometown of Coswig to Neu-Isenburg, in Hesse, where In 1963 Karl founded his own company but re-used the "P Keramik" branding. In 1968 the company expanded to larger premises in Uettingen, close to Würzburg, in Bavaria, which enabled him to set up production on an industrial scale, operating under the name of "Isenburger Keramik". Karl died in 1996, but the company was continued by his family, until 2003, with the most recent production being tiled stoves.

Source: "P-Keramik/Isenburger Keramik", article by Ralf J. Schumann, published in the German collector's magazine "Trödler", in the May 2018 issue.
| | |
| --- | --- |
| Manufacturer | P-KERAMIK |
| Design Period | 1970 to 1979 |
| Production Period | Unknown |
| Country of Manufacture | Germany |
| Identifying Marks | This piece has been attributed based on archival documentation, such as vintage catalogs, designer records, or other literature sources |
| Style | Vintage, Mid-Century, Minimalist, Modernist |
| Detailed Condition | Excellent — This vintage piece is in near original condition. It may show minimal traces of use and/or have slight restorations. |
| Product Code | |
| Materials | Ceramic |
| Color | Black, orange, red |
| Width | 4.0 inch |
| Depth | 4.0 inch |
| Height | 13.0 inch |