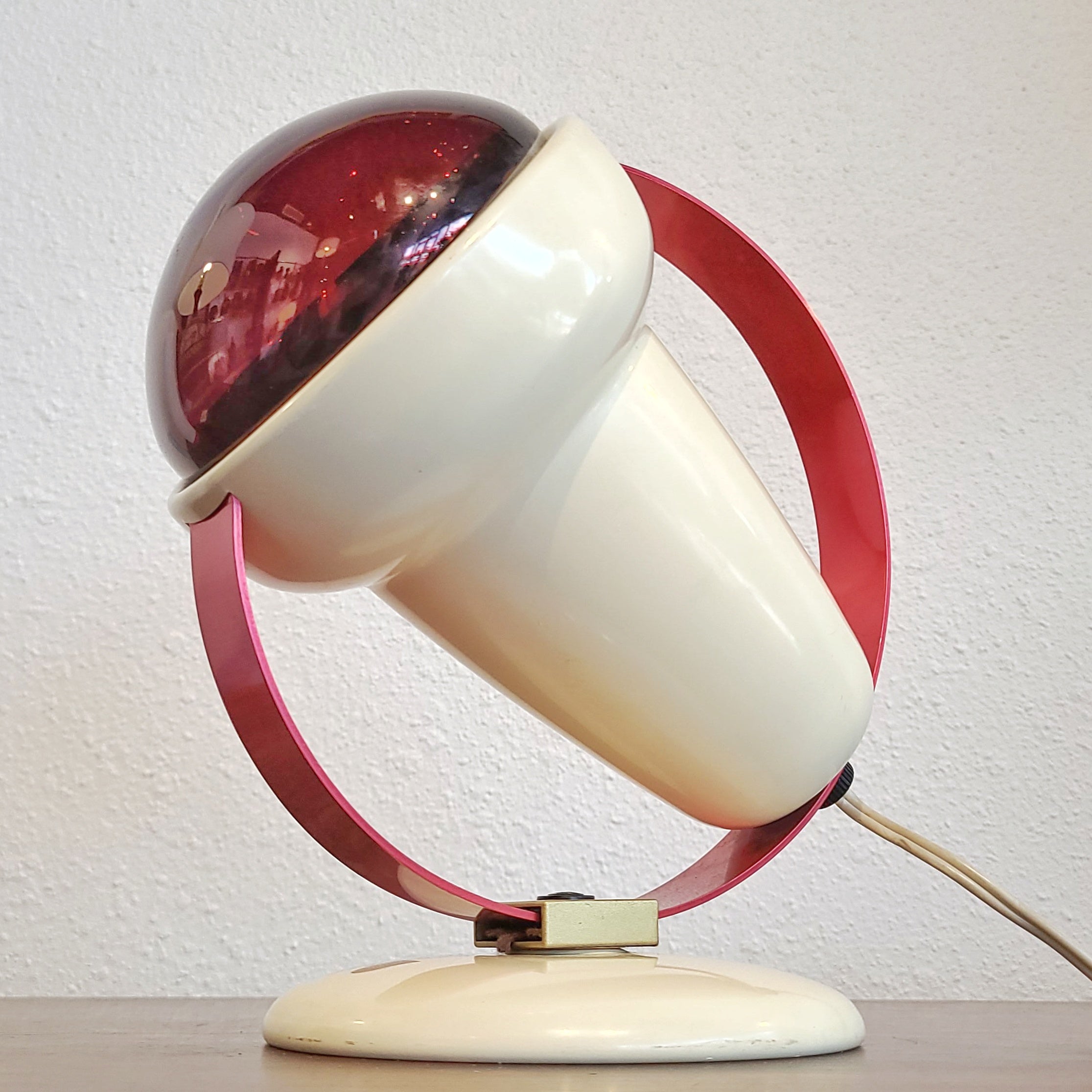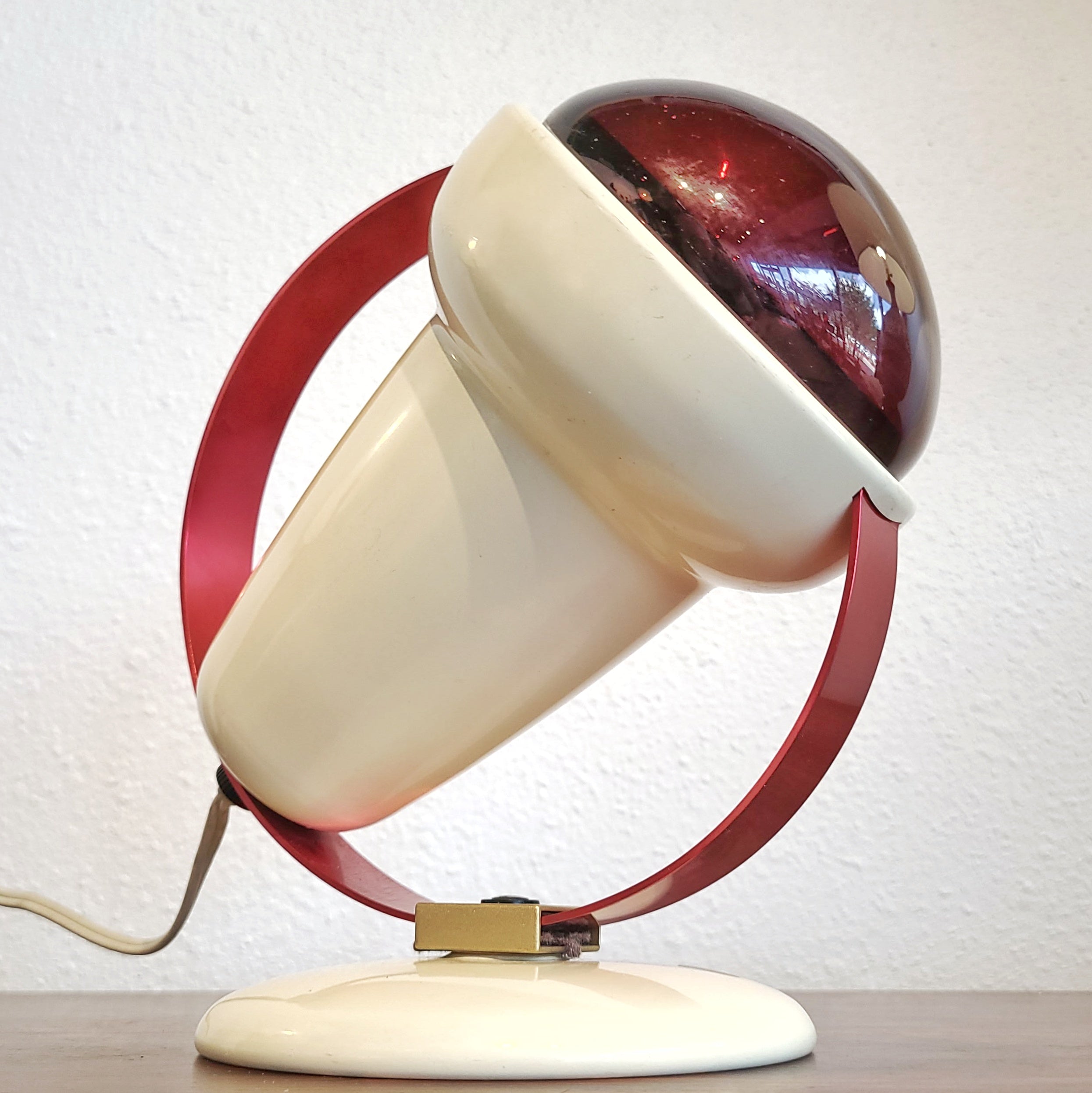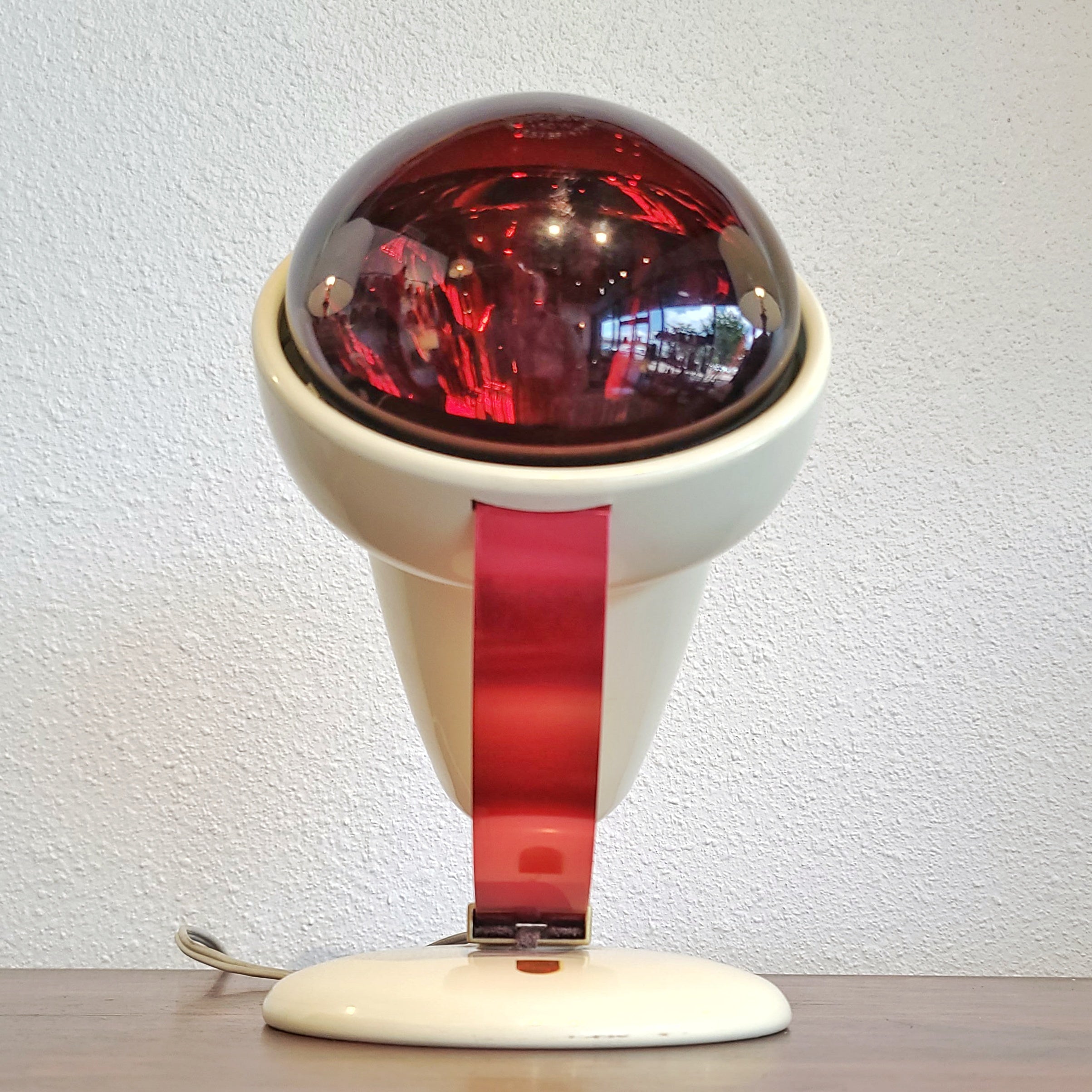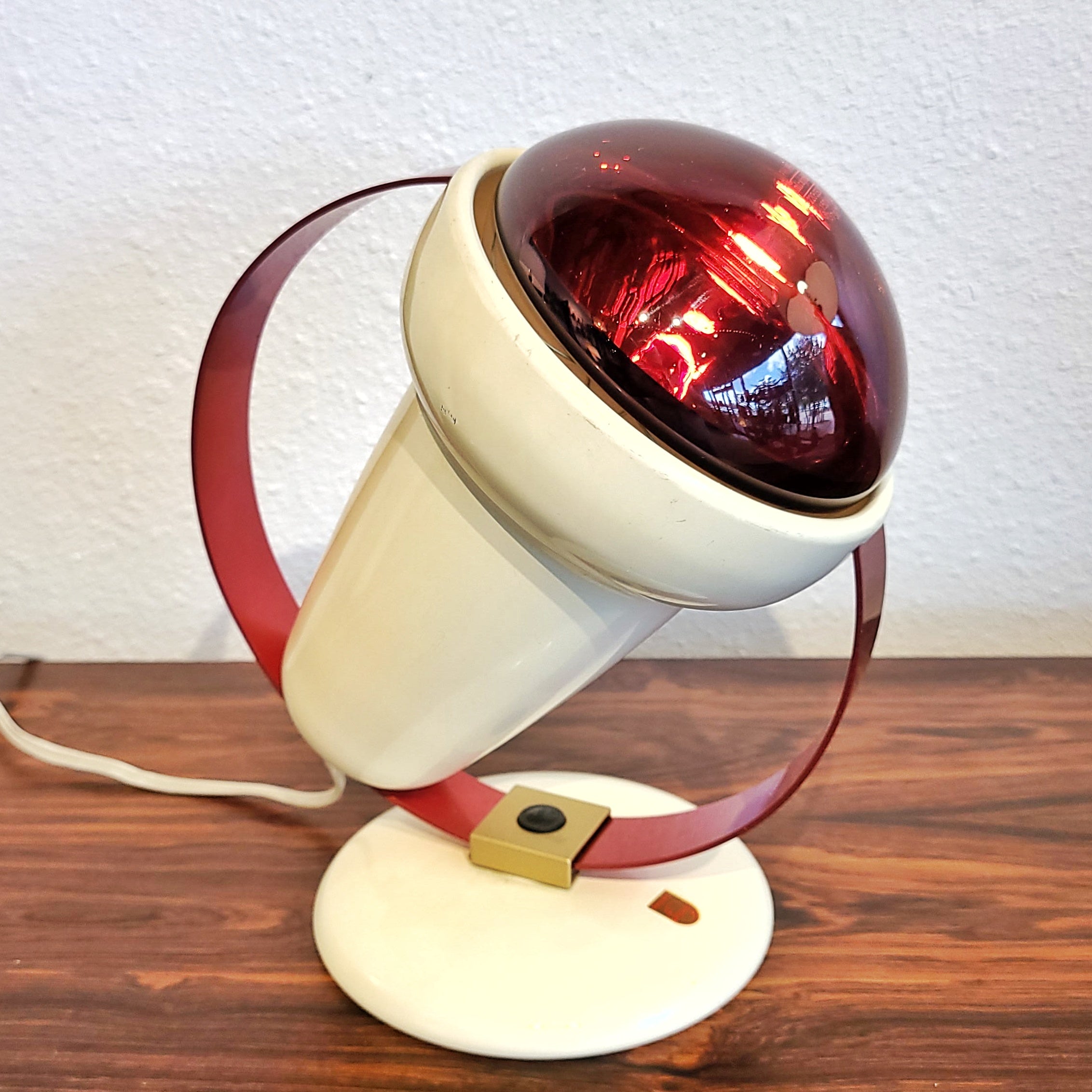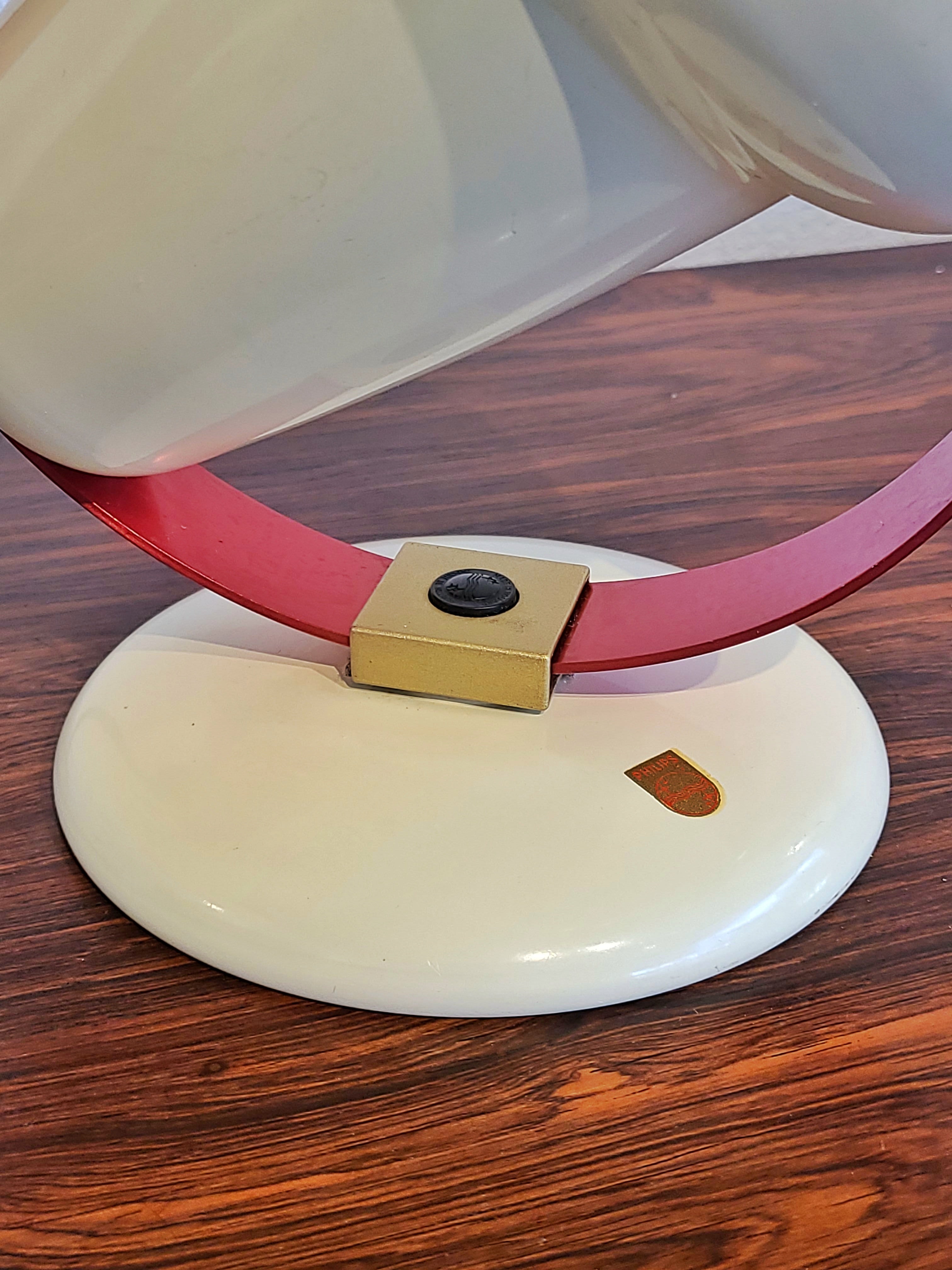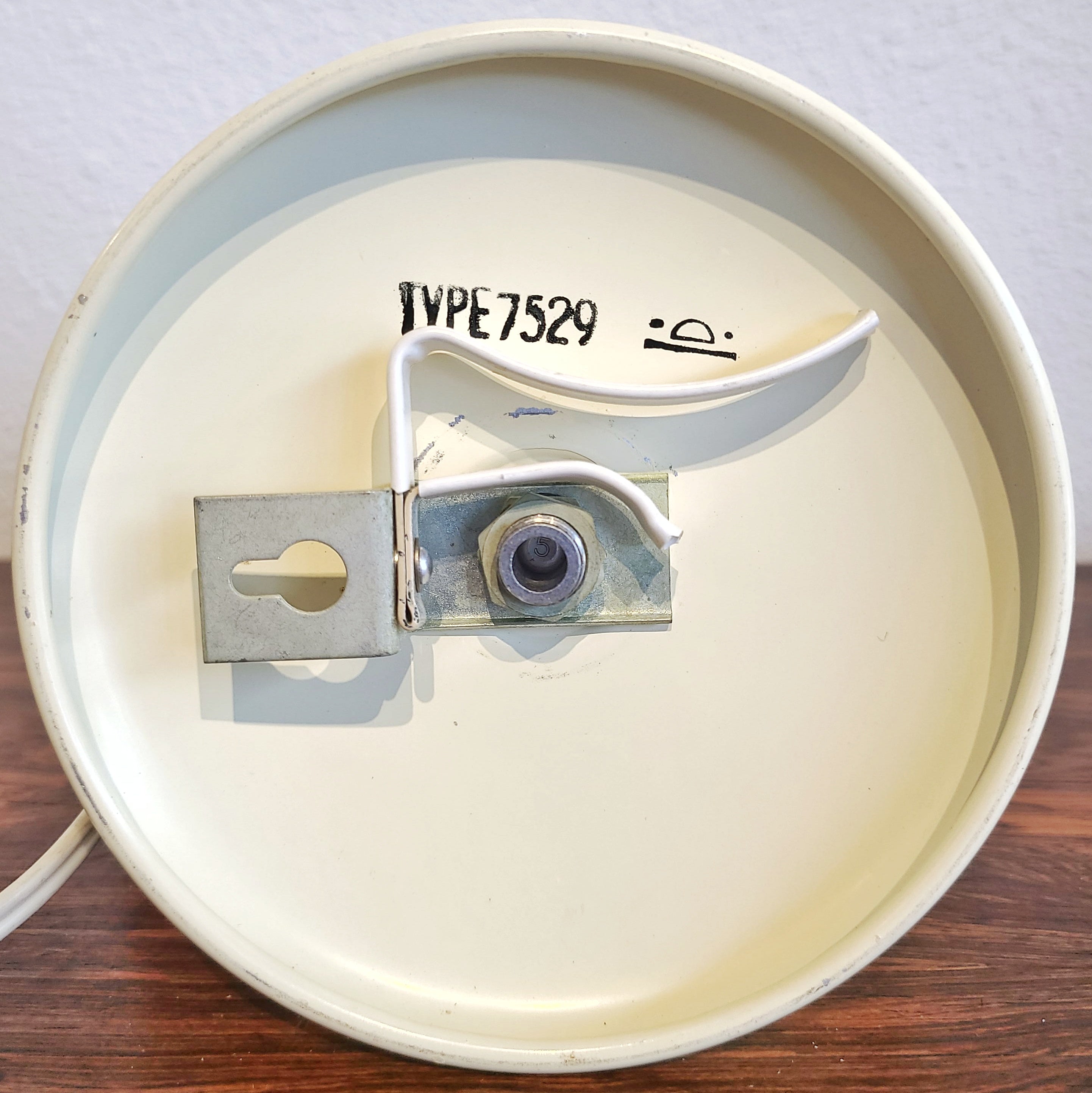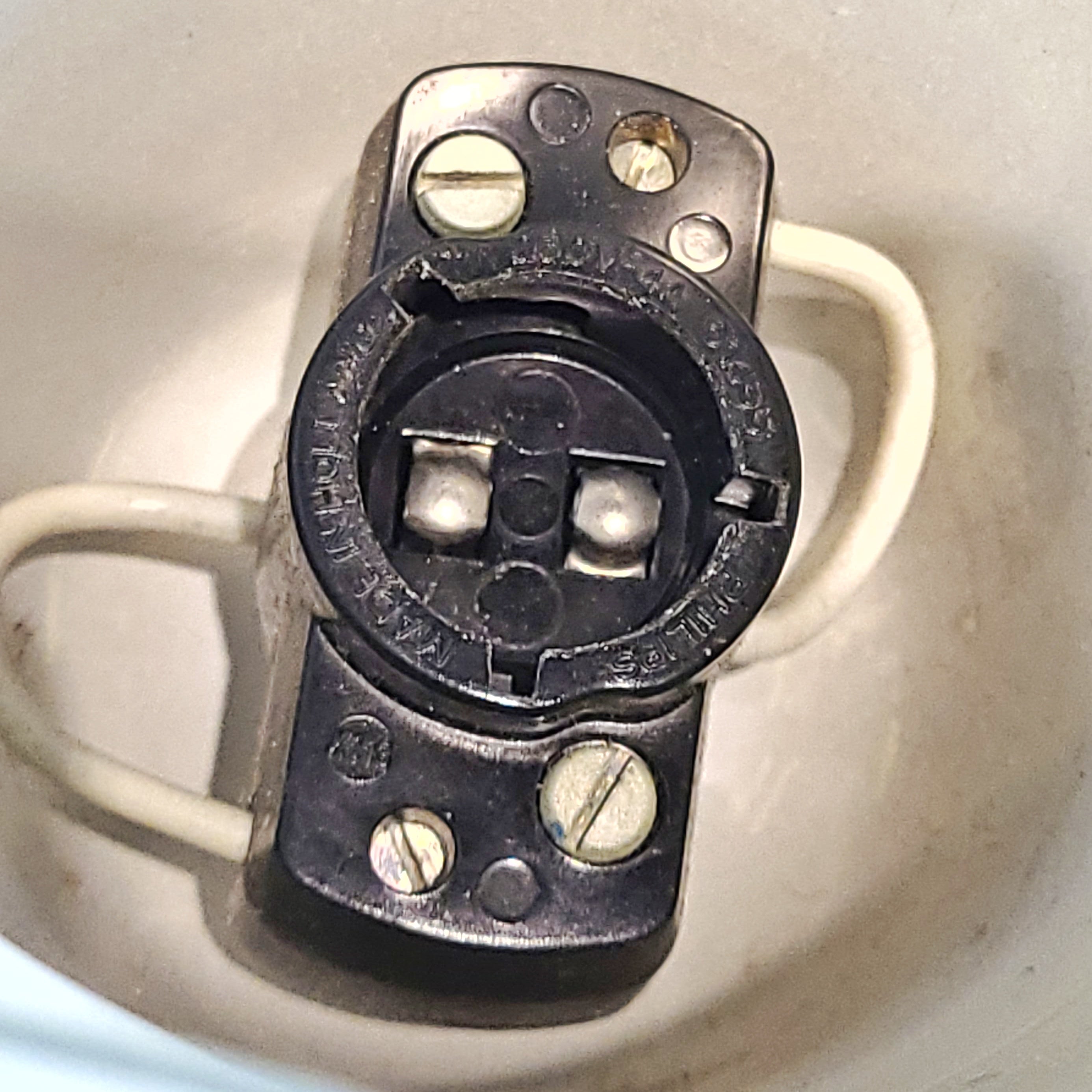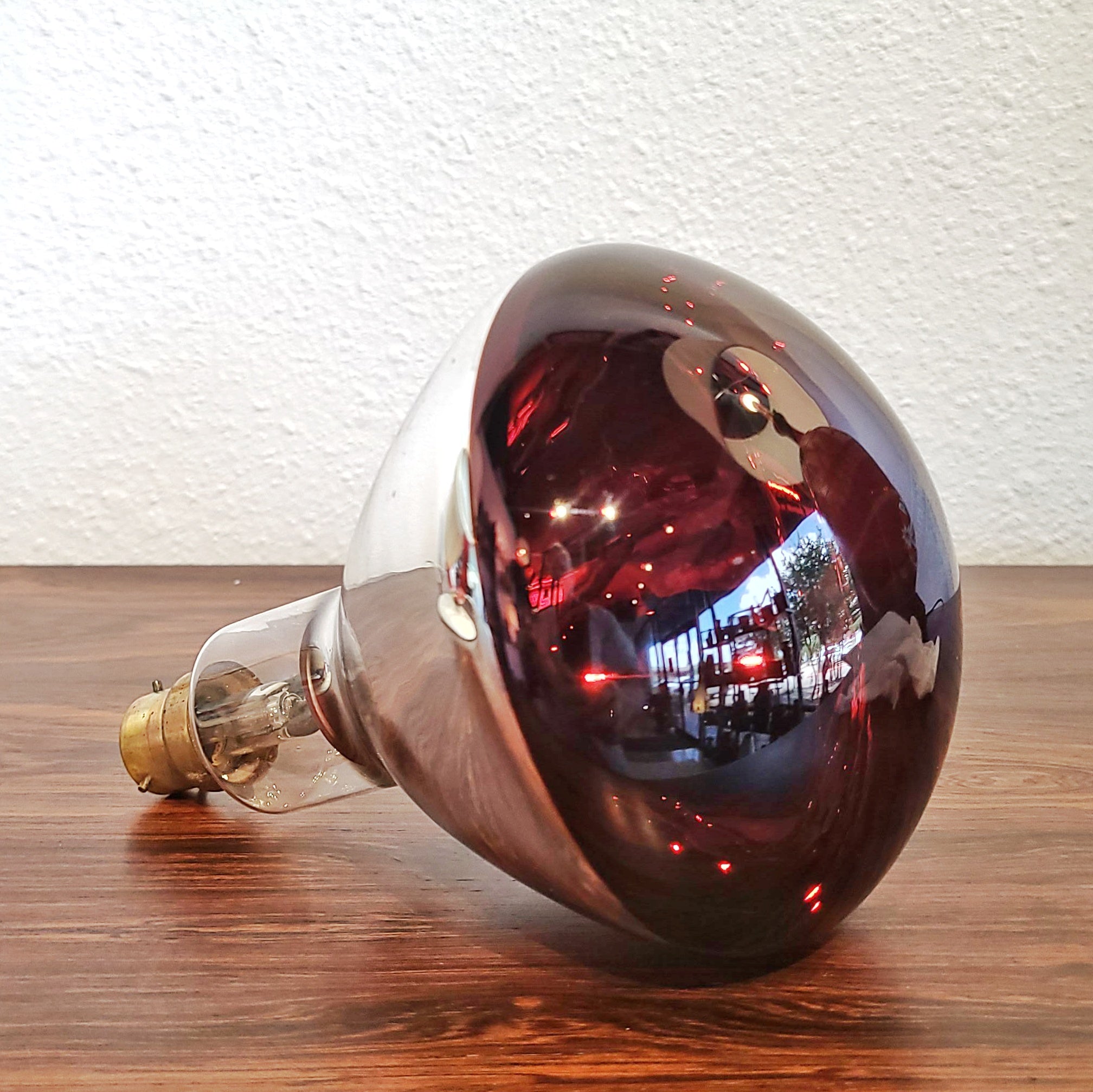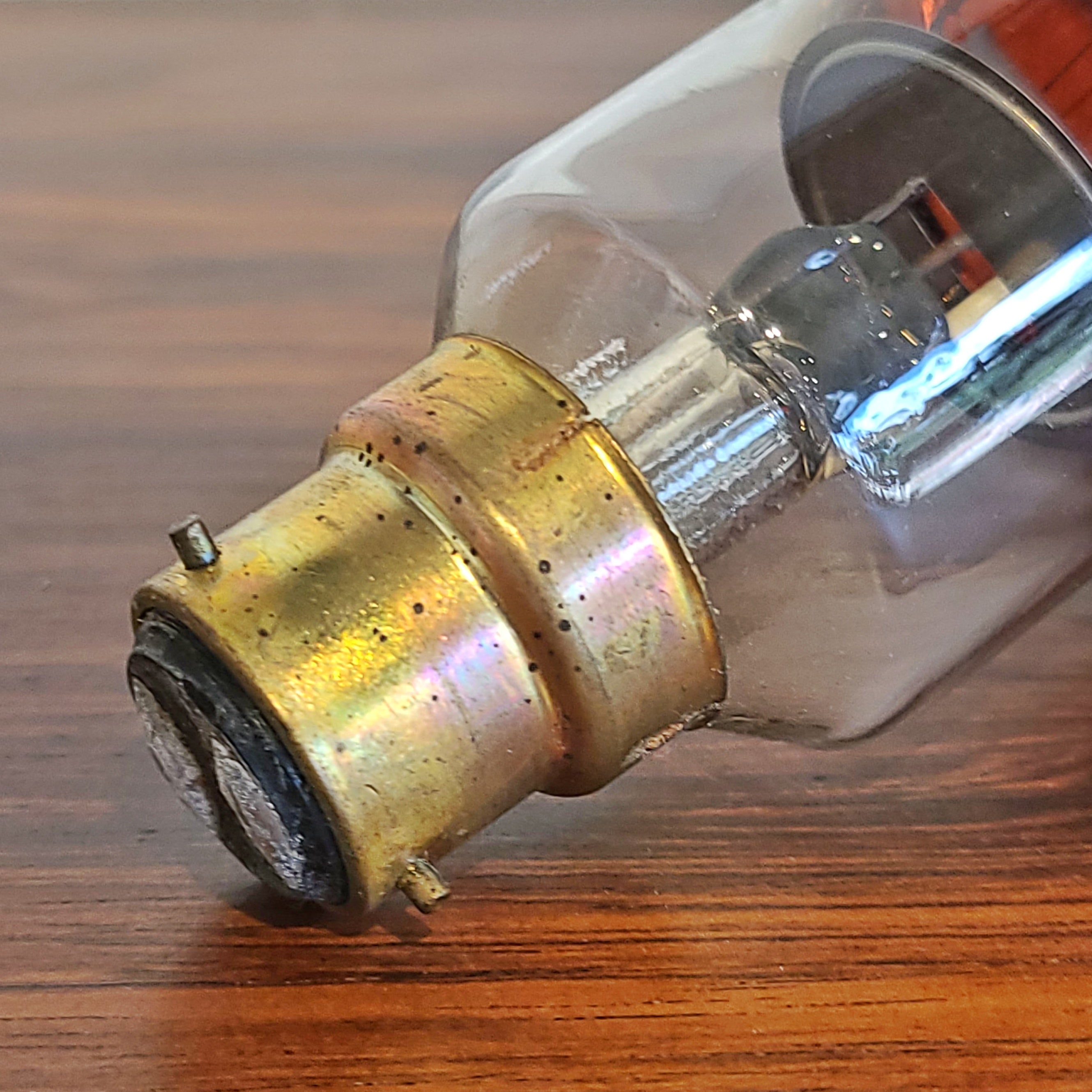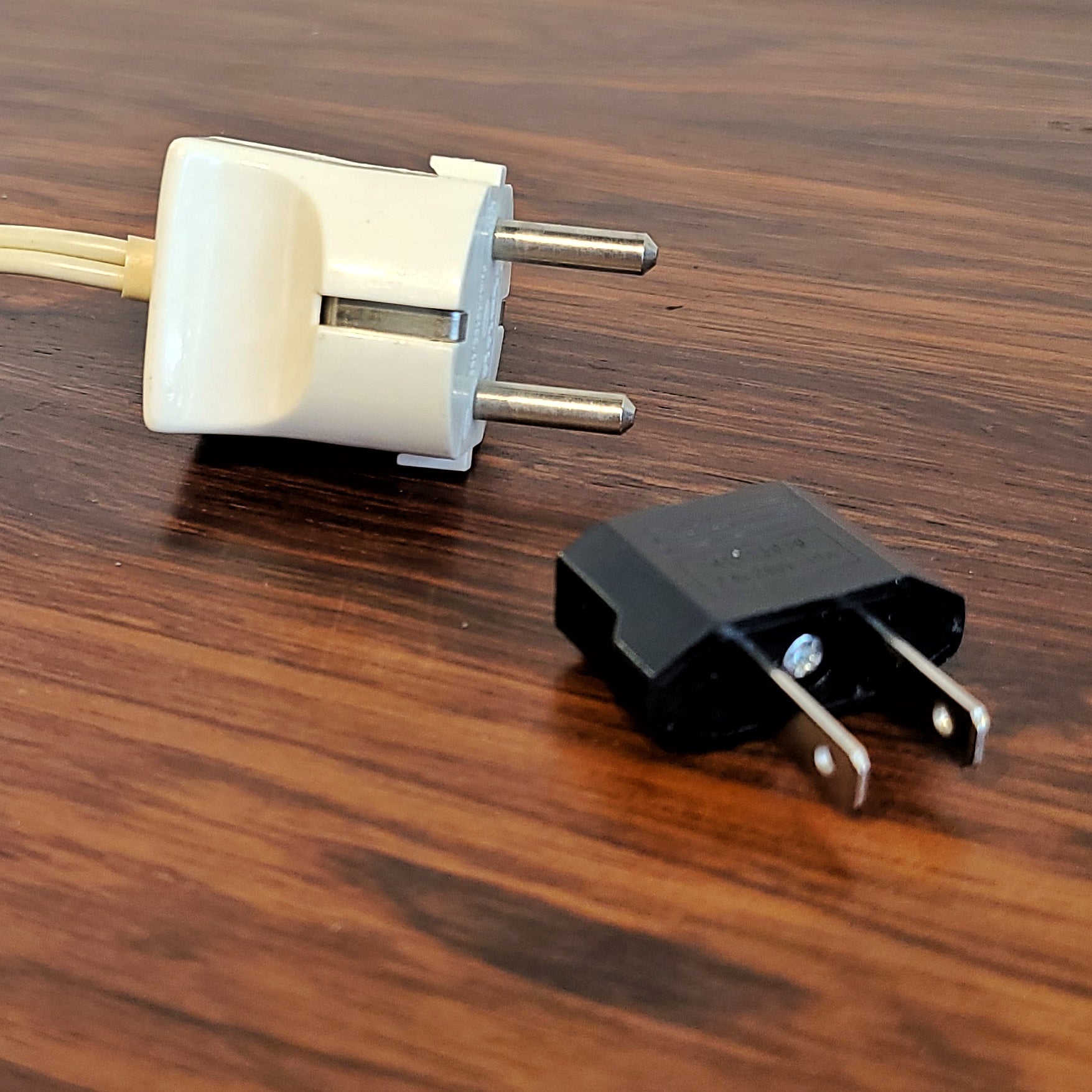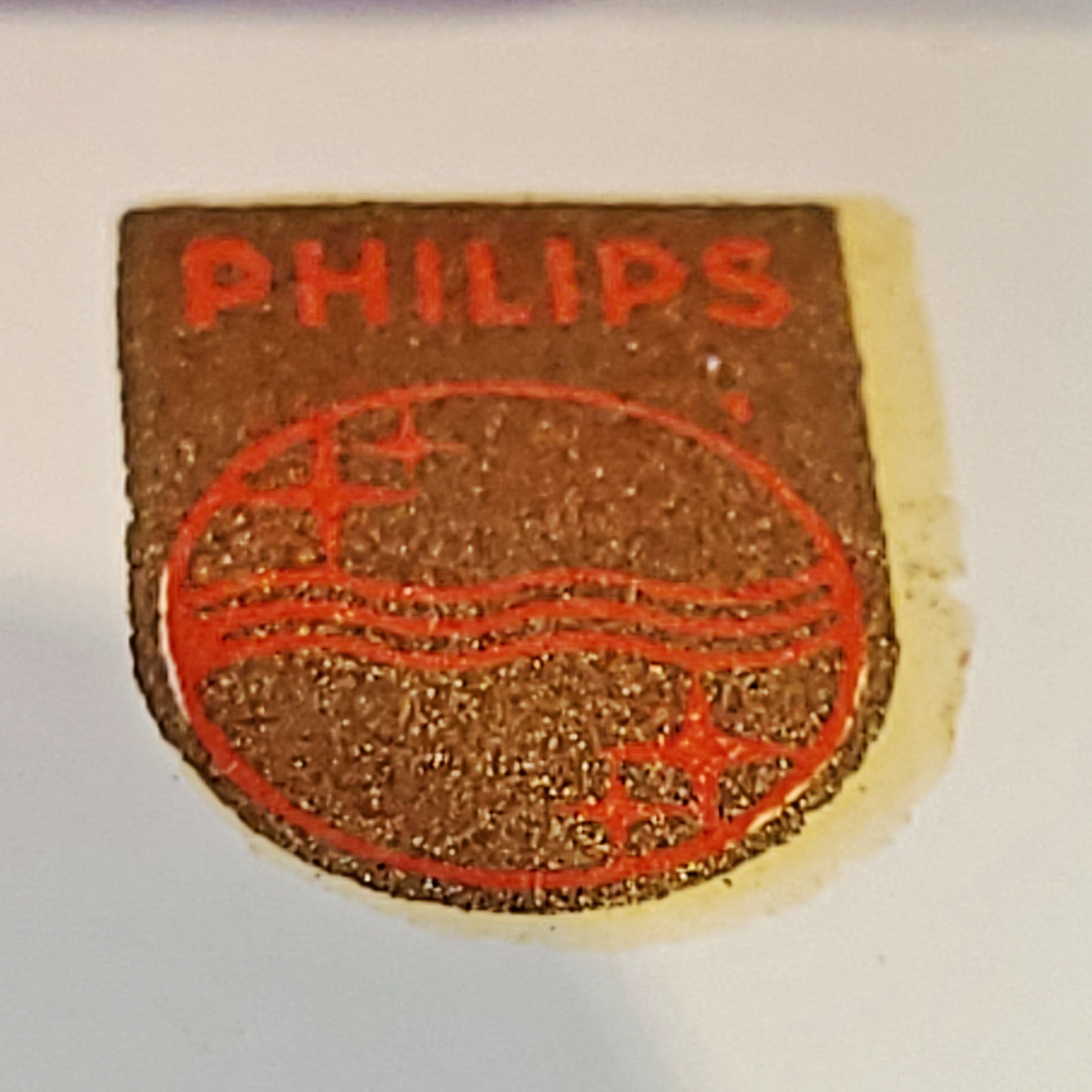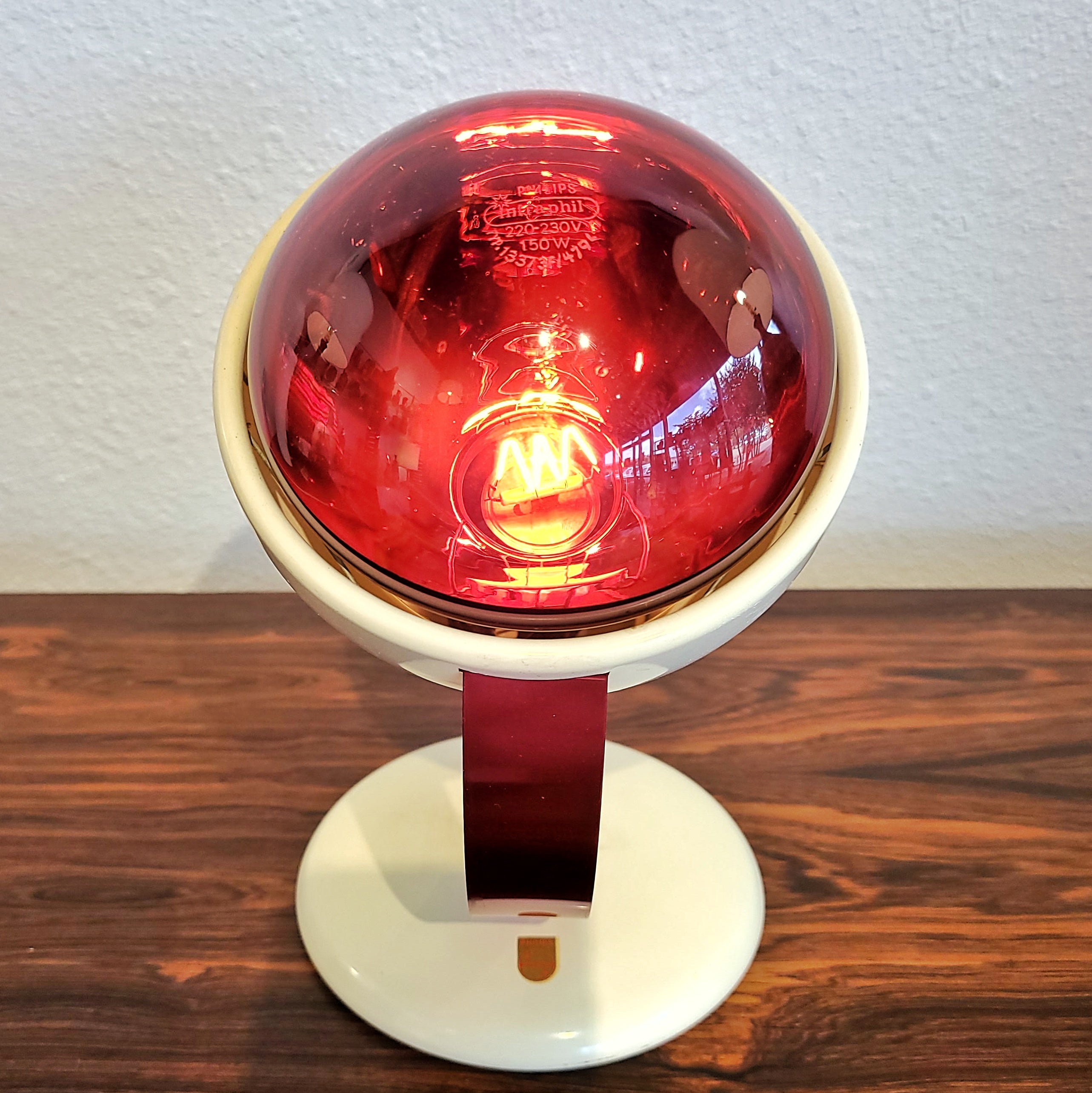 PHILIPS INFRAPHIL 7529 INFRARED HEAT LAMP ATTRIB. CHARLOTTE PERRIAND
$165.00
Regular price
$275.00
CONTACT US HERE ABOUT THIS ITEM.
Here is a 1950s era 'Infraphil 7529' heat lamp designed in the mid to late 1940s for Philips & Co. and often attributed to Charlotte Perriand.  Infraphil light bulbs were designed to emit a maximum yield of short-wave infrared radiation as a substitute for natural sunlight for the benefit of ones' health.  They were intended to be used therapeutically to relieve muscular pain.  This lamp is complete and comes with its original 150w 3-pin bayonet-style infrared bulb, which is still in working order.  This model also has a built-in hanger that allows it to be used as a sconce.  If you prefer to use it as a standard light fixture, the infrared bulb may be changed out for any other bulb that has a matching 3-pin bayonet fitting.  The lamp housing is made from ivory enameled metal and can be rotated 360 degrees on its base and tilted up and down using the characteristic red anodized aluminum ring.  It retains its original European cord and plug (adapter available upon request and free of charge) and the company decal on the base (Philips).  An enduring icon of 20th Century Modern industrial design.
CHARLOTTE PERRIAND (1903-1999) was a renowned French architect and designer who burst onto the French design scene in her early 20s, seemingly undeterred by obstacles in an era when even the progressive Bauhaus school of design barred women from architecture and furniture design courses. She studied under Maurice Dufrêne at the École de l'Union Centrale des art Décoratifs, entering into a competition at the 1925 Expo des Arts Décoratifs by age 22 and gaining critical acclaim for her exhibition at the Salon d'Automne in 1927.  In the same year, inspired by his architectural treatises, Perriand persuaded Charles-Édouard Jeanneret, known as Le Corbusier, to employ her. He put her in charge of prototype production and public presentations of the studio's work. In collaboration with Pierre Jeanneret, Perriand developed a series of tubular steel chairs, which are still today hailed as icons of the machine age.
From 1927 until 1937, she worked with Le Corbusier, designing furniture and domestic interiors. During this period, she helped found The Union des Artistes Modernes (UAM), a movement made up of decorative artists and architects who tried to make their work more accessible by using low-cost materials. In 1937 Charlotte Perriand left Le Corbusier to start a successful career of her own with work aimed at creating functional living spaces in the belief that better design helps to create a better society.
In 1940, she traveled to Japan as an official advisor on industrial design. When Japan joined the war, she found herself trapped in Vietnam from 1942 until 1946. During her exile, Perriand studied local techniques of woodwork and weaving. She returned to France, intent on introducing straw and bamboo to modern design.
Back in France, Perriand continued her work with Le Corbusier and Prouvé. She was integral to the design of Le Corbusier's Unité d'Habitation in Marseille.  In 1949, Charlotte Perriand participated in the first exhibition of the "Formes Utiles" movement, a French Design group that evolved out of the UAM. The exhibition "Formes Utiles, Objets de Notre temps" (Useful forms, objects of our time) took place in the Museé des Arts Décoratifs (Museum of Decorative Arts) located in the Palais du Louvre in Paris. For this exhibition, Charlotte Perriand selected the artwork and matching objects, among which was a Philips Infraphil heat lamp model 7525. 
Charlotte Perriand remained an influential figure in the modern movement until her death in 1999 in Paris at the age of 96. In honor of her work, a retrospective exhibition was held in the Centre Pompidou in Paris in 2005. Part of this exposition was a compilation of the 1949 exhibition in the Museé des Arts Decoratifs, for which Charlotte Perriand had curated the objects.  However, at the exhibition and in the book published for this 2005 event, the objects previously selected by Charlotte Perriand to accompany the 1949 exhibition were mistakenly identified as her designs.  Ever since then, the Philips Infraphil heat lamp model 7525 and its successors are commonly listed as objects designed by Charlotte Perriand. The actual designer of the early Philips Infraphil heat lamps is unknown but was most likely an employee of Philips.
Details
Dimensions

8.5ʺW × 5.75ʺD × 10ʺL
Styles

Bauhaus
Industrial
Modern
Lamp Shade

Not Included
Brand

Philips
"Styled After"

Charlotte Perriand
Period

1950s
Item Type

Vintage, Antique or Pre-owned
Materials

Aluminum
Enamel
Glass
Condition

Good Condition, Original Condition Unaltered, Some Imperfections
Color

Ivory
Condition Notes

Very Good Vintage Condition With Slight Taces of Age and Previous Use.