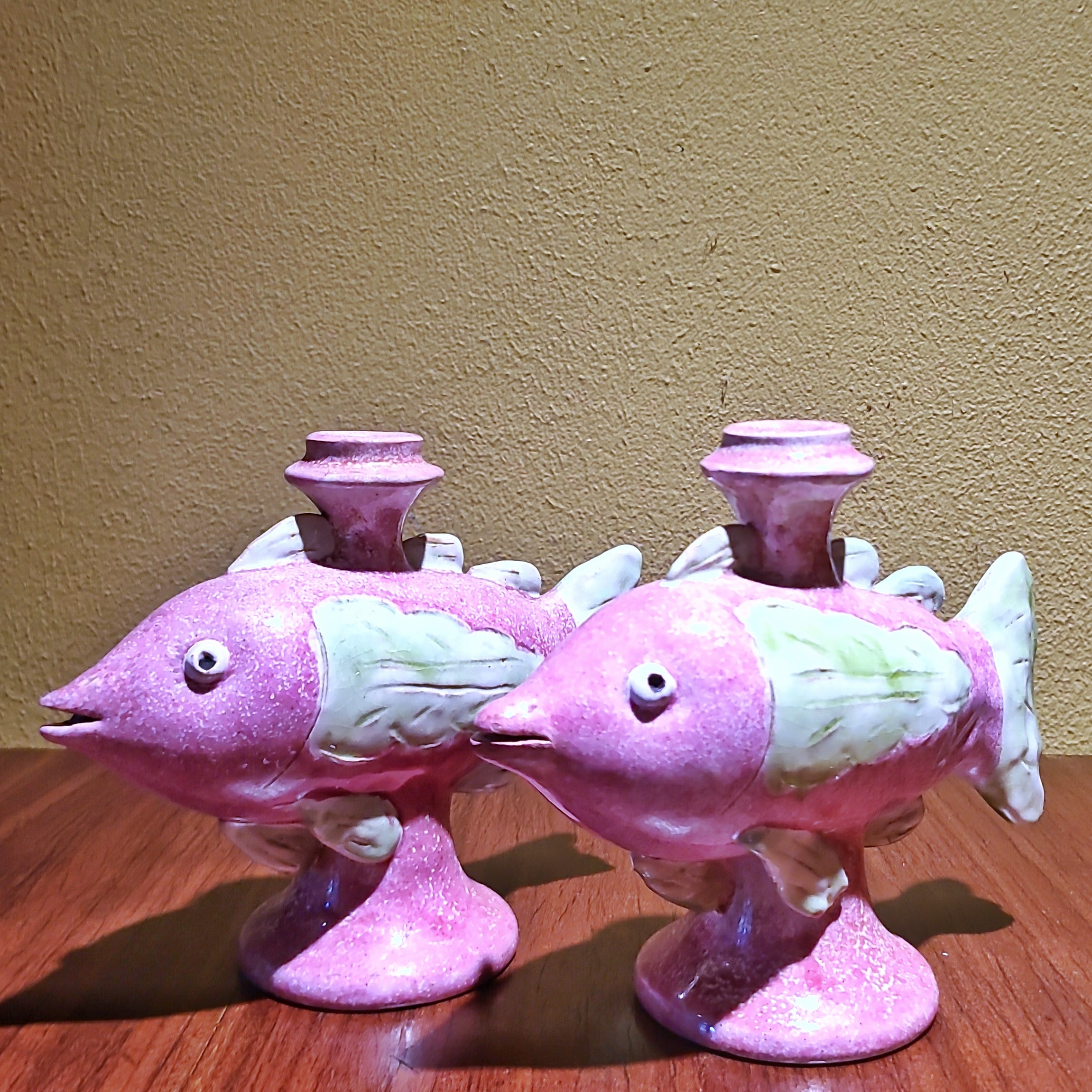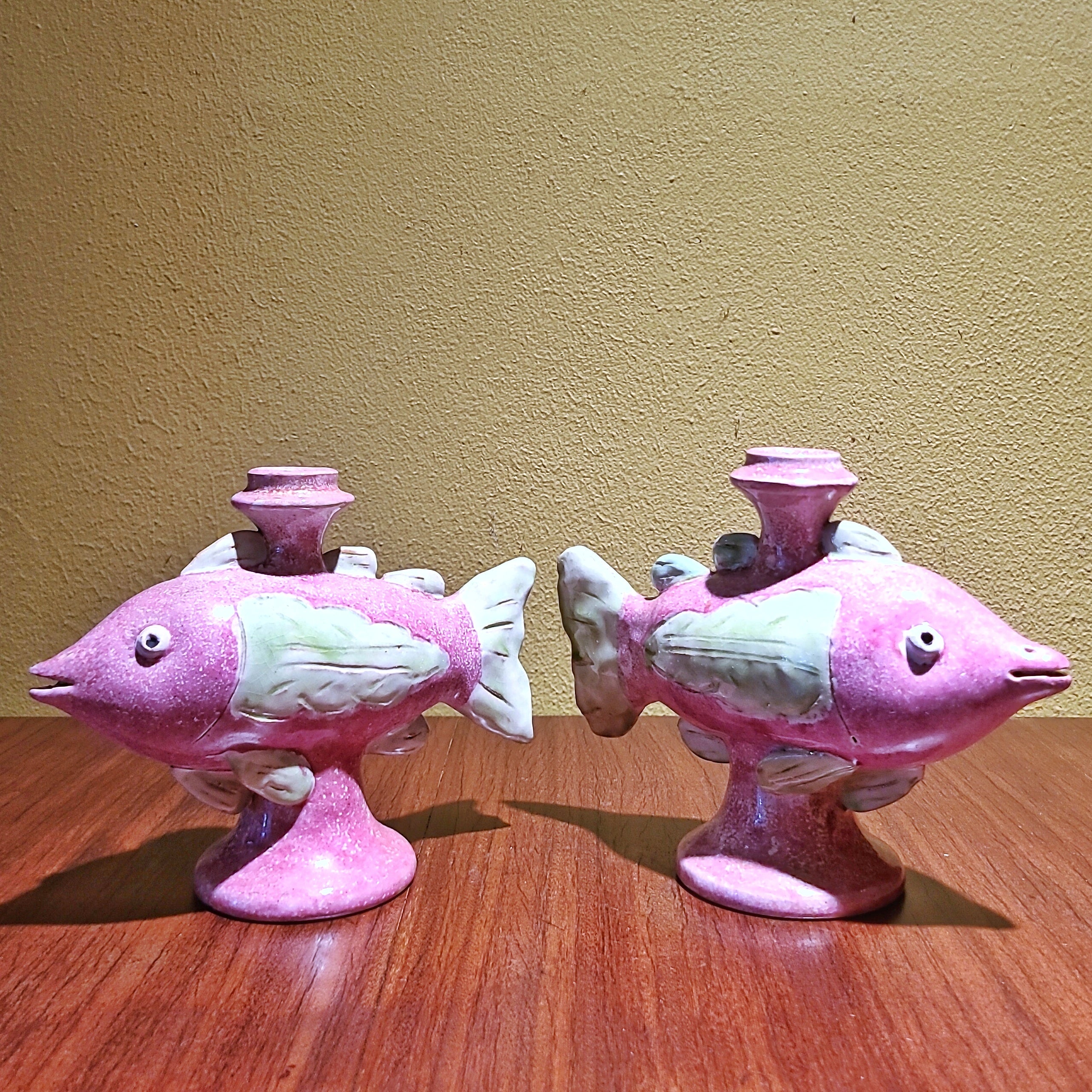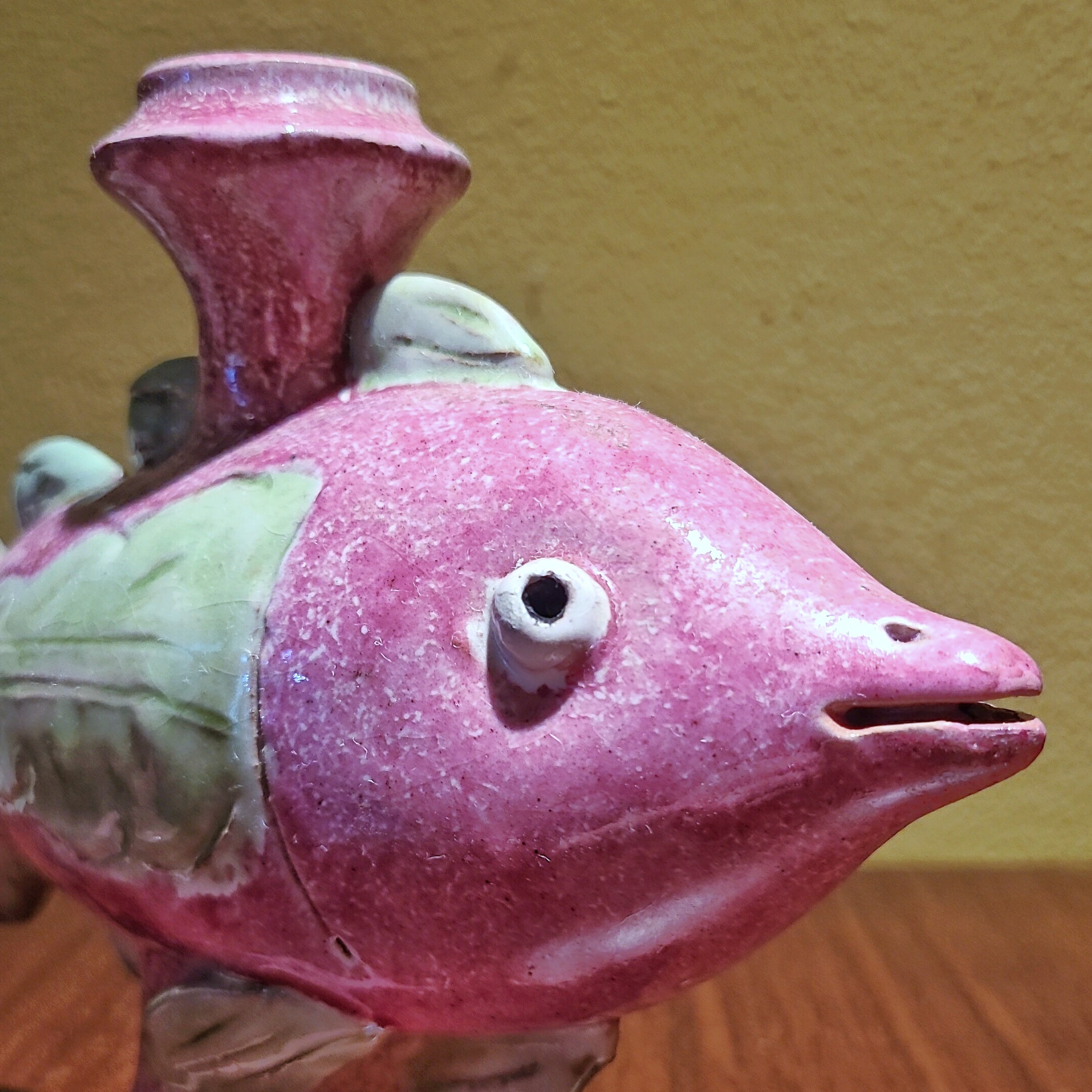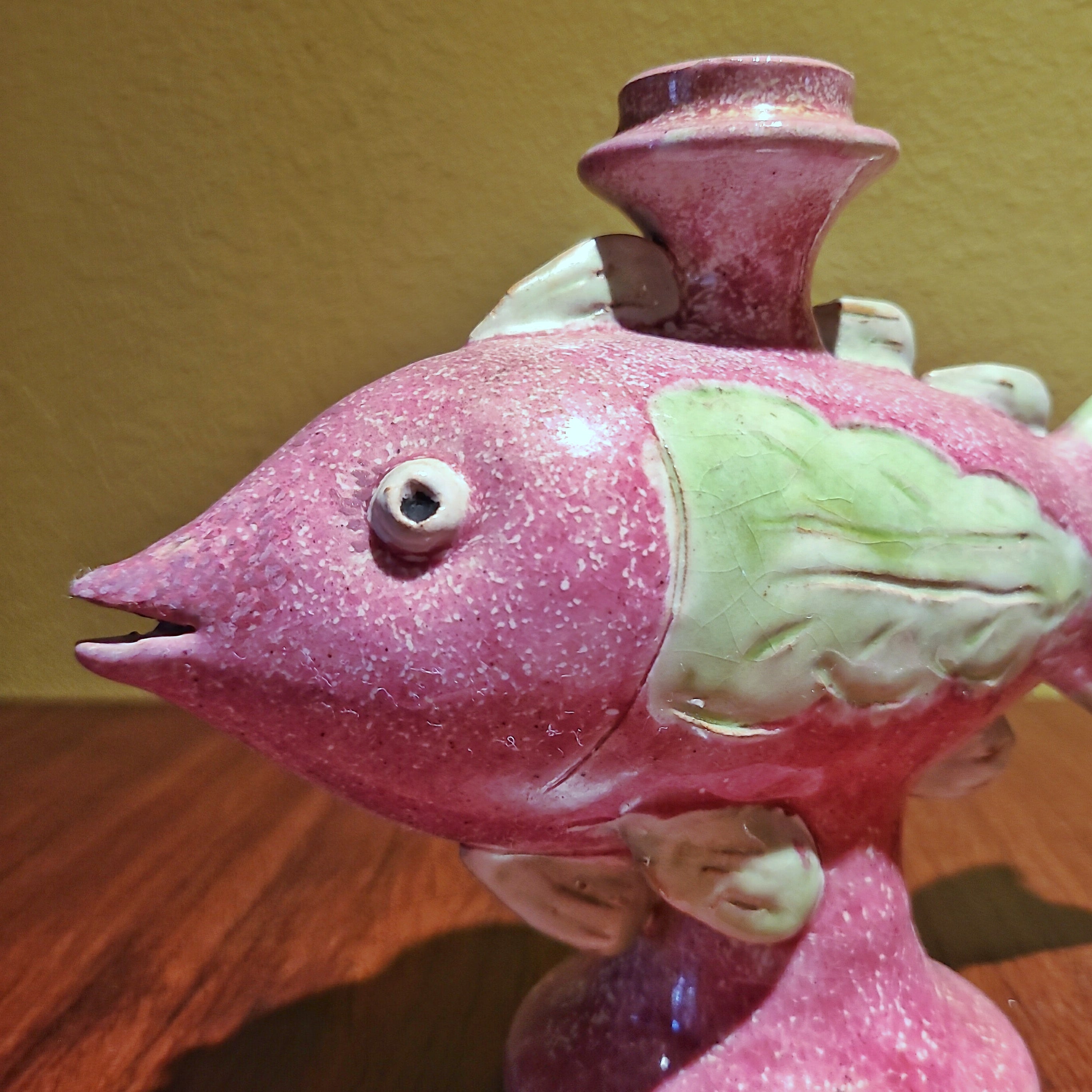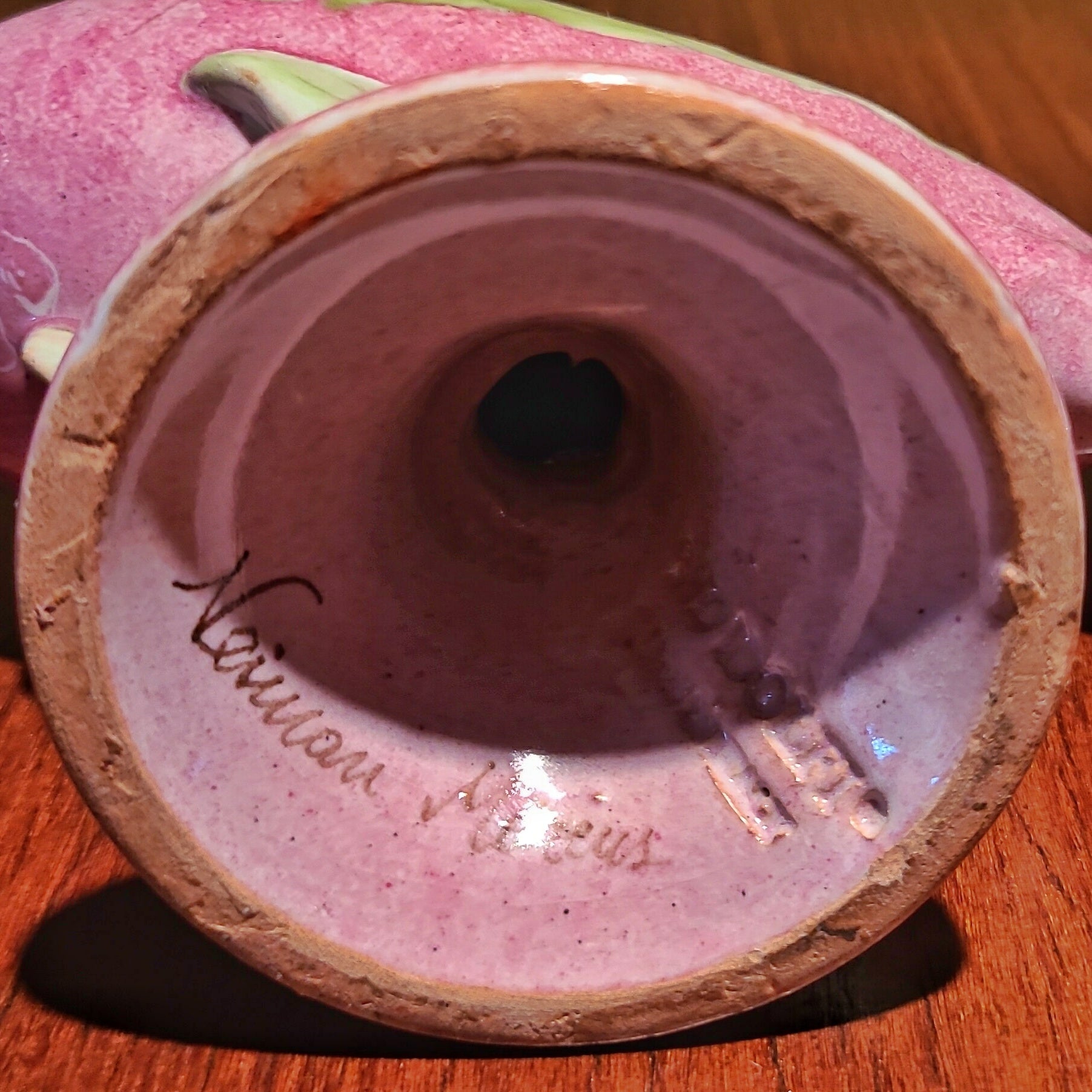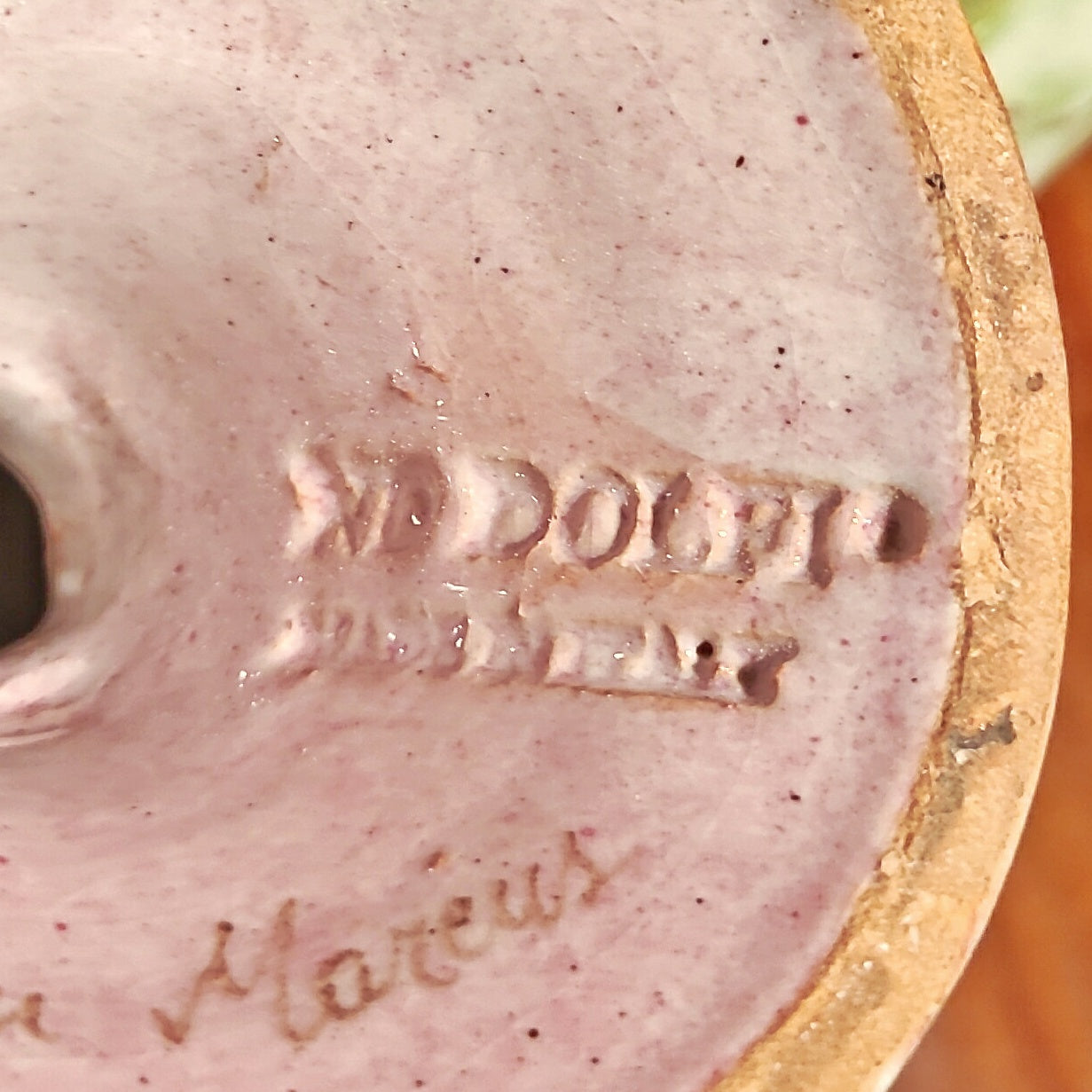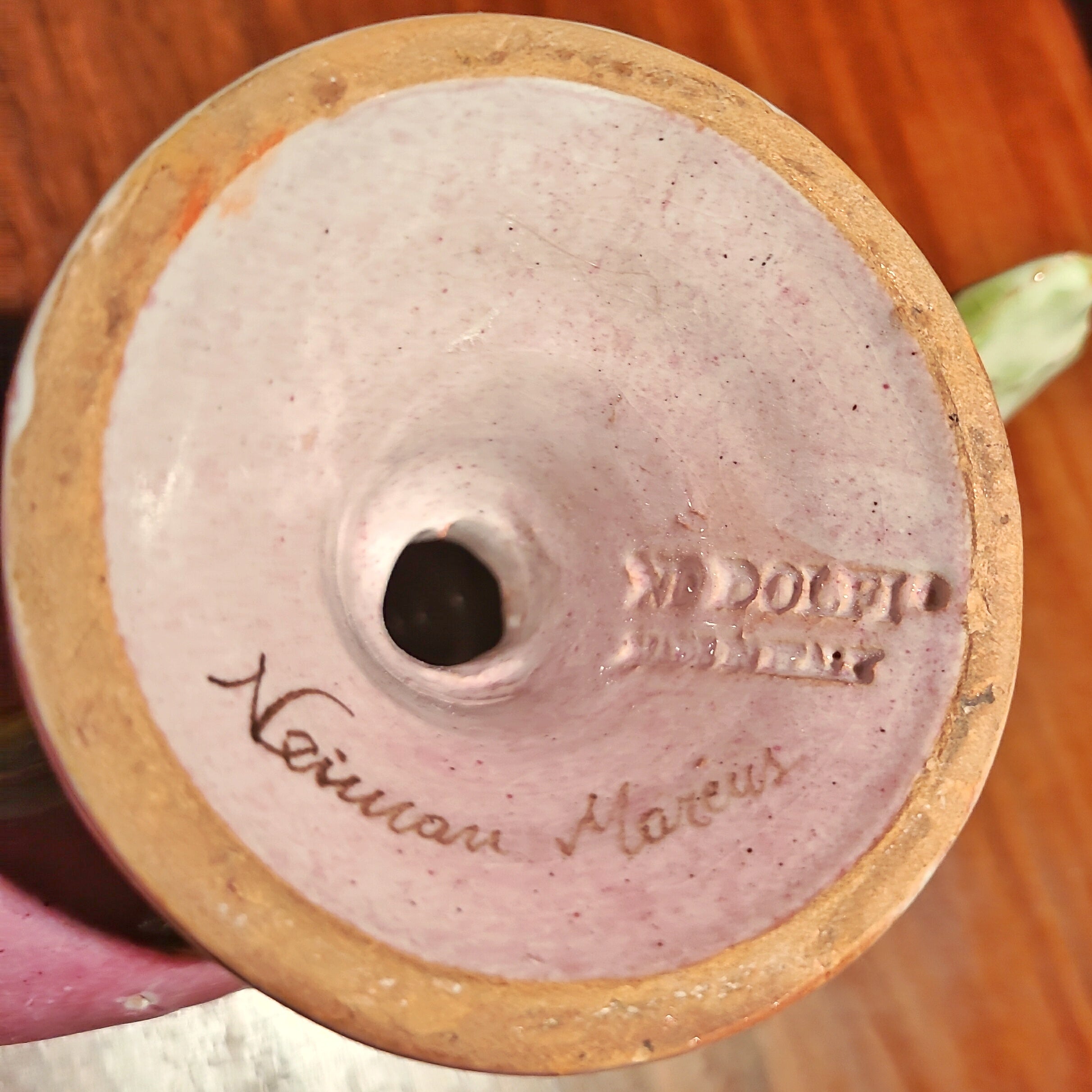 PINK & GREEN MAJOLICA FISH CANDLEHOLDERS BY ND DOLFI FOR NEIMAN MARCUS
CONTACT US HERE ABOUT THIS ITEM.
A whimsical pair of pink and green, Italian majolica fish-shaped candle holders produced in the 1960s by BOTTEGA ND DOLFI for Nieman Marcus, embodying the playful nature of much of the studio's work.
BOTTEGA ND DOLFI has been producing unique majolica pieces for more than 80 years. Founded as Bottega d'Arte Dolfi by Giovanni Dolfi in 1941, the original workshop was established in the castle that overlooks the town of Montelupo in Tuscany and was devoted to producing majolica in the traditional Tuscan style. Giovanni's son Silvano, who grew up working among artisans, established an atelier of his own in 1994. He christened it BOTTEGA ND DOLFI in recognition of the budding talent of his daughters, Natalia and Daria, thereby projecting the family legacy forward. After winning the esteem of the international market, the company moved its operations to the modern facility that houses it today.
Silvano Dolfi was recognized as a Maestro Artigiano, or Master Craftsman, in 2009. That same year he handed the reins of ND DOLFI over to his daughters. Along with Natalia's husband Carlo, they still manage all aspects of the manufacturing process today. They work with their artisans to create one-off majolica pieces that reference Tuscany's strong ceramic heritage while experimenting with materials and contemporary designs. Small imperfections such as the differences in color and shape or small bubbles in the glaze testify to the products' artisanal authenticity.
ND DOLFI uses high quality raw materials that are handled, reworked, and mixed according to the rules of the majolica artwork tradition. Love of the material, respect for method, and a willingness to play are the driving forces behind every stage of manufacture. ND DOLFI outlines its production phases as follows:
Kneading the clay, to obtain the right consistency for the subsequent casting and processing on the wheel
Turning by hand and manual casting in plaster molds
Finishing the article by hand, adding decorative features
Slow drying, at natural temperature, after which the product is light gray in color
Firing, to a maximum temperature of 1,050 degrees centigrade. At the end of this phase, which takes an entire day, the article assumes the color red and is referred to as "bisque" or "biscuit"
Applying several coats of enamel in succession
Decorating the item, exclusively by hand
DETAILS
Maker – BOTTEGA ND DOLFI
Production Period/Year – 1960s
Origin – WEST GERMANY
Styles/Movements – MID-CENTURY MODERN
Materials – MAJOLIKA
Colors – PINK, GREEN
Condition – Excellent vintage condition; no damage. May show some signs of previous use.
Dimensions – 8" W × 3 ¼" D × 6 ½" H