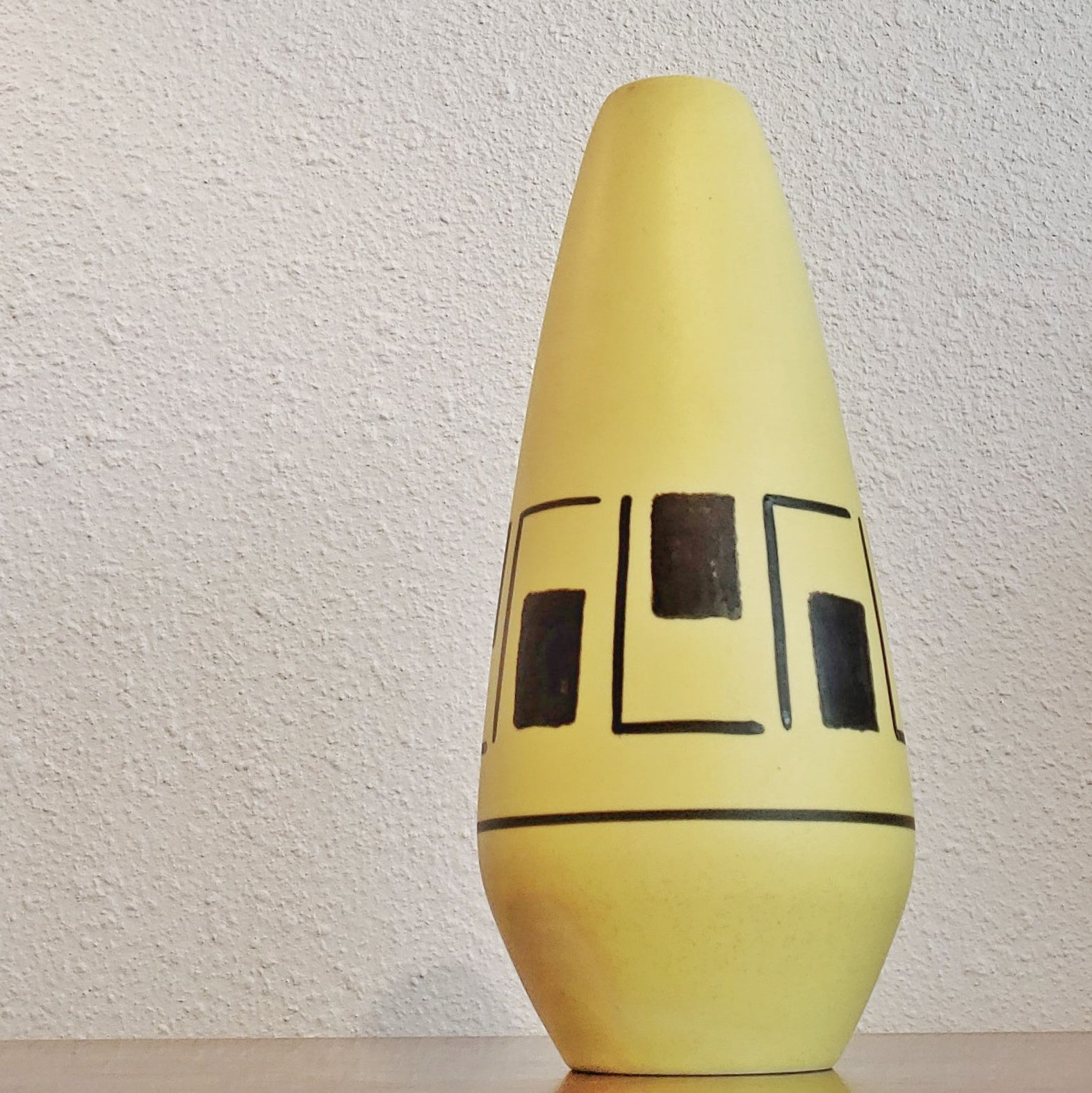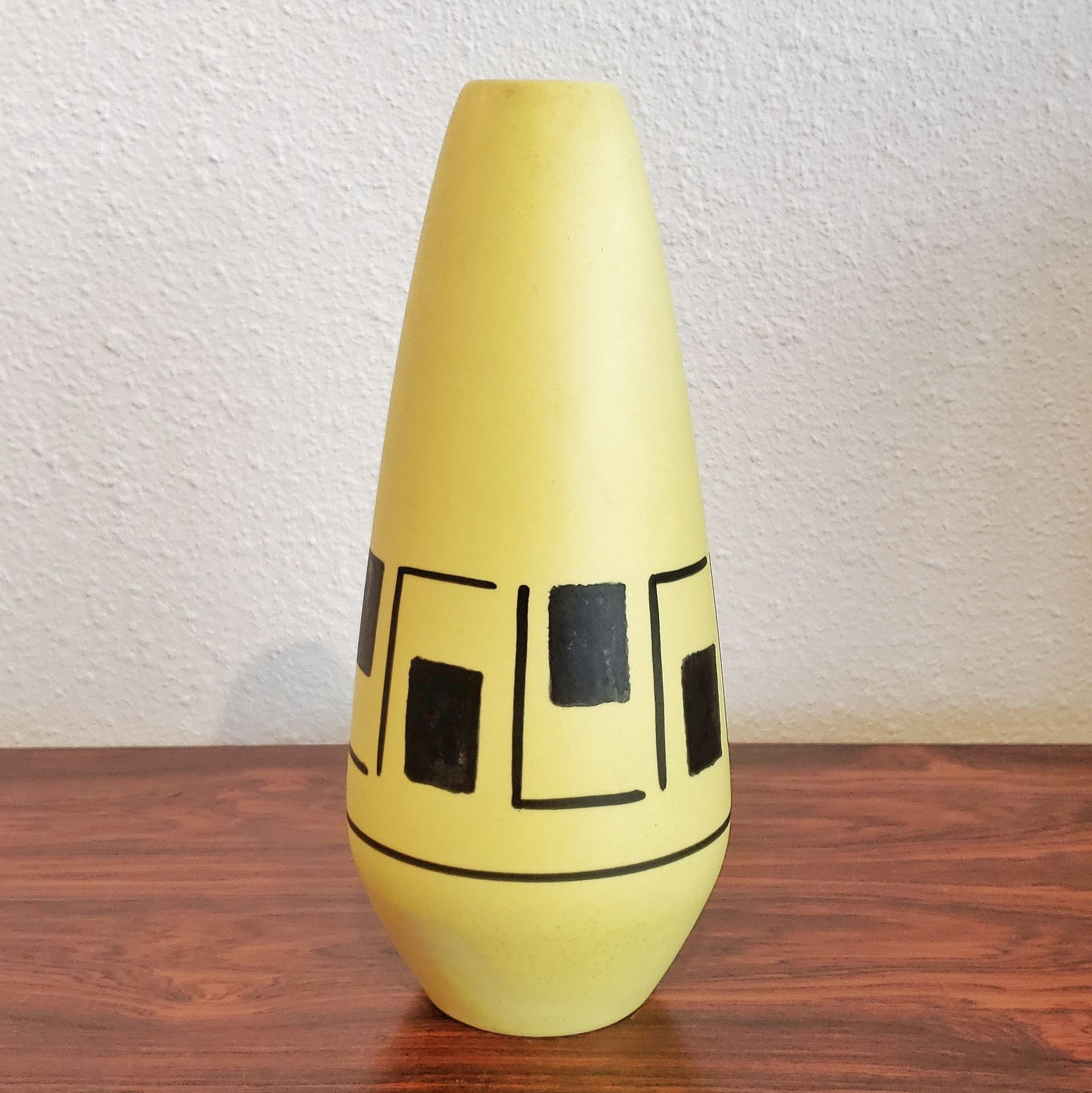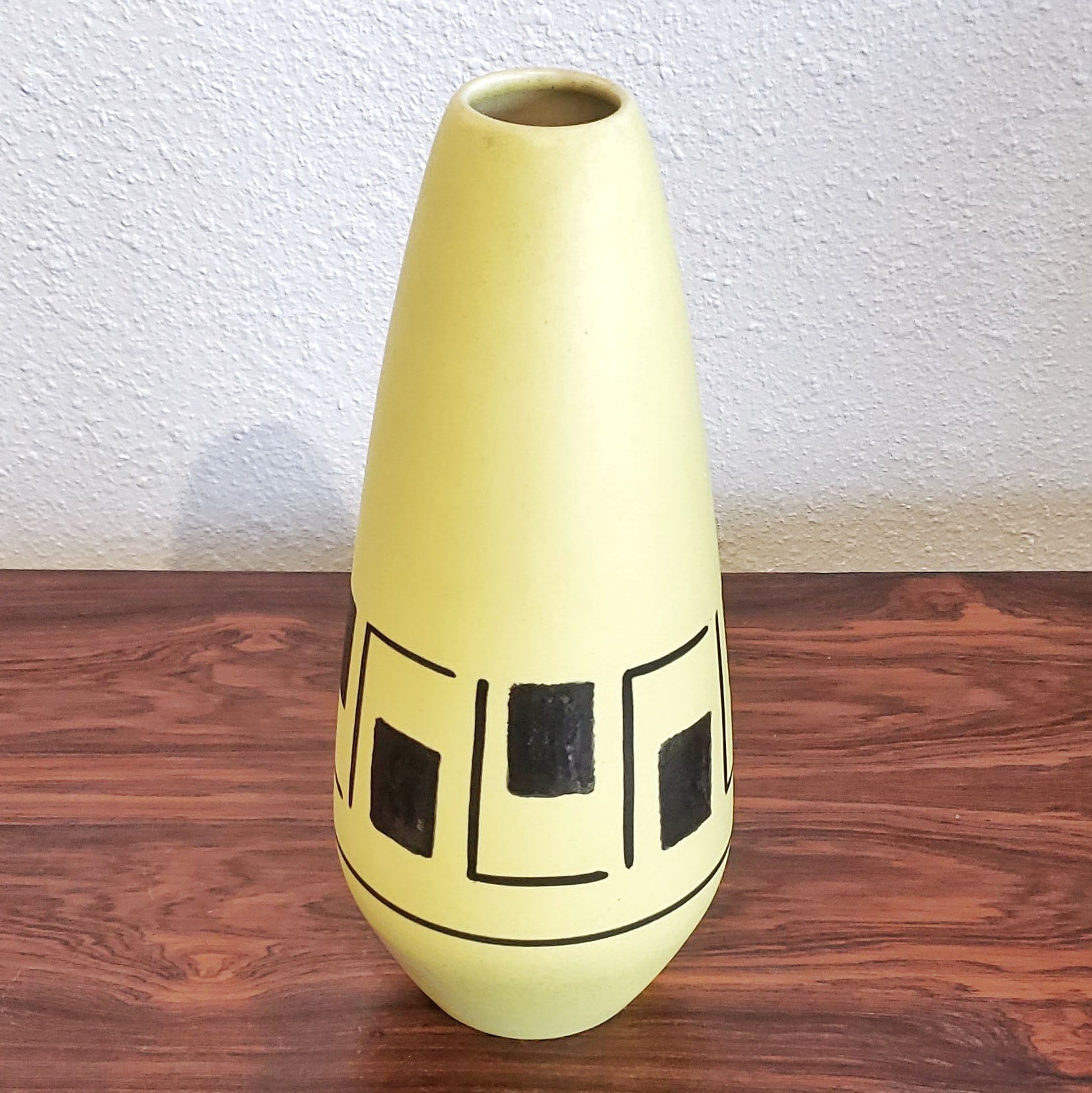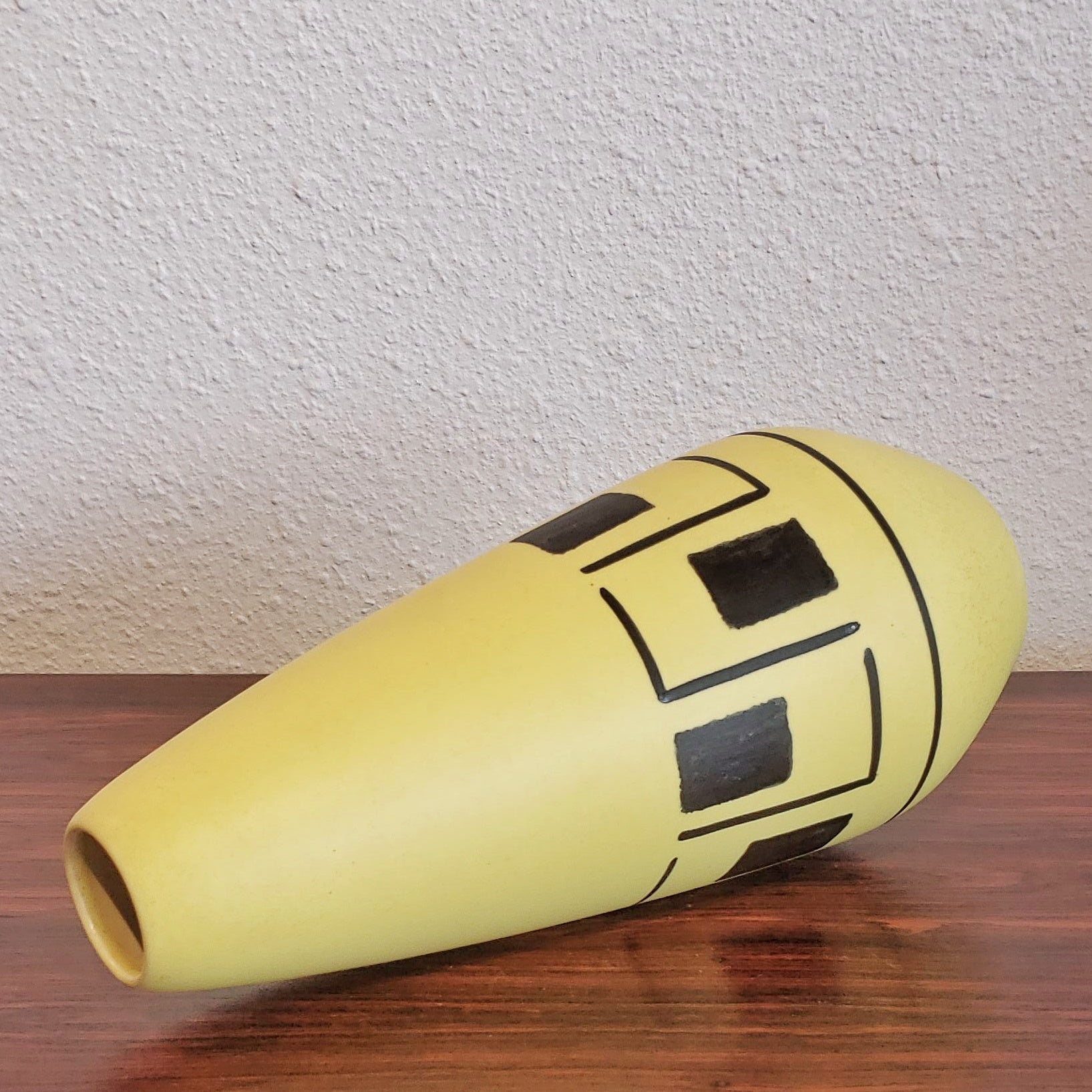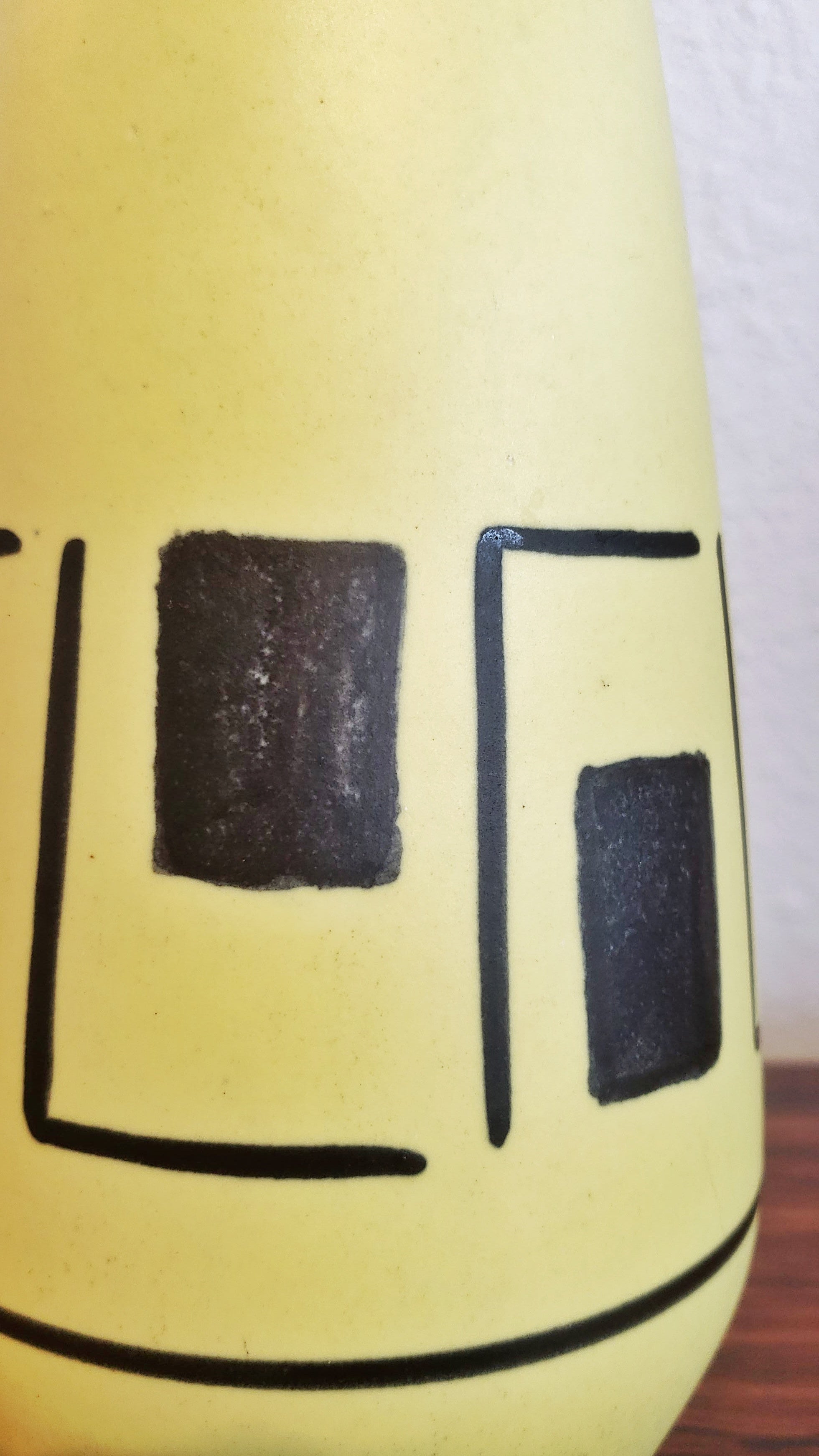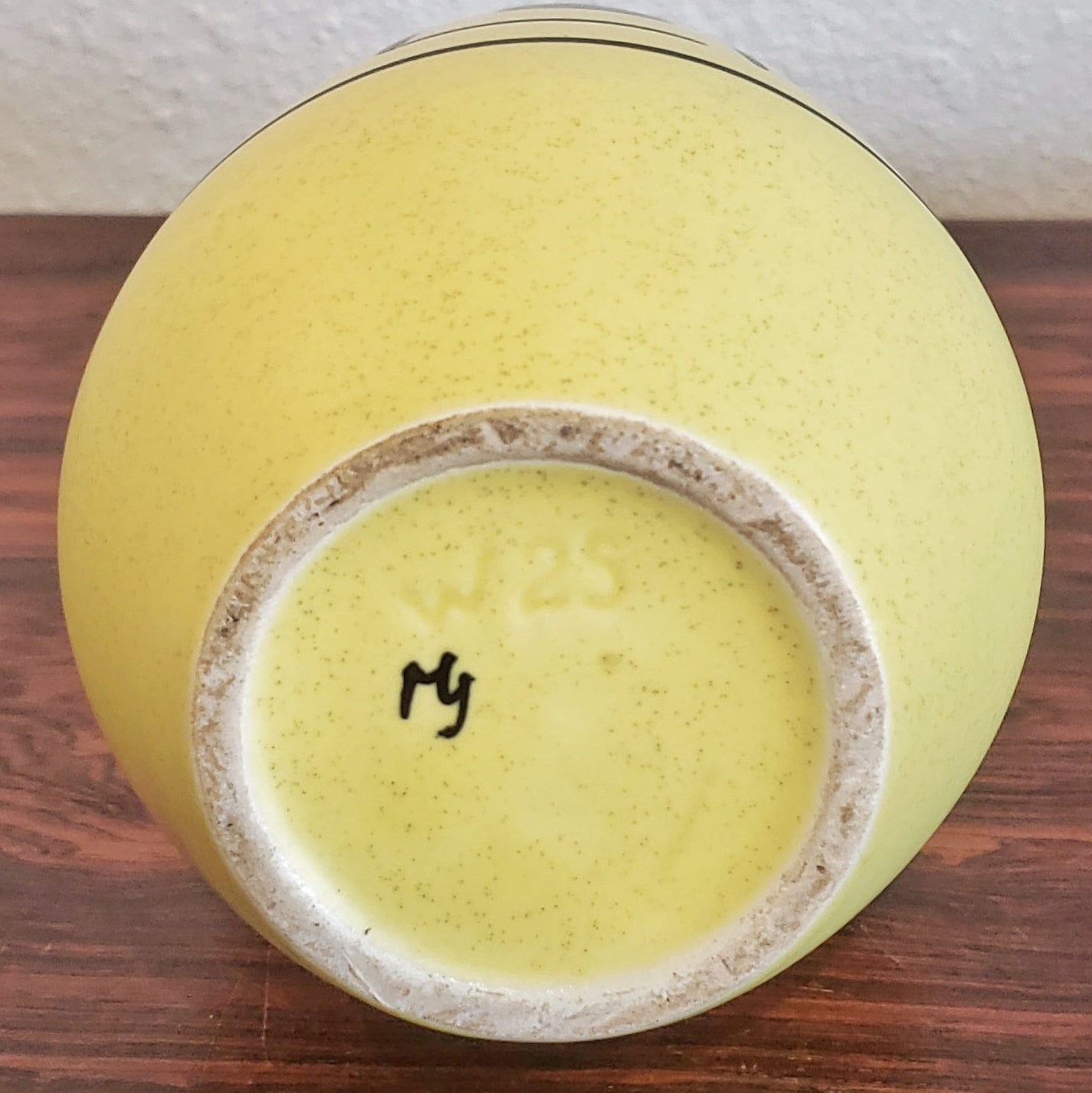 STÜTZEL-SACHS KERAMIK VASE No.W-25 (SIGNED)
CONTACT US HERE ABOUT THIS ITEM.
A Stützel-Sachs teardrop vase in yellow with a hand painted black geometric decor. initialed by the artist.
STÜTZEL-SACHS GmbH was formed in Aalen, Germany in 1882 from an artisanal tile stove company that had been in existence since the middle of the 19th century.  It was developed into an industrial company that made tableware and household goods out of the native clay, in addition to flowerpots and other gardening items.  The range was subsequently expanded to include faience ware and decorative ceramics with underglaze painting in a predominantly traditional style.  Albrecht Leo Merz was also temporarily employed by Stützel-Sachs before going on to found the Werkhaus Mertz in 1918.
In 1943 the business was transformed into a limited liability company and expanded to include wholesale trade in earthenware and porcelain.  At the same time, a branch with manufacturing facilities was set up in Munich.  The manufacturing program continued essentially unchanged even after the end of the war.  However, the shape and decor designs of the 1950s show clear concessions to the tastes of the time.  The company, which had around 110 employees at the beginning of the decade, introduced a co-entrepreneur model in 1951, which received great attention at the time, although there is no knowledge of the program's success or duration.  Although the number of employees had increased to around 140 in 1955, the general crisis in the ceramic industry started to decrease productivity in the following decade.  In 1969 the Munich branch and the manufacturing facilities there were closed.  The company closed its doors on April 30, 2000, and when the liquidation ended on March 17, 2003, the business was dissolved.
| | |
| --- | --- |
| Manufacturer | STÜTZEL-SACHS |
| Design Period | 1950 to 1959 |
| Year of Production | |
| Production Period | Unknown |
| Country of Manufacture | Germany |
| Identifying Marks | This piece has been attributed based on archival documentation, such as vintage catalogs, designer records, or other literature sources |
| Style | Vintage, Mid-Century, Minimalist, Modernist |
| Detailed Condition | Excellent — This vintage piece is in near original condition. It may show minimal traces of use and/or have slight restorations. |
| Product Code | |
| Materials | Ceramic |
| Color | Black, yellow |
| Width | 4.3 inch |
| Depth | 4.3 inch |
| Height | 10.0 inch |