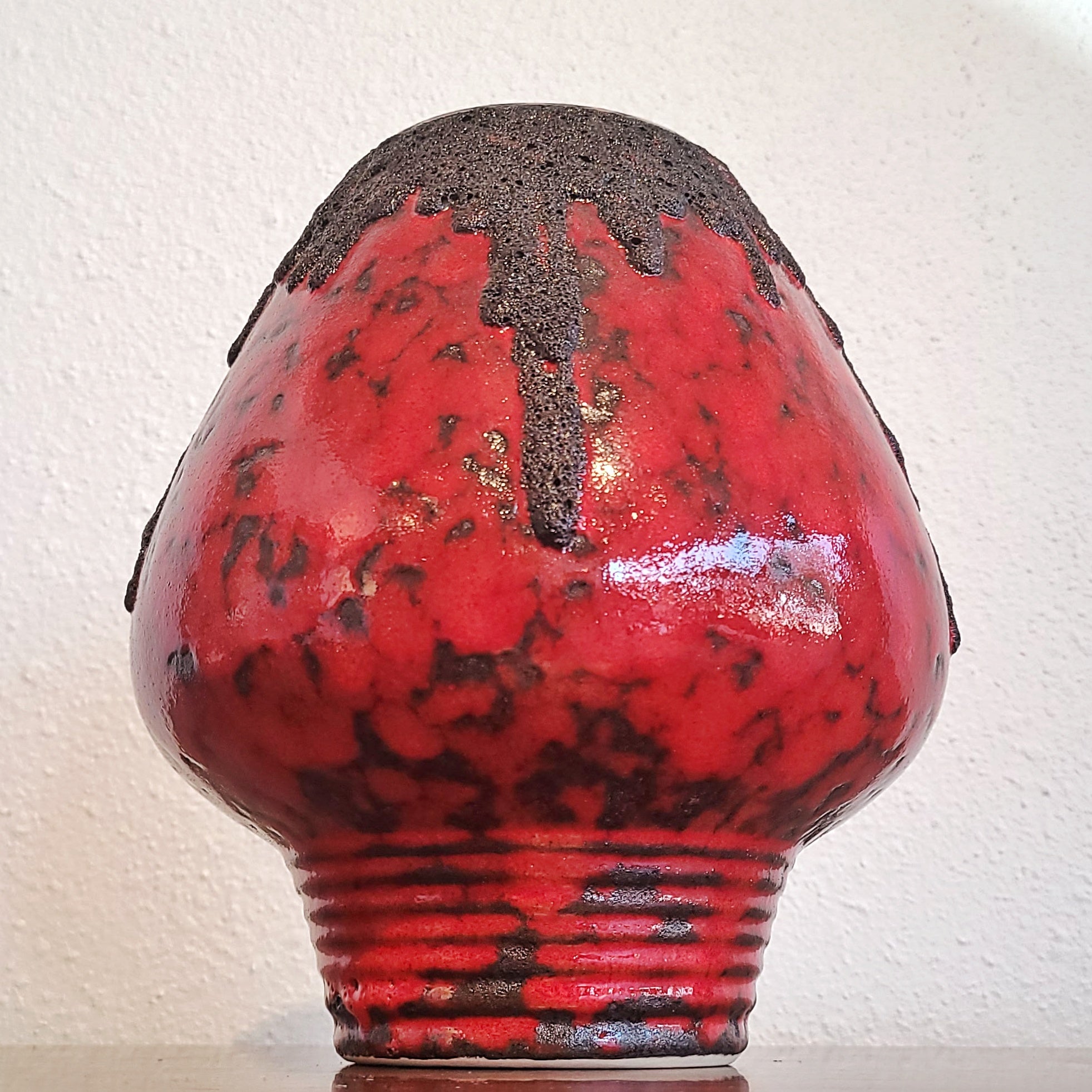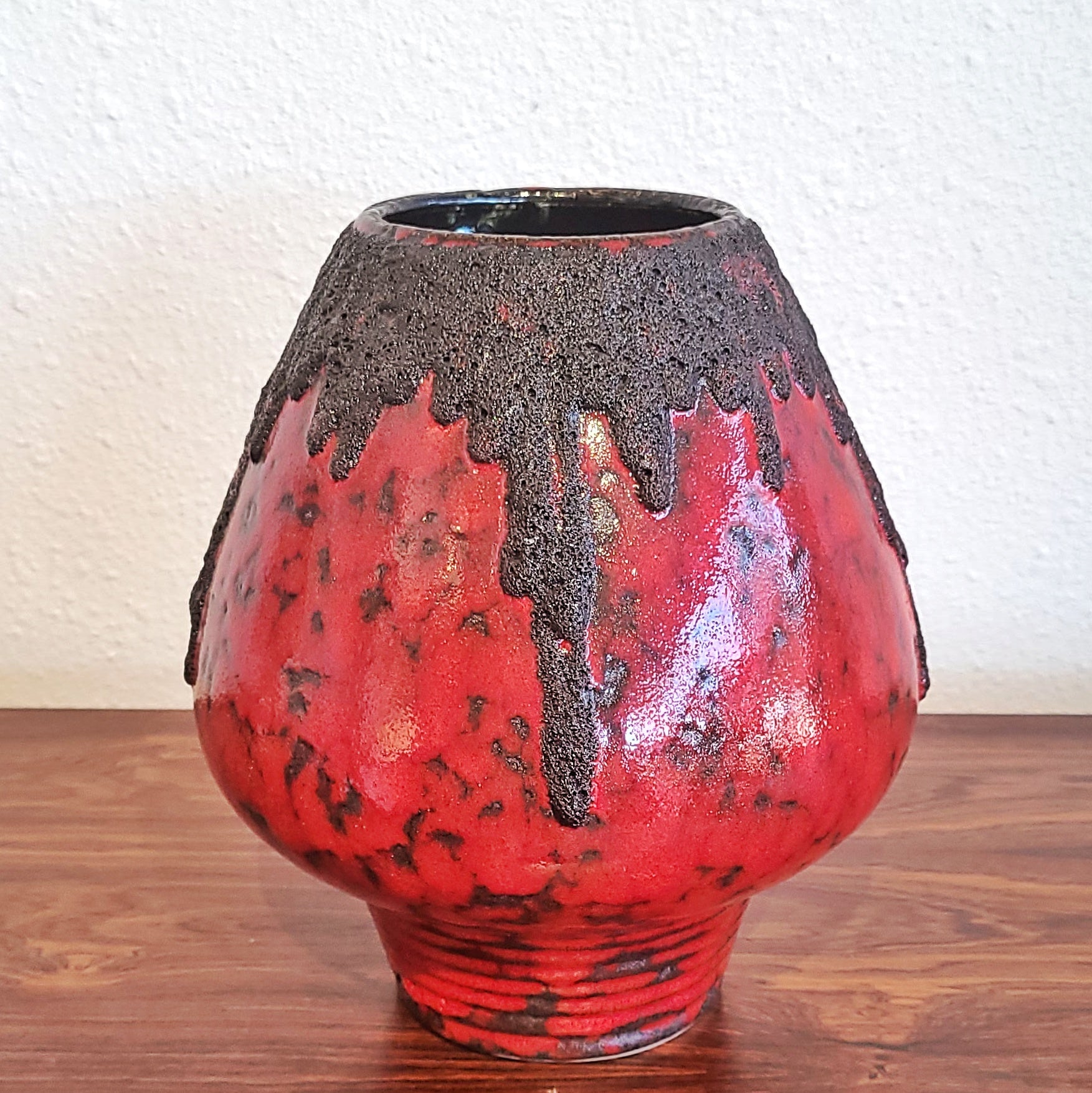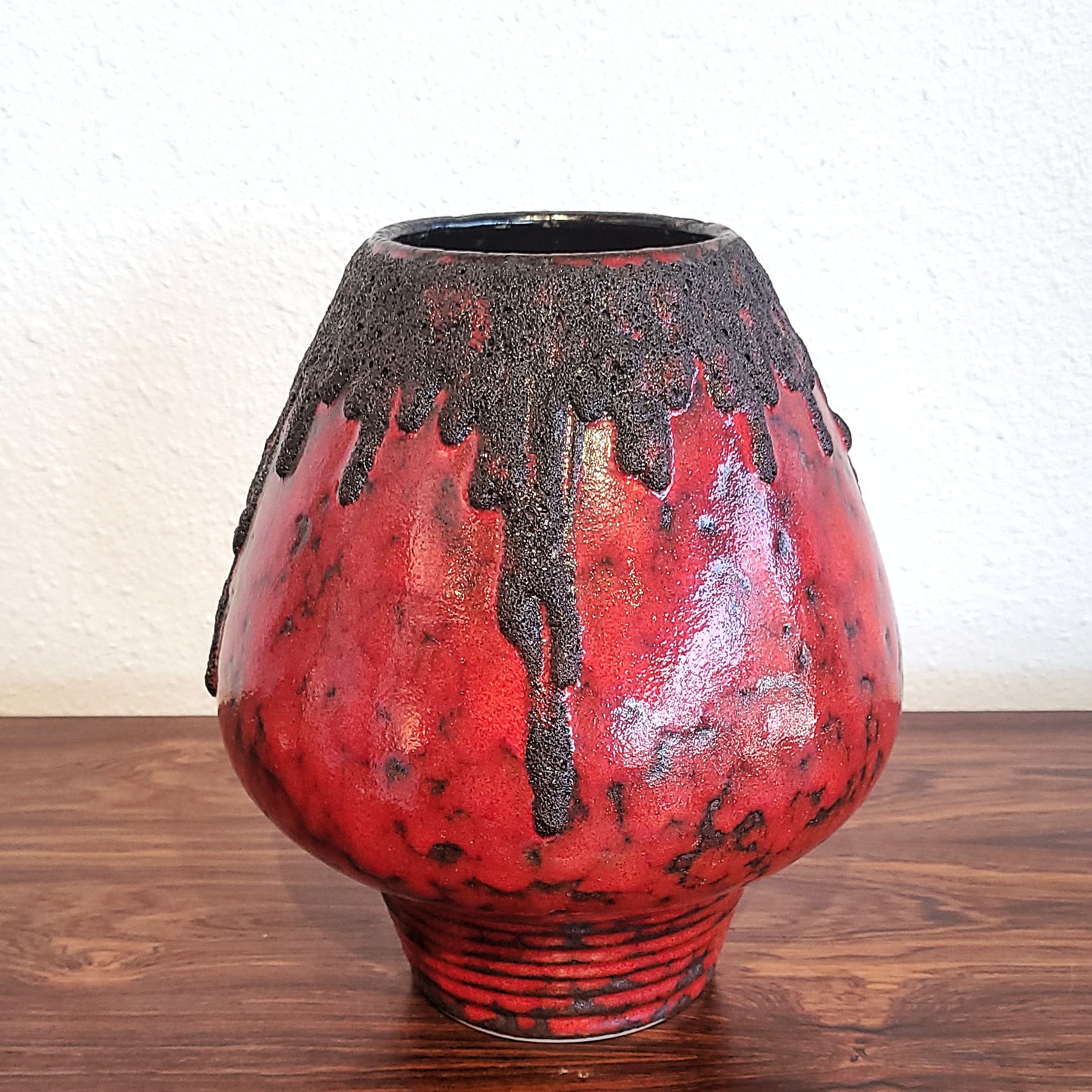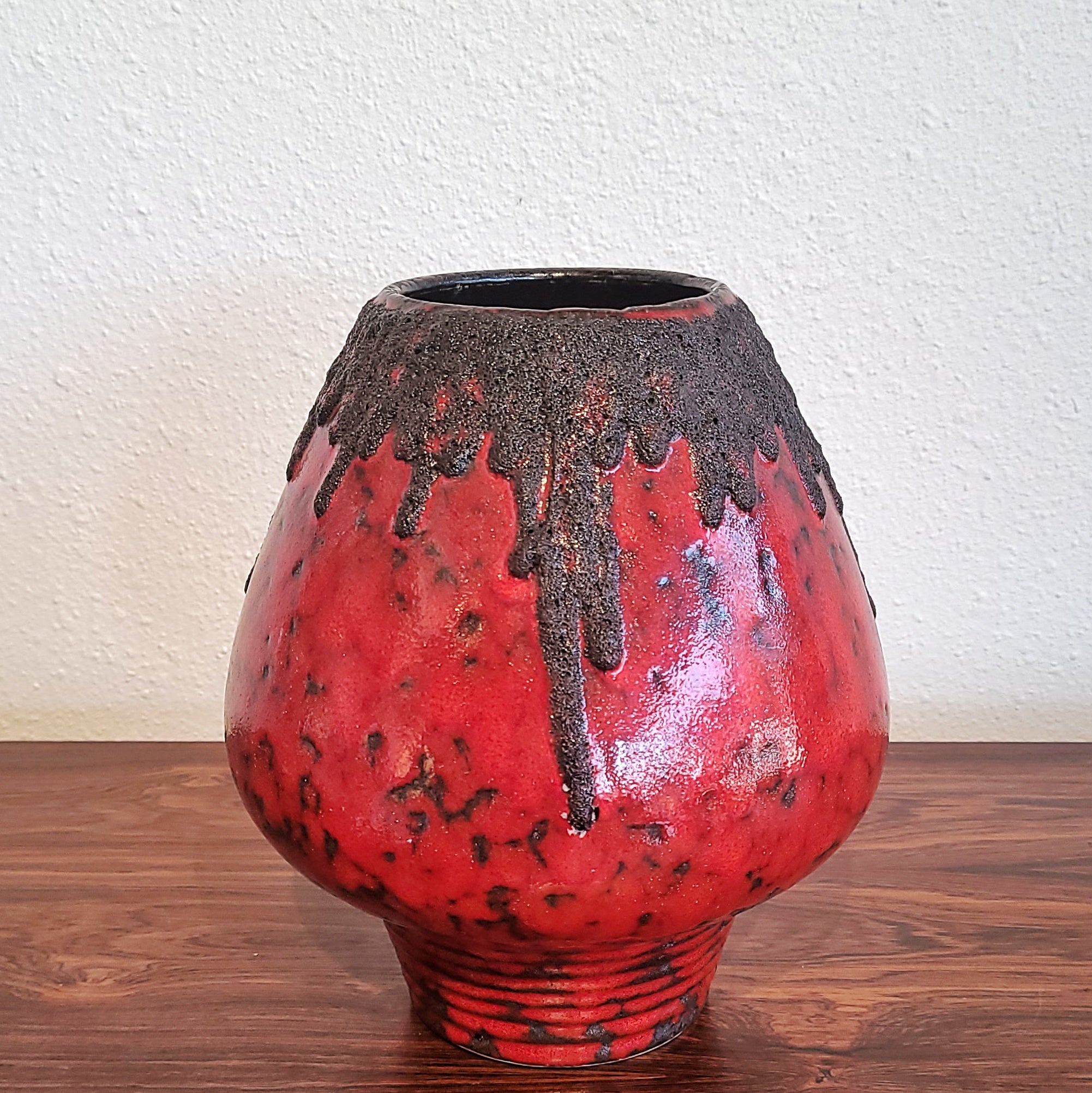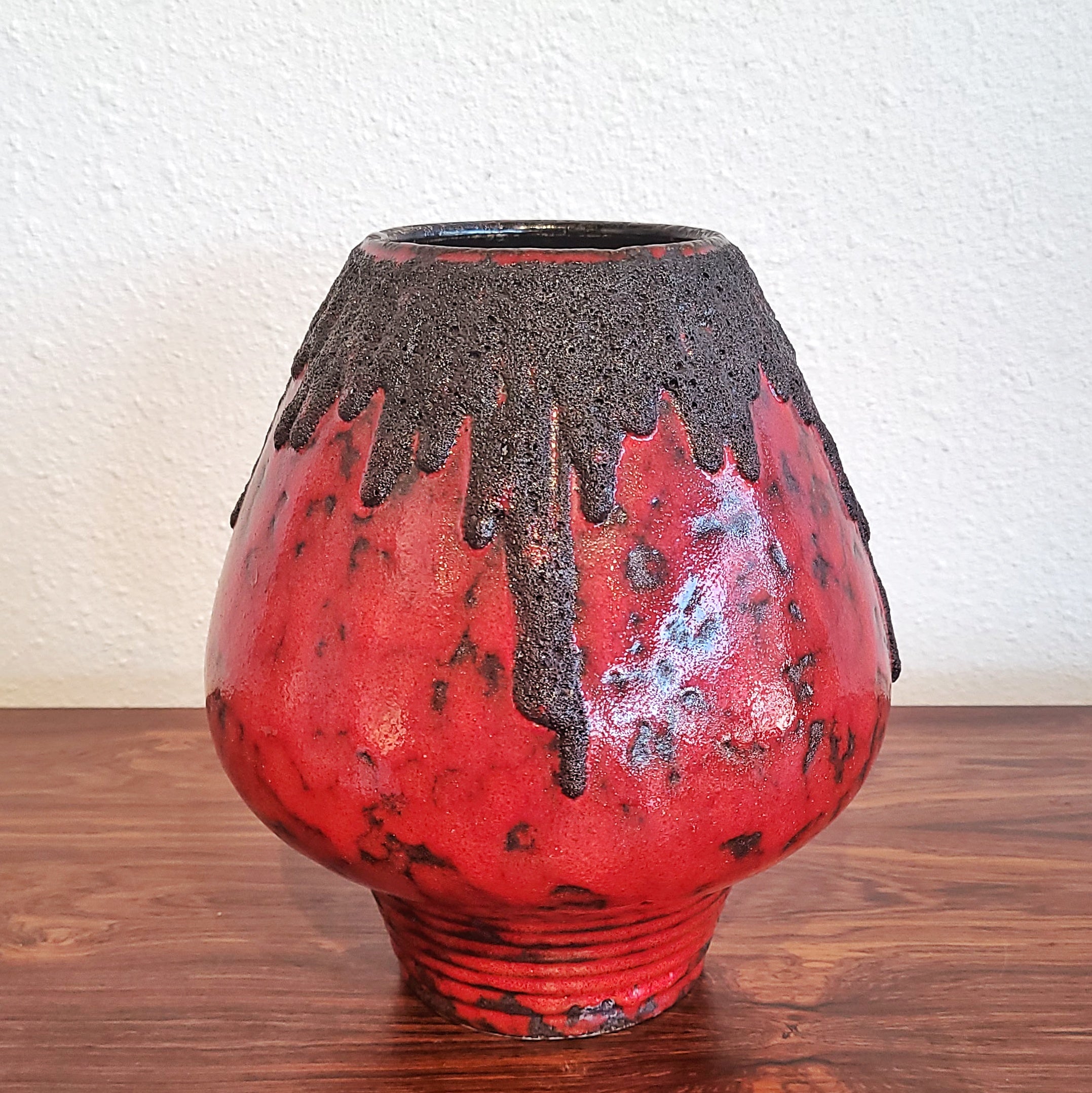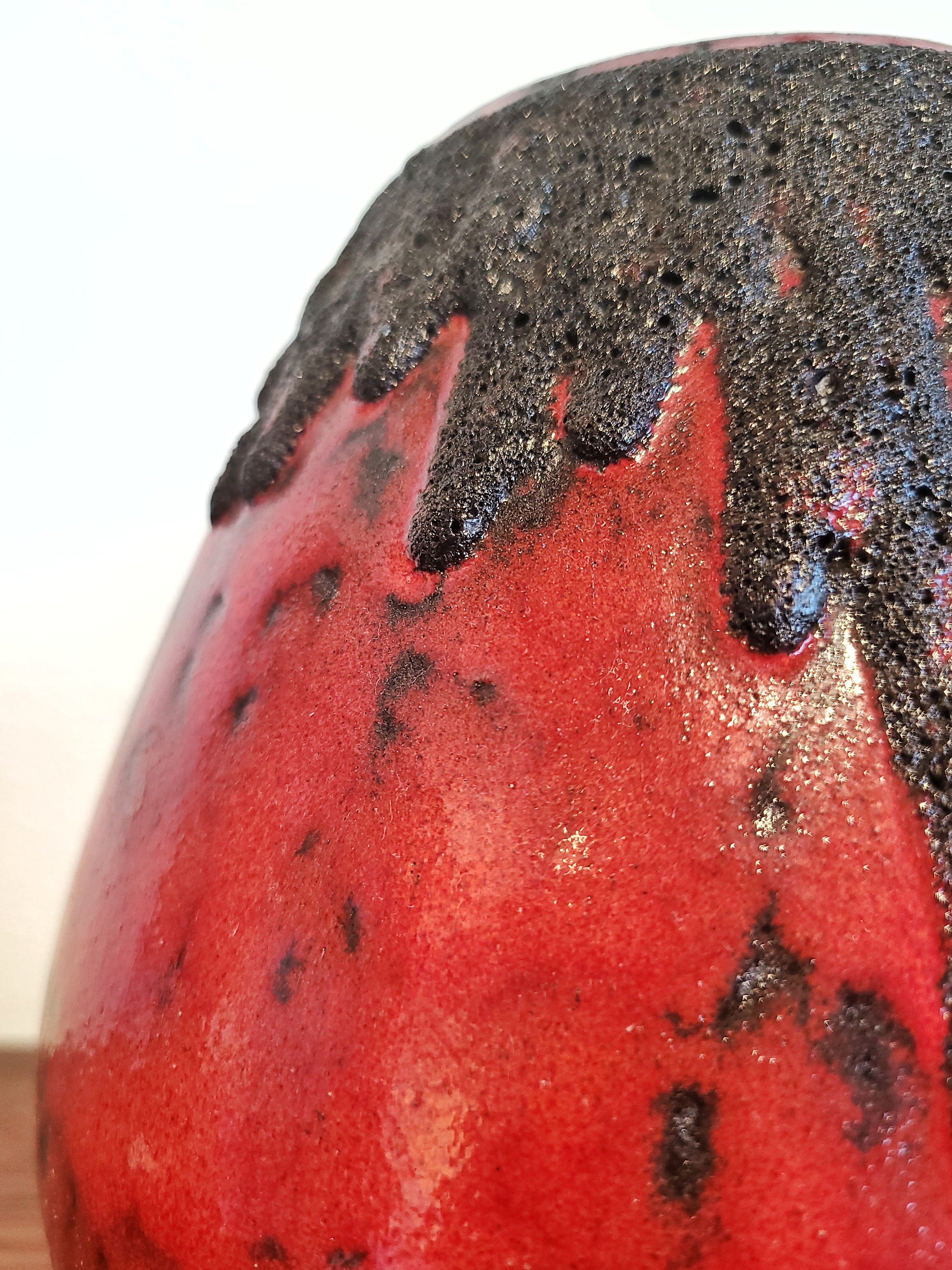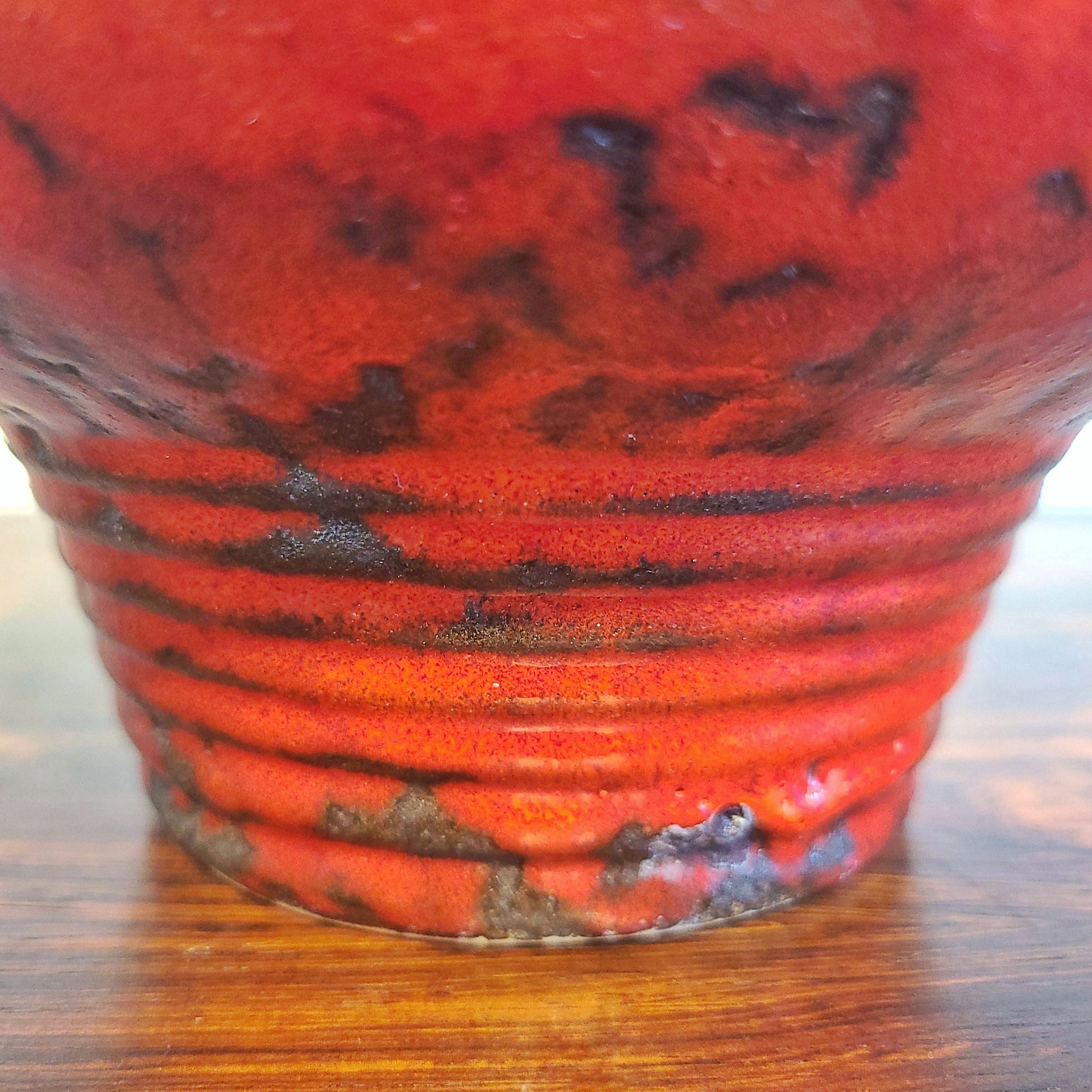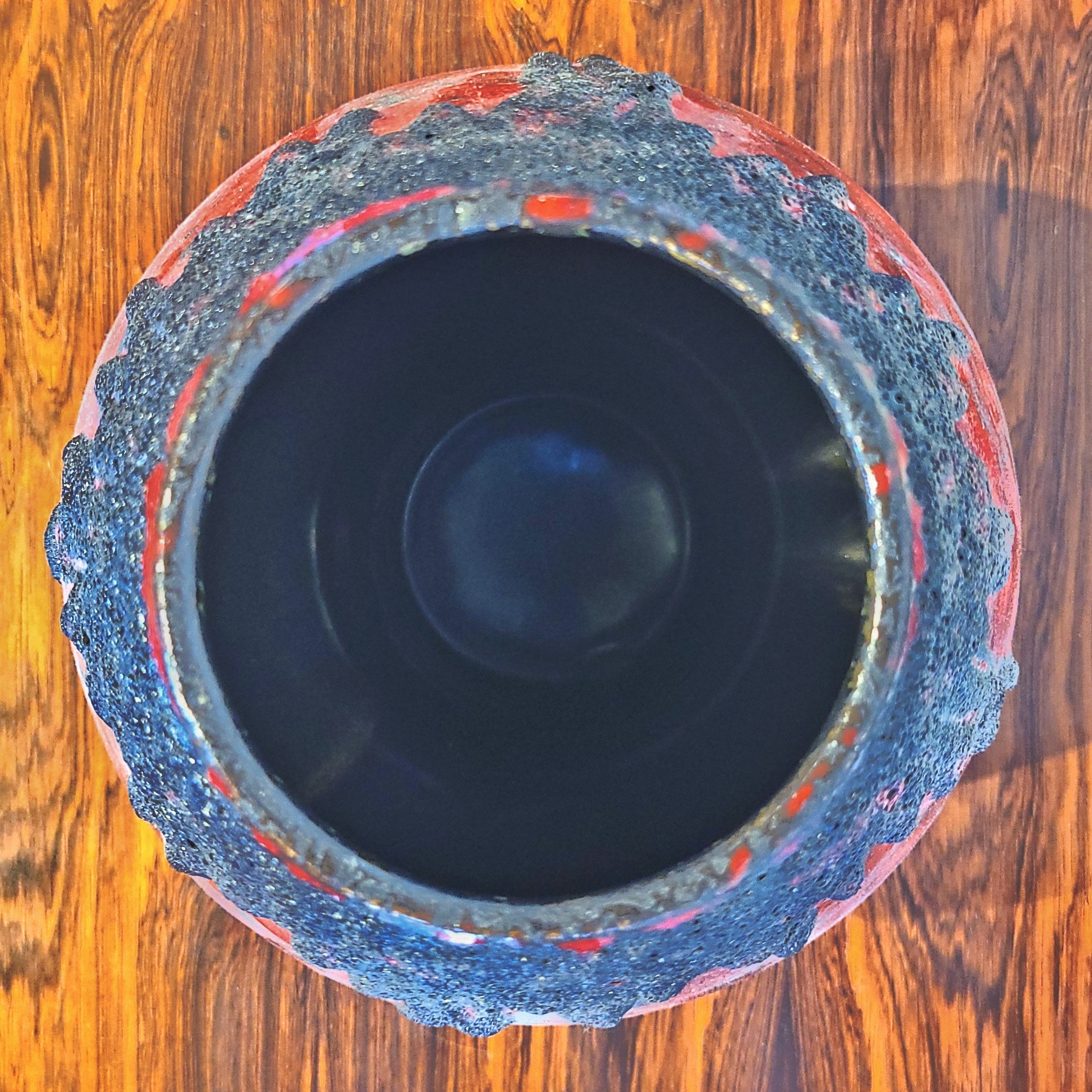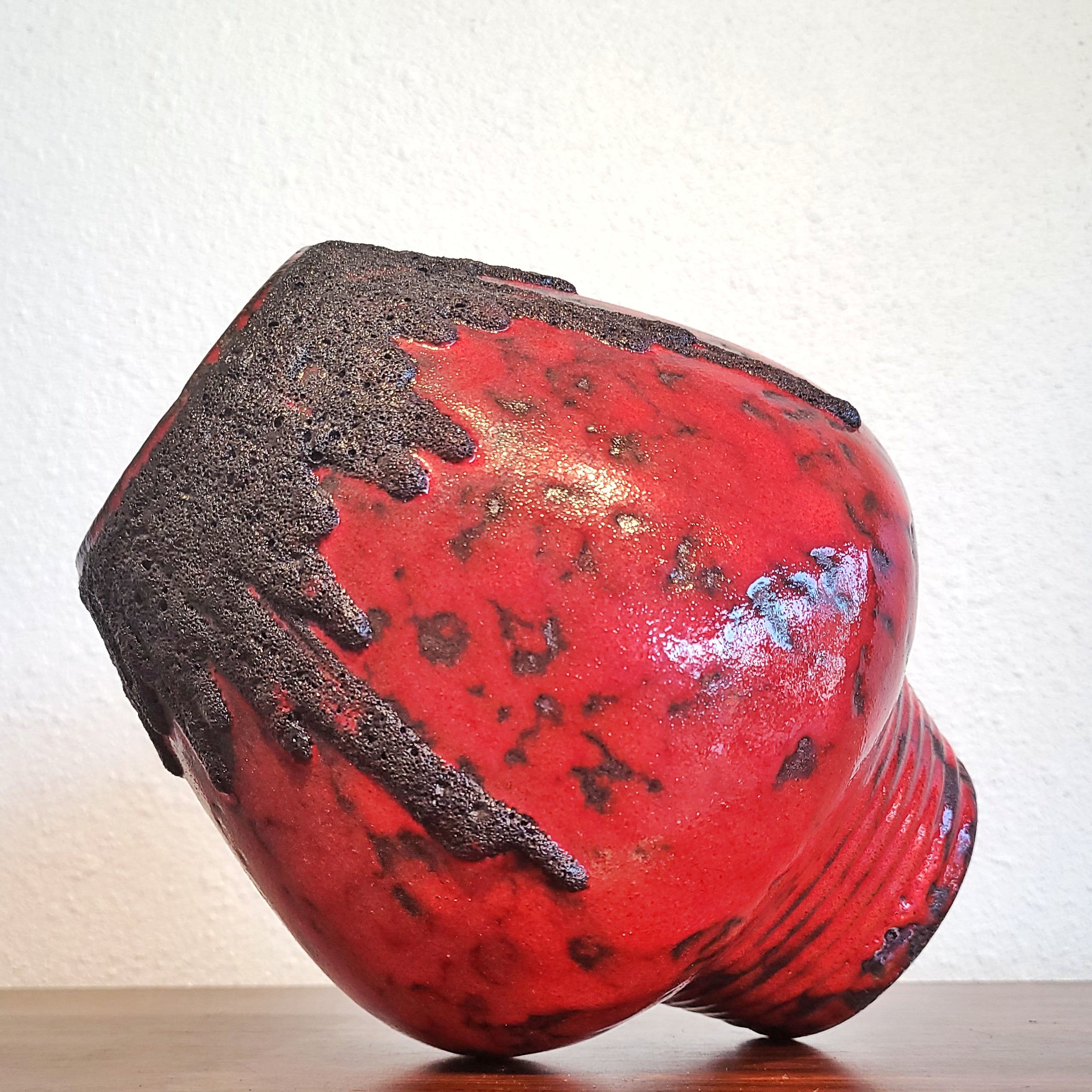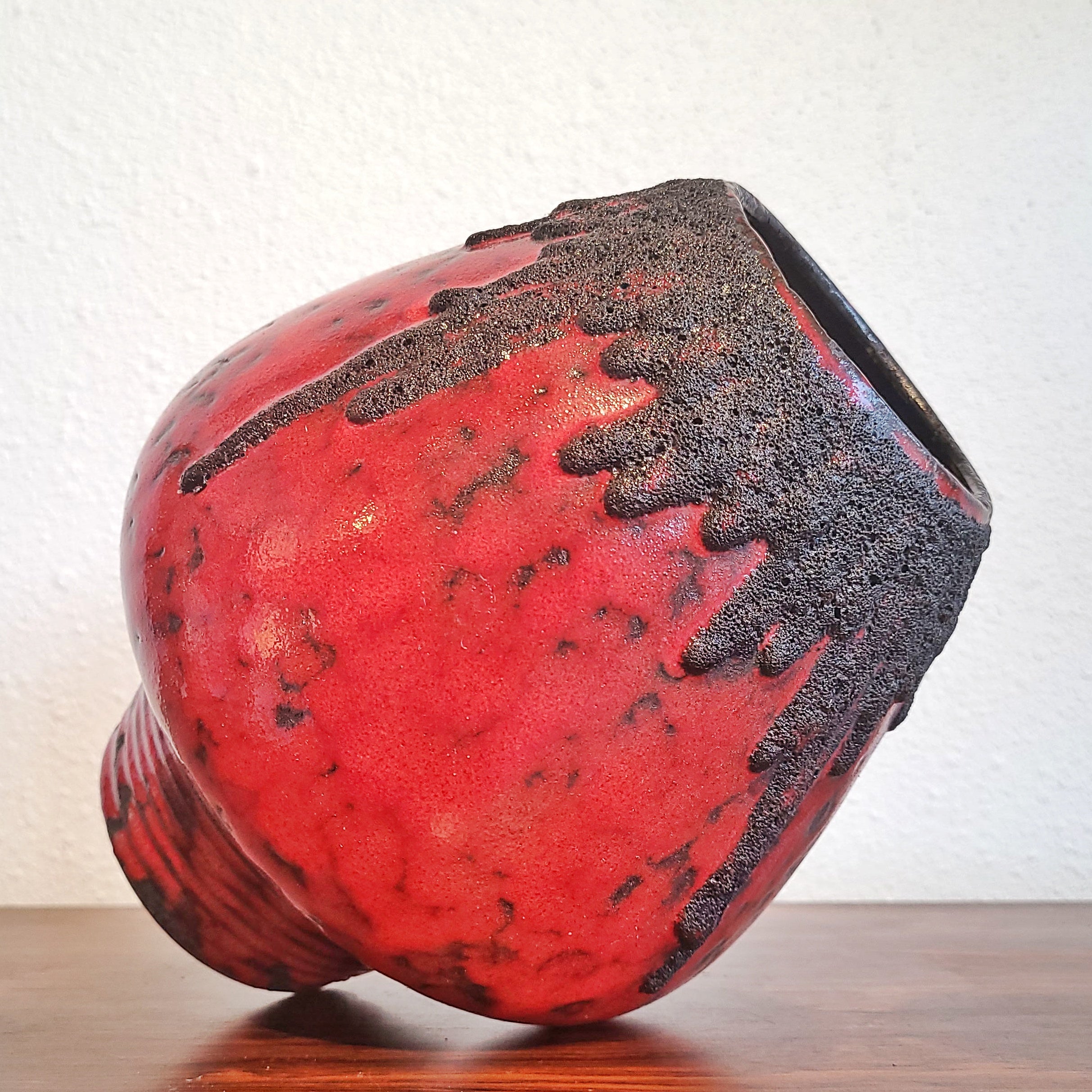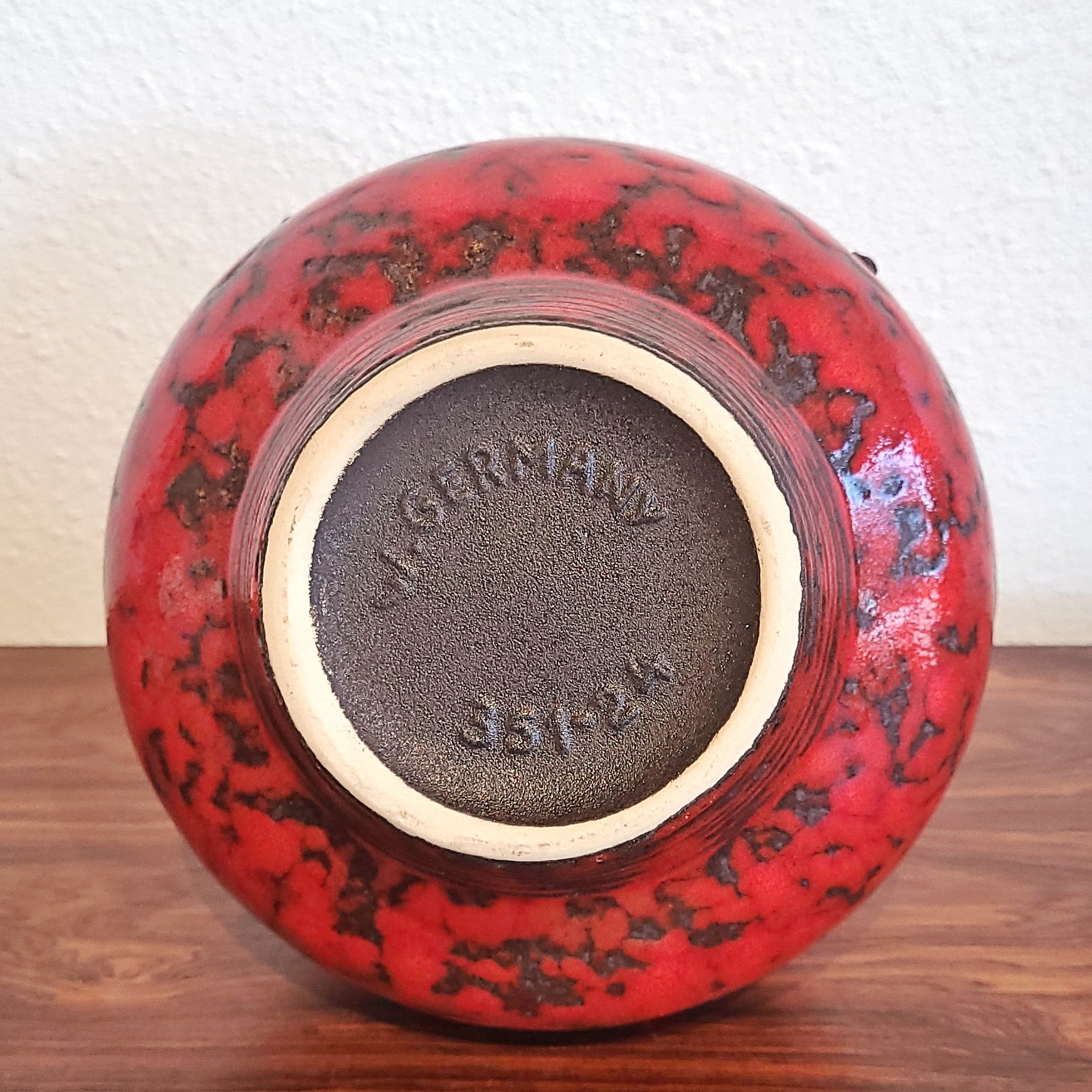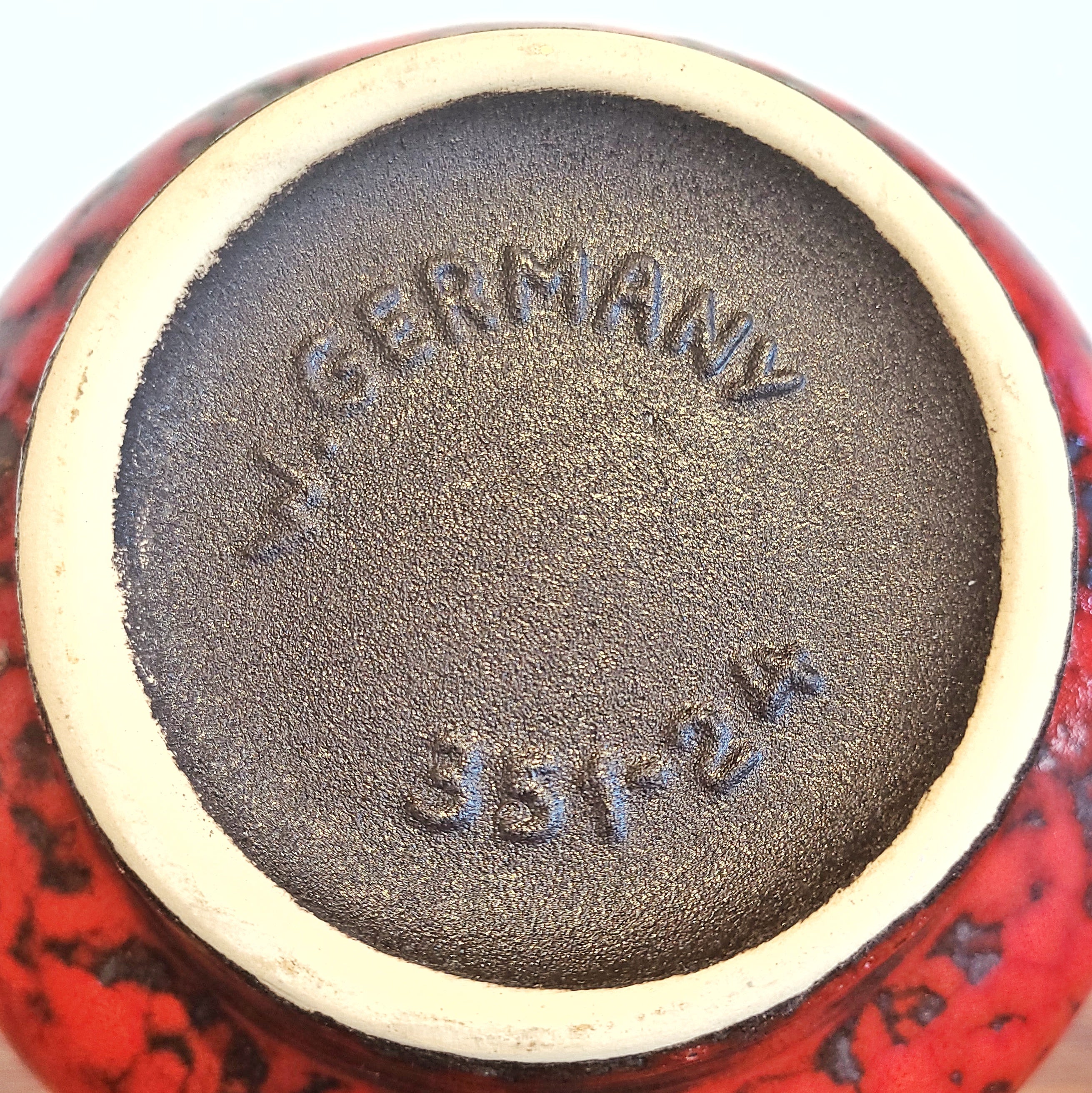 RED FOHR KERAMIK MUSHROOM VASE Nr. 351/24 WITH BLACK VOLCANIC LAVA
CONTACT US HERE ABOUT THIS ITEM.
A large and stunning red and black mushroom-shaped bouquet vase produced in the late 60s or early 70s by Fohr Keramik.  The glossy red and black mottled body is topped with a matt black pumice-like volcanic glaze that flows down from the opening.
FOHR KERAMIK (later Wilhelm Fohr GMbh) was founded in 1859 by Peter Fohr in the town of Ransbach-Baumbach, in the heart of the Kannenbäckerland in central Germany.  (The Kannenbäckerland—the "potters' land" or, more literally, the "jug-bakers' land"—is the site of the largest clay deposit in Europe and a centuries-old home to ceramics manufacture.)  FOHR KERAMIKS's original production included clay jugs, humidifiers, and flowerpots.  Decorative ceramics were incorporated in 1934.  Production divisions were split between two grandsons, Alfred and Wilhelm Fohr, a decade later, and the initially modest range of ornamental ceramics was expanded under Wilhelm through the 1950s.
FOHR KERAMIK's maiden collaboration with an outside designer began in 1953 when Heinz Siery, at the time a student, was approached to create new forms for the firm.  He continued his design work with FOHR after his graduation, and he was promoted to head its foundry in 1954.  He left the company in 1955.  (Siery went on to become one of the post-war era's most important personalities in the field of ceramics design; in addition to FOHR, his forms had a significant impact on the product lines of Scheurich, Carstens, and Ruscha among others.)  Siery was replaced as shape and décor designer by Walter Grau in 1956; some of FOHR's most iconic early decors were created under his tenure:  'Patina' (1955), 'Luna' (1956), 'Libello' (dragonfly) and 'Grazia' (1959).  Grau had come to FOHR from the porcelain industry, having completed a modeler's apprenticeship at C&E Carstens in Blankenhain, and he returned to it in 1962, taking employment with AB Rörstrands Porslinfabrik in Lidköping (Sweden).  His successor at FOHR KERAMIK for a period of two years was Walter Weiland, who had worked previously in its design department for several months in 1960.  Weiland was also a veteran of Ruscha, Keto, and Marei Keramik.
Beginning in the mid-1960s, FOHR KERAMIK reduced the proportion of its ornamental production, redirecting focus to the manufacture of cachepots and other florist wares.  Following this "course correction," the company's export share increased substantially, and in 1979 a new branch was opened.  In 1984 a festive volume was published to celebrate FOHR's quasquicentennial, its 125th anniversary (Baaden, Franz: 125 Jahre Fohr Keramik 1859-1984).  FOHR KERAMIK remained a family-run business over its lifespan and is among a small handful of ceramics concerns to have lasted in business so long.  Christopher Fohr, who was part of the fifth generation to continue the family tradition, closed the firm's doors in 2008.
DETAILS

Dimensions

8.5ʺW × 8.5ʺD × 9.5ʺH
Styles

Abstract
Boho chic
Space Age

Period

1970s
Place of Origin

Germany
Item Type

Vintage, Antique or Pre-owned
Materials

Ceramic
Condition

Very Good Condition, Original Condition Unaltered, No Imperfections
Color

Red
Condition Notes

Excellent Vintage Condition

Excellent Vintage Condition less