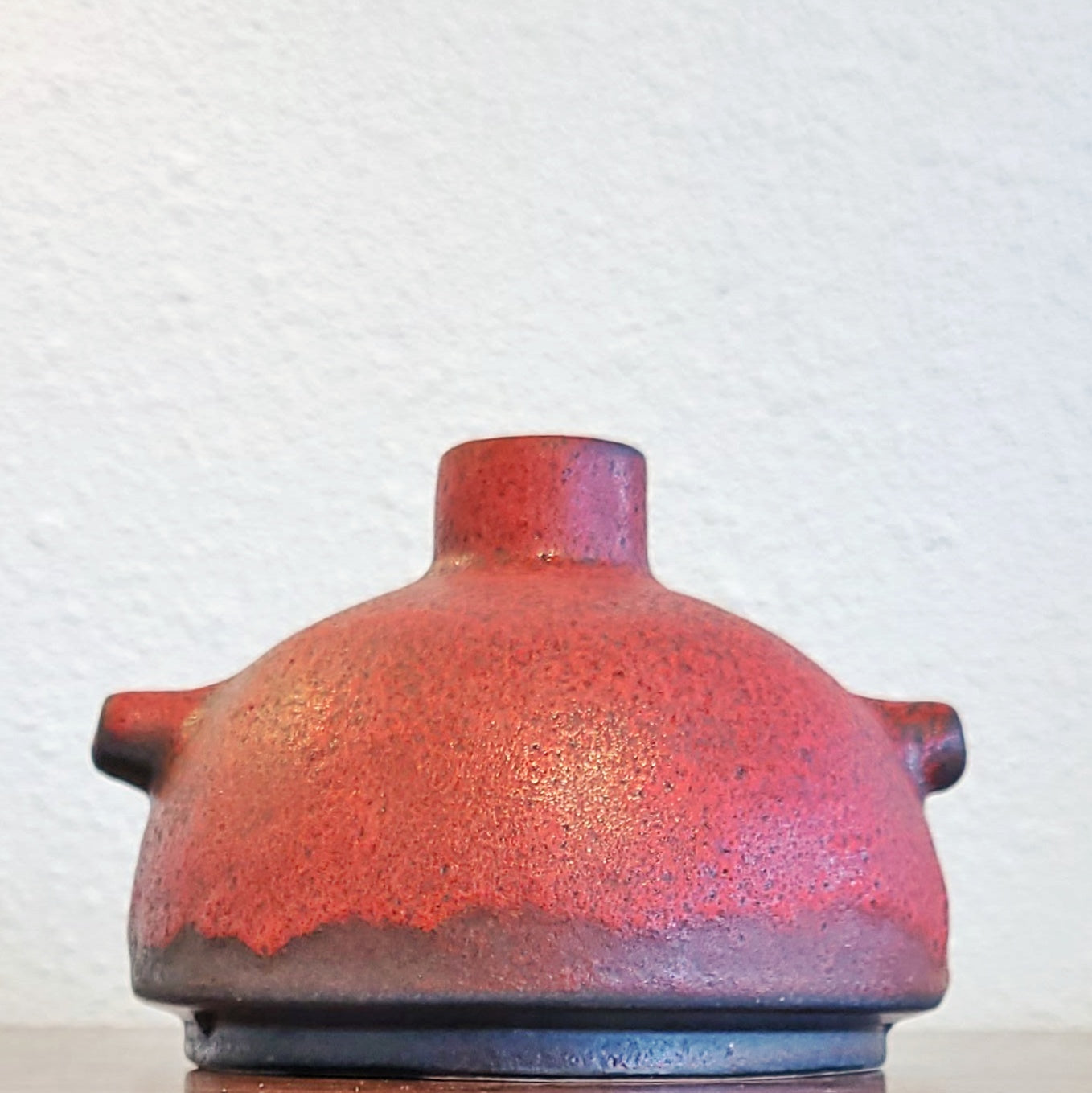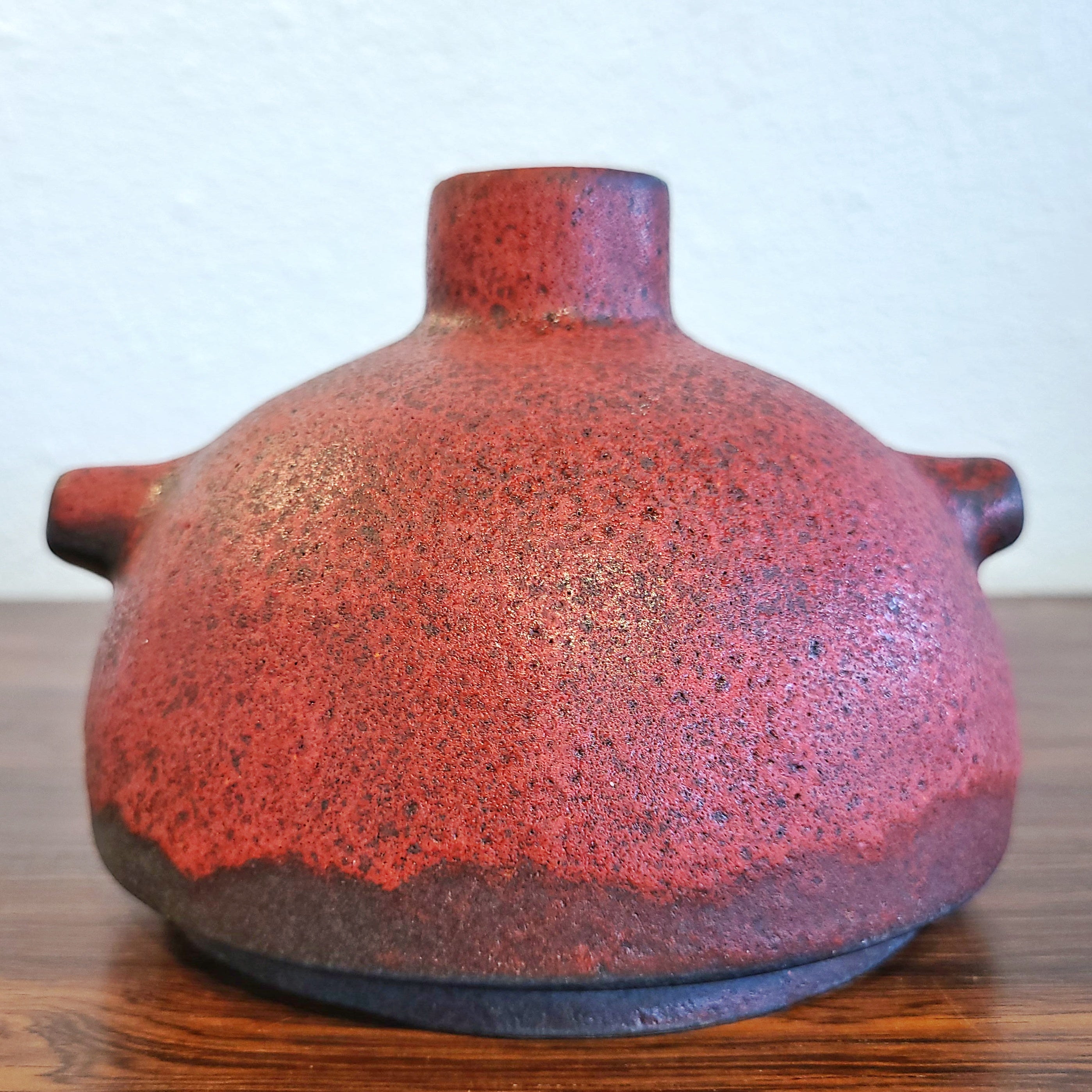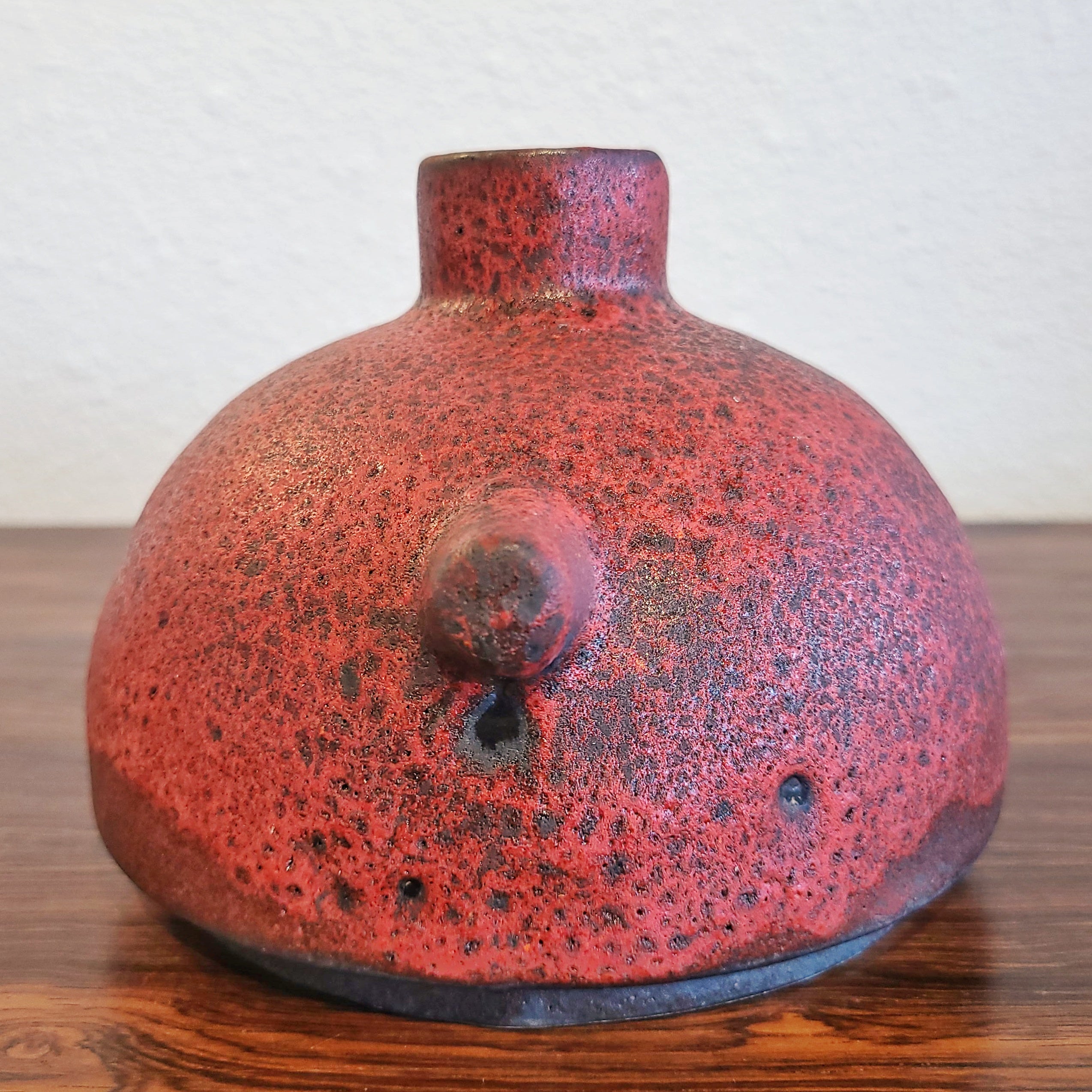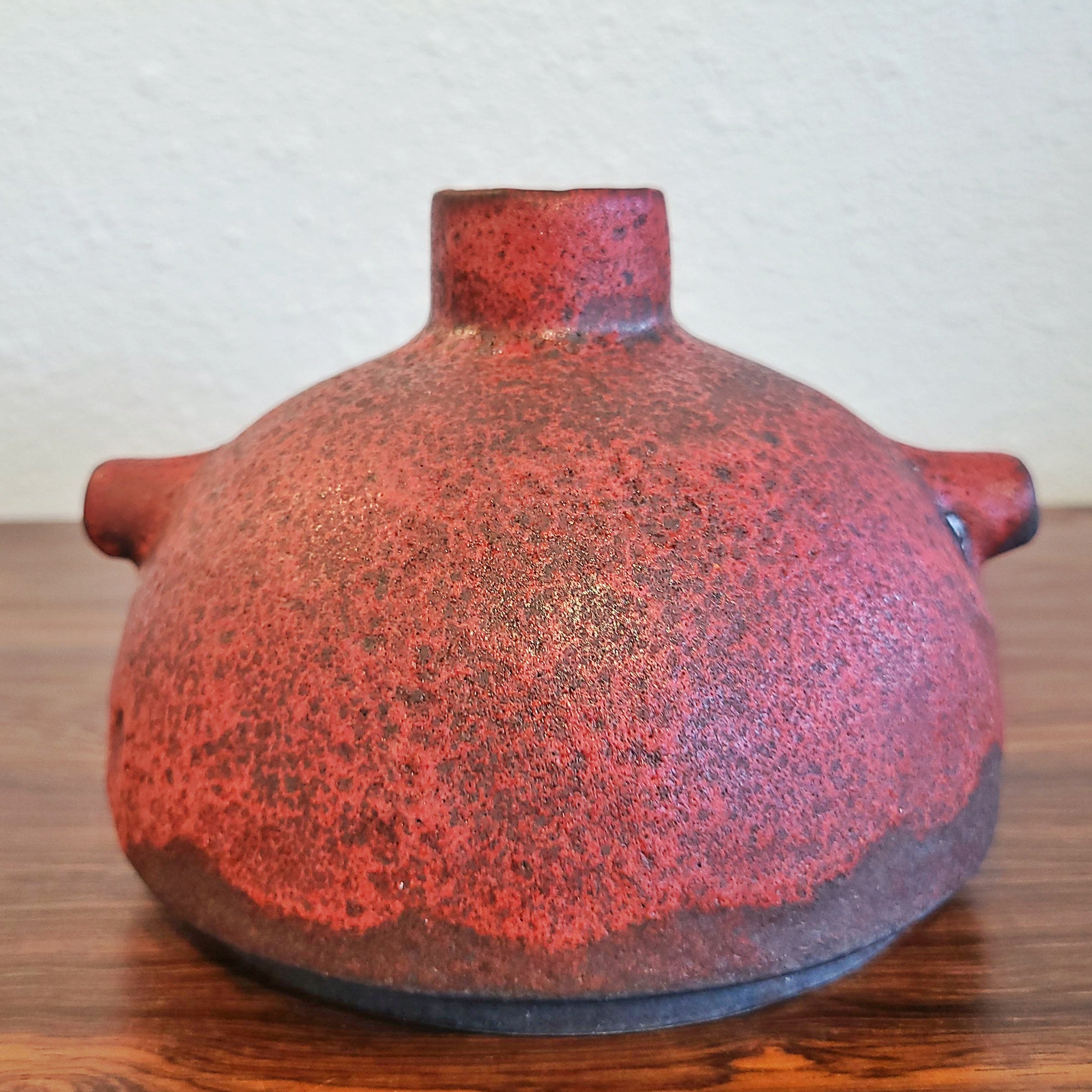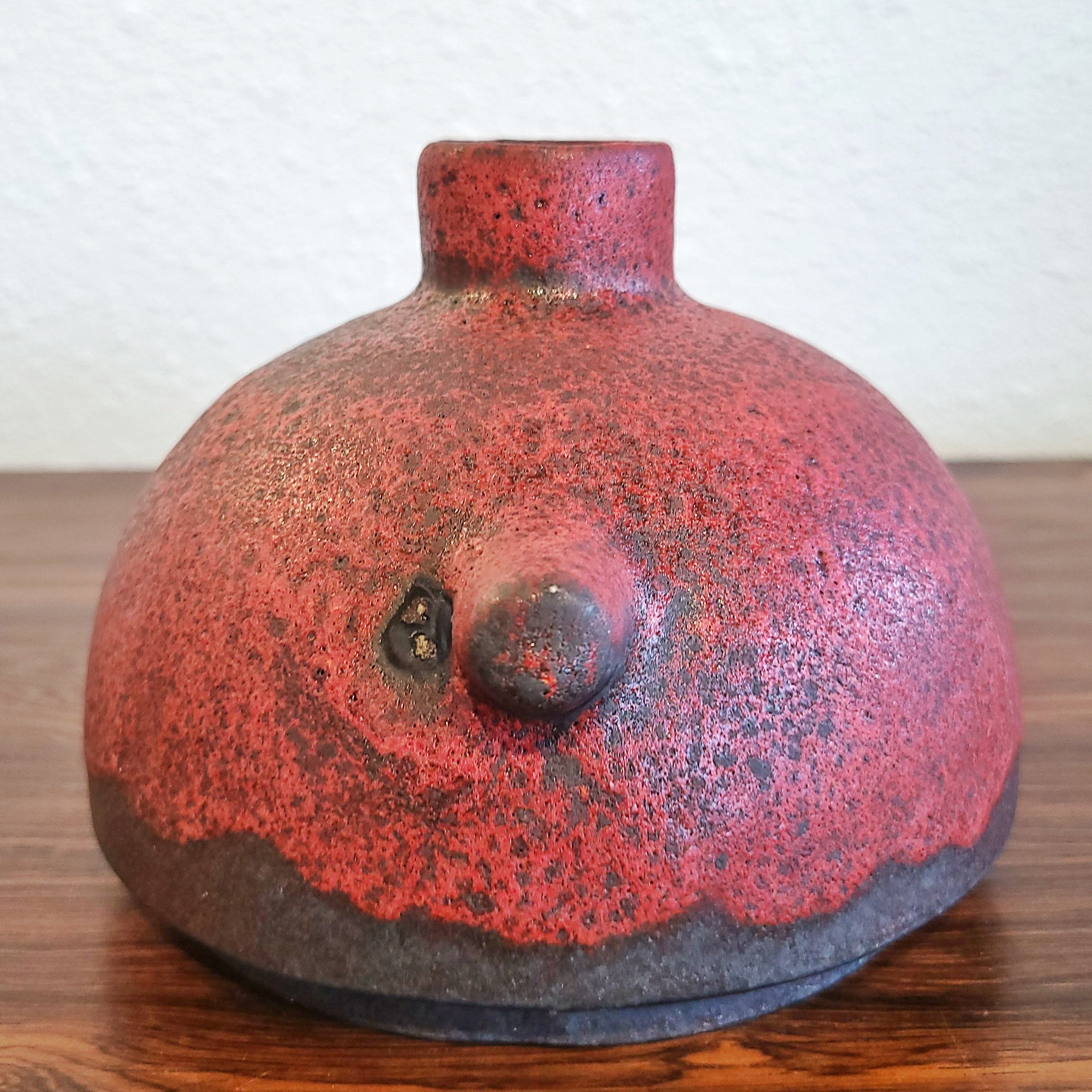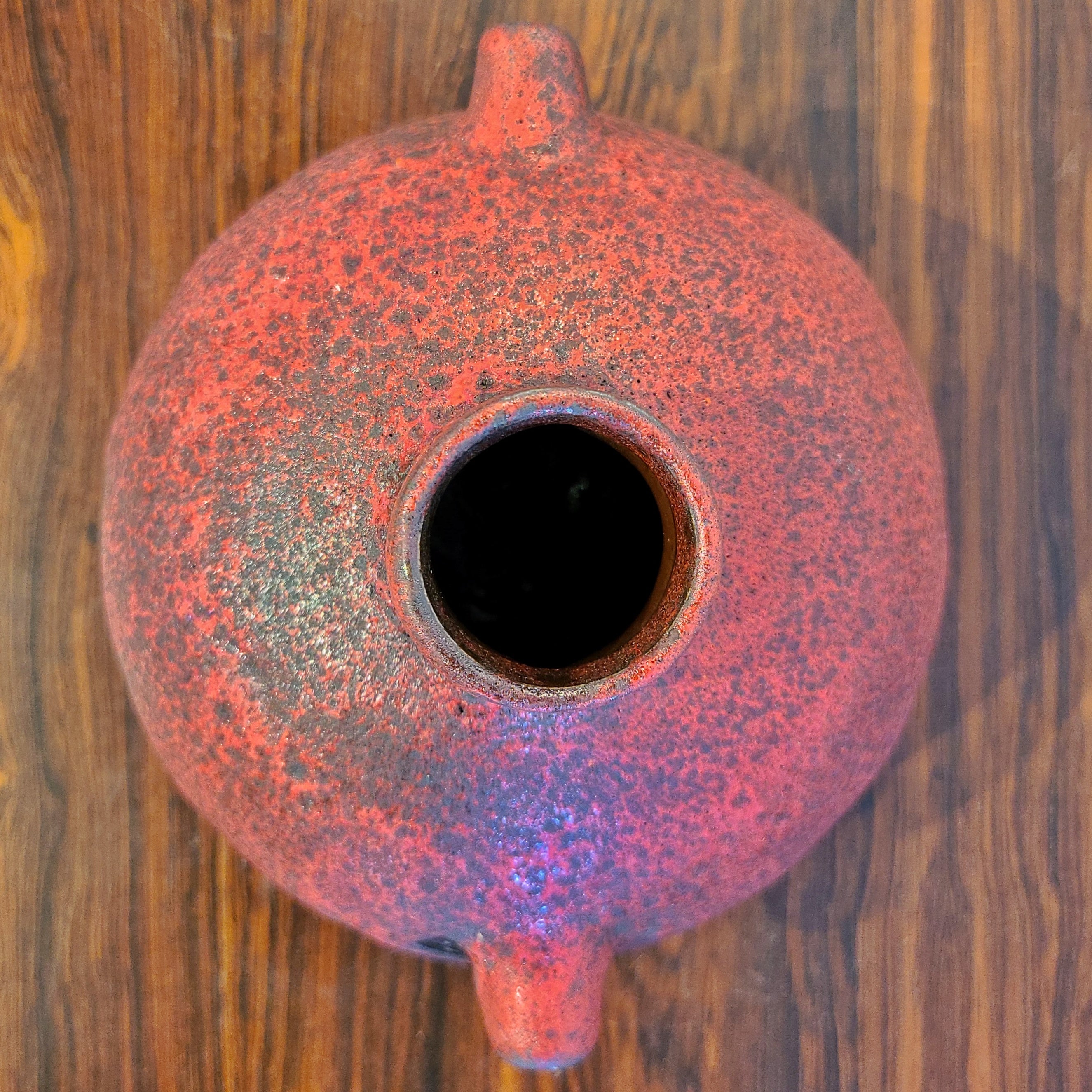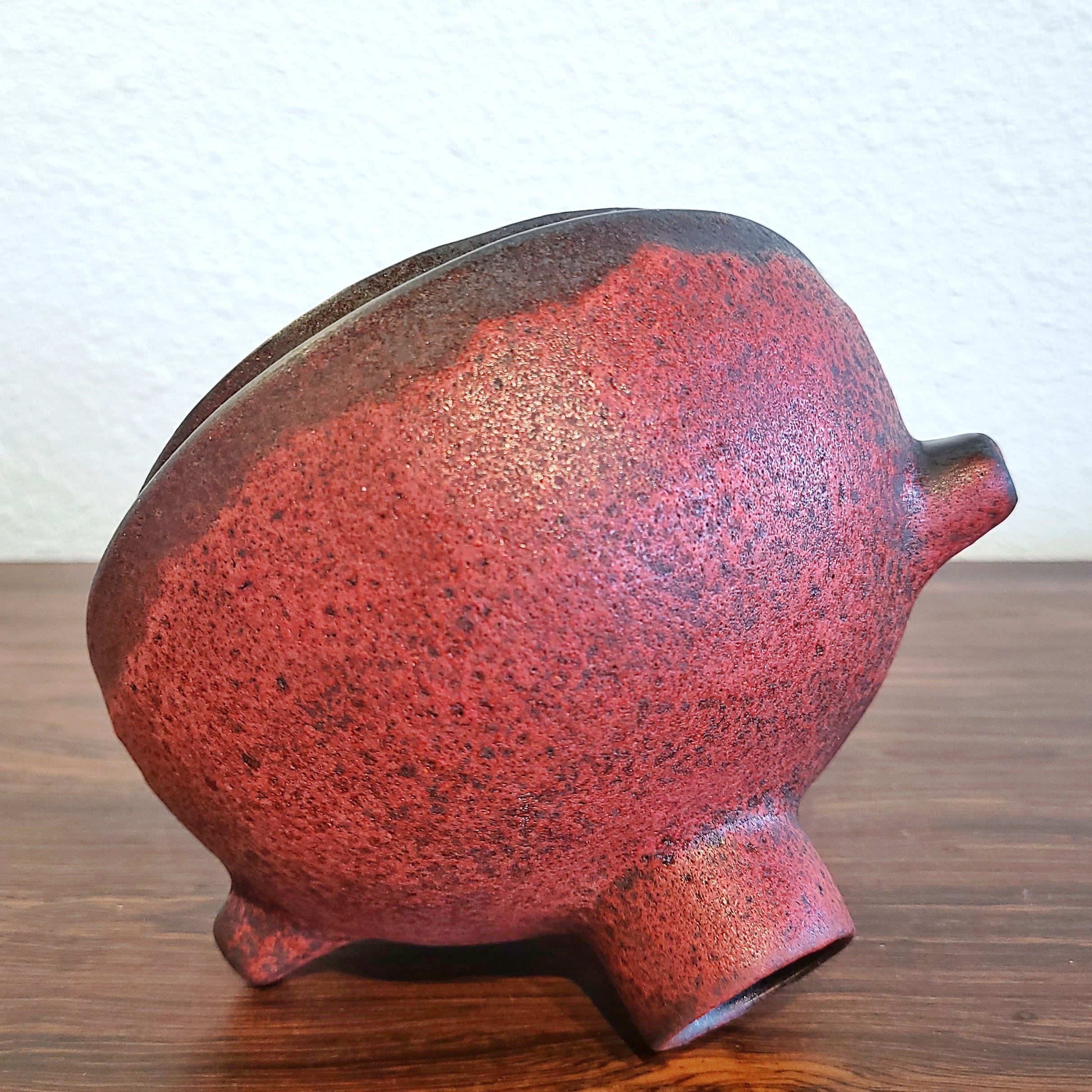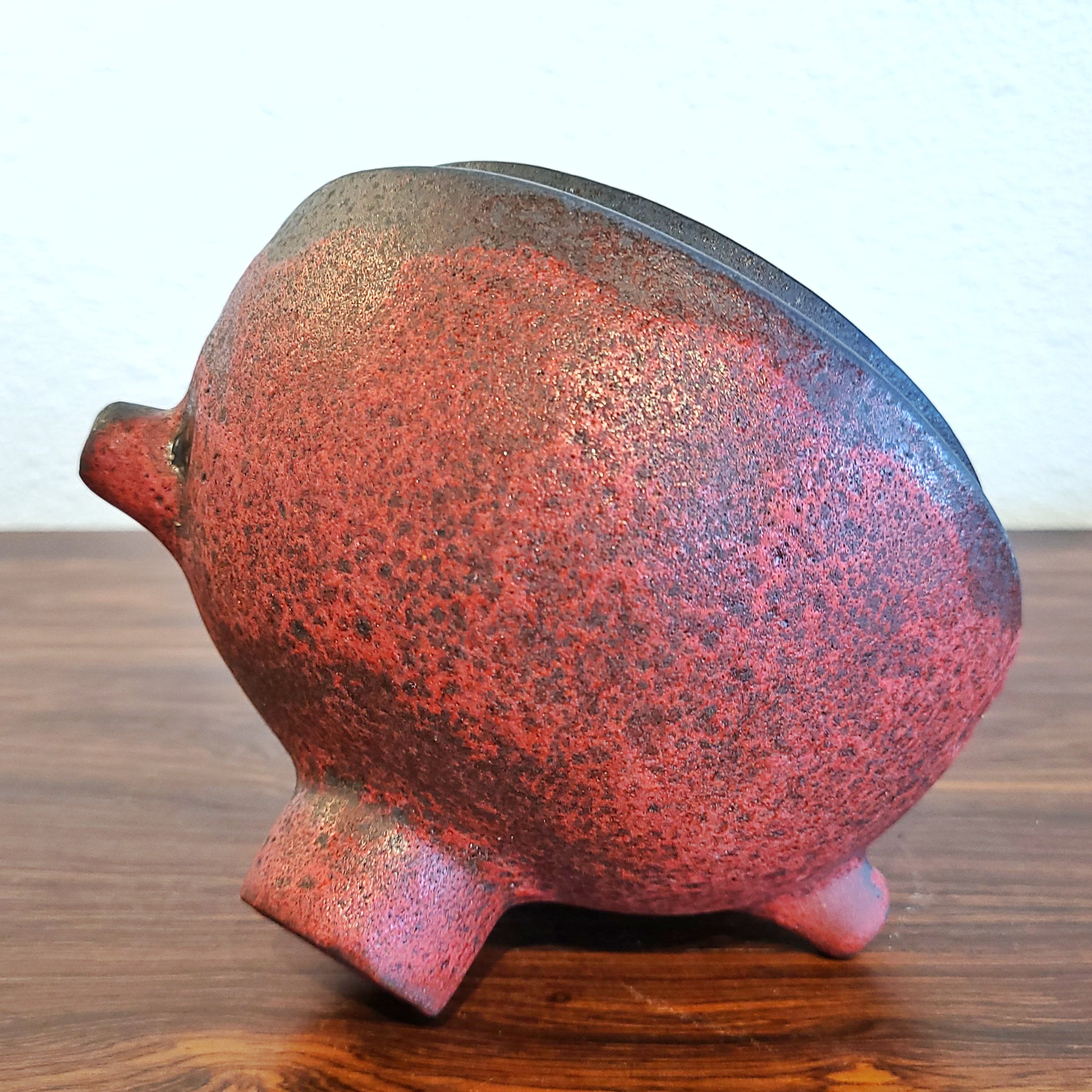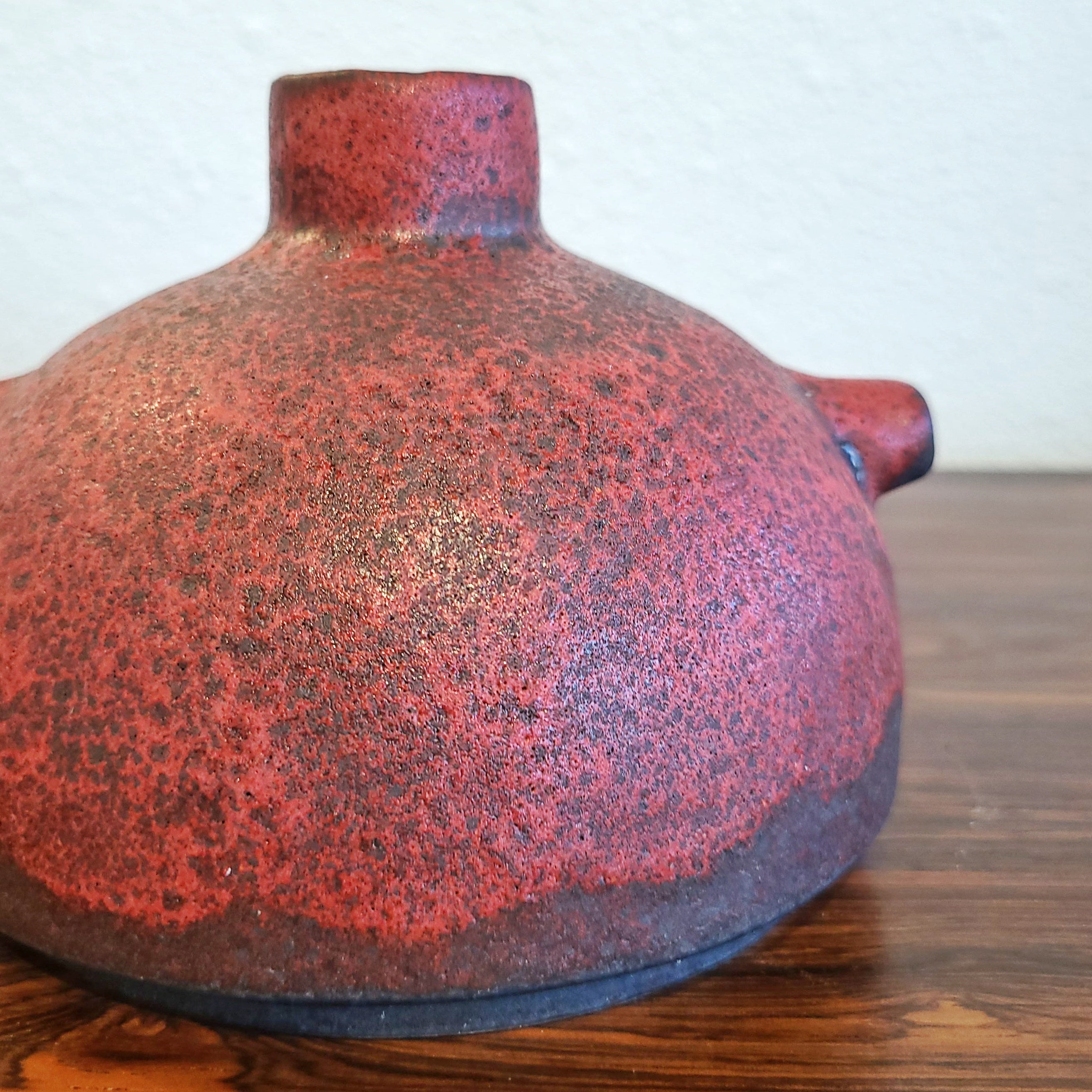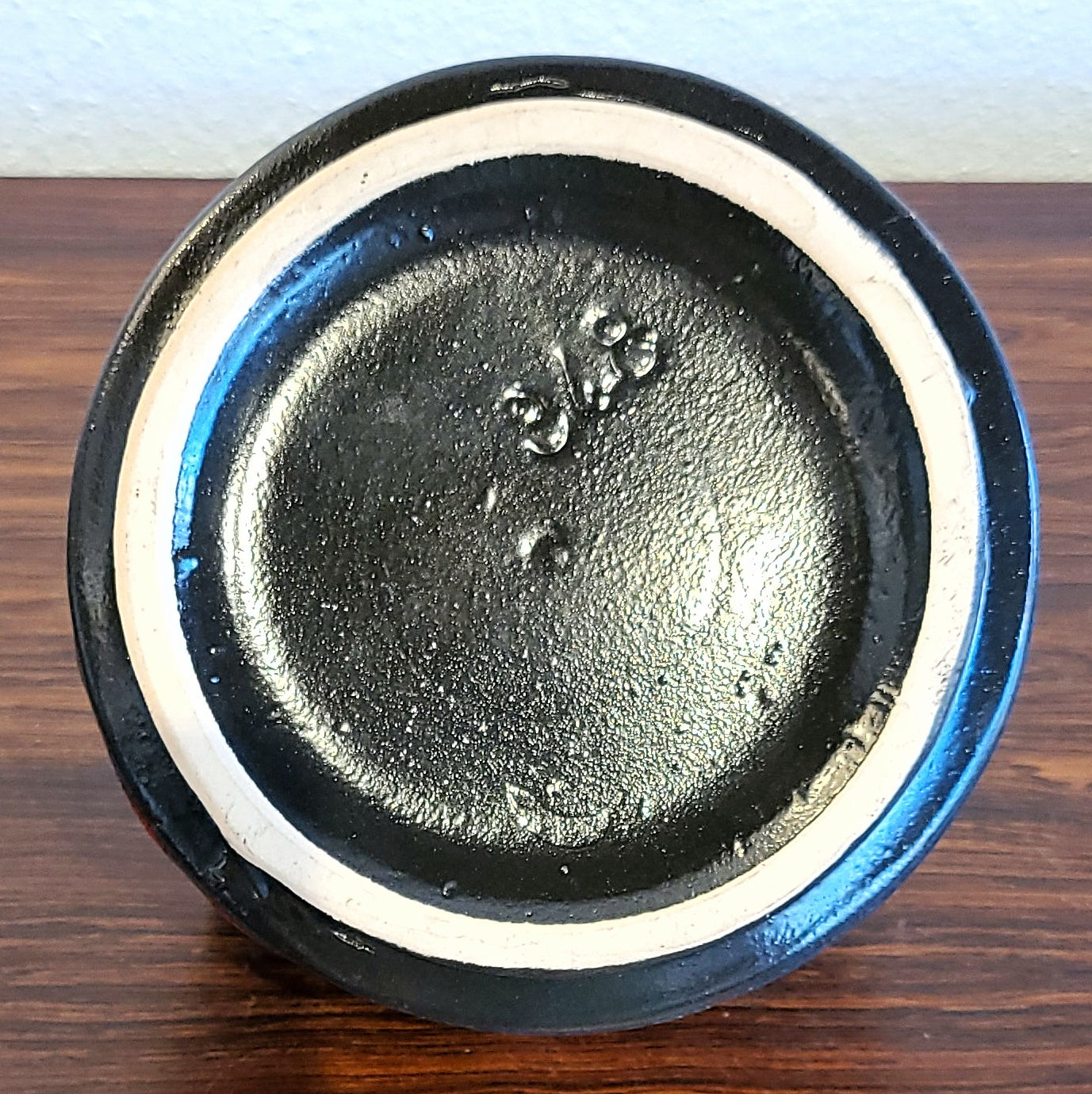 RED RUSCHA KERAMIK UFO VASE Nr. 348
CONTACT US HERE ABOUT THIS ITEM.
A classic red on black UFO form vase with double handles, designed by Heinz Siery for Ruscha Keramik in 1969.  The bubbly matt red lava glaze has begun to boil and flow in the firing process to combine with a glossy black underglaze and form a very textural frothy surface.  the lava flow terminates in an irregular line about an inch from the bottom of the vase to reveal the black underneath.
RUSCHA KERAMIK launched in 1948 when Rudolf Schardt assumed the management of Klein & Schardt, his father Georg's ceramics factory in the town of Rheinbach, located near Bonn in the German state of North Rhine-Westphalia.  (RUSCHA is a syllabic abbreviation of his name.)  The timing of the re-founding ensured that the company was in a good position to benefit from Germany's post-war growth boom.  RUSCHA KERAMIK became a leading manufacturer during the "golden age" of Western German ceramics and is credited with some of the era's key developments.  It produced some very successful and innovative forms and glazes, including the 'Vulcano' décor (Otto Gerharz, 1951)—which heralded the move towards thick, dripping fat-lava glazes—and the iconic no. 313 (Kurt Tschörner, 1954), probably the period's most famous shape.  Hanns Welling, Adele Bolz, Heinz Siery, and Cilli Wörsdörfer were among other notable designers to work for RUSCHA.
RUSCHA KERAMIK was celebrated for exquisite wall plates, plaques, and tiles—manufactured for both indoor and outdoor applications—as well as its high-quality vases.  Specimens from the 1970s will frequently exhibit remarkable lava and volcanic glazes.  When RUSCHA closed its factory in 1996, Scheurich acquired many of its designs and molds; distinctive silver RUSCHA labels were sometimes applied to the subsequent production.
HEINZ SIERY was a true luminary in the world of ceramics in the 1950s and '60s.  His form designs had significant impact on the product styles of makers Fohr, Scheurich, CARSTENS, and Ruscha, among others.  Siery often employed "the golden ratio" (or an approximation) while designing, lending harmonious proportion to his work.  This can be clearly seen in his most iconic vase, no. 271/22 for Scheurich.  Presented in 1959, it was extremely popular and was still being manufactured in the 1970s.  Siery also developed and introduced new methods of industrial organization.
In 1969 Siery and wife, Ingrid Siery-Illgner, established a jointly operated studio, Atelier Syré, near the historic town of Euskirchen in North Rhine-Westphalia out of which they both freelanced.  (Ingrid had also designed decorative objects for CARSTENS, and overseen the design department at the Wächtersbach earthenware factory.)  In addition to commissioned work, the couple produced creations of their own—notably elegant, figural sculptures made of bronze, whose simple, classical forms and sleek lines evoke the work of Henry Moore and Joannis Avramidis.  Atelier Syré houses a sculpture park home to more than 300 of these works
Notes on identification:  White clay was used practically exclusively.  The rare examples made with red-brown clay are thought to date from periods when normal supply sources ran out.  Embossed and incised base-numbering was used for vessels.  If a vase was made in more than one size, a single digit indicating relative size followed the form number.  Low form numbers (< 100) were sometimes preceded by a letter.  Like a few other manufacturers RUSCHA KERAMIK occasionally recycled form numbers, a cause of distress for some collectors.  Pieces were never molded with "Germany" or "West Germany."
In rare instances, bases were hand-inscribed—less often, painted—with the name RUSCHA and a décor name (these tend to be earlier 1950s items).  Where stickers are found they always read "Ruscha Art."  Many items were not stickered.  Sometimes a retailer's label was applied.
| | |
| --- | --- |
| Designer | HEINZ SIERY |
| Manufacturer | Ruscha |
| Design Period | 1960 to 1969 |
| Production Period | 1970 to 1979 |
| Country of Manufacture | Germany |
| Identifying Marks | This piece has been attributed based on archival documentation, such as vintage catalogs, designer records, or other literature sources |
| Style | Vintage, Mid-Century, Minimalist, Modernist, Space Age |
| Detailed Condition | Excellent — This vintage piece is in near original condition. It may show minimal traces of use and/or have slight restorations. |
| Product Code | |
| Materials | Ceramic |
| Color | Black, red |
| Width | 7.0 inch |
| Depth | 6.0 inch |
| Height | 4.5 inch |