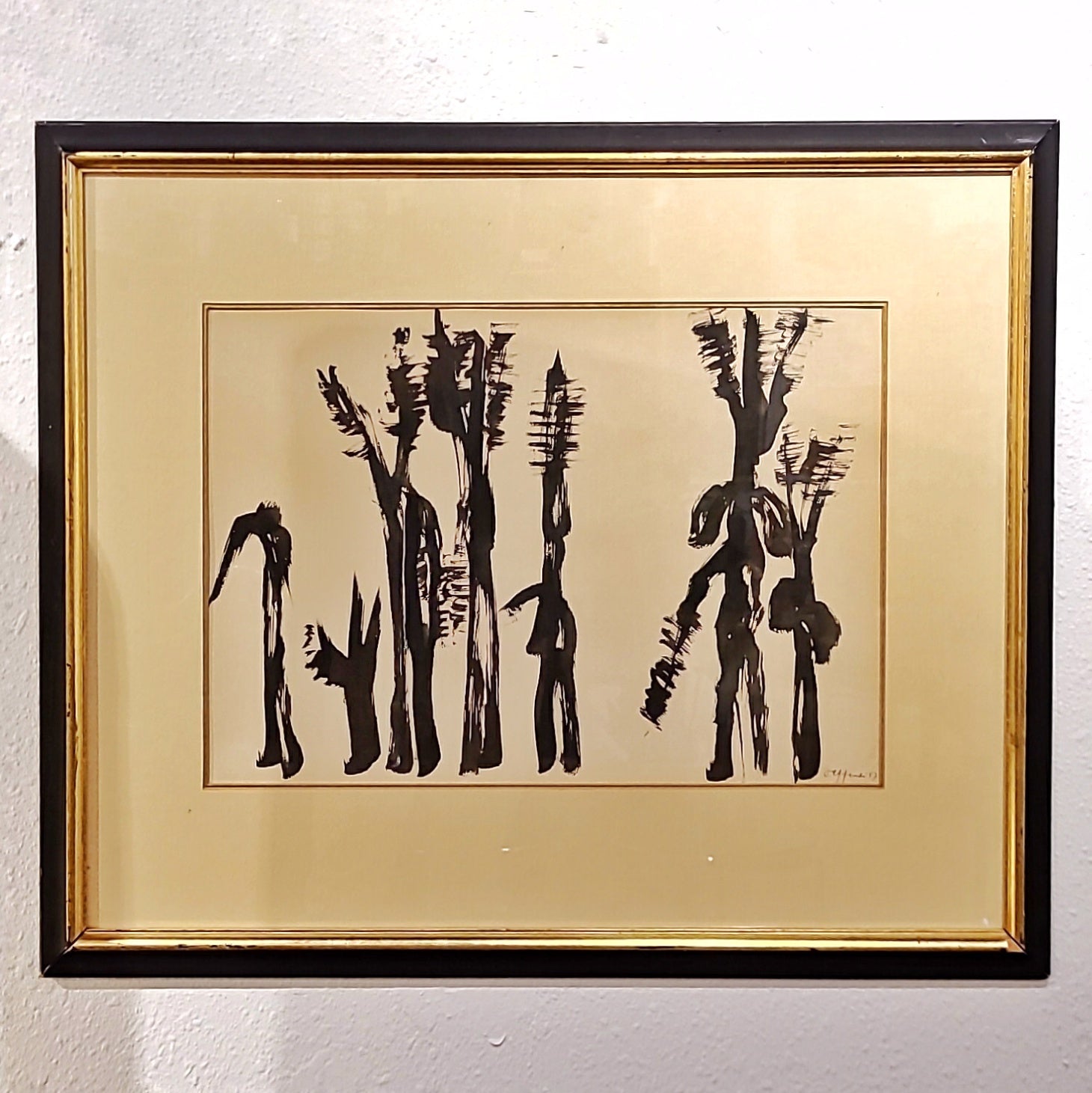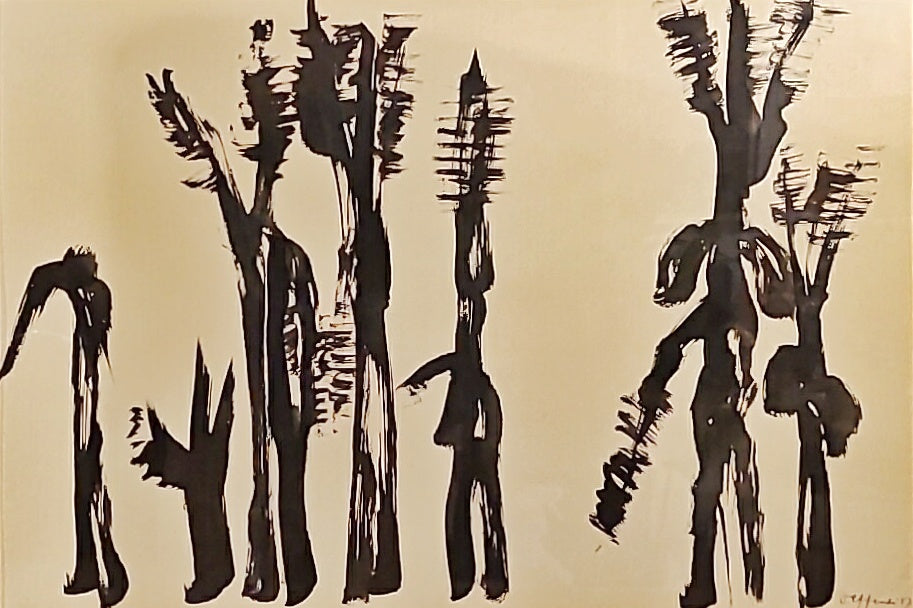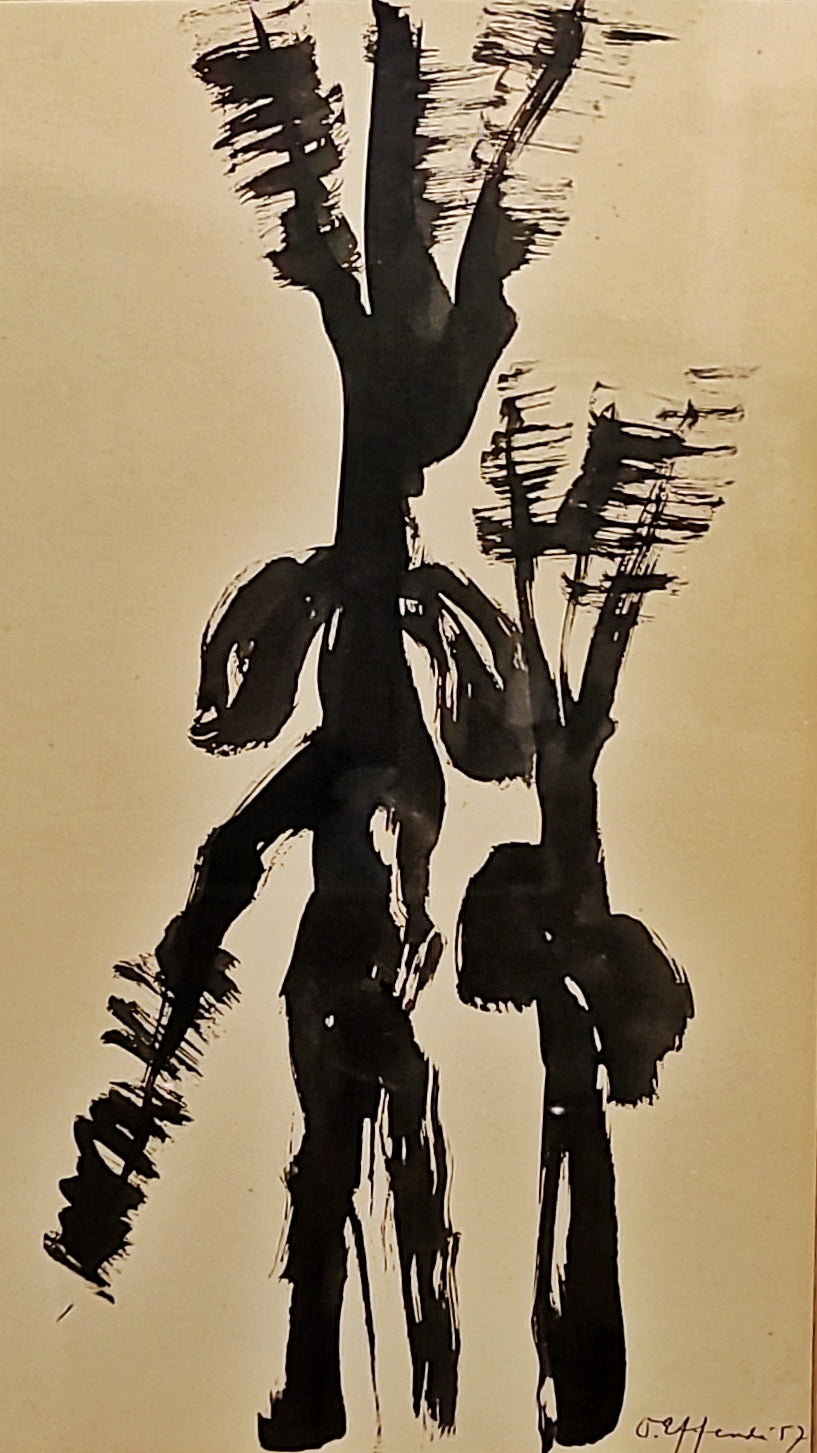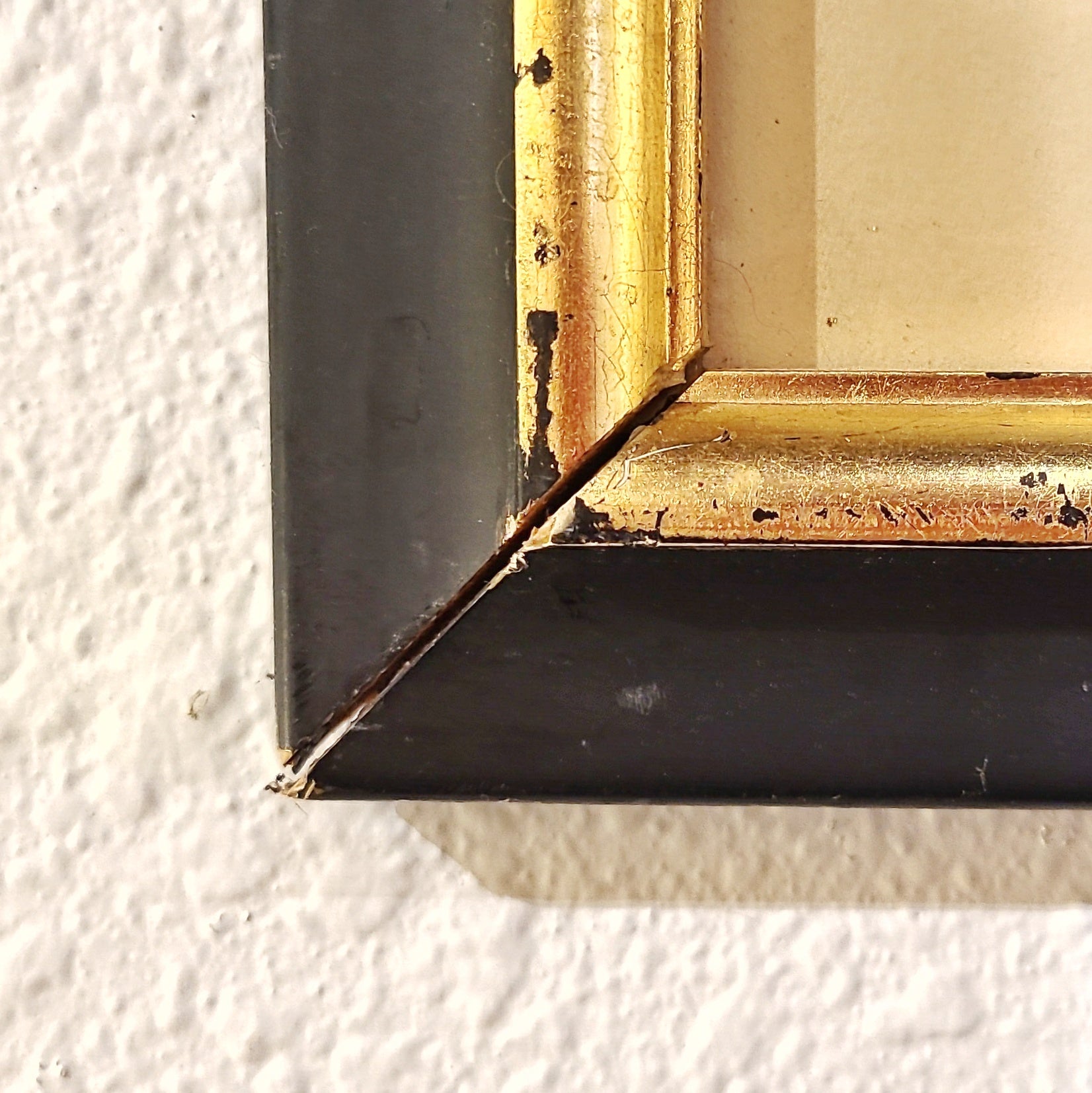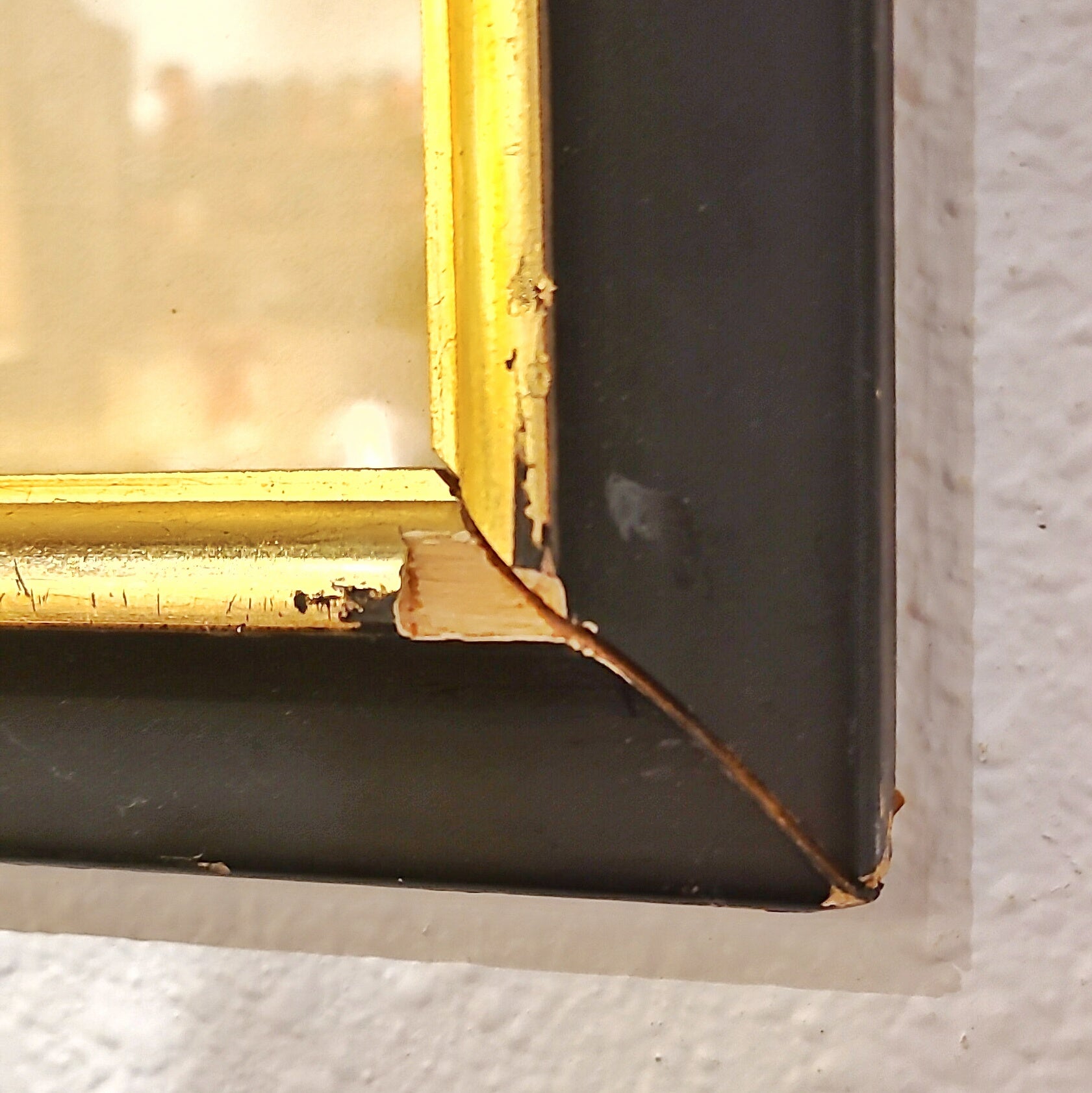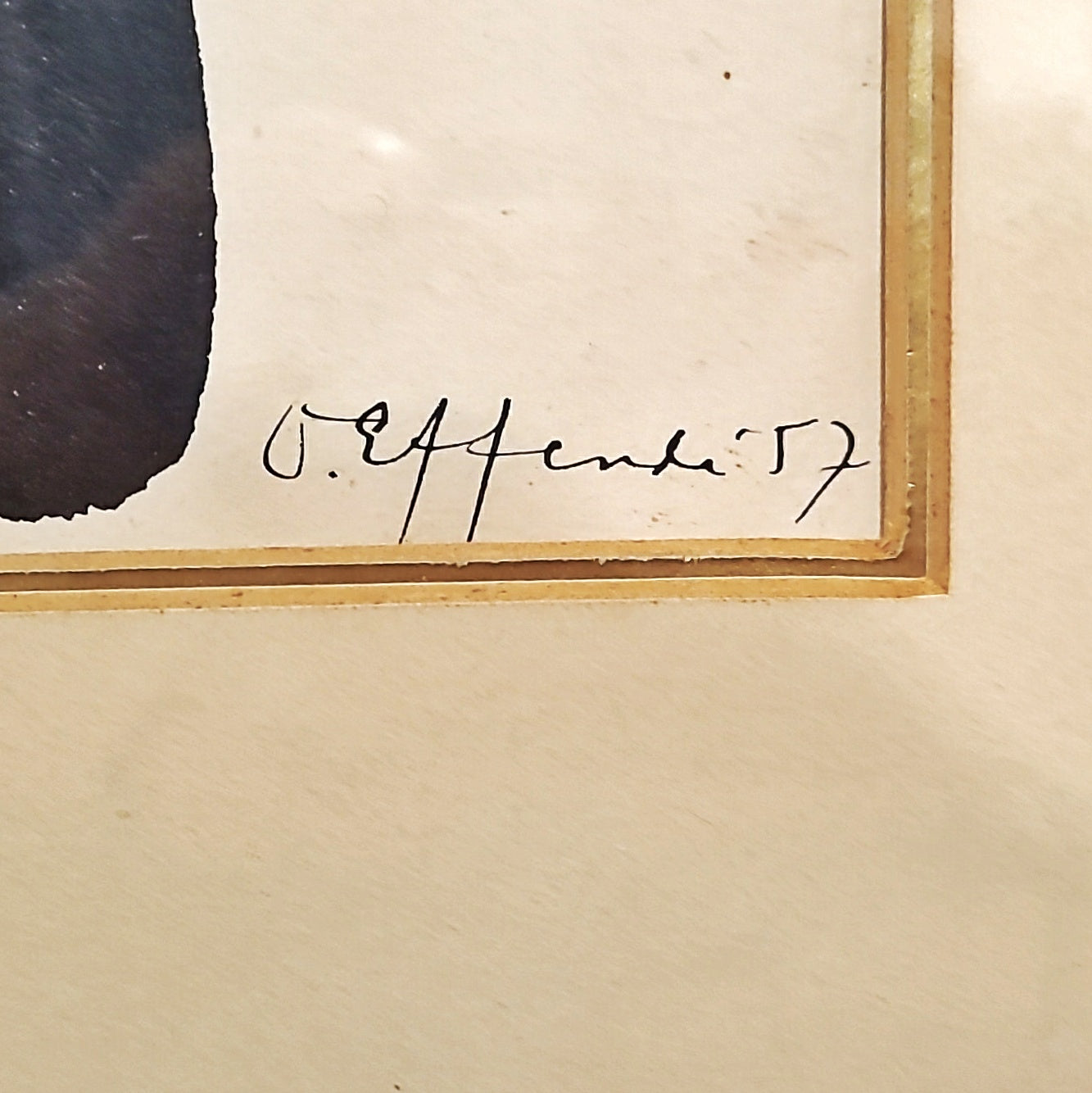 GLYPHIC FIGURES - INK ON PAPER BY OESMAN EFFENDI (1957)
CONTACT US HERE ABOUT THIS ITEM.
An early (1957) abstract ink on paper by the Indonesian artist Oesman Effendi (1919-1985).  The original frame shows minor separation at the bottom joints and some loss of gilding.  There is also a small wood chip at the lower right corner, but it's in overall great vintage condition.  signed and dated on the lower right.
Oesman Effendi was born in Padang, West Sumatra in 1919. At the start, Oesman had never gone through formal art training but won an Ex Libris competition for Bataviasche Kuntskring in 1938. Thereafter, in 1947 he joined SIM Seniman Indonesia Moeda (Young Indonesian Painters) in their Solo branch, and afterward in Yogyakarta, then Jakarta in 1949. In Jakarta, he became a member of GPI Gabungan Pelukis Indonesia (Indonesian Painters Collective) from 1949-1951. He was sent to the Netherlands by the Bank of Indonesia in 1951 to design the banknotes. Oesman effendi participated in a number of painting exhibitions in 1960 and 1962. He then won an award in Pameran Besar Lukisan Indonesia II (Grand Exhibition of Indonesian Paintings II) in 1976. The previous year in 1974, he received his diploma in Printmaking from Academie Della Arte Del Disegno di Firenze, Italia. Oesman was a member of DKJ Dewan Kesenian Jakarta (Jakarta Art Council) and was a lecturer of art at LPKJ Lembaga Pendidikan Kesenian Jakarta (Jakarta Art Education Institute). He actively contributed his writing for magazines and newspapers.
Oesman Effendi passed away in Jakarta in 1985. Since the 50s, Oesman has been known as a pioneer of the abstract art movement in Indonesia.  Along with other painters such as Zaini, Nashar, and Rusli. They express the world, objects, and themes in the harmony of geometric meditation, poetic, dramatic, and even magical.
DETAILS
Artist – artist
Period – period
Origin – origin
Styles/Movements – styles
Media – media
Support – support
Colors – colors
Condition – condition
Dimensions – 0" W × 0ʺ D × 0ʺ H
DETAILS
Artist - Oesman Effendi
Period - 1957
Origin - Indonesia
Styles/Movements - Modern; Abstract
Media - Ink and brush
Support - Paper
Colors - Black
Condition - Very good vintage condition. Frame shows some wear.
Dimensions - 32" W × 1ʺ D × 25.5ʺ H