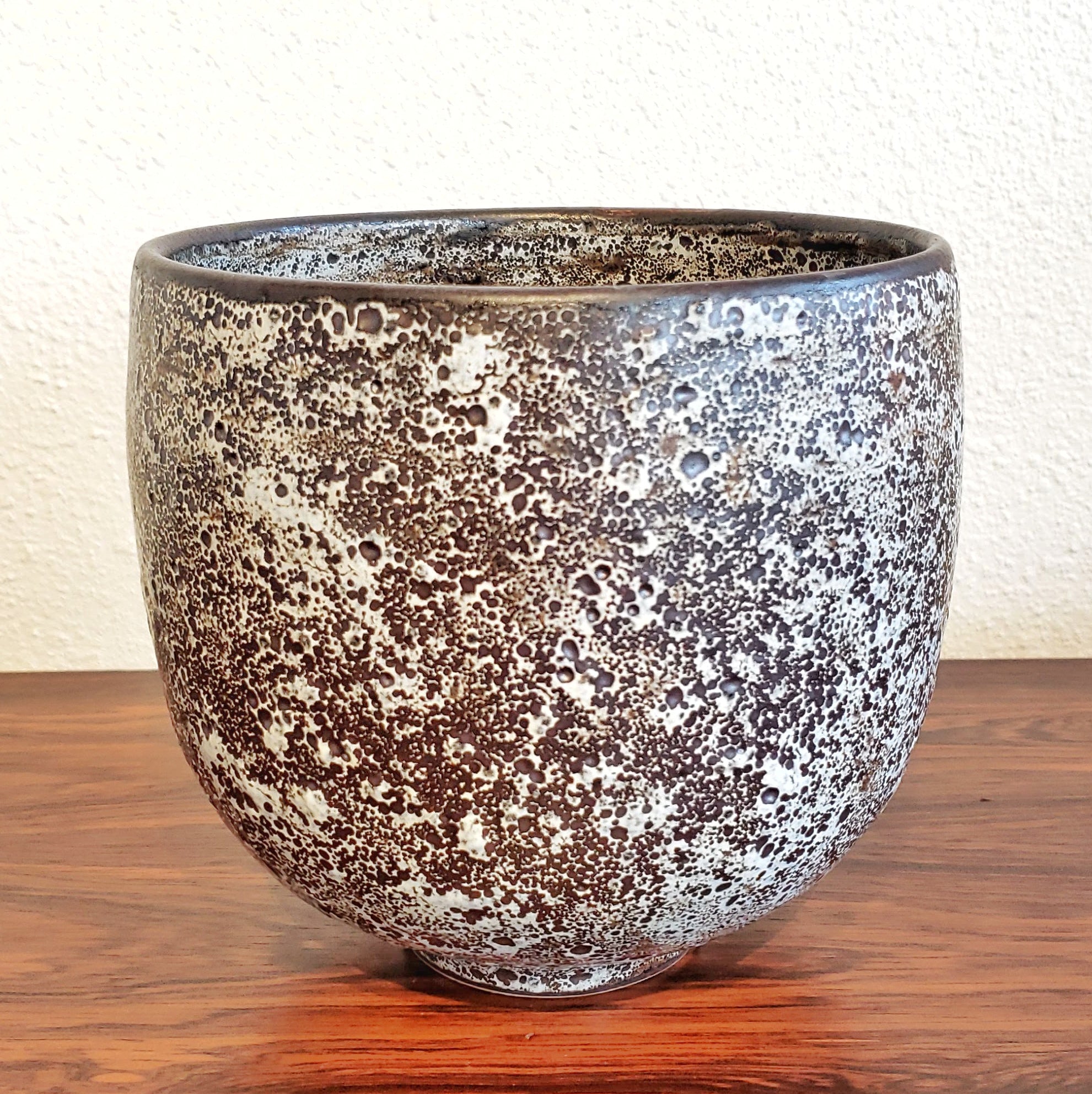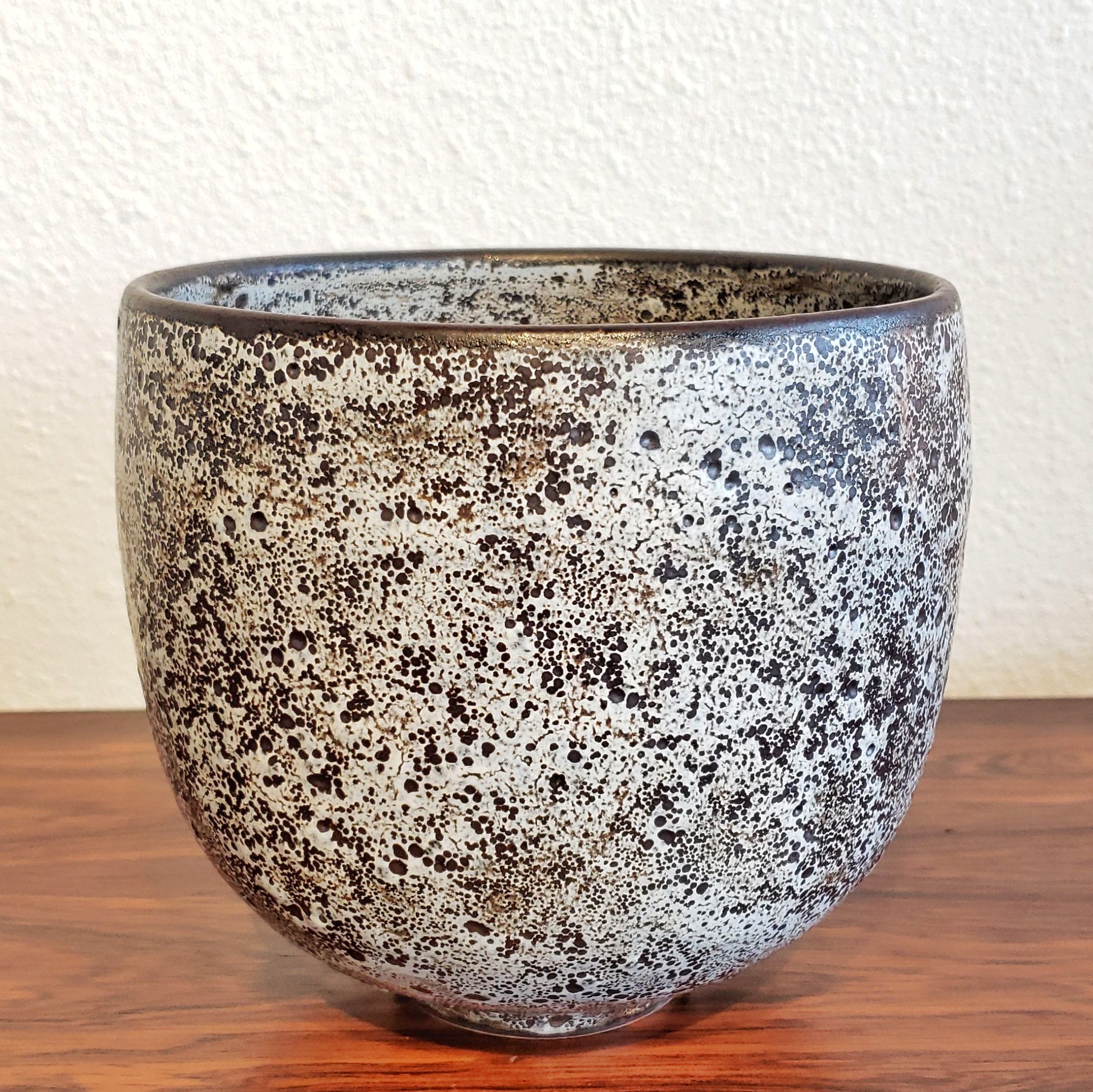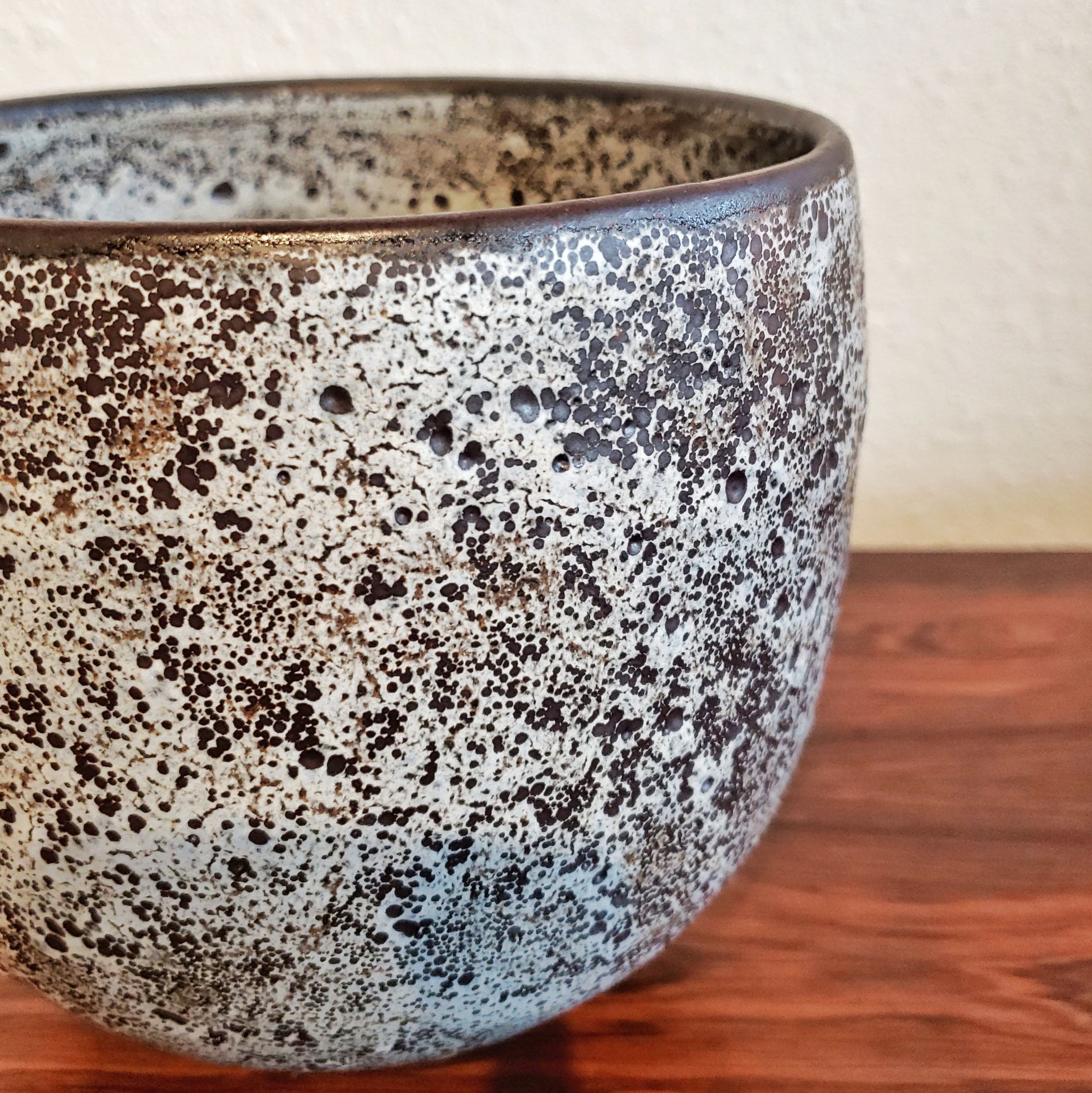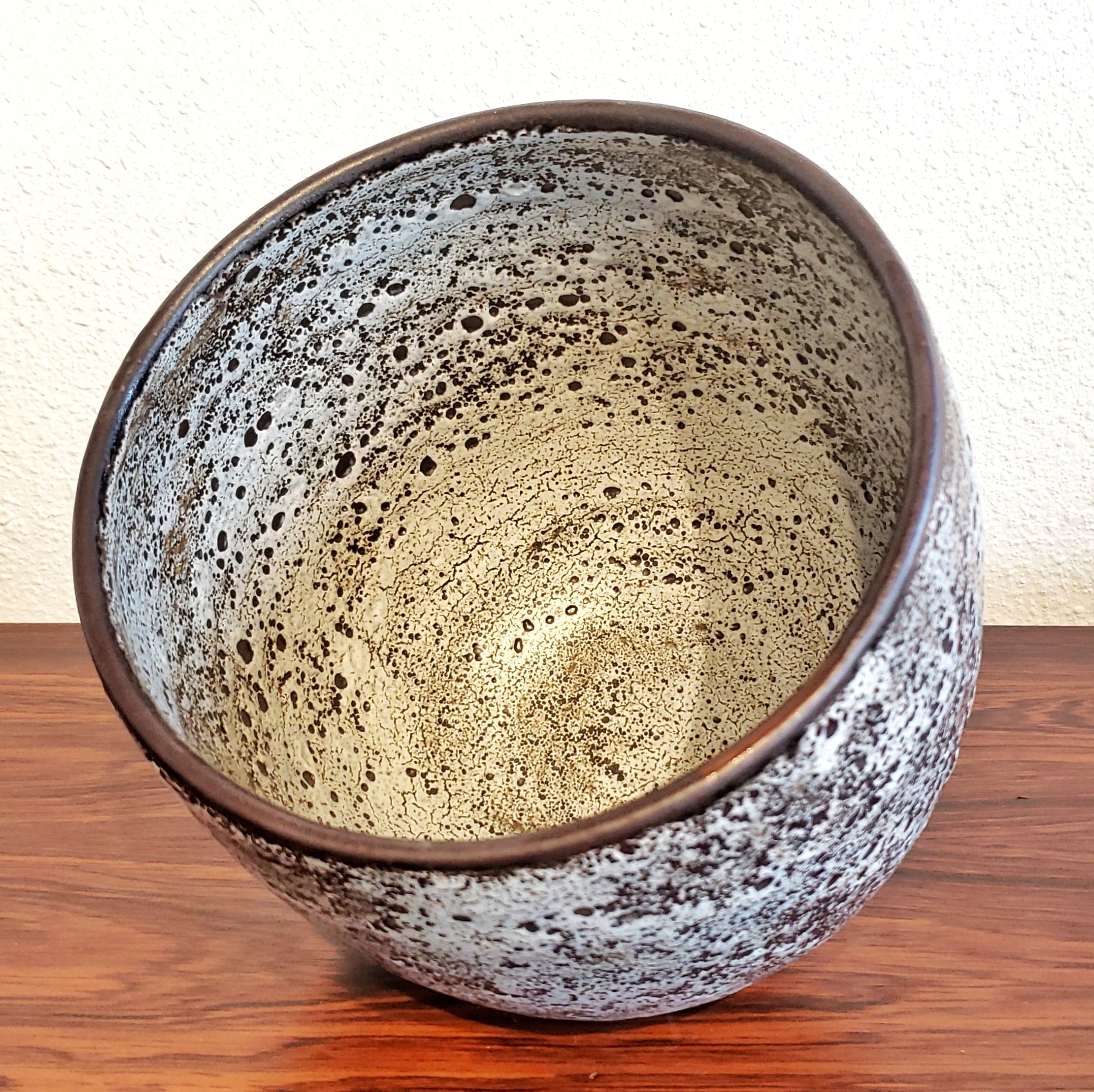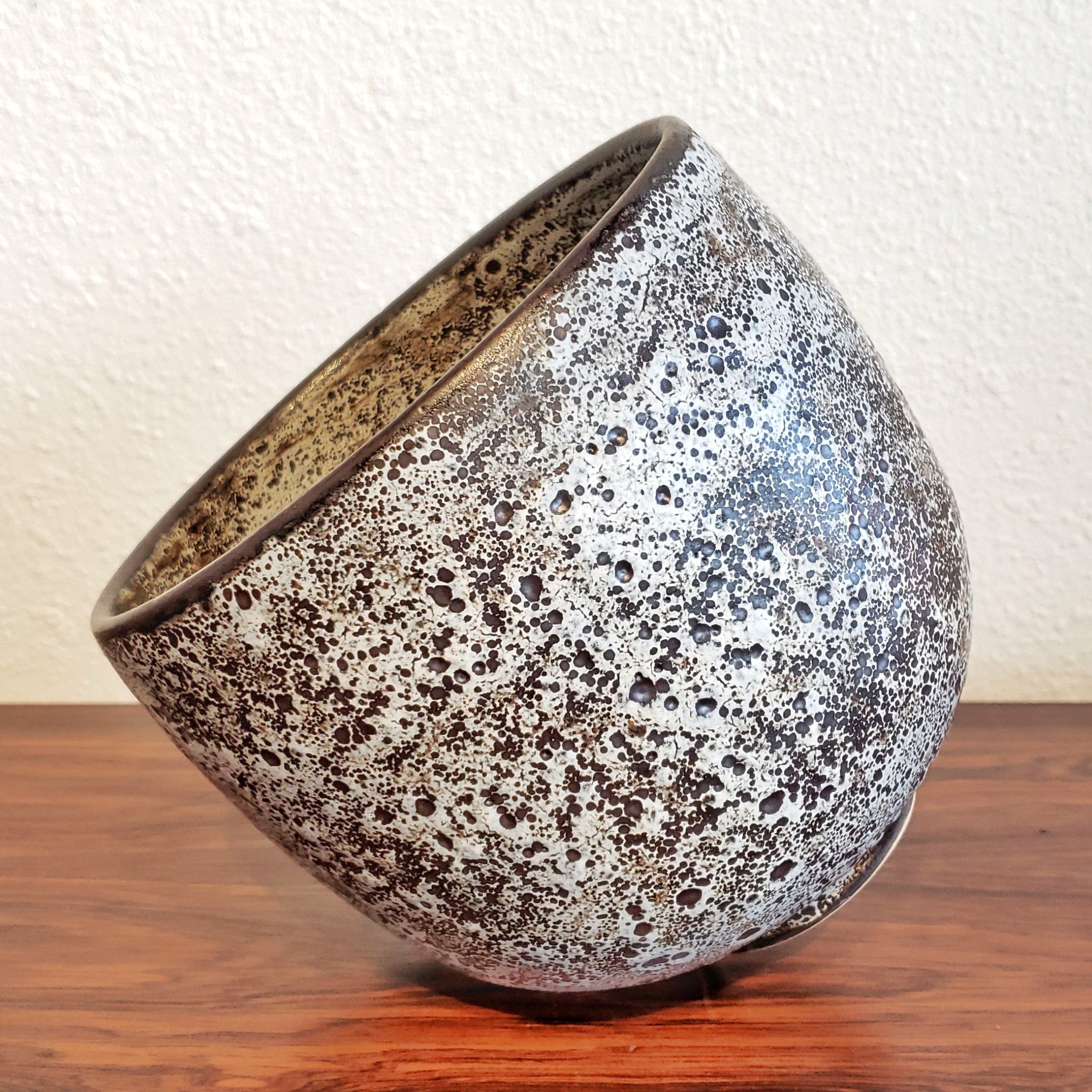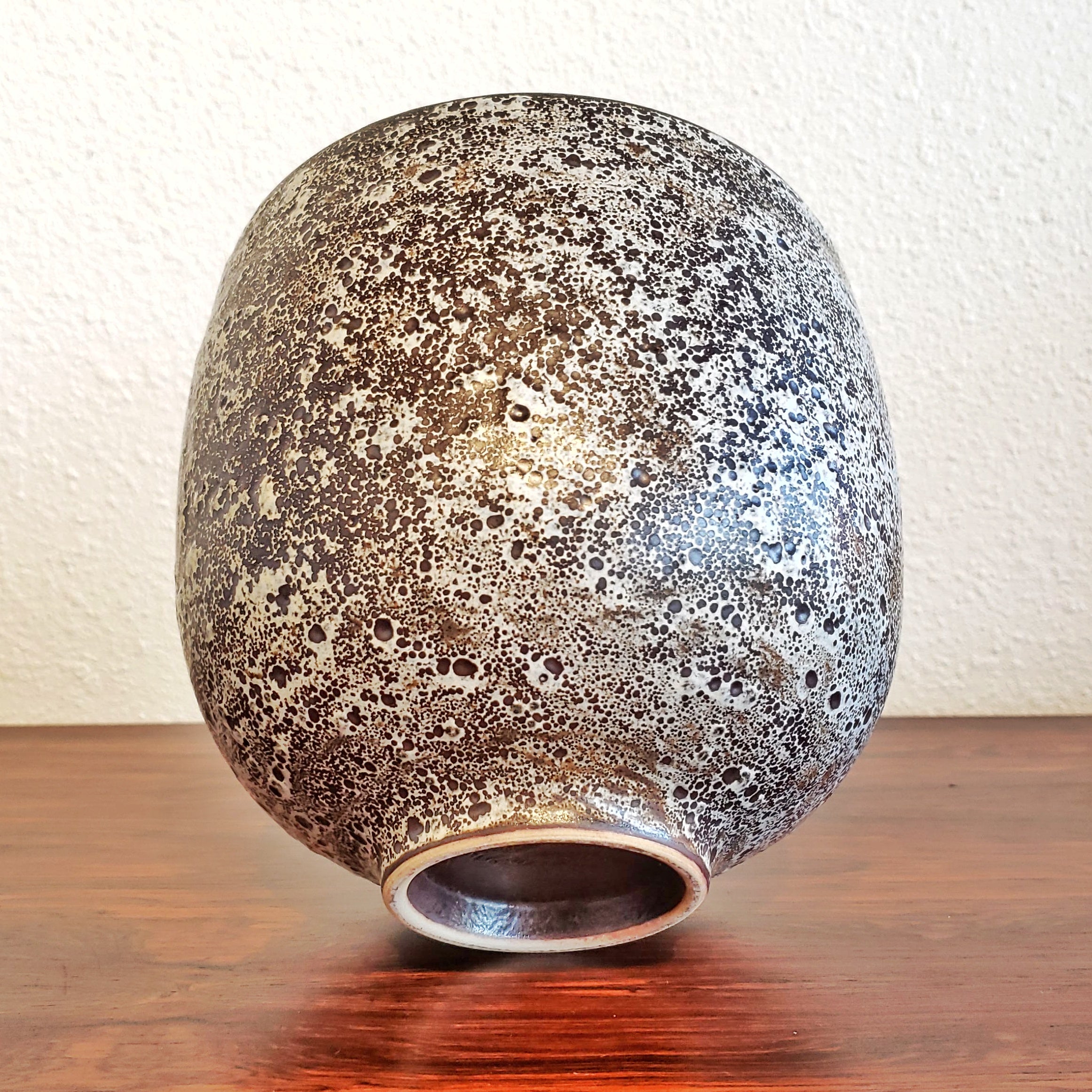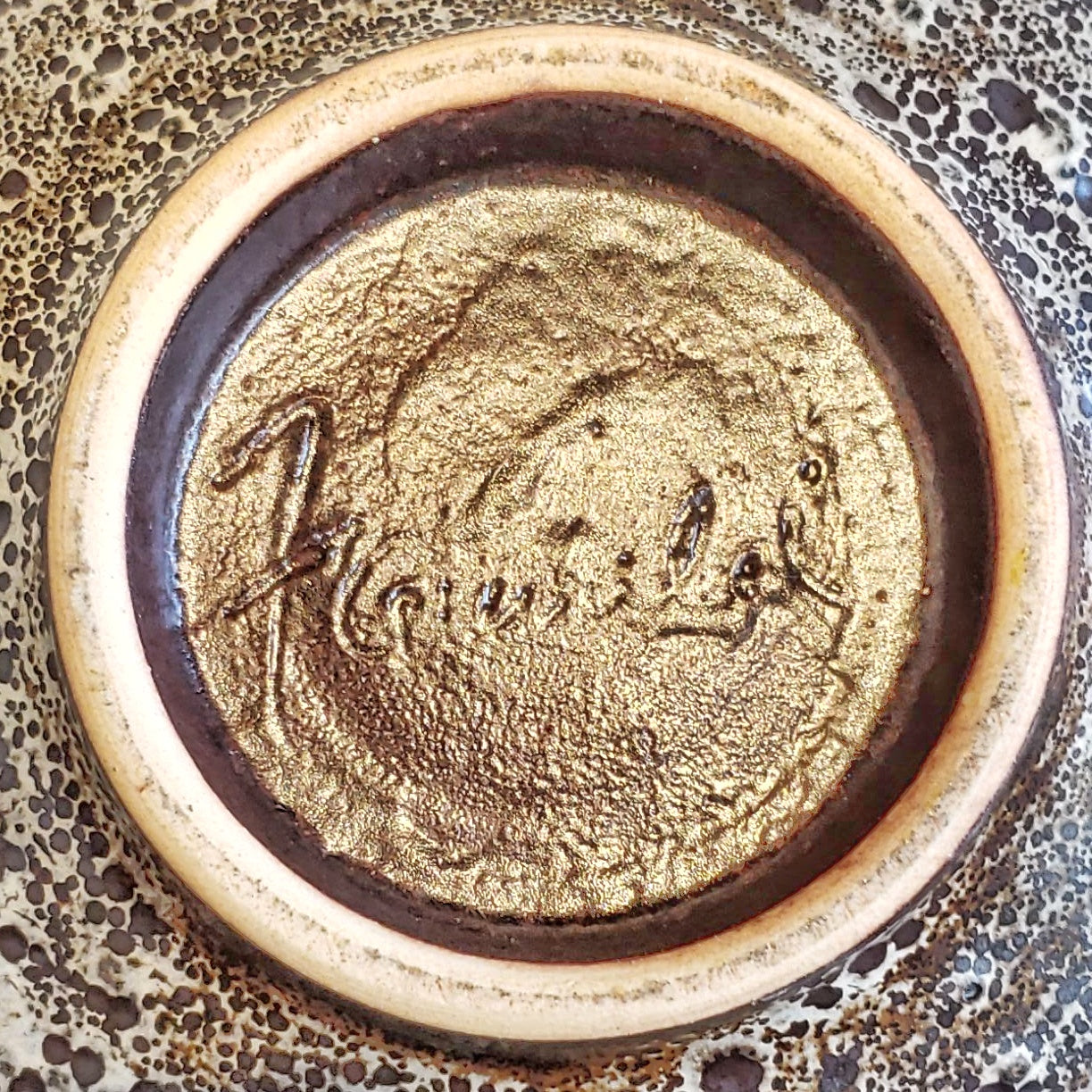 RICHARD FREIWALD 'ATOMIC MAGNETITE' SPOT GLAZE BOWL/CACHEPOT
CONTACT US HERE ABOUT THIS ITEM.
A beautiful high walled decorative bowl/cachepot by contemporary ceramic artist Richard Freiwald.  The simple form is masterfully proportioned and covered in an early version of his "Atomic Magnetite" glaze.
RICHARD FREIWALD received his B.A. from Montclair State University and his M.F.A. from Rutgers, Mason Gross School for the Arts. He began teaching in 1980, and has taught at numerous Universities. He is currently a long term faculty member of The Pingry School in Somerset County, New Jersey, and says about his experience there:

"For me, teaching is communicating to a new
generation the rediscovery and reinvention of
visual media and concepts through mentoring and
building self-expression in my students. I infuse
my passion, sense of adventure and self-realization through shared experiences in the studio."

Richard has been the recipient of many honors including The National Endowment for the Arts and The Council for Basic Education Grant; for the introduction of interdisciplinary teaching in Art and Science and The Geraldine R. Dodge Foundation Grant for consistently having the highest quality of student works to be accepted into The Morris Museum. He has held three endowed teaching chairs over the years, and his work has been widely-exhibited in New Jersey and New York and is held in numerous private collections around the world.

Much of Richard's work can be divided into three broad categories of 'social realism', 'modern/experimental', and a thing that can perhaps best be described as 'neo-jugenstil' in which he embraces a decidedly art nouveau aesthetic that is often accentuated and heightened by crossover sculptural themes rooted not only in nature, but in current affairs, fantasy, and mythology, and often made transcendent through the application of an astounding variety of his own experimental glazes. It is where these broad categories of work intersect, overlap, and blend that his most arresting visions are realized. Freiwald is as much a tecnician as he is an artist who is driven to distraction by the many technical challenges involved in the creation of his work. glaze chemistry, firing schedules, and the difficulty of many of his forms all make demands on the process and are all evident in the completed work.

The artist says that he sometimes approaches his work like a jazz musician who embraces uncharted territory where ideas believed to be the most absurd ultimately lead to the greatest successes. His best pieces reveal his humanity and love for art and all things. It is the act of communication through a visual, medium reflecting the spirit moving within that drives his passion to inspire and bring meaning to existence.

"There is nothing quite like it when I am working on a piece, I feel truly energized". My passion for this work requires well-designed concepts to be meticulously crafted to the highest standards and to the best of my abilities. I am inspired by visceral nature and fantasy. My art pottery pieces rely on emotional intensities, sometimes based on the brutality and beauty found in nature and imagination. The forms are hand thrown or sculpted and the glazes are full of texture and character. I employ sintered 'born-of-the-ashes' glazes, including my phoenix iridized paste lustre, fractured earth, glaciation, glass, crater, and etched matte crystalline. Layered underglaze variations used in a painterly fashion adds depth and interest to the timeless beauty. My artworks are deeply rooted in tradition. I teach, study and love all styles of art including Jugendstil, Symbolist, Secession, Expressionism and Fantastic Mythology. My introspective searching for unknown horizons is a constant life journey as I am always welcoming the unknown and new. It is the quintessence; the resulting art pottery born of earth, fire, water, and air that becomes transcendent and takes on a life of its own.
| | |
| --- | --- |
| Designer | Richard Freiwald |
| Manufacturer | Richard Freiwald |
| Design Period | From 2000 |
| Production Period | 2000 to 2009 |
| Country of Manufacture | United States |
| Identifying Marks | This piece has an attribution mark |
| Style | Hand-Crafted, Minimalist, Modernist |
| Detailed Condition | Excellent — This vintage piece is in near original condition. It may show minimal traces of use and/or have slight restorations. |
| Product Code | |
| Restoration and Damage Details | Pristine |
| Materials | Ceramic |
| Color | White, brown |
| Width | 6.5 inch |
| Depth | 6.5 inch |
| Height | 6.3 inch |