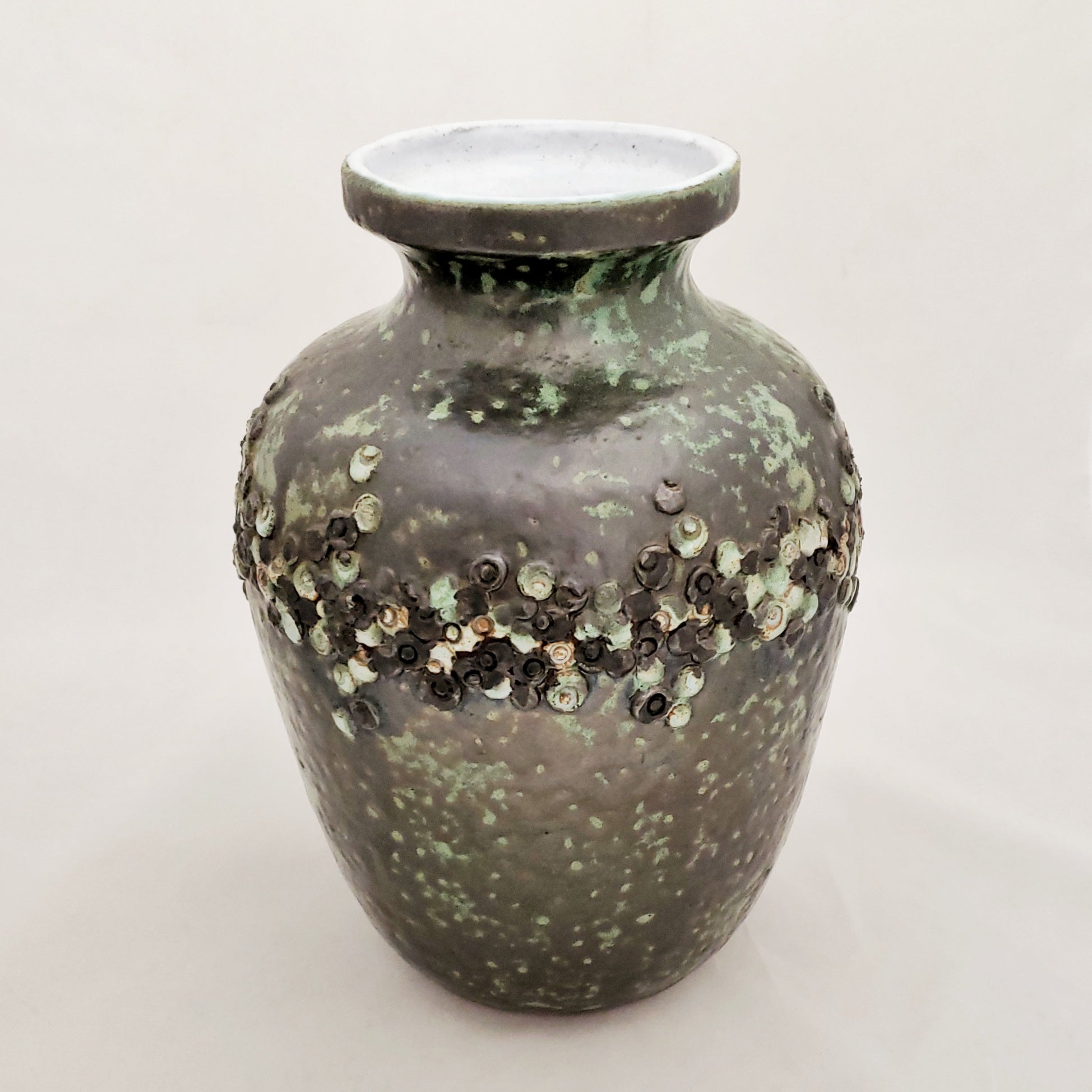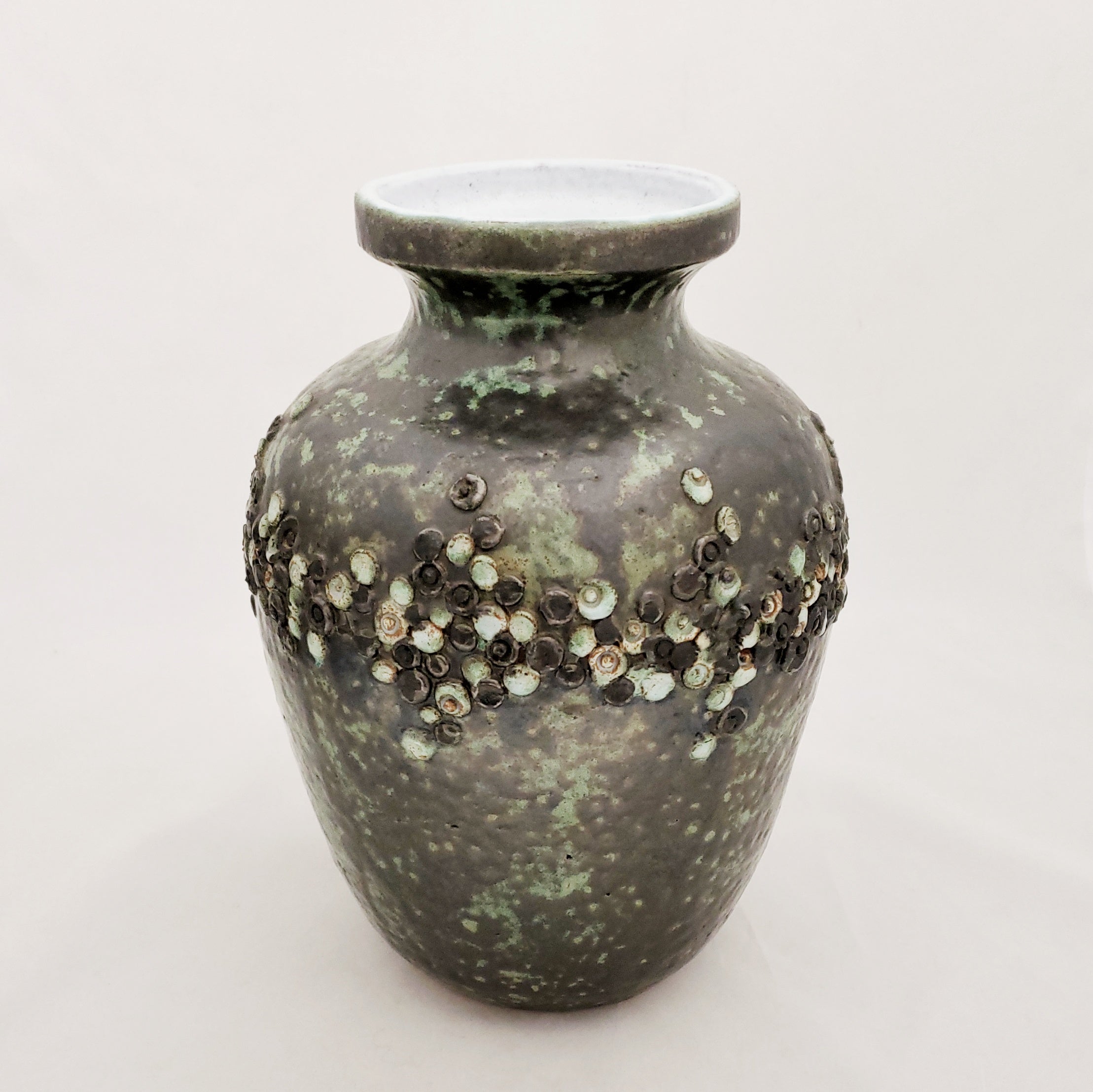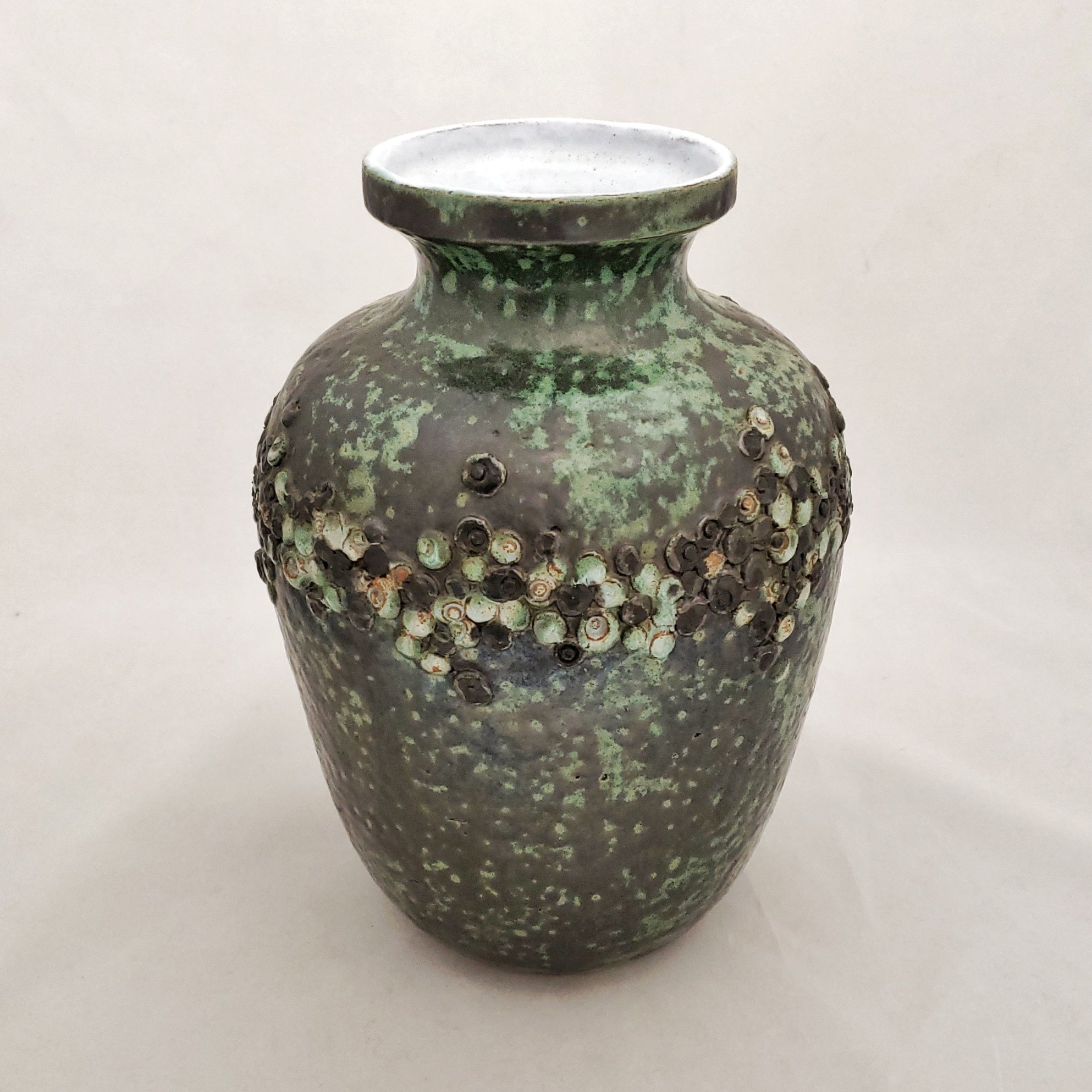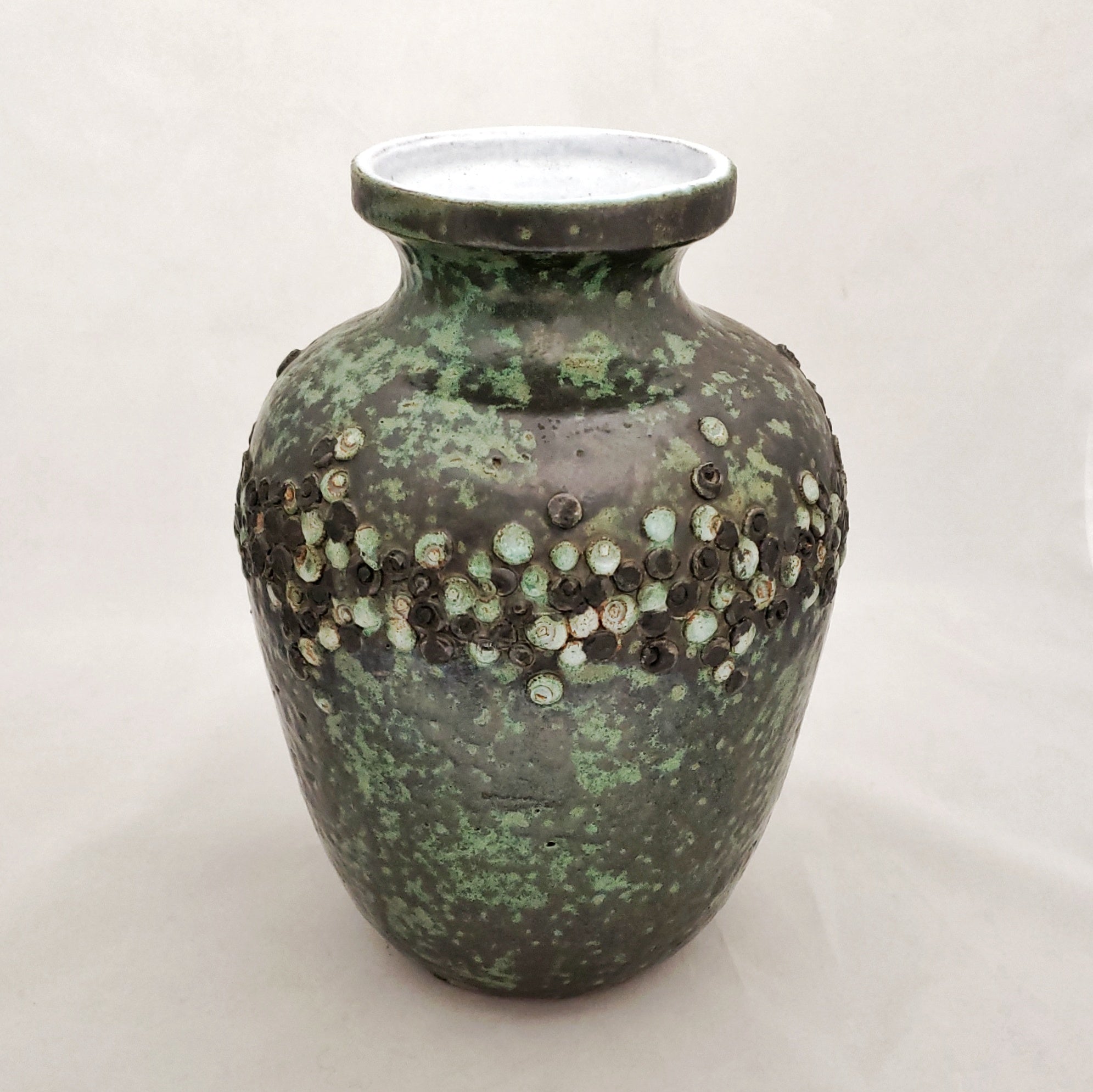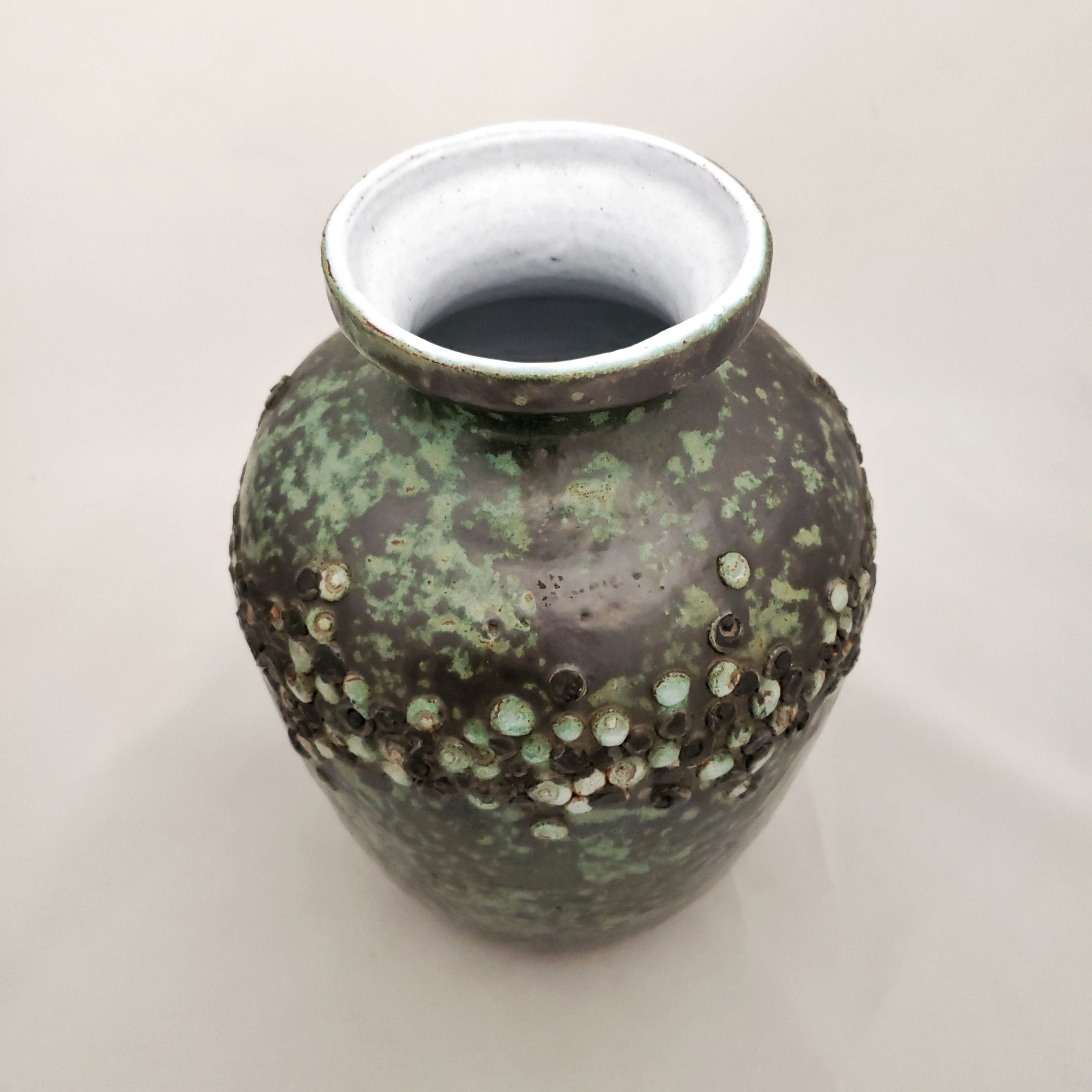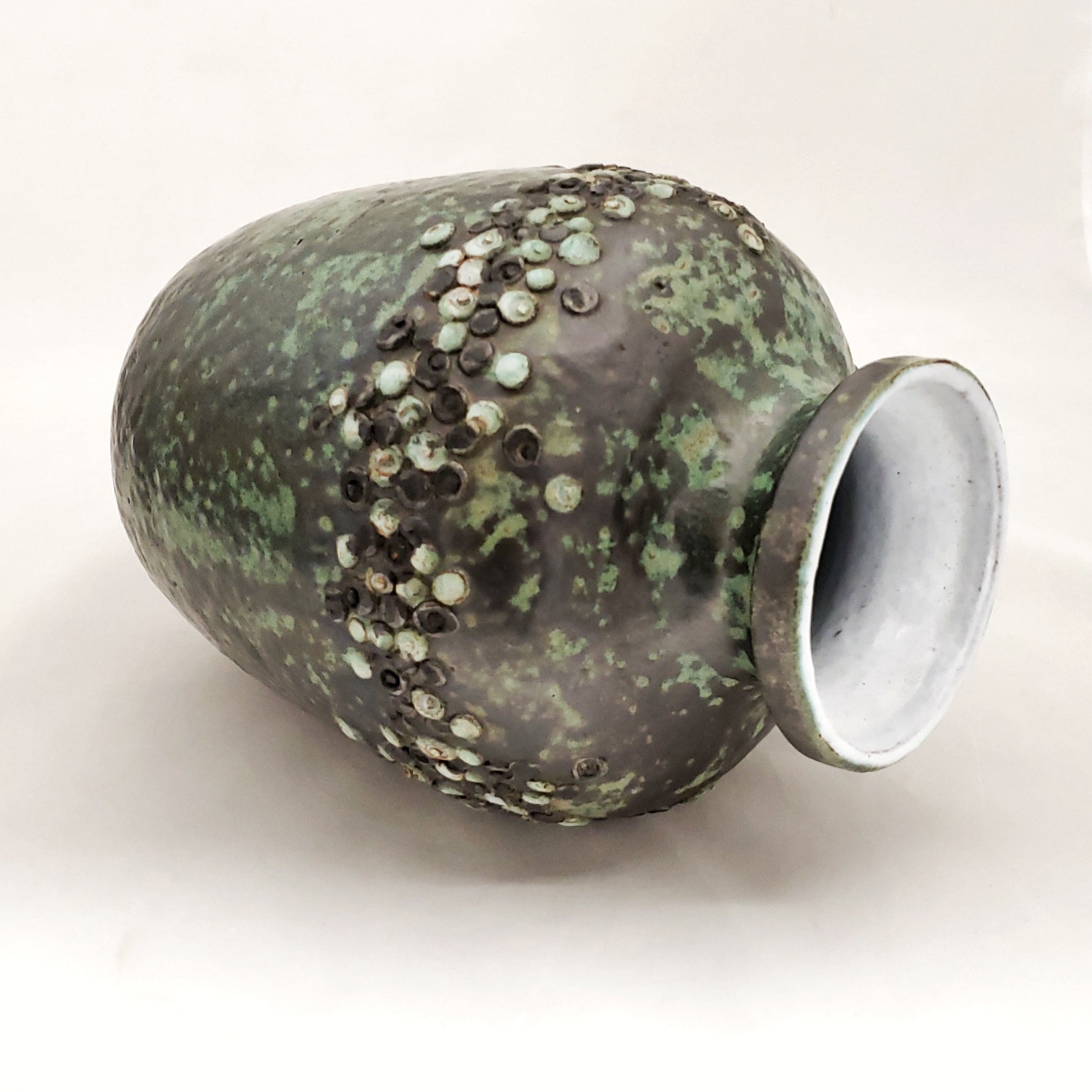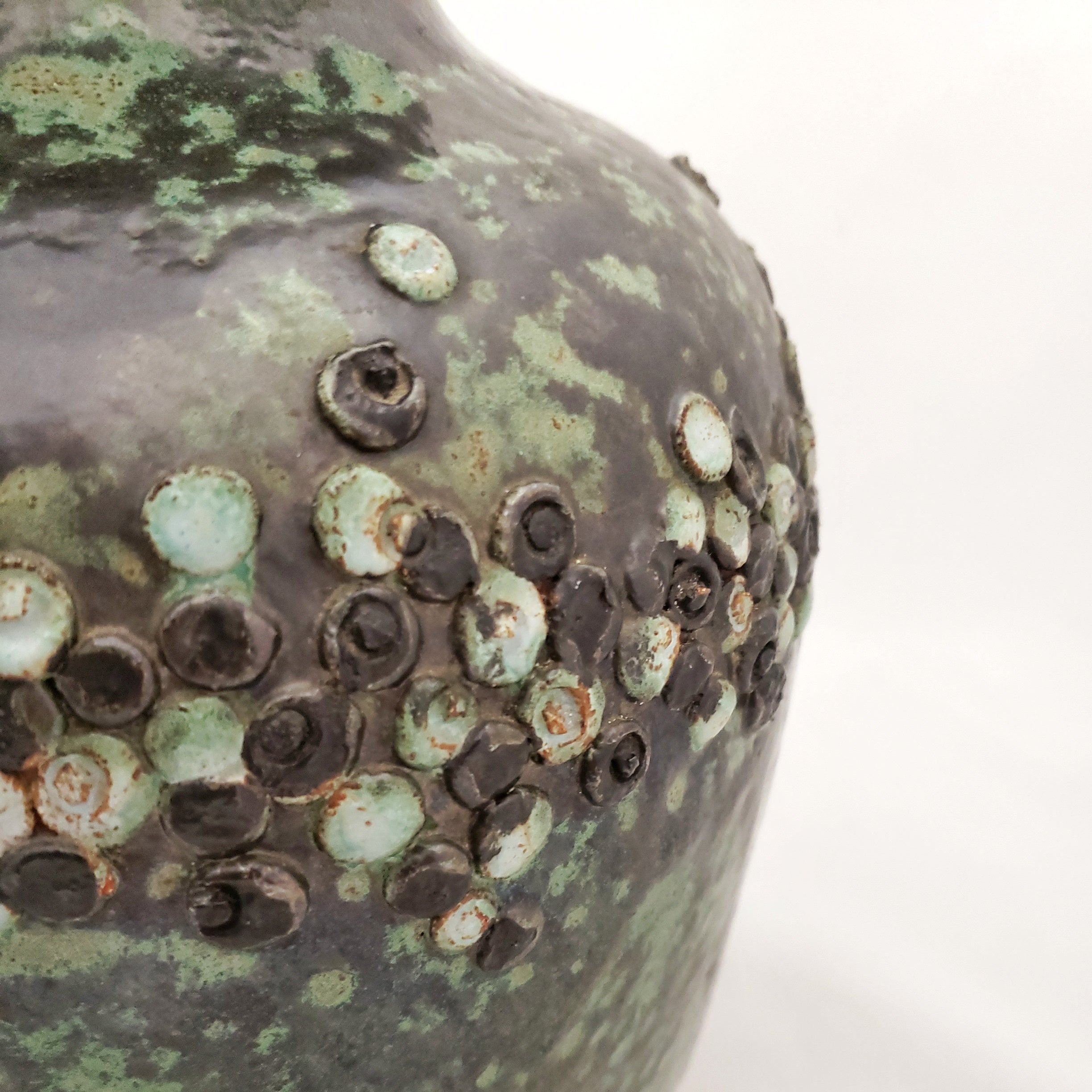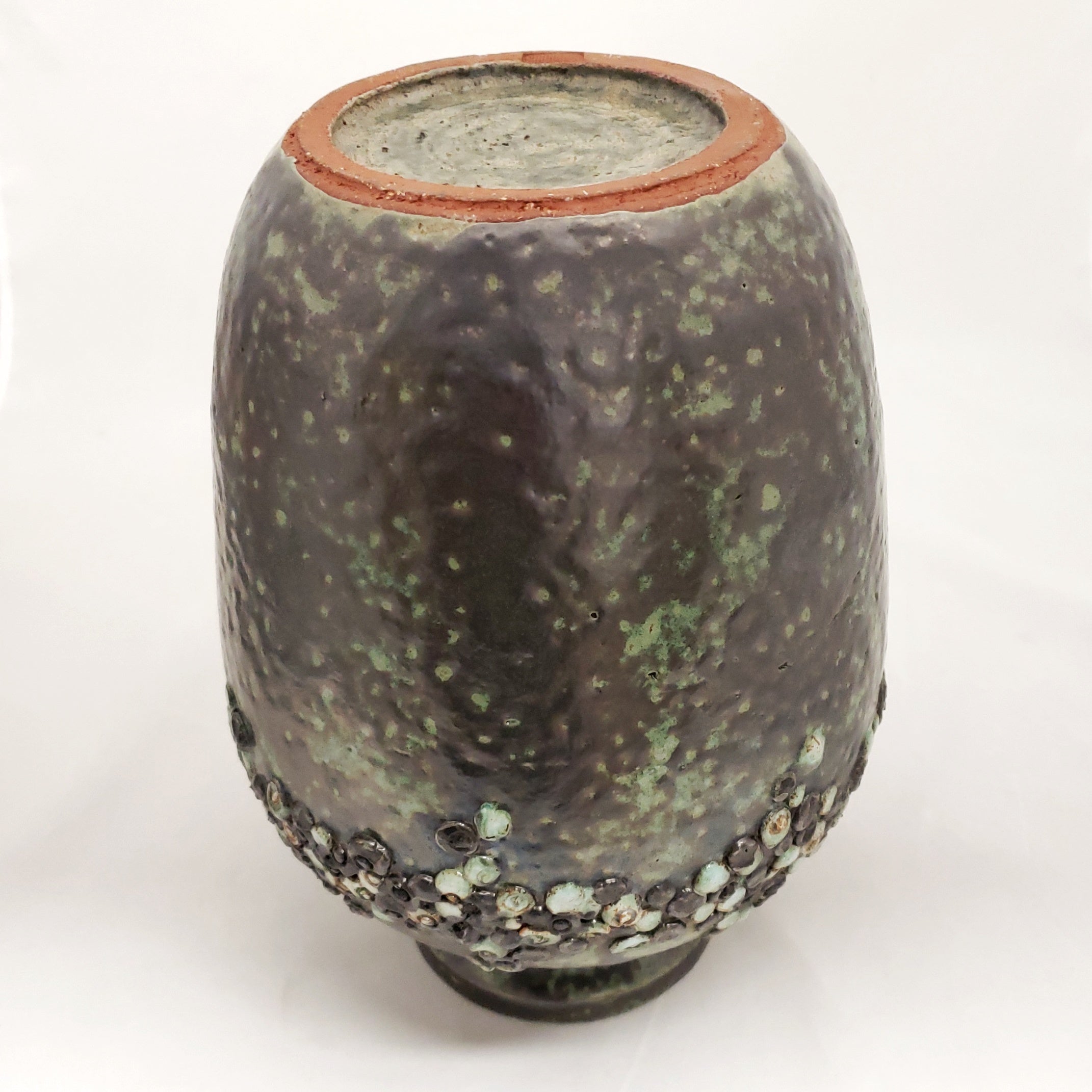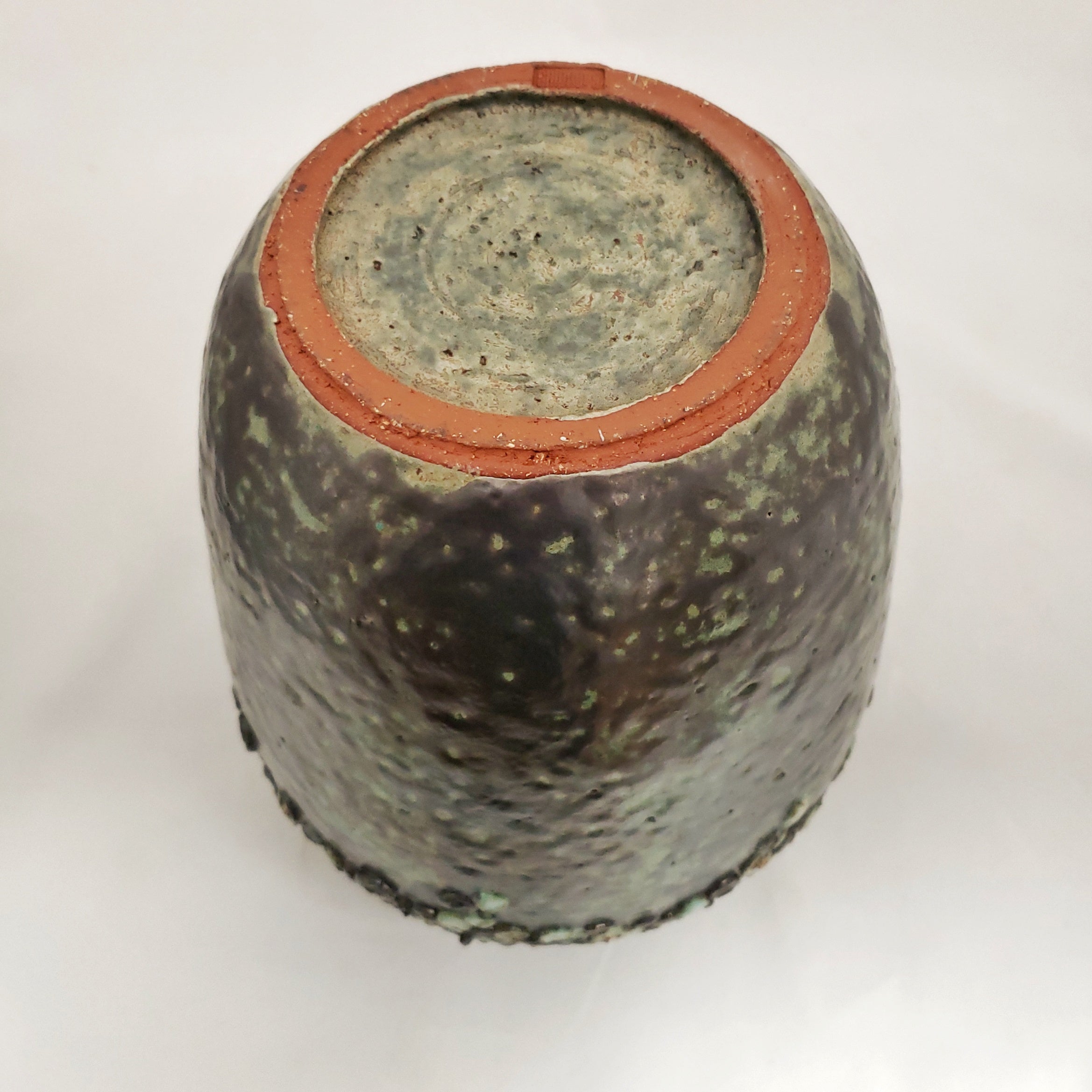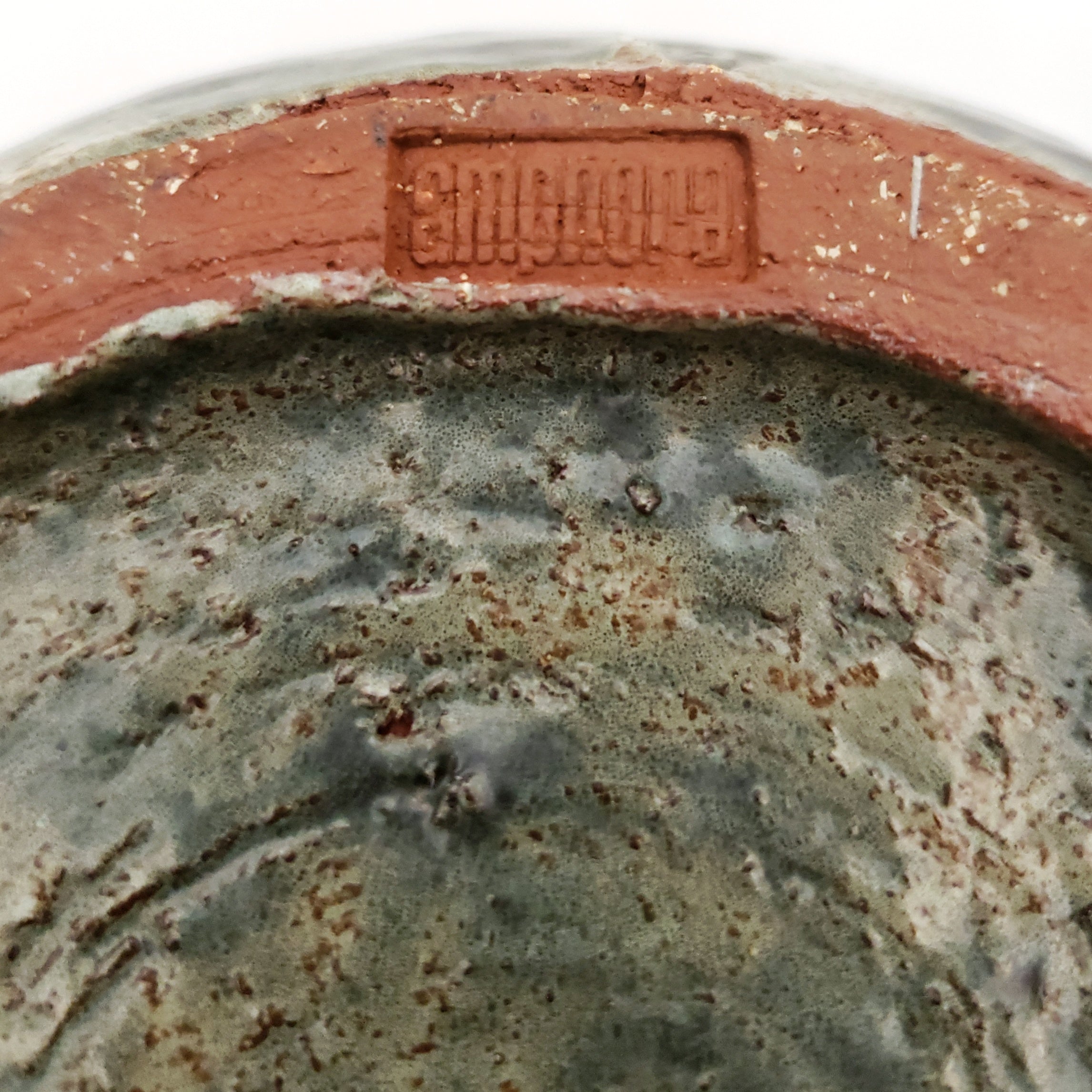 ROGIER VANDEWEGHE STUDIO VASE FOR AMPHORA
CONTACT US HERE ABOUT THIS ITEM.
A lovely, mottled-green stoneware vase with additions by Belgian artist Rogier Vandeweghe for AMPHORA.
ROGIER VANDEWEGHE is an important Belgian ceramicist, stained-glass artist, calligrapher, and painter.  He was born in 1923 in Ruiselede in West Flanders.  In 1947, following art studies at Sint-Lucas in Ghent, he interned for a brief period with renowned Belgian artist Joost Maréchal (1911-1971).  He soon after opened a ceramics workshop with his brother Laurent in the municipality of Aalter, halfway between Ghent and Bruges in East Flanders.  Christened Perignem (by fire), the studio would eventually relocate southeast of Bruges to the town of Beernem, the brothers' childhood home. 
Rogier acted as Perignem's artistic director; Laurent, who never received any artistic training, took on technical tasks.  In 1954 the production of stained-glass windows was added to the program.  Rogier left Perignem in 1955 to set up a new studio, AMPHORA, with his wife Myranna Pyck (who had worked at Perignem as a ceramic painter).  After Rogier's departure, Laurent had difficulty maintaining production volumes and identifying new styles.  However he had the vision to hire promising young artists and to give them the latitude to work and create freely.  The talented Hanz-Heinz Goll was among their number.  Perignem soon became a hive of creativity.  The initial results of the stratagem were presented to the public at a stunning expo in 1958.
AMPHORA was established under the name Atelier Rogier Vandeweghe in 1955 in Sint-Andries, a suburb of Bruges, by Vandweghe and his wife Myranna Pyck to produce ceramics and stained glass.  Starting modestly with two employees, namely a glazier and a handyman, the studio grew into a company with a staff of about 20.  It was rechristened AMPHORA in 1960.  Ceramic production consisted entirely of hand-thrown vessels.  AMPHORA's modern forms, experimental firing techniques, and extremely subtle glazes—all developed in-house—rapidly earned it an international reputation.
Participation in major contemporary exhibitions led to numerous awards:  second prize at the Concorso Internazionale della Ceramica in Monza, Italy, in 1960; a prize at the Internationale Handwerkmesse in Munich in 1963; the 'Medaglia d'Oro della Presidenza del Senato' at the Concorso Internazionale della Ceramica d'Arte in Faenza in 1964.  Such honors led to acquisitions by leading ceramics museums across Europe.  In 1975 operations ceased, and the studio faded into obscurity.
Production Period – 1965-1974
Country of Origin – WEST GERMANY
Designer – ROGIER VANDEWEGHE (b. 1923)
Maker – AMPHORA
Attribution – MARKED
Materials – CERAMIC
Condition – VERY GOOD (no defects; may show slight traces of use)
Height (cm) – 28.5
Diameter (cm) – 22.0