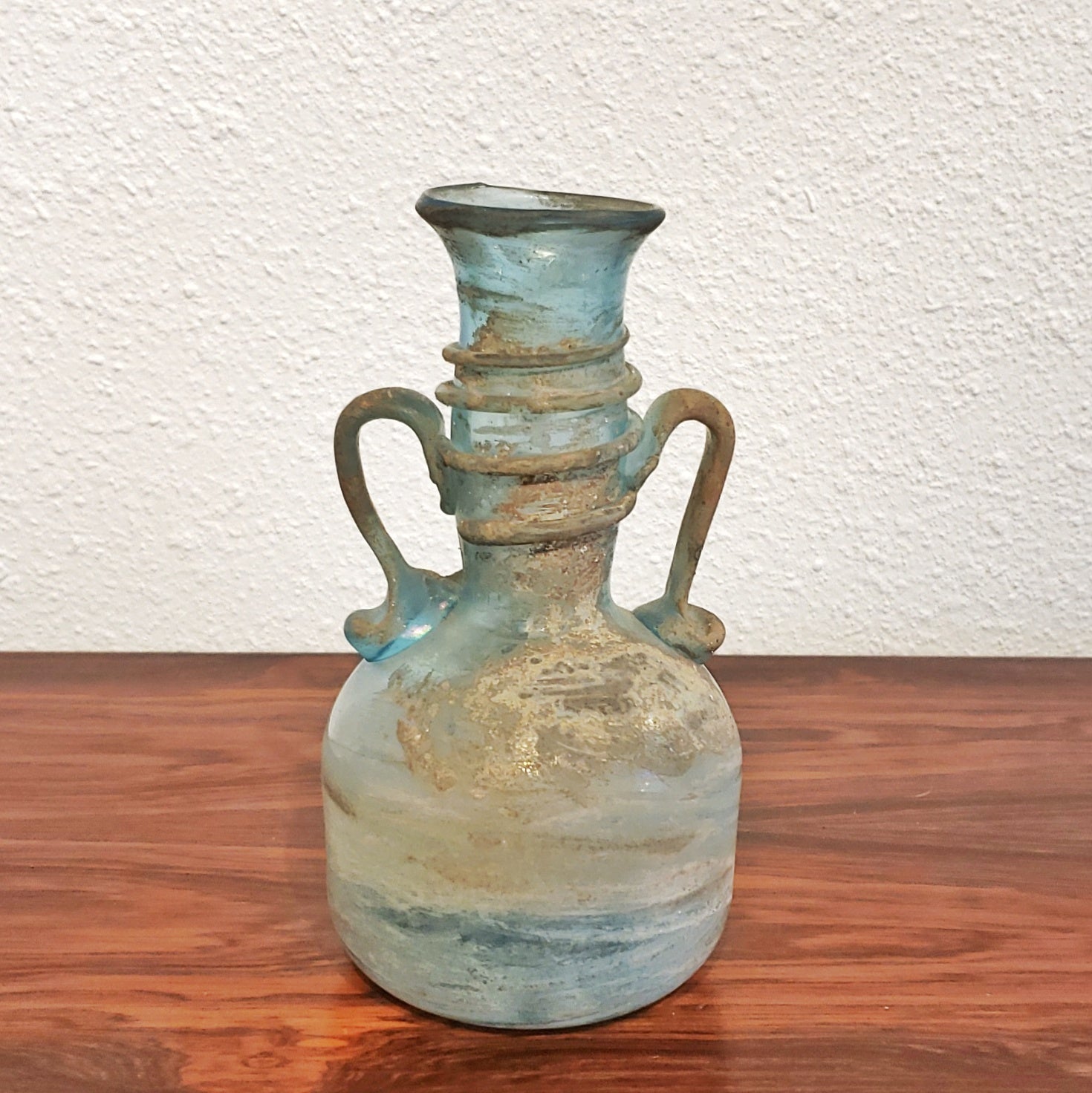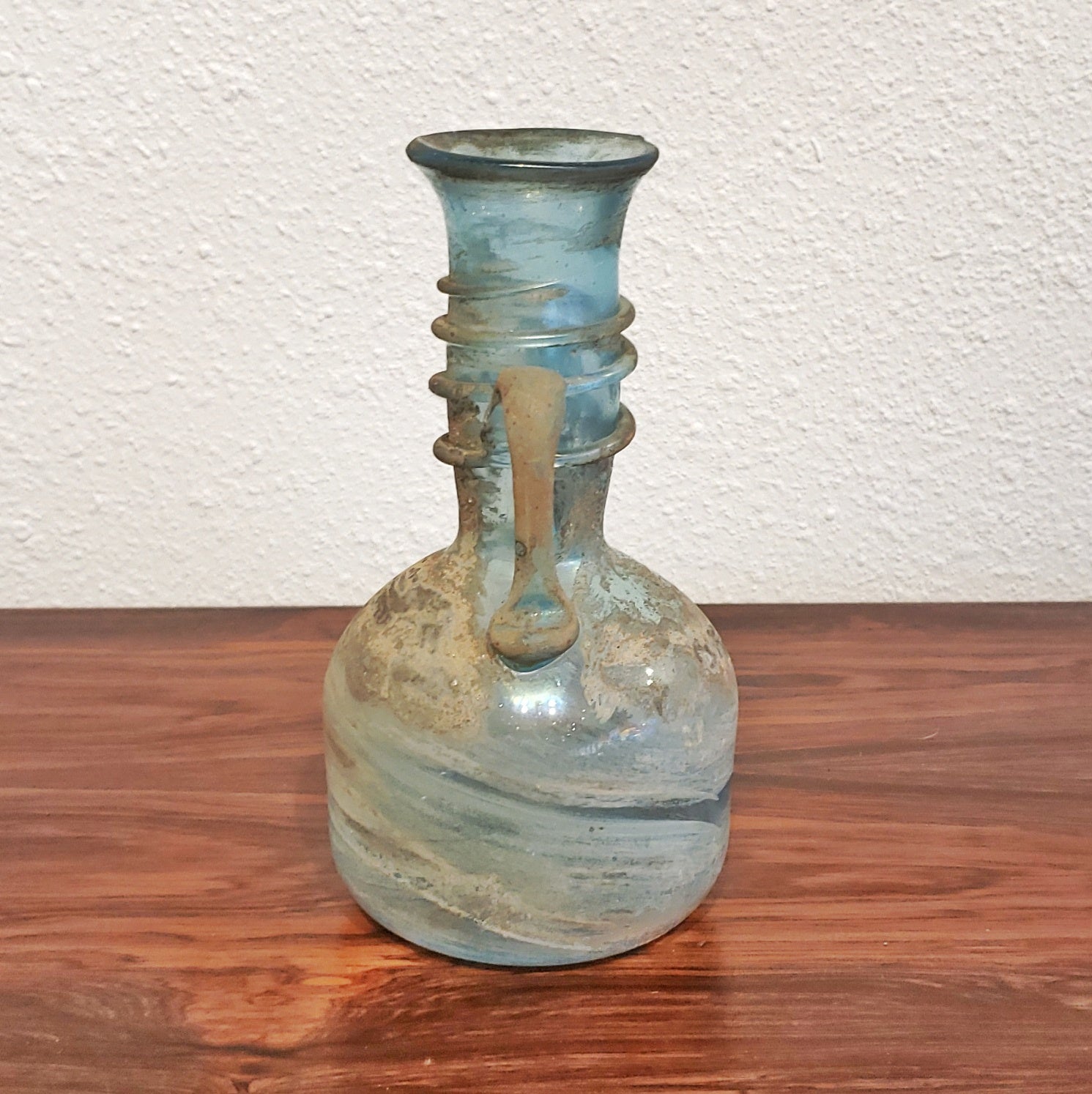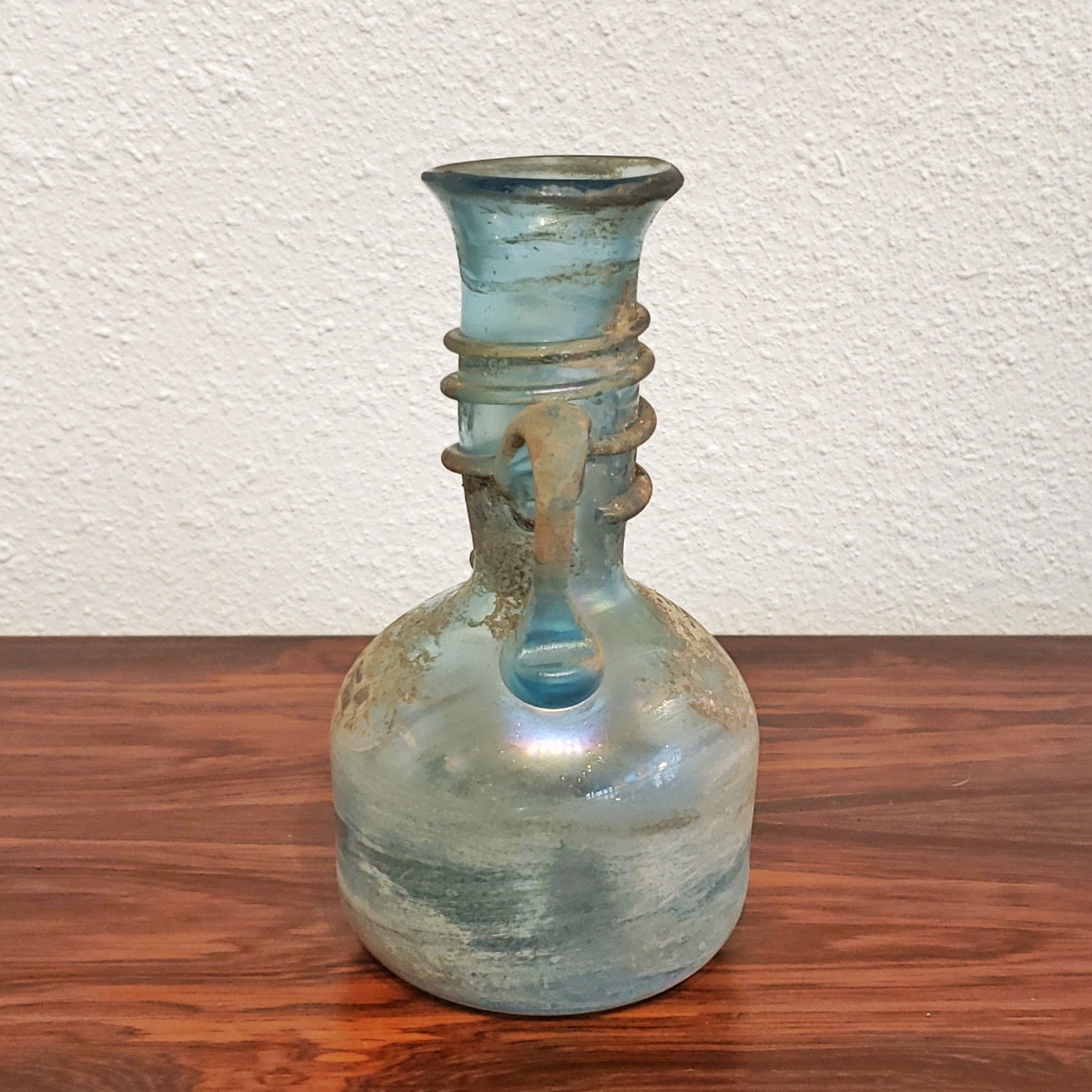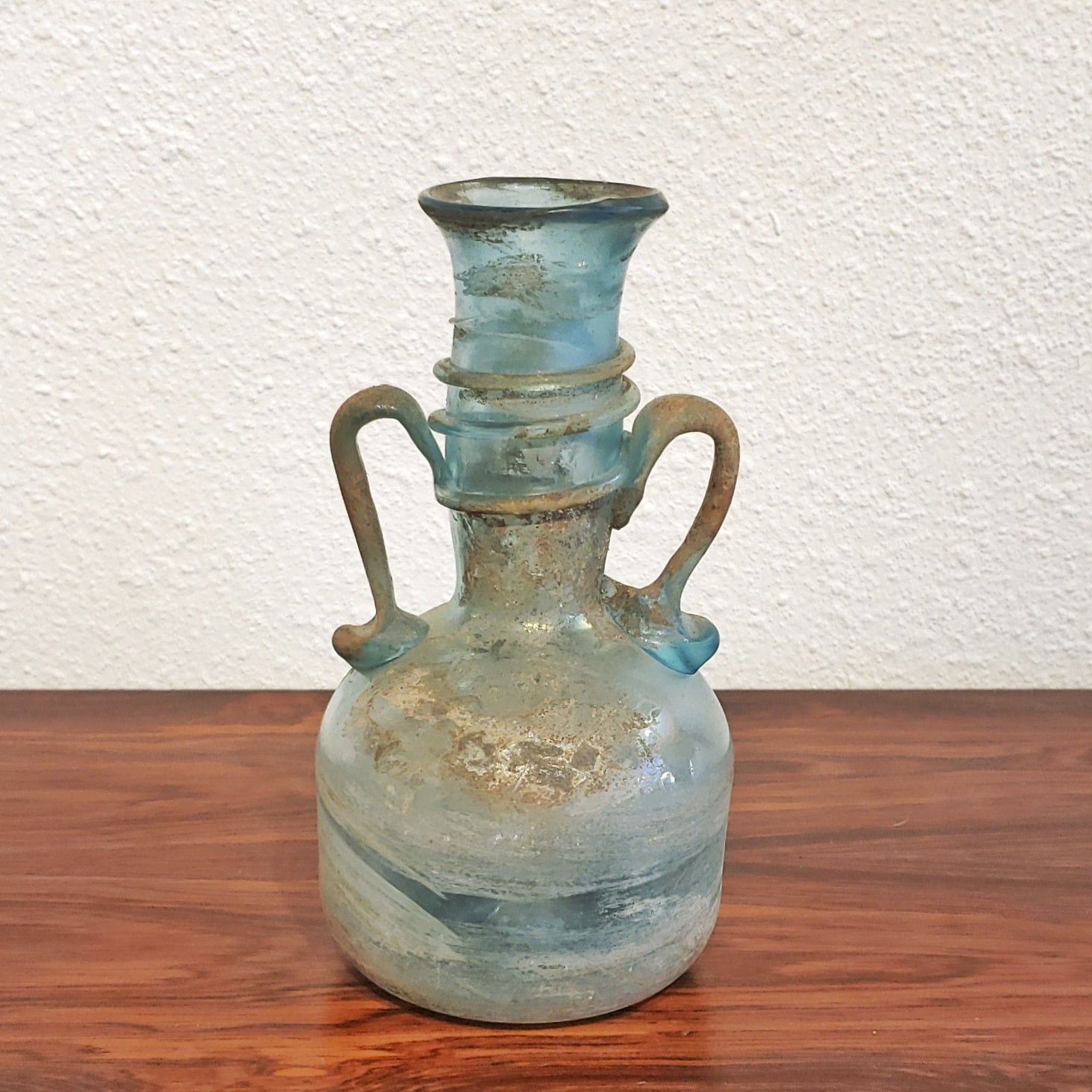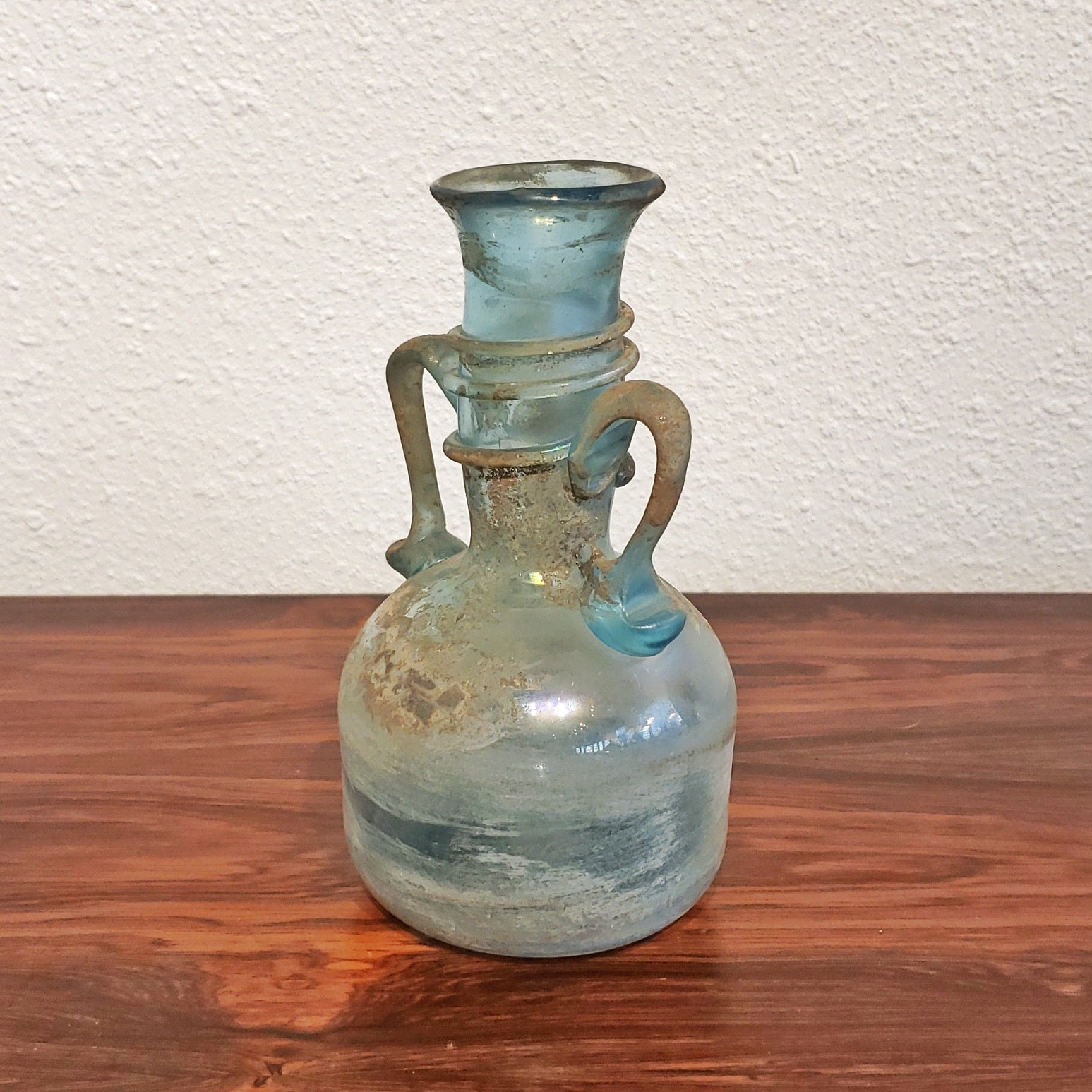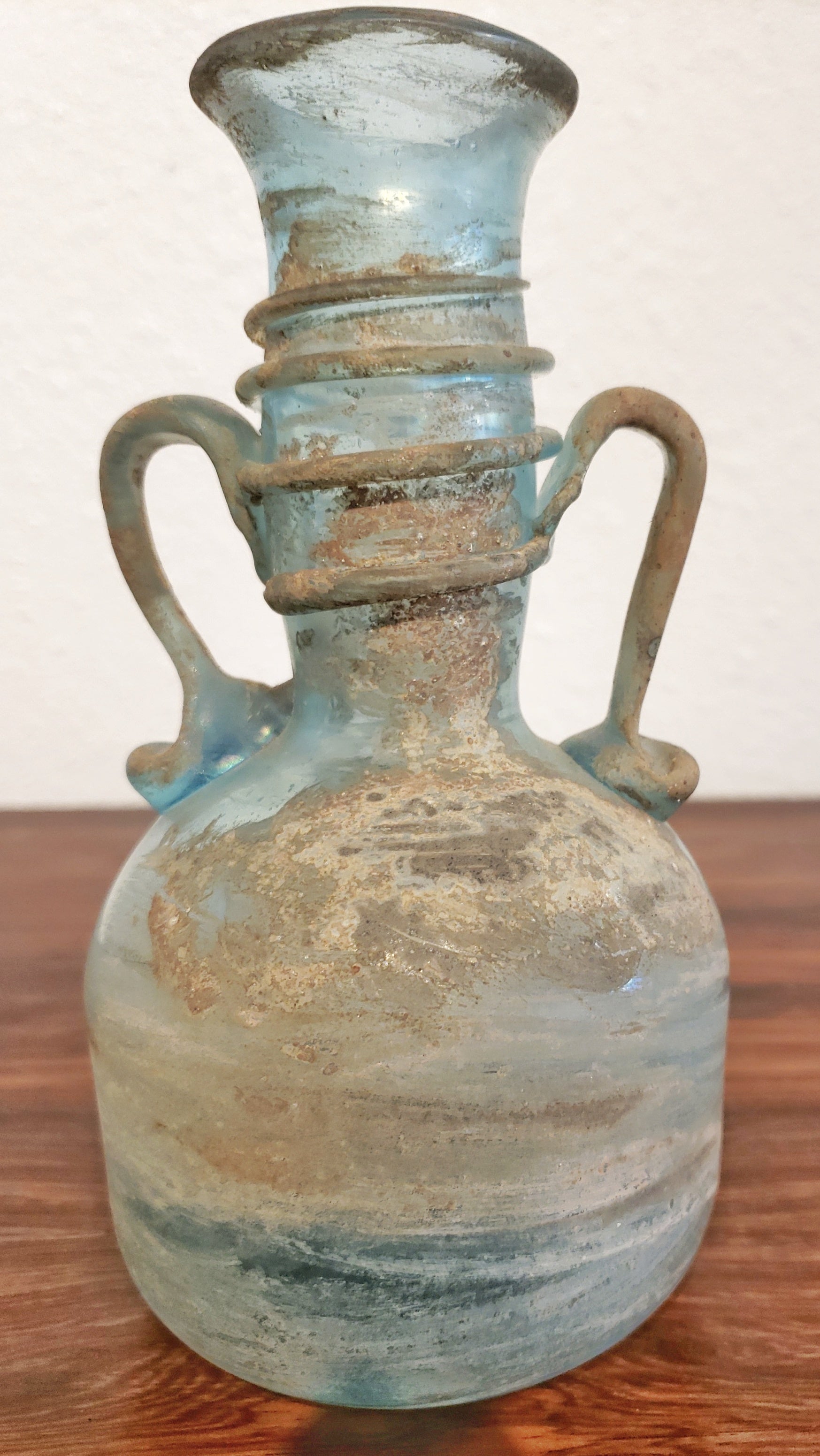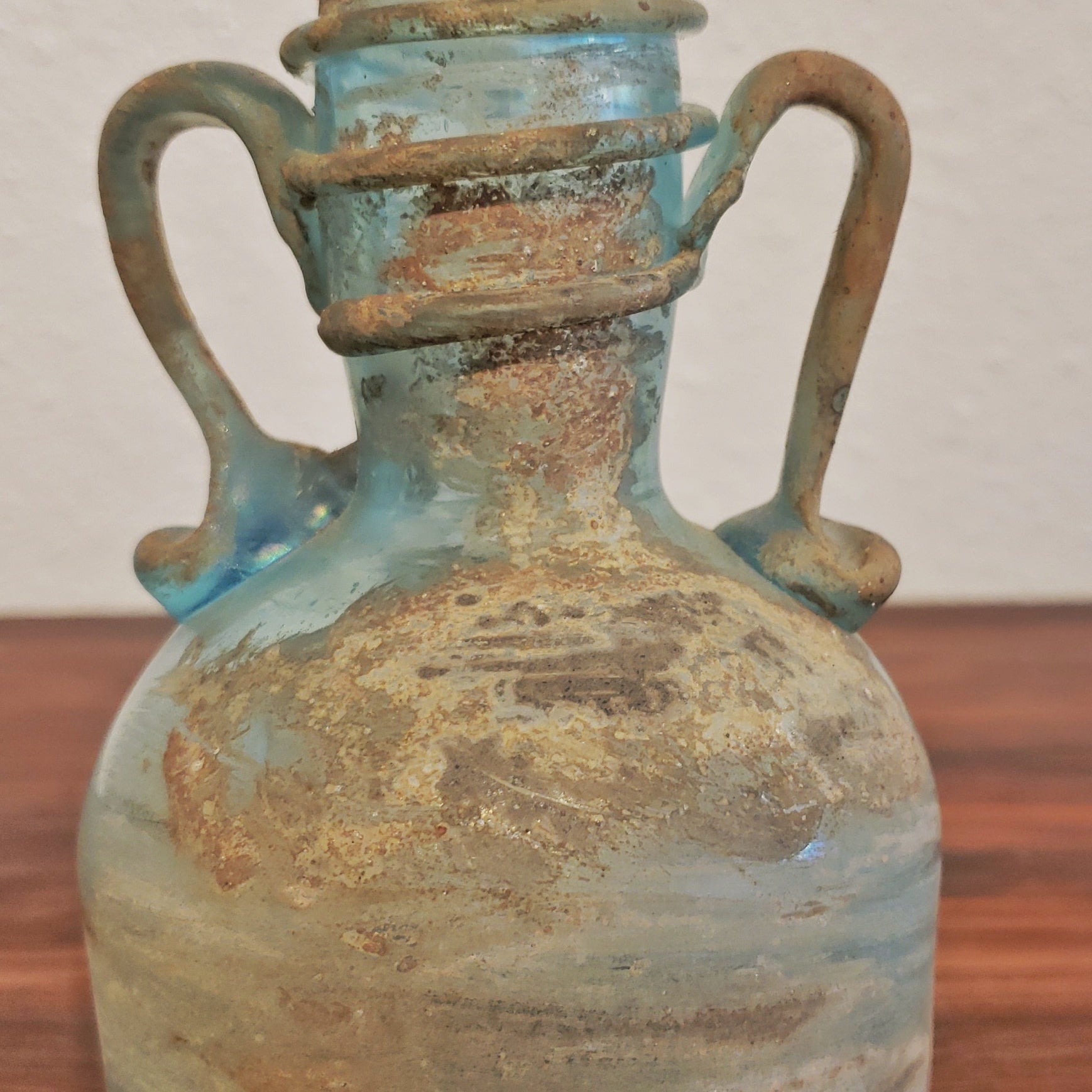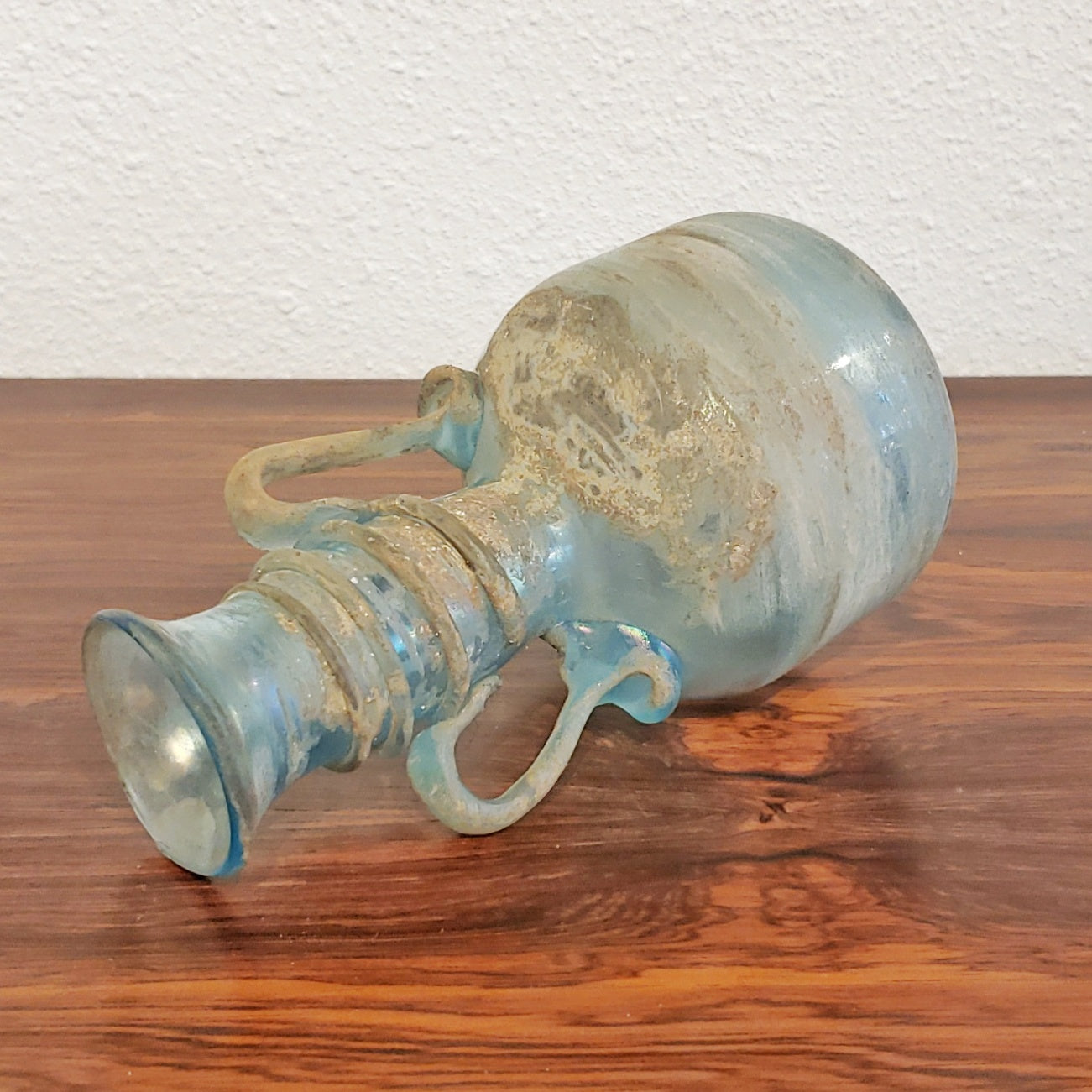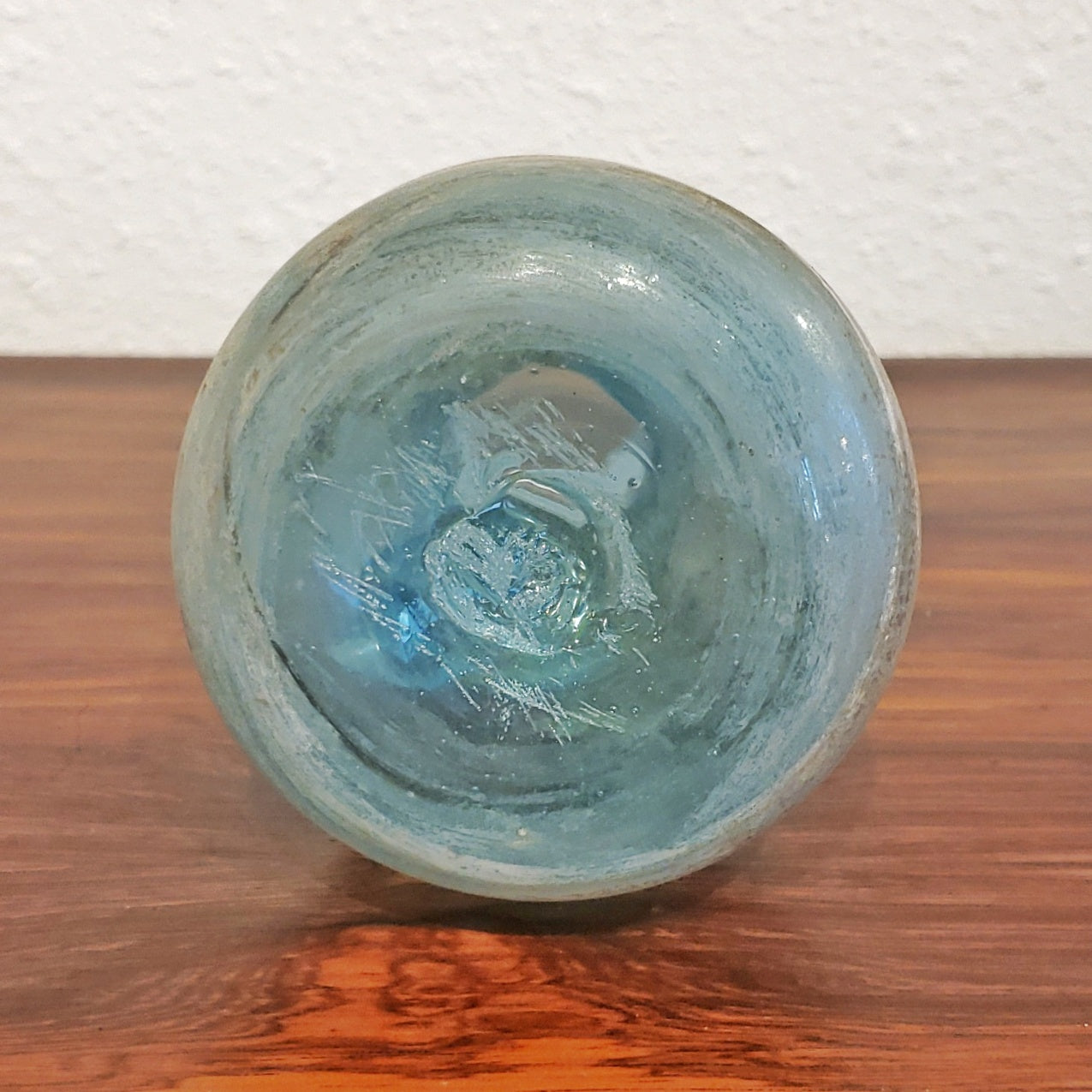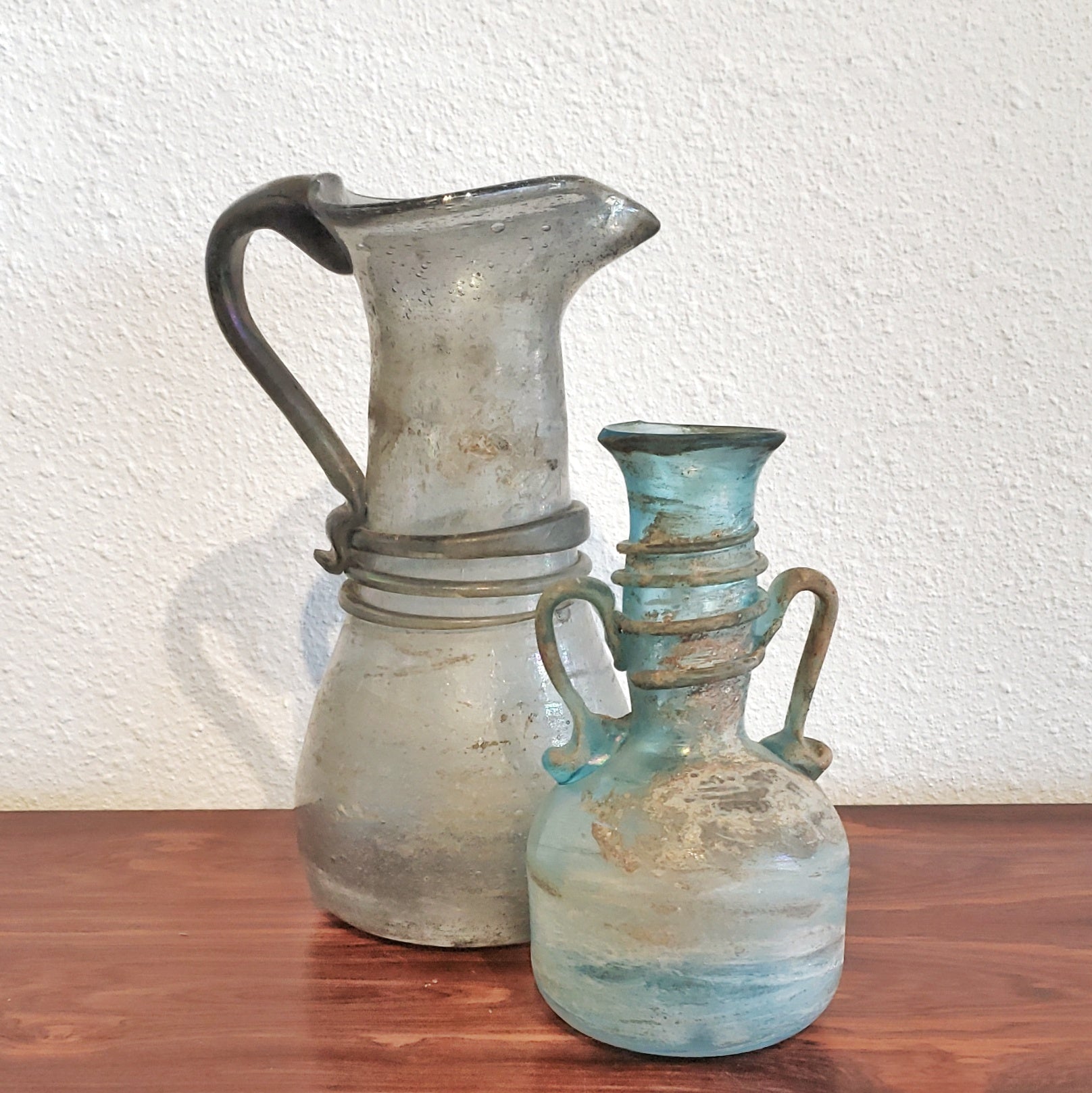 ROMAN STYLE SCAVO AMPHORA VASE BY SEGUSO
CONTACT US HERE ABOUT THIS ITEM.
A real gem of a Roman style amphora vase produced by SEGUSO VETRI D'ARTE circa 1960s.  The lovely, light Egyptian blue color is accented by a slight iridescence and a "scavo" patina.  Scavo, "excavated" in Italian, is a technique involving the application of substances to glass surfaces that when heated (to about 1470 °F, 800 °C) fuse to create an effect similar to weathering.  This piece is intended to replicate the beauty of ancient Roman glass exhumed after centuries underground.  We think it succeeds exceptionally well.
SEGUSO VETRI D'ARTE was established in 1933 by members of one of Murano's oldest glass-making dynasties and has numbered among the island's most technically innovative and artistically creative furnaces ever since.  The SEGUSO VETRI D'ARTE brand was sold by the family in 1974, but reacquired by the current Seguso CEO, Gianluca Seguso, in 2007—along with a rich trove of archives.  To celebrate the recovery, a new collection christened "Angelo" in homage to Gianluca's great uncle Angelo Seguso was released under the historic name that year.
According to documents in the Venice archives, the Seguso family can trace its glassmaking lineage back over six centuries to 1397.  They were added to the Libro d'Oro (the Golden Book) of Murano in 1605, which listed the most important glassmaking families, offering them privileges of nobility.  The Segusos were especially successful between the mid 16th and 17th centuries when they built a commercial network for the distribution of their glass that stretched as far as the newly-discovered Americas.  However, it was in the 19th century that they produced their best work and rose to prominence among Murano's glassmakers.  Antonio Seguso (b. 1829) revived forgotten, sophisticated techniques that played a crucial role in the era's glass renaissance.  His son, Giovanni Seguso (1853-1931) was an eccentric and equally talented glassmaker, who for a time worked with the illustrious Paolo Venini.  Antonio Seguso (1888-1965), Giovanni's son founded Artistica Vetreria e Soffieria Barovier, Seguso and Ferro (along with Napoleone Barovier and Luigi Ferro) in 1933, the precursor of SEGUSO VETRI D'ARTE.  The company would employ all five of his sons in various roles, including for a time Archimede Seguso (1909-1999), grandfather to the generation guiding Seguso today:  Gianluca, Pierpaolo, and Gianandrea Seguso.
Seguso glass can be found in museums worldwide, including MOMA in New York and the V&A in London.  The furnace is known today for high-end Venetian glass objects, lighting, accessories, and custom installations.  Seguso glass has been produced for the Pope and for royalty.
(Murano's reputation as a center for glassmaking began near the end of the 13th century when, fearing fire, the Venetian Republic ordered all glassmakers to move their furnaces to its islands.)
Production Period – 1960-1969
Country of Origin – ITALY
Maker – SEGUSO VETRI D'ARTE
Materials – GLASS
Colors – BLUE, GRAY
Condition – VERY GOOD (no defects; may show slight traces of use)
Height (in.) – 7.0
Diameter (in.) – 4.0