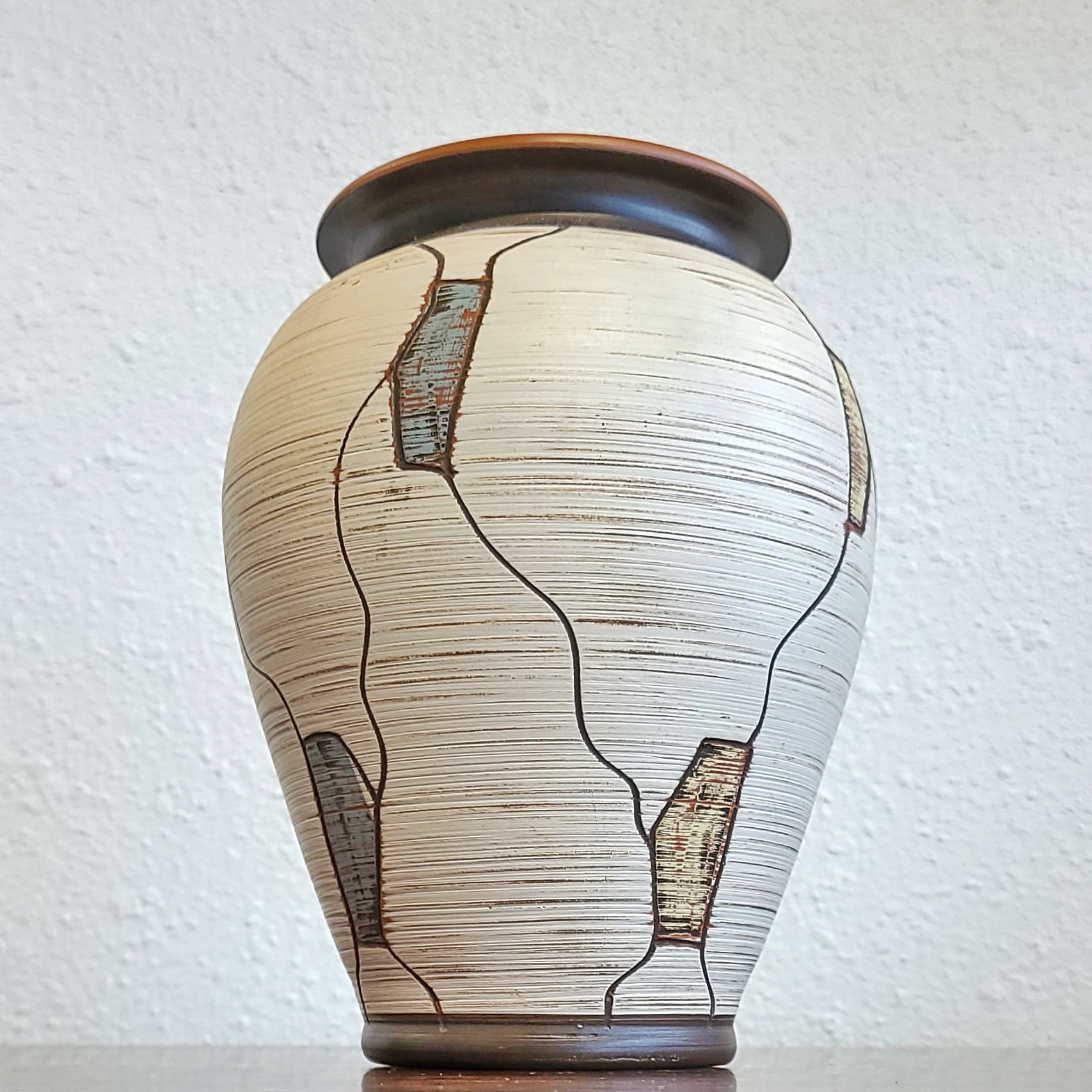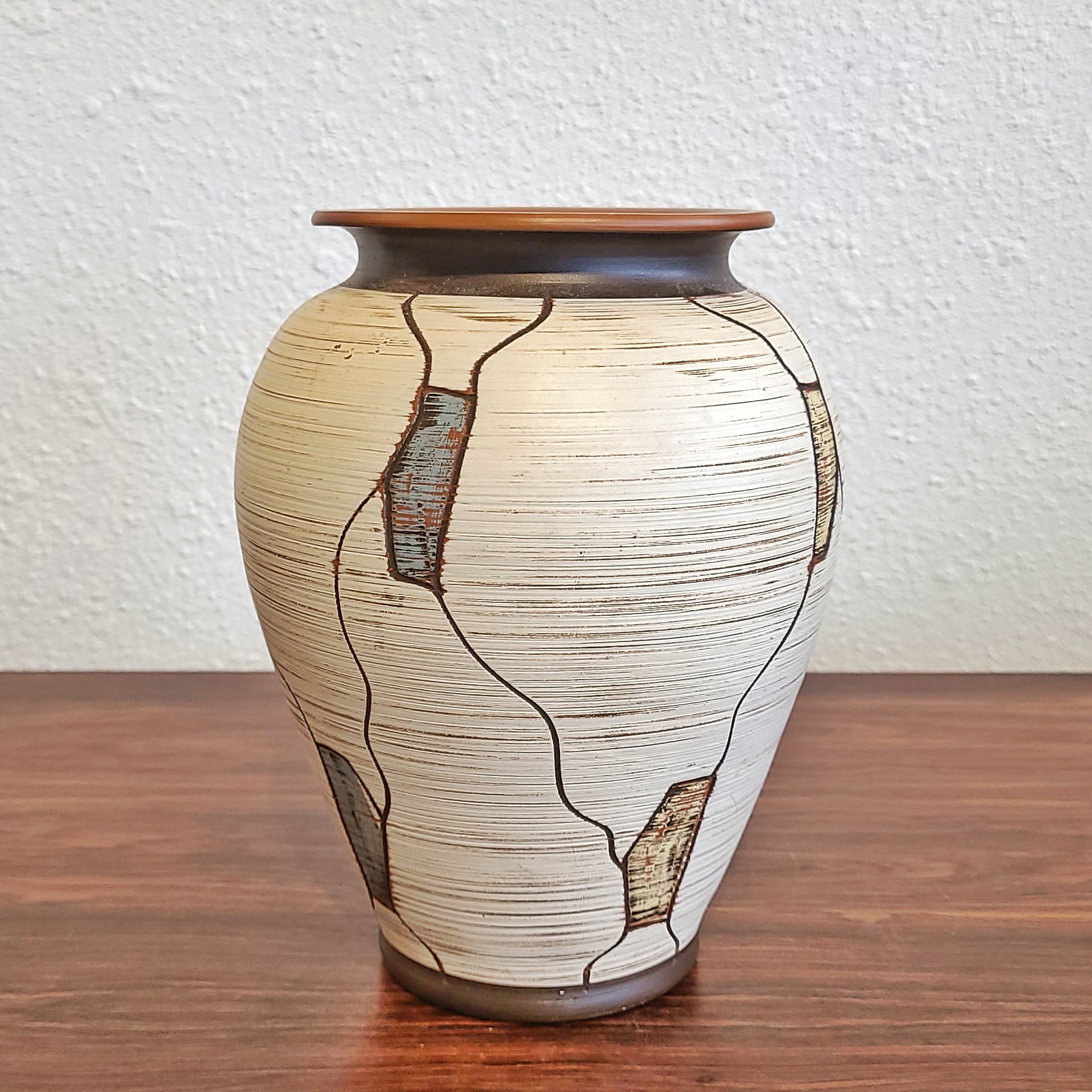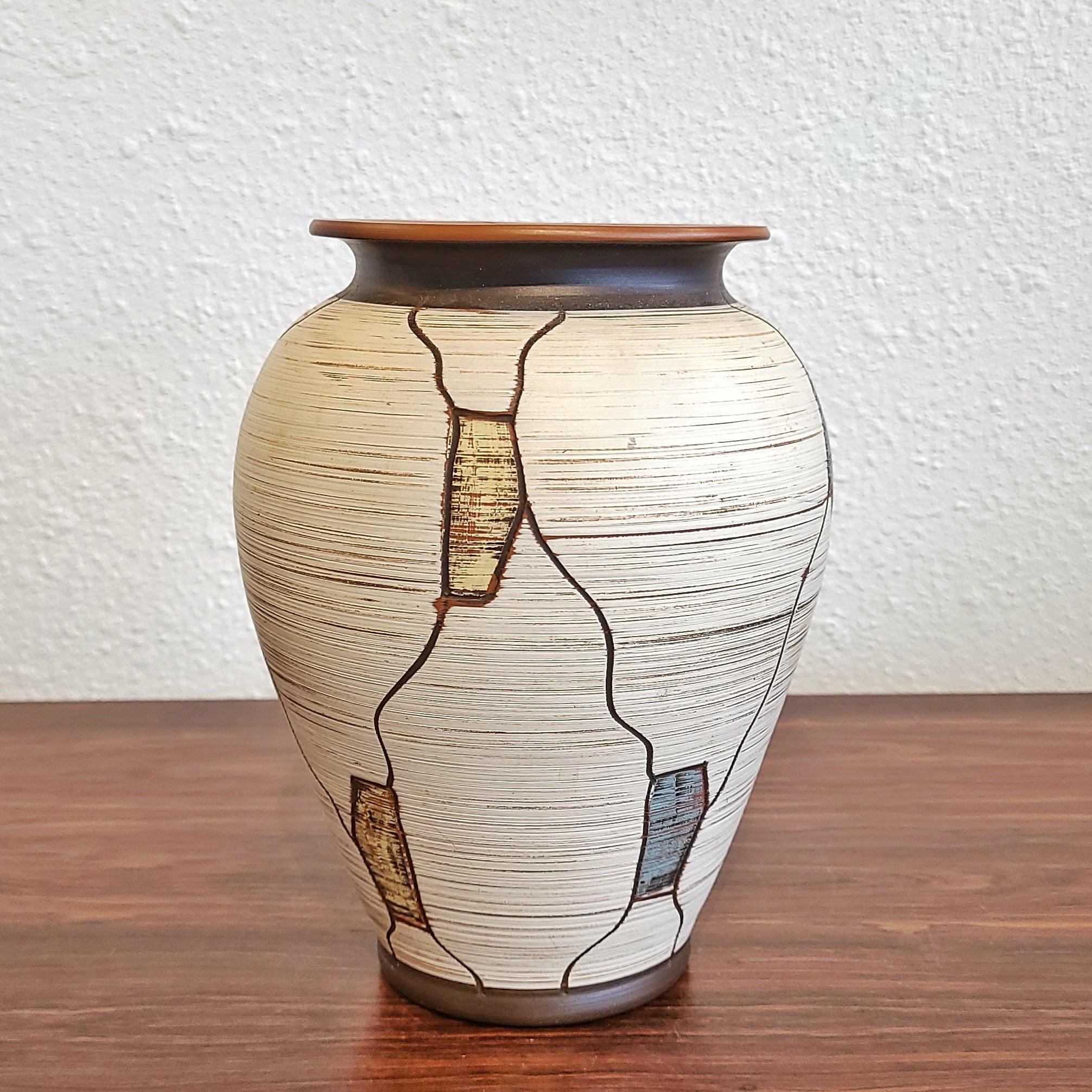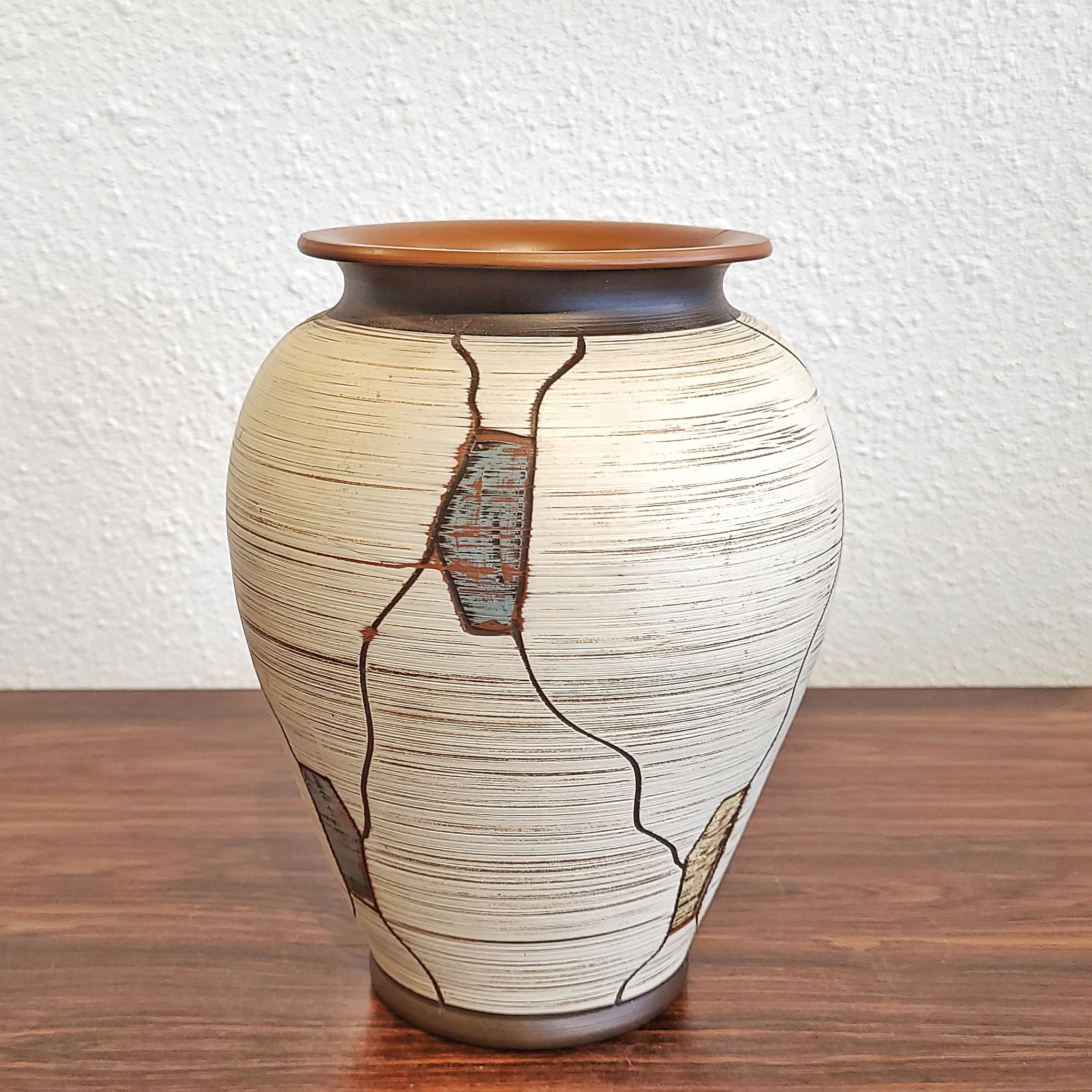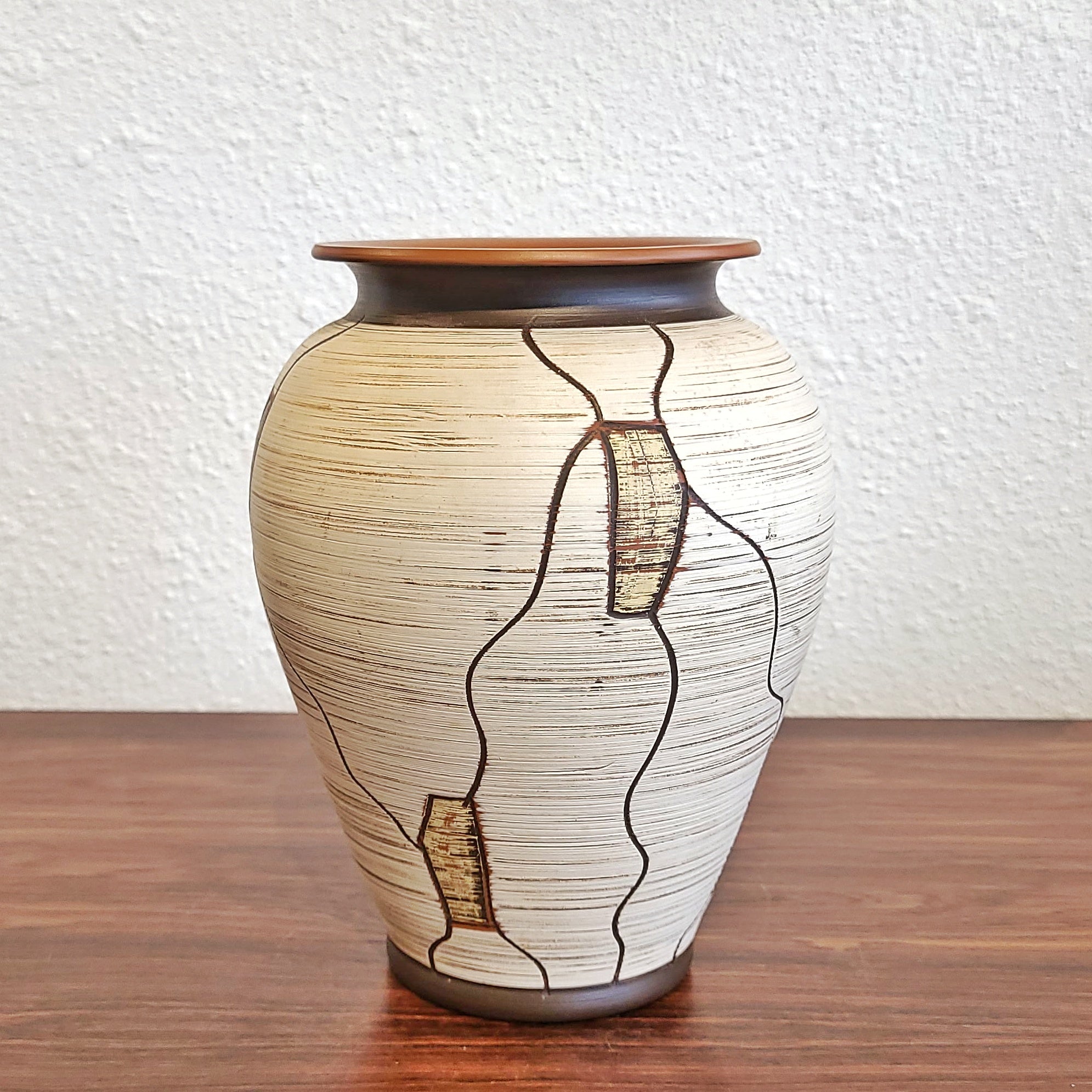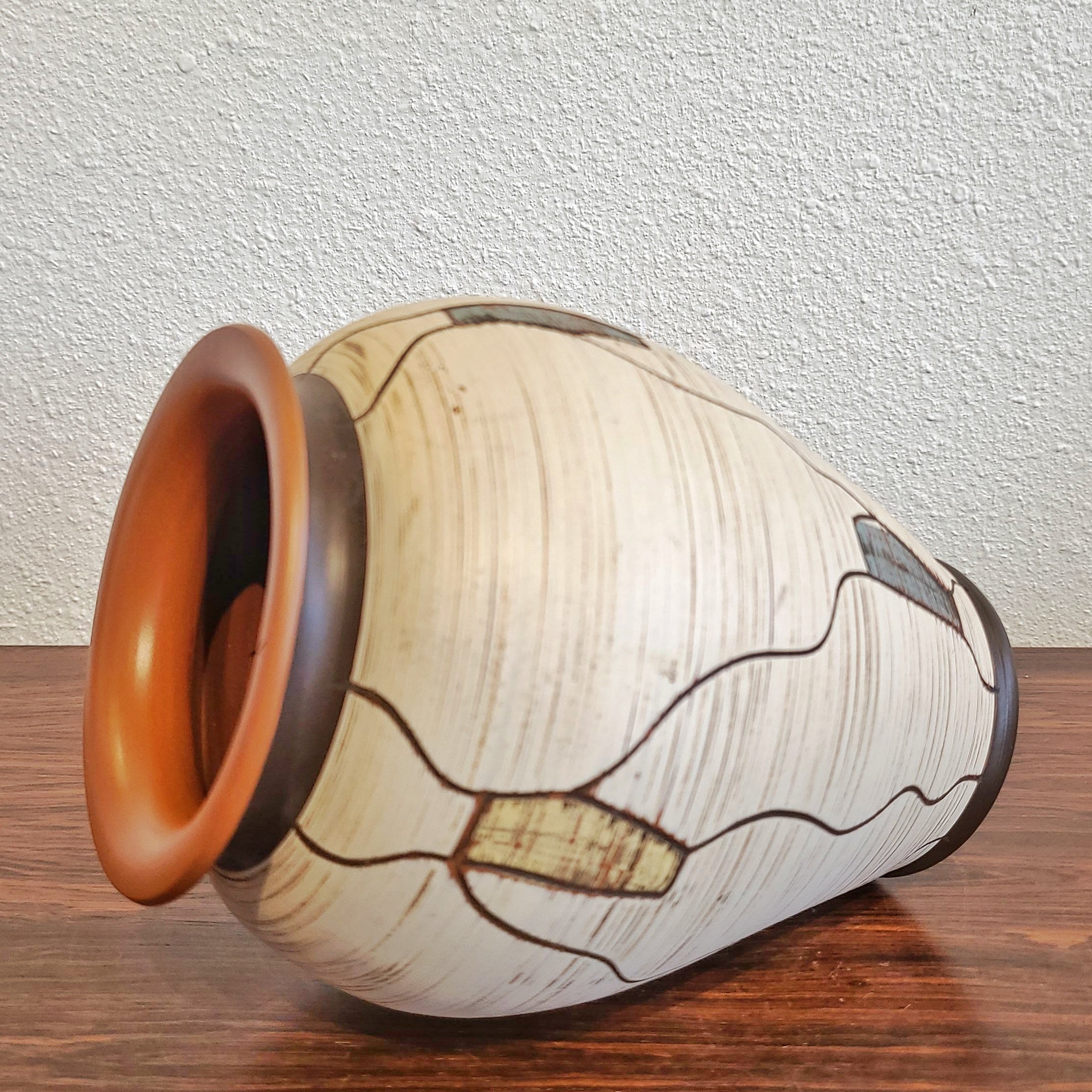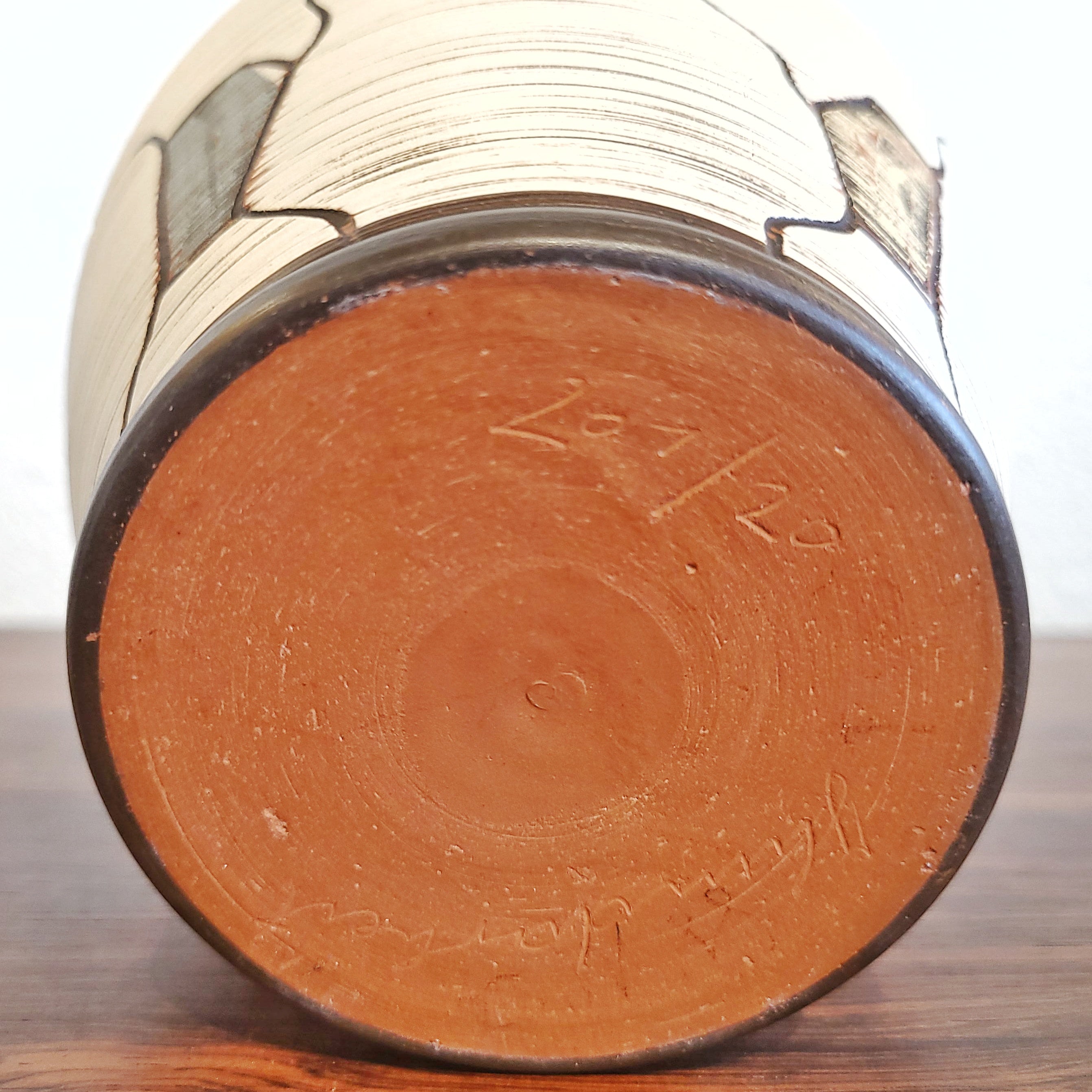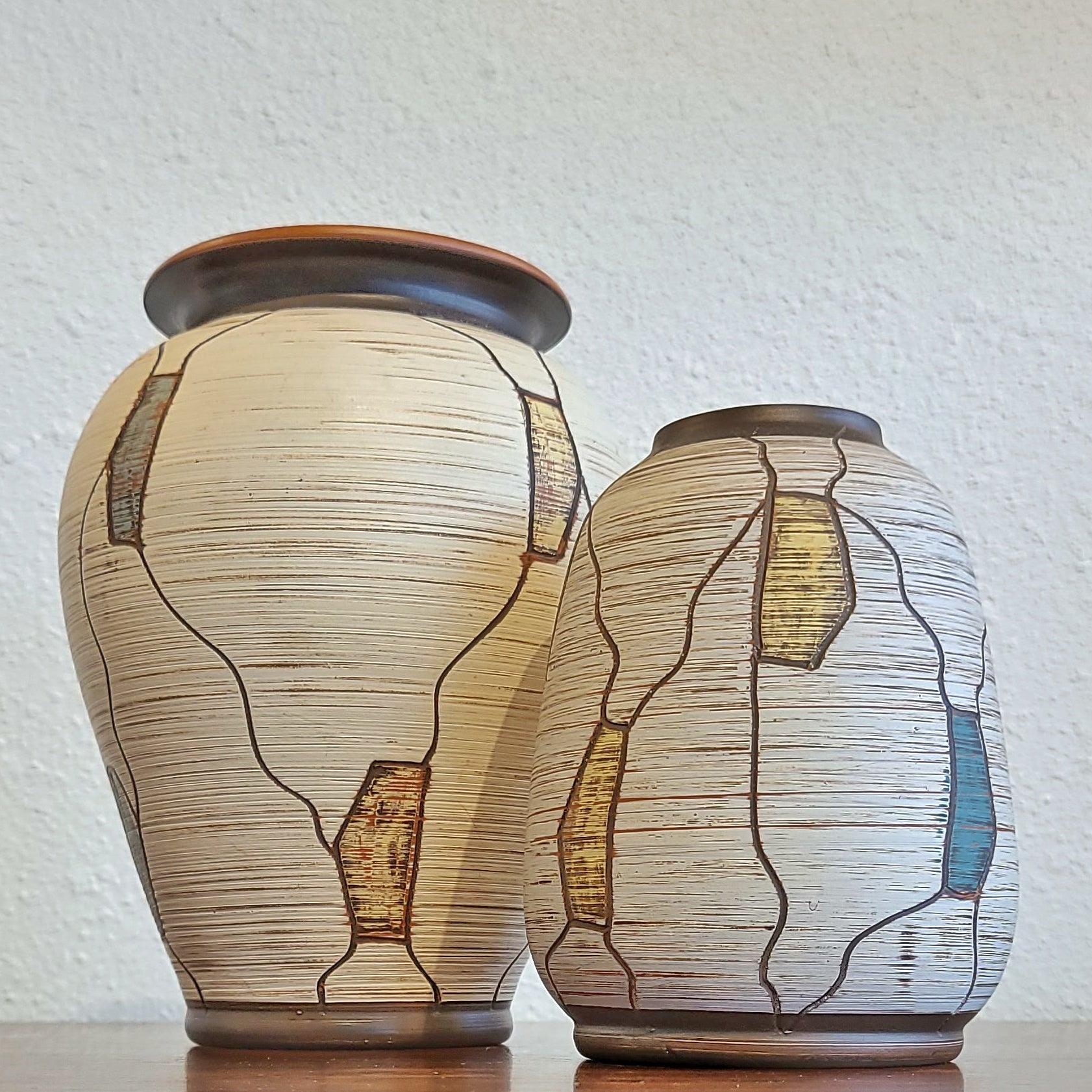 SAWA-KERAMIK 'NAPOLI' KLINKER VASE Nr. 207/20
CONTACT US HERE ABOUT THIS ITEM.
A very nice example of a rolled-lip bouquet vase designed by Heinrich-Maria Müller for SAWA-KERAMIK and decorated with his Napoli décor. Produced entirely by hand, it is marked by hand on the base with the model and size numbers.
---
SAWA-KERAMIK was the label under which Sawa-Franz Schwaderlapp GmbH produced fine, artisanal, "klinker"-style ceramics beginning in 1951. Franz Schwaderlapp had founded his company as an abrasives factory in Ransbach-Baumbach in central western Germany in 1904, but he soon began producing unglazed flower containers at an associated pottery works. The program had an early success with a self-watering Jardiniere; its extension to high-end ornamental ceramics would happen only with the end of WWII.
Schwaderlapp's uncle, Heinrich-Maria Müller, joined his nephew's firm in 1951 as head designer in its newly established art department. He was responsible for the design of all forms and decorations at SAWA until he retired from the company in 1965. Many of the pots that were produced during this period were hand turned and decorated by Müller himself.
SAWA offered three basic décor varieties, often noted with a single letter on the bottom of the object:
'K' for kerbschnitt (notch-cut): the manual application of grooves in unbaked clay,
'P' for plastischer kerbschnitt (plastic notch-cut): the application of cut-in designs using figural stamps, and
'S' for sigilata (sealed): the application and burnishing, to a very high sheen, of a thin layer of slip as a top coat.
Often these methods were very labor-intensive and expensive to implement. The quality of execution was consistently high.
It can be noted here that klinker ceramics take their name from a particular sort of partially-vitrified brick, commonly refered to as "klinker" or "clinker." It is so called because of the metallic sound that individual bricks make when struck together. Like these namesake bricks, klinker pottery is hard-fired at unusually high temperatures. In addition to being generally hand-thrown, it is usually also burnished and decorated by hand—and typically only partially colored, if at all, using special dyes. These production methods tend to make klinker items very water-resistant, and in most cases, waterproof, even without an interior glaze. (Incidentally, being denser than normal bricks, "klinkers" provide relatively poor insulation. On the other hand their hard surfaces make them frost-resistant, so they are well-suited for use in facades and as pavers. Early klinkers were simply the accidental byproducts of brickmaking.)
Sawa-Franz Schwaderlapp GmbH was family-owned until 1992. It appears to have been transferred to another owner of the same name, as a Heinrich Schwaderlapp was appointed liquidator of the company in 2000. It went out of business in 2004.
---
HEINRICH-MARIA MÜLLER (1892-1974) engaged in multiple professions prior to WWII, trying his hands at various artistic endeavours and even going to sea for a time. Shortly after the war he took up work as a furniture salesman, but, in 1951, he settled at his nephew's firm, Sawa-Franz Schwaderlapp GmbH in Ransbach-Baumbach in central western Germany. There he was made head designer of the newly established art ceramics department, producing decorative pottery for the home under the name SAWA-KERAMIK. Müller designed all shapes and décors, modeled templates, and executed numerous pieces entirely by himself. Despite a wide variety of decorative influences, which were generally characterized by elaborate and carefully executed design and that ranged from animal representations of the Far East to abstract surface ornament, he managed to give all of his work a characteristic appearance. He ultimately retired from the company in 1965 at the age of 73, He died nine years later in 1974.
---
DETAILS
Maker – SAWA-KERAMIK
Production Period/Year – 1960s
Designer – HEINRICH-MARIA MÜLLER
Design Period/Year – 1950s
Origin – WEST GERMANY
Styles/Movements – ABSTRACT; BOHO CHIC; MID-CENTURY MODERN
Materials – CERAMIC
Colors – KHAKI, TEAL, TERRA COTTA, YELLOW
Condition – Very good vintage condition. May show slight signs of previous use.
Dimensions – 6" DIAM. × 7 ¾" H