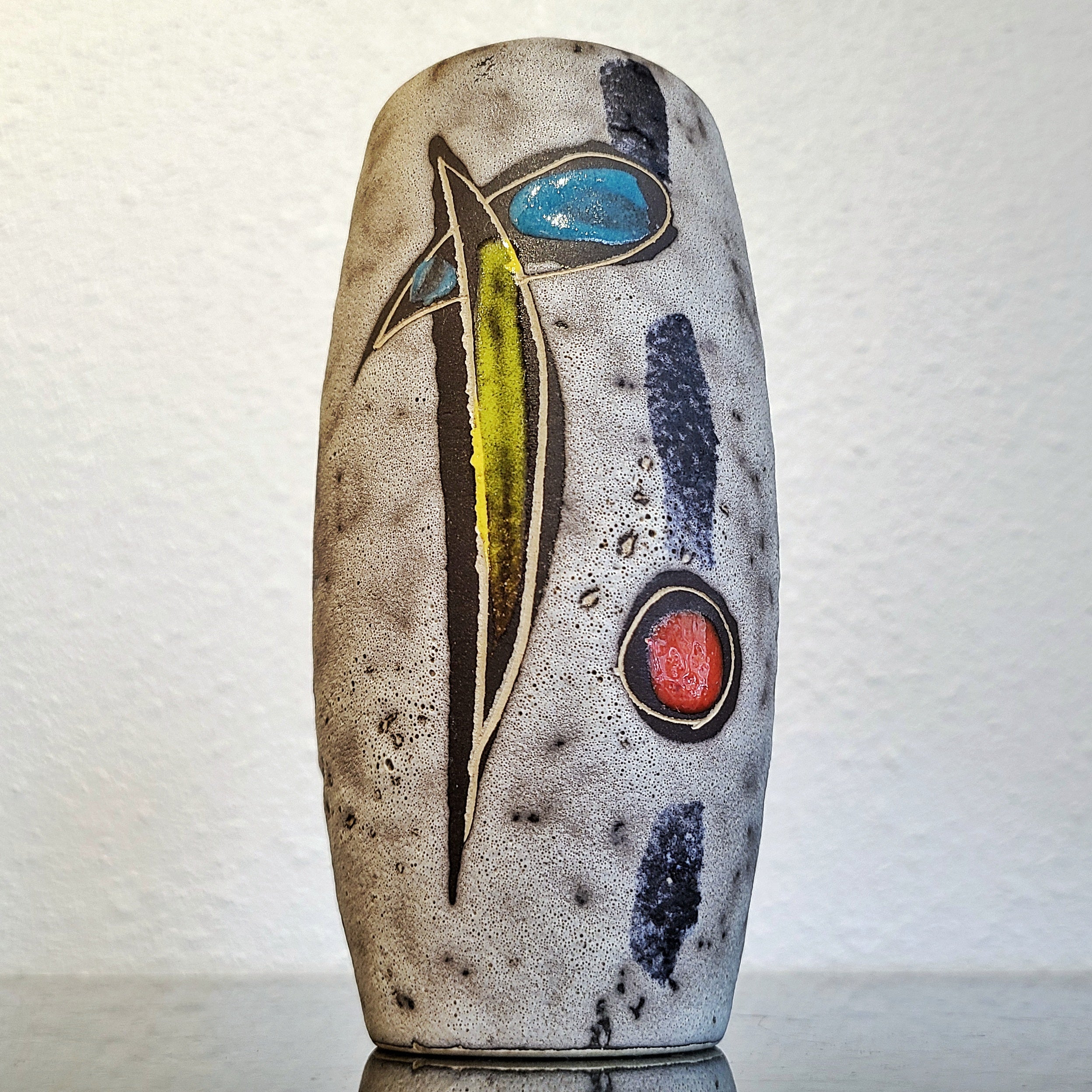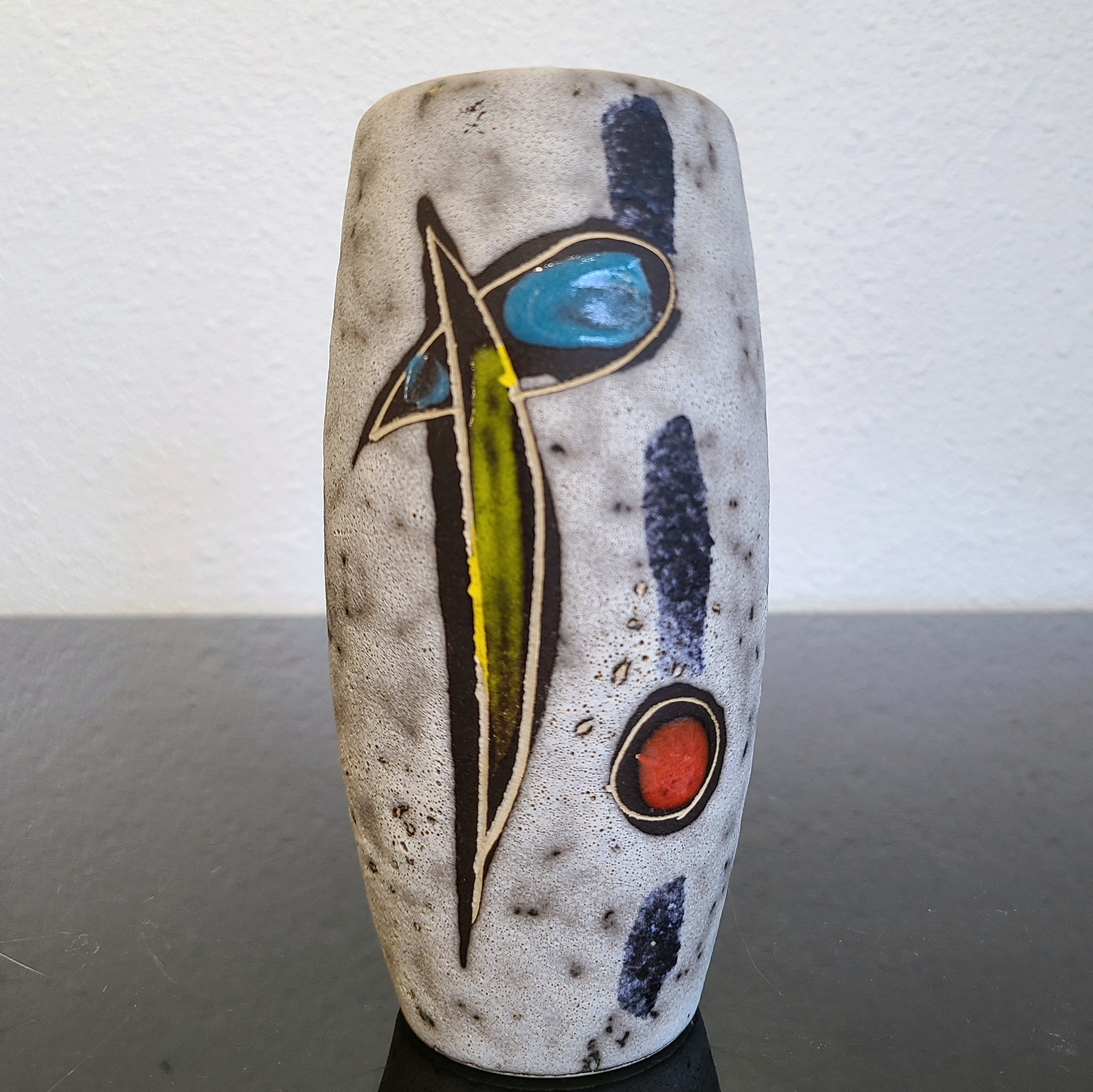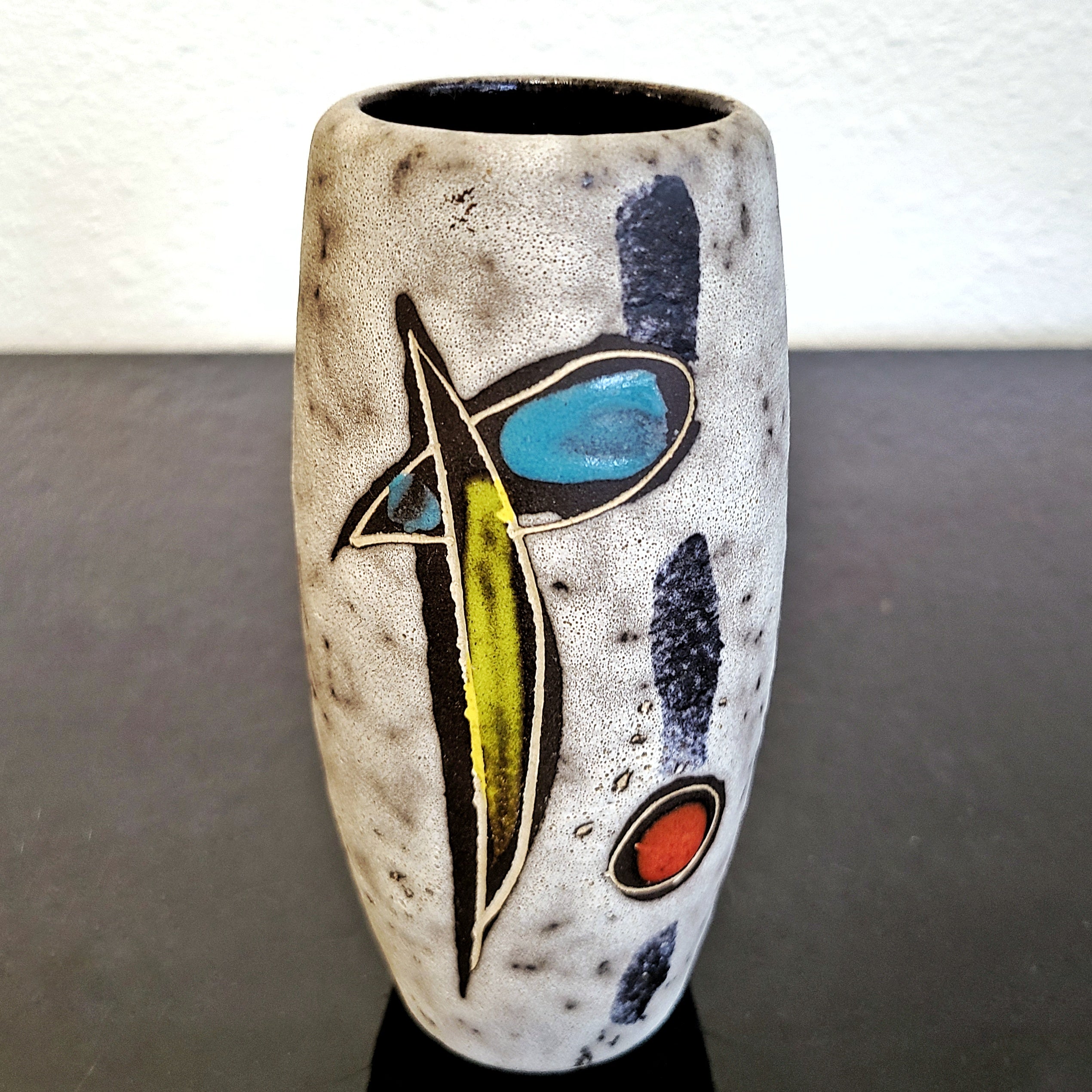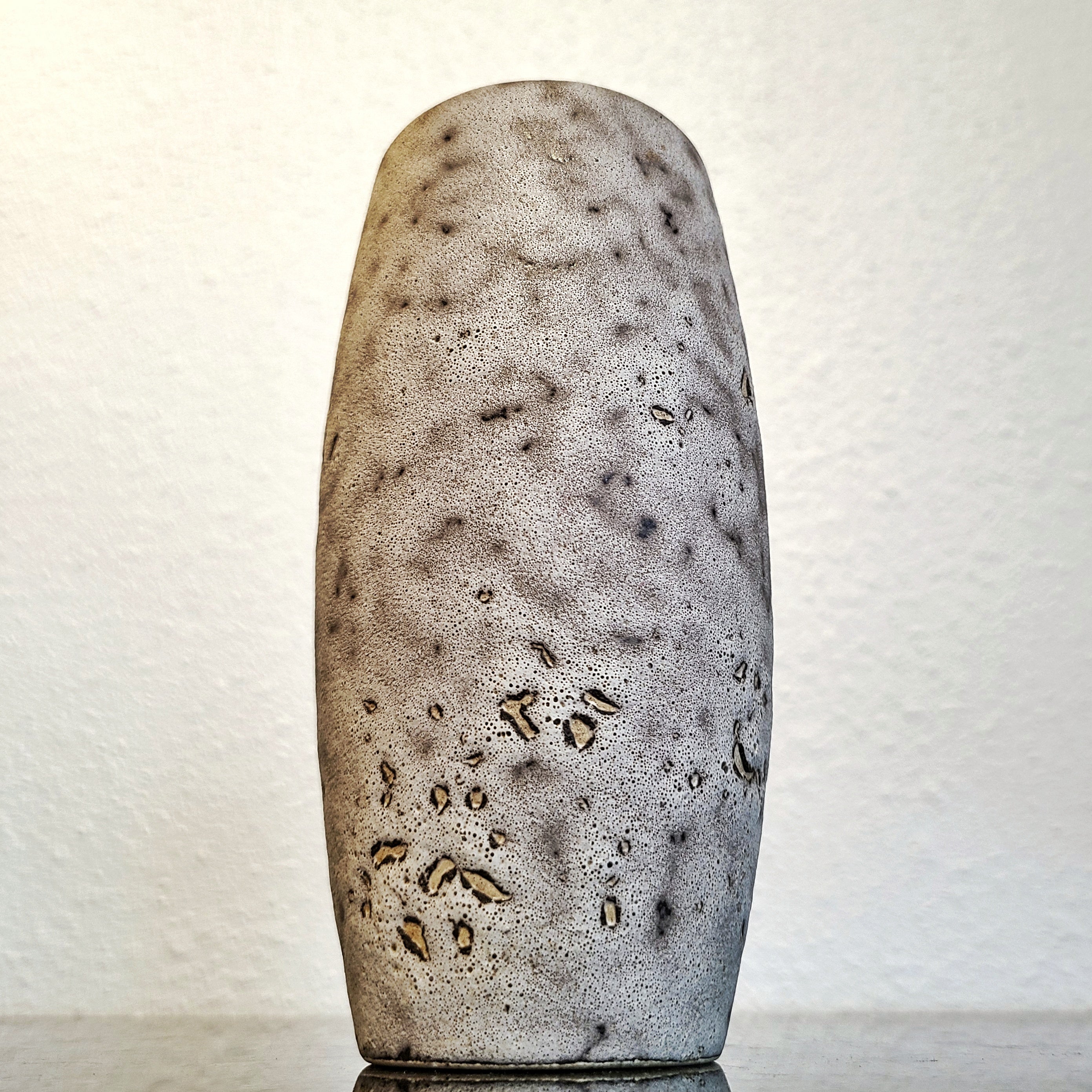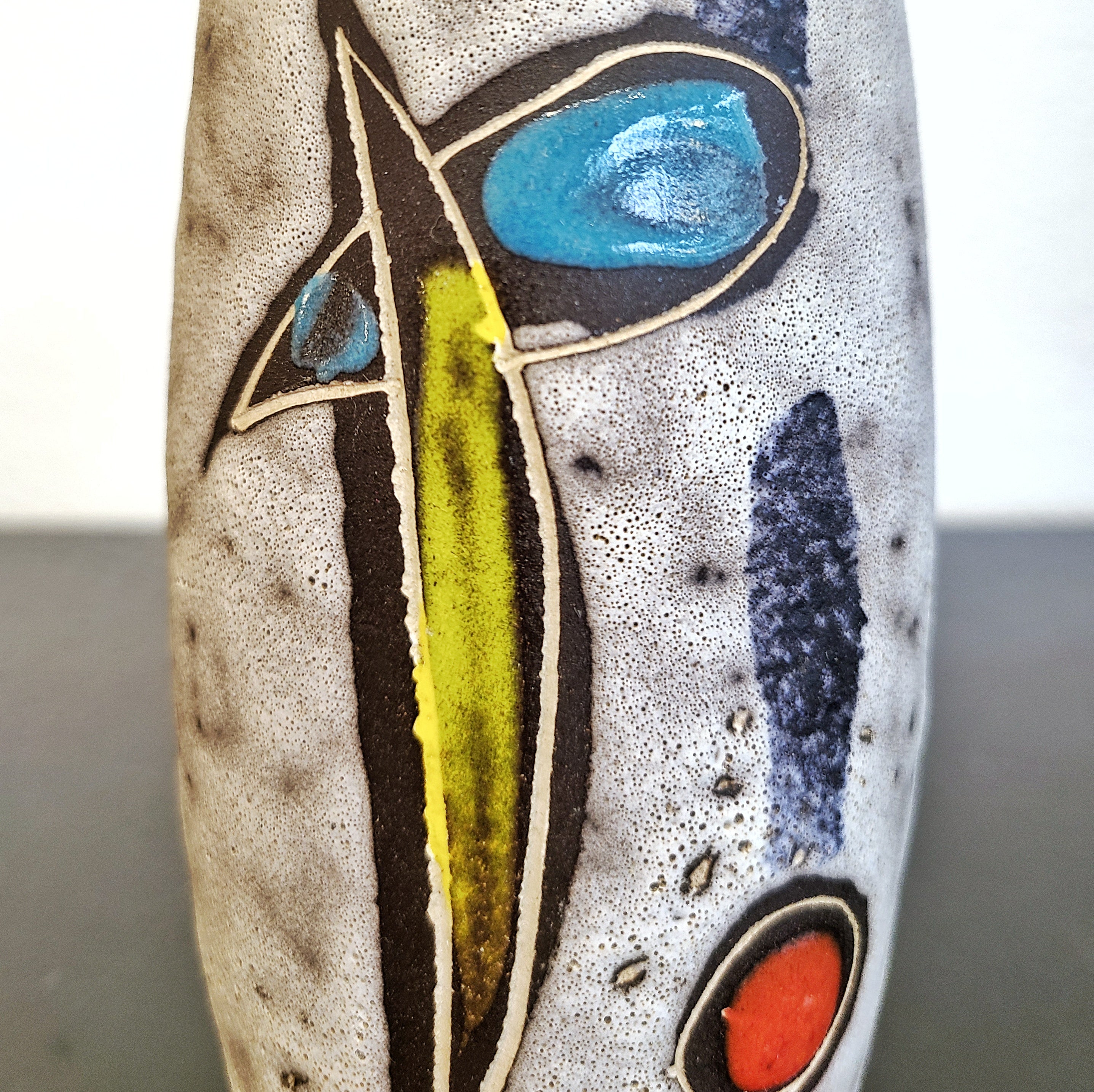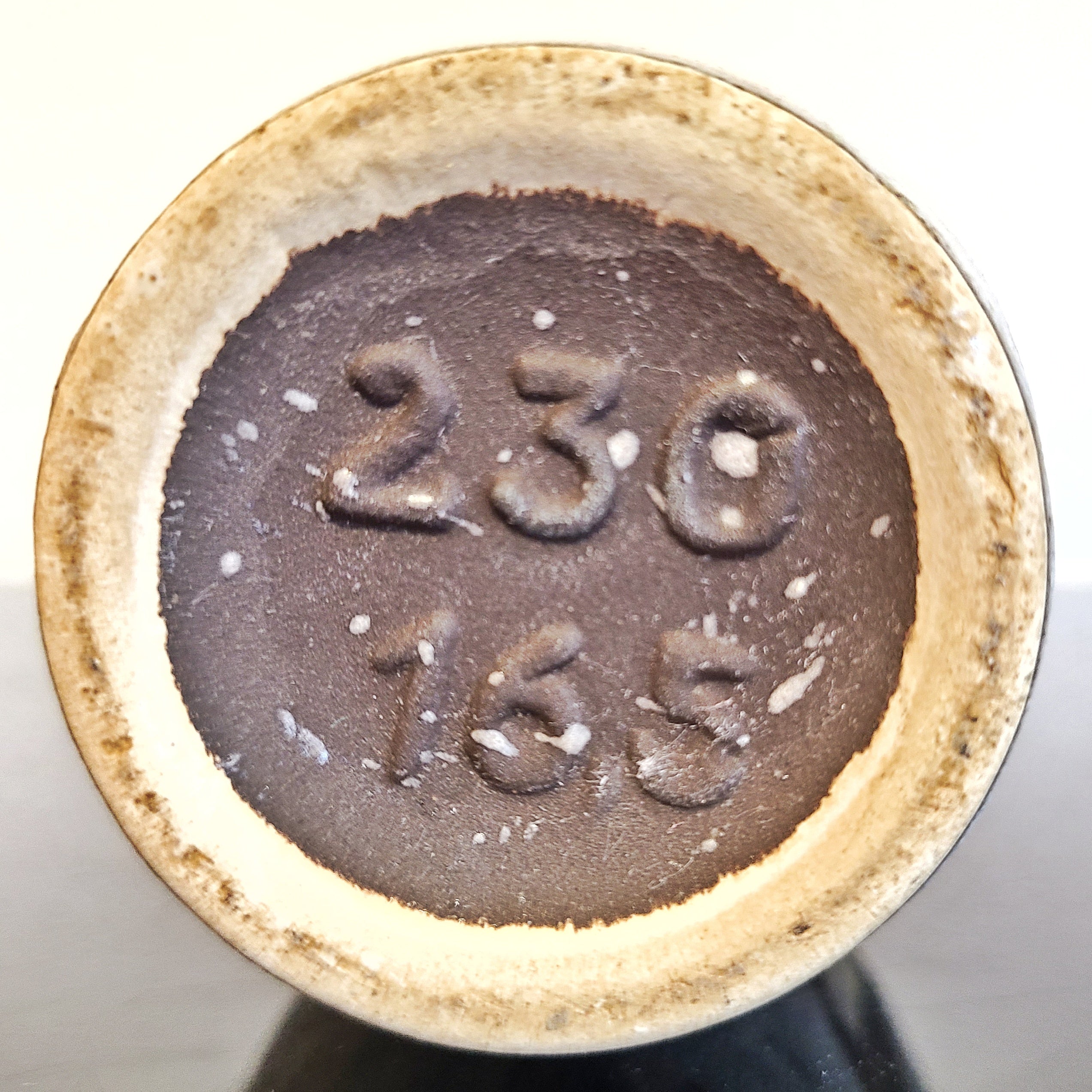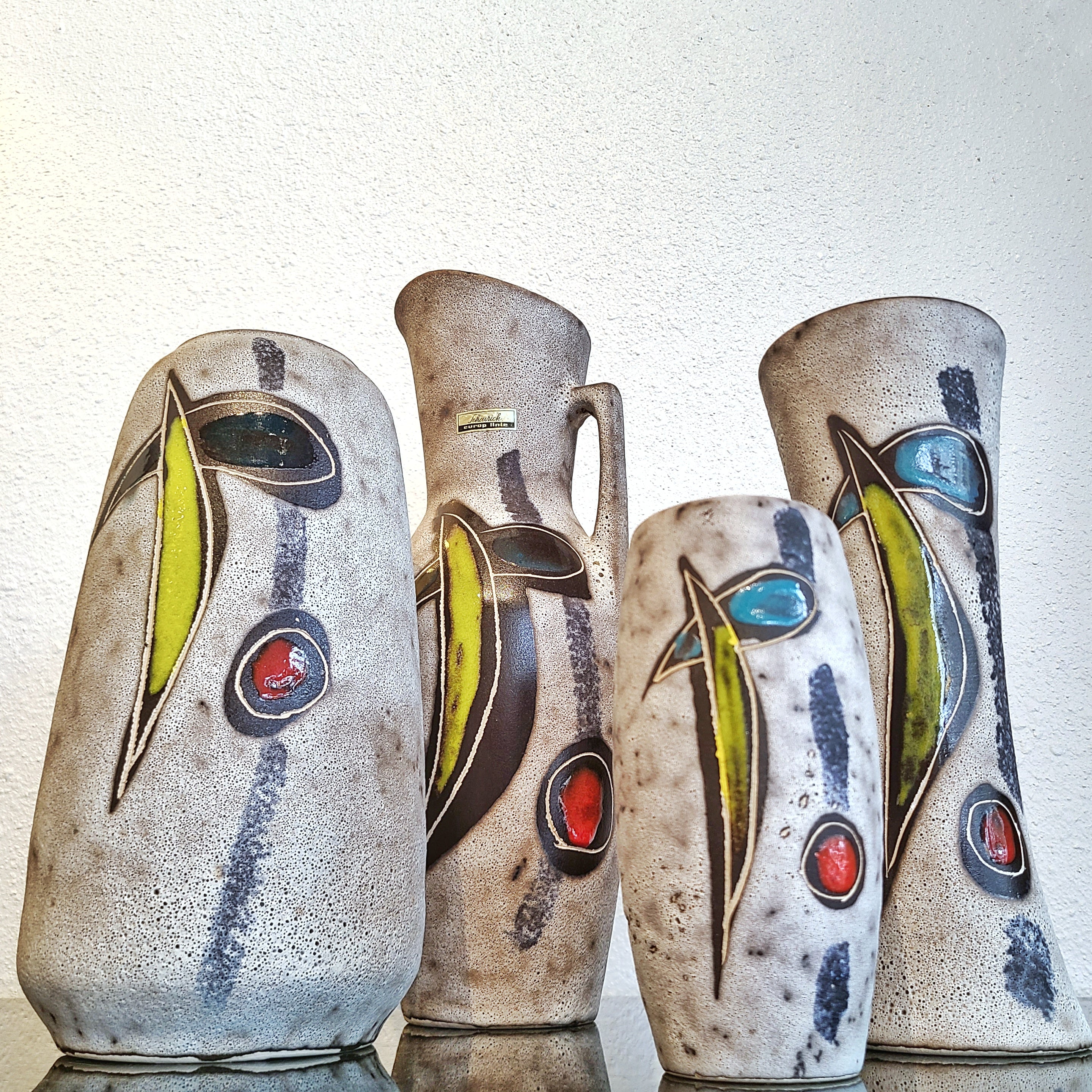 1950s SCHEURICH FRUIT MOTIF VASE Nr. 230/16.5
CONTACT US HERE ABOUT THIS ITEM.
A small ovoid vase from the 1950s with an abstract fruit motif in red, yellow, turquoise, and black on a bubbly, light gray background by SCHEURICH KERAMIK. Model Nr. 230/16.5.
---
SCHEURICH KERAMIK had its origins in a joint venture launched in 1928 by Alois Scheurich (d. 1968) and his cousin Fridolin Greulich in the small town of Schneeberg near the Czech border in Saxony—wholesaling glass, porcelain, and ceramics. The business was moved to the market community of Kleinheubach in the northeast corner of Bavaria in 1938, and ten years later the partners began to produce household ceramics of their own, selling them under the name Scheurich & Greulich. The partnership was dissolved in 1954, and Alois founded Scheurich GmbH & Co. KG to continue production on his own. The new company employed Germany's first electrical tunnel kiln.
The celebrated designer Heinz Siery was recruited as SCHEURICH's lead modeler the following year in 1955. In addition to creating his own extensive range of shapes, Siery helped the firm develop its overarching product strategy. SCHEURICH would manufacture an assortment of simple forms that could be made cheaply and then decorated in a great variety of glazes. The natural result was an enormous range of merchandise that was both diverse and easily adaptable. The approach proved altogether successful.
Low prices combined with a dizzying array of attractive designs translated into millions in sales for SCHEURICH, and the company remained one of the largest manufacturers of ceramics in Germany through the 1980s. To keep pace with the public's ever-changing tastes, décors were adapted twice a year. Some of the better-known décors include the hand-painted Montignac (1972–1973); Amsterdam (1974–1975), with its onion motif (Zwiebeldekor); Fabiola, with its flowing, brown-red top glaze; and Jura, with its fossil, or snail, motif.
Among the more famous components of the décors used to finish mid-century ceramics are the unusually thick, often flowing glazes nicknamed "fat lava." (Strictly speaking, "fat" is something of a misnomer, generally thought to be a careless translation of the German word groß—meaning "large," or "thick"—referring here to the depth of the glaze, how much it rises above the surface of the clay, not its viscosity.) The term has proven slippery. Some conflate it with volcanic glazing generally, where the use of certain ingredients cause controlled, gaseous explosions, producing holes in the glazes that are visually suggestive of lava (or the surface of the moon); some apply it wholesale to all German pottery from the mid century! Regardless, fat lava glazes were very popular in the '60s and '70s, and SCHEURICH produced many stunning examples.
SCHEURICH KERAMIK used white clay exclusively. Objects were always formed by mold and were fired at 1000 degrees Celsius. A minimum of 500 pieces were made of every item that was produced. Identifying marks were embossed on the base. Model numbers are three digits long and followed by the height of the object in whole (in a few instances, half) centimeters, usually with a dash separating the two components. Most SCHEURICH items have no embossed company mark. If noted, country of origin appears as either W. GERMANY or WEST GERMANY (occasionally abbreviated to GERM). Many SCHEURICH items retain their original foil or paper labels.
SCHEURICH KERAMIK exported more ceramics than any other German company. Some lines were specifically manufactured for foreign markets. Indeed, the historical distributions of particular forms and glazes suggest that some were produced for specific countries. The bottoms of exported vases are often embossed with the word "FOREIGN" rather than "WEST GERMANY." Not surprisingly, some vases so marked wound up on the home market.
In addition to vases, SCHEURICH's mid-century output included flower pots, ashtrays, piggy banks, candle holders, beer mugs, buffet clocks, and wall plaques. By the late 1980s, the shapes and colors of its vases had become rather pedestrian; this work is not attractive to collectors. As a subsidiary of Sheurich-Group GmbH, the European market leader for indoor and outdoor planters, SCHEURICH KERAMIK is still in operation today.
KEY DESIGNERS:
Heinz Siery, forms
A Seidel, forms
Oswald Kleudgen, glazes
---
DETAILS
Maker – SCHEURICH KERAMIK
Production Period/Year – 1950s
Origin – WEST GERMANY
Styles/Movements – ABSTRACT; MID-CENTURY MODERN
Materials – CERAMIC
Colors – LIGHT GRAY, RED, TURQUOISE, YELLOW
Condition – Excellent vintage condition. Wear consistent with age and use.
Dimensions – 3" DIAM. × 6 ½" H