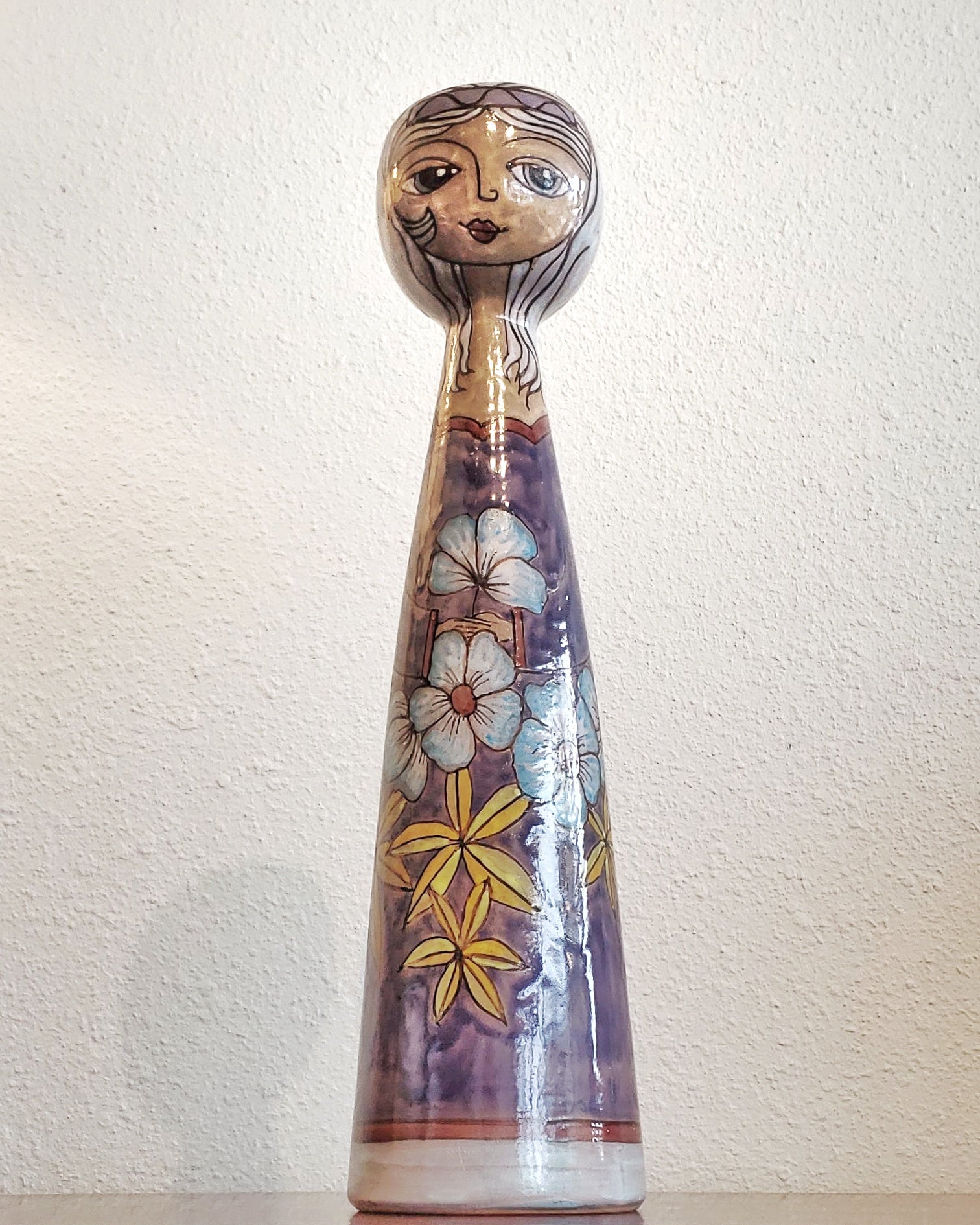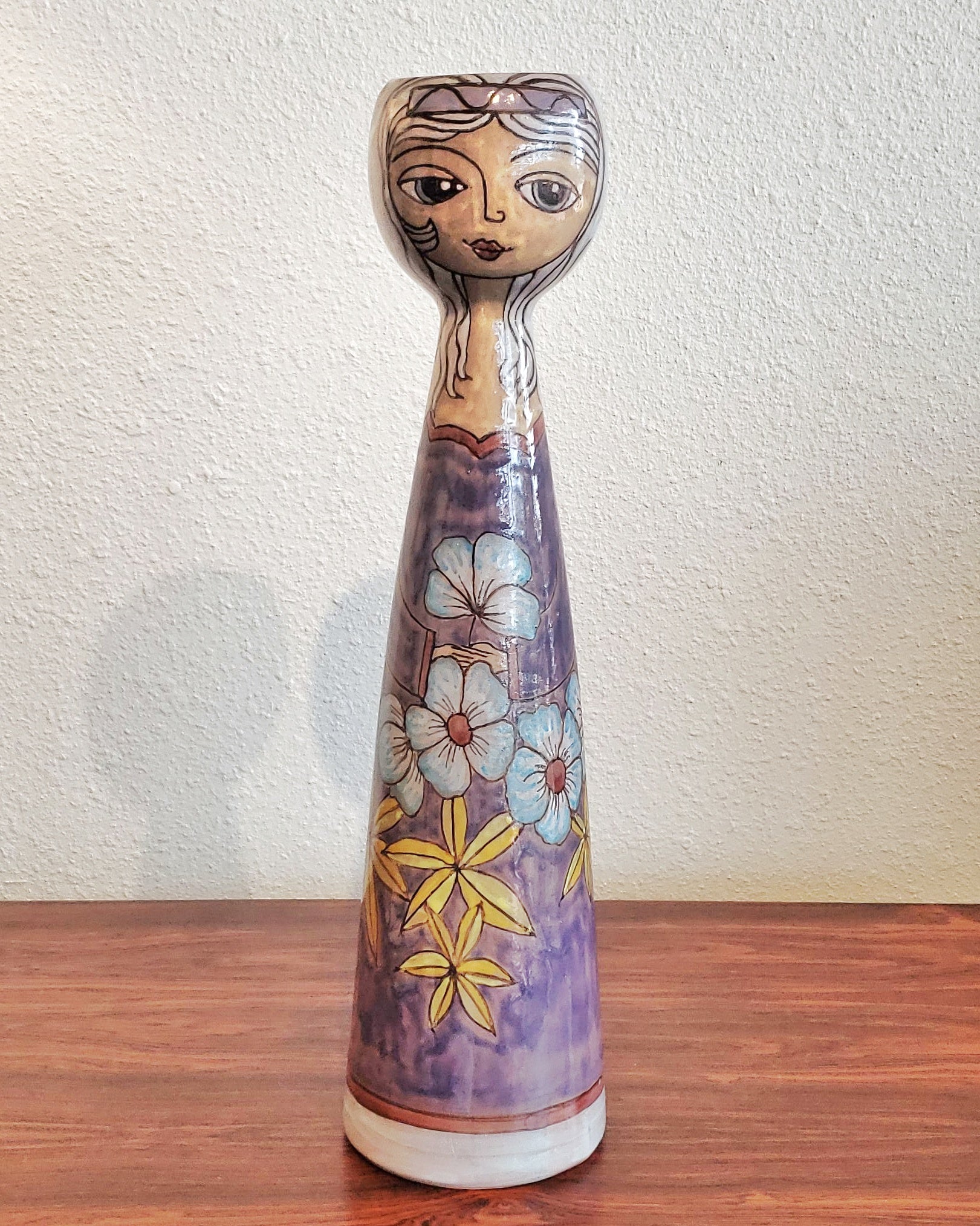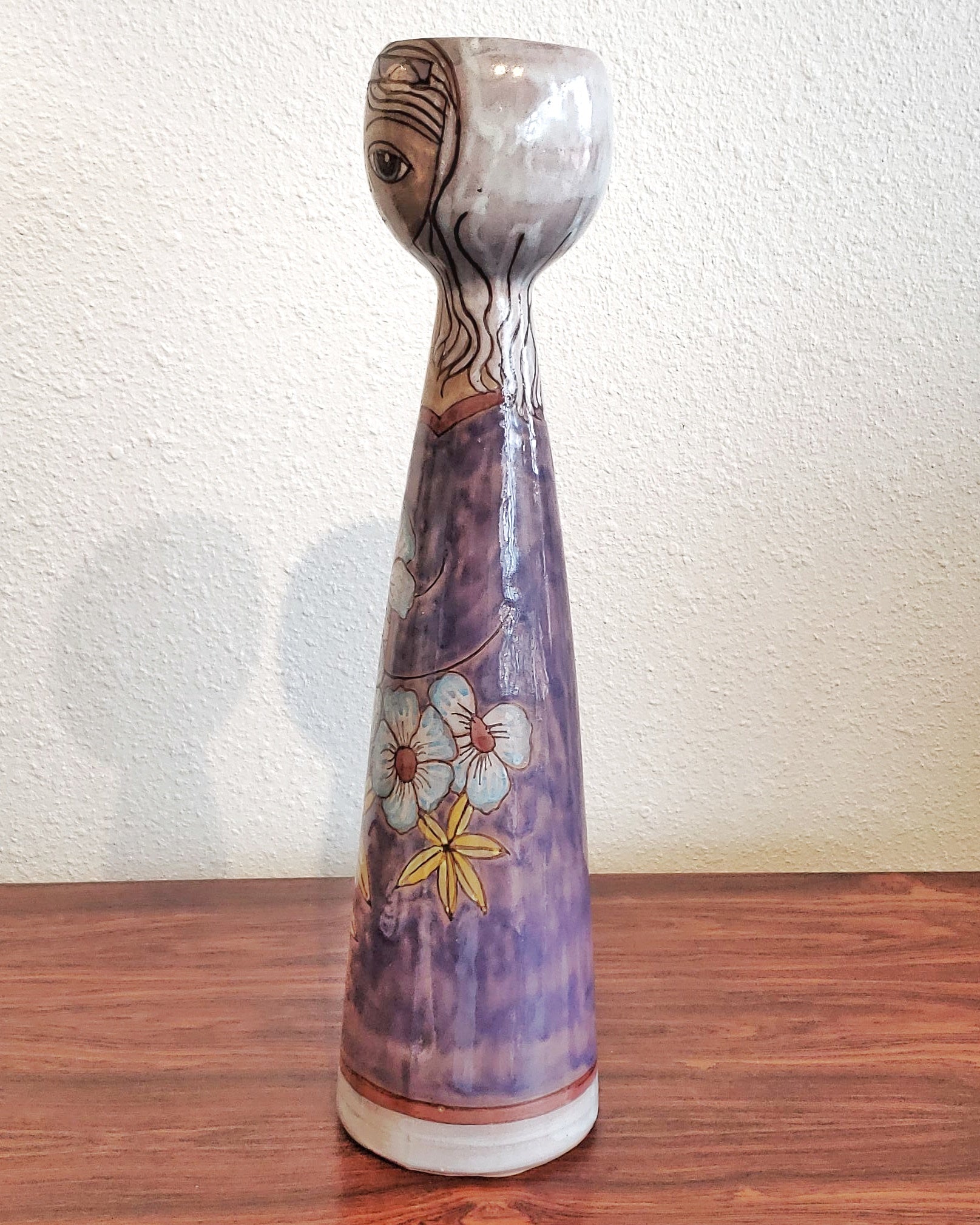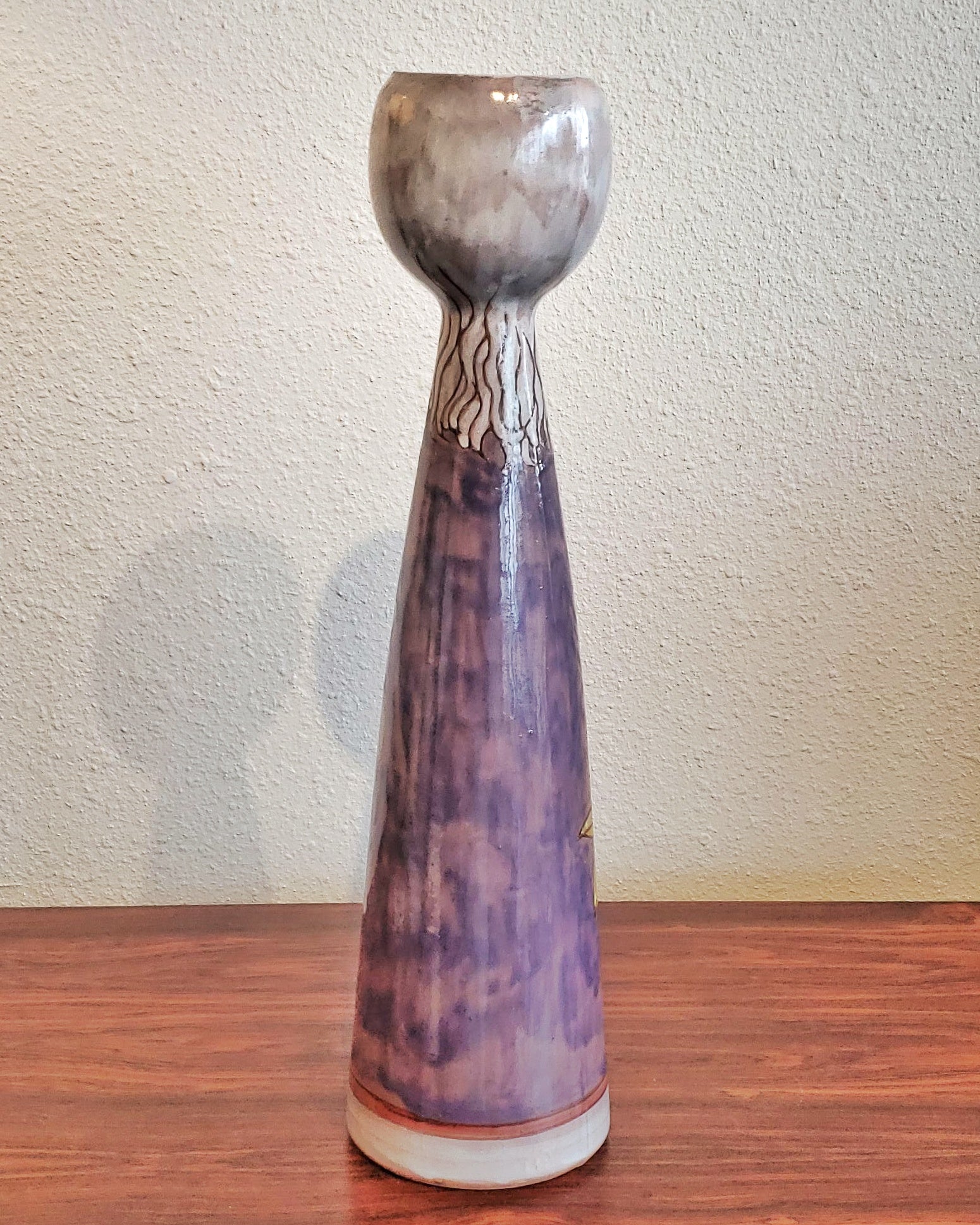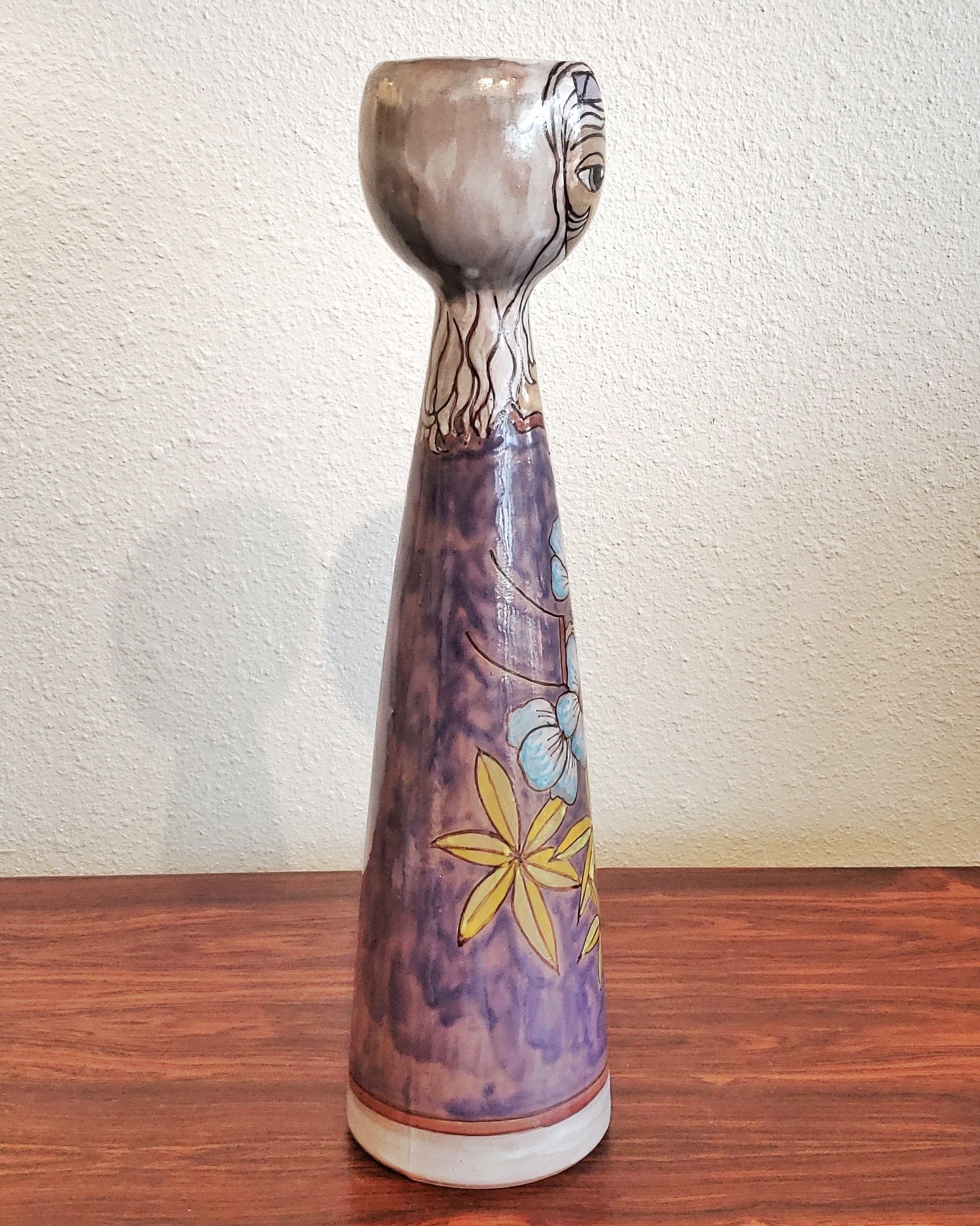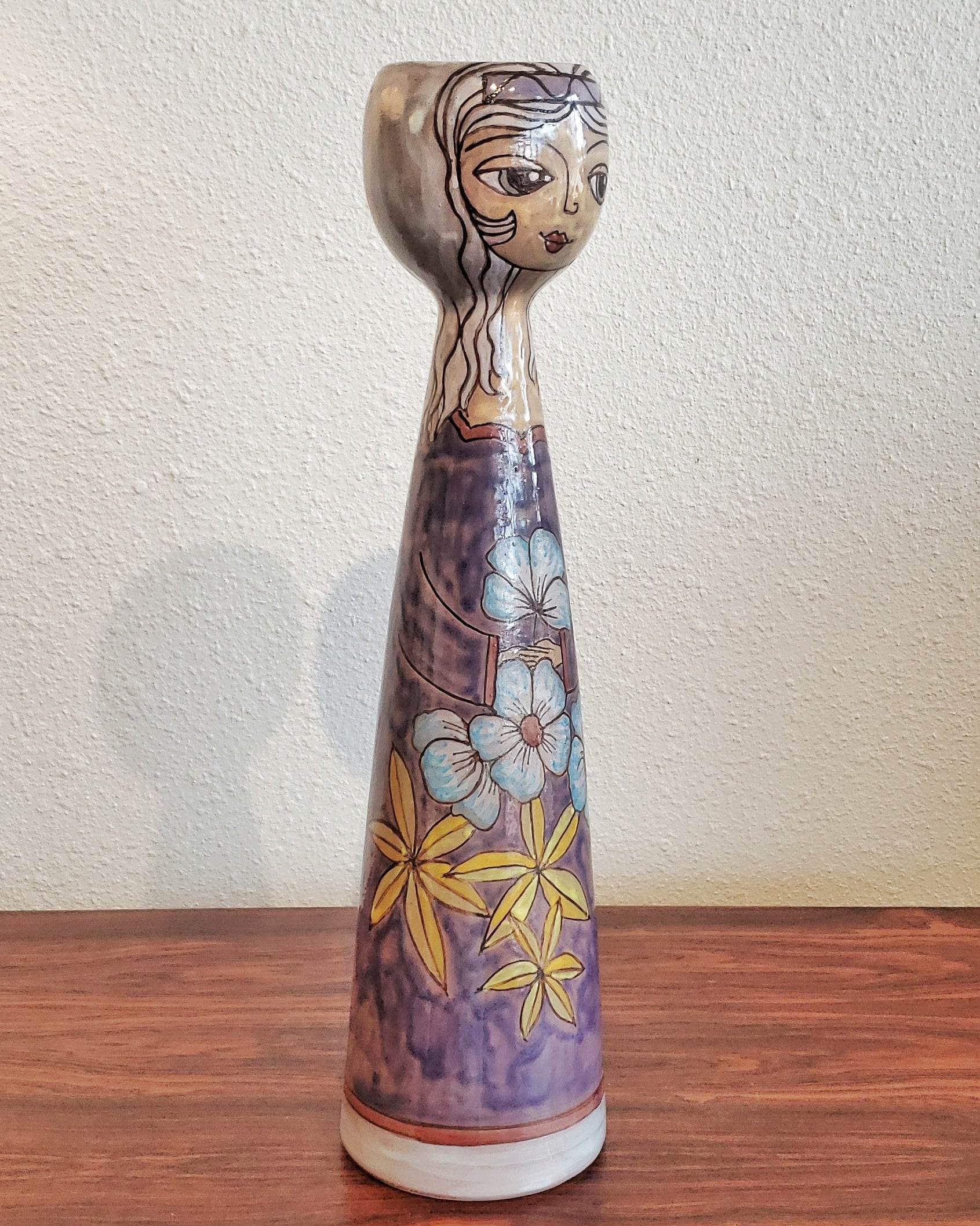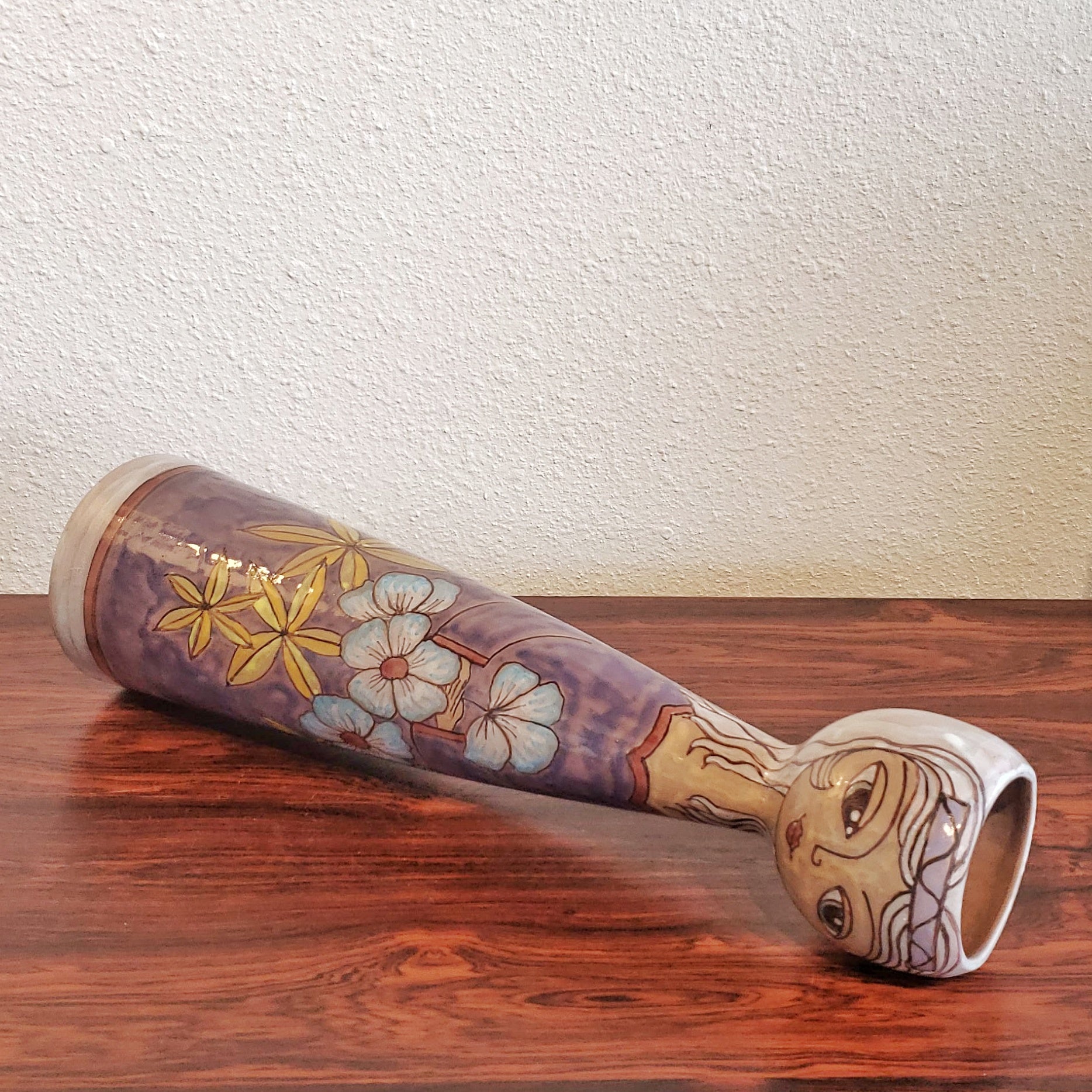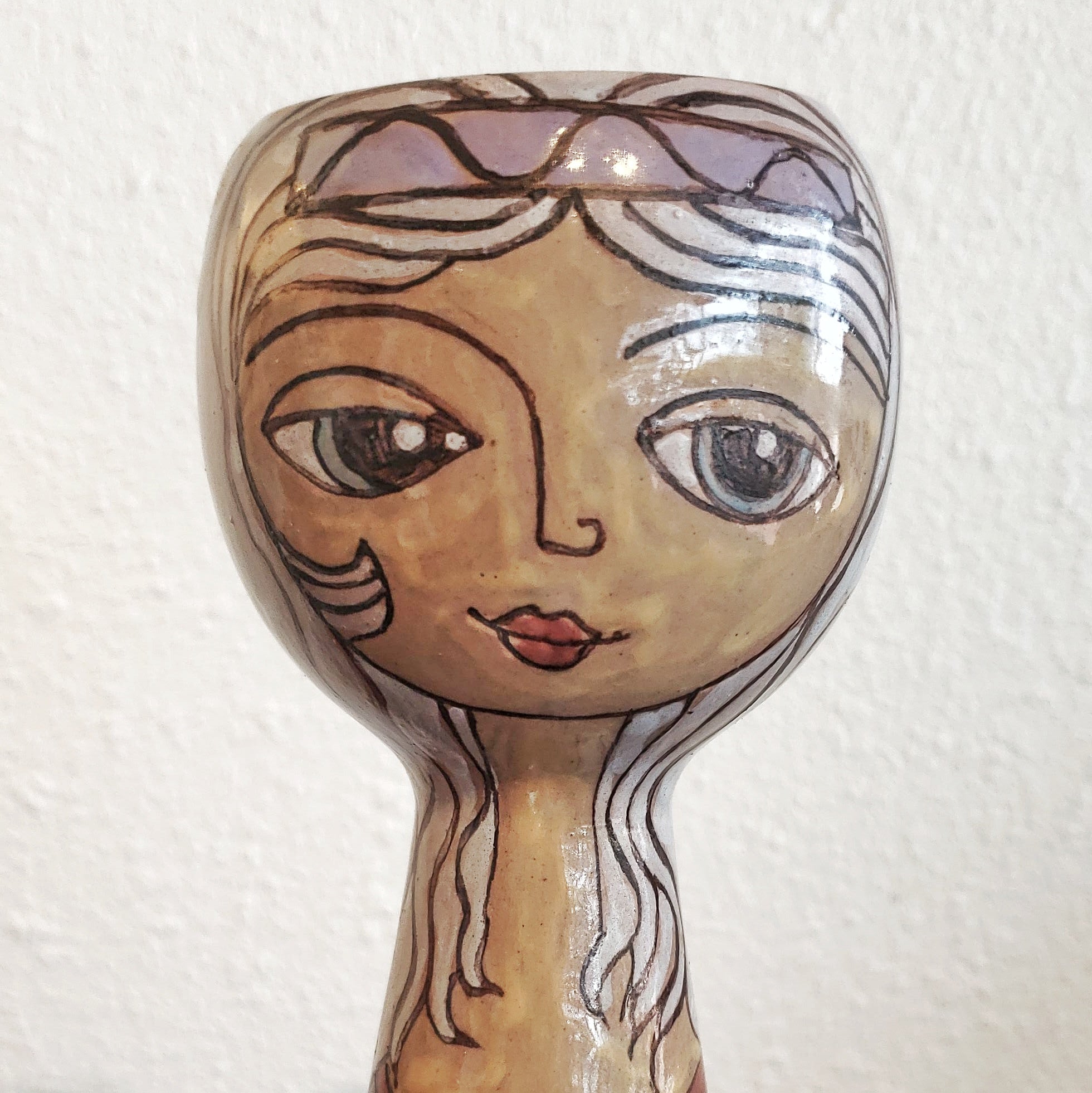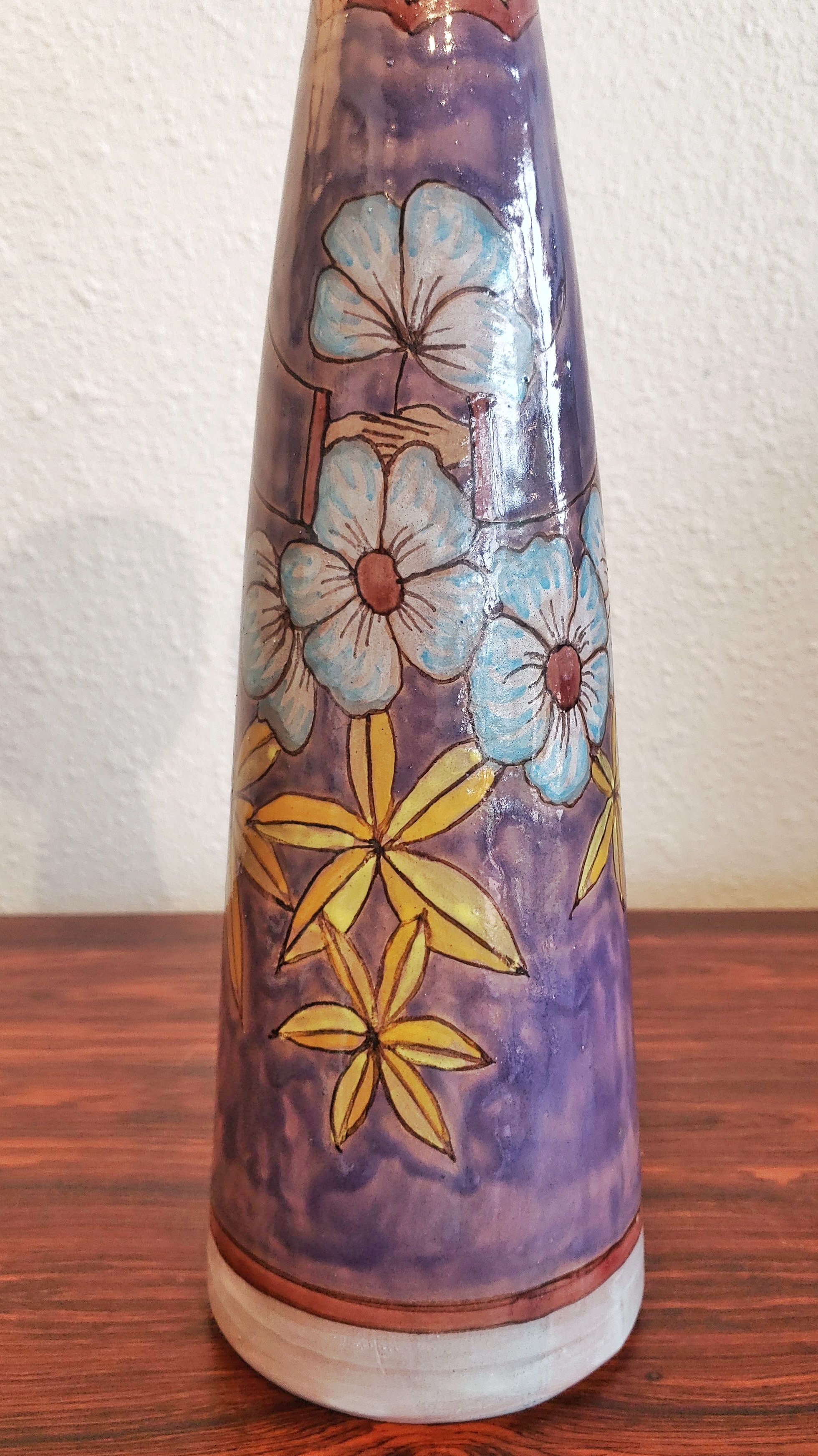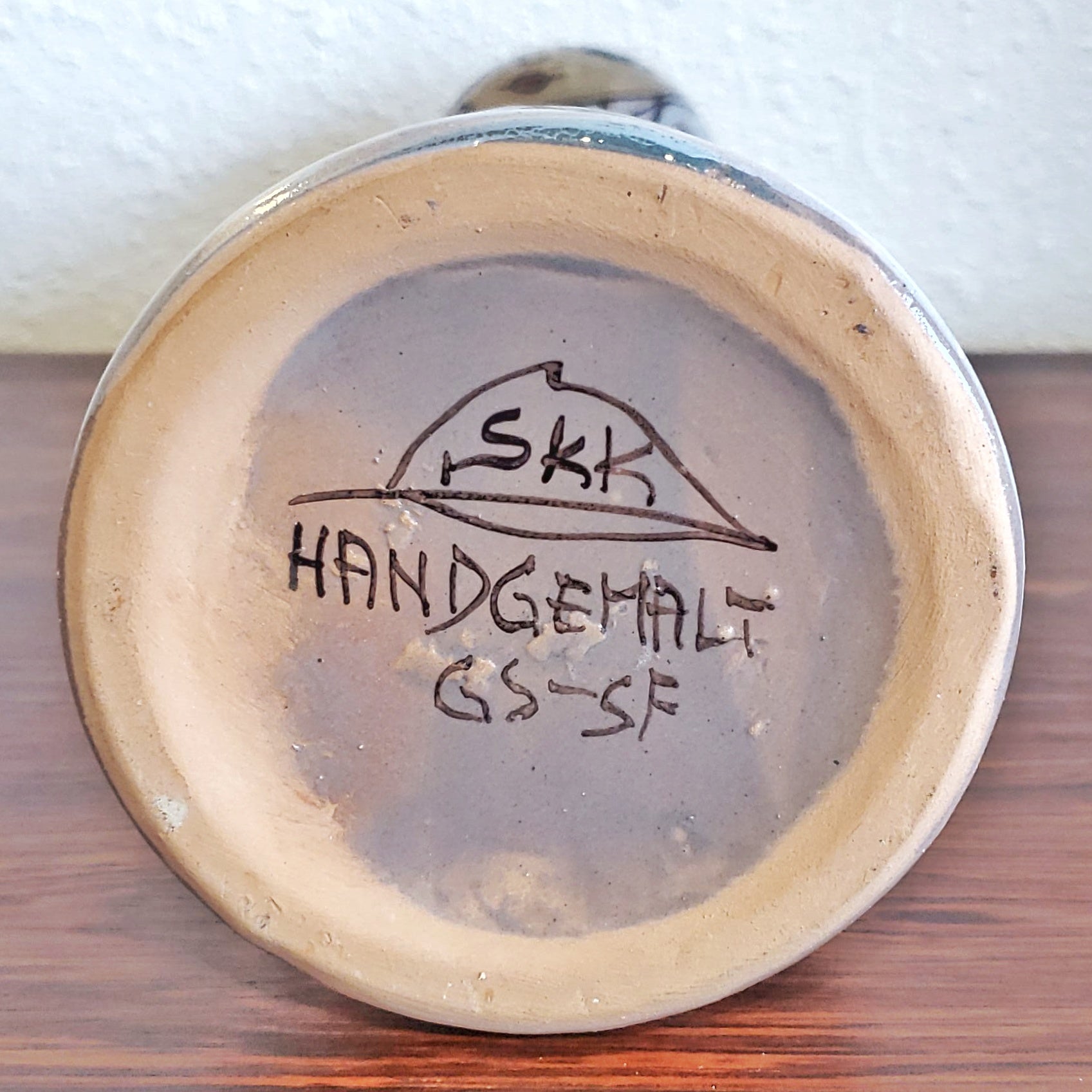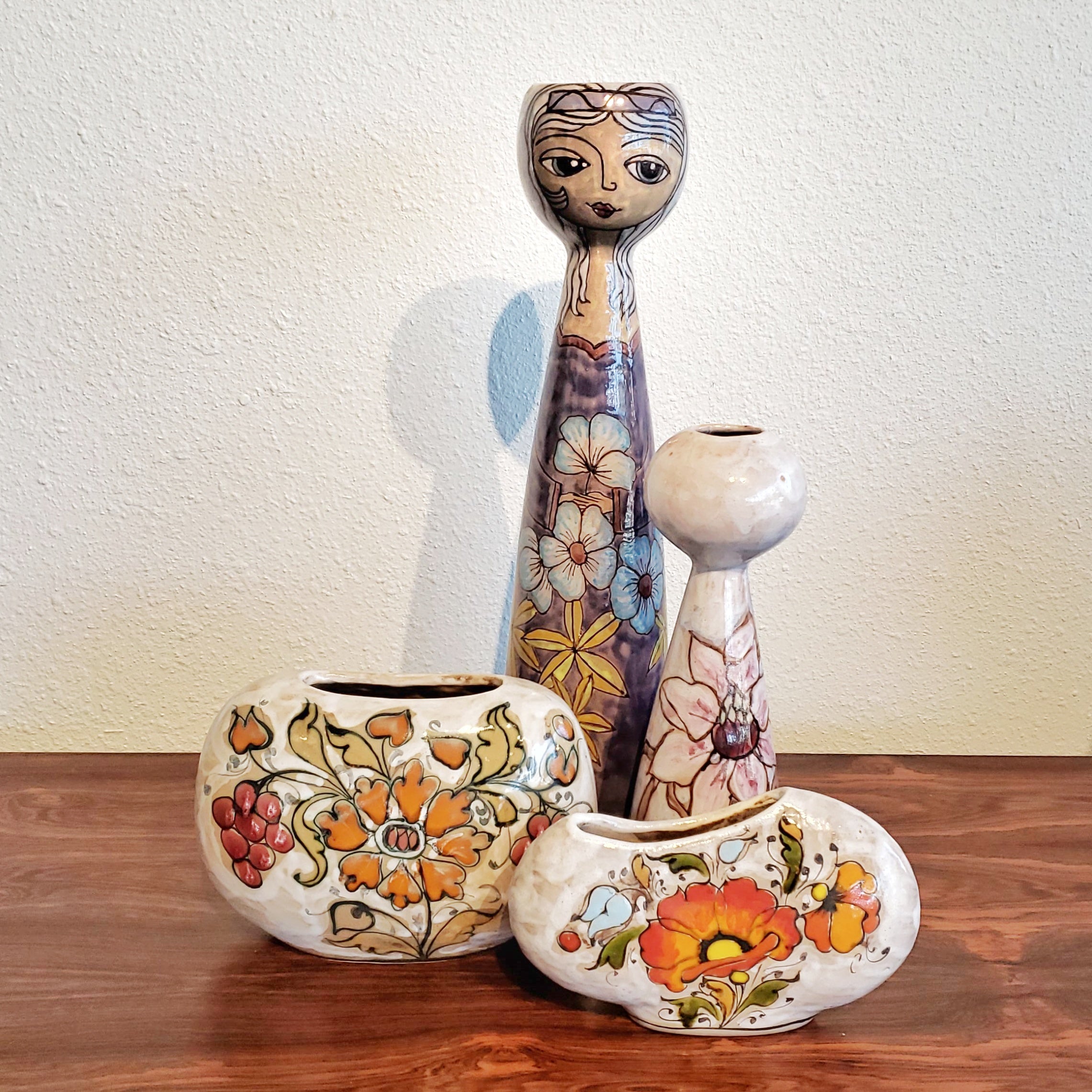 'FLOWER GIRL' VASE BY ELIO SCHIAVON FOR ERHART SKK
CONTACT US HERE ABOUT THIS ITEM.
A lovely hand painted vase in the form of a woman with flowers designed by Gunter Erhart and Elio Schiavon, and marked on the bottom with SKK HANDGEMALT (Südtiroler  Kunstkeramik Handmade) and the initials of the artists at the Schiavon factory who hand painted it.
ELIO SCHIAVON was born in Arzergrande in the province of Padua in 1925.  He completed his studies at the School of Ceramic Art in Nove as a pupil of Andrea Parini.  When he moved with his family to Bassano del Grappa, he worked as an apprentice in the ceramic workshop of Luigi Zortea and completed his schooling at the Academy of Venice where he was a student of the architect Giorgio Wenter Marini.  In the early 1950s he married Linda Metta, who soon became a close collaborator, and he also began to distinguish himself in the competitions and exhibitions in which he participated - including the Venetian Biennale – with his own ceramic creations.  With the assistance of his wife, Schiavon started his own furnace in Padua in 1954, and soon "Schiavon Ceramiche" was producing a well-articulated collection of commercial-style artefacts, alongside works with an artistic vocation, mostly majolica inspired by an archaic, festive and dreamy expressionism, with a vibrant chromatism that gave the works a note of singular originality.  The factory stands out for the high quality of its products and soon receives important public and private commissions.  He produced numerous creations for architecture and for so called "street furniture" of the sort found in urban landscapes - cladding panels and sculptural compositions for clients such as Ravenna, Hydroelectric Power Station; Mestre, Hotel Majestic; Capri, Duomo and the villa of the writer Graham Greene.
In the wake of the successful ceramics training experiment carried out by the ceramist Neera Gatti in Venice where he started the, "Bottega Scuola d'Arte Ceramica dei Frari " (Workshop of the Frari Ceramic Art School), in which numerous important artists and craftsmen were trained over the course of almost a decade of activity, Schiavon decided to set up a workshop-school joined to his own workshop and laboratory.  This also became a reference point for many young generations of artists.  The workshop activities were ultimately transferred to Abano Terme in 1964.
At the end of the 1980s Schiavon handed the factory over to his son Luca, but he continued his creative and didactic activities until the last few years of his life.  Elio Schiavon died in Tonadico, in the province of Pordenone, in 2004.  The workshop is still active today thanks to Luca.
A NOTE ON IDENTIFICATION:  Most of the items produced at the Schaivon Ceramiche workshop are simply signed 'Schaivon', sometimes with a cross hatch symbol, but many items are also found with the markings 'S.E.', 'SKK' (Südtiroler  Kunstkeramik) or 'Erhart' along with the 'Schiavon' name.  These items are also produced by Schiavon, but in collaboration with his very close friend, Gunther Erhart.  The two men worked closely together in collaboration to create many items produced in the Schiavon furnaces.
Designs marked 'Erhart', 'SKK', or both, along with the Schiavon Signature were designed by Gunter Erhart, but produced by both in collaboration. Since Erhart was not a trained potter, he needed Schiavon to help him realize his designs.  Those will usually have both signatures, or S.E. which is also the mark of Elio Schiavon, or sometimes just SKK HANDGEMALT (handmade).
Schiavon was the one throwing the forms, while both men painted them along with some other employed painters in the studio, some of whom had their own signature marks which can often be found along with the other markings on the bottom of the item. All the pieces are handmade and unique, and all are products of the Schiavon Studio.
Schiavon was adept at understanding and interpreting Erhart's designs immediately, but it was a reciprocal inspiration, so you can't attribute the pieces exactly to one of them when you have both signatures on one piece.  Those are very much a collaboration.
It must also be noted that, contrary to some past presumptions, Erhart is not the German translation of Elio, but always refers to Gunther Erhart.
From 1970 onwards they had letters as a code system for the year of production, but the system has not yet been explained sufficiently to enable collectors to date their objects.  Any numbers found are always form numbers and sometimes the size of the item in centimeters.
| | |
| --- | --- |
| Designer | GUNTER ERHART |
| Manufacturer | ELIO SCHIAVON |
| Design Period | 1950 to 1959 |
| Production Period | 1950 to 1959 |
| Country of Manufacture | Italy |
| Identifying Marks | This piece has an attribution mark |
| Style | Vintage, Mid-Century, Italian Modern, Hand-Crafted, Modernist |
| Detailed Condition | Excellent — This vintage piece is in near original condition. It may show minimal traces of use and/or have slight restorations. |
| Product Code | |
| Materials | Ceramic |
| Color | Tan, cyan, goldenrod, yellow, plum, white |
| Width | 4.0 inch |
| Depth | 4.0 inch |
| Height | 16.5 inch |