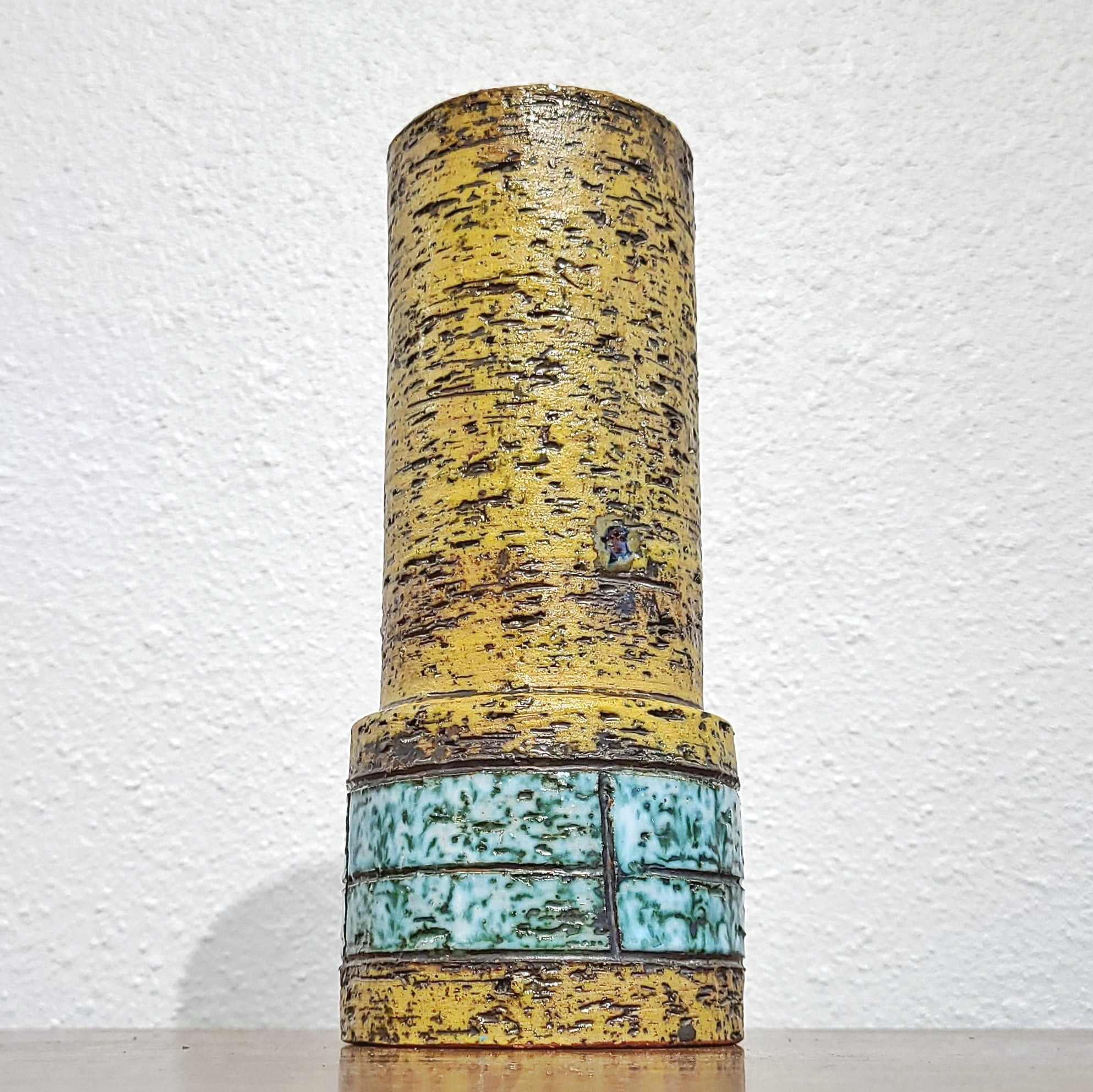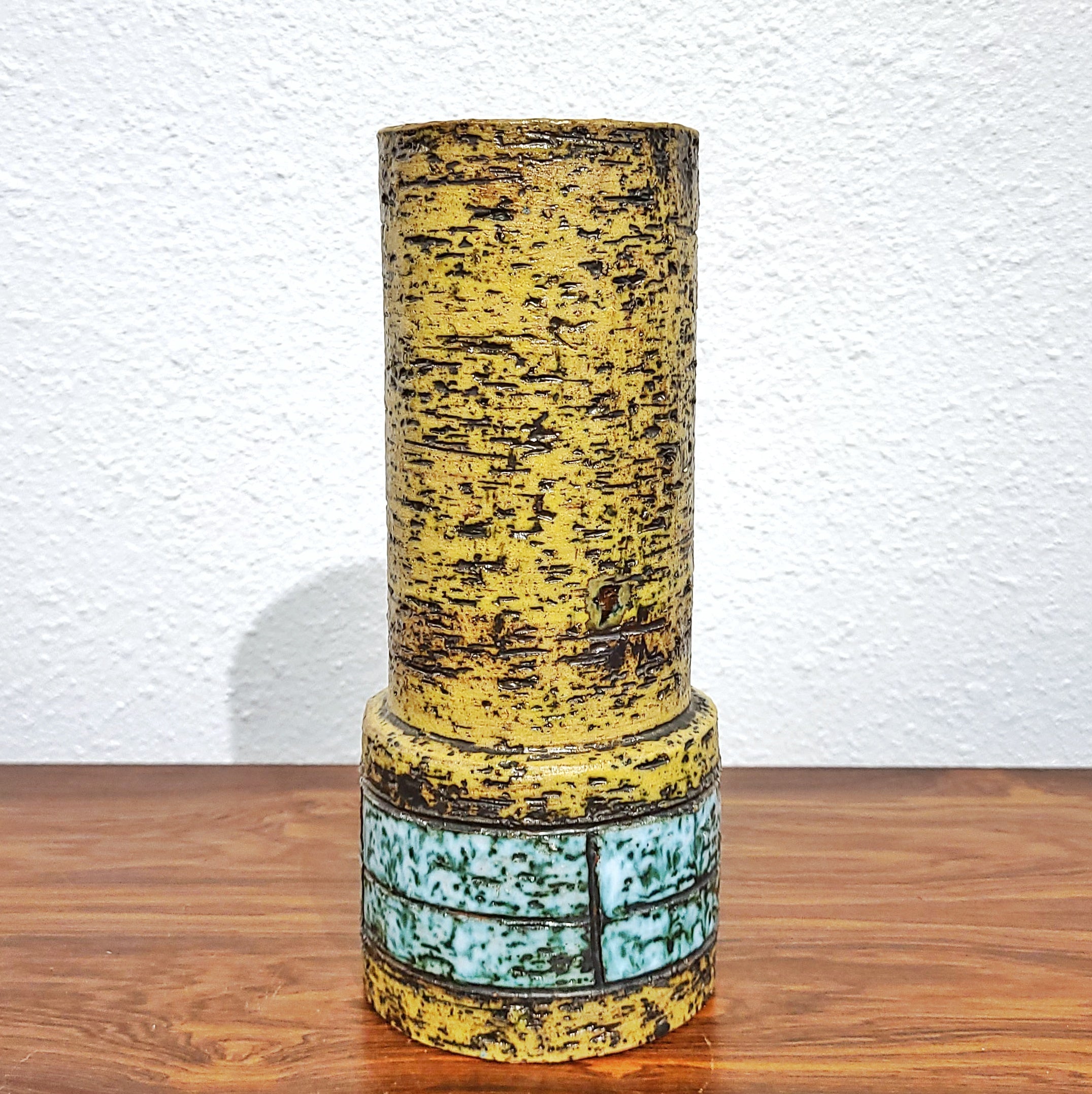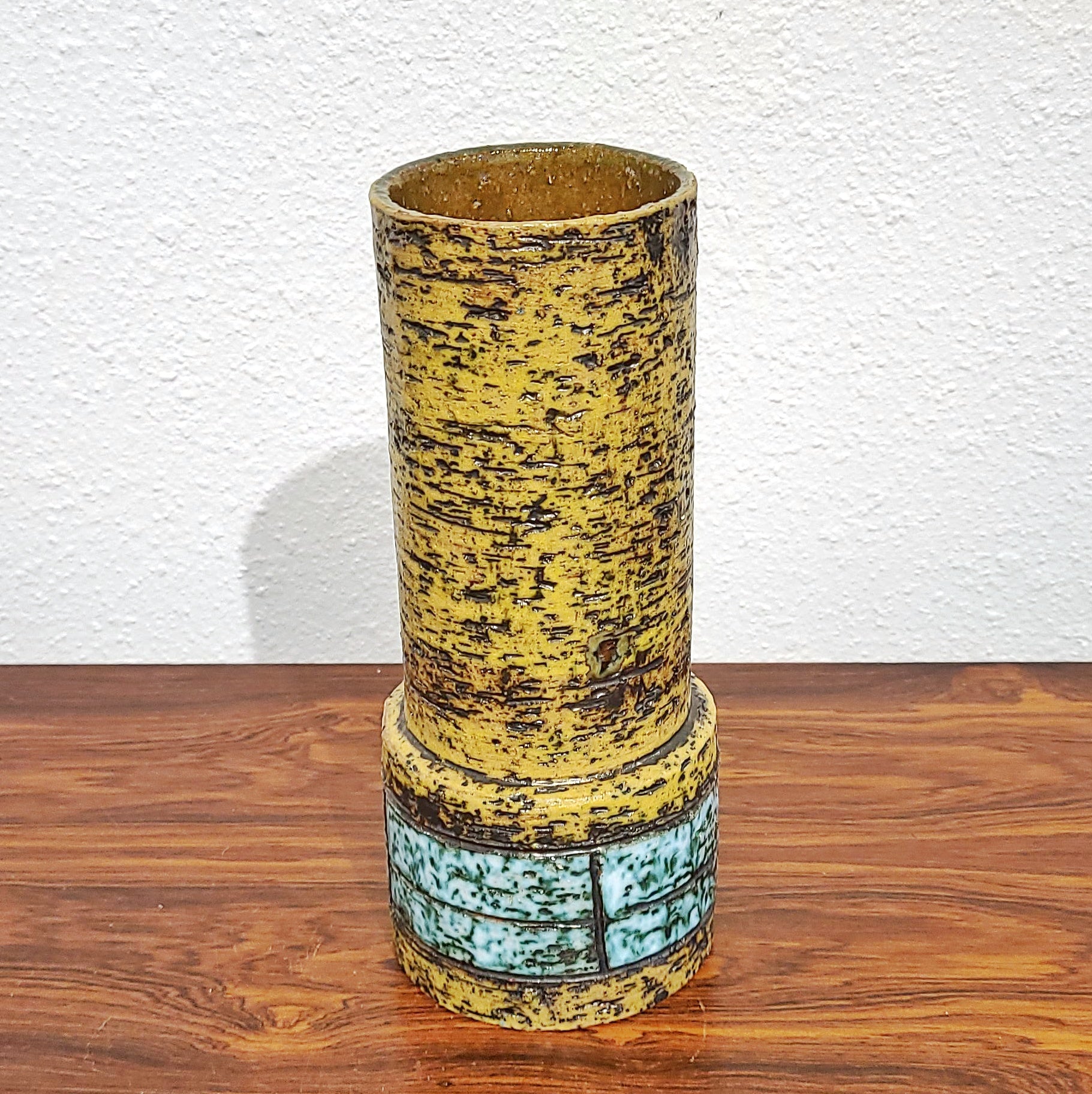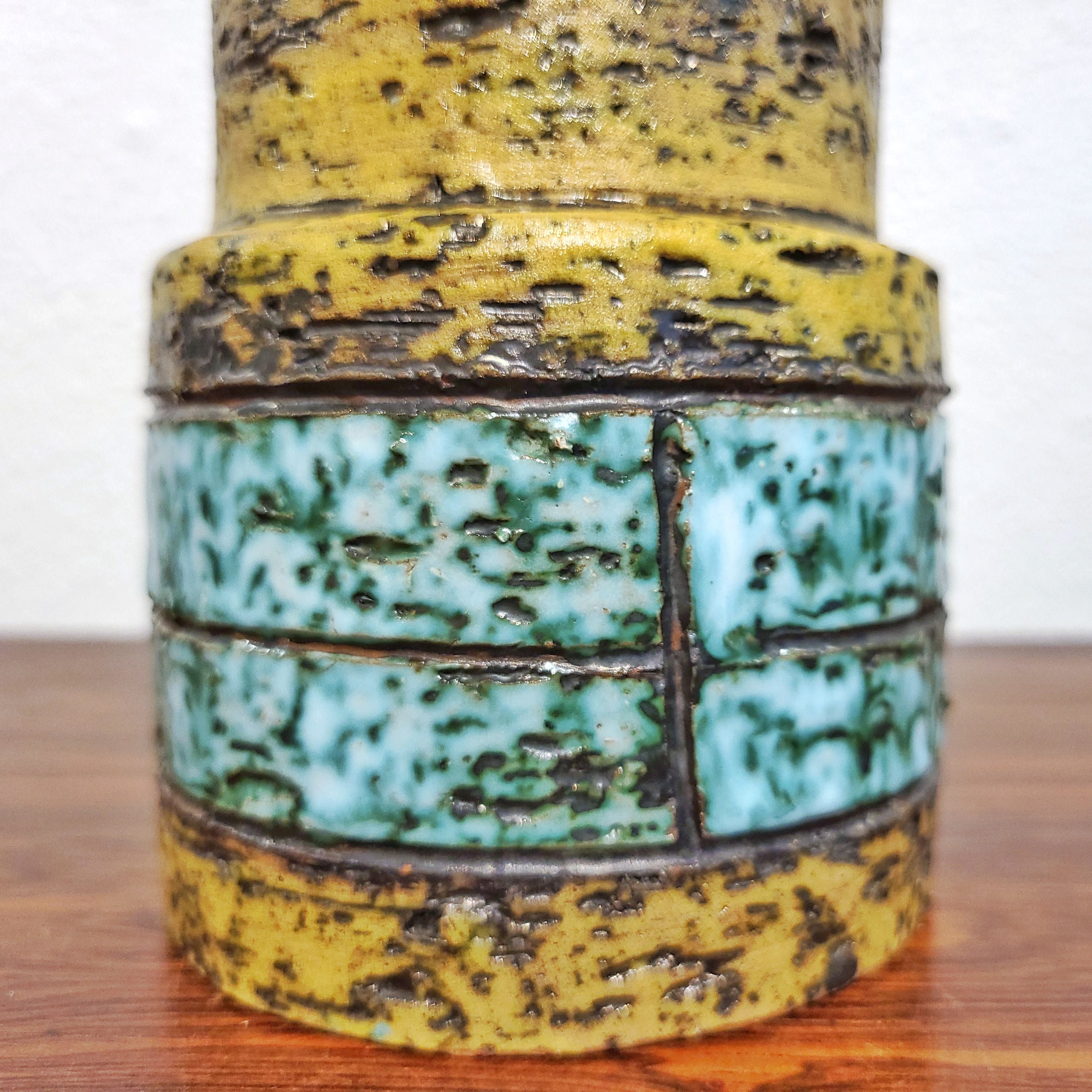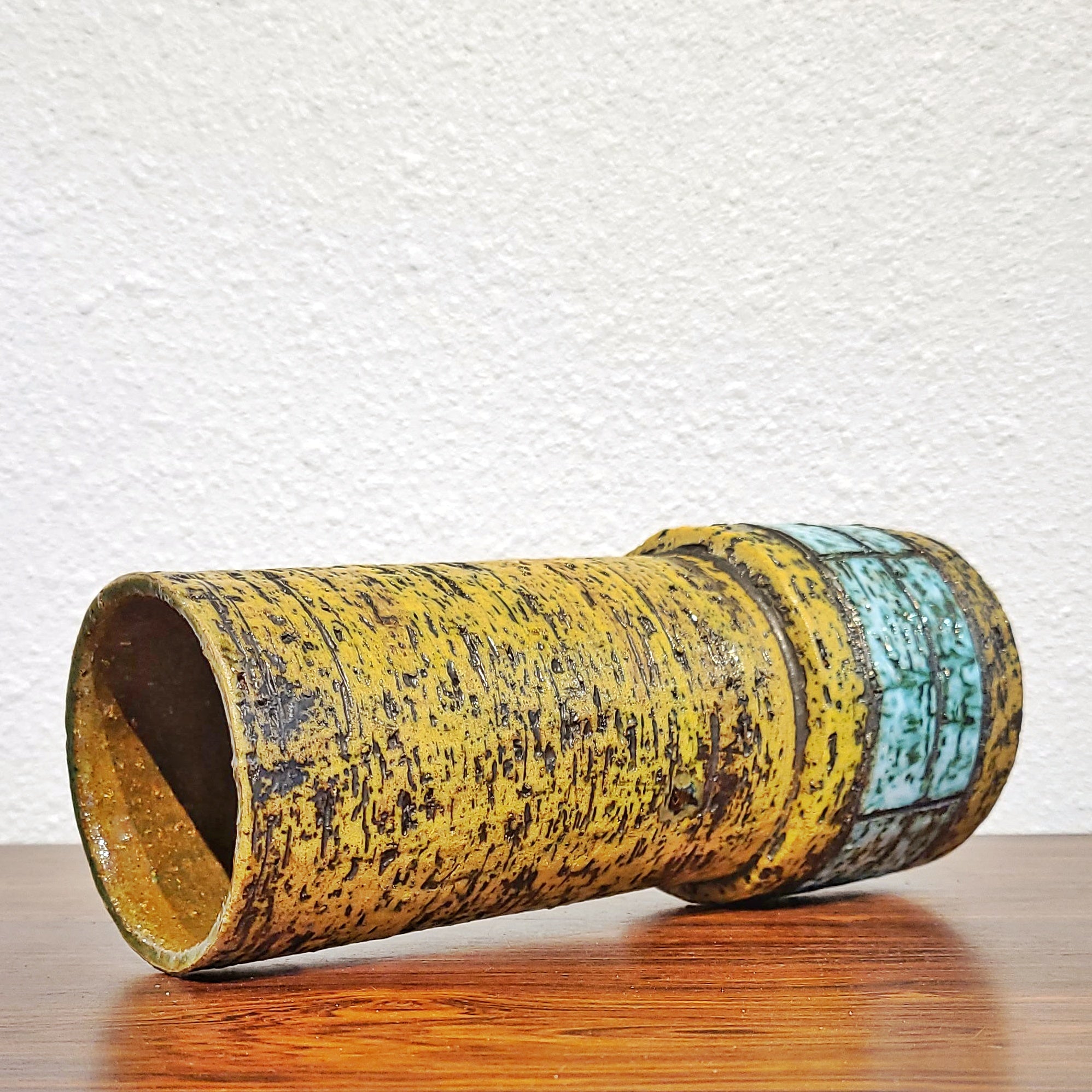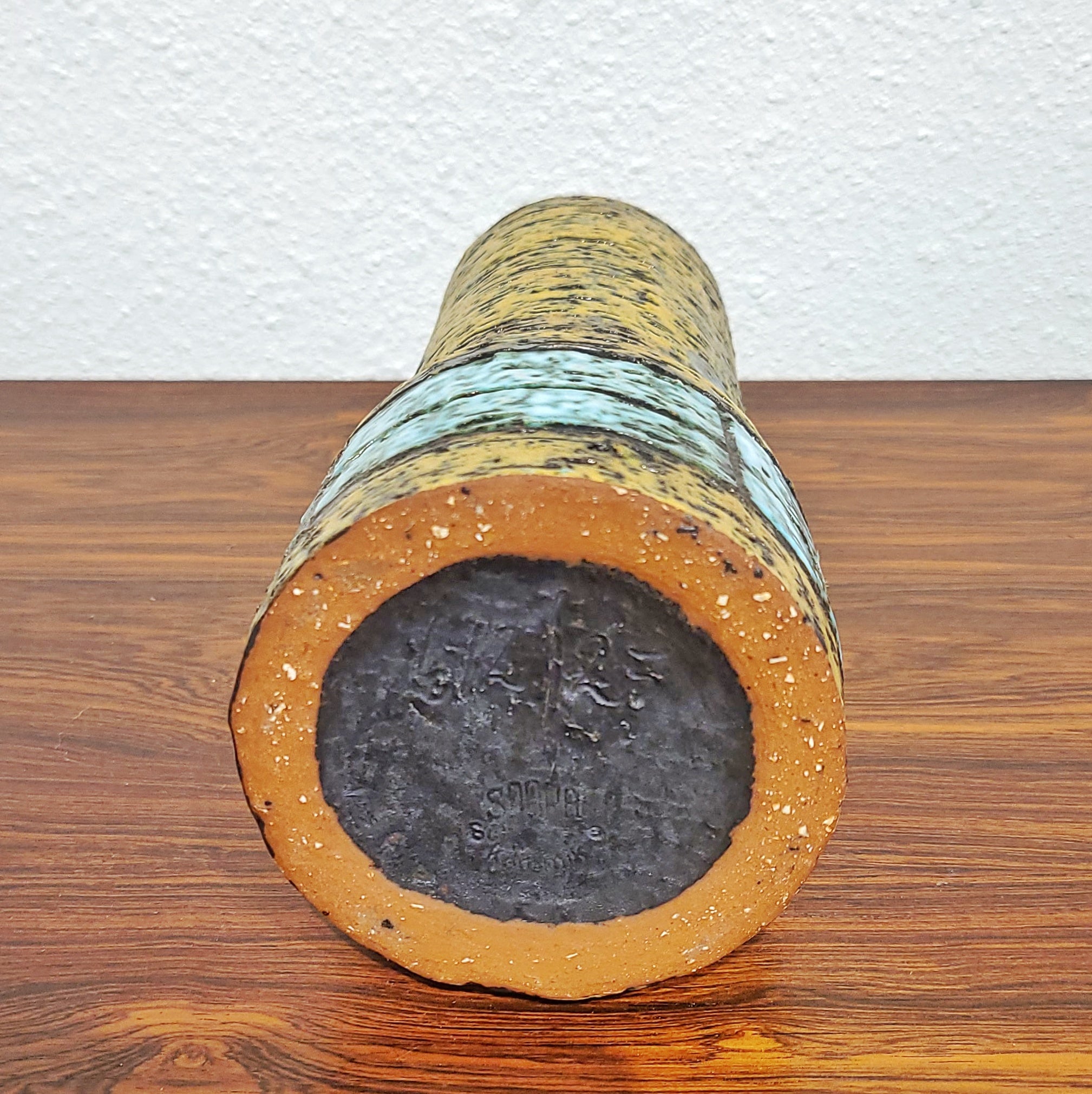 HANDMADE CHAMOTTE VASE BY HALIDAN KUTLU FOR SPARA KERAMIK
CONTACT US HERE ABOUT THIS ITEM.
A fine example from the line of hand-built studio pottery created by Halidan Kutlu for SPARA KERAMIK in the early 1970s.  Its heavy form is quite rustic in style and construction.  Built with a red-orange chamotte clay, a black glaze has been applied to the blond undercoat and then wiped off before a second firing to leave all of the craters in the clay body black.  The interior has been waterproofed with a glossy brown glaze, and the bottom decorated with a ring of mottled turquoise rectangles.  Hand-marked on the base with the form and size numbers 612/25 and faintly impressed with the SPARA stamp (as is typical of the company's early studio work).

SPARA KERAMIK was founded in 1947 by Ludwig Spang in the small town of Ransbach-Baumbach in the Kannenbäckerland in central Germany.  (The Kannenbäckerland—the "jug-bakers' land"—is a centuries-old home to ceramics manufacture and the site of the largest clay deposit in Europe.)  A relatively small manufacturer, its output—which included both molded ceramics and hand-built pieces—was limited.  Few details are known about SPARA; like many ceramics companies of the day, it left no paper archive.  (SPARA is a portmanteau of its founder's name  and Ransbach.)

SPARA KERAMIK's modern production began in earnest in the late 1960s.  Halidan Kutlu was its key designer in the very early 1970s.  Kutlu, who also created for Ü Keramik and Majolika Karlsruhe, was Turkish-born, and many of the items he designed during this period have a pronounced Middle Eastern flavor.  This is especially true of the studio pottery.  SPARA KERAMIK pottery is generally very well made.  The studio pieces tend to be heavy and very sturdy.

SPARA KERAMIK mainly used light-colored clay, although some early works, particularly studio pieces, were formed with a red-orange chamotte variety.  Many items are either molded with or stamped with the firm's name on the base.  A SPARA stamp combined with a hand-marked form number generally indicates studio work.  Some bases are left unmarked.  SPARA KERAMIK ceased to exist in 1985 when it was acquired by Hark GmbH & Co. KG and refitted for the production of fireplaces and furnaces.
Details
Dimensions

1ʺW × 4ʺD × 0.5ʺH
Styles

Brutalist
Mid-Century Modern
Rustic

Period

1970s
Place of Origin

Germany
Item Type

Vintage, Antique or Pre-owned
Materials

Clay
Condition

Very Good Condition, Original Condition Unaltered, No Imperfections
Color

Goldenrod
Condition Notes

Excellent Vintage Condition