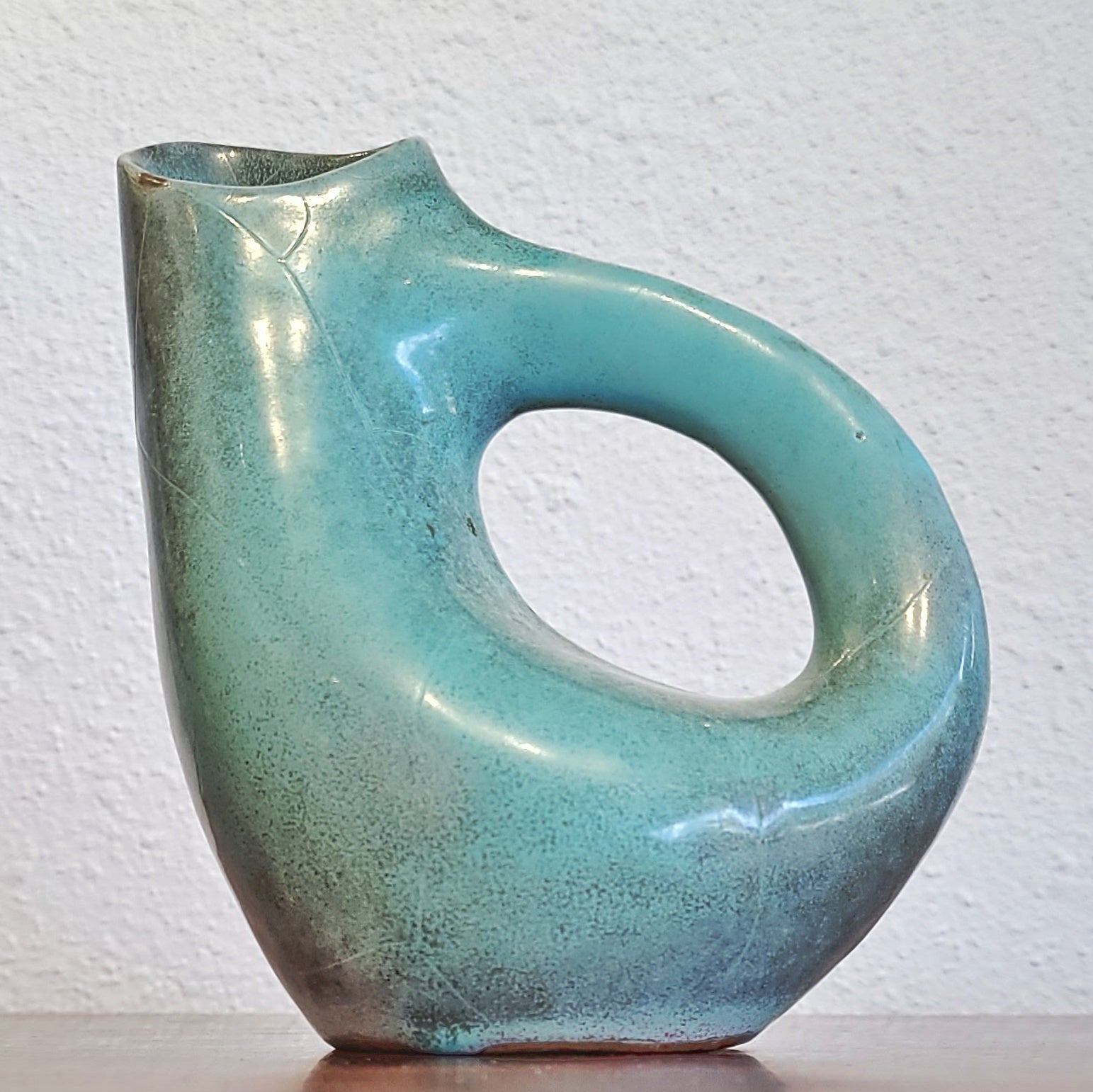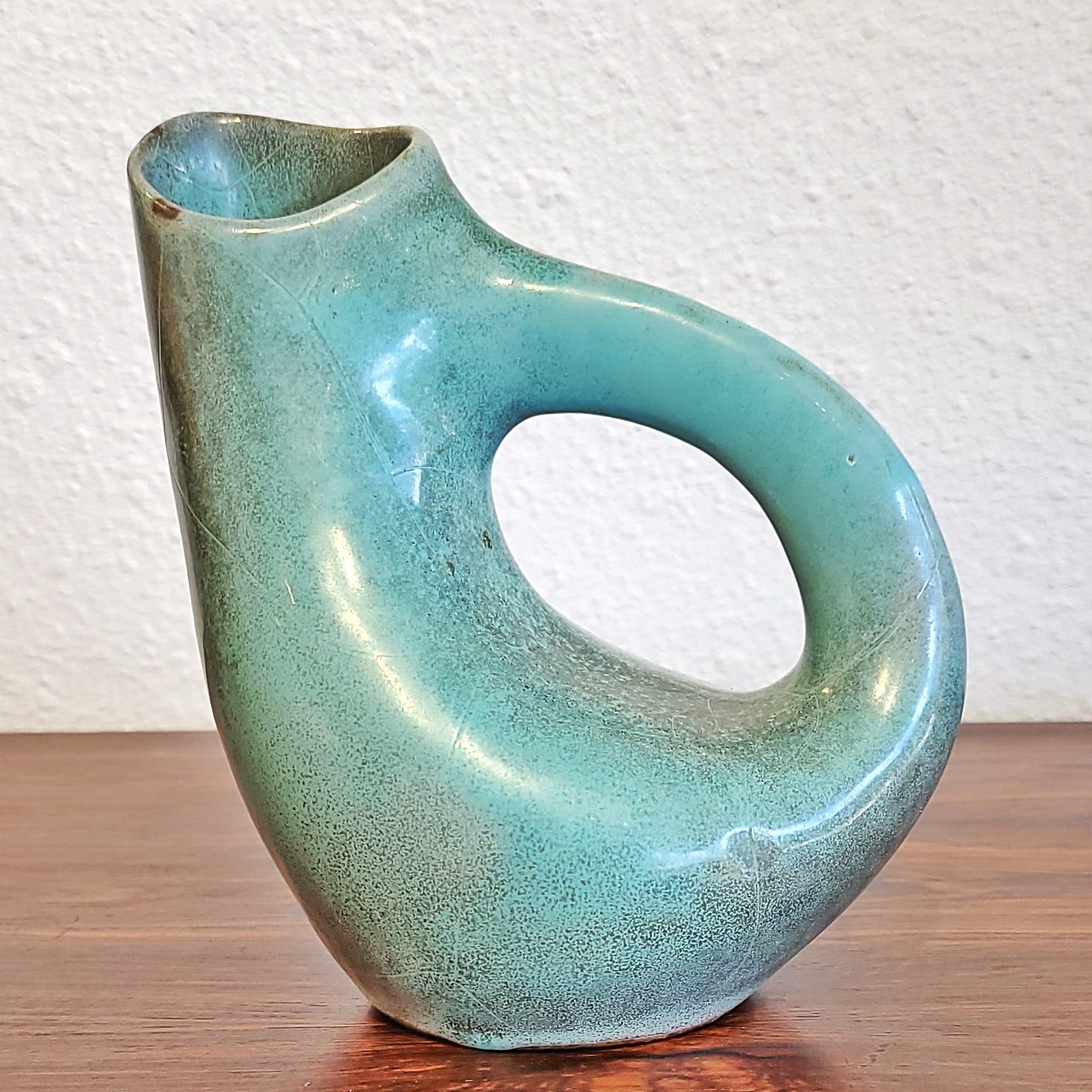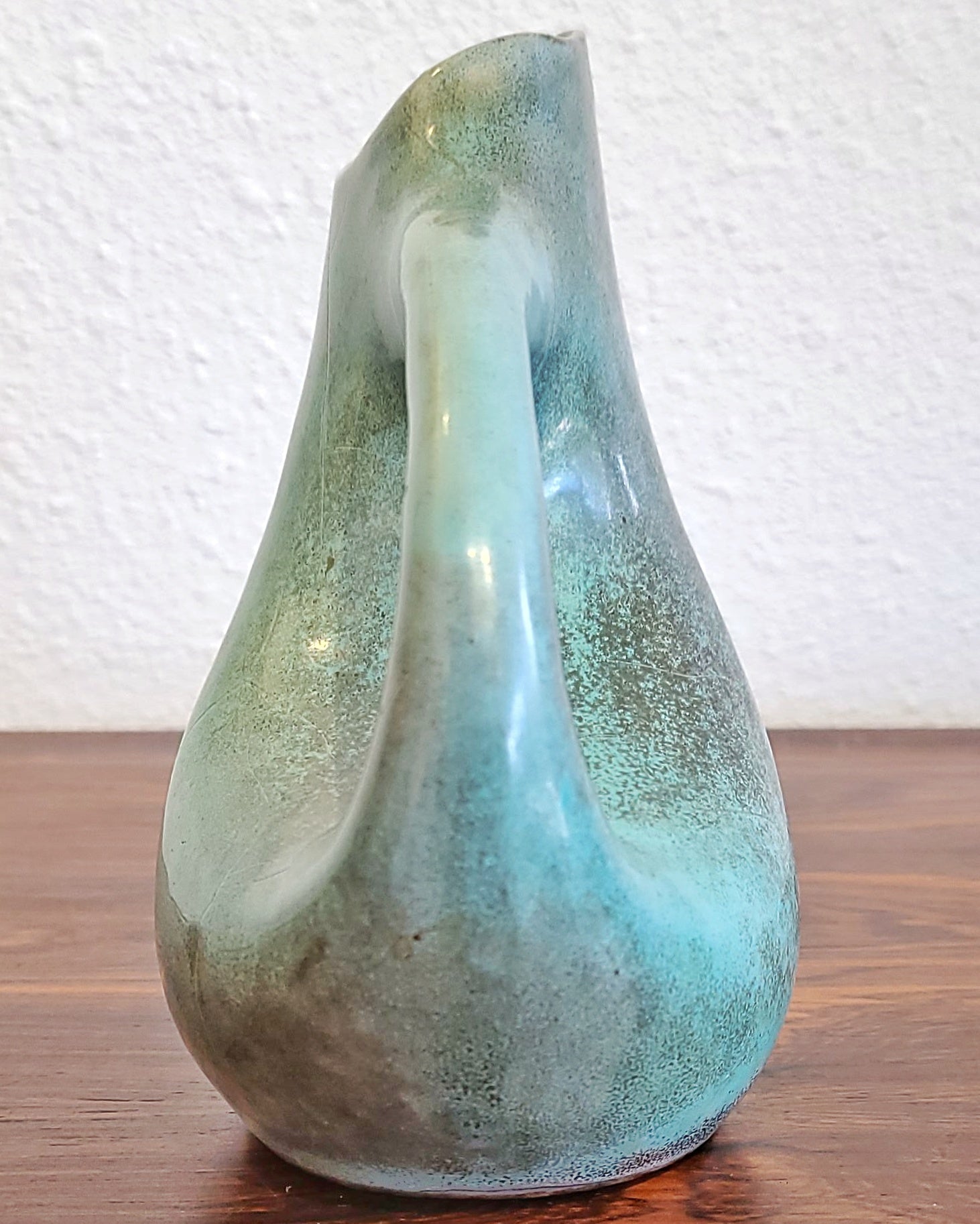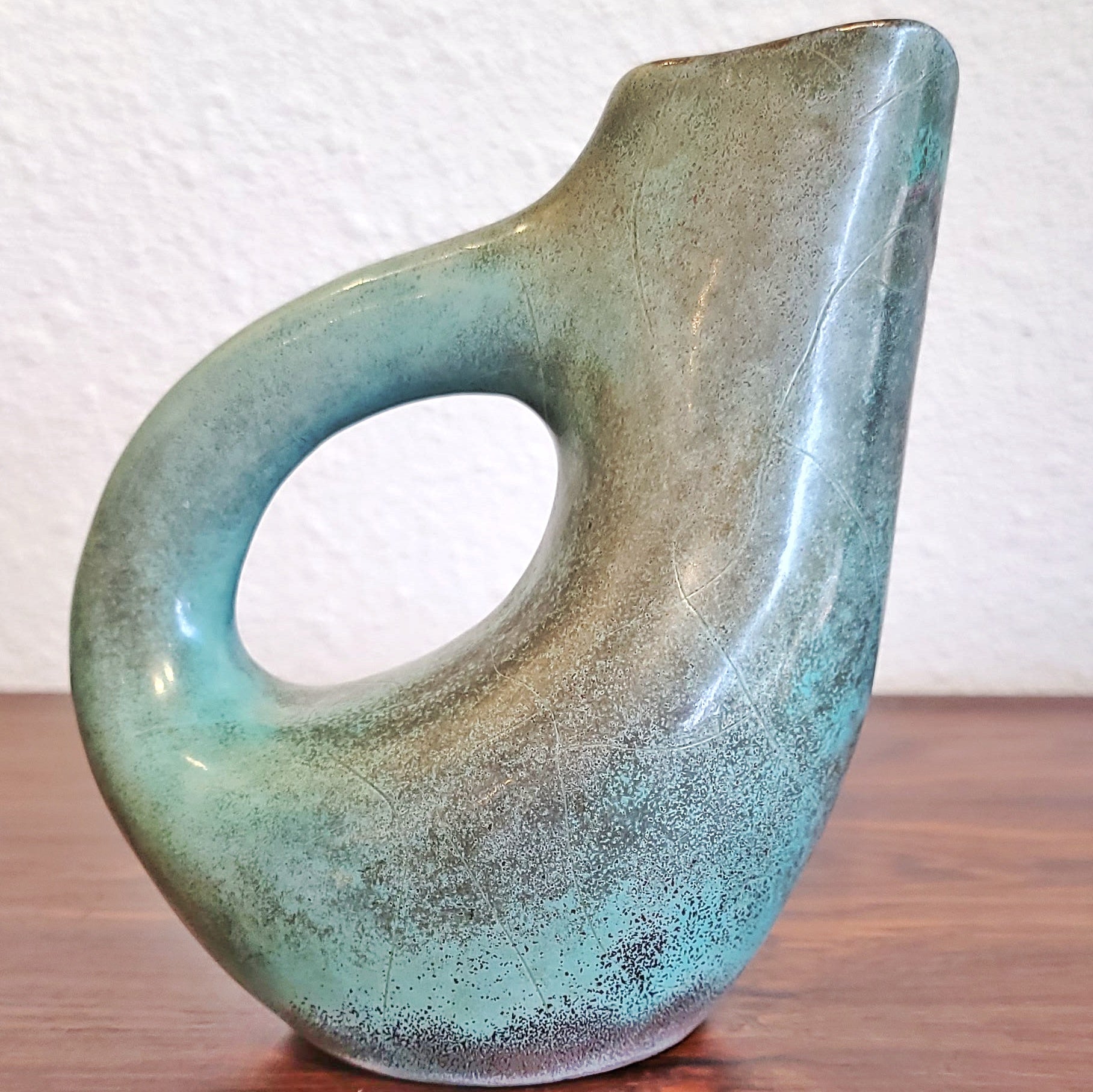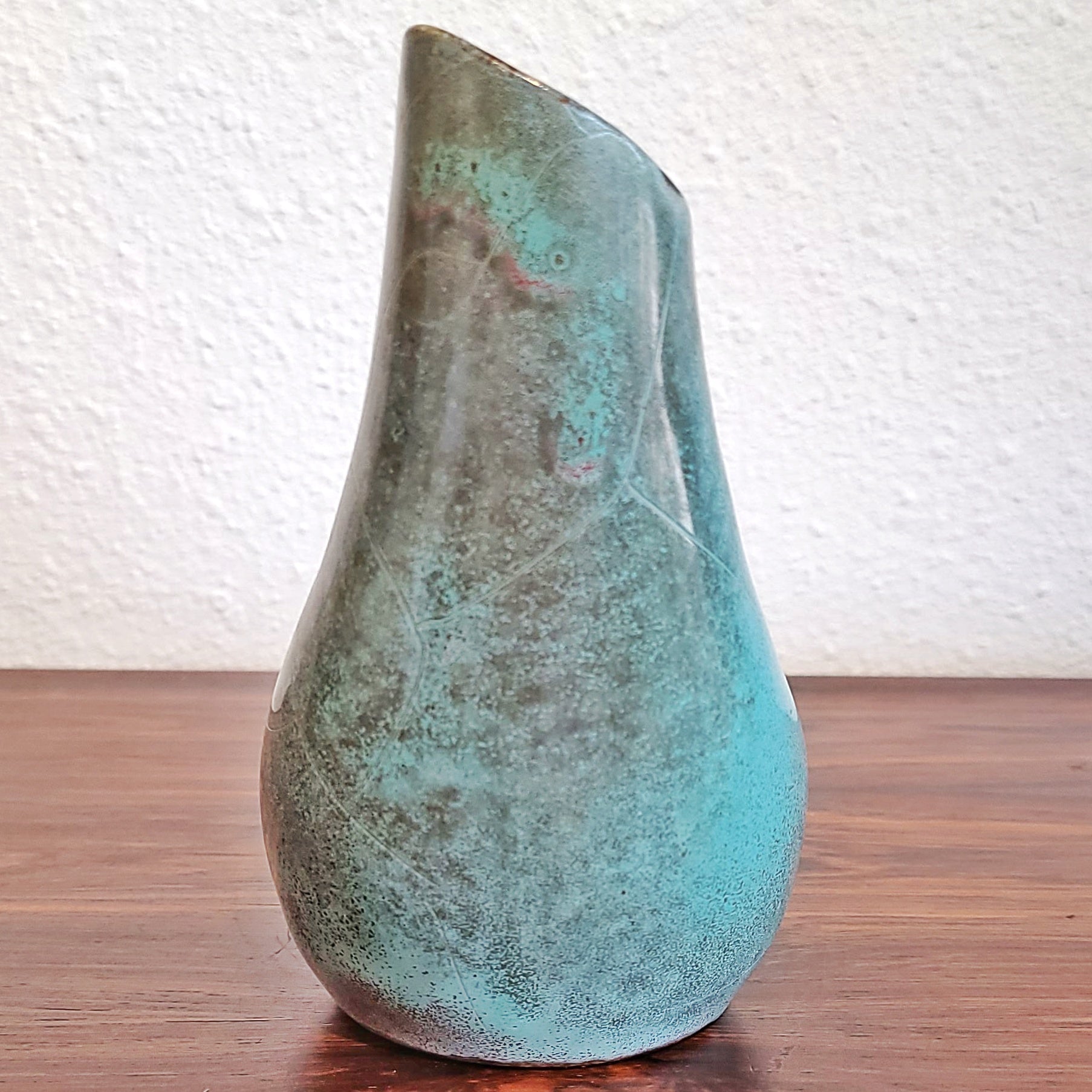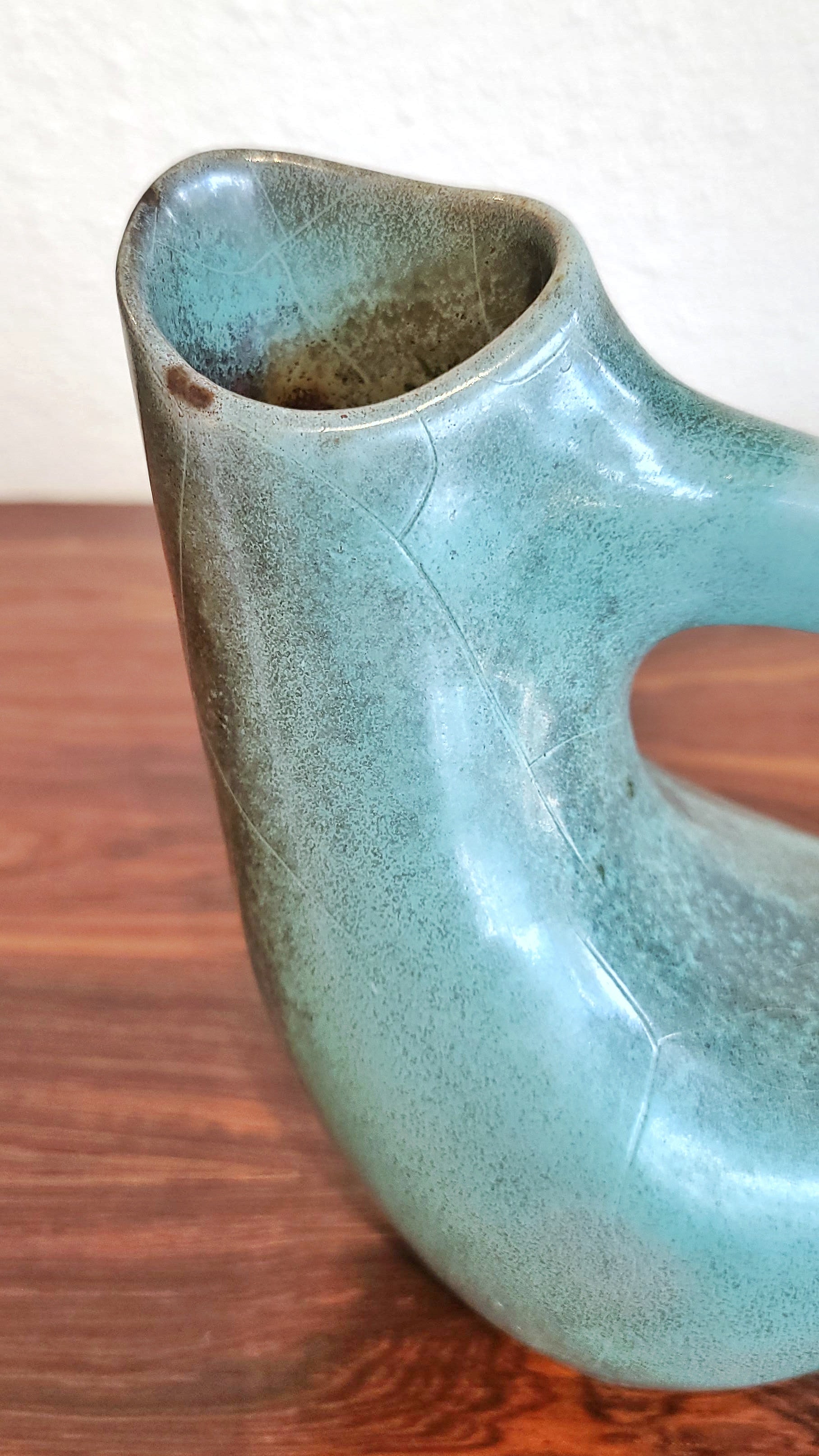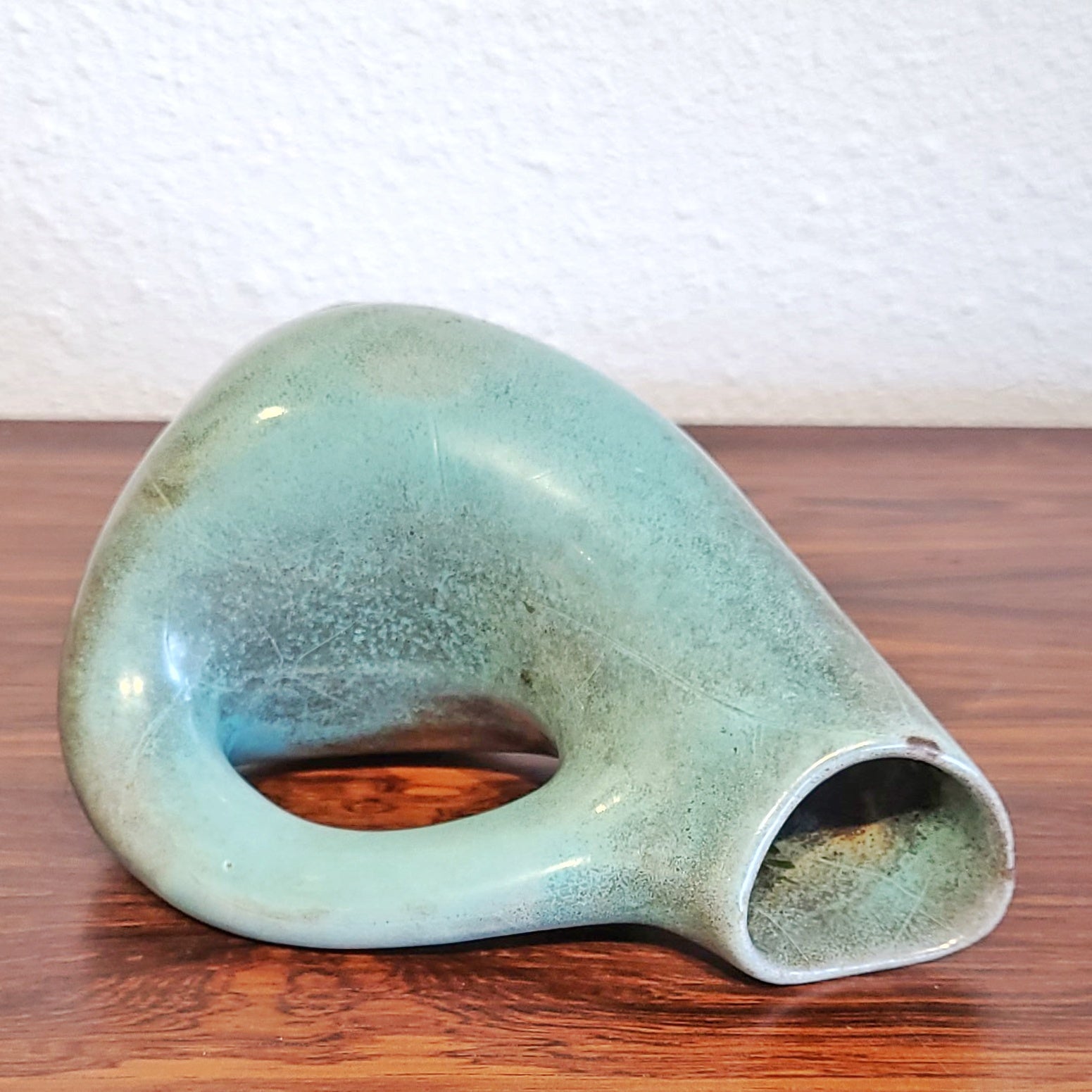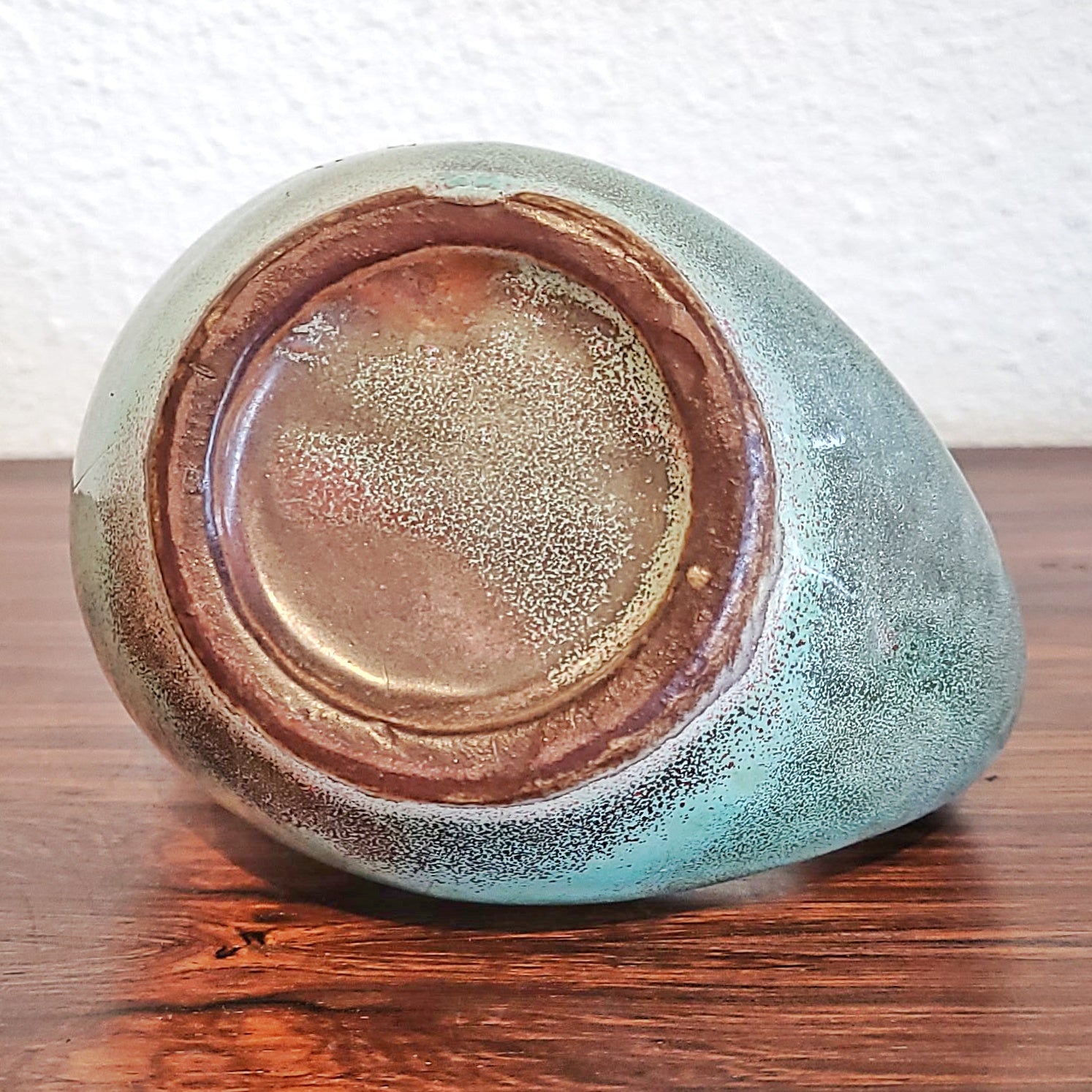 RICHARD UHLEMEYER STUDIO POTTERY VASE
CONTACT US HERE ABOUT THIS ITEM.
A striking asymmetrical midcentury vase with an organic form and a crackled turquoise reduction glaze of the type first developed and made famous by Paul Dressler in the 20s and 30s and by Richard Uhlemeyer in the 40s and 50s.  The sensual shape was both wheel-thrown and then hand-formed into an abstracted ewer with an integrated handle formed from the vessel's body.  Such abstract and organic forms were very popular in post-war Germany.
RICHARD UHLEMEYER (1900-1954) was born in Göttingen, Germany, and attended the arts and crafts school in Hanover in the 1920s, where he studied sculpture with Ludwig Vierthaler, among others.  After completing his studies, he initially worked as a freelancer before founding a wholesale handicrafts business in 1930. Still, it was the pottery workshop he founded four years later for which he is best known.  The 'Kunsthandwerk Richard Uhlemeyer'ultimately gained national fame under his leadership.
In addition to his work as an entrepreneur and craftsman, Uhlemeyer was also heavily involved in the support and furtherance of crafts of all types in Germany.  Thanks to his entrepreneurial and organizational skills, he was able to occupy an important position within the Hanoverian and German craft policy. In 1945, Uhlemeyer was elected President of the Hanover Chamber of Crafts and four years later the first President of the German Confederation of Skilled Crafts (Zentralverband des Deutschen Handwerks), or 'ZDH,' which is responsible for the whole of the skilled crafts sector in Germany.  The purpose of ZDH is to reach a consensus on all significant issues in crafts policy in Germany. ZDH is also responsible for coordinating activities related to European policy affecting skilled craft companies.
At the beginning of August 1951, at a handicrafts conference in Bad Cannstatt, he gave an introductory speech in favor of more significant consideration of the interests of medium-sized businesses and particularly opposed a further disadvantage of German handicrafts in favor of industry. He then repeatedly represented the interests of German handicrafts abroad.
After Uhelemeyer had been re-elected President a few weeks earlier by the general assembly of the Central Association of German Crafts, he unexpectedly died of a heart attack in Hanover on November 4, 1954, shortly after turning 54.
It has been supposed that Richard Uhlemeyer took over Paul Dressler's 'Grootenburg factory operations at some point, but there is no documentation to prove such a connection.  This supposition may have come about due to the striking similarities between some of their work.  Both frequently used a crackled, Raku-like reduction glaze made famous by Dressler. The crackled finish is caused by a special 'reduction' cooling process in which the glaze and the underlying ceramic were allowed to cool at different rates causing fissures to form on the surface.  They both also used copper in many of these glazes, creating a green "verdigris" effect which has become a signature characteristic of both men's work. However, many German potters of that era also used very similar reduction glazes.
A note on identity:  Paul Dressler's work is most often confused with Richard Uhlemeyer's, which is also handmade and of high quality.  The confusion is usually caused by Uhlemeyer's use of the same copper reduction glaze on many of his pots. There are a few ways to tell them apart, although it is thought that there are existing exceptions to a couple of these methods that may still confuse without the presence of multiple clues.
Most Grootenburg pottery has an unglazed flat to slightly concave base with no ring stand. The typical mark is a castle with two towers inside a shield, but it's often difficult to read.  The clay used was typically red, but not always.
Uhlemeyer almost always put a ring stand on his pots and usually used white stoneware clay, but not always. His mark, if present, is an embossed outline of two crossed horse heads that are typically placed on the ring stand.  These clues should help to distinguish most of one artist's work from the other.
Details

Dimensions

5.5ʺW × 3.5ʺD × 6ʺH
Styles

Abstract
Mid-Century Modern
Minimalism

Period

1950s
Place of Origin

Germany
Item Type

Vintage, Antique or Pre-owned
Materials

Ceramic
Condition

Very Good Condition, Original Condition Unaltered, No Imperfections
Color

Turquoise
Condition Notes

Excellent Vintage Condition