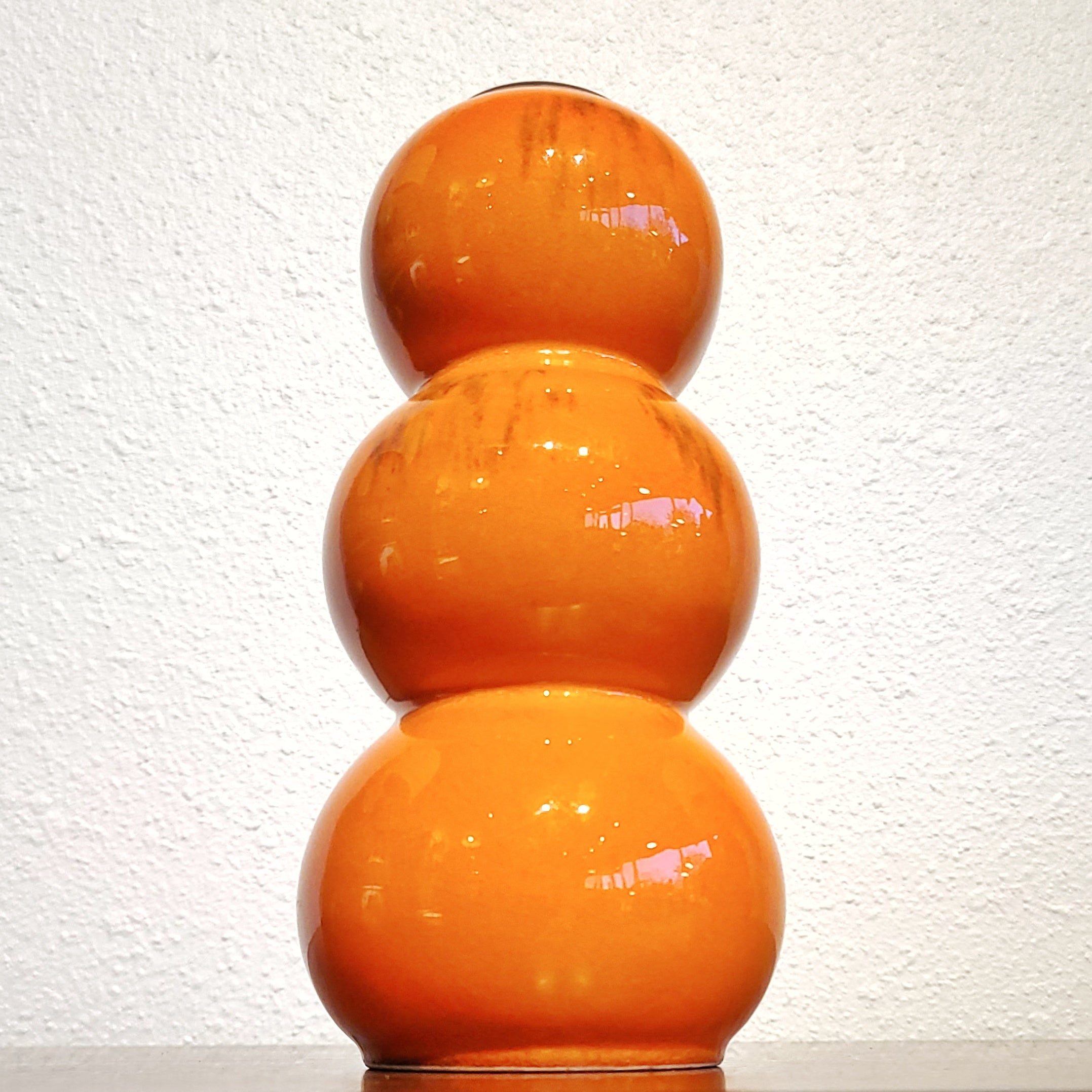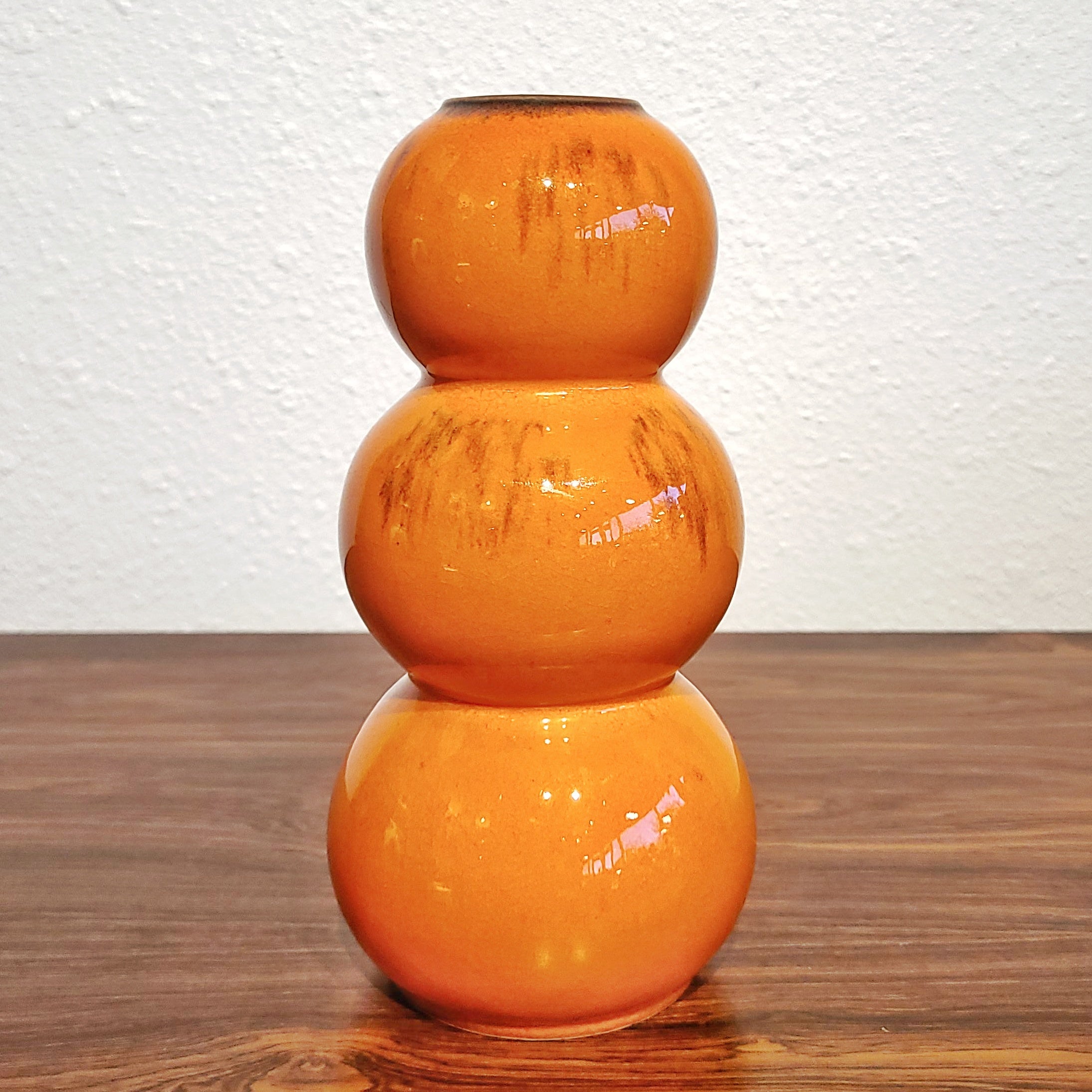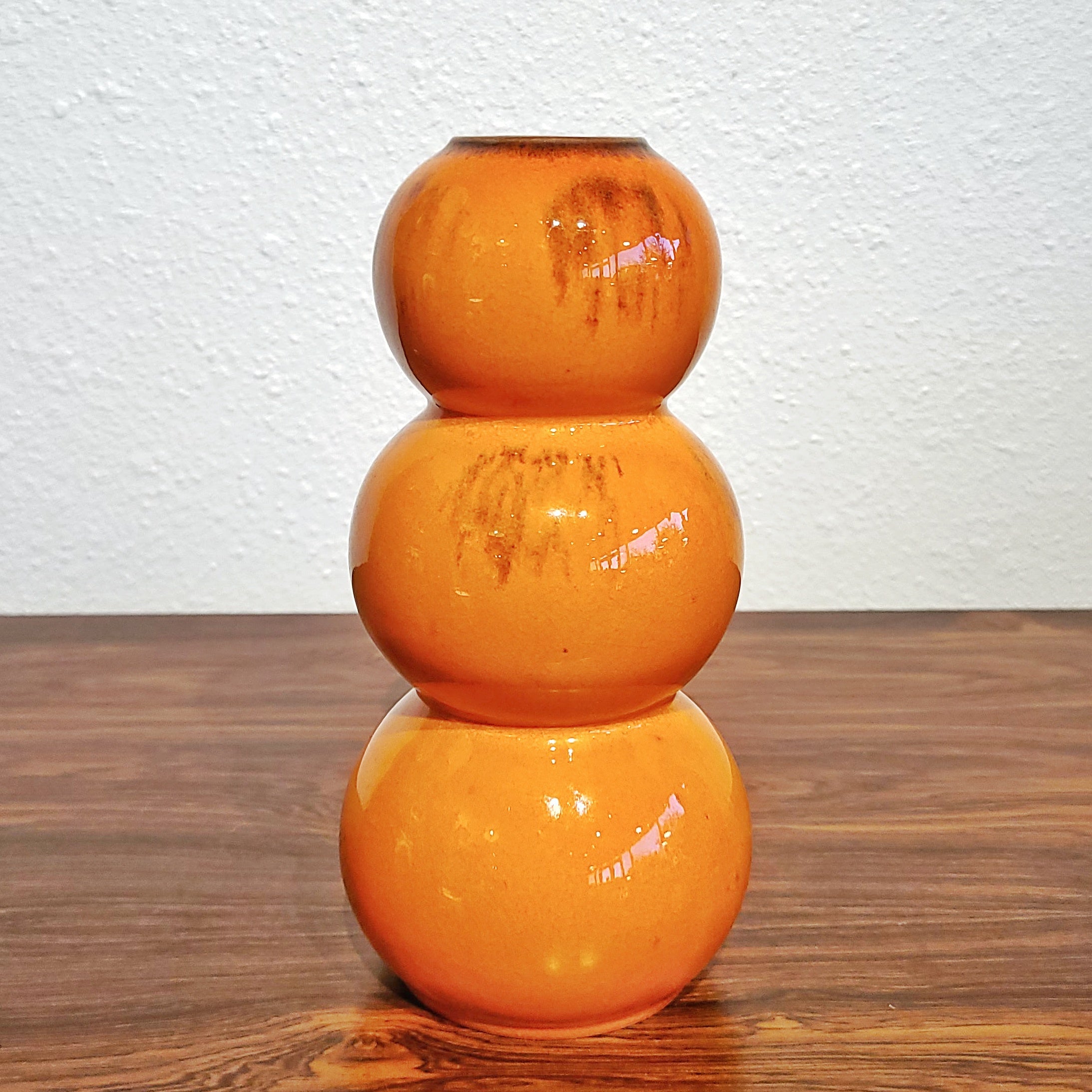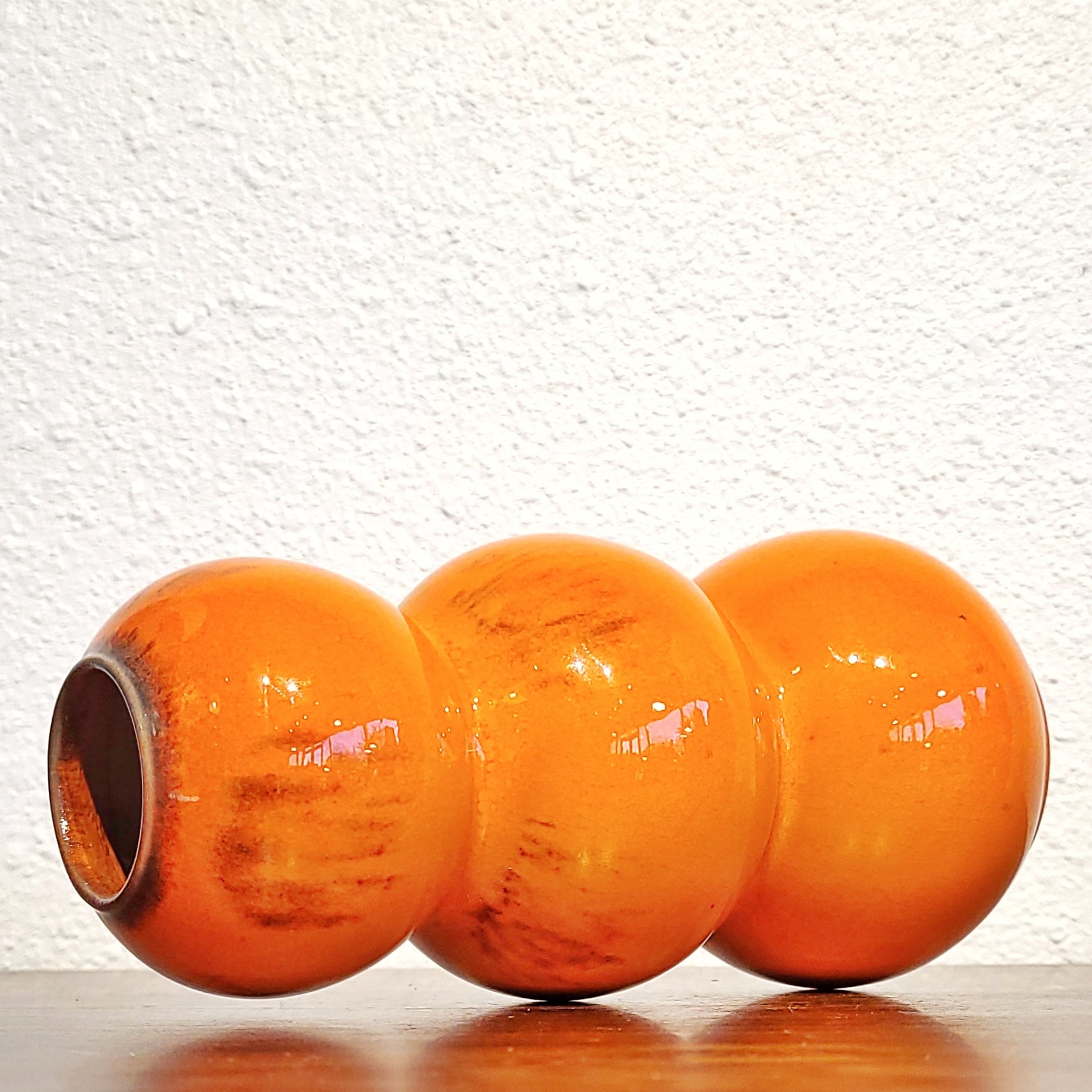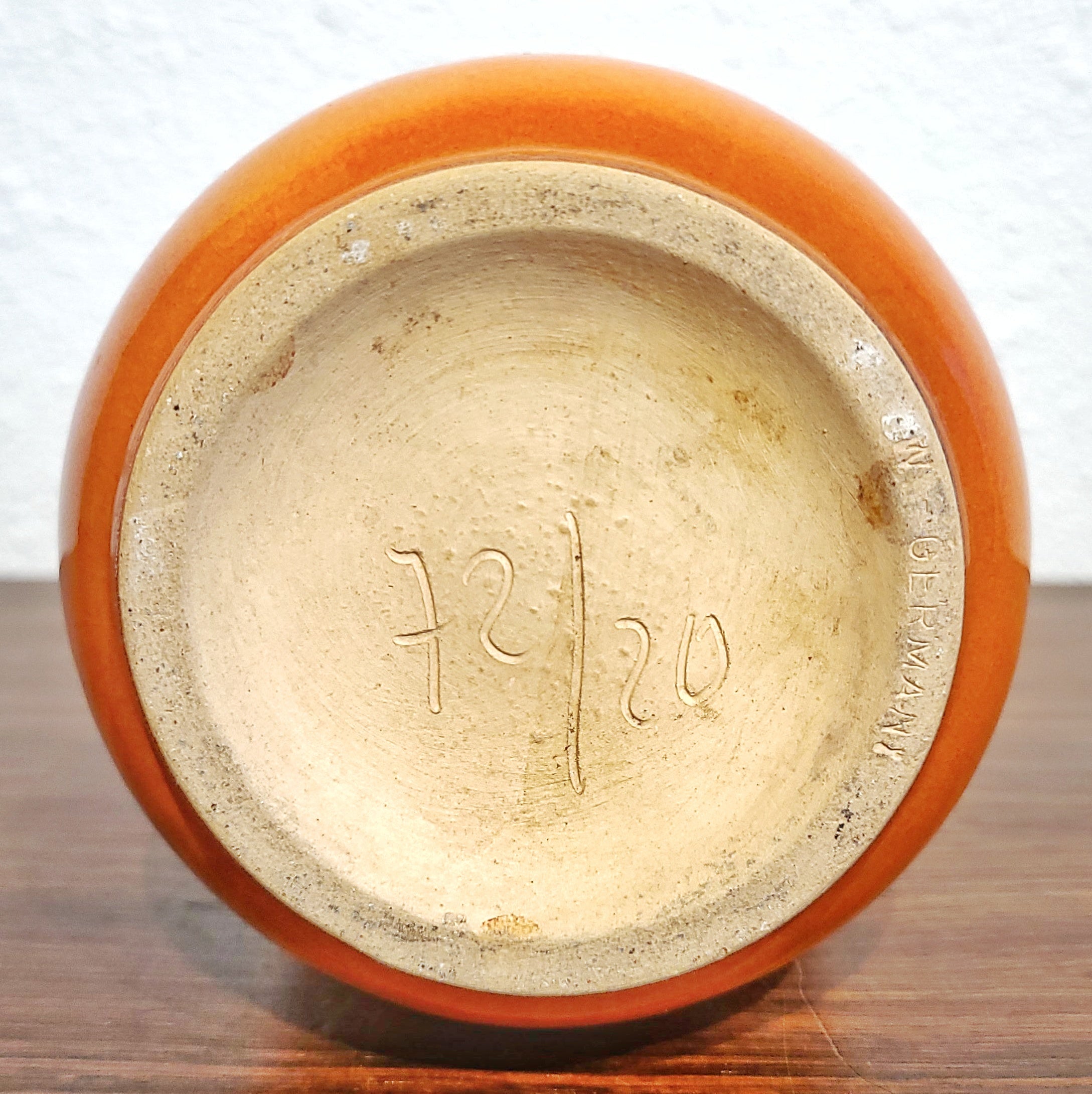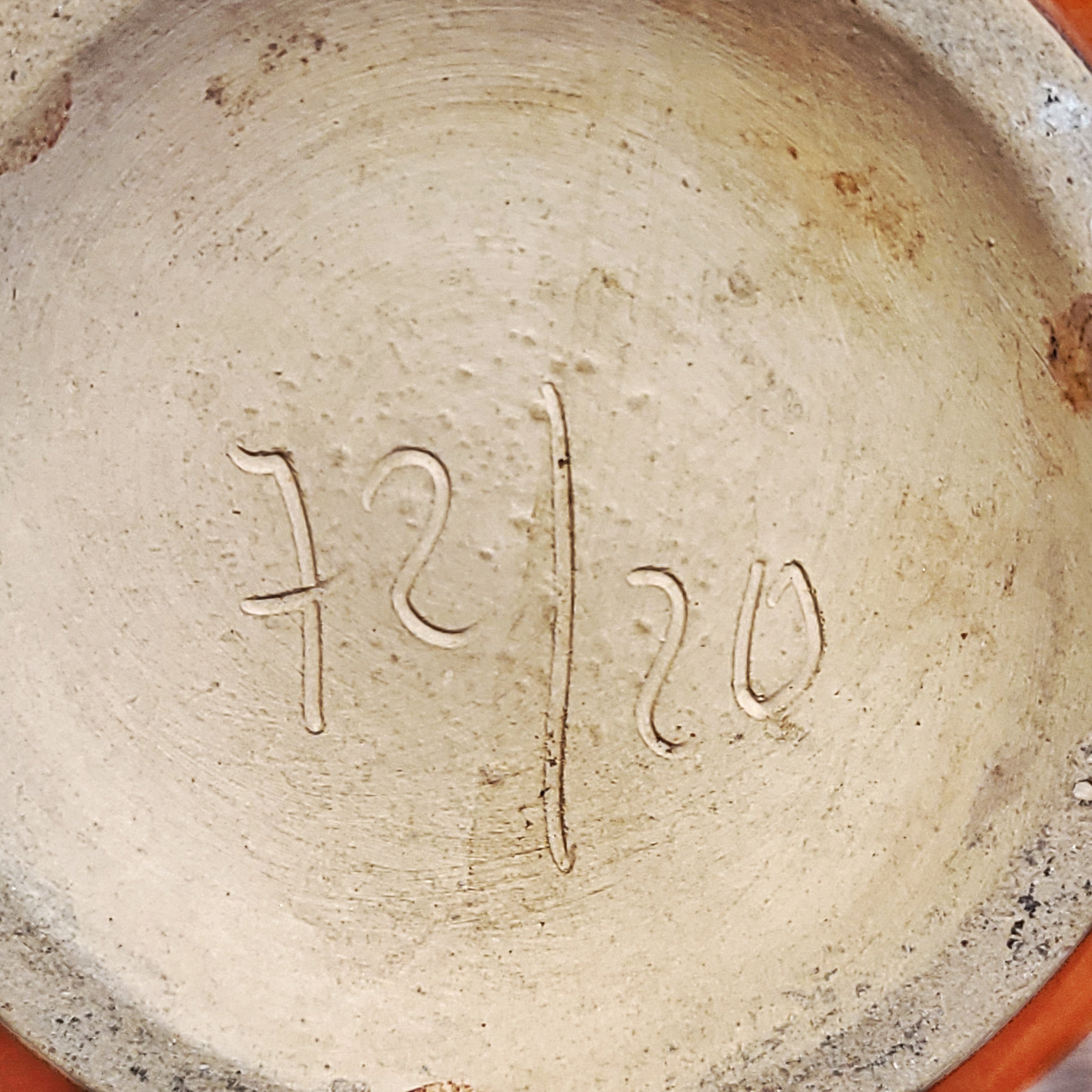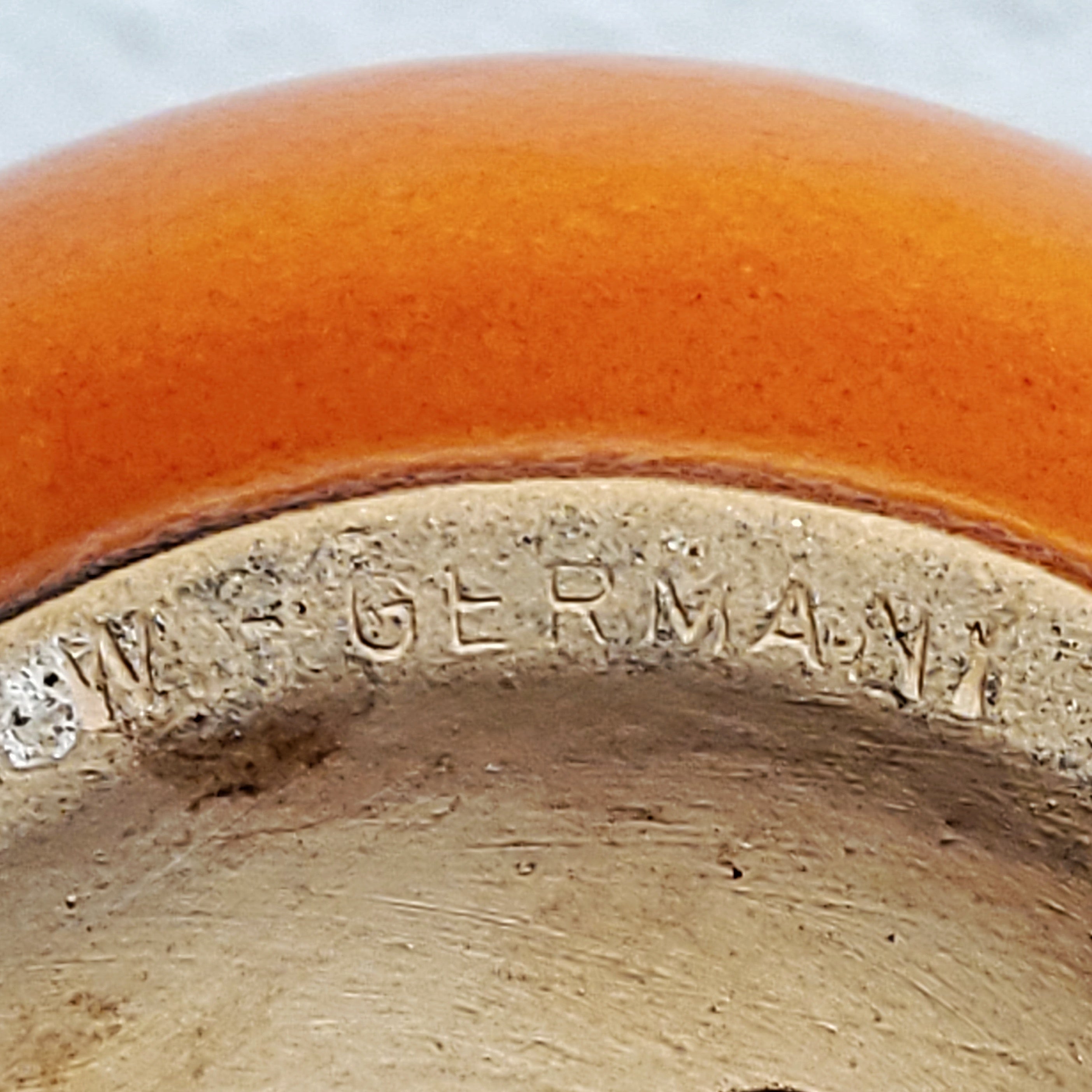 SUPER RARE SILBERDISTEL KERAMIK VASE Nr. 72/20
CONTACT US HERE ABOUT THIS ITEM.
A seldom seen stacked ball vase in a beautiful glossy orange glaze from Silberdistel Keramik.  Stamped 'W. GERMANY' on the foot ring and marked 72/20 by hand on the concave base.
SILBERDISTEL KERAMIK (1947-Present), which takes its name from a kind of silver thistle that grows in the Alps in Austria and Switzerland, was founded in 1947 by Johann and Grete Breu in Gevelsberg, and managed early on by the ceramicist Walter A. Heufelder (b.1926).  The company got a major boost in 1952 when they participated in a joint exhibition at the Hannover Fair with the Worms Terra Sigillata Manufaktur, and while the factory remained a small studio pottery business, even during the rapid expansion of the ceramics industry in Germany during the 1950s and 1960s, they had to hire a complement of 23 employees to handle the business by the mid 1950s.  Silberdistel made a very high quality artisanal line of vases, bowls, jugs and other ceramic objects and quickly became well known for the craftsman like manner in which their products were produced.  They also gained an excellent reputation due to their range of complex glazes. Several different colored glazes, the recipes of which were put together in time-consuming experiments, are fused one on top of the other and also with one another.  Artisans often spent months perfecting a glaze until it was deemed reliable and could be repeated with perfect quality in subsequent firings  The early items were offered under the name 'Craquelé-Fayencen' which, as the name implies, was a fine crackle glaze offered up until the middle of the following decade.  From 1957 they also  offered a number of hand painted decors, but they are probably best known for their stunning range of volcanic and thick lava glazes produced starting in the 1960s
In 2005 the brand was taken over by Carstens and has since been manufactured in Rheinsberg near Berlin.
Identification:  Silberdistel used only a light white clay in the production of their items, and almost never marked them with the typical 'W Germany' or 'Germany' as most other companies did.  Any markings usually comprise just the form number and size scratched by hand into the clay, and occasionally an impressed 'Silberdistel' stamp added to the base.  Very rarely a stamp reading 'WEST GERMANY' was added, but this is by far the exception, not the rule.  Often items had (and still many are found today) with small green felt circles attached to the base.
| | |
| --- | --- |
| Manufacturer | SILBERDISTEL KERAMIK |
| Design Period | 1960 to 1969 |
| Production Period | 1960 to 1969 |
| Country of Manufacture | Germany |
| Identifying Marks | This piece has been attributed based on archival documentation, such as vintage catalogs, designer records, or other literature sources |
| Style | Vintage, Mid-Century, Hand-Crafted, Minimalist, Modernist |
| Detailed Condition | Excellent — This vintage piece is in near original condition. It may show minimal traces of use and/or have slight restorations. |
| Product Code | |
| Materials | Ceramic |
| Color | Orange |
| Width | 4.0 inch |
| Depth | 4.0 inch |
| Height | 8.3 inch |