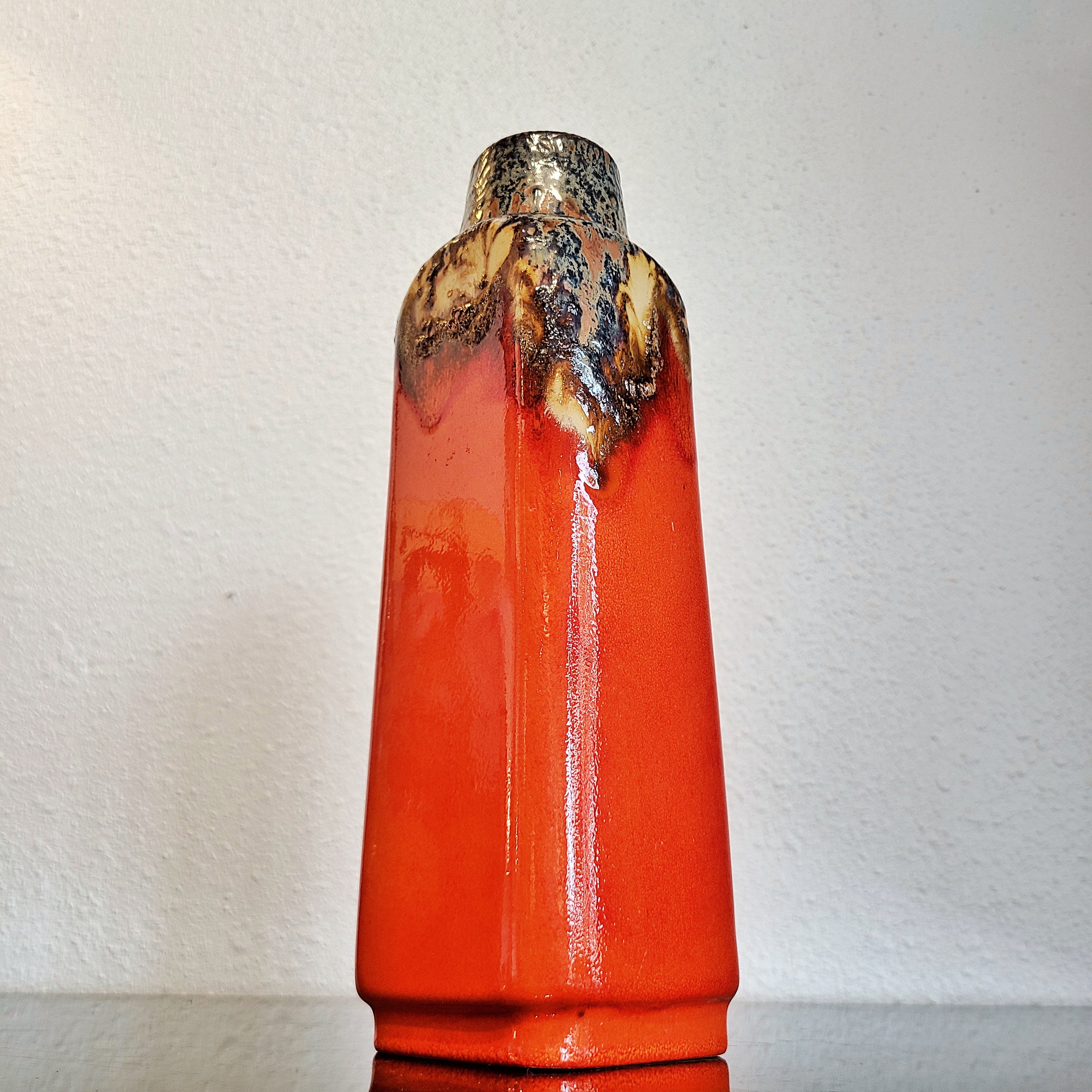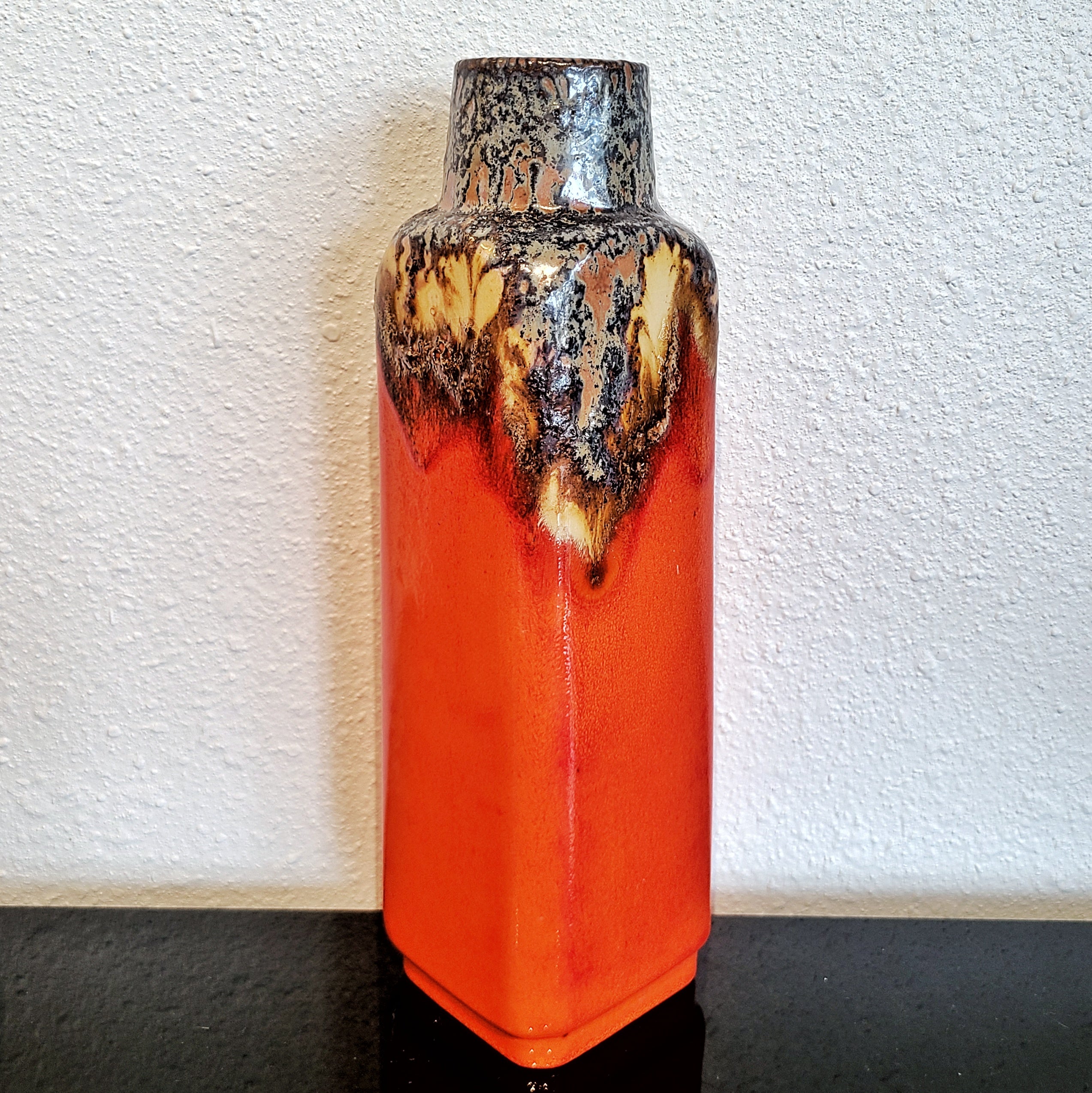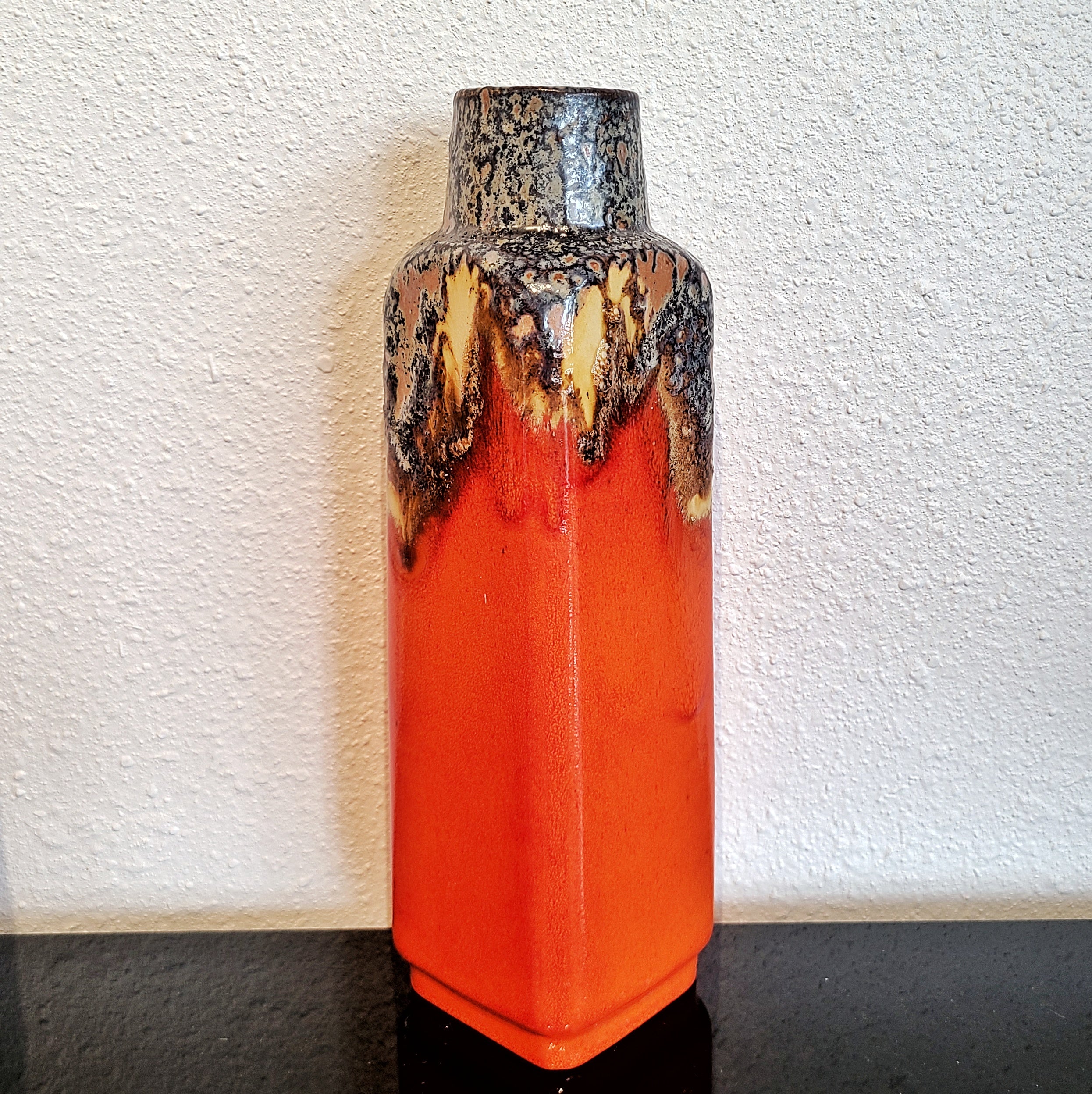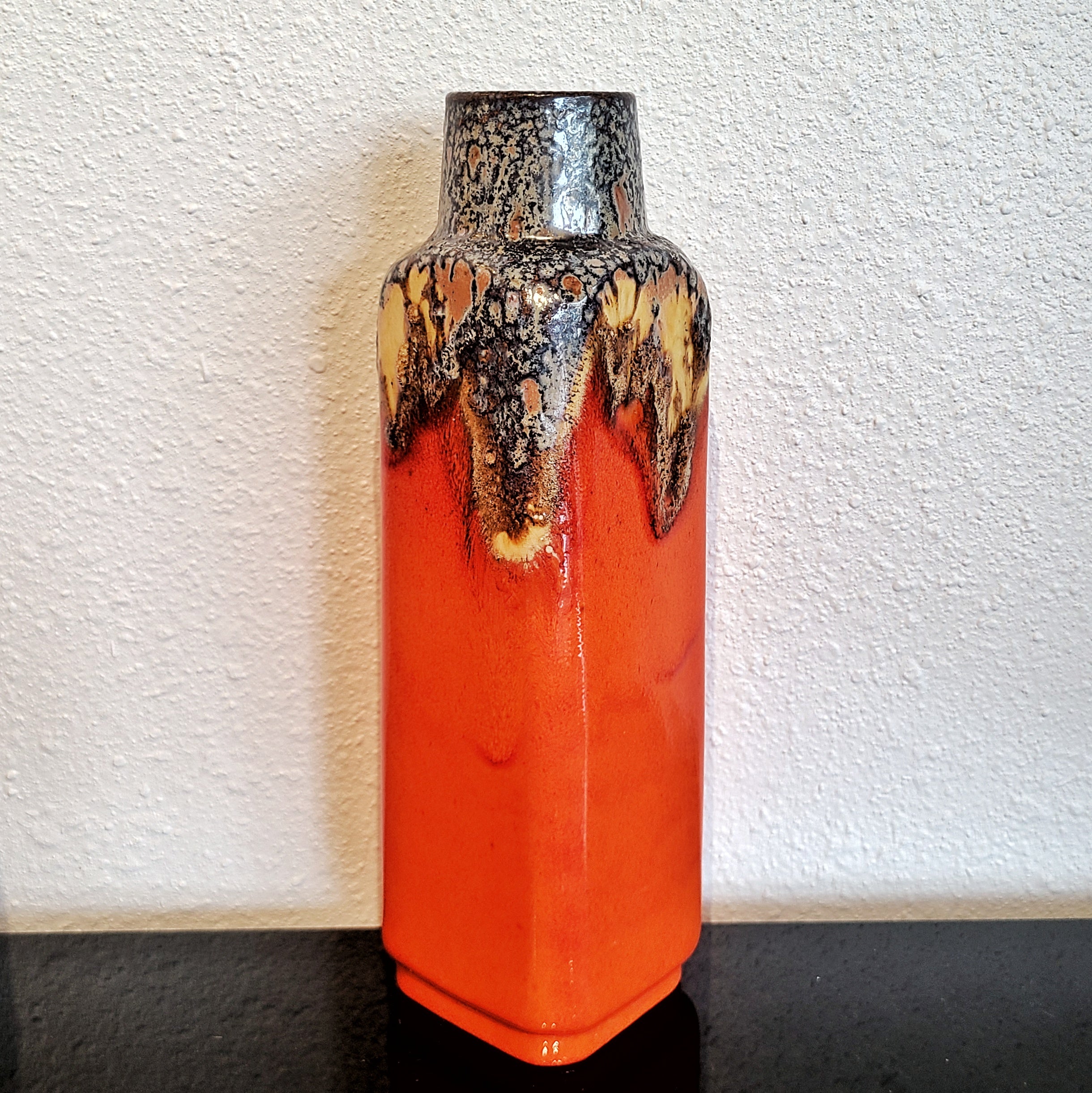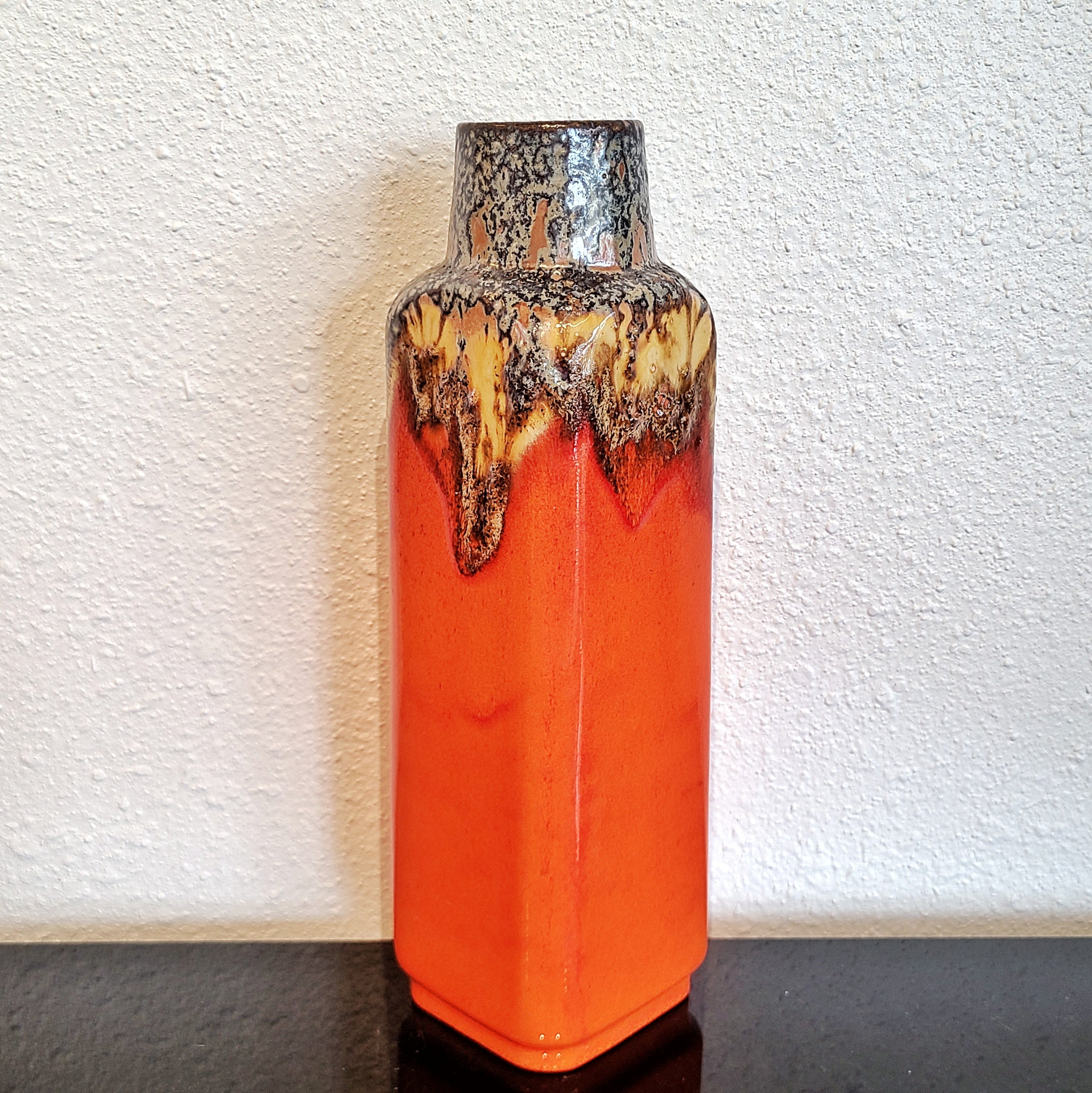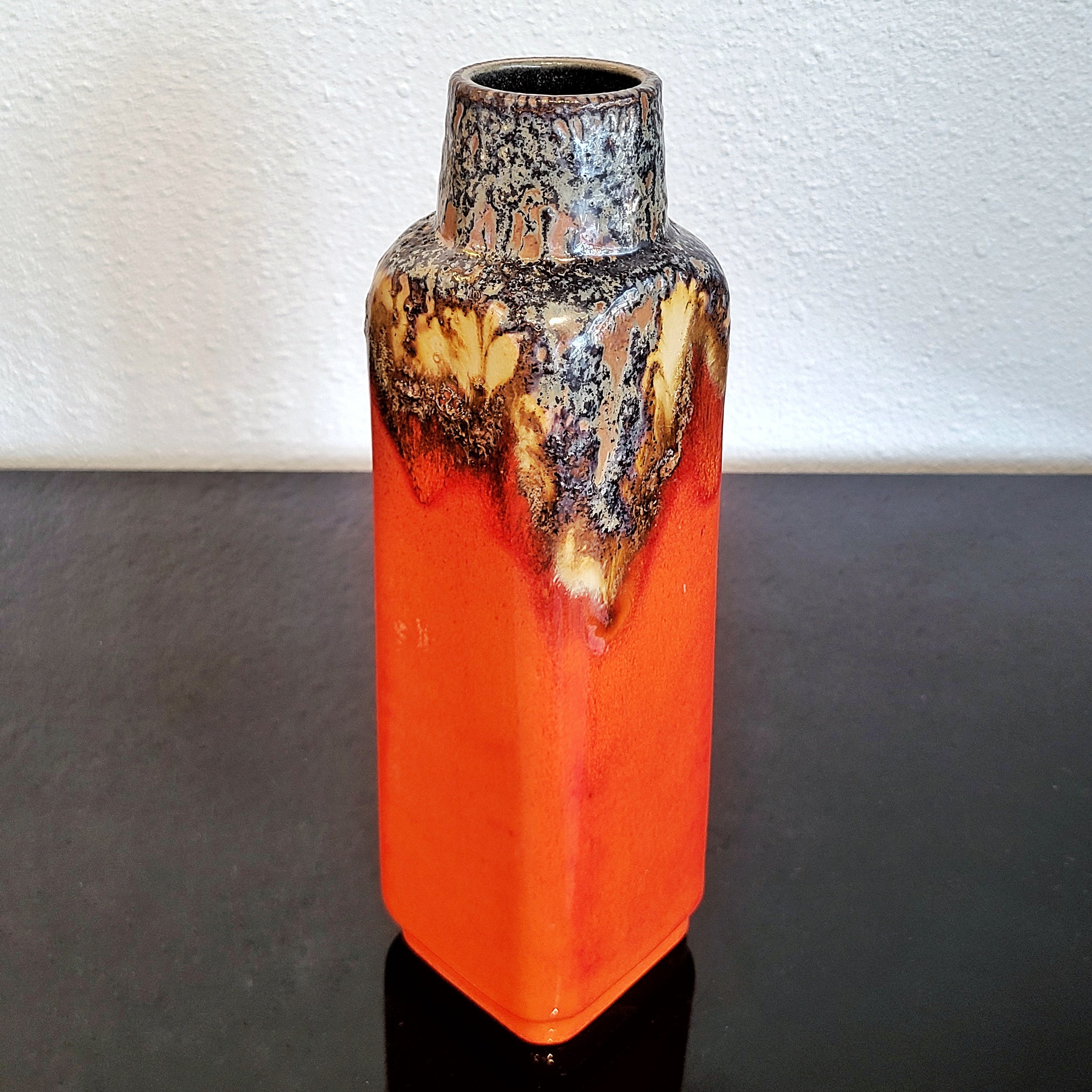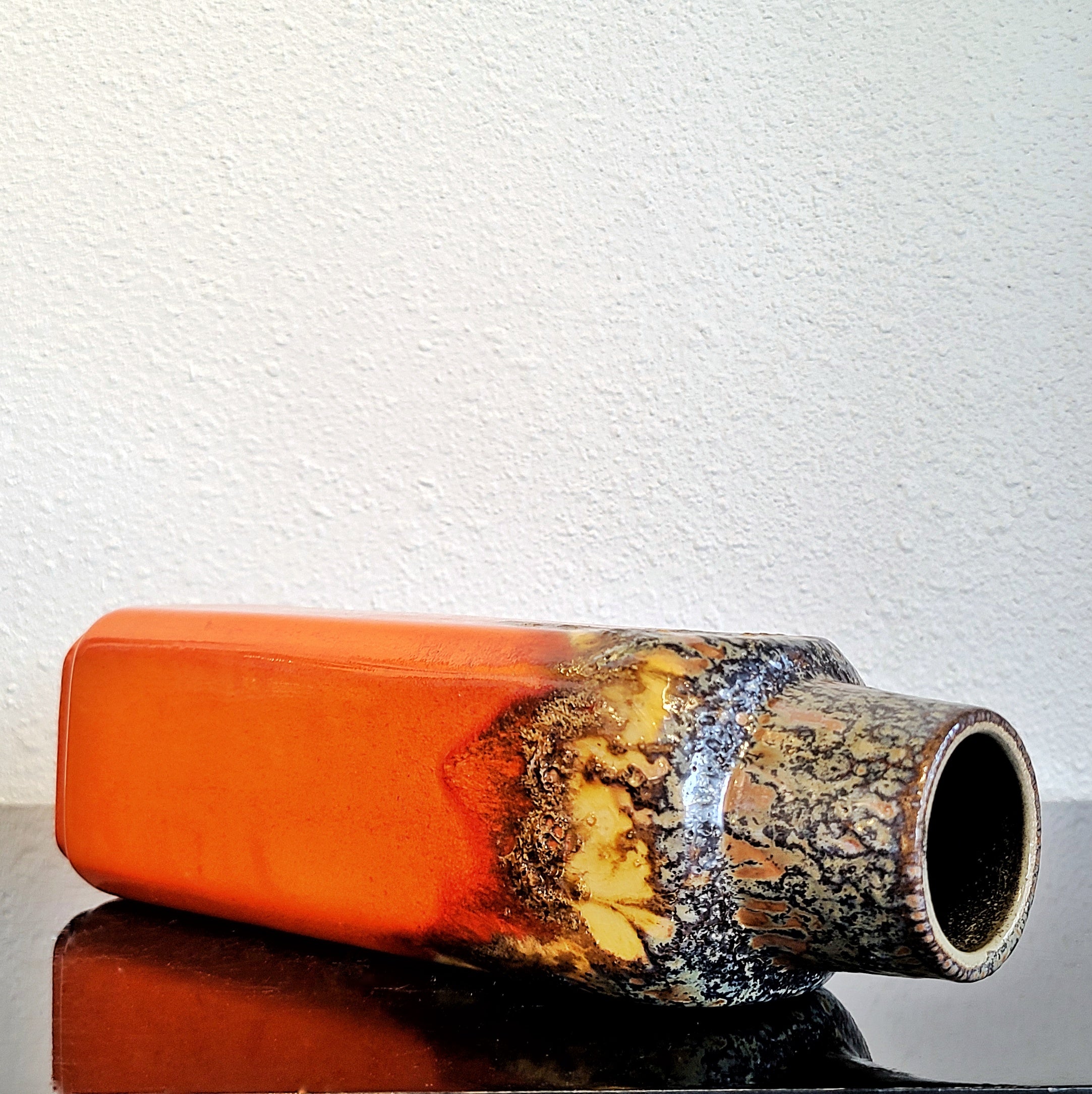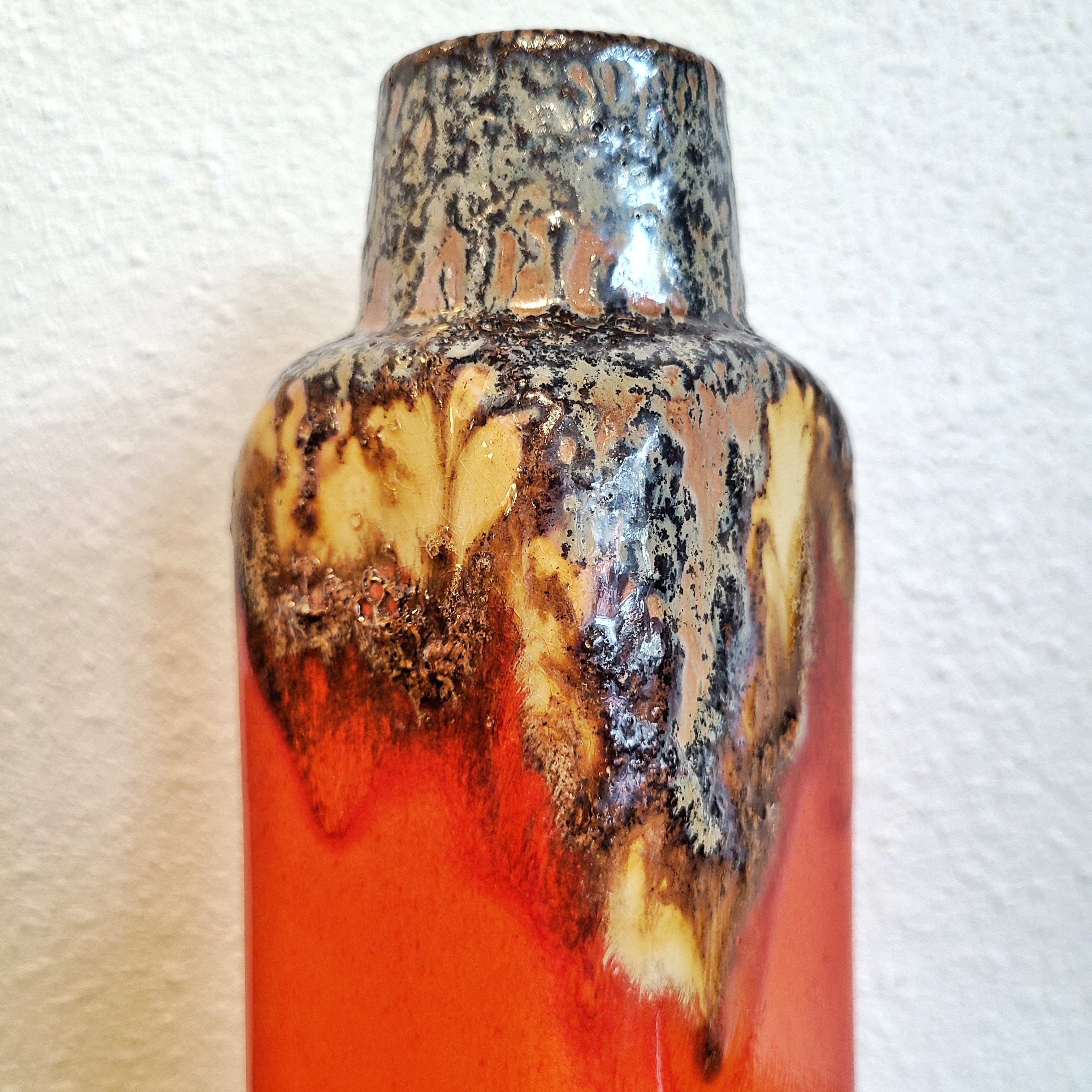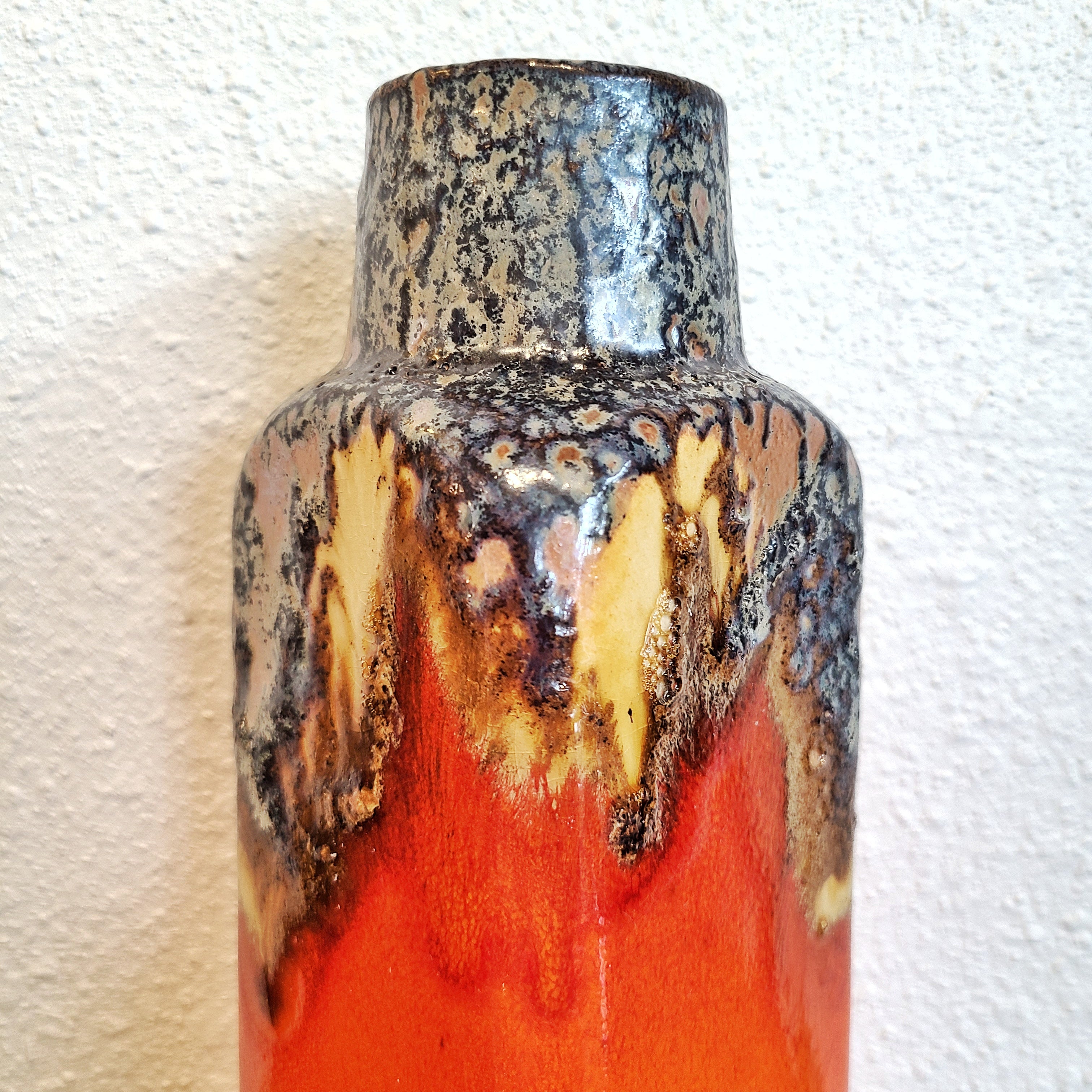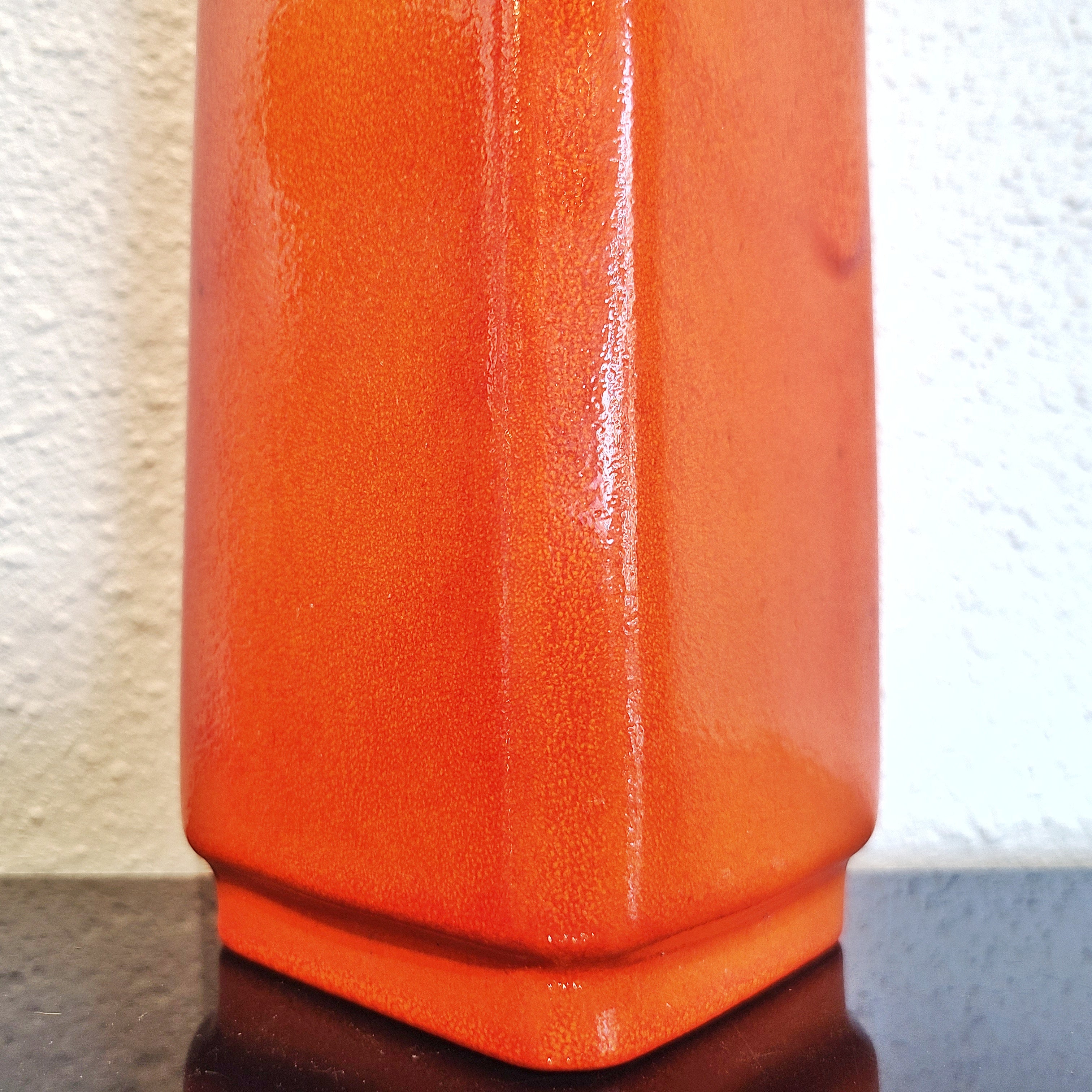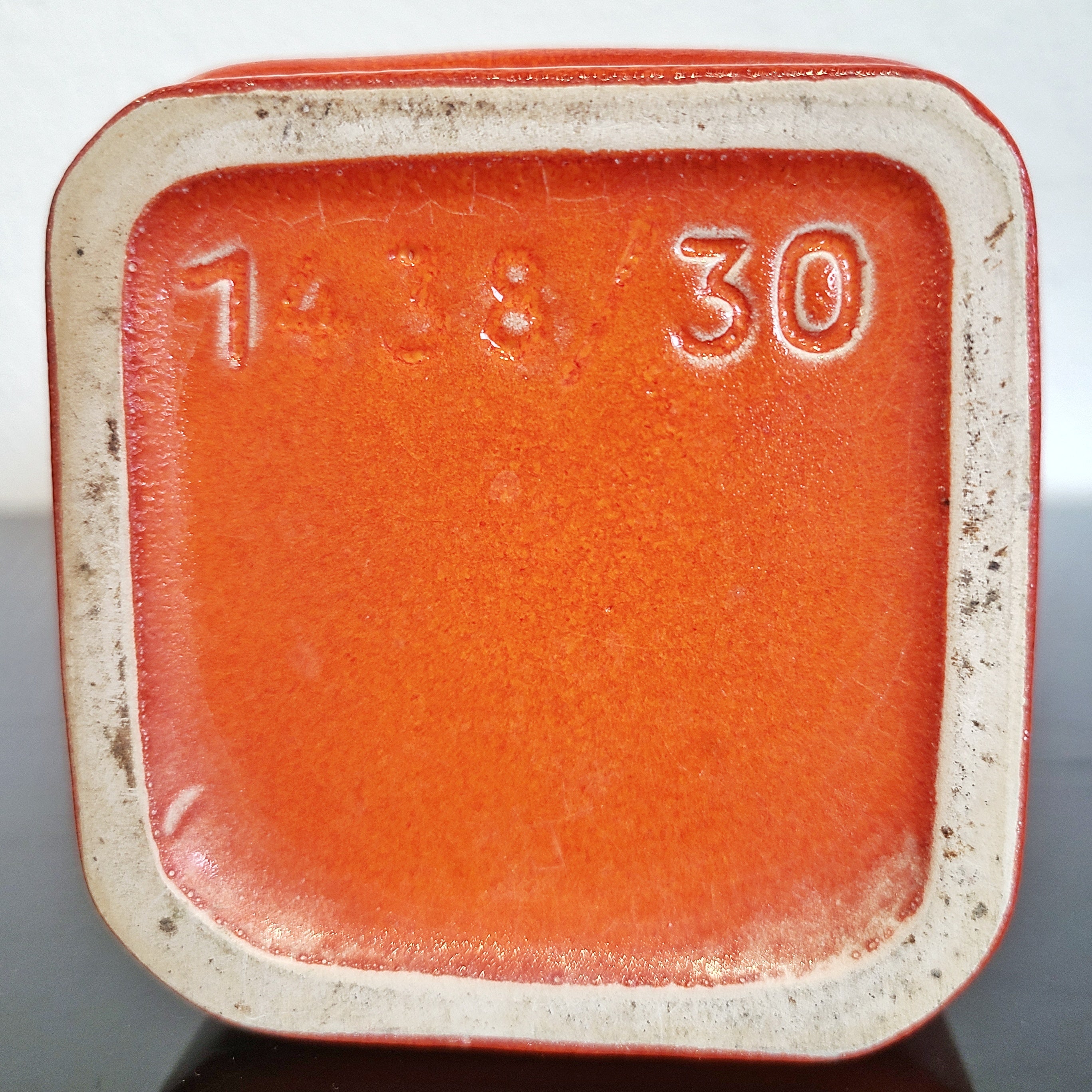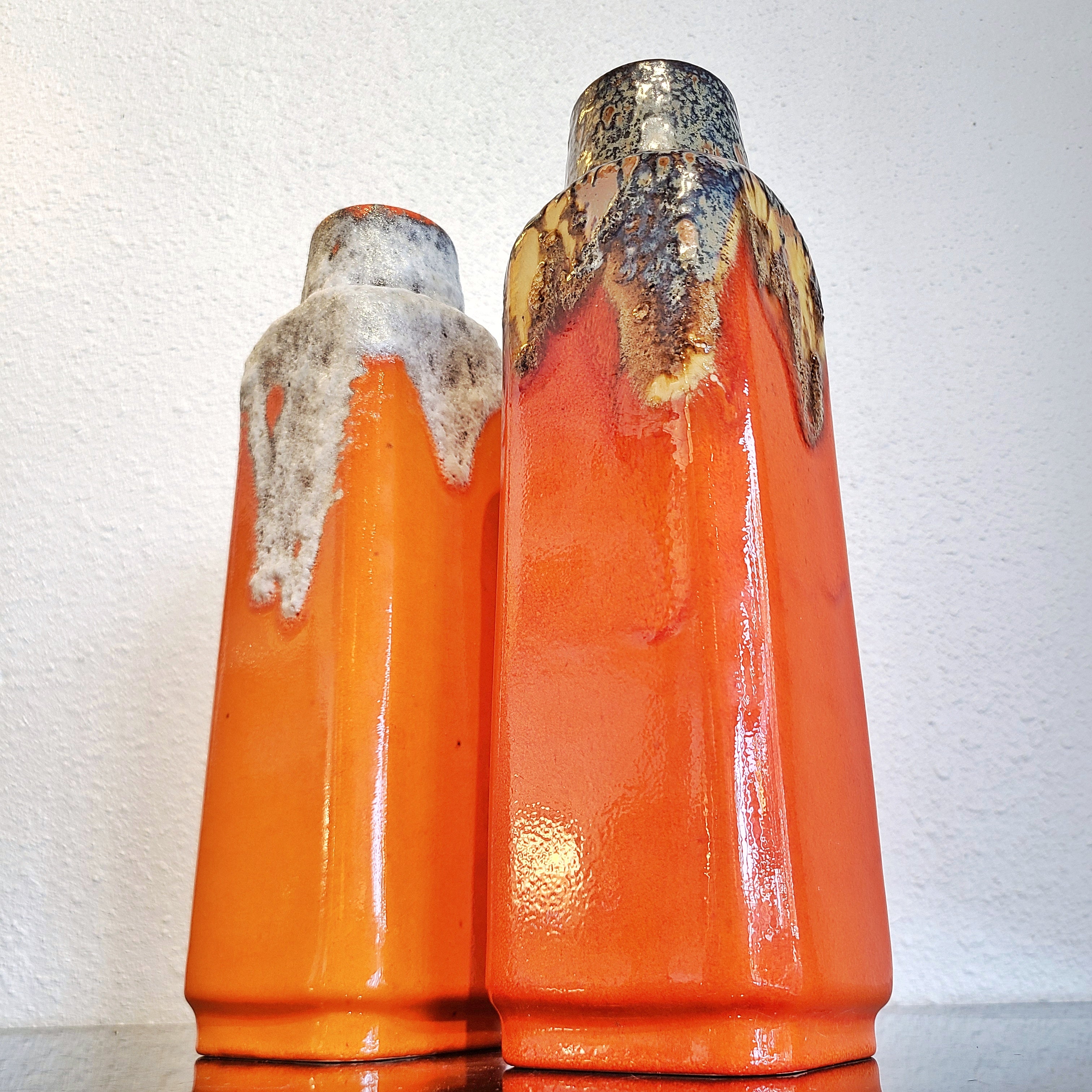 TALL PERSIMMON-ORANGE Ü-KERAMIK FAT LAVA VASE Nr. 1438/30
CONTACT US HERE ABOUT THIS ITEM.
A tall, rectangular, persimmon-orange vase from Ü-Keramik that transitions at the shoulder to a round neck and mouth covered with a thick and bubbly, metallic fat-lava drip glaze with shades of butterscotch and gunmetal.
---
Ü-KERAMIK (aka ÜBELACKER) began as a tin foundry in 1909 in the small town of Ransbach-Baumbach in the southwest German state of Rhineland-Palatinate. Master tinsmith Johann Übelacker initially produced simple pewterware, but he was soon experimenting with pieces that incorporated stoneware elements—in the manner of the common beer stein. The popularity of these led to Ü-KERAMIK's expansion into, first, the manufacture of terracotta and fine earthenware goods and, in the 1930s, the production of glazed ceramics.
At some point following WWII, Ü-KERAMIK began collaborating with Siershahner Feinsteinzeugfabrik, a maker of "klinker" pottery in nearby Siershahn, and by 1949 it had taken over that company's operations. Combined the two factories employed more than 550 people. They were well positioned to help supply war-weary Europe with the domestic trappings of a brighter, more prosperous future.
Übelacker was an early adopter of his industry's technical innovations. To cite one late example, working with Ü-KERAMIK's resident chemist and artistic director Heinz Hommerich in 1954, he pioneered the mass-scale production of objects glazed in selenium red. The newly-formulated fiery finish gave Ü-KERAMIK an enormous upper-hand in the marketplace. Sadly it would be the last advance Übelacker would introduce personally as he died the next year in 1955.
The business was left in the hands of his three sons, who had learned the trade from childhood. By then Ü-KERAMIK was one of the largest producers in the region. Its impressive range of products included all kinds of ceramic forms, both utilitarian and ornamental. The 1958 catalogue featured 25 different models of vases (not counting wall vases and pitchers) available in 66 sizes and 15 designs. A relatively large portion of Ü-KERAMIK's output was exported to Austria and Scandinavia.
In 1960 Johann's sons were enticed by government incentives to co-establish Kilrush, a ceramics factory on Ireland's west coast. Unfortunately, the concern failed after only two years. (It was eventually acquired by Rosenthal in 1973.) A second Irish factory was built in the 1980s to better service Scandinavian markets—where Ü-KERAMIK products remained extremely popular, even as German interest in decorative ceramics waned. However this second time proved no charm. The venture was a financial debacle and left the three brothers struggling with debt; the factory in Siershahn had to shutter as a result. Finally the main plant in Ransbach filed for bankruptcy in 1990.
A note on identification: Ü-KERAMIK pieces were generally made of white or off-white clay and were usually marked on the bottom with only a form number and height. Foil stickers with the company logo were frequently used; occasionally the logo can be found impressed on the base. Consisting of a circled u-umlaut (ü), the logo bears a striking resemblance to a smiley face!
---
DETAILS
Maker – Ü-KERAMIK
Production Period/Year – 1970s
Origin – WEST GERMANY
Styles/Movements – ABSTRACT; MID-CENTURY MODERN
Materials – CERAMIC
Colors – PERSIMMON ORANGE, DARK GRAY, GOLDENROD
Condition – Excellent vintage condition. May show some signs of age and previous use.
Dimensions – 3 ½" W × 3 ½" D × 11 ¾" H