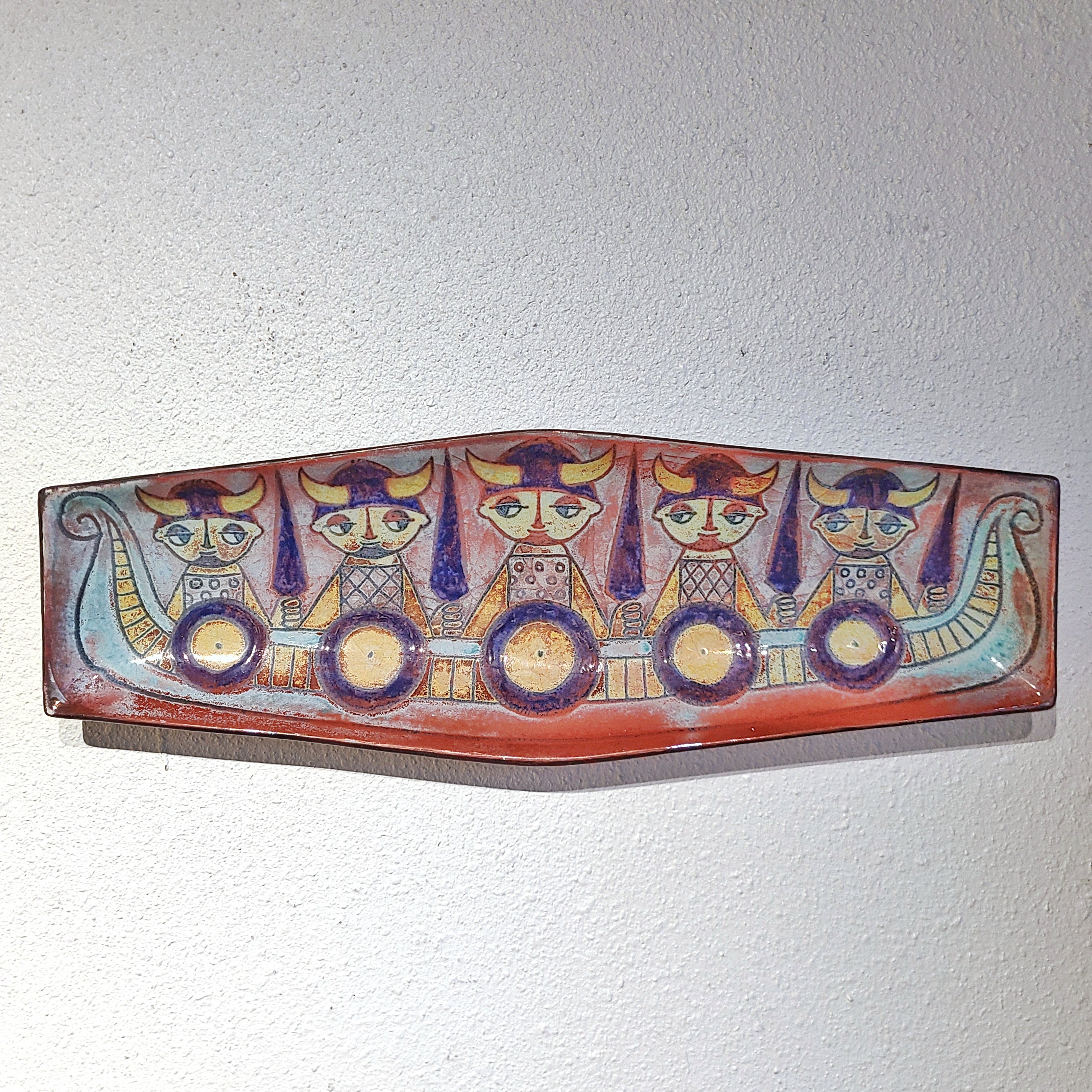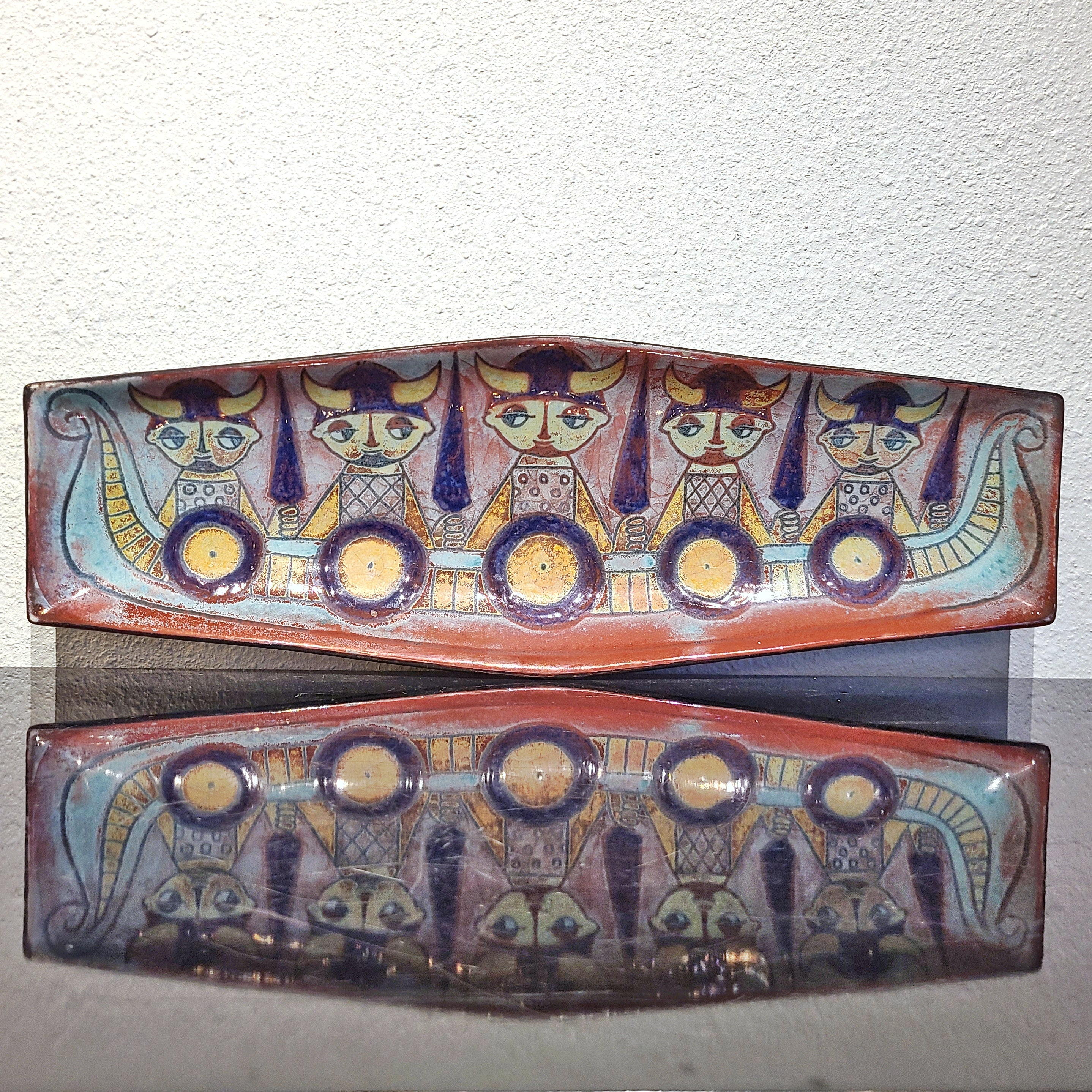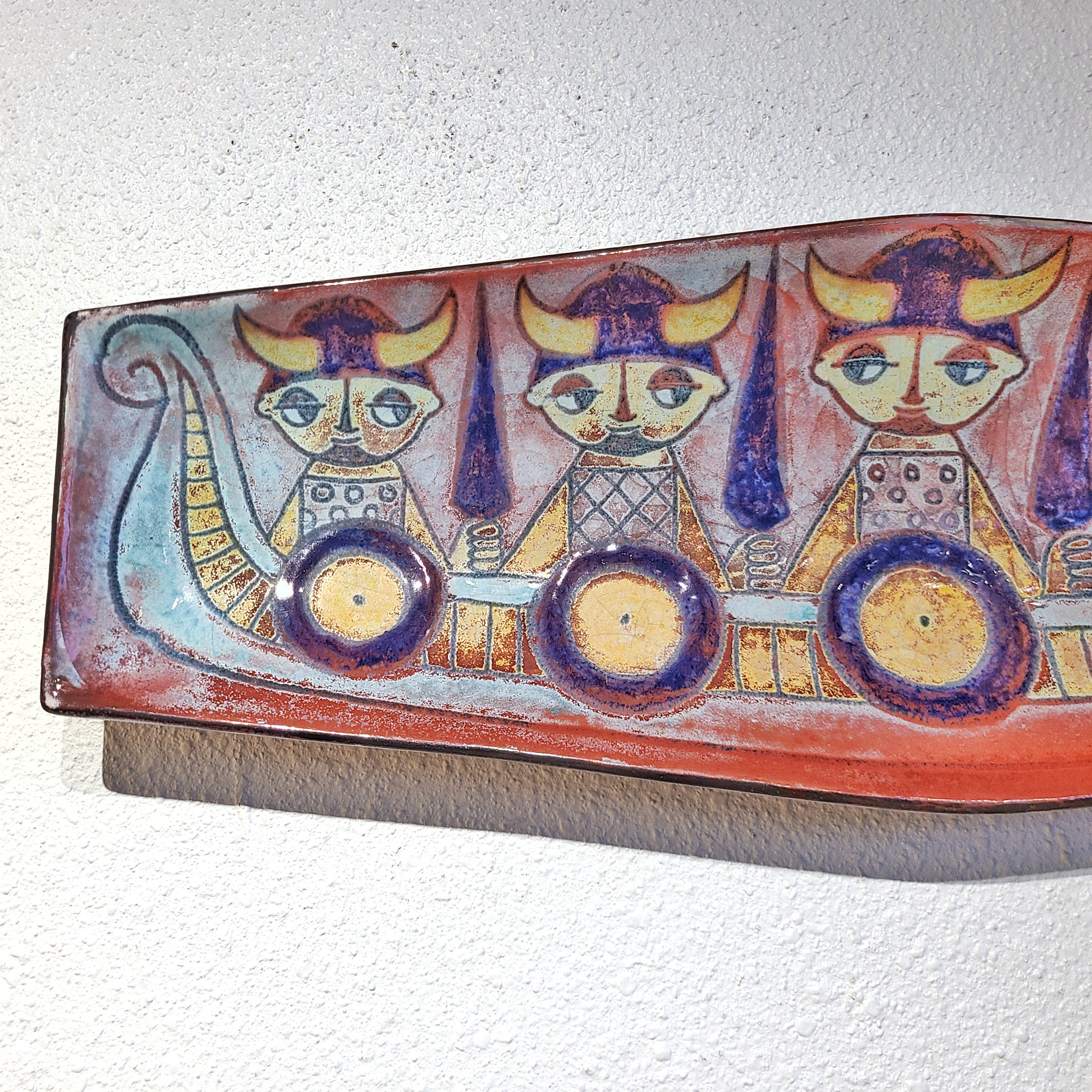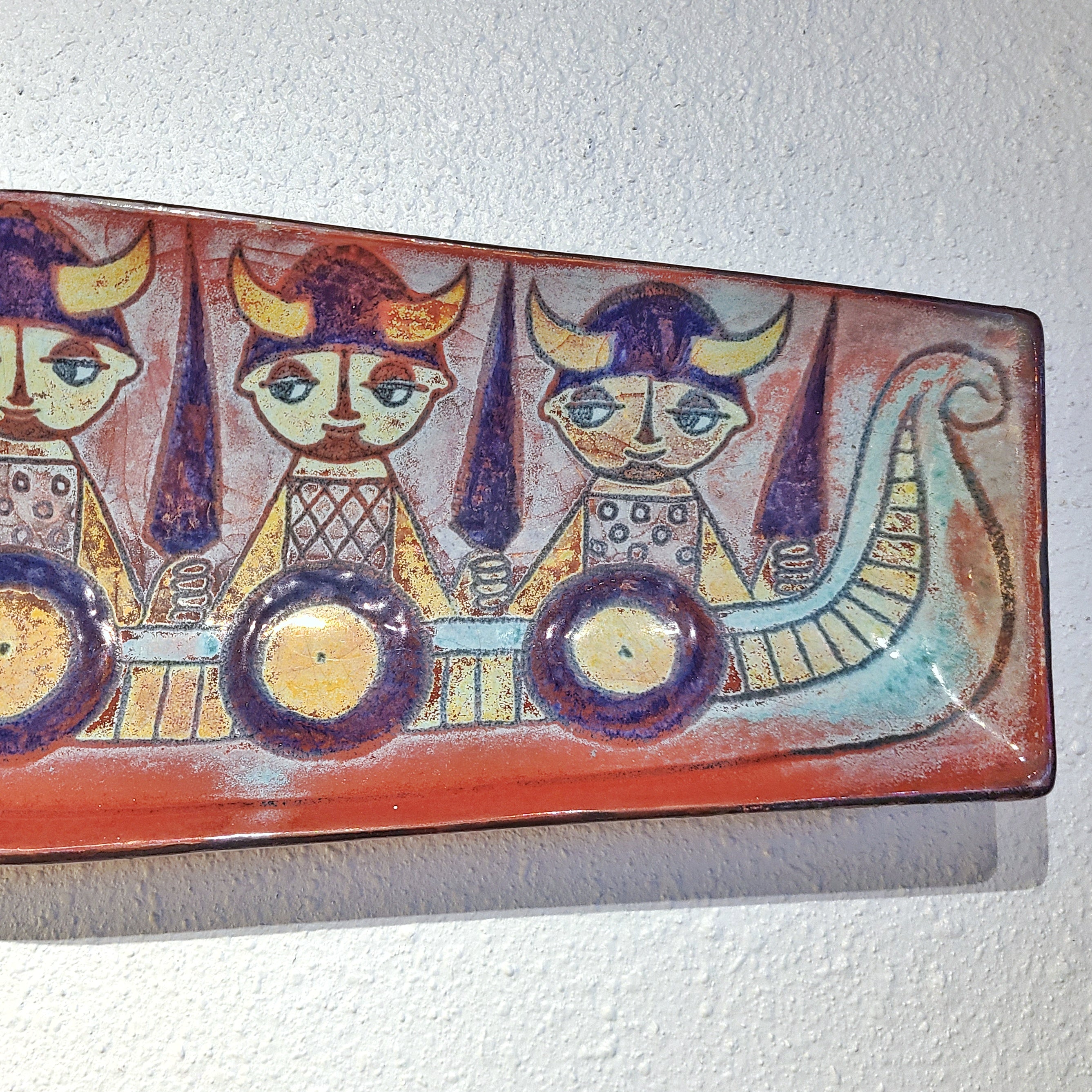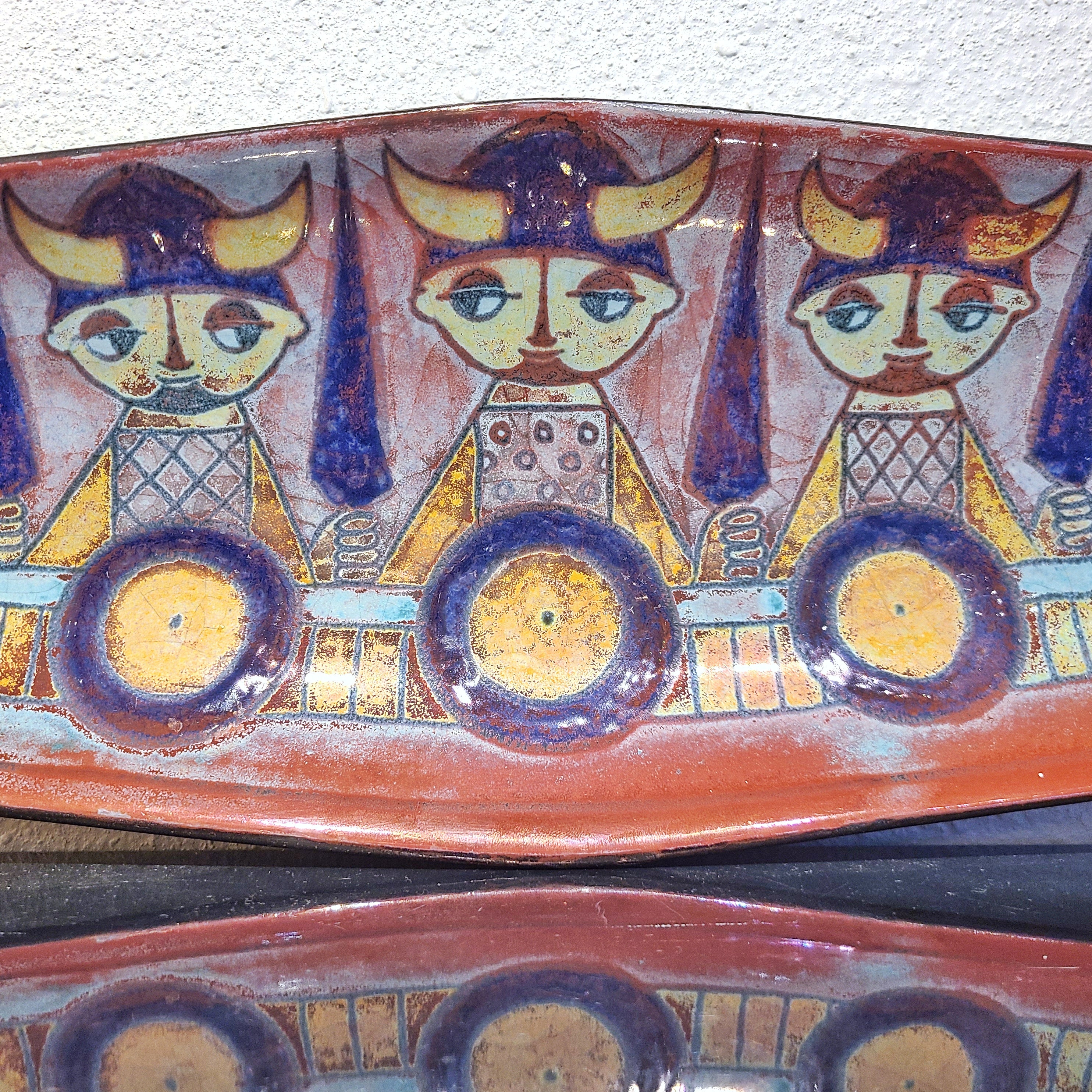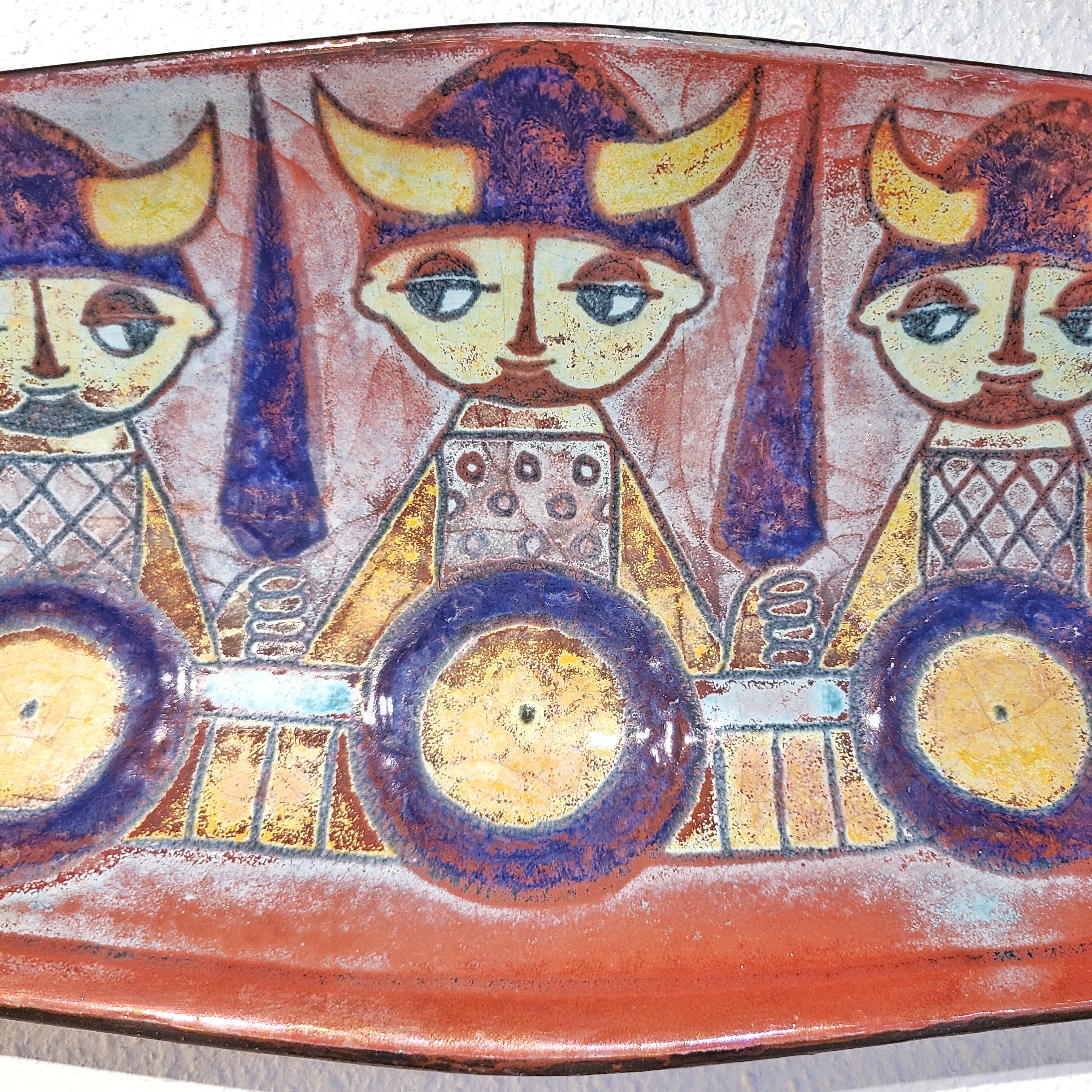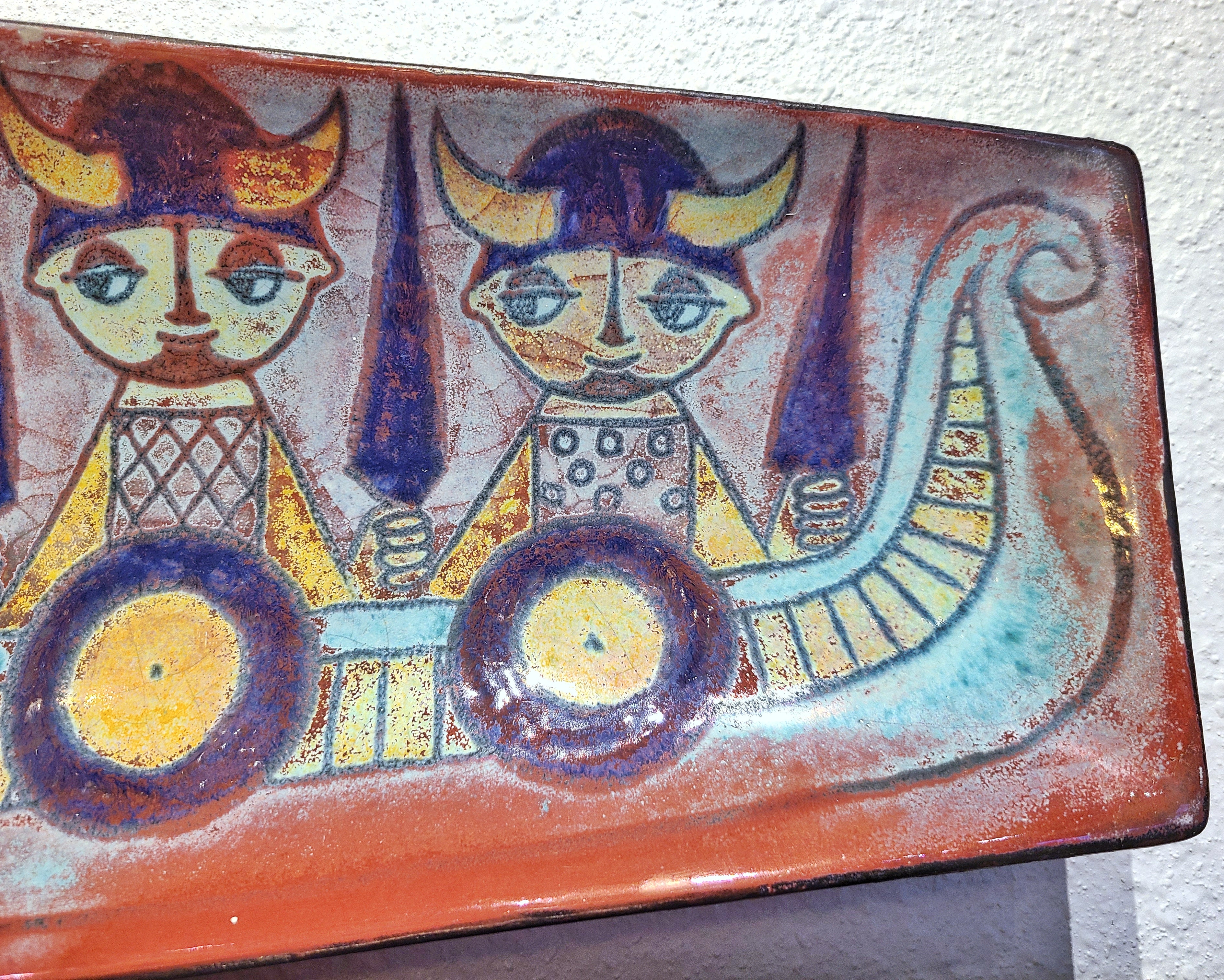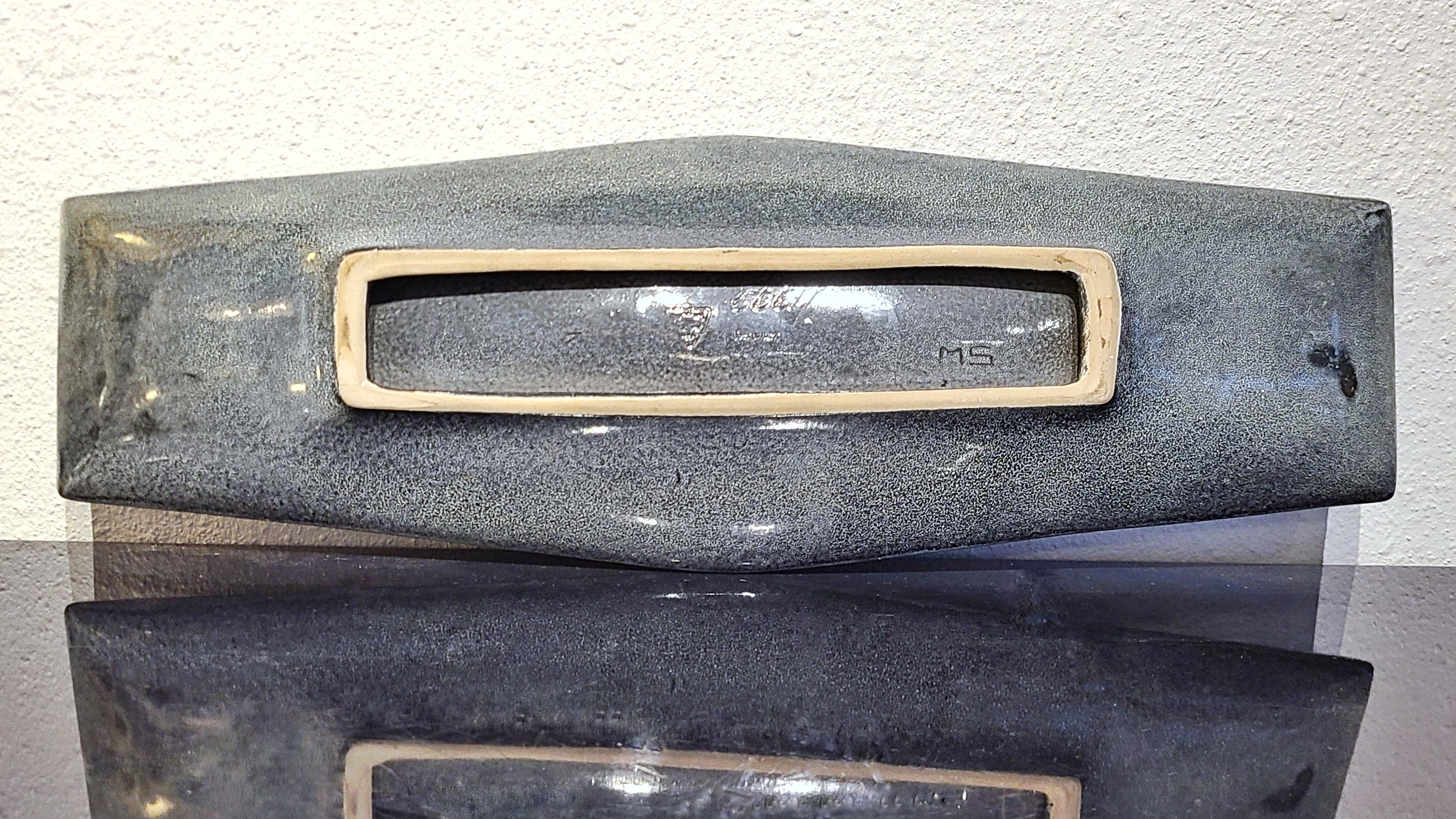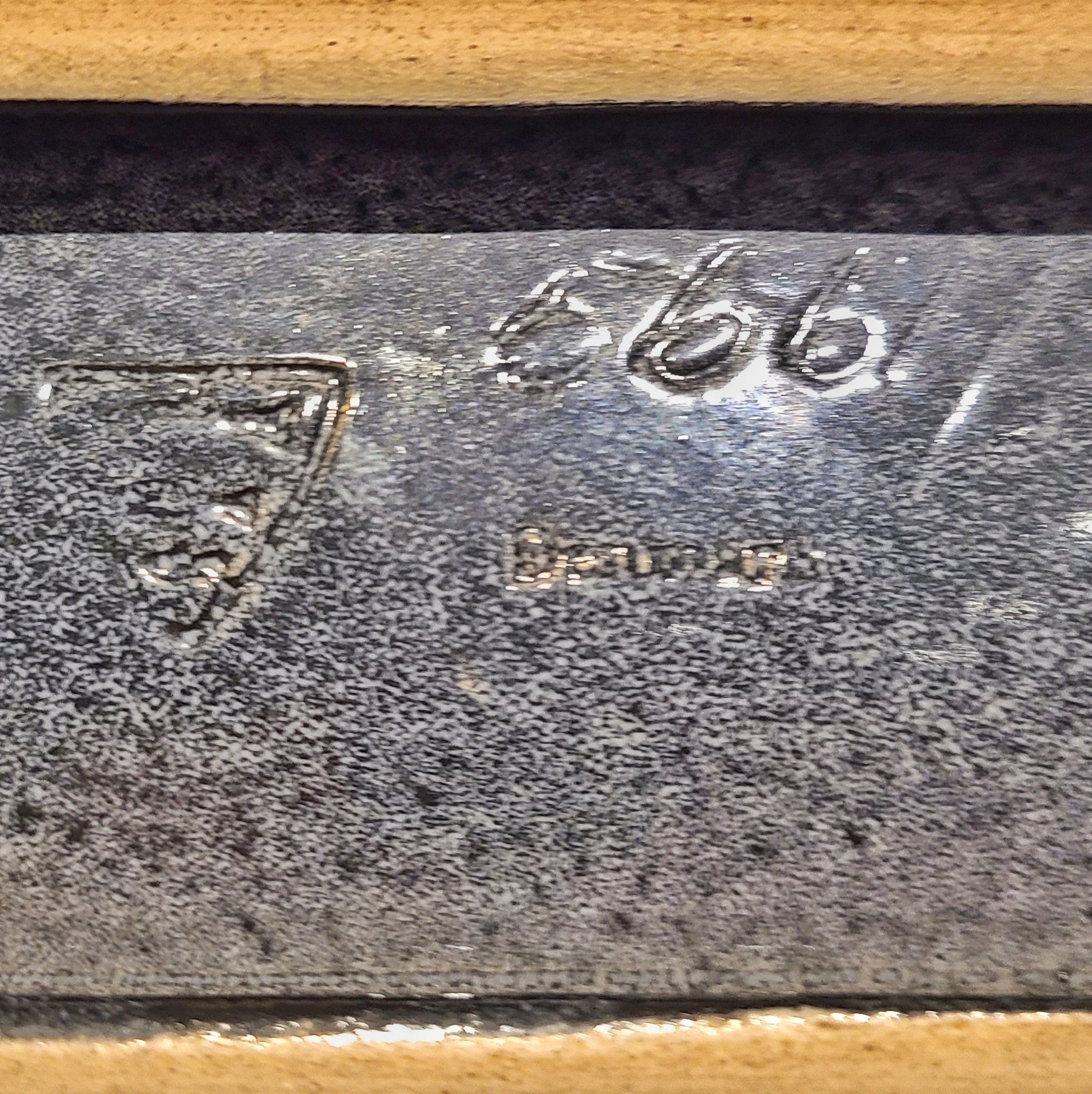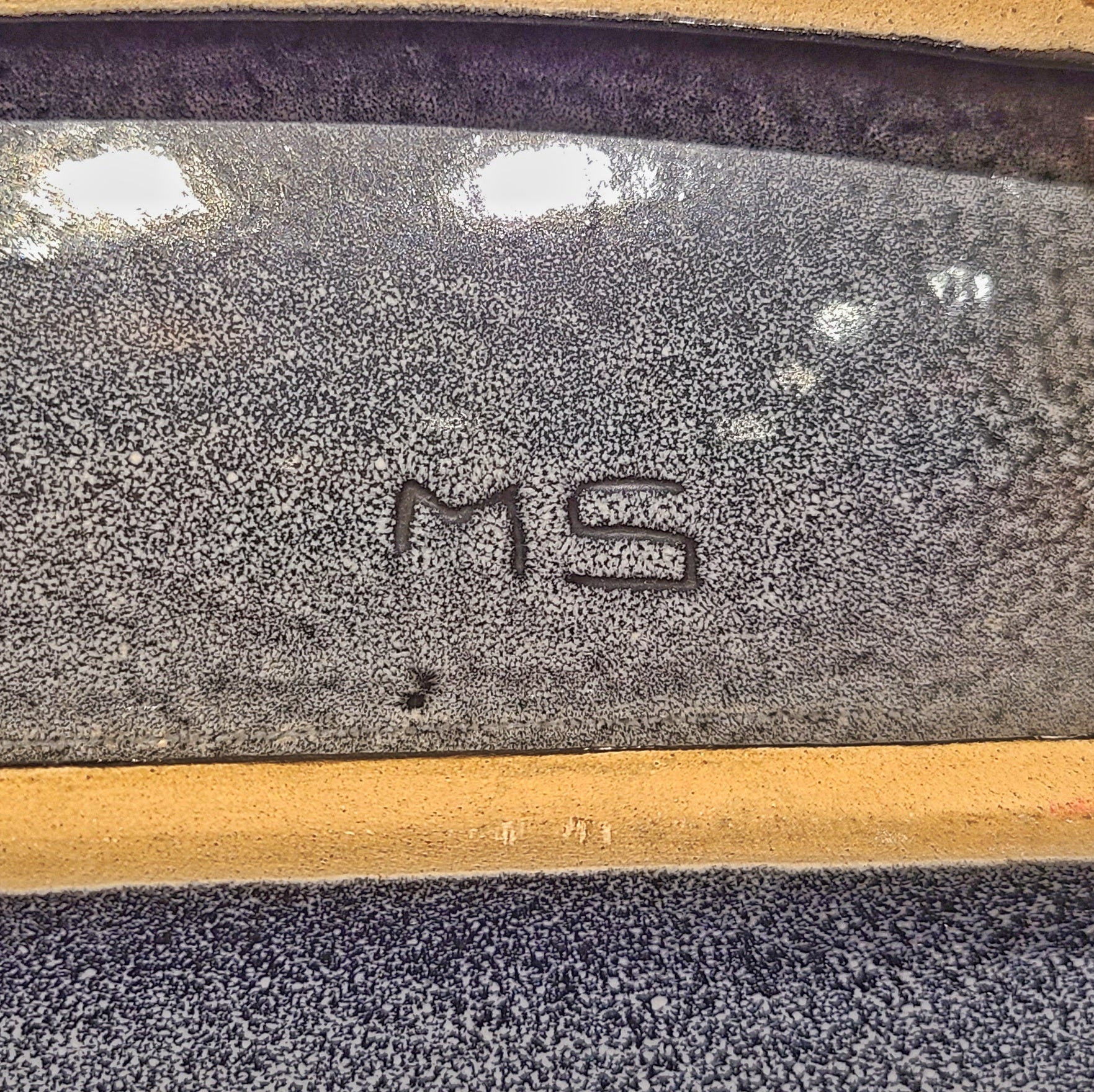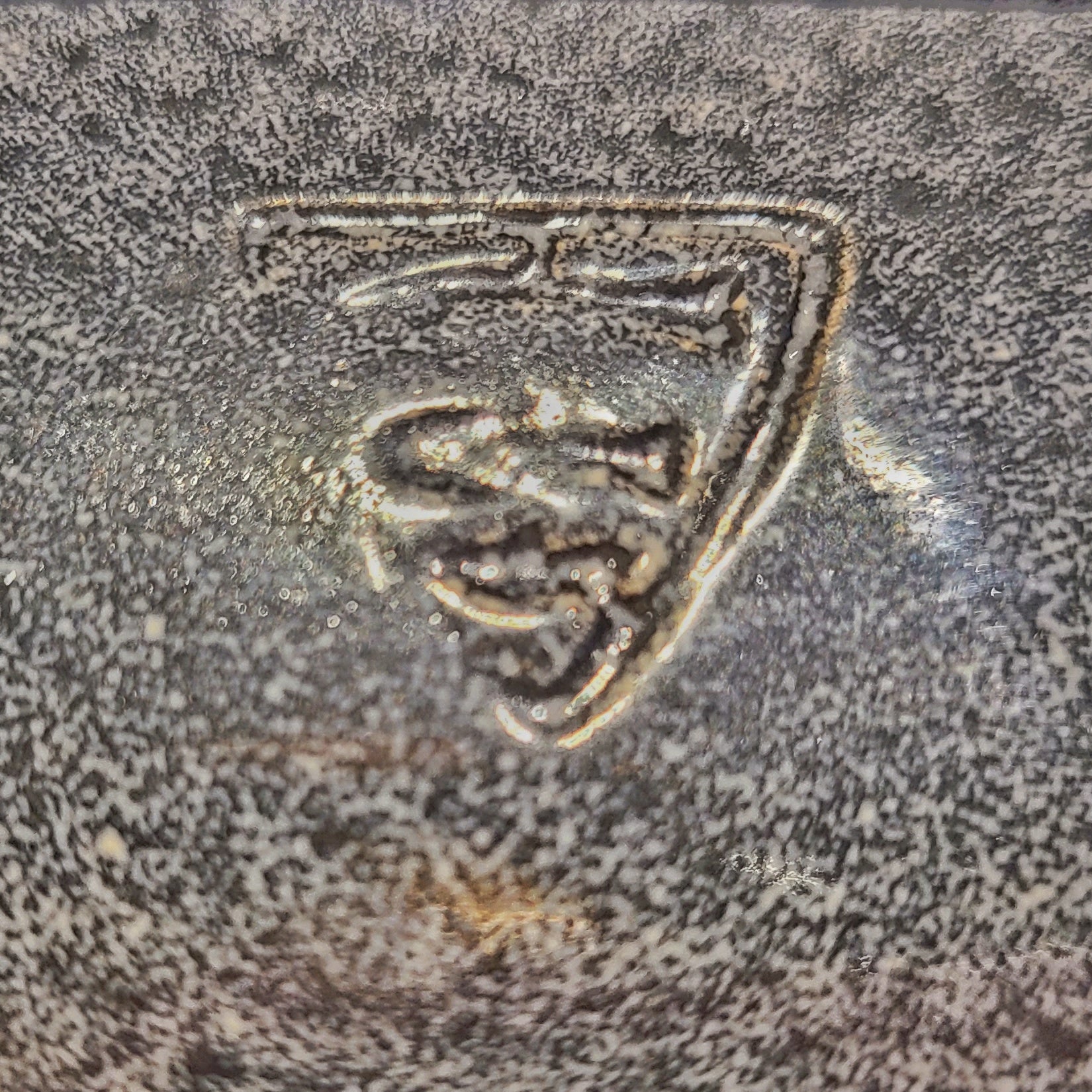 VIKING LONGSHIP BOWL BY MARIANNE STARCK FOR MICHAEL ANDERSEN & SØN
CONTACT US HERE ABOUT THIS ITEM.
An elongated, hexagonal dish sporting a colorful illustration in shades of red, yellow, blue, and aqua, outlined in black, of a playful quintet of heavylidded Danes, set sail in a custom longship. Designed by Marianne Starck for MICHAEL ANDERSEN & SØN of Denmark (MAS) in the early 1960s, it is marked on its base with the firm's triple-herring logo and the artist's initials. Model Nr. 5661/2.
---
MARIANNE STARCK (1938-2007) was a German-born ceramic designer best known for her work at Michael Andersen & Søn (MAS), which operated in the Danish town of Rønne on the island of Bornholm in the Baltic Sea. She served as the firm's art director from 1955 until the business was sold in 1993.
Starck's career began with an apprenticeship at Thoms Keramik in Brunsbüttel in northern Germany. She then formally studied graphic design at the University of Fine Arts of Hamburg. While employed with Michael Andersen & Søn, Starck oversaw the company's expansion into stoneware, designing pieces for mass production in the trending functionalistic style. She also created many beautiful studio pieces, some of which combined aspects of folk art with a peculiar Danish whimsy—in a similar vein to the work of Bjørn Wiinblad. These unique creations are among the finest to have come out of MAS.
Beginning in 1975, Starck's artistic responsibilities at Michael Andersen & Søn outstripped her technical ones, and she distinguished herself with a large, versatile, and imaginative output. She designed many now-iconic ranges during her long tenure; the iconic, black and white (and on occasion, red) 'Negro' series from the 1950s is probably the most coveted today. Much of Starck's work was finished in the firm's proprietary 'Persia' décor—introduced by Daniel Andersen in the early 1930s. This crackle-style glaze is produced by a set of complicated, difficult-to-control processes, and Starck was able to exploit its beautiful, mosaic-like properties to the maximum extent possible.
Marianne Starck's pieces can generally be identified by the appearance of her incised initials "MS" in conjunction with the MAS triple-herring logo (borrowed from the town of Rønne's coat of arms). Her artistry is well-represented in numerous museums in the Nordic countries and Germany.
---
MICHAEL ANDERSEN & SØN (aka MAS) was initially established as Michael Andersen Stentoj (stoneware) in 1890 by Jens Michael Andersen (1859-1931) when he took over the historic Stibolt ceramic workshop in the Danish town of Rønne. Situated on the island of Bornholm in the Baltic Sea, Rønne has been a significant center of Danish pottery production since the end of the 18th century. Andersen had apprenticed in Rønne with Lauritz Adolph Hjorth (1834–1912) at Hjorth's eponymous terracotta factory.
Andersen produced kitchenware, figurines, vases, and jars in Ancient Greek and Nordic styles. Initially, his four sons would all be employed at the factory as potters. The oldest, Daniel Folkmann Andersen (1885-1959), was an apparent artistic talent and fundamentally impacted the firm's development. At the age of 20, he began to create products in an Art Nouveau style—vases with floral or animal decorations and multi-colored glazes—traveling to Bohemia and Vienna for inspiration. The novelty proved a commercial success and made the company one of the more interesting in Denmark in the early 20th century. (While MAS is best known today for its art pottery of the 1950s–1970s, some of its earlier Art Nouveau and Deco designs are exceptionally beautiful.) The company expanded in 1916 and changed its name to MICHAEL ANDERSEN & SØN, as the second eldest son, Emil Folkmann Andersen (1887–?), was made a partner. The third eldest son, Michael Ejner Andersen, was responsible for two popular series of majolica products in the 1920s with simple, clean shapes: 'Dania' and 'Kobolt.'
In 1931, founder Jens Michael Andersen died; at the same time, Emil withdrew from the company. Daniel Folkmann Andersen was named artistic director and technical manager, and Michael Ejner Andersen became the business and commercial manager. The youngest brother, Pauli Folkmann Andersen, chose to remain a potter. As artistic director, Daniel employed a wide range of artists, including the Danish ceramicist and sculptor Knud Carl Edvard Kyhn (1880-1969), the Austrian sculptor Ernst Weber (b. 1905), and the Danish sculptors Jacob Bregnø (1877-1946), Harald Isenstein (1898-1980), Vibeke Hansen, and Peder Hald (1892-1987).
At the 1935 World Exhibition in Brussels, Daniel won a gold medal for a new decoration method–the 'Persia' technique. The prize underscored MICHAEL ANDERSEN & SØN's position as a leading innovator among Danish potteries. Developed in the 1930s, the hallmark 'Persia' glaze was characterized by many fine angular craquelure lines, mimicking the effect of a mosaic. The processes involved were complicated to control. It was used for both abstract and figural designs; however, it arguably was better suited for the former, where the glaze was allowed to express itself over and above any figural fuss or emotive expression, embuing a character of its own. The formula and technique used for 'Persia' were kept highly secret and sadly have now been lost and forgotten. The glaze was used well into the 1960s.
Through the 1950s and 1960s, MICHAEL ANDERSEN & SØN gradually changed its production to be more commercial, and the product range increasingly reflected the current fashion for functionalism. In 1955, the German artist Marianne Starck (1938-2007) was employed. She was educated at the School of Fine Arts in Hamburg and would become a prominent figure at the company. From 1975 on, she had more artistic and technical responsibilities and distinguished herself with a large, versatile, and imaginative production. She remained with the firm until its closure in 1993 and designed many iconic series, of which the black and white 'Negro' range—alongside her work with the Persia glaze—is probably the most coveted today. An inscribed "MS" typically designates her studio production.
Initially, MAS pieces were marked on the base with a factory stamp in Gothic-type lettering. After 1930, articles were marked with a three-herring crest, copied from the city of Rønne's coat of arms. Earlier pieces have a chunky, raised herring mark, and later ones have a flat, impressed mark.
In 1993, the Danish artist Solveig Ussing took over the company, and she runs it today from a small workshop in Rønne, where some of the original molds are still in use. Ussing had worked for MICHAEL ANDERSEN & SØN since she was 14. The pottery currently has no website.
DETAILS
Maker – MICHAEL ANDERSEN & SØN
Production Period/Year – 1960s
Designer – MARIANNE STARCK
Design Period/Year – 1960s
Origin – DENMARK
Styles/Movements – DANISH MODERN; FIGURATIVE
Materials – CERAMIC
Colors – CHESTNUT, ROYAL BLUE, BABY BLUE, MUSTARD
Condition – Excellent vintage condition. May show minor signs of age and previous use.
Dimensions – 22" W × 7 ½" D × 1 ¾" H