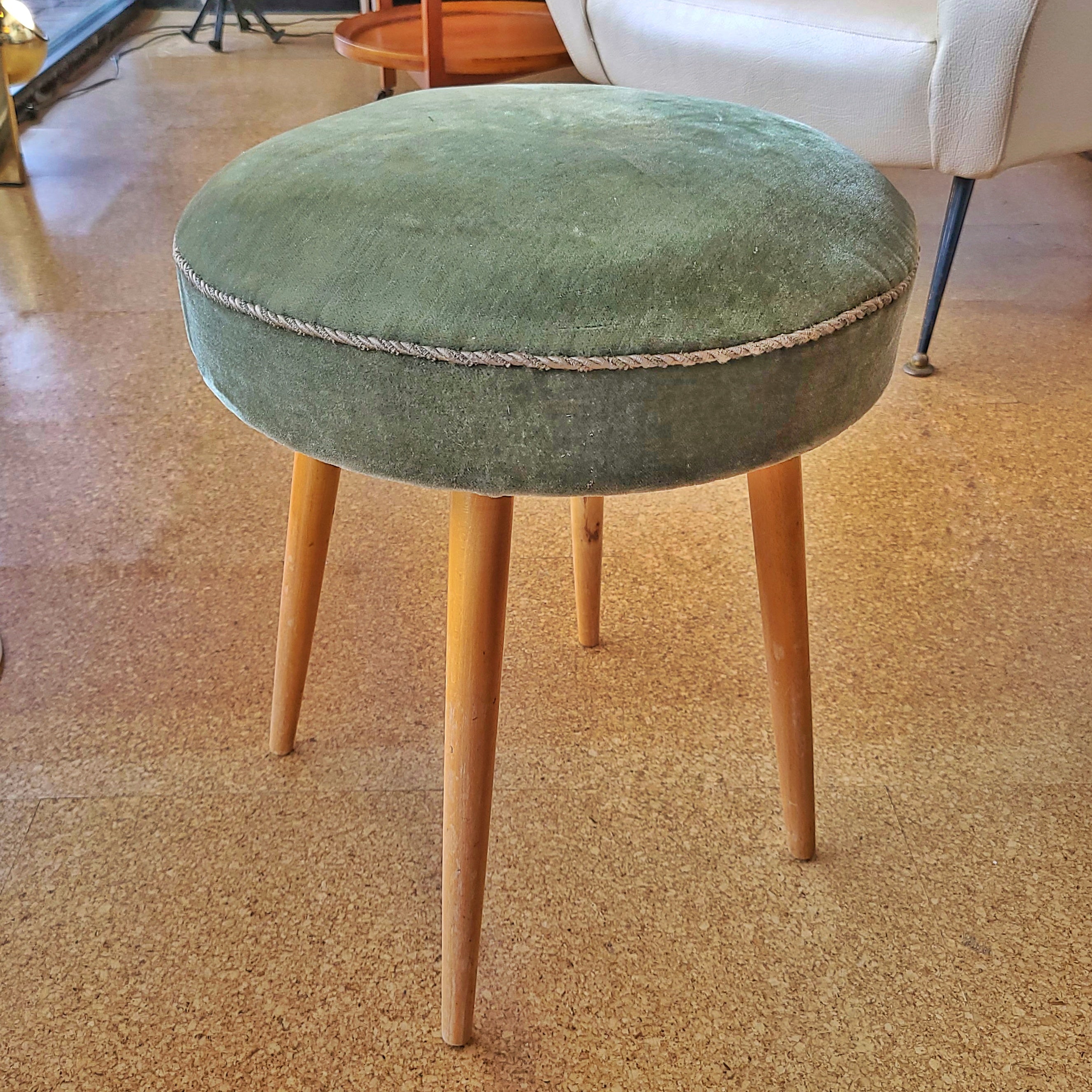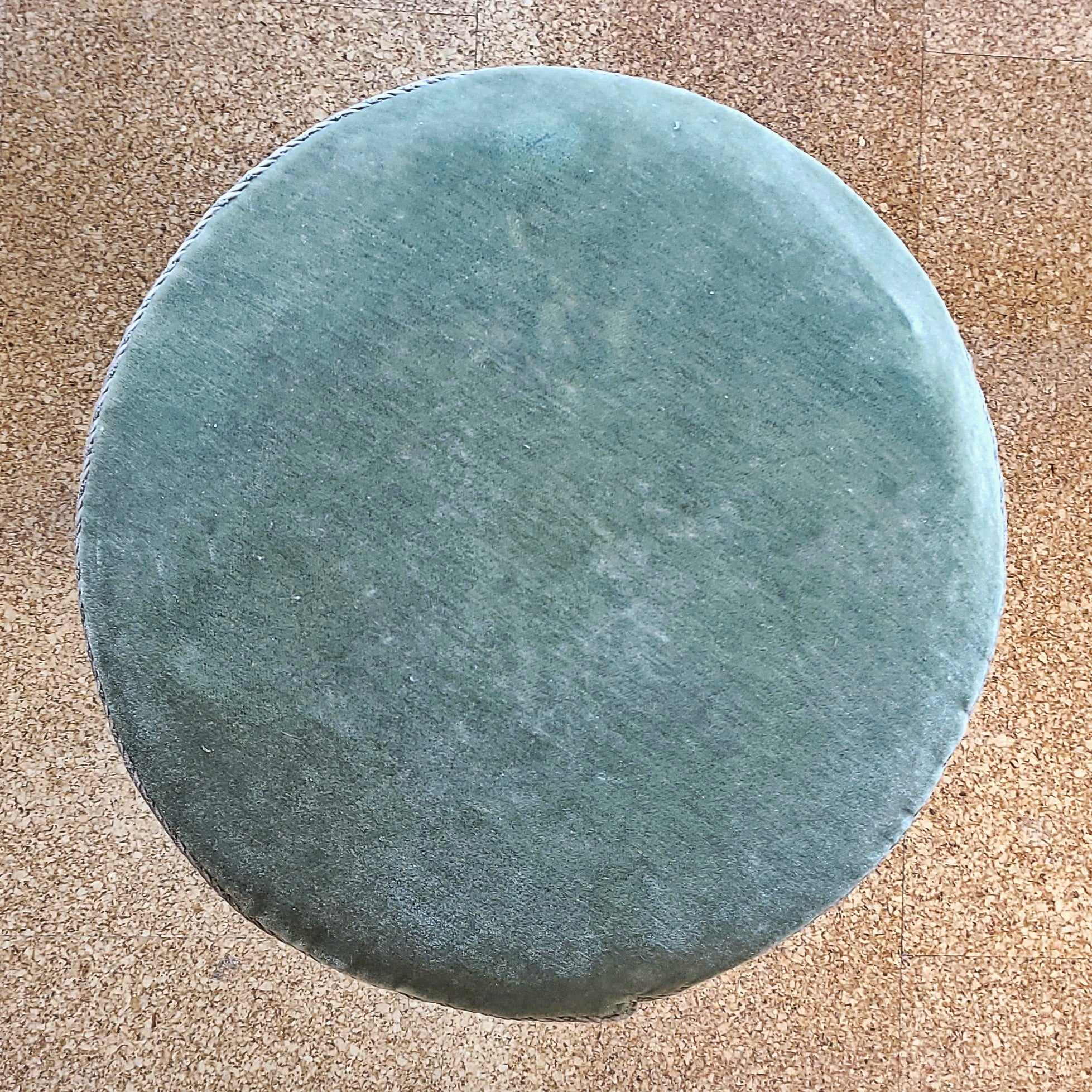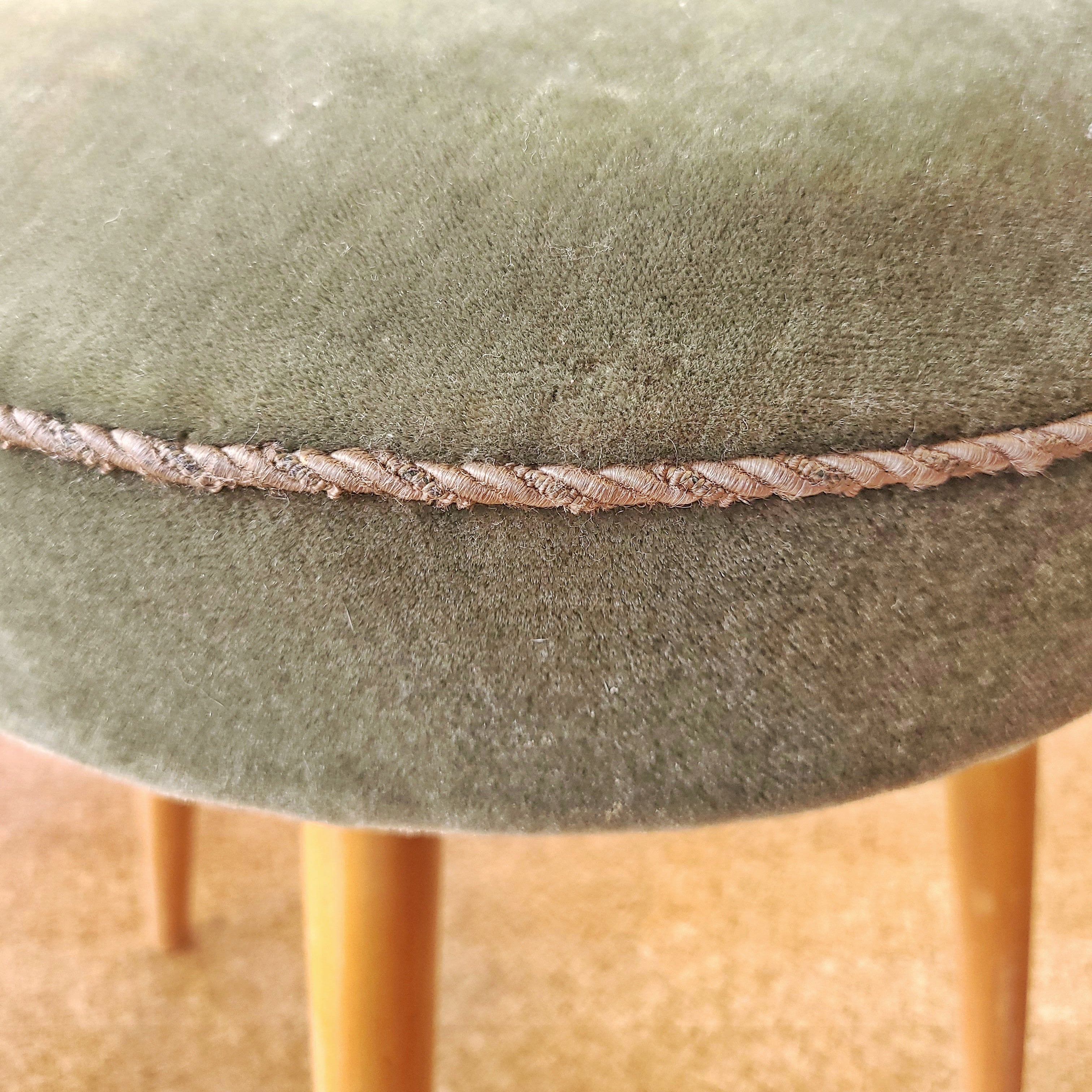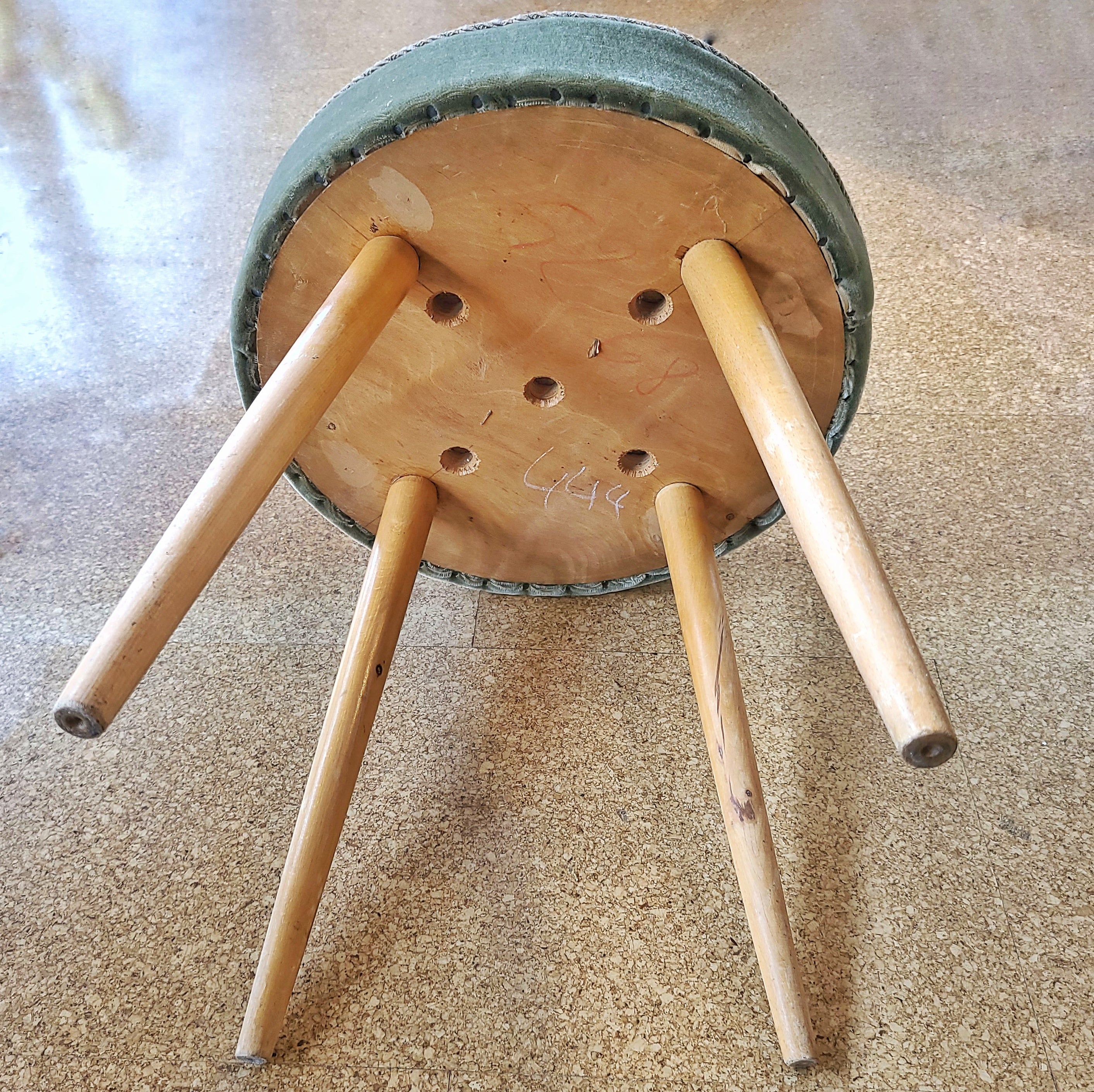 VINTAGE WALTER KNOLL POUF IN ITS ORIGINAL GREEN MOHAIR (LATE 1950s)
CONTACT US HERE ABOUT THIS ITEM.
A late 1950s pouf with inner springs designed by Walter Knoll for the German furniture manufacturer Walter Knoll & Co.  The legs are solid beech and the Green mohair upholstery fabric is original and still in very good condition.

WALTER KNOLL & CO. GmbH traces its beginnings to the 19th century when German leather virtuoso Wilhelm Knoll (1839-1907) founded his eponymous accessories atelier in 1865 in Stuttgart, Germany. Quickly gaining a reputation for quality and luxury, Wilhelm Knoll was invited to be a purveyor to the Royal Court of Württemberg, and a design dynasty was born.
Around the turn of the 20th century, Wilhelm Knoll expanded into furniture production and renamed his company Ledersitzmöbelfabrik Wilhelm Knoll (Wilhelm Knoll Leather Seating Factory). In 1907, the family business was transferred to Wilhelm's sons, Willy (1878-1954) and Walter (1876-1971). Right away, the Knoll brothers found success by introducing the first club chair to Germany and opening branches in Vienna and St. Petersburg.
During the 1920s, Stuttgart was a vital hub of modernist discourse—which encouraged designs rooted in principles of reduction, functionalism, and mass production—and Willy and Walter Knoll both found unique inspiration in the innovative ideas that proliferated around them. Willy developed the legendary Antimott Series, which combined wooden frames with elastic strapping to achieve slimmer, more comfortable, more supportive chairs and sofas. Notably, lightweight, aluminum-framed Antimott seating was used to furnish the Zeppelin airships. Antimott designs remained a bestseller for the Wilhelm Knoll Company well into the postwar era.
Meanwhile, Walter Knoll decided to leave his family's business to found Walter Knoll & Co. in 1925. Walter was an advocate of the era's avant-garde and became the first manufacturer to specialize in the production of Bauhaus-designed furniture. The seating produced by Walter Knoll & Co. incorporated colored fabrics in lieu of leather, and Walter's Prodomo Series is historically classified as the first modernist upholstered furniture.
Iconic architect-designer Ludwig Mies van der Rohe (1886-1969) befriended Walter around this time and invited him to provide furniture for residential buildings exhibited at the landmark Weißenhofsiedlung exhibition in Stuttgart in 1927. For this architectural experiment, Mies invited Europe's most forward-thinking architects—Peter Behrens, Walter Gropius, and Le Corbusier, for example—to develop idealized housing models for the middle and working classes. For Mies's own steel-framed apartments, Walter contributed furniture with tubular steel frames, which his company began to produce in 1929.
In 1937, Walter Knoll & Co. relocated operations to Herrenberg, Germany, where it still resides today. As Germany ramped up toward World War II, both Knoll companies were forced to cease production and eventually suffered devastation from bombings. It was during these years that Walter's son, Hans Knoll, embarked on his journey to America, where he eventually founded his own company, Knoll, Inc.
In 1945, Walter Knoll & Co. and the Wilhelm Knoll Company began to rebuild their companies for the postwar era. That year, Walter, with the help of his sons and designer Jens Risom, launched the streamlined Vostra Chair and earned international accolades. By 1950, the Wilhelm Knoll Company was back on its feet as well, but Willy passed away that year and was succeeded by his son Dieter—who would go on to found the Dieter Knoll company in Austria in 1962. Walter Knoll retired from his own company in 1964 and was succeeded by his son Robert Knoll and his nephew, Dr. Walter Combe.
In the 1970s, Walter Knoll & Co. moved into the contract furniture business and famously outfitted Tegel Airport in Berlin. Sought-after designs produced by Walter Knoll & Co. include Bucket Seat 369 (1956), Arno Votteler's 368 Armchair (1956), and Lady's Chair 375 and Gentleman's Chair 376 (both 1957). In more recent years, the company has commissioned designs from architect-designers, such as EOOS, Norman Foster, Preben Fabricius & Jorgen Kastholm, and Pearson Lloyd. 
In 1985, Walter Knoll & Co. took over the Wilhelm Knoll Company, with the latter's designs continuing to be produced as the "Wilhelm Knoll Collection." In 1993, the Rolf Benz family bought the Walter Knoll trademark. In 2007, the company went international, launching a subsidiary in Australia and eventually opening showrooms in London, Paris, Mumbai, and Beijing. In 2015, the company celebrated its 150-year anniversary.
Details
Dimensions

15ʺW × 15ʺD × 18ʺH
Styles

Mid-Century Modern
Minimalism
Number of Seats

1
Seat Height

18.0 in
Seat Interior Width

15.0 in
Seat Interior Depth

15.0 in
Brand

Walter Knoll
Designer

Walter Knoll
Period

1950s
Place of Origin

Germany
Item Type

Vintage, Antique or Pre-owned
Materials

Beech
Mohair
Condition

Very Good Condition, Original Condition Unaltered, No Imperfections
Color

Olive
Condition Notes

Very Good Vintage Condition. May Show Slight Traces of Use.