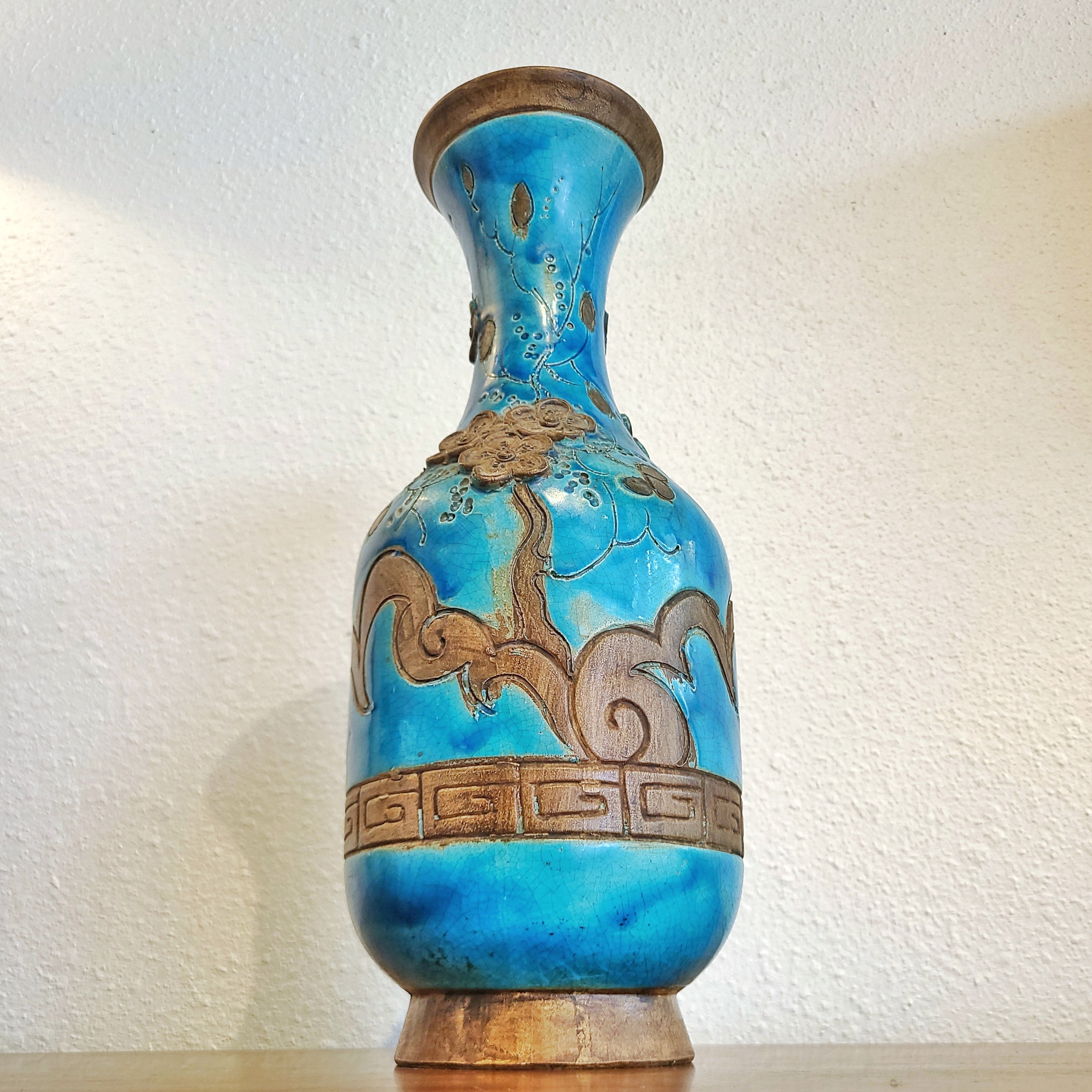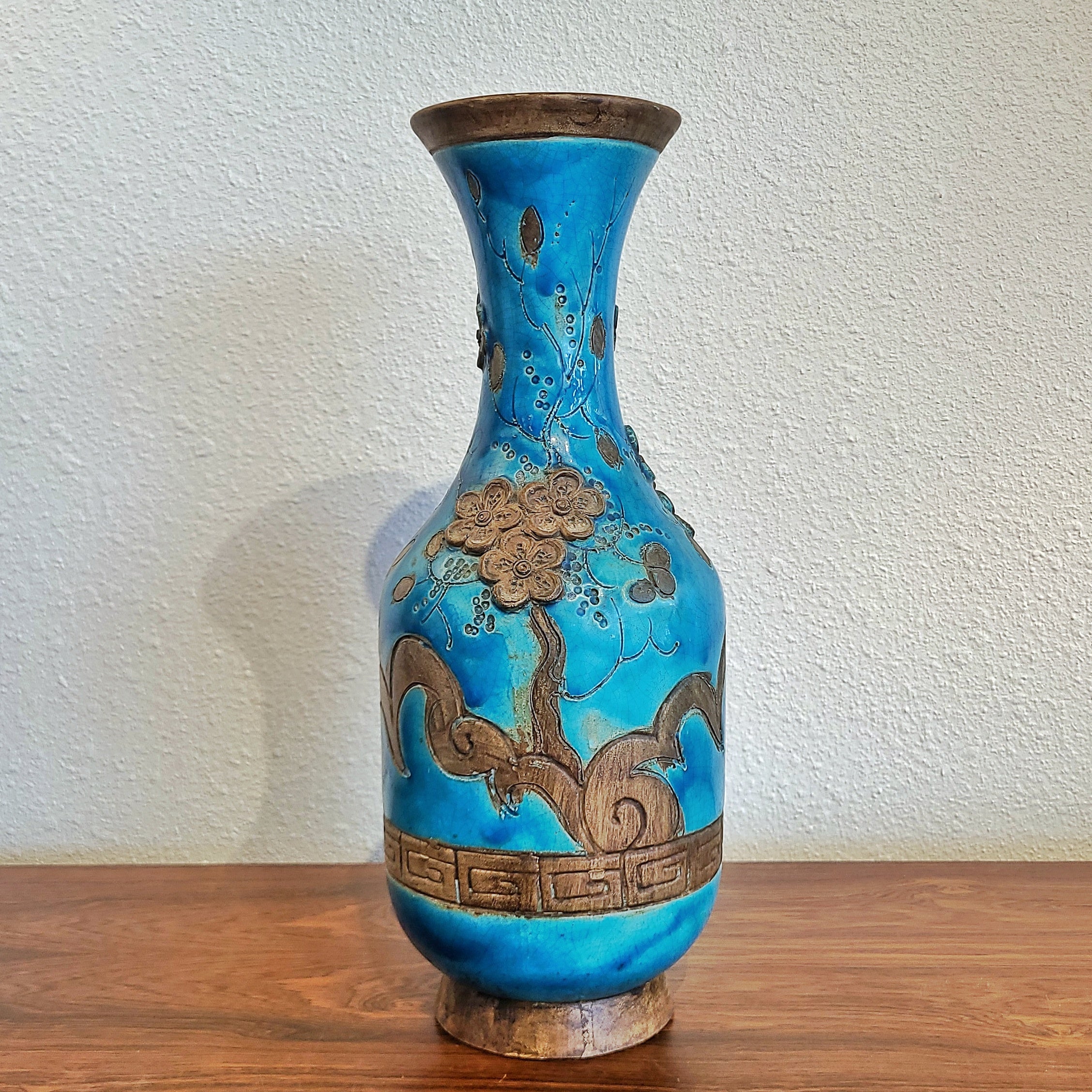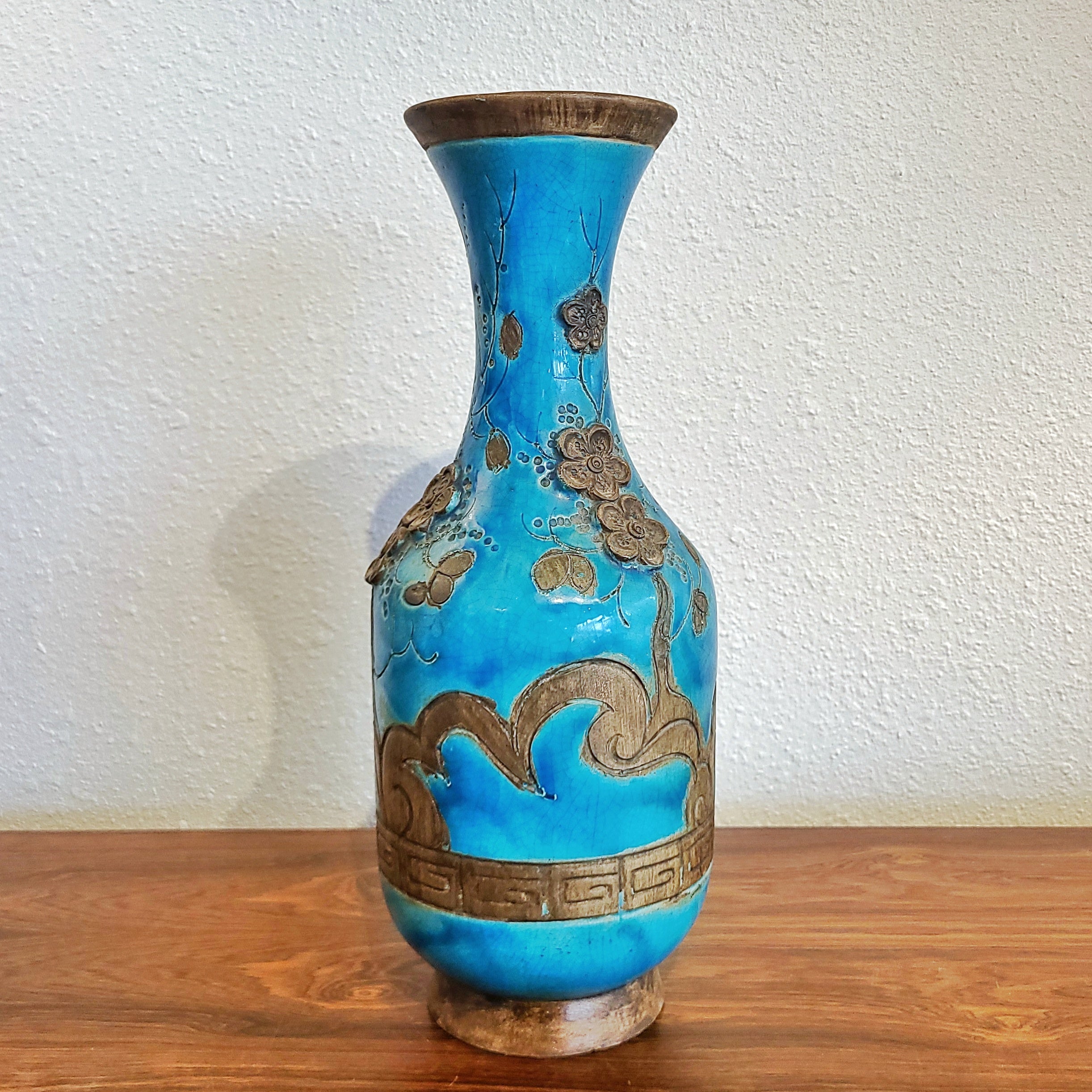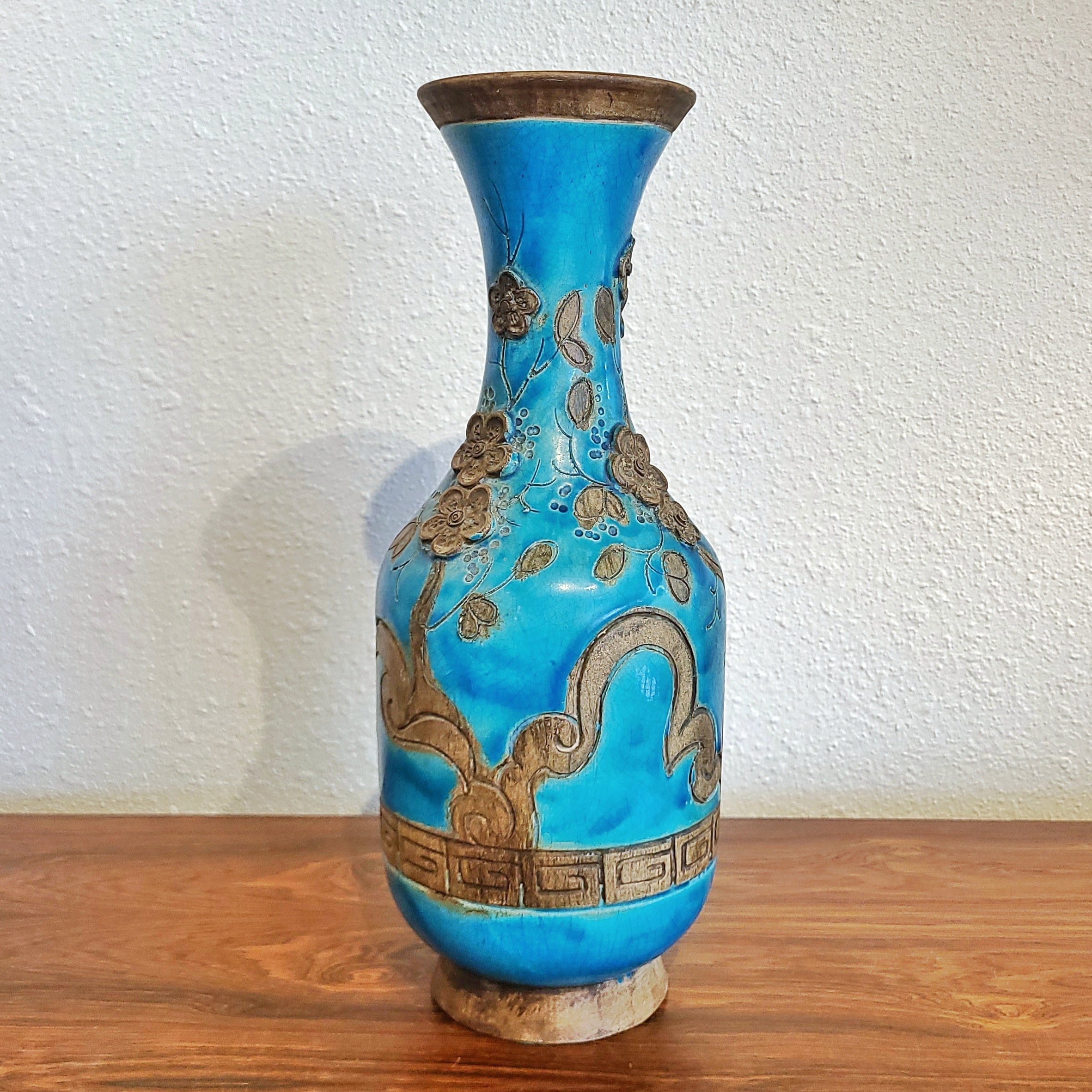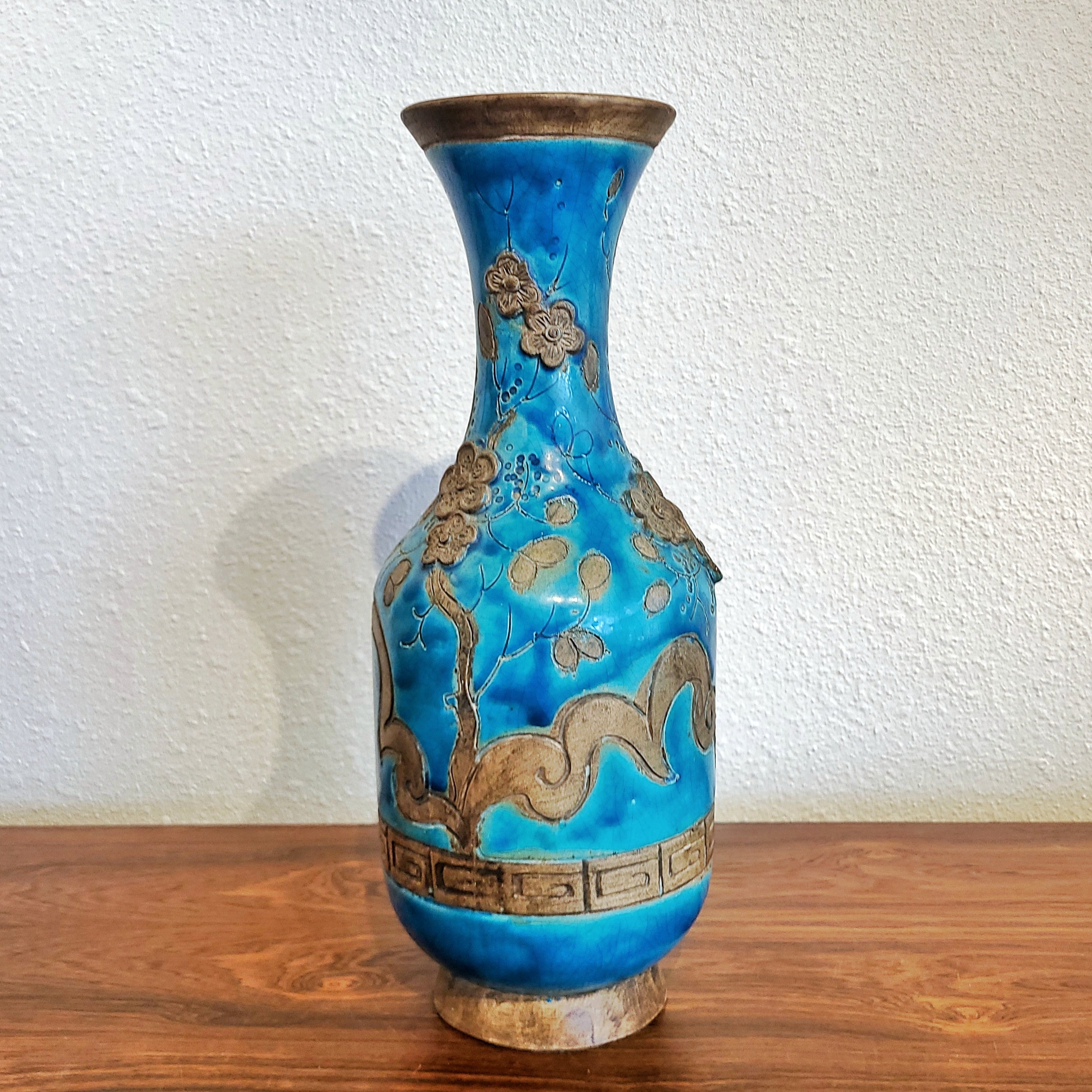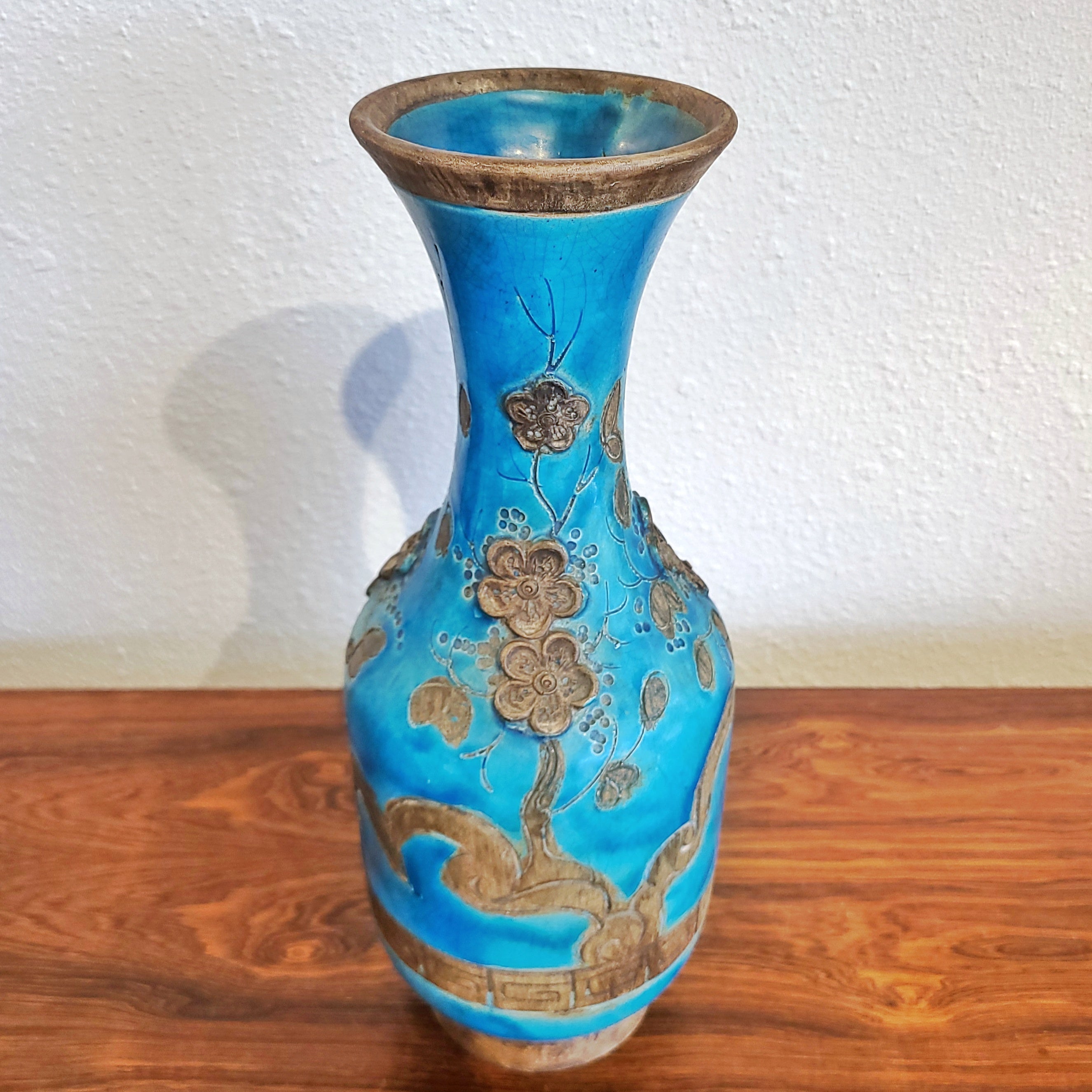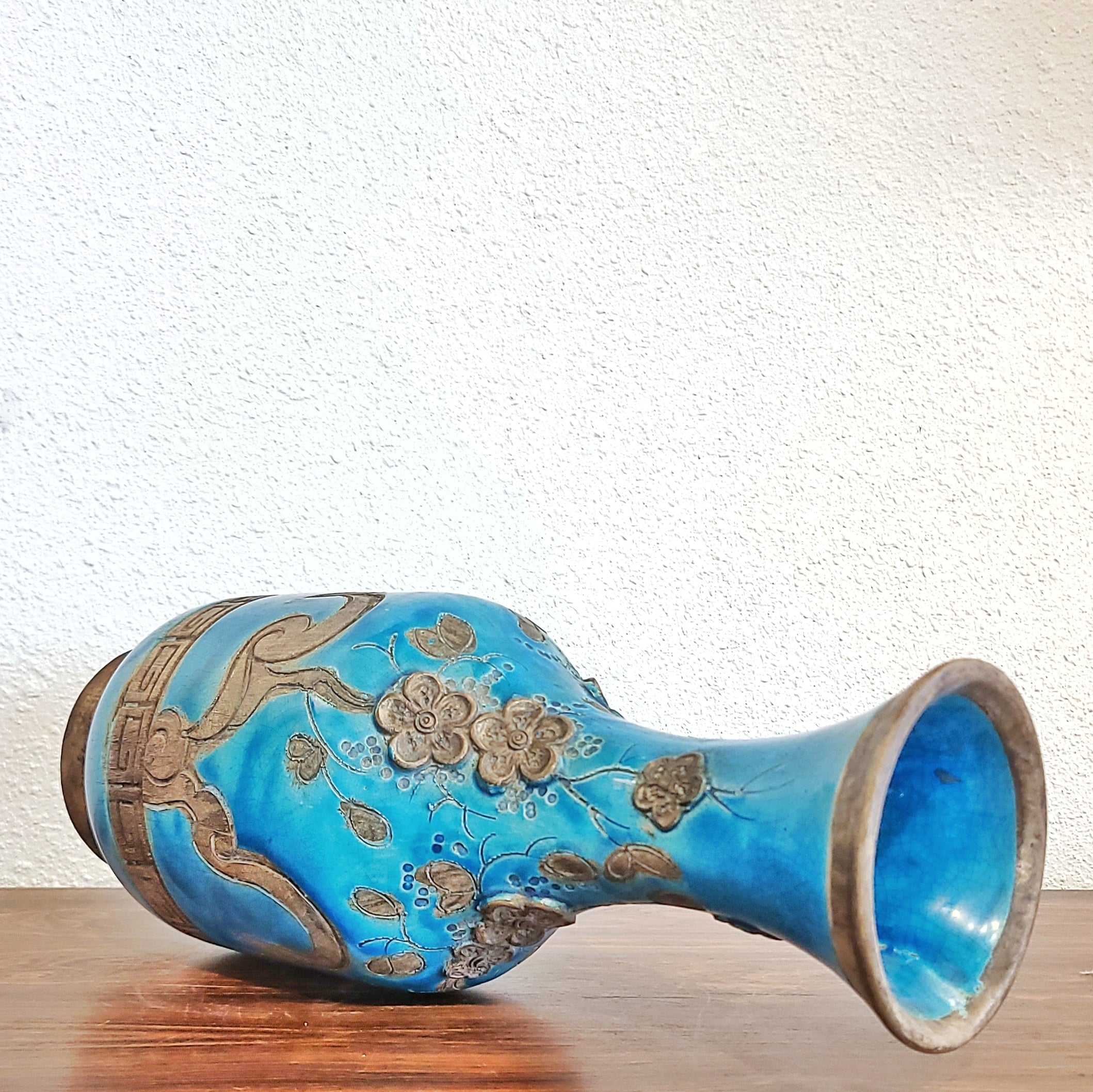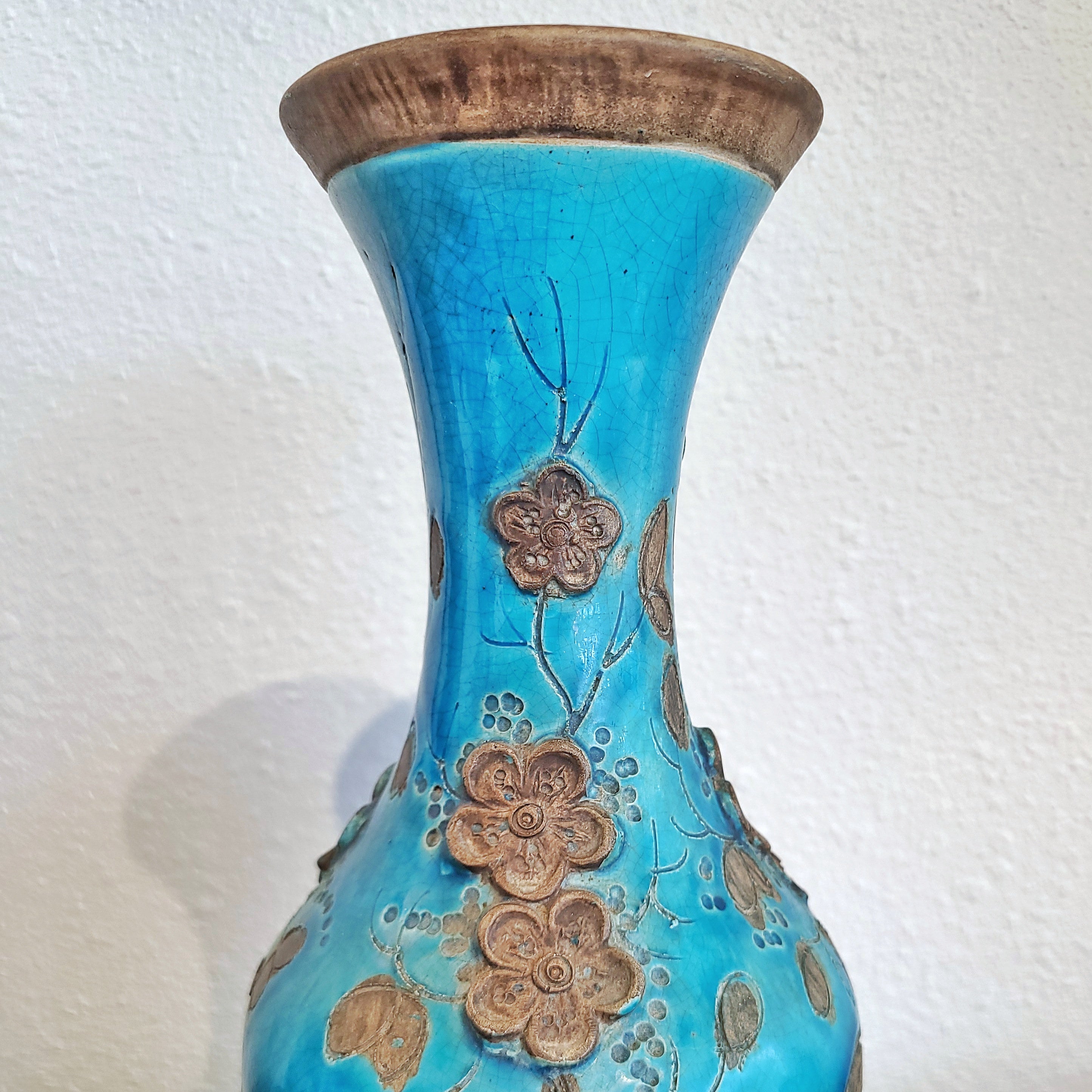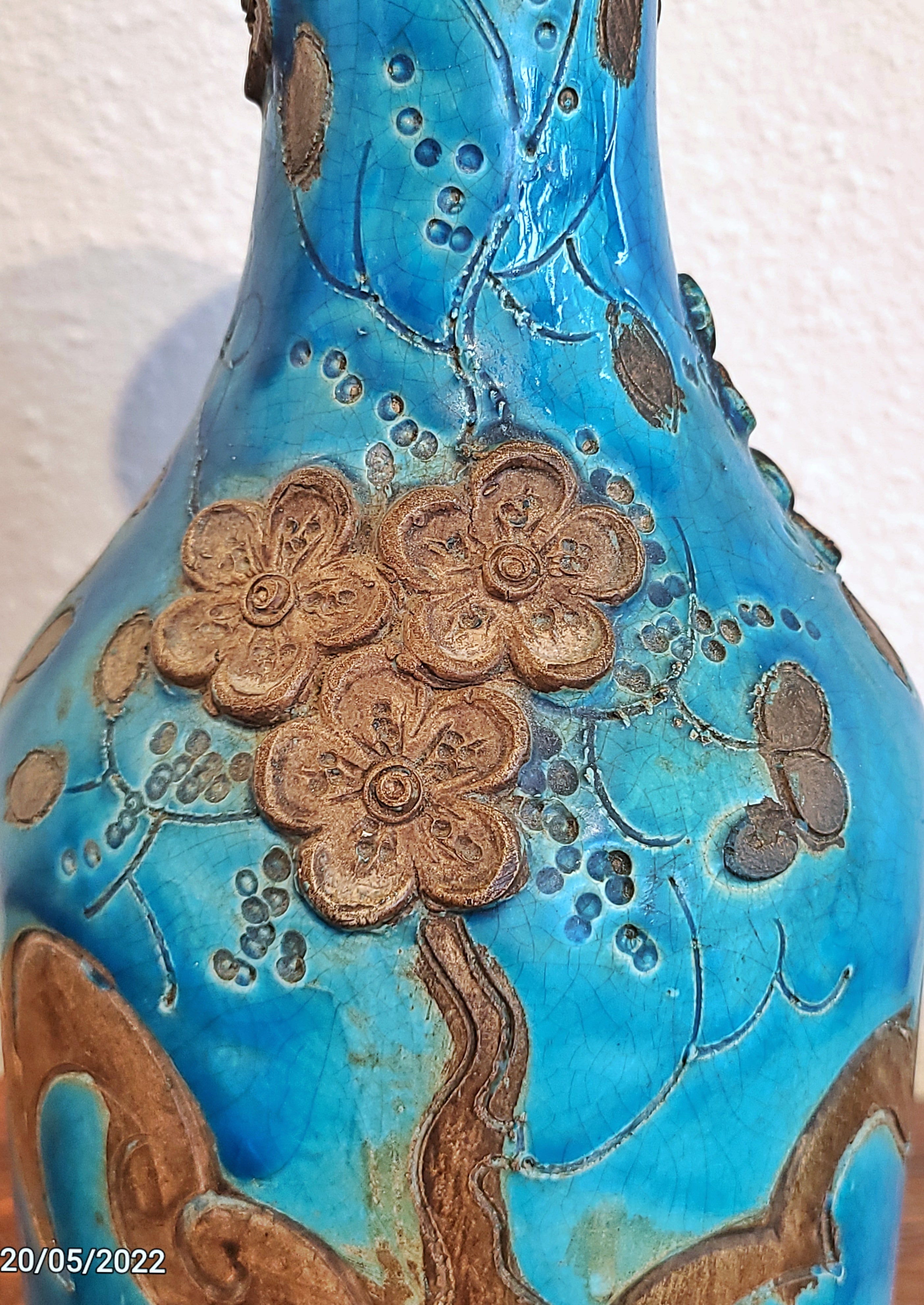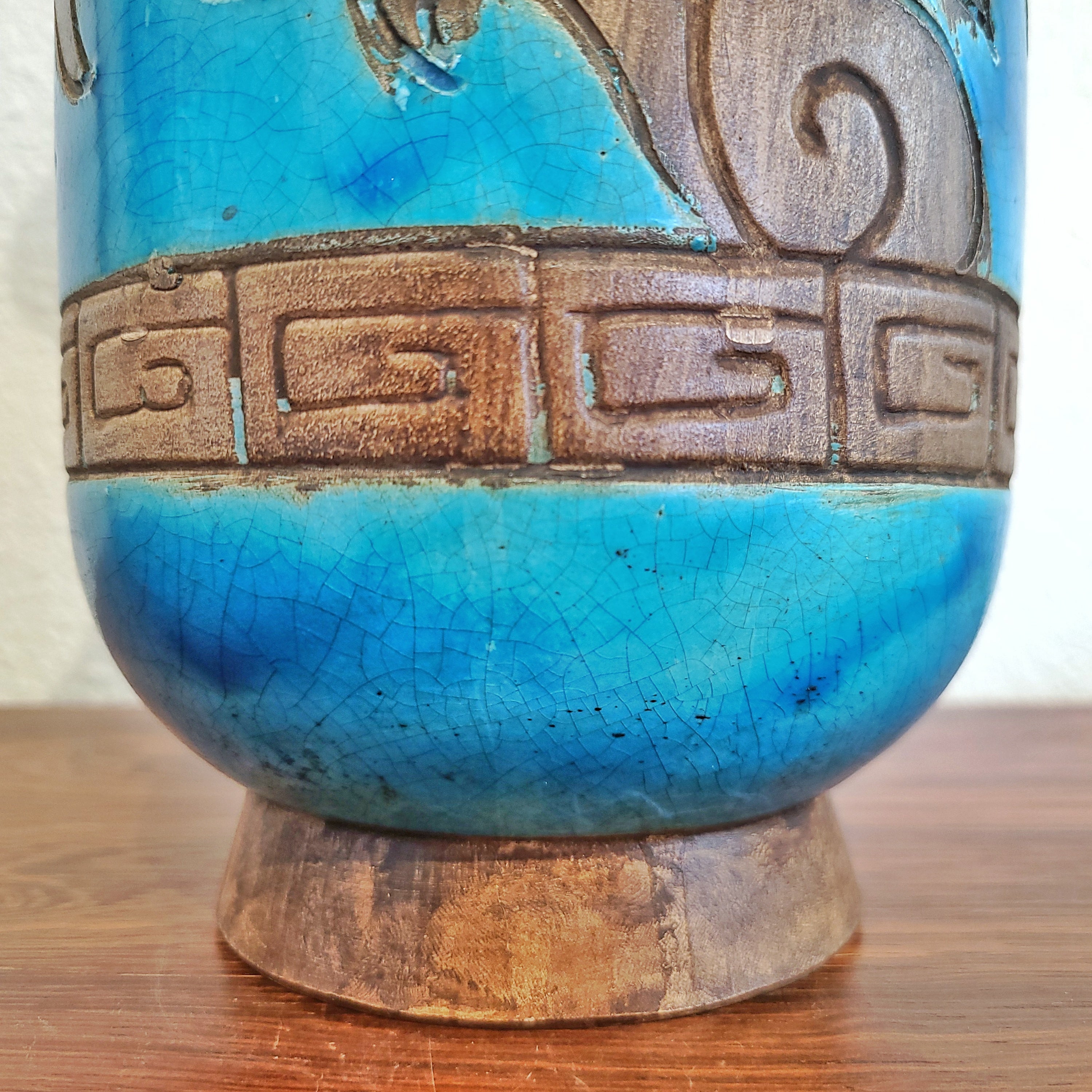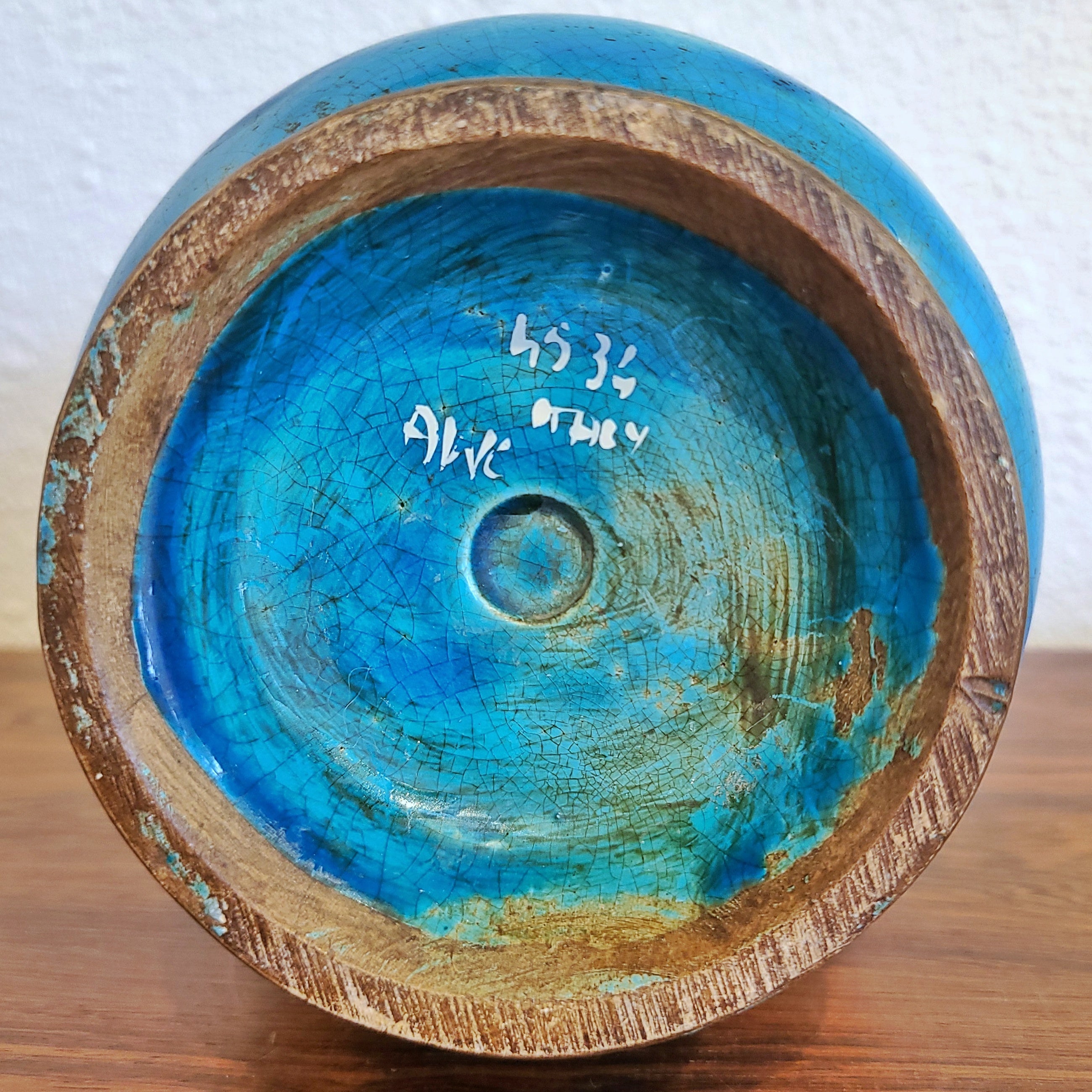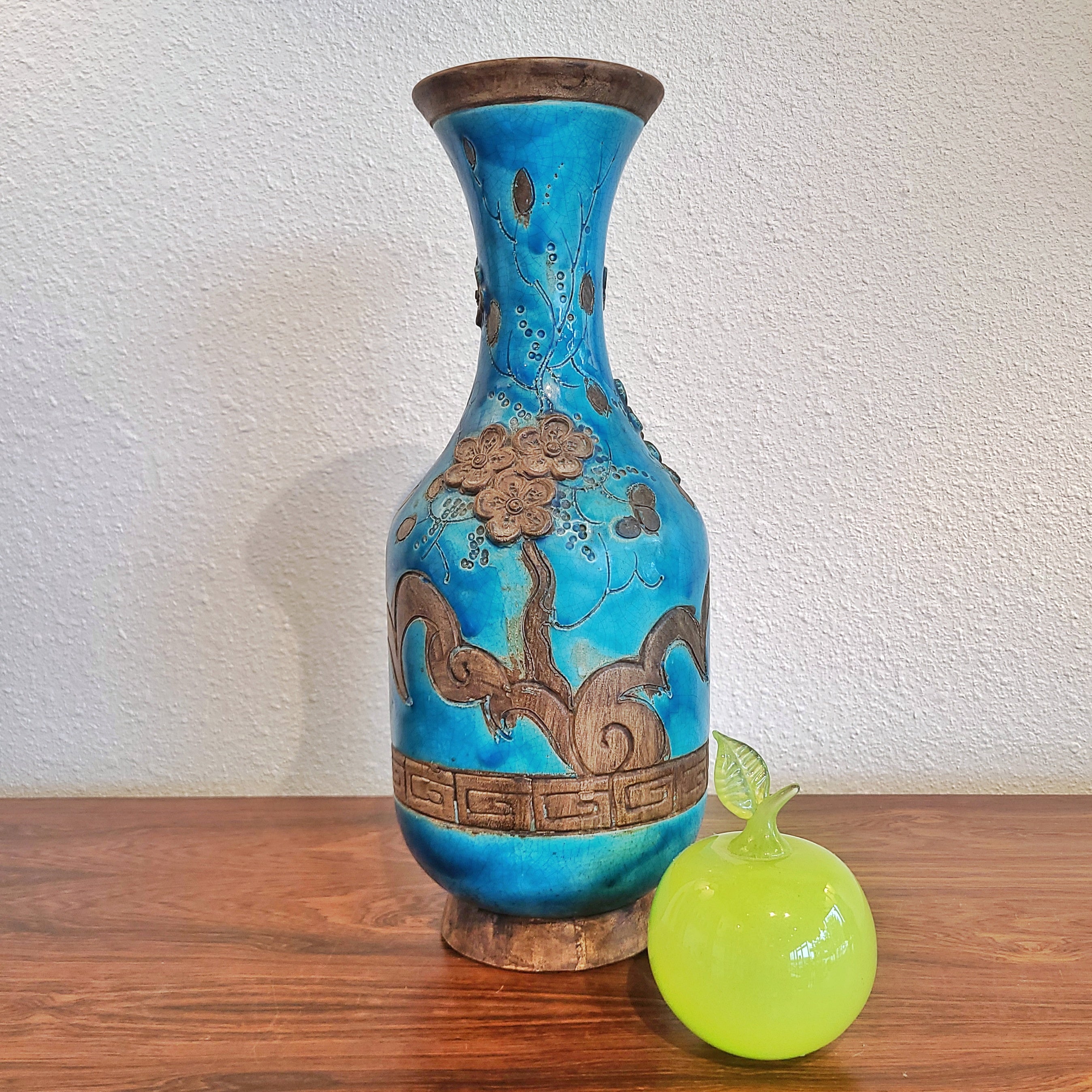 EARLY UGO ZACCAGNINI CHINOISERIE VASE WITH CHERRY BLOSSOMS
CONTACT US HERE ABOUT THIS ITEM.
A vintage 1930s Ming style ceramic vase with a cherry blossom relief decor in shades of blue and brown, designed by Ugo Zaccagnini for Ugo Zaccagnini & Figli, Italy.
ZACCAGNINI
 was originally founded in Florence in 1905 as Ugo Zaccagnini & Figli (...& Children).  Its namesake and founder, Ugo Zaccagnini (1868-1937), was born in Pistoia in Tuscany and studied at the Scuola di Disegno Industriale in Sesto Fiorentino.  He next worked as a plaster modeler for the Richard-Ginori Ceramic Company in Sesto before opening a studio of his own in that municipality.  It closed in 1896 when Zaccagnini entered into a partnership with six of the most talented artisans and craftsmen in Florence of the time:  Egisto Fantechi, Luigi Ceccherini, Augusto Fantini, Francesco Grassi, Paolo Banchelli, and Giuseppe Conti.  The enterprise was called La Societa Industriale per Fabbricazione della Maioliche Artistiche (the Society for Industrial Fabrication of Majolica Art) and known by the acronym SIFMA.  Zaccagnini served as master sculptor and model maker during his years with SIMFA.  Production was confined to the recreation of traditional majolica in the Renaissance style of the 15th and 16th centuries, for which Italy was then famous.  Zaccagnini, in the meantime, had grown increasingly enamored of the current Art Nouveau movement; he saw in its elements unprecedented freedom of design possibilities.  This artistic difference would eventually lead to SIFMA's breakup.  In 1905 Zaccagnini left to open once again a factory of his own in Florence, this time with the help of sons Pietro, Urbano, and Prisco and daughters Adele and Enrichetta.  The new studio produced the standard offerings of the traditional Italian potter, but it was Zaccagnini's new and surprising artistic creations that caught the art world's attention.  He would eventually become famous for both his Art Nouveau and, later, his Art Deco figures.  The latter are highly prized today.  In 1912 the company relocated to Florence's Piazza Pier Vettori, where it boosted output.  Zaccagnini exhibited at the Florence Crafts Exhibits and the Milan Triennale and Trade Fair.  In 1928 the factory was again expanded, taking over the industrial complex of a former fireworks factory on Via Monte Oliveto.  The complex was set up like a village for its craftsmen, with individual houses serving as workshops.
Ugo Zaccagnini passed away in 1937 at the age of 69.  His firm's overall management became the responsibility of his second eldest son, Urbano Zaccagnini (1901-1964), and its name was changed to Società Anonima Ceramiche Zaccagnini.  A new logo was created —a capital "Z" with a squiggly line through it meant to represent Monte Oliveto.  Urbano Zaccagnini immediately set about changing the company's direction.  With the help of entrepreneur Aristide Loria, he modernized production technology and enlarged capacity.  Urbano Zaccagnini serving as artistic director, ZACCAGNINI collaborated on designs with new artists:  Mario Bandini, Ottorino Palloni, Maurizio Tempestini, Gino Pozzi, renowned ceramist Leopold Anzengruber, majolica painter U. Ciardella, sculptor L. Contini, and Fosco Martini.   The factory's production focused almost exclusively on decorative wares at this time.  A line of very popular animal figurines and graceful women in the Art Deco style was developed, and the company began to export its products, with North America as the primary target.  Ties with American importers were cultivated, Zaccagnini personally making numerous trips to meet with American clients face to face.  ZACCAGNINI figurines began appearing in stores such as Tiffany's.  In 1938 Zaccagnini obtained a license from Walt Disney Productions to create, in clay, Disney Studios' famous animated characters.  The fame of the ZACCAGNINI name in the US was thus ensured.  Mario Bandini had quickly modeled Snow White and the Seven Dwarfs, produced for sale at the Italian national preview of the feature at the Cinema Teatro Verdi (owned by former SIFMA partner Egisto Fantechi).  Though expensive, all available pieces sold out immediately.  All were personally signed by Zaccagnini and marked "W1."
ZACCAGNINI would eventually produce more than 150 Disney figurines—the likes of Donald Duck, Pluto, Pinocchio, Alice in Wonderland, and Peter Pan—all in a special crystalline glaze secretly made in its factory.  The firm also created Disney salt-and-pepper shakers, children's plates, cups, mugs, and other assorted Disneyana; some figurines today command prices in the thousands of dollars.  Inactive during WWII, ZACCAGNINI reopened in 1945.  In 1947 it was commissioned to manufacture reproductions of ancient ceramics for New York's Metropolitan Museum of Art.  ZACCAGNINI reached peak production in the late '40s and '50s, during which time many simpler Modernist-inspired ceramic works were produced, as well as an abstraction-inspired line called 'Svedese' (Swedish).  In 1950 several ZACCAGNINI ceramics were exhibited in the Italian Crafts Exhibition at the Brooklyn Museum.  In the US, much of the work from this period was likened to the "Hollywood Regency" style, then en vogue. It combined classical and modernist traits with more opulent decorative flourishes.  By now, ZACCAGNINI was exporting all over the world and fast becoming collectible.
Pietro, Zaccagnini's older brother, died in 1954.  In 1958, after twenty years of successful leadership, Urbano left the company to open his own ceramics studio, Urbano Zaccagnini Ceramiche Artistiche.  He passed away in 1964, as did his younger brother Prisco the following year.  This left the company to the sisters Adele and Enrichetta and Ugo Zaccagnini's grandchildren.  It continued to operate, but much of its former luster had been lost.  In the 1980s, the firm turned exclusively to the production of ceramic bases for high-end lamp manufacturers.  Many of these were created using Art Nouveau and Art Deco molds from the '30s and '40s.  They often bear the Zaccagnini signature and command premium prices.  ZACCAGNINI closed its doors in 2000, but many family members have since opened their own studios in and around Florence.
Details

Dimensions

5.75ʺW × 5.75ʺD × 14.75ʺH
Styles

Chinoisere
Brand

Zaccagnini
Designer

Ugo 

Zaccagnini
Period

1930s
Place of Origin

Italy
Item Type

Vintage, Antique or Pre-owned
Materials

Ceramic
Condition

Very Good Condition, Original Condition Unaltered, No Imperfections
Color

Cerulean
Condition Notes

Excellent Vintage Condition