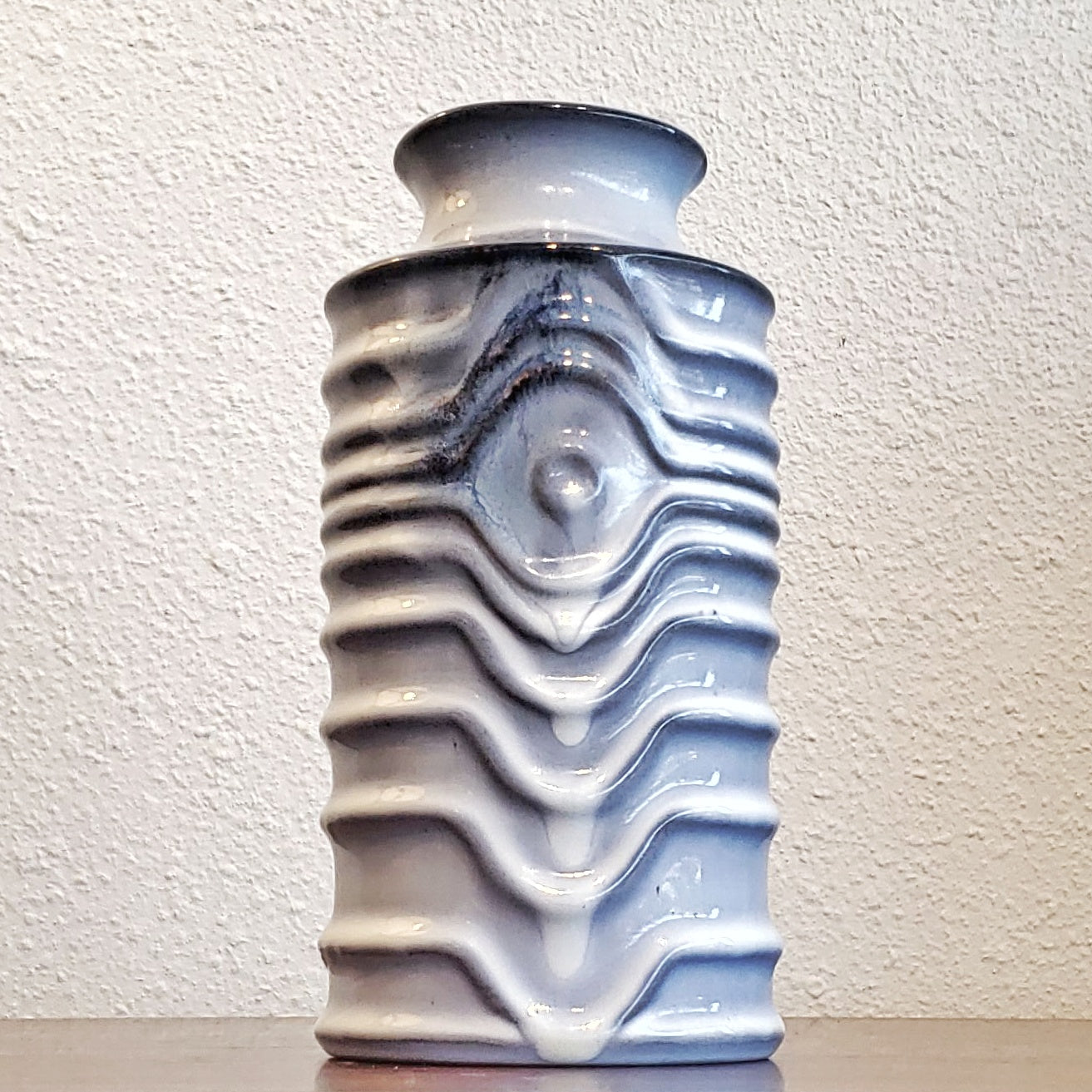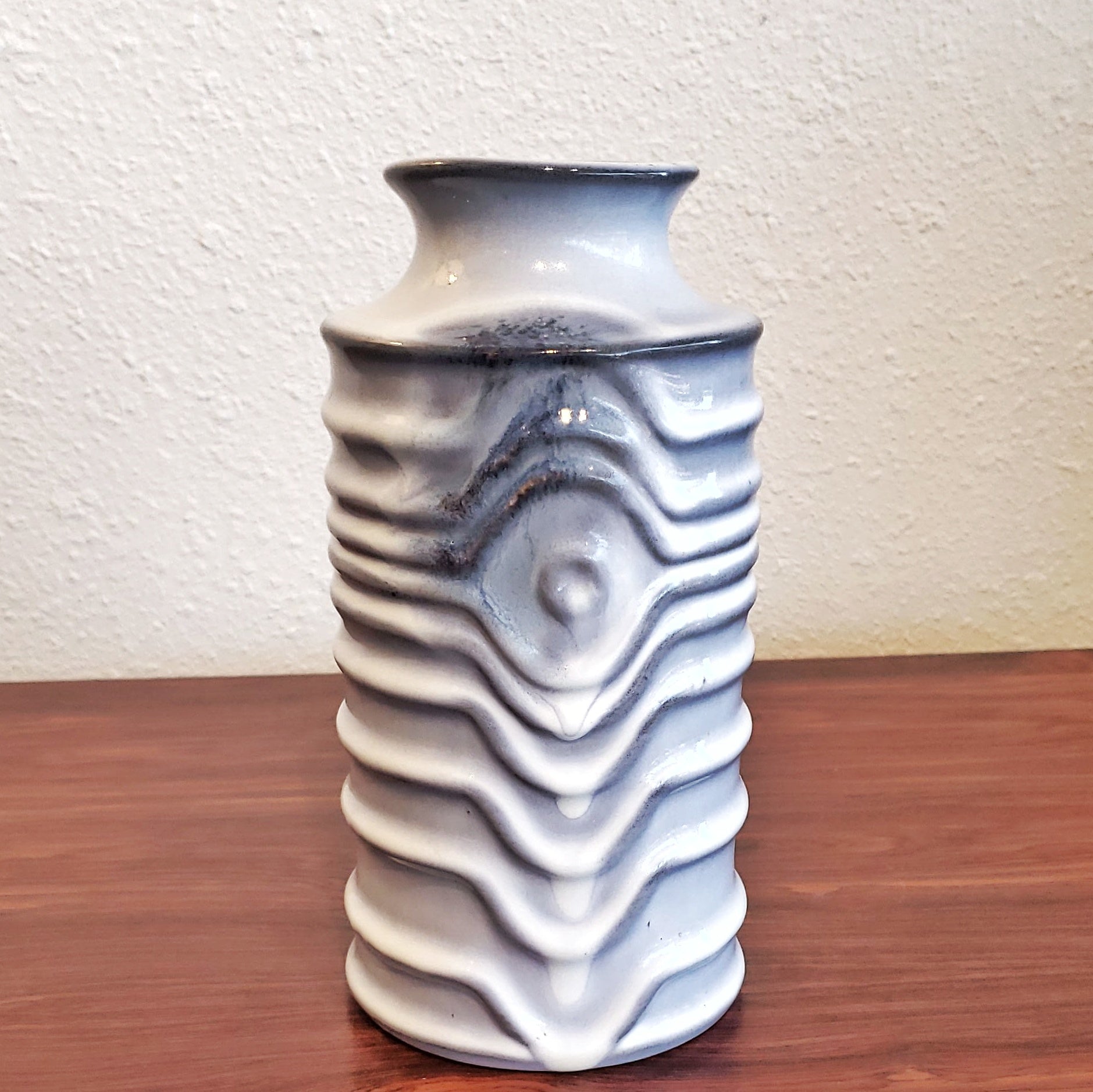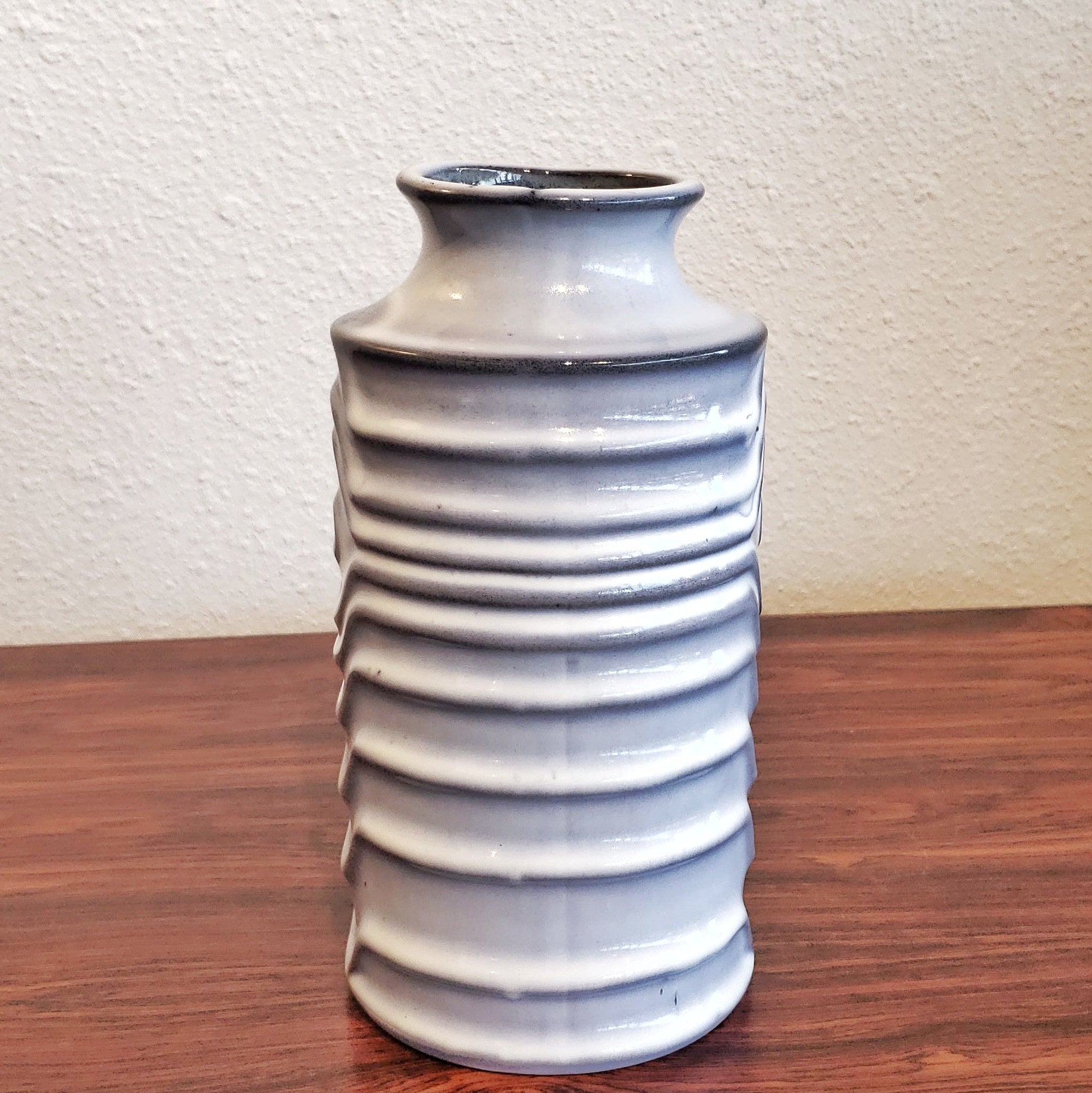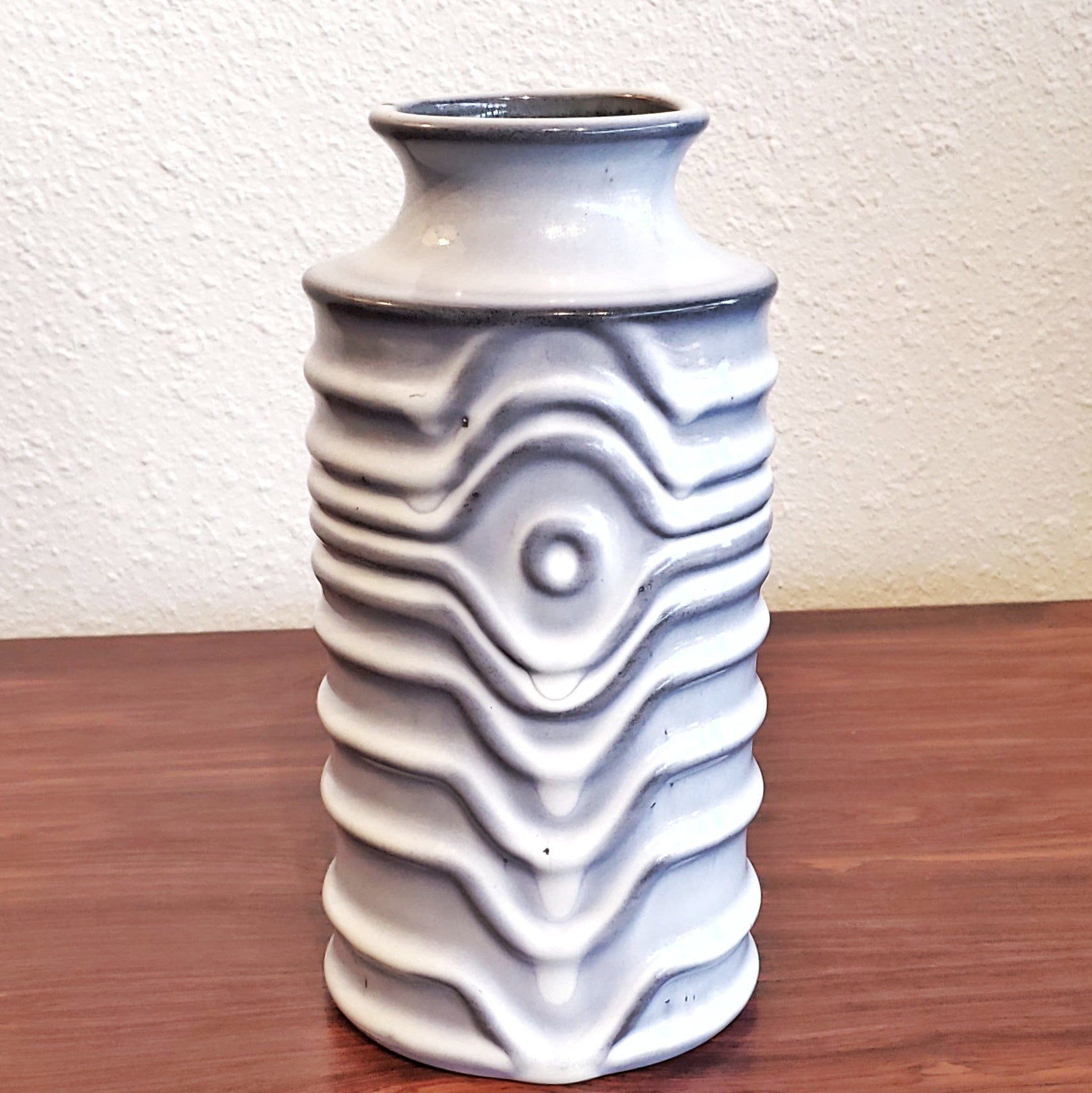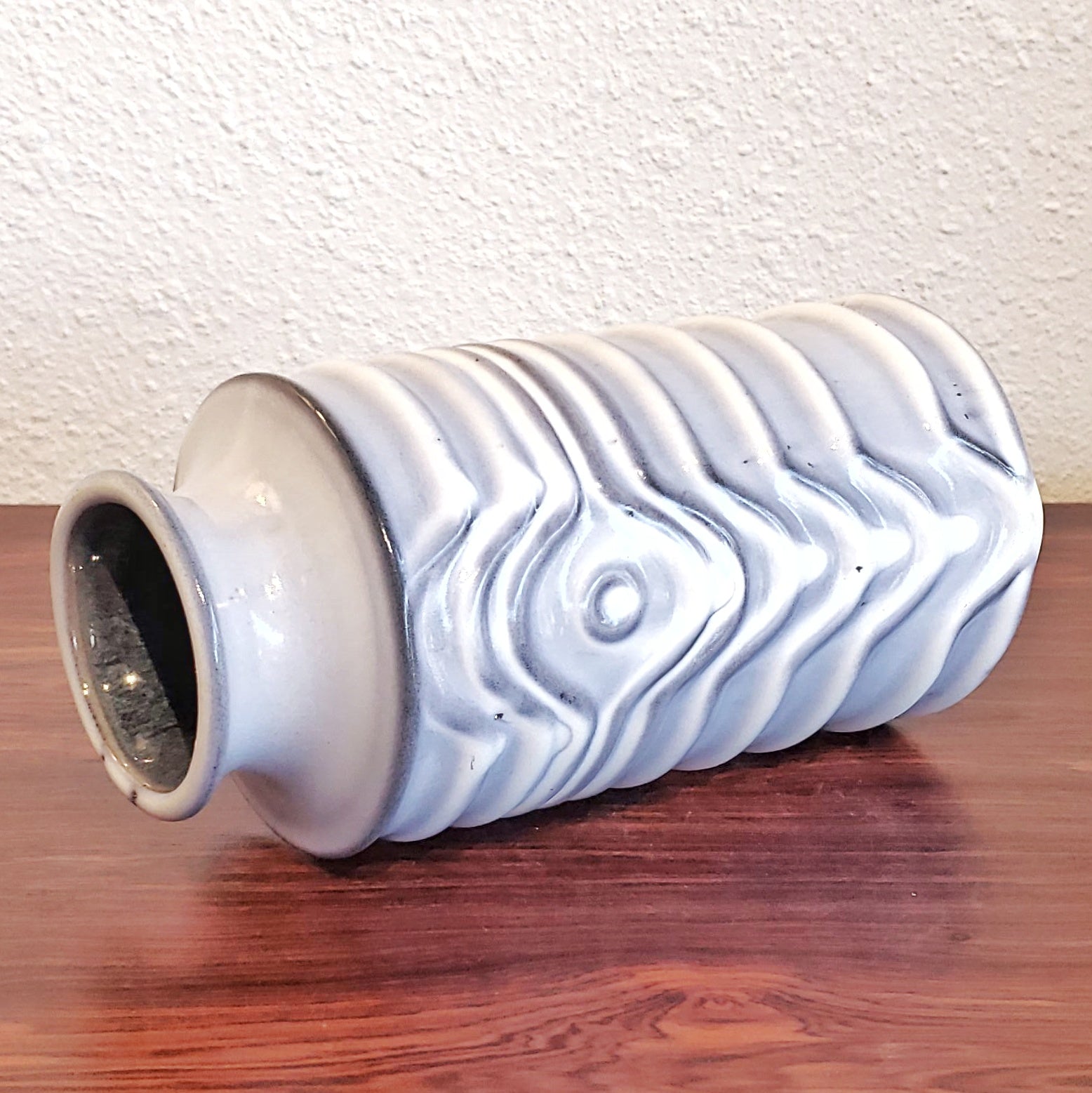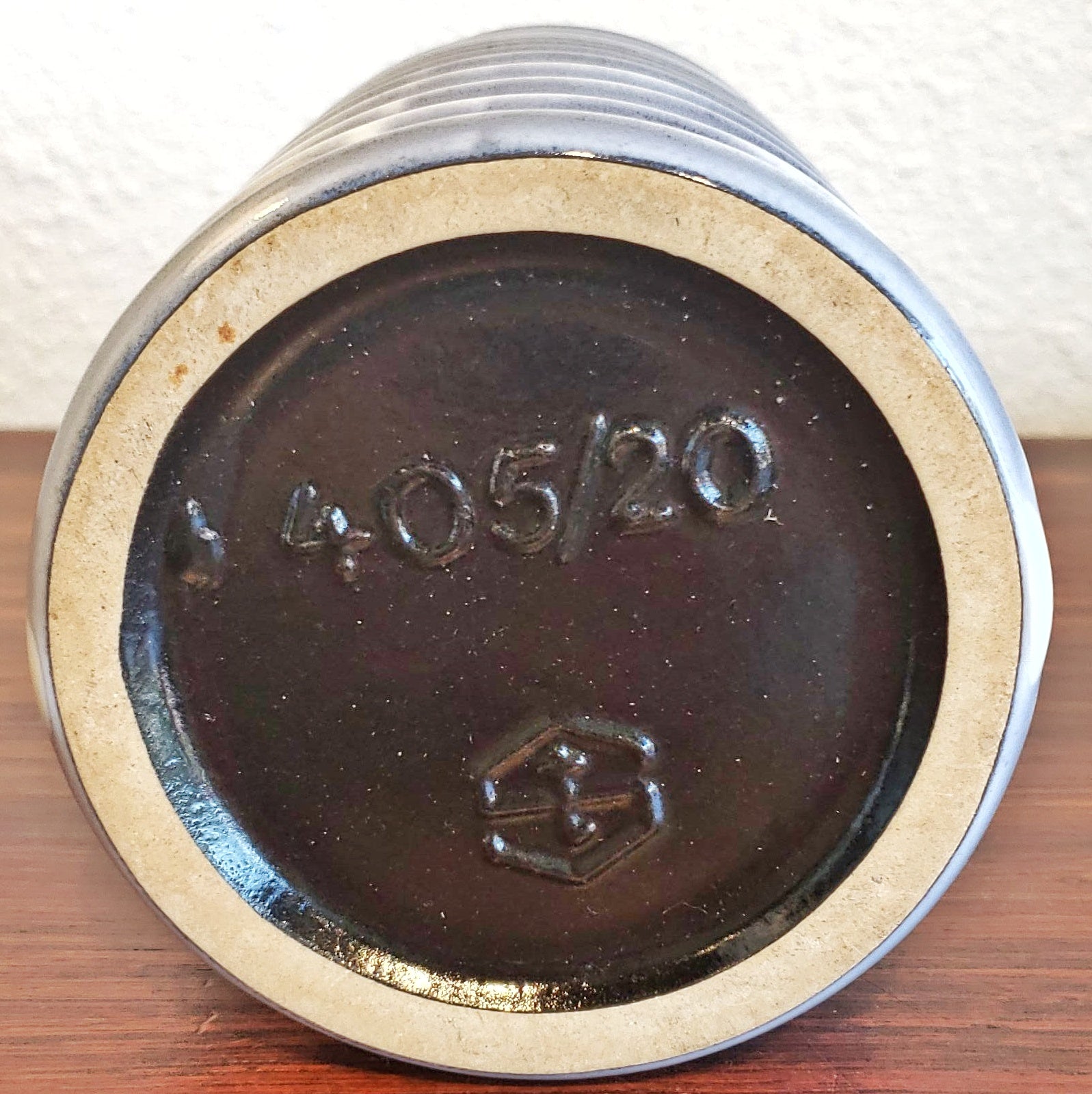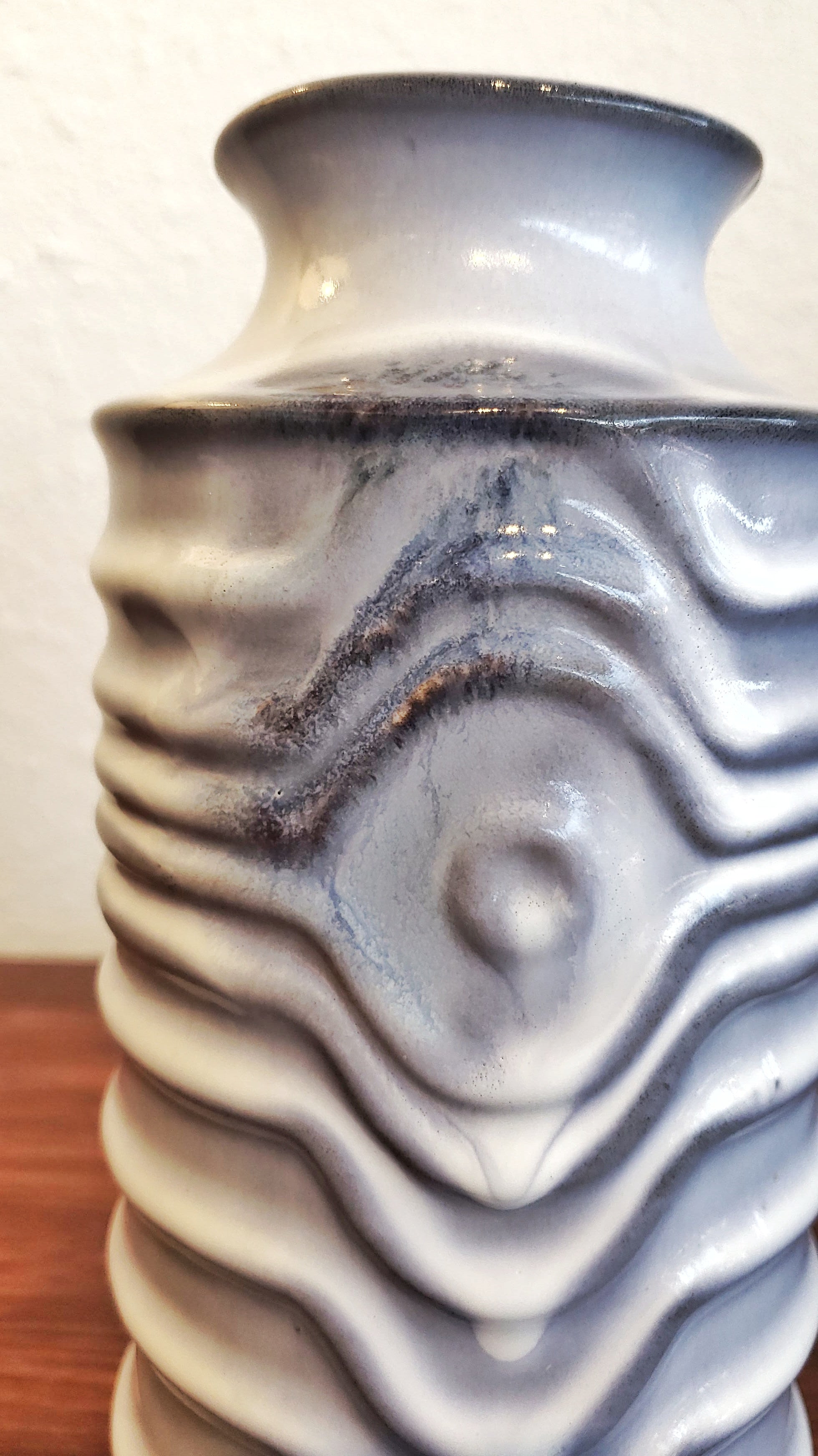 RARE CARI ZALLONI FOR STEULER KERAMIK 'ZYKLON' VASE Nr. 405/20
CONTACT US HERE ABOUT THIS ITEM.
A very rare Steuler Keramik Op-Art vase designed by Cari Zalloni as part of his 'Zyklon' series of the 1960s
STEULER was founded by Georg Steuler in Höhr-Grenzhausen, a center of the ceramic industry in the Rhineland's Kannenbäckerland, in 1917.  (The Kannenbäckerland—the "potters' land"—is the site of the largest clay deposit in Europe.)  From 1948 until 1982 STEULER was run by Theo Homrich, who is generally responsible for its success.  He developed almost all of the firm's glazes during the period, supplying some shapes and décors as well.  Vases from STEULER are generally of above-average quality.  They are usually, but not always, marked with an "ST" monogram in molded relief on the base.  STEULER reached its artistic zenith in the 1960s and '70s and is best known today for the inspiring designs of Cari Zalloni.  It closed in 1996.
CARI ZALLONI (1937-2012) was an Austrian industrial designer who is perhaps best known as the creator and chief designer of Cazal Eyewear, the iconic luxury optics brand.  He was born in Athens, Greece in 1937 to a father of Greek-Italian descent and an Austrian mother.  Upon the death of his father in 1947, his mother returned to Austria with her son, and ultimately settled in Stübing in the state of Styria. In 1956 he graduated from the Abbey High School at Seckau with the intention of going on to obtain a degree in chemistry, but instead he broke away from that pursuit to study in the Master Class of Design at the Academy of Applied Arts in Vienna under Professor Oswald Haerdtl.
Zalloni's design career began in 1960 when he went to Siena in Italy to design furniture, but after two years he moved to Salzburg,  Germany to work as a freelance designer.  His early successes included a line of decorative glassware for the Maximiliansau glass company - a glassworks belonging to the WMF group - and three very successful lines of pottery for the ornamental ceramic company Steuler-Keramik in Höhr-Grenzhausen:  'Zyklon', 'Facette', and 'Continua'.
In 1975 Zalloni founded Cazal, the eponymous eyewear brand that would make Zalloni a household name and become a virtual cult in the 80s (Cazal is a portmanteau of the founders name).  Zalloni was a visionary who revolutionized eyewear design and created trends that were way ahead of their time.  Cazal defined the typical hip-hop look of the 80s like no other brand, and some of the legendary designs from that era are still trendsetting even now.   Cari Zalloni died in 2012 from complications following heart surgery, leaving behind a wife and two children.
To have something that is a true vintage you have to have something that was a true original. – CARI ZALLONI
| | |
| --- | --- |
| Designer | CARI ZALLONI |
| Manufacturer | STEULER KERAMIK |
| Design Period | 1960 to 1969 |
| Production Period | 1960 to 1969 |
| Country of Manufacture | Germany |
| Identifying Marks | This piece has an attribution mark |
| Style | Vintage, Mid-Century, Minimalist, Modernist, Space Age |
| Detailed Condition | Excellent — This vintage piece is in near original condition. It may show minimal traces of use and/or have slight restorations. |
| Product Code | |
| Materials | Ceramic |
| Color | White, grey |
| Width | 4.0 inch |
| Depth | 4.0 inch |
| Height | 8.0 inch |