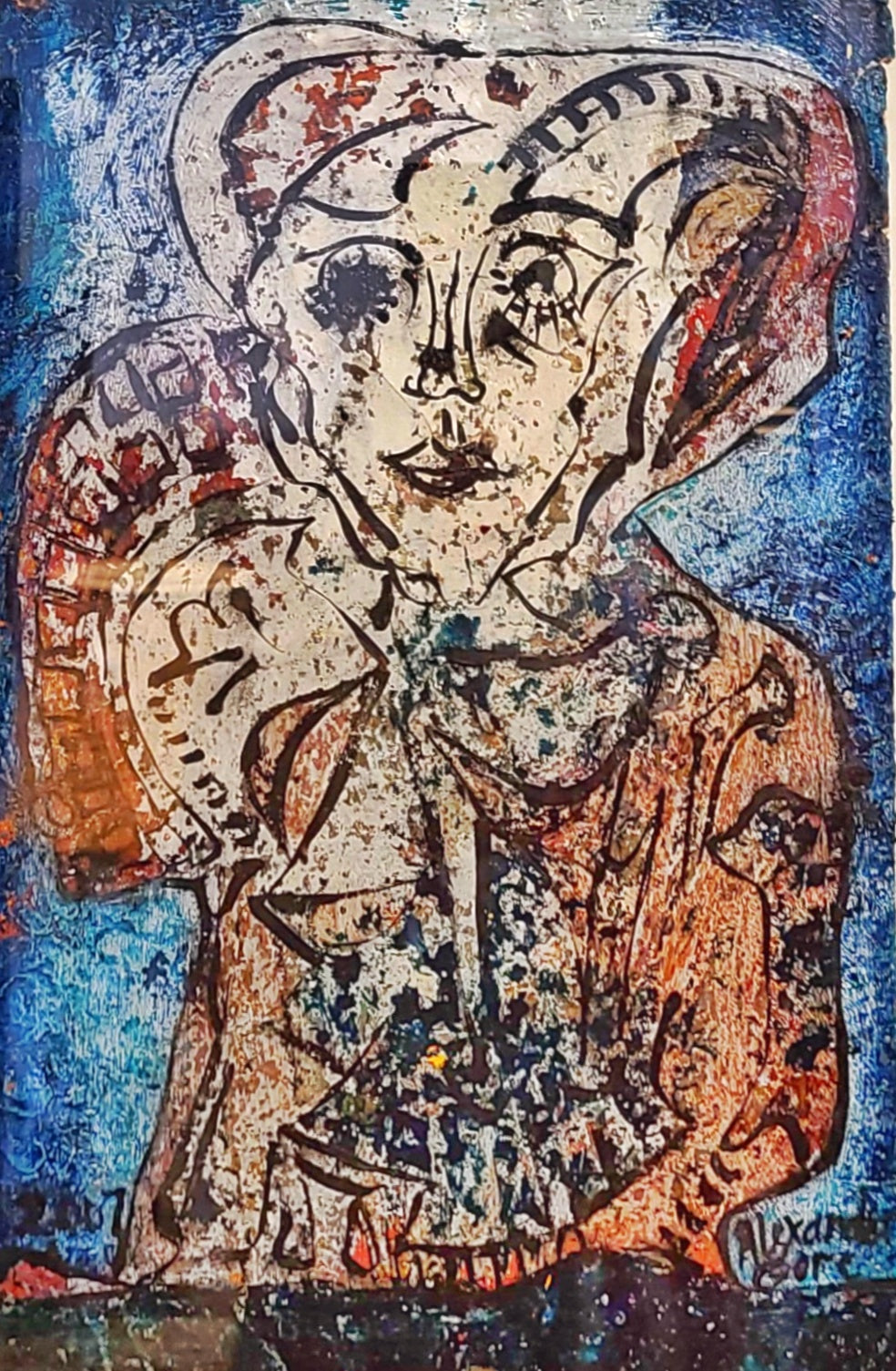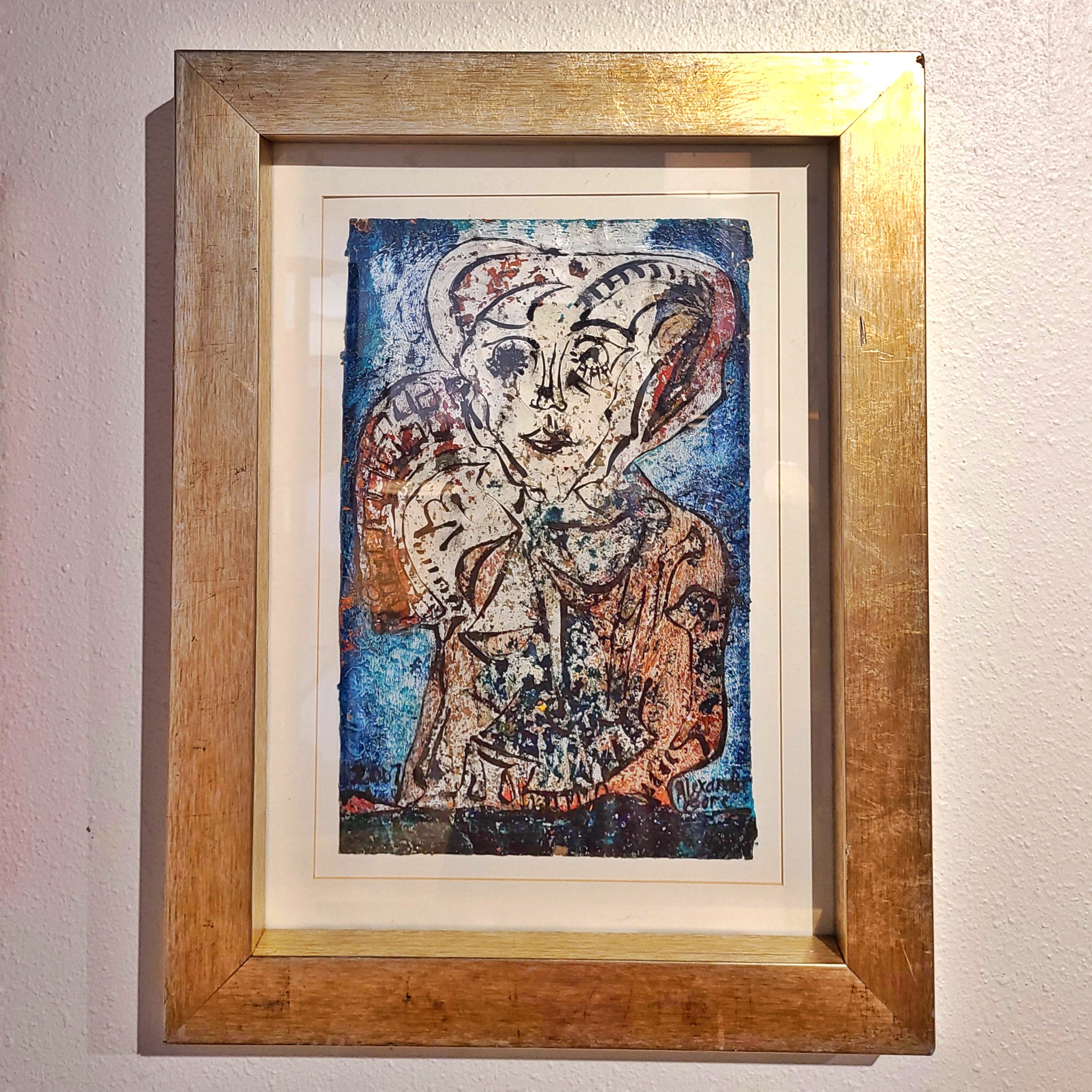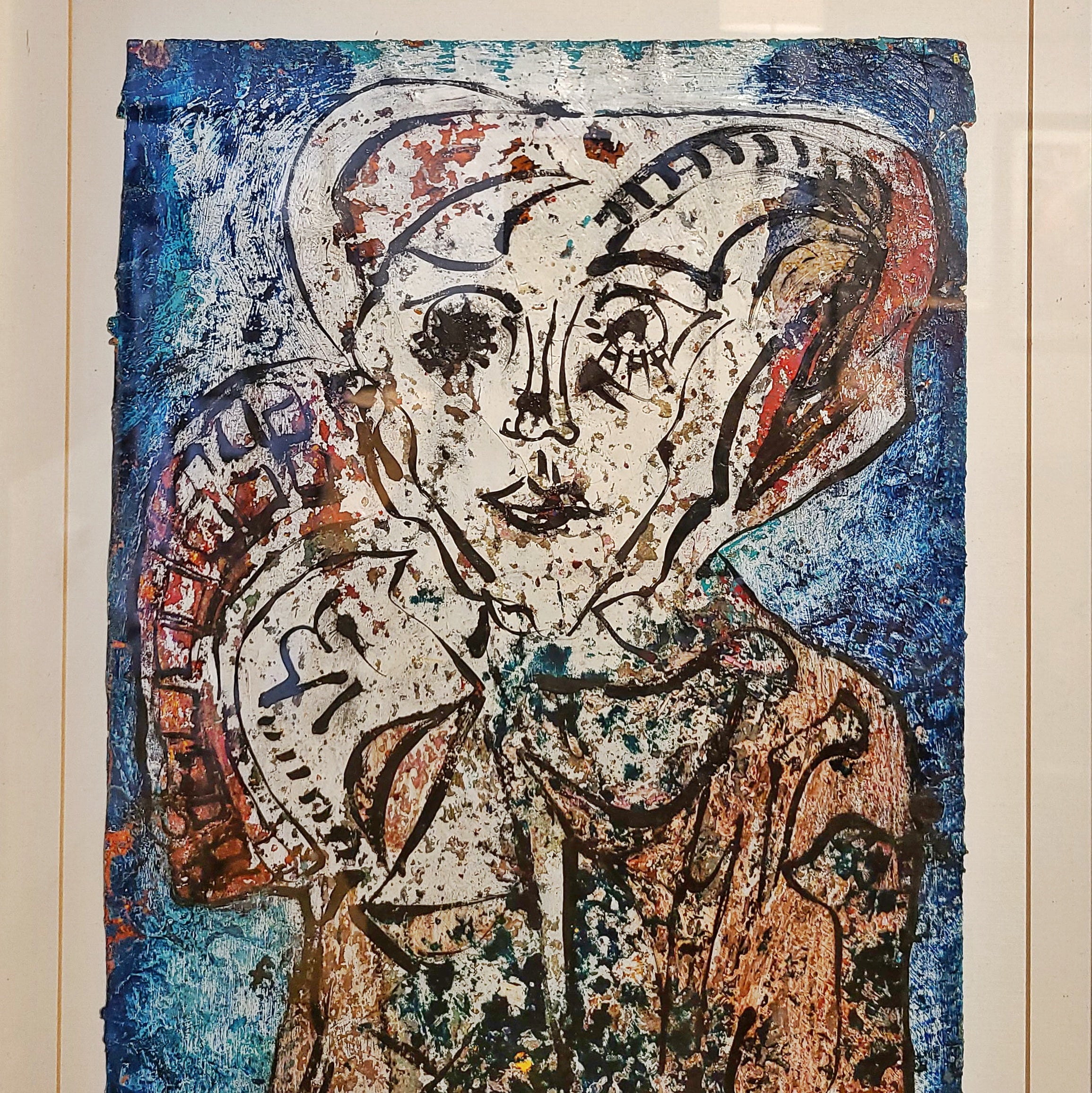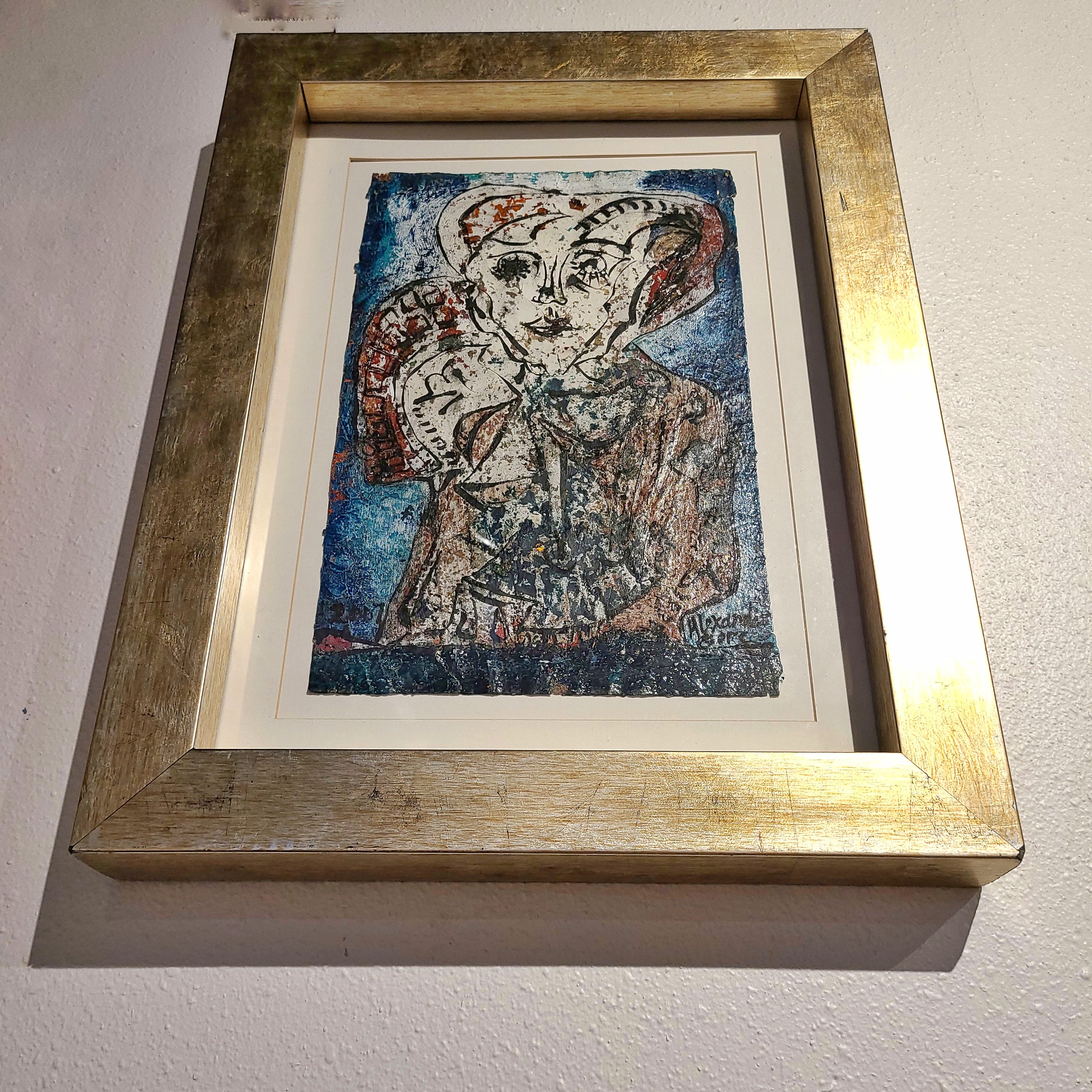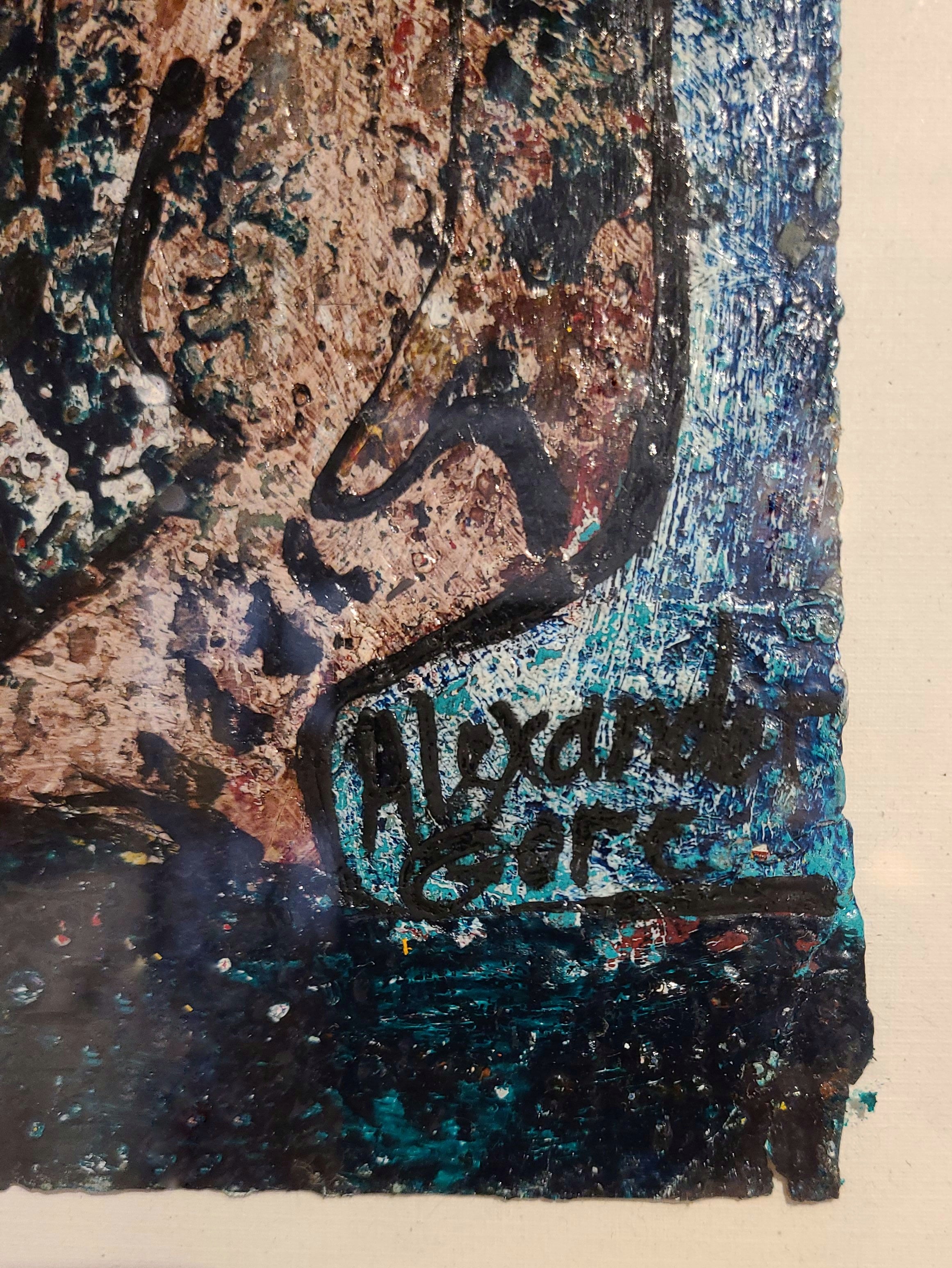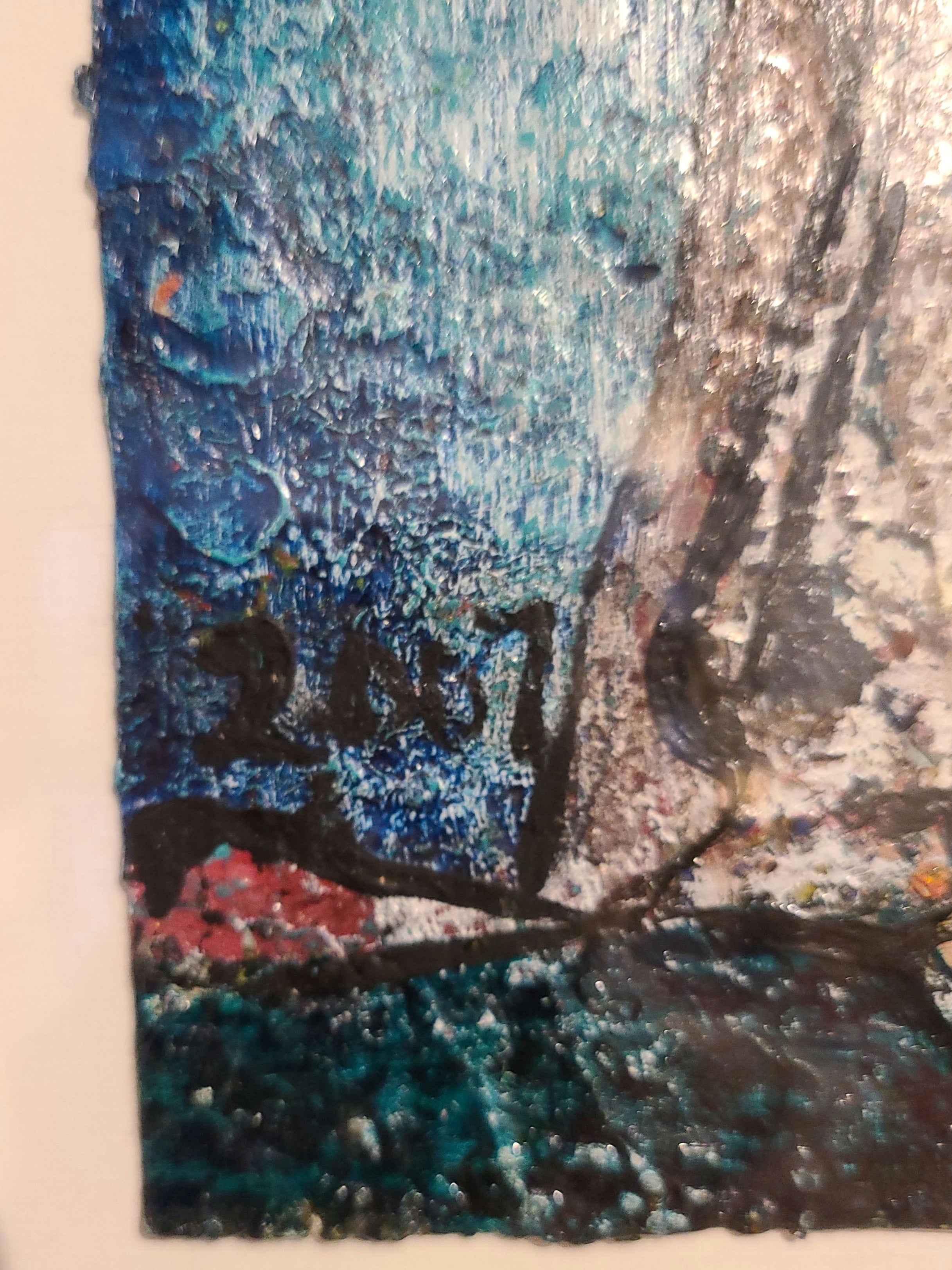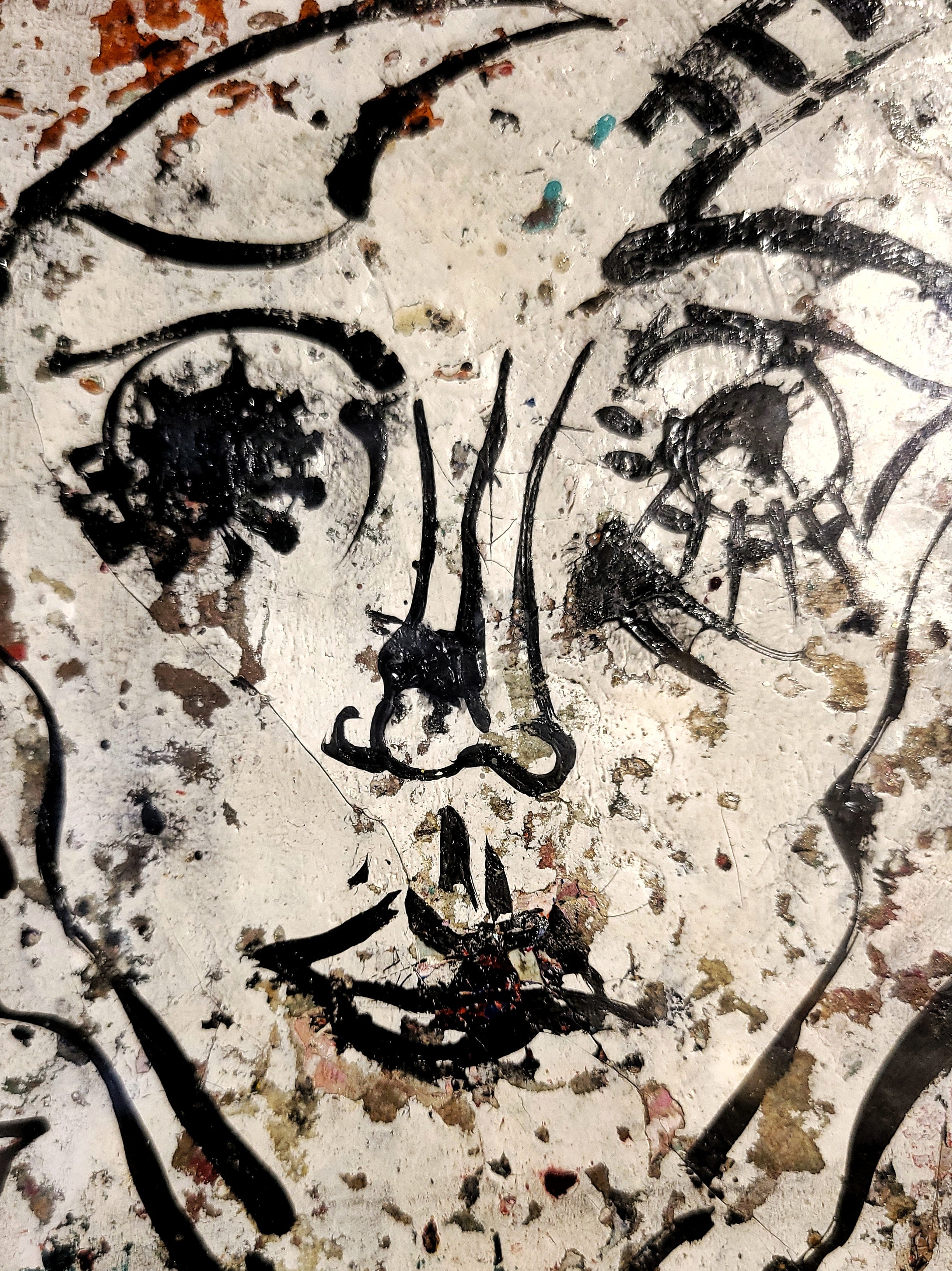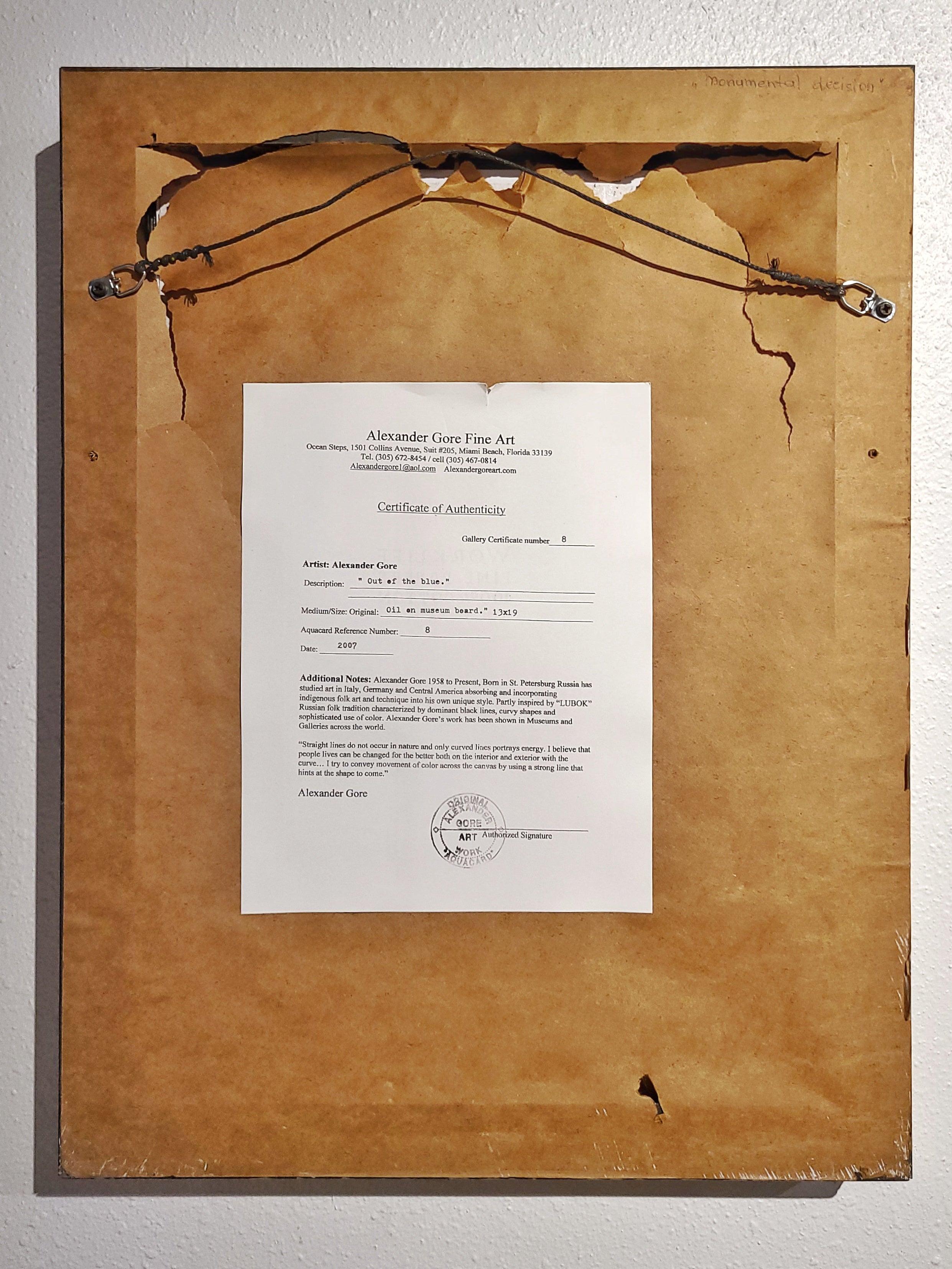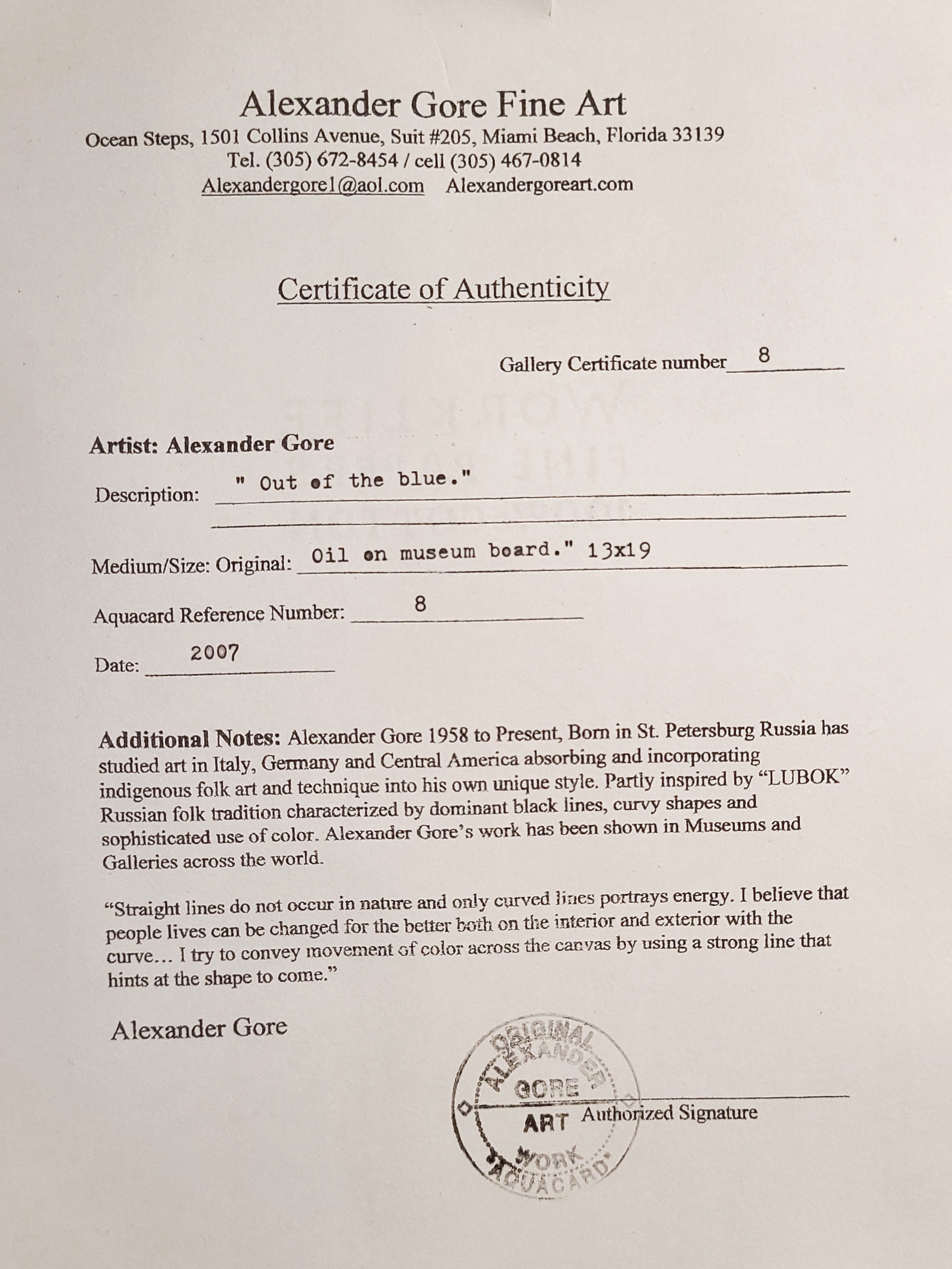 ALEXANDER GORE FRAMED OIL ON MUSEUM BOARD 'OUT OF THE BLUE' (2007)
CONTACT US HERE ABOUT THIS ITEM.
An abstract figural oil painting on museum board entitled "Out Of The Blue" by the contemporary  Russian/American artist Alexander Gore.  It is signed on the lower right and is accompanied by Mr. Gore's COA and seal attached to verso, "Out Of The Blue" was completed in 2007 and is presented in a gold-painted wooden frame, The painting has not been examined out of the frame. Dimensions: (Sight) H 15" x W 9.75," (Frame) H 23" x W 17.5."
Alexander Gore was born in St. Petersburg, Russia in 1958. Living just a block away from the famous Peter the Great Hermitage Museum, he was a frequent visitor in his early years, He was fascinated by Western art which consumed his imagination and life, but his paintings, executed in a very Modernist style, were not in keeping with the accepted styles of art allowed in the Soviet Union. The authorities and the "establishment" there decreed he had three choices: he could change to a more traditional style of art; he could leave the country, or he could be inducted into the Russian army.  Russia's loss was our gain.
After his arrival in New York City in 1980, at 21 he sought to attract every aspect of the rich world of American art and culture. He continued his search for an arena, where he could get an artistic experience. In the following years, he traveled down many creative roads to Central America, seeing the sights of the ancient beginnings of man, local traditions, and environments. The influence of Central American and Caribbean flavor is visible in Gore's art.
After 10 years of painting in New York, Gore moved to Miami, where he opened his own gallery.  The hot southern palette has had a cheerful effect on his paintings, which have been nurtured by the sun, and the happiness of life. Invigorated by the energy of being in Miami, Alexander Gore produced more than 6,000 original works that found a home in art collections all over the country and around the world.
"In my art," Alexander Gore says, "I try to convey the organic movement of color across the canvas by using a strong line that hints at all the shapes to come." Alexander's works give a picture of black lines, curvy characters, and intricate touches, creating an atmosphere for the imagination to fill. The great changes of light and shade prompted him to paint weightless forms unknown to nature: he unlocked a vital energy and creative spirit in himself. Gore's style of art reflects a powerful surrealistic influence and incorporates countless travel experiences. He paints abstract and semi-abstract forms, weightless in time and space. His art portrays an alternative view of reality, one without borders and limitations.
Alexander's paintings, which are made with original oil on canvas or oil on paper, are immediately recognized by the dominant lines, twisted shapes, and subtle colors.
According to Alexander, the curved line is a basic element of nature whereas the straight line does not exist in nature. "Only a curved line has a vitality and energy, unknown to the non-natural straight line, he says, "I believe, that people's lives can be changed for the better both internally and externally, based on the curved line."
While Alexander Gore's art has been shown in museums, galleries, and auction houses globally, he has gained most renown along the East Coast of the United States, appearing in Washington DC, New York, and Miami.
Details
Dimensions

17.25ʺW × 2.5ʺD × 22.75ʺH
Styles

Abstract
Contemporary
Figurative

Frame Type

Framed
Art Subjects

Abstract
Figure

Period

2000 - 2009
Place of Origin

United States of America
Item Type

Vintage, Antique or Pre-owned
Materials

Oil Paint
Paper
Condition

Good Condition, Original Condition Unaltered, Some Imperfections
Color

Blue
Condition Notes

Good Vintage Condition. Painted Surface Shows Some Cracking. Minor Scuffing and Dings to the Frame