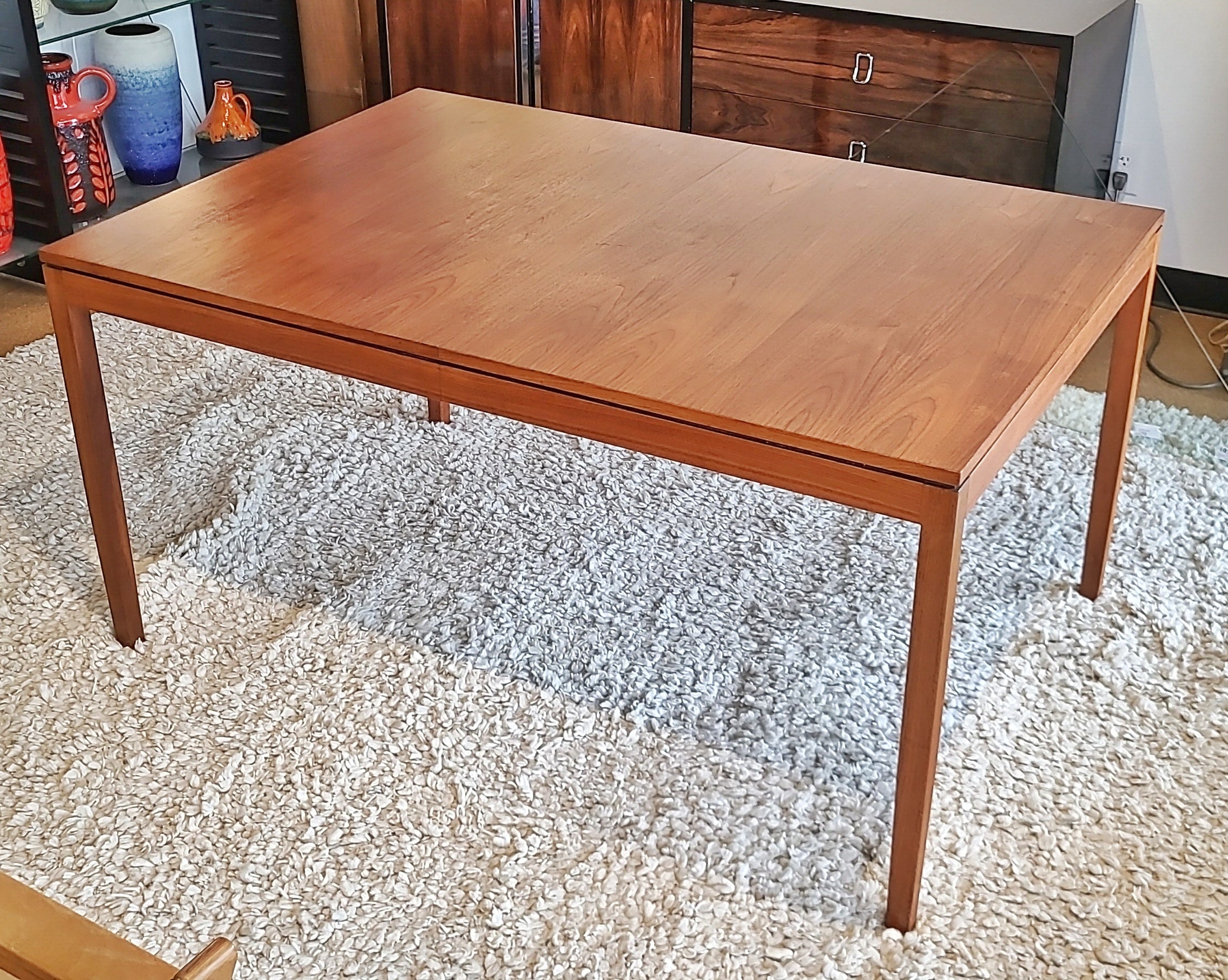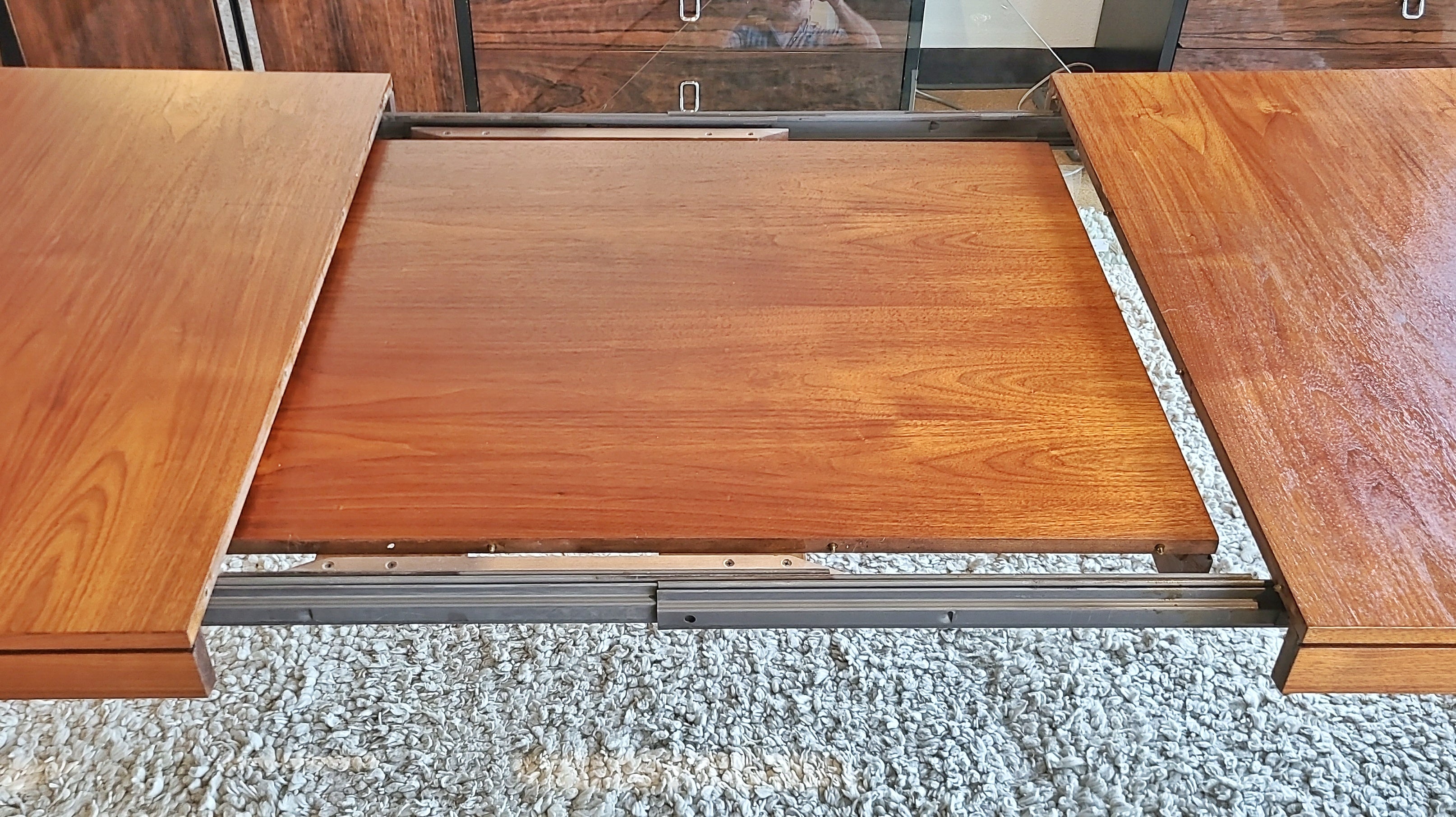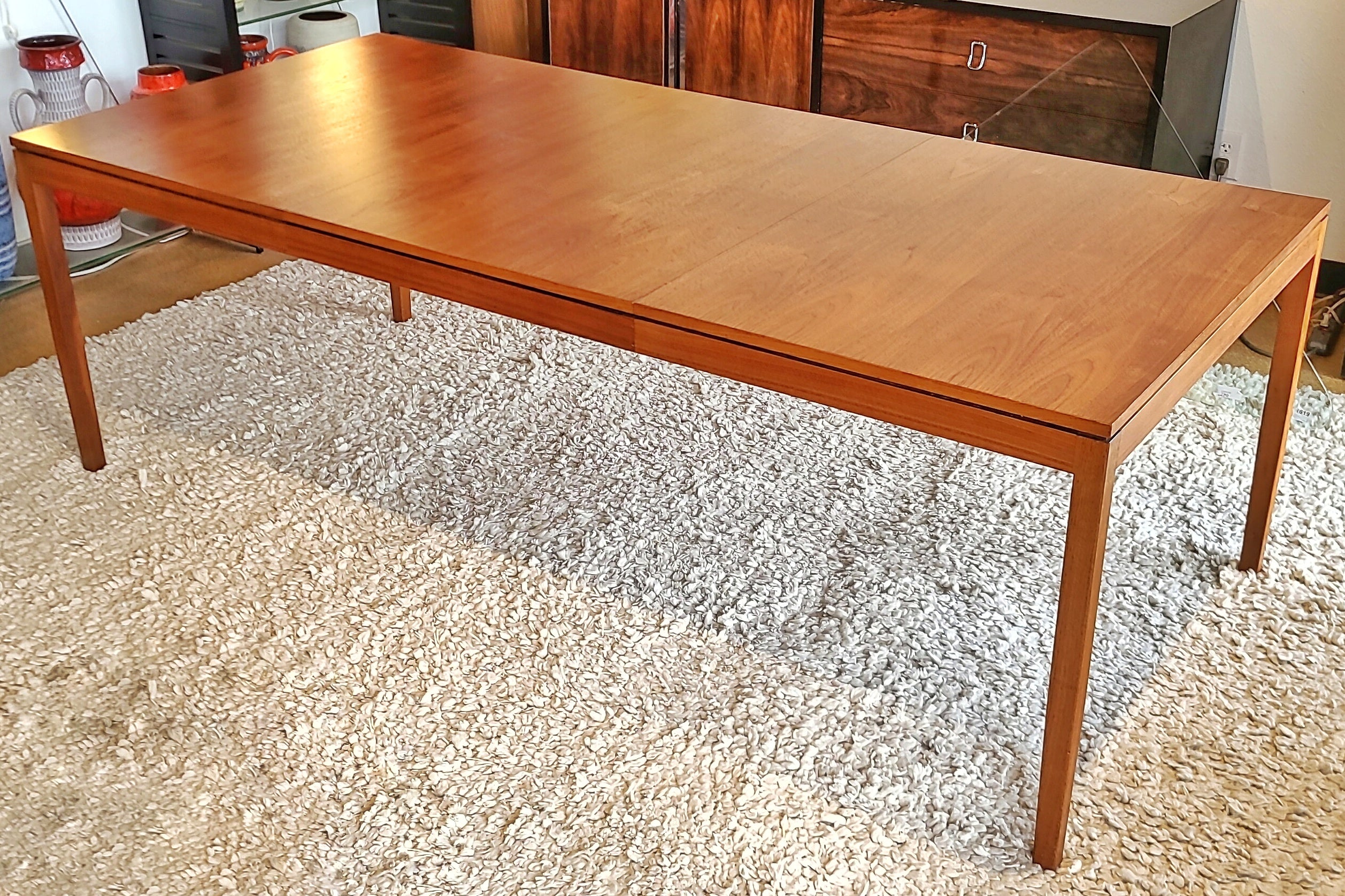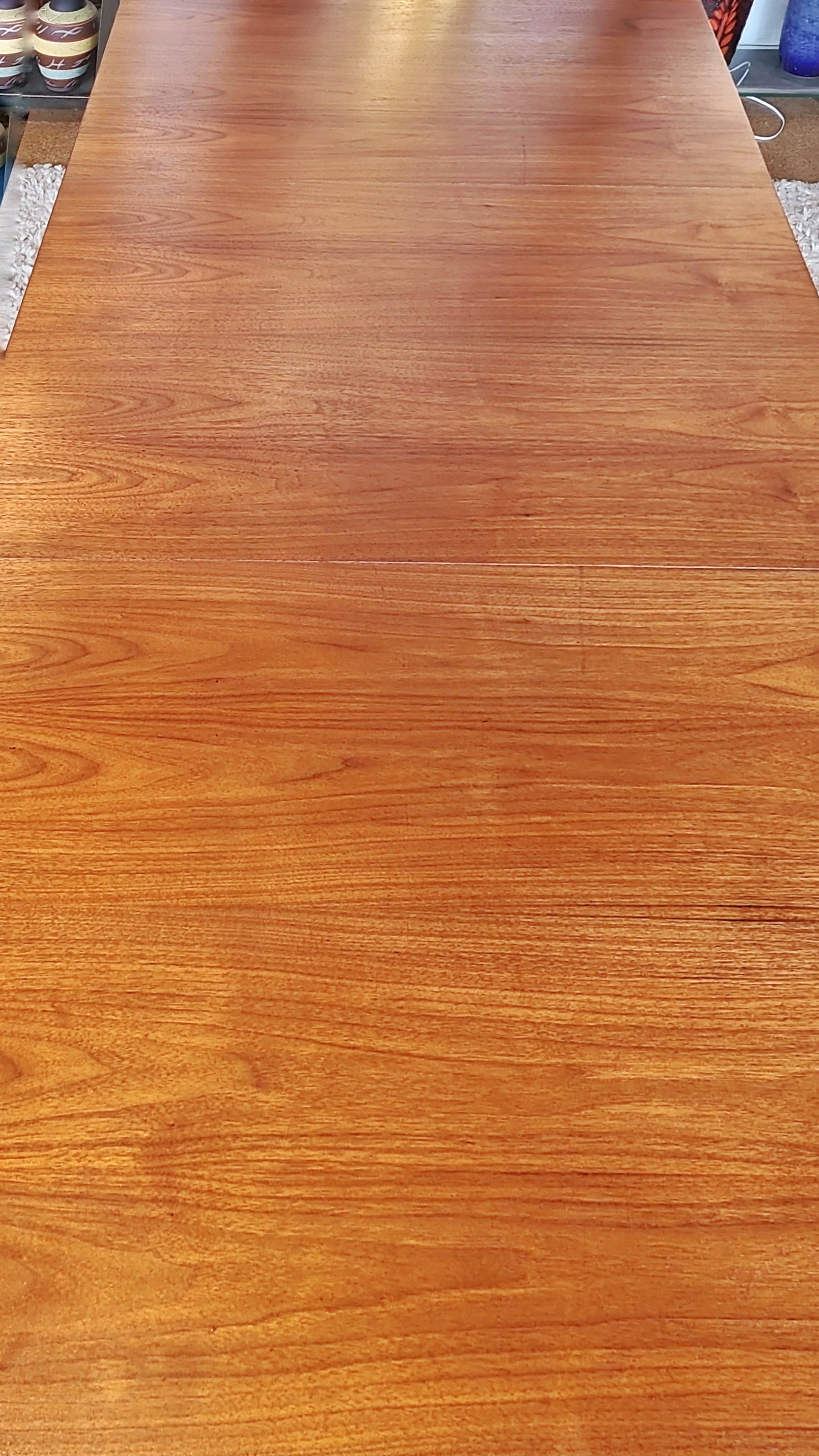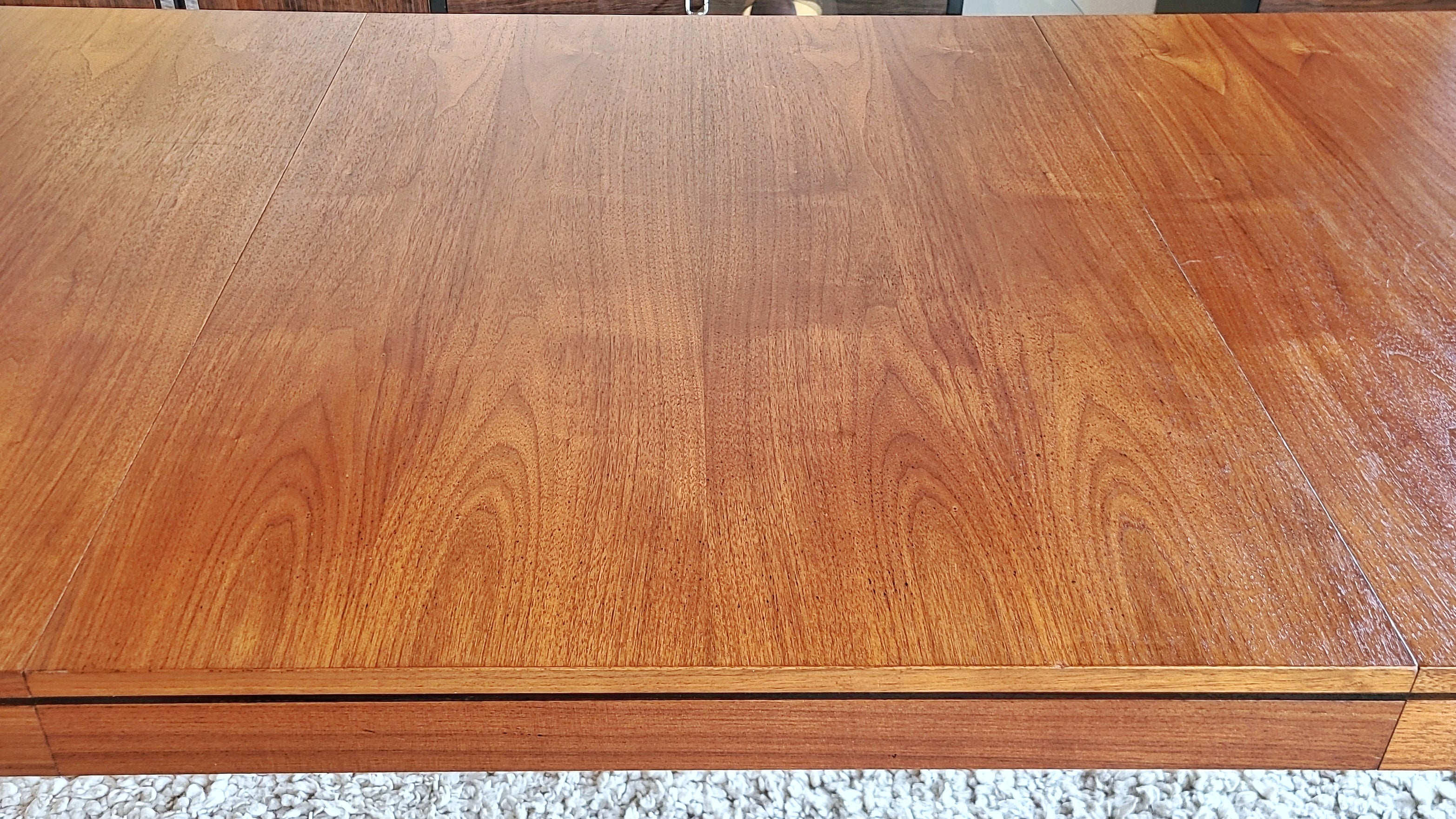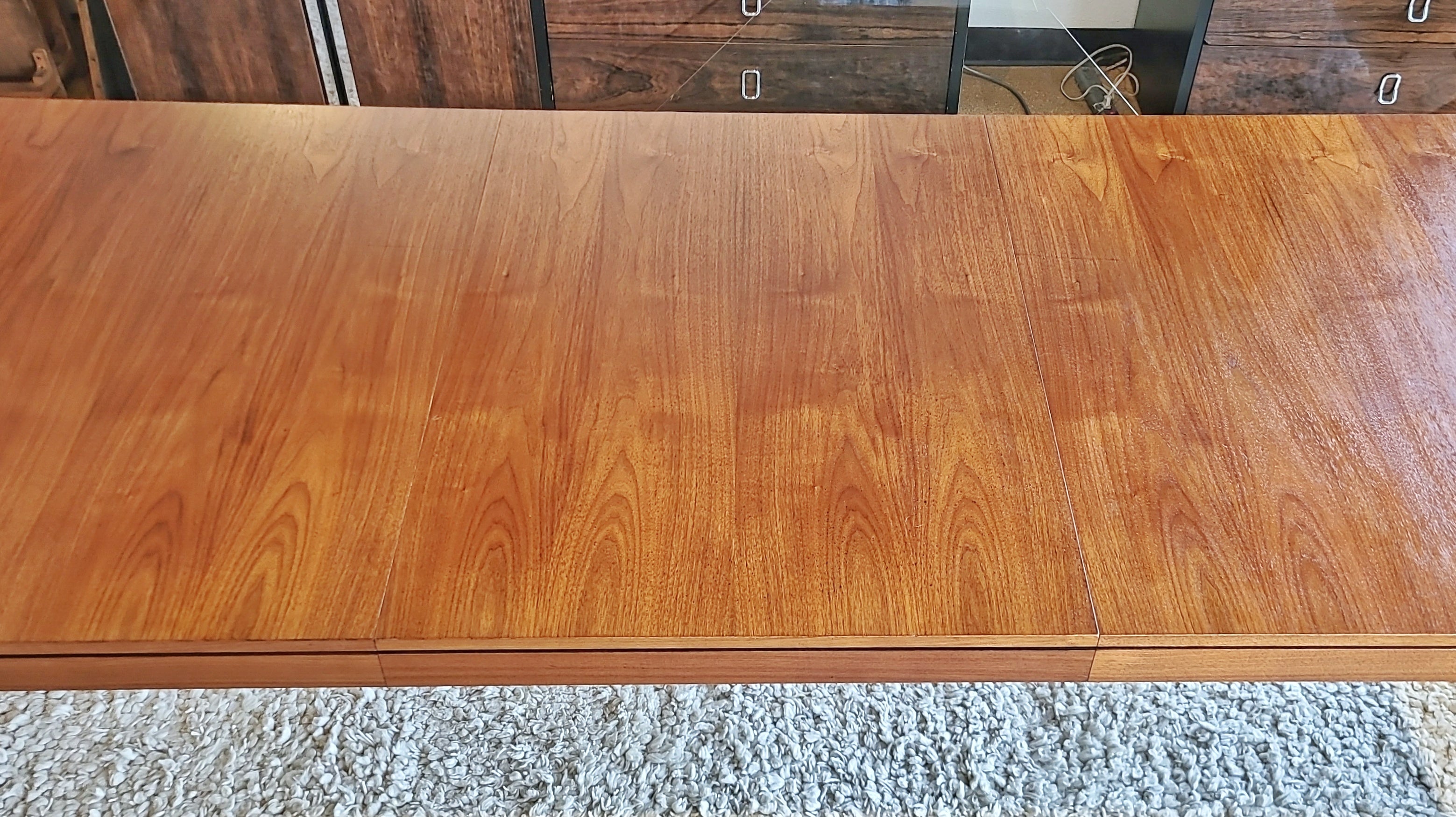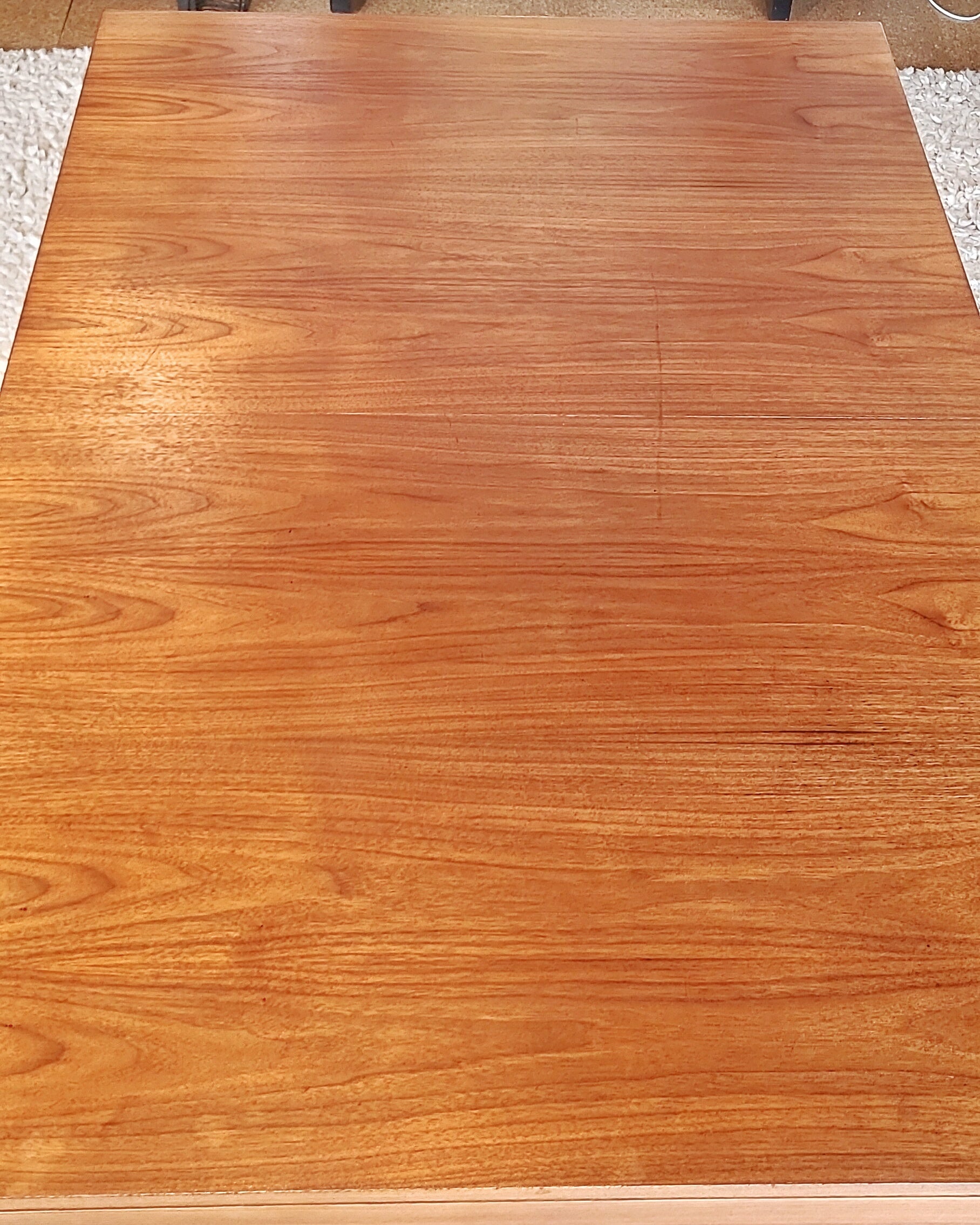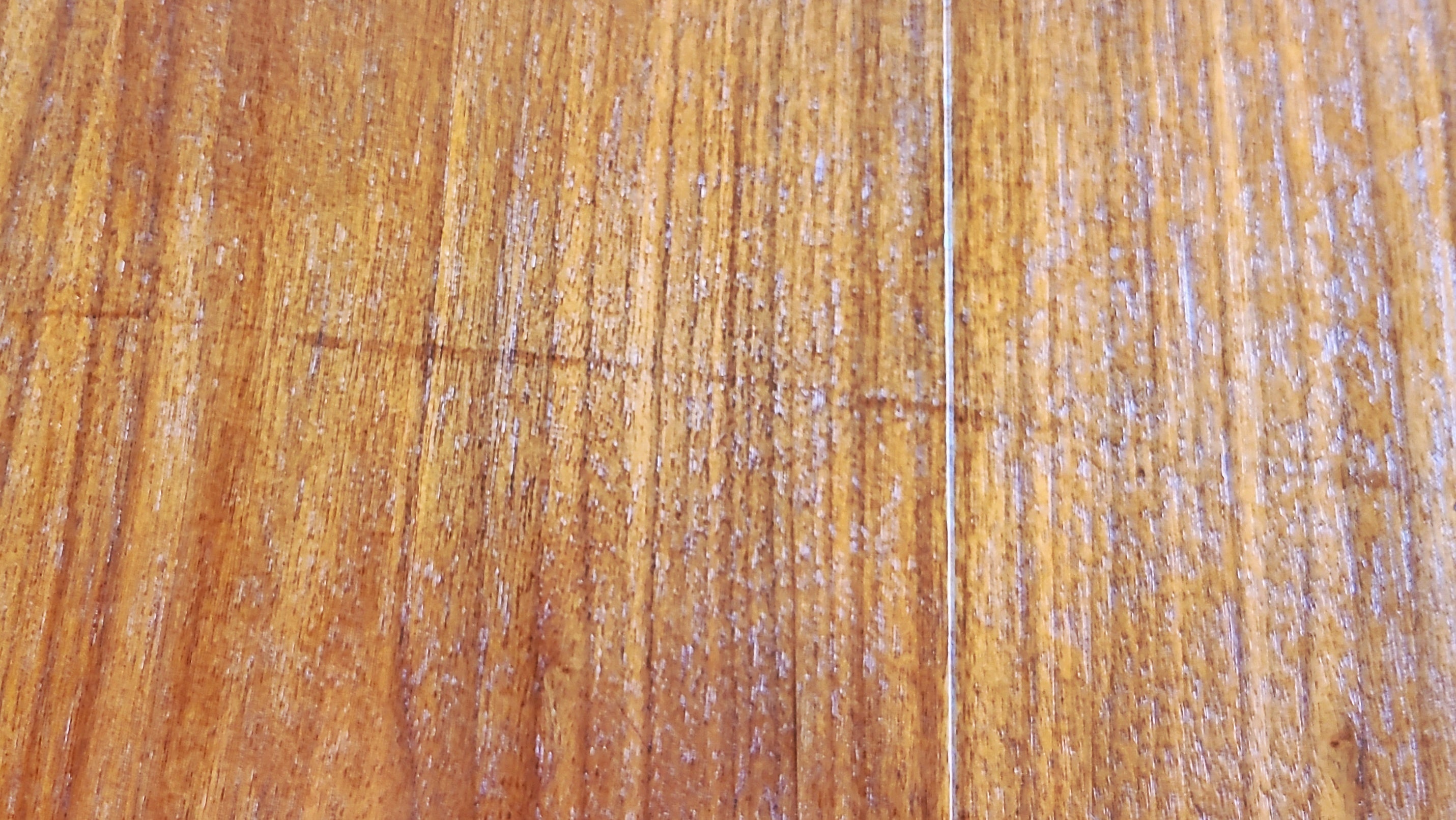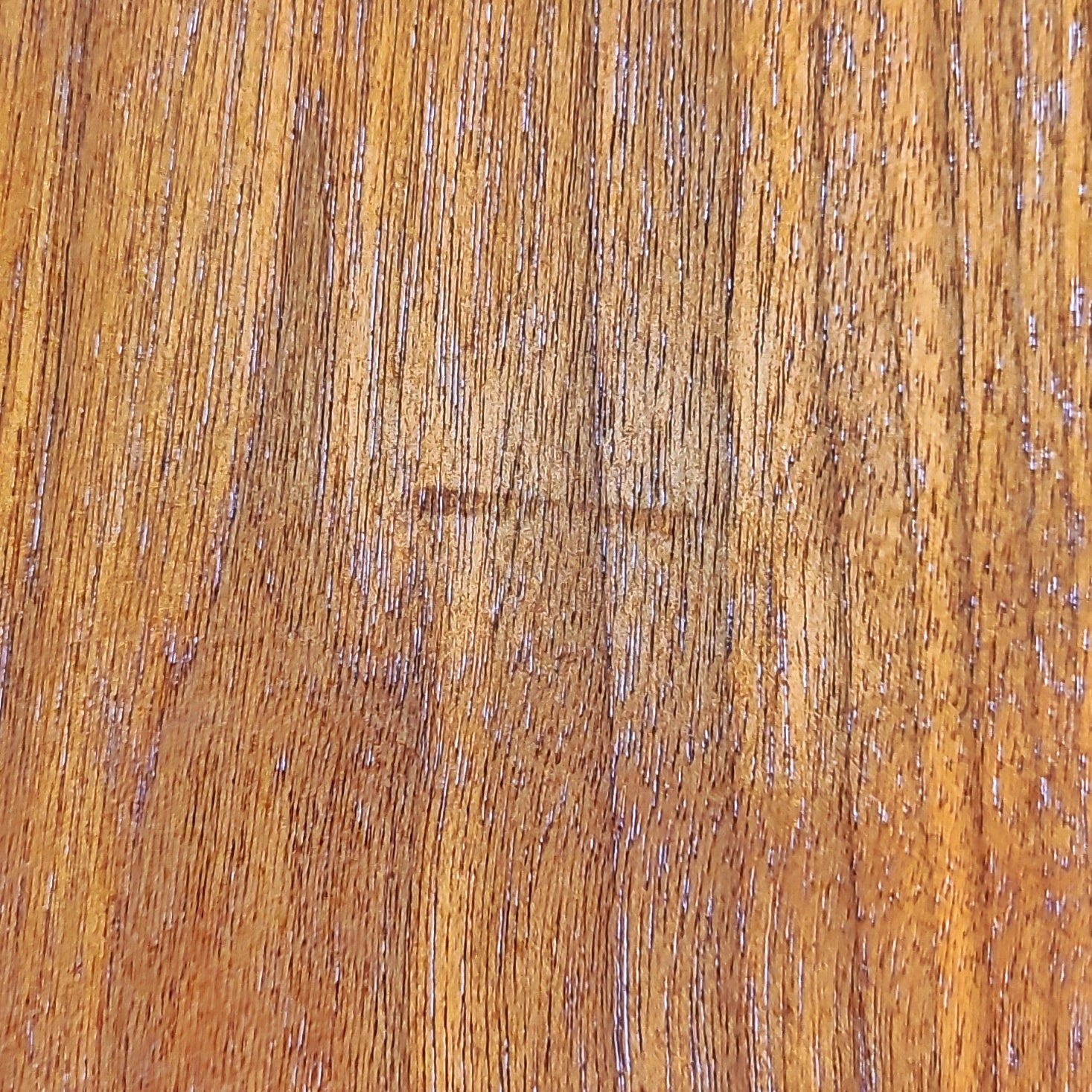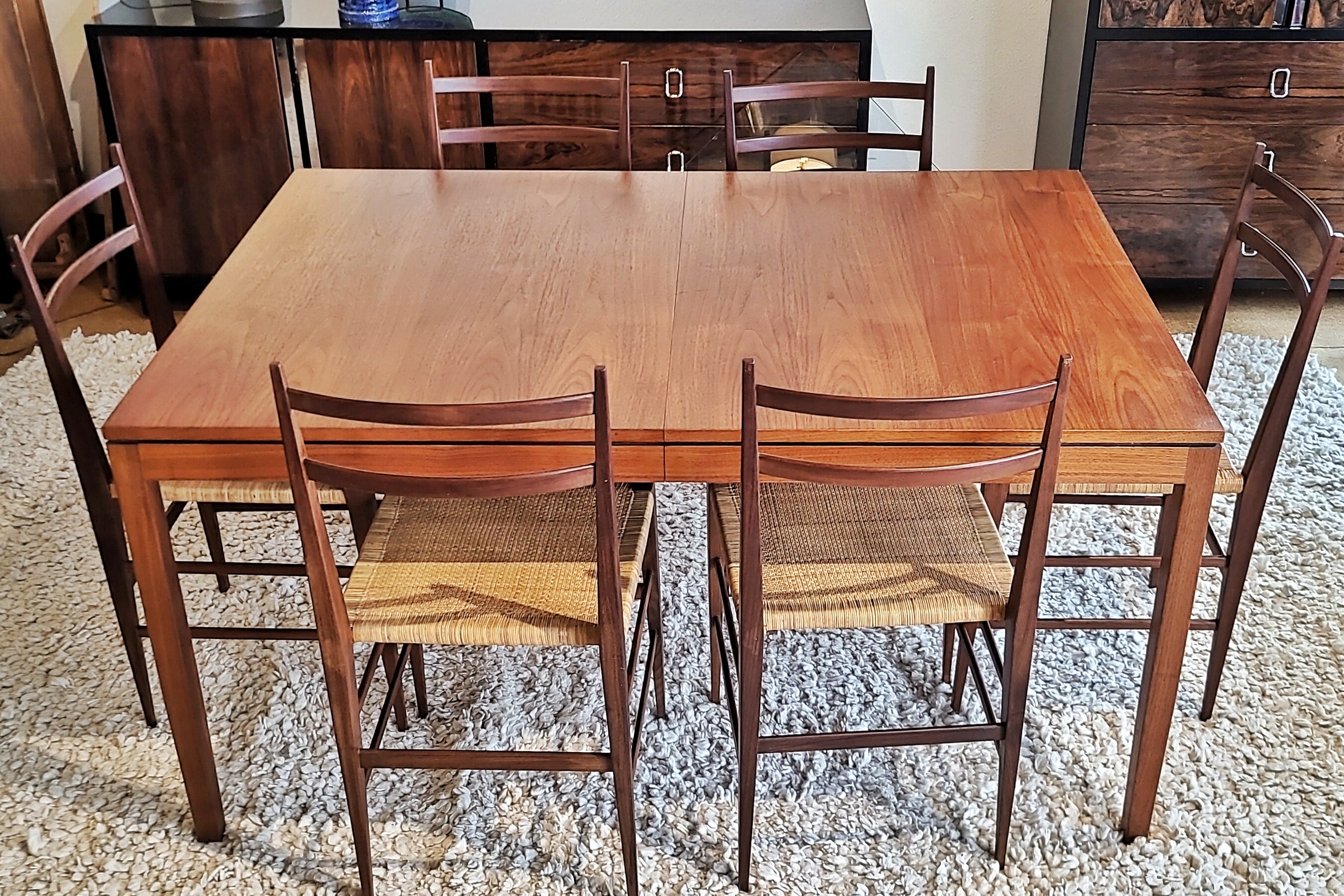 1957 FLORENCE KNOLL WALNUT DINING TABLE #303 FOR KNOLL ASSOCIATES
CONTACT US HERE ABOUT THIS ITEM.
An elegantly clean-lined, bleached-walnut dining table designed for KNOLL ASSOCIATES in 1957 by Florence Knoll. A center leaf (which stores within the table) triples the table's length to 84"; fully extended the table seats ten. Listed as model #303 Extension Table in the 1957 Knoll catalogue. Very good original condition; wear consistent with age and use. Minor surface marks. Bright spots in the photos are the result of reflected ambient lighting.
FLORENCE KNOLL BASSETT (1917–2019, née Schust) was an American architect, designer, and entrepreneur. She was born in 1917 in Saginaw, Michigan.  Orphaned as a child, she was educated at the Kingswood School for girls, one of the Cranbrook Schools cofounded by philanthropists George and Ellen Booth along with Finnish architect Eliel Saarinen in Bloomfield Hills, Massachusetts. Saarinen and his wife Loja all but adopted Knoll; she summered with the family in Finland and befriended their son Eero. Saarinen encouraged Knoll to enroll at Cranbrook's Academy of Art, where she focused on architecture until 1939, with intervals of study at Columbia and the Architectural Association in London. In 1940, she was placed under the tutelage of Ludwig Mies van der Rohe at the Armour Institute (now the Illinois Institute of Technology) and also apprenticed for architects Marcel Breuer and Walter Gropius—all three of whom were pillars of the Bauhaus school. Van der Rohe would remain a lifelong mentor. The next year, she moved to NYC and worked for the architectural firm of Harrison & Abramovitz, through whom she met furniture manufacturer and retailer Hans Knoll. He recruited her as head of Knoll Planning Unit and, in 1946, they were married. That same year, the company changed its name to KNOLL ASSOCIATES.
Knoll was an enthusiastic and influential champion of well-known Bauhaus designers and architects as well as newcomers such as Harry Bertoia. As a designer in her own right, she created tables, chairs, sofas, and storage solutions for KNOLL. She was also a major proponent of both ergonomics in interior space planning and the thorough integration of furniture with architecture. She was instrumental in selling the American public on modernist design and had a talent for persuading business executives to hire her firm to transform their offices. Her marketing experiences led her to coin the company's motto: "Good design is good business."
In 1951, the company was renamed Knoll International and it expanded its business overseas. Upon her husband's death in 1955, she took over as company president. Three years later, she married banker Henry Hood Bassett. Knoll Bassett served as Director of Design at KNOLL until her retirement in 1965. She was honored with a National Medal of Arts in 2002. She donated her design archive to the Smithsonian Archives of American Art in Washington, D.C., in 2004. Knoll died in 2019 at the age of 101.
KNOLL was founded eponymously in 1938 in a small space on East 72nd Street in New York City as the Hans G. Knoll Furniture Company. Hans Knoll had been born in Stuttgart, Germany, in 1914, into the successful furniture making family behind Walter Knoll & Co. Early 20th-century Germany was a nexus of modernist design theory which held that design should be rooted in the principles of rationality, functionalism, and mass production. It was notably expressed in the products and practices of the Deutscher Werkbund association of artists and industrialists and the influential Bauhaus school. This milieu had a lasting influence on Knoll and would inspire him to produce furniture for the new age. In 1937, after a stint in London, he moved to the US, bringing the modernist vision with him.
Launched as an import business, the Hans Knoll Furniture Company soon pivoted to manufacturing. Its first plant was opened in a former dance hall in East Greenville, Pennsylvania, in 1941, the year that Danish designer Jens Risom was hired. Risom would help with the development of the first, original KNOLL designs. Also in 1941, Hans met Florence Schust on an interior design project and, recognizing her exceptional taste and eye, hired her to court business with architects and interior designers and, later, to provide in-house planning and interior design expertise for a corporate clientele. In 1946 they were married, and the company was renamed KNOLL ASSOCIATES.
That same year the Knoll Planning Unit was established to solidify the company's role in interior design. In 1951, KNOLL ASSOCIATES changed its name to Knoll International, and its German and French arms were launched, producing designs especially for European markets. In 1955 Hans died in a tragic car crash; his widow remained actively involved in the company until her 1965 retirement ten years later.
KNOLL's signature pieces include Marcel Breuer's Wassily chair (1925), Mies van der Rohe's Barcelona chair (1929/1948), Harry Bertoia's Diamond chair (1952), and Eero Saarinen's Tulip armchair (1957); as well as Florence's own furniture collection, developed through the 1950s.  The impressive KNOLL catalogue includes a who's-who list of midcentury and contemporary design figures, including Jens Risom, Alexander Girard, George Nakashima, Isamu Noguchi, Richard Schultz, Warren Platner, Charles Pollock, Andrew Morrison & Bruce Hannah, Vignelli Associates, Richard Sapper, Maya Lin, Frank Gehry, and Rem Koolhaas. Today KNOLL is especially focused on meeting the changing needs of the 21st-century workplace.
Hans Knoll was given the National Design Award for Corporate and Institutional Achievement by NYC's Cooper Hewitt Smithsonian Design Museum in 2011, in recognition of his legacy in American modern design and the emphasis of his work on the connection between design and quality of life. KNOLL pieces can be found in the permanent collections of institutions around the world; more than thirty have been acquired by New York's MoMA.
I needed a piece of furniture.  It was not there so I designed it. – FLORENCE KNOLL BASSETT
DETAILS
Maker – KNOLL ASSOCIATES
Production Period – 1960s
Designer – FLORENCE KNOLL
Design Period – 1957
Origin – USA
Styles/Movements – MID-CENTURY MODERN
Materials – WALNUT
Colors – BROWN
Condition – Very good vintage condition; wear consistent with age and use. Minor surface marks.
Dimensions – 56ʺ W × 38ʺ D × 28 ½ʺ H