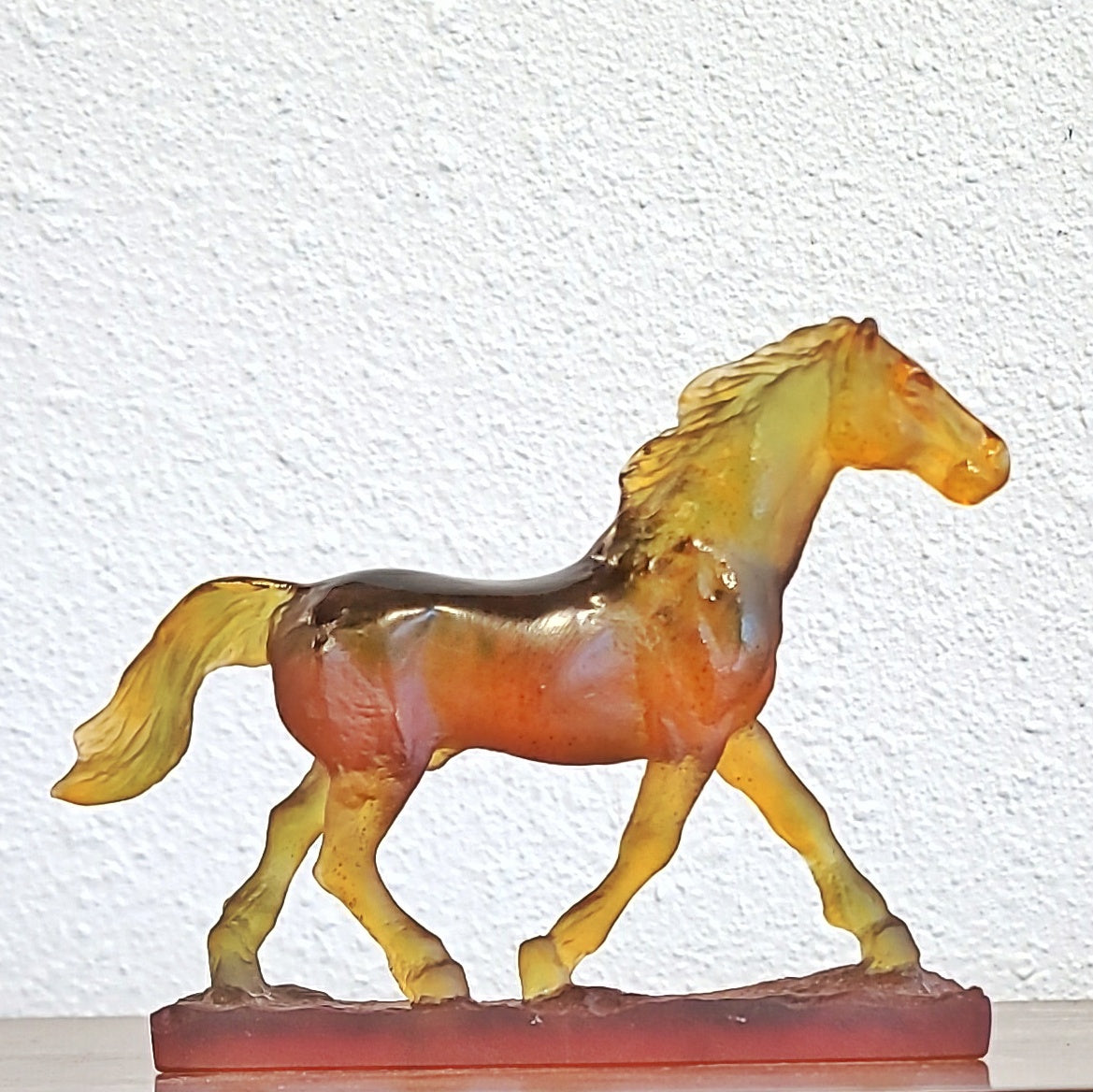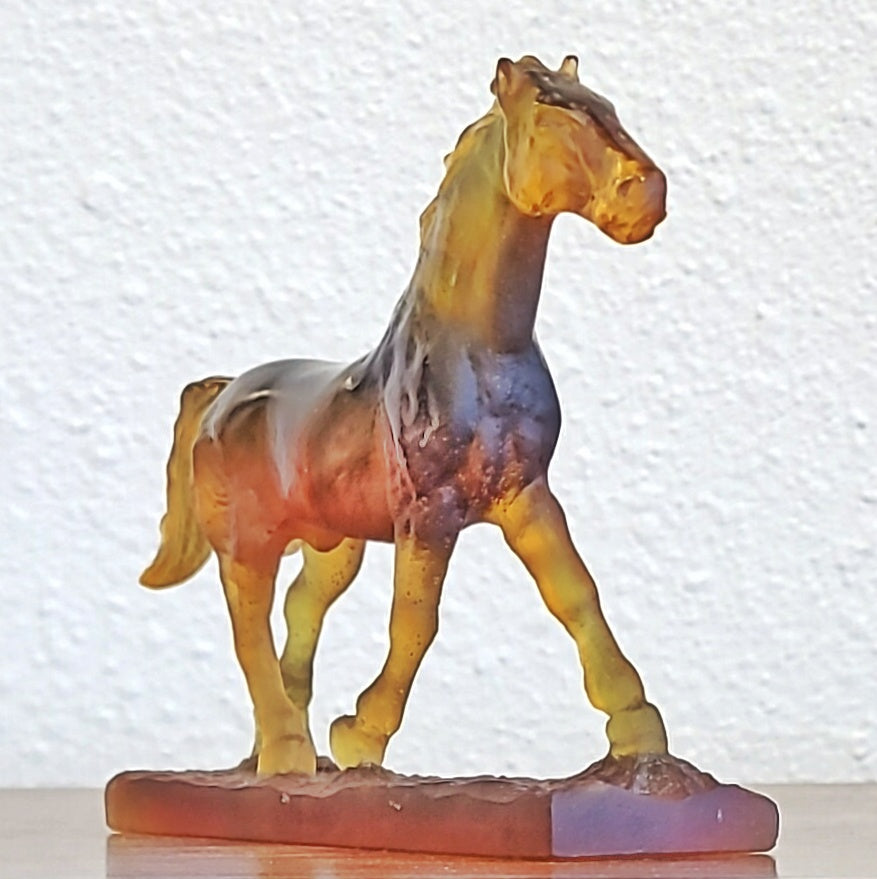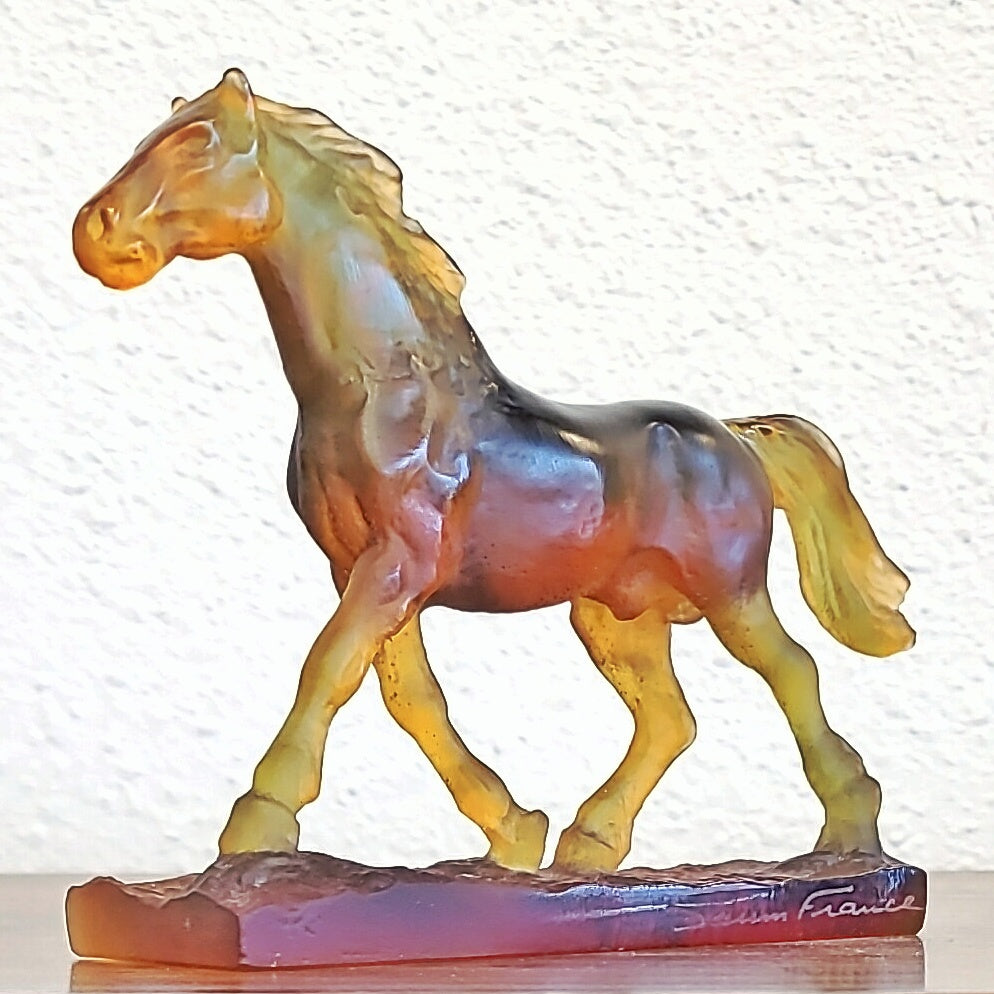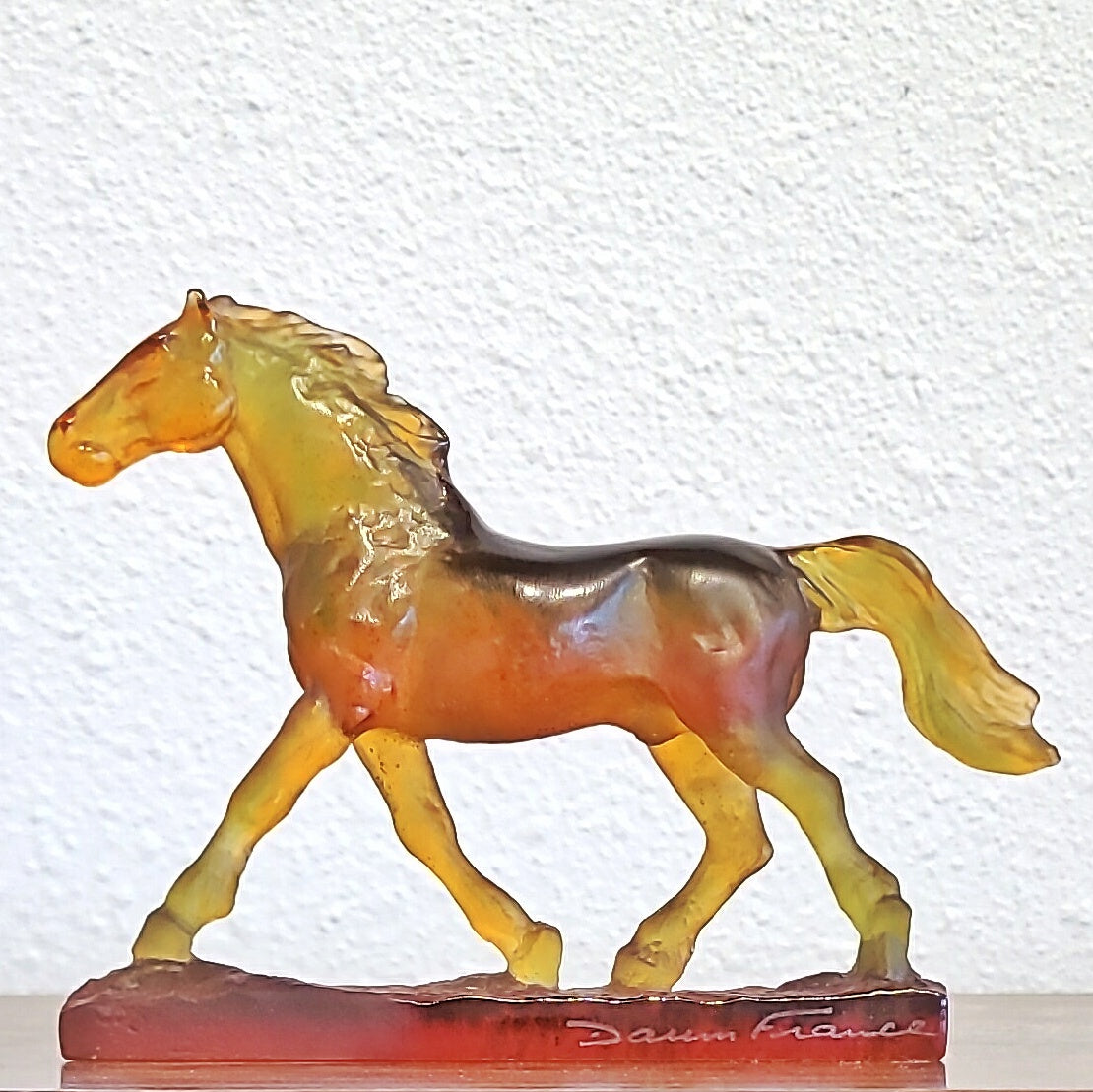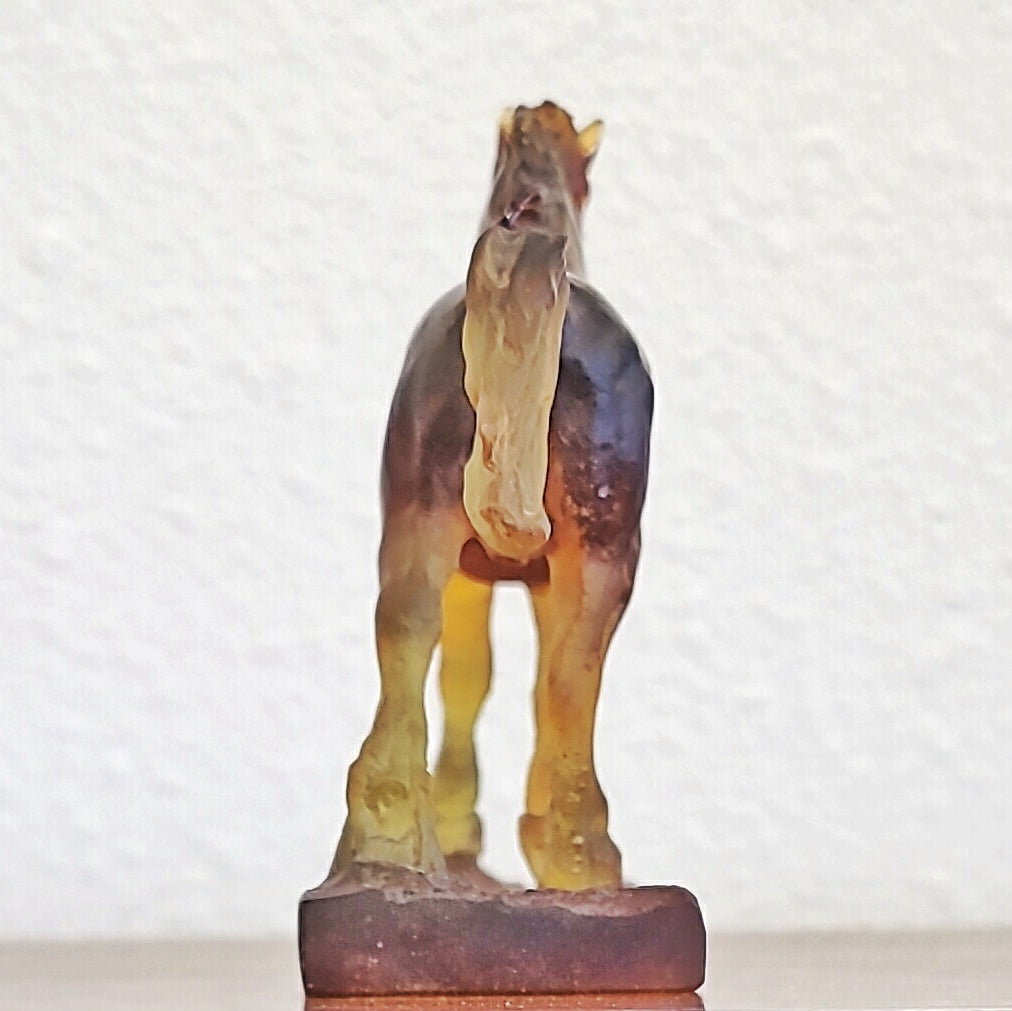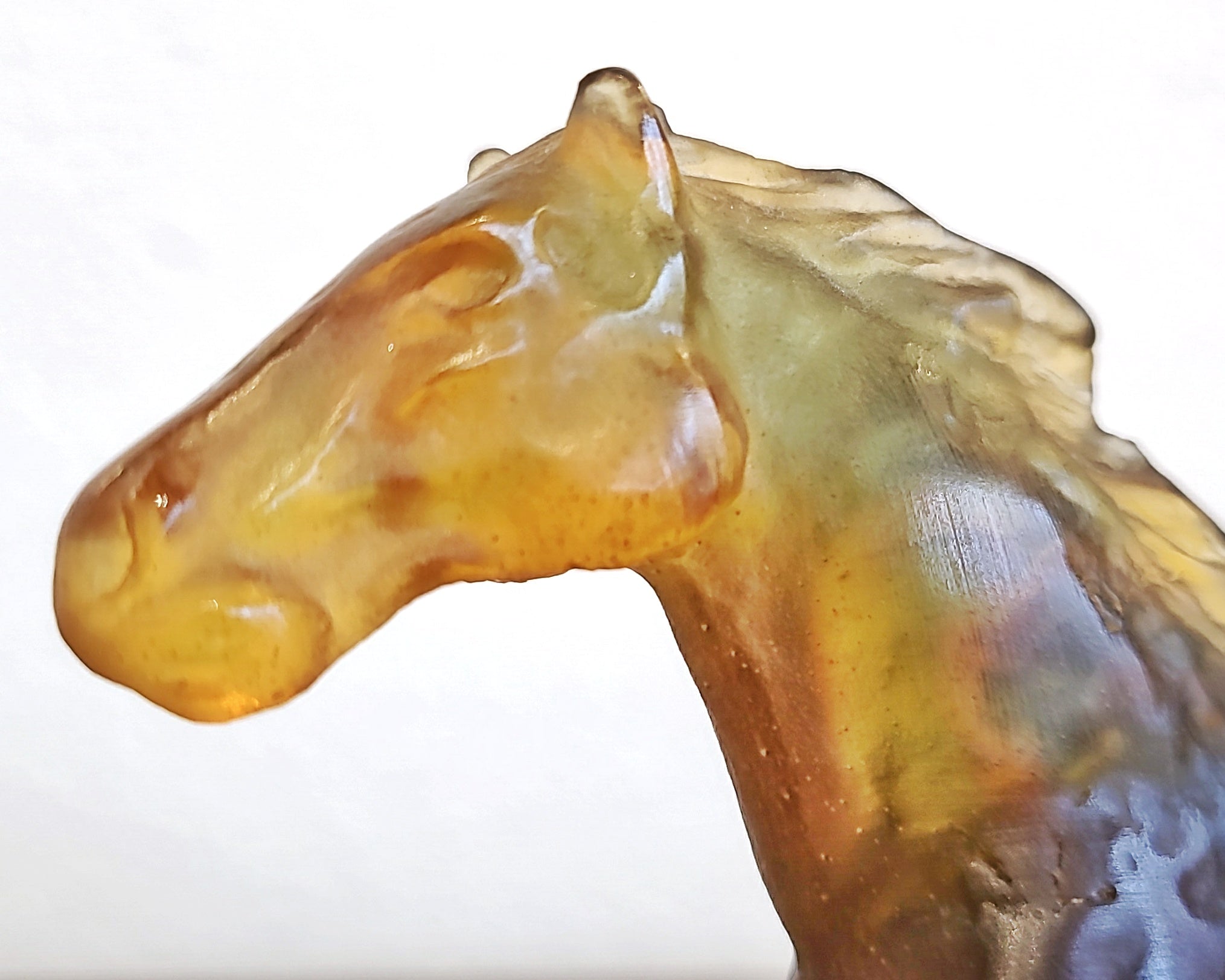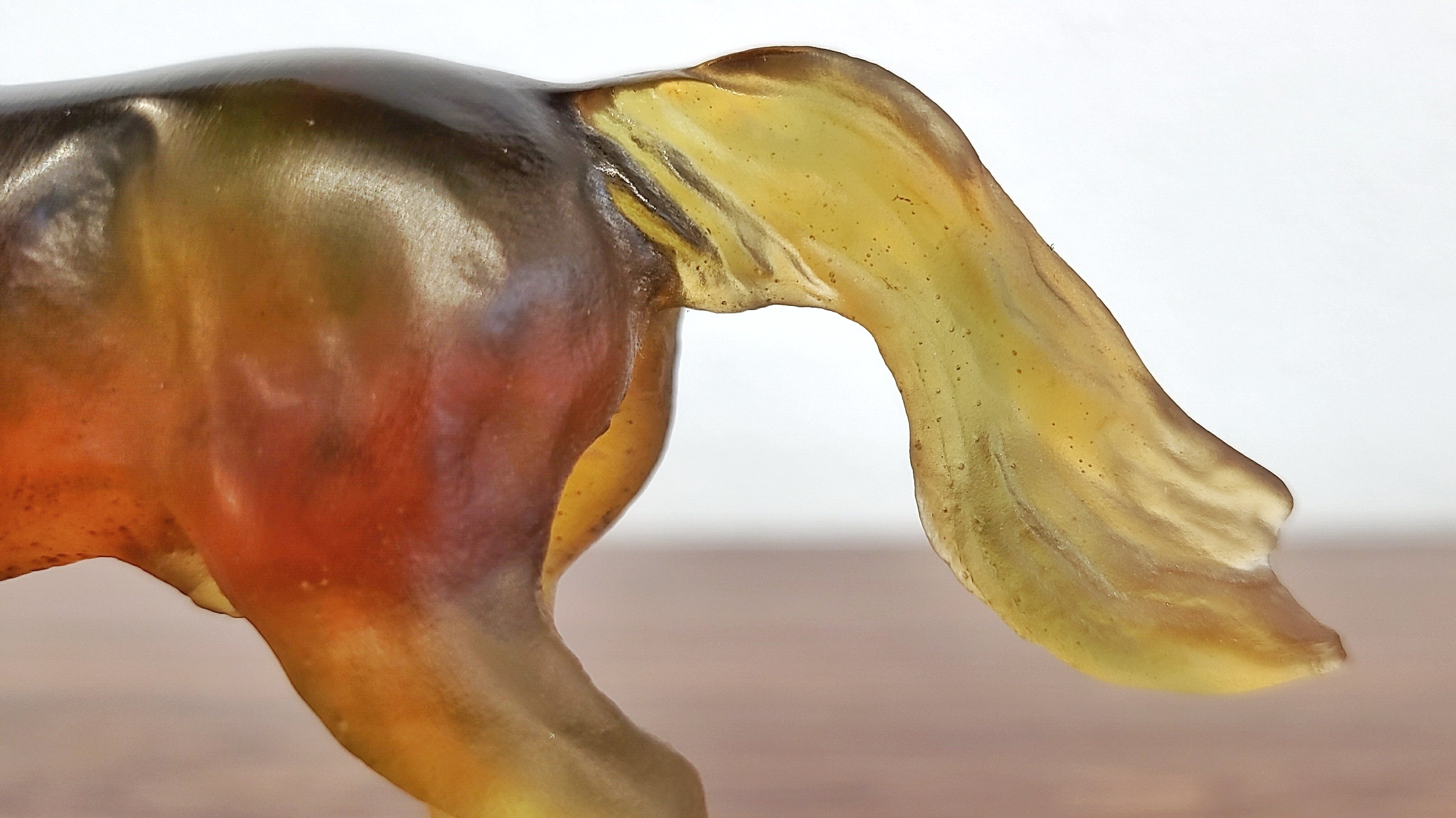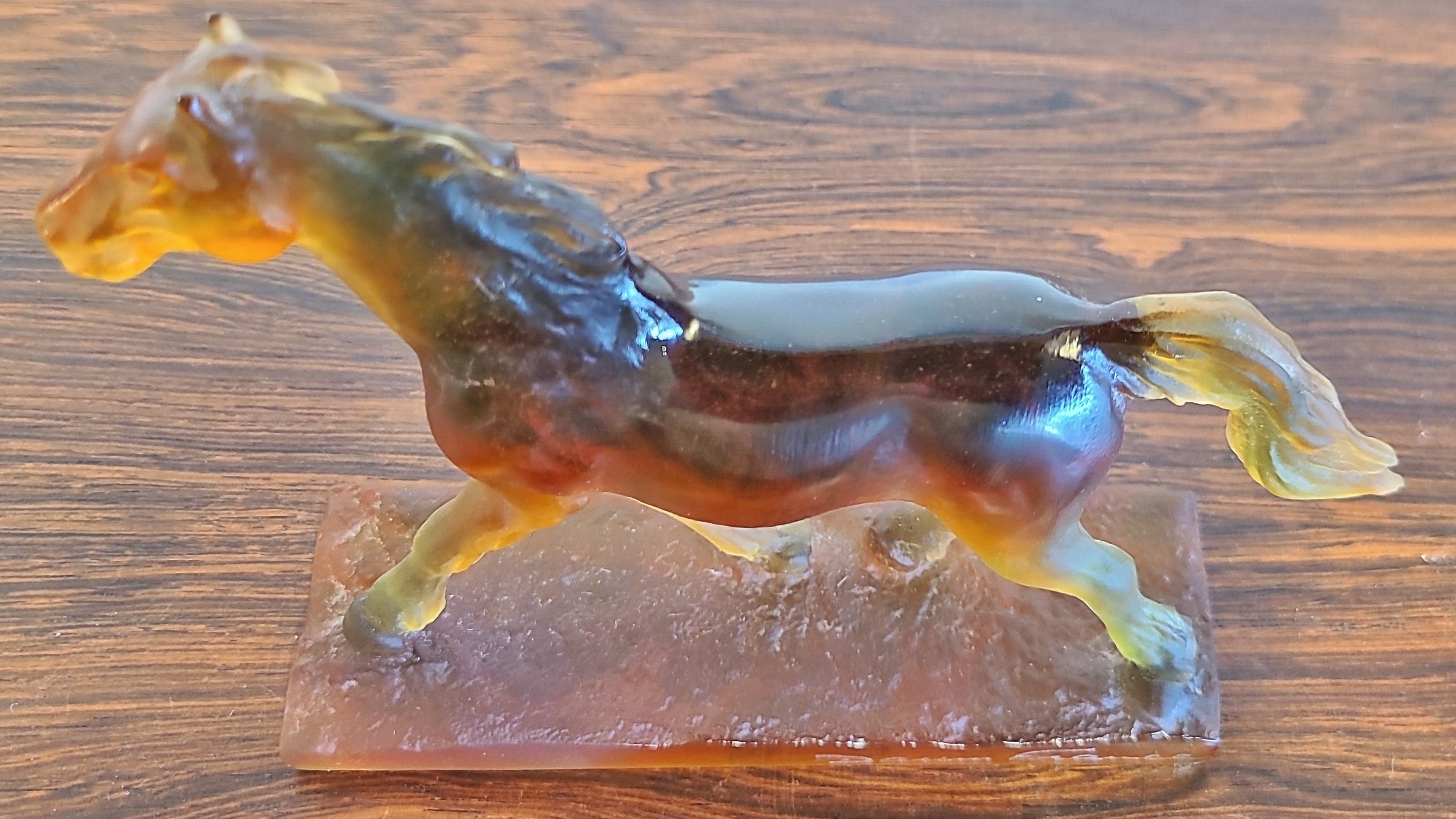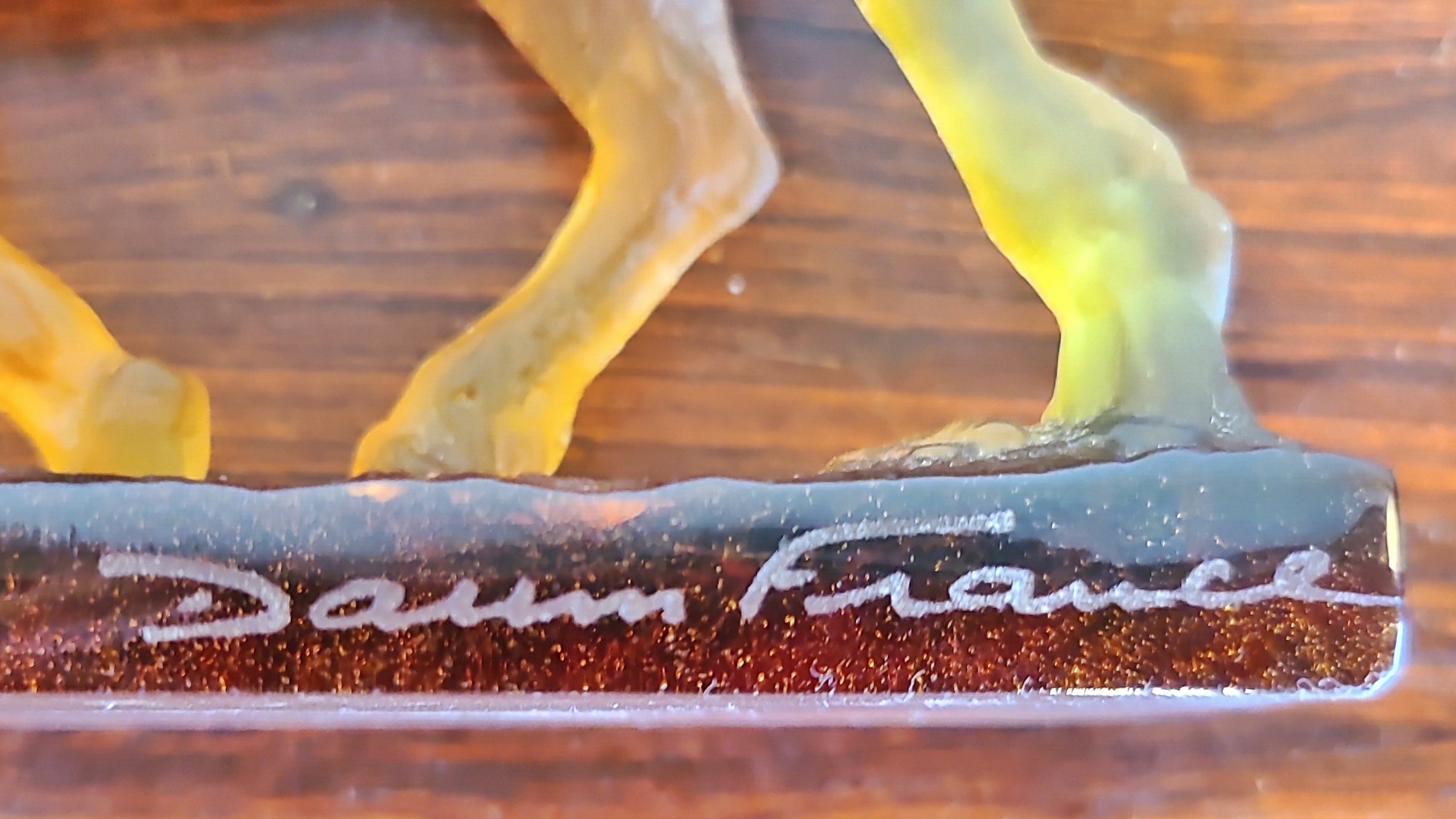 JEAN-FRANCOIS LEROY 'TROTTING OURASI' FOR DAUM (FRANCE)
CONTACT US HERE ABOUT THIS ITEM.
An amber pâte-de-verre figurine by Jean-Francois Leroy for DAUM GLASSWORKS of Nancy, France. A tribute to Ourasi (1980–2013)—the chestnut French Trotter whose late '80s victories included three consecutive Prix d'Amérique. Its distinctive character derives from the astonishing polychromy of the medium. Please note that every piece of handmade crystal is unique. Signed "Daum France."
DAUM GLASSWORKS (aka CRISTALLERIES DAUM) was founded in 1878 by Jean Daum (1825–1885) in the city of Nancy in northeastern France. Daum had settled in Nancy along with 1000s of other emigrants from Alsace-Lorraine following its annexation by the German Empire at the end of the Franco-German War. Owing in part to the accompanying influx of labor, capital, and ideas, Nancy would become an epicenter of the Art Nouveau movement.
Arriving in 1876, Jean Daum invested in a failing glassworks, Verrerie Sainte Catherine. He purchased the business outright in 1878 in an effort to save it from bankruptcy—thus becoming a factory director in an industry he knew nothing about. His son Auguste Daum (1853–1909), who had studied the law, joined him shortly after the acquisition. Younger brother Antonin Daum (1864–1931) was enlisted in 1887, a few year's after his father's death. He assumed responsibility for production while Auguste remained at the helm of the company's business management.
DAUM GLASSWORKS initially specialized in watch crystals, window glass, and tavern glassware. It was under the influence of local designer Émile Gallé (1846–1904), a major innovator in the Art Nouveau movement, that the brothers began to experiment with art glass. In 1893 DAUM introduced several works of cameo glass at the Chicago World's Fair. (The technique involves fusing together several layers of colored glass and partially removing outer layers—by carving or acid-etching—to reveal a final design.) Thereafter DAUM abandoned the production of utilitarian work. Within the next few decades the firm would distinguish itself as one of the finest art glass producers in the world.
The turn of the century was marked by a string of successes for DAUM. In 1900 the firm was given the Grand Prix at the Paris Exposition Universelle, and, after Gallé's death in 1904, the brothers became the de facto leaders of the art-glass world, furthering the popularity of Art Nouveau by stunning the public with their breathtaking naturalistic work. When Auguste Daum died in 1909, Antonin shared responsibilities with Auguste's three sons: Jean, Henri, and Paul, until he himself died in 1930.
The mastery of various techniques set DAUM apart from the crowd. Its command of acid etching allowed it to add depth and specificity to its cameo designs. More impressive was the use of pâte-de-verre, or glass paste. The method involves grinding glass into fine powder and adding binder to create a paste and fluxing medium to facilitate melting. The paste is then brushed or tamped into a mold, dried, and fused by firing in a kiln (at about 700° Celsius). The processes were known to the glassmakers of ancient Egypt.
The DAUM GLASSWORKS were converted into a military hospital for the duration of WW I. By the time the factory reopened in 1918, Europe was beset by poverty and the Art Nouveau aesthetic was being superseded. Happily the firm was able to pivot successfully. Old designs were traded in for brand new Art Deco ones, and operations shifted further toward mass production. By employing hundreds of artisans (over 400 at one point), DAUM was able to meet the demand for its hugely popular Deco productions without jeopardizing its reputation for quality. By the end of the '30s DAUM had essayed joint projects with designers Louis Majorelle (1859–1926) and Egar Brandt (1880–1960) and given a bevy of notable artisans (such as Henri Bergé, Amalric Walter, and the Schneider brothers) their starts. It had so perfected pâte-de-verre that its use was commonplace in large-scale projects, such as the provision of glassware for the SS Normandie.
DAUM entered a third notable period of design after the Second World War. Its output shifted to heavy, colorless crystal that totally lacked surface embellishment—mirroring the modernist emphasis on functionality. Occasionally famous artists (e.g., Salvador Dalí, Hilton McConnico) were engaged to create special editions, and though these endeavors were popular and garnered acclaim, many see DAUM's work in the Art Nouveau and Deco periods as the pinnacle of its achievement—when it was registering patents and successfully experimenting with the construction and decoration techniques that made the art of those eras so unique and collectible. The company operates in Nancy to this day, and continues to make desirable, high-end works in glass.
DETAILS
Maker – DAUM GLASSWORKS
Production Period – 1960s
Designer – JEAN-FRANCOIS LEROY
Design Period – 1960s
Origin – FRANCE
Styles/Movements – ART DECO; ART NOUVEAU; EMPIRE
Materials – CRYSTAL
Colors – AMBER
Condition – Excellent vintage condition. May show slight signs of previous use.
Dimensions – 6" W × 1 ½" D × 4 ½" H