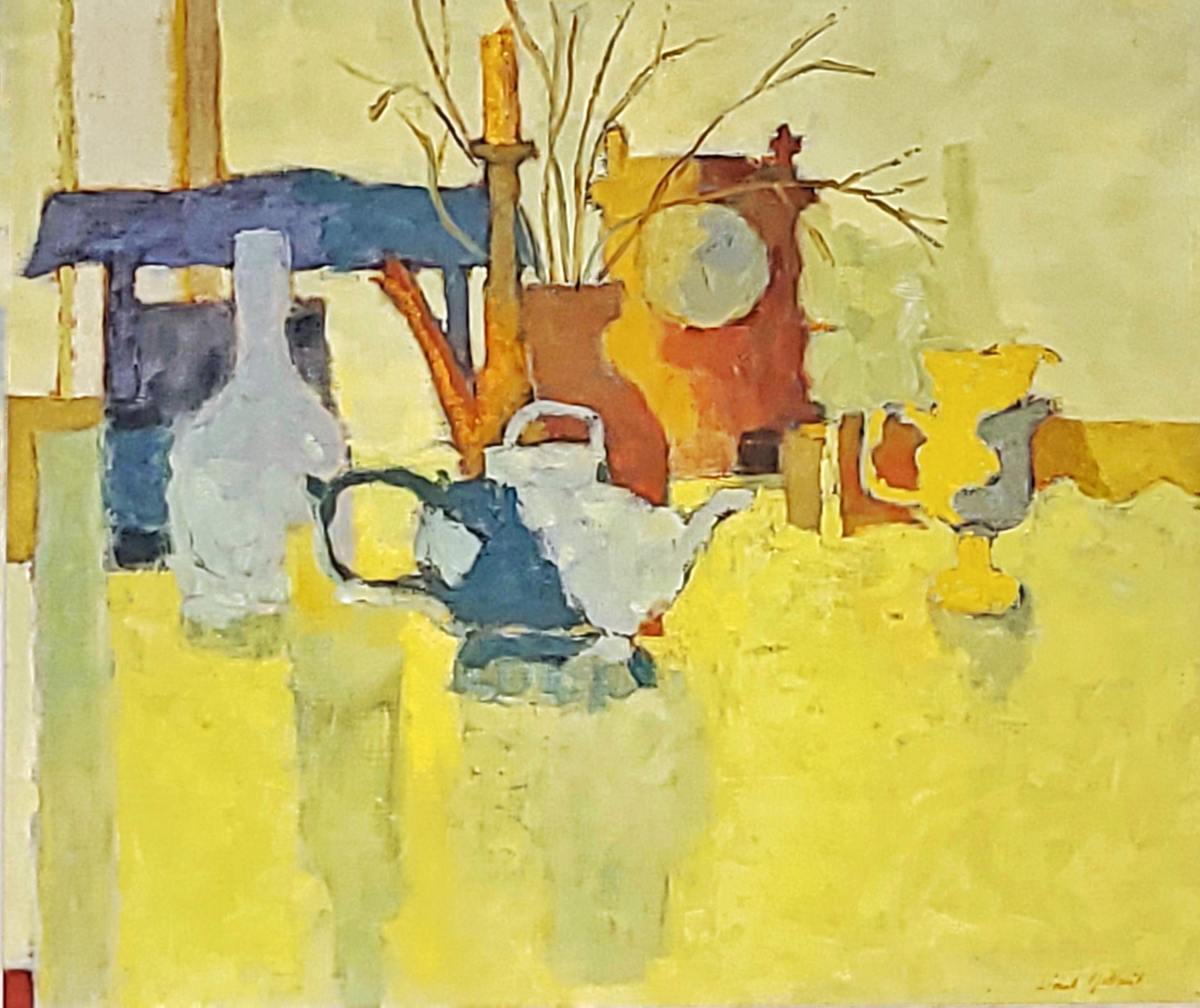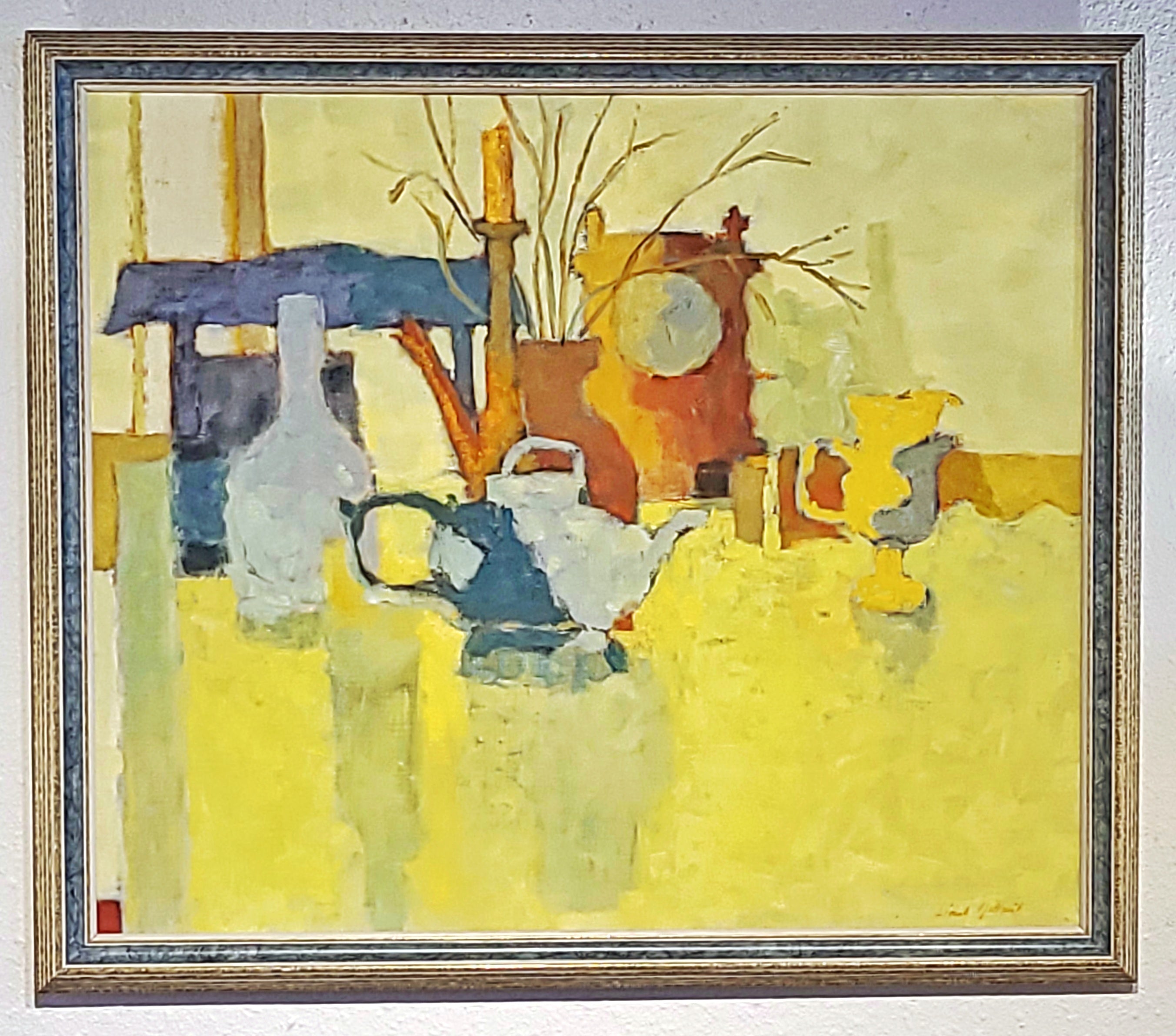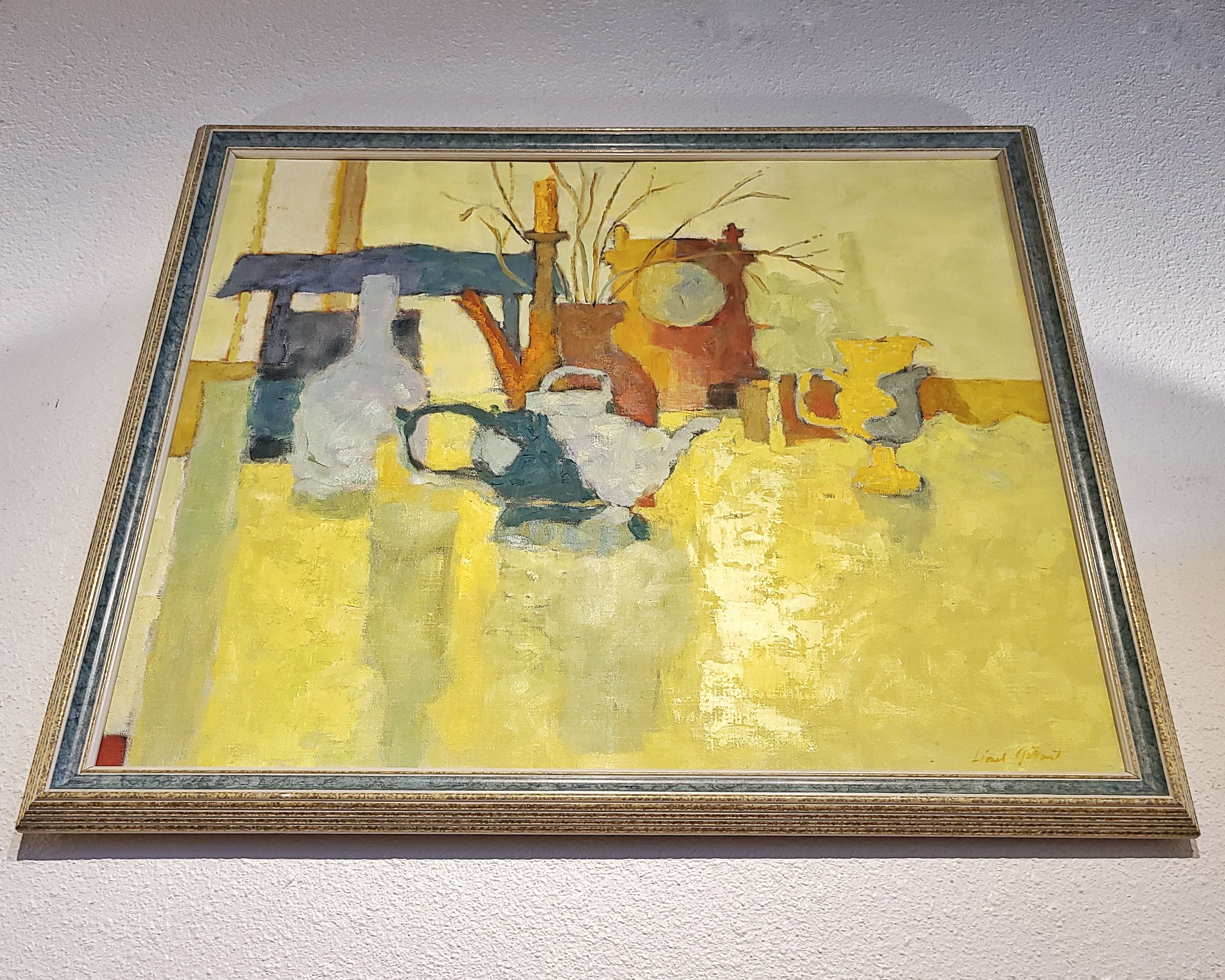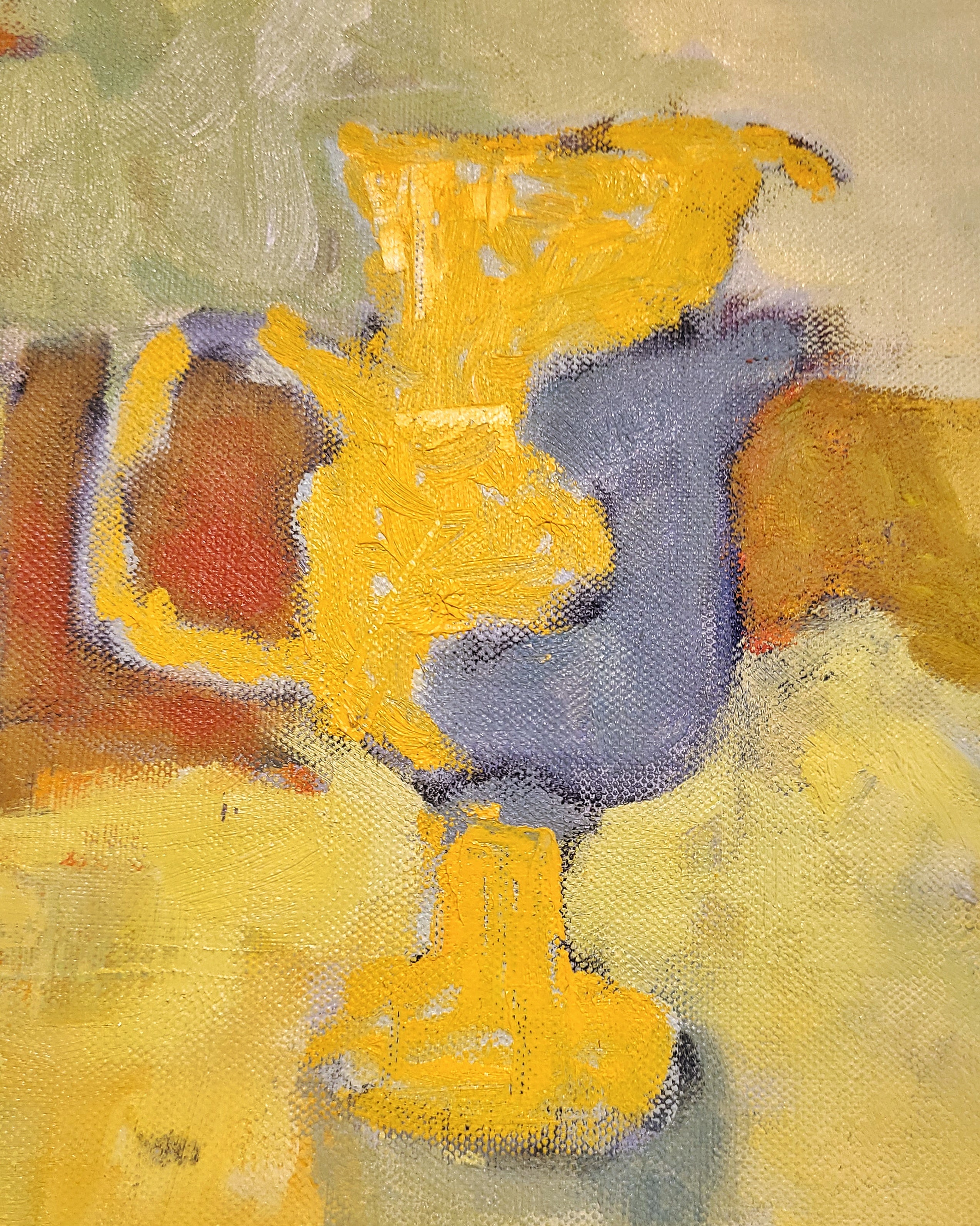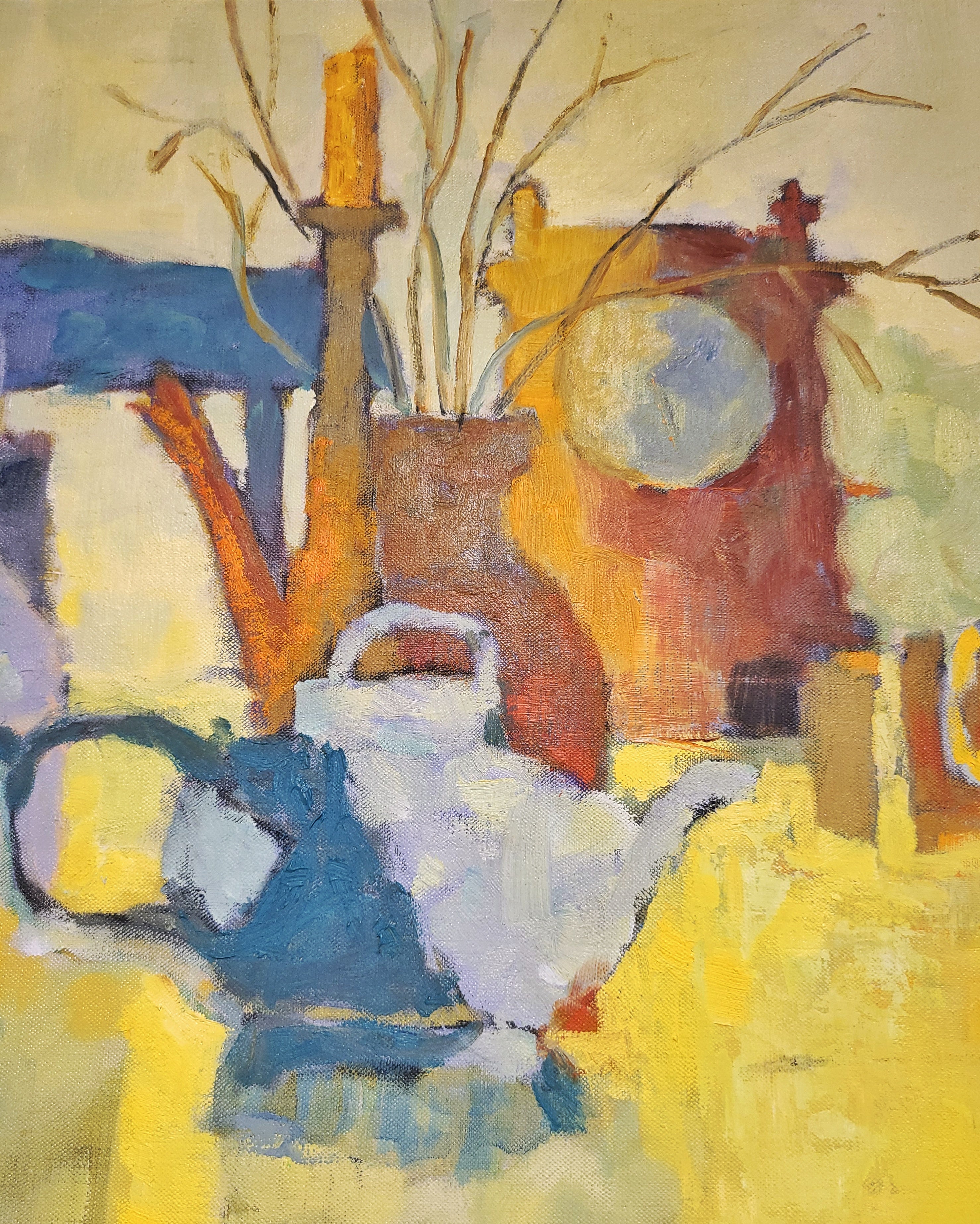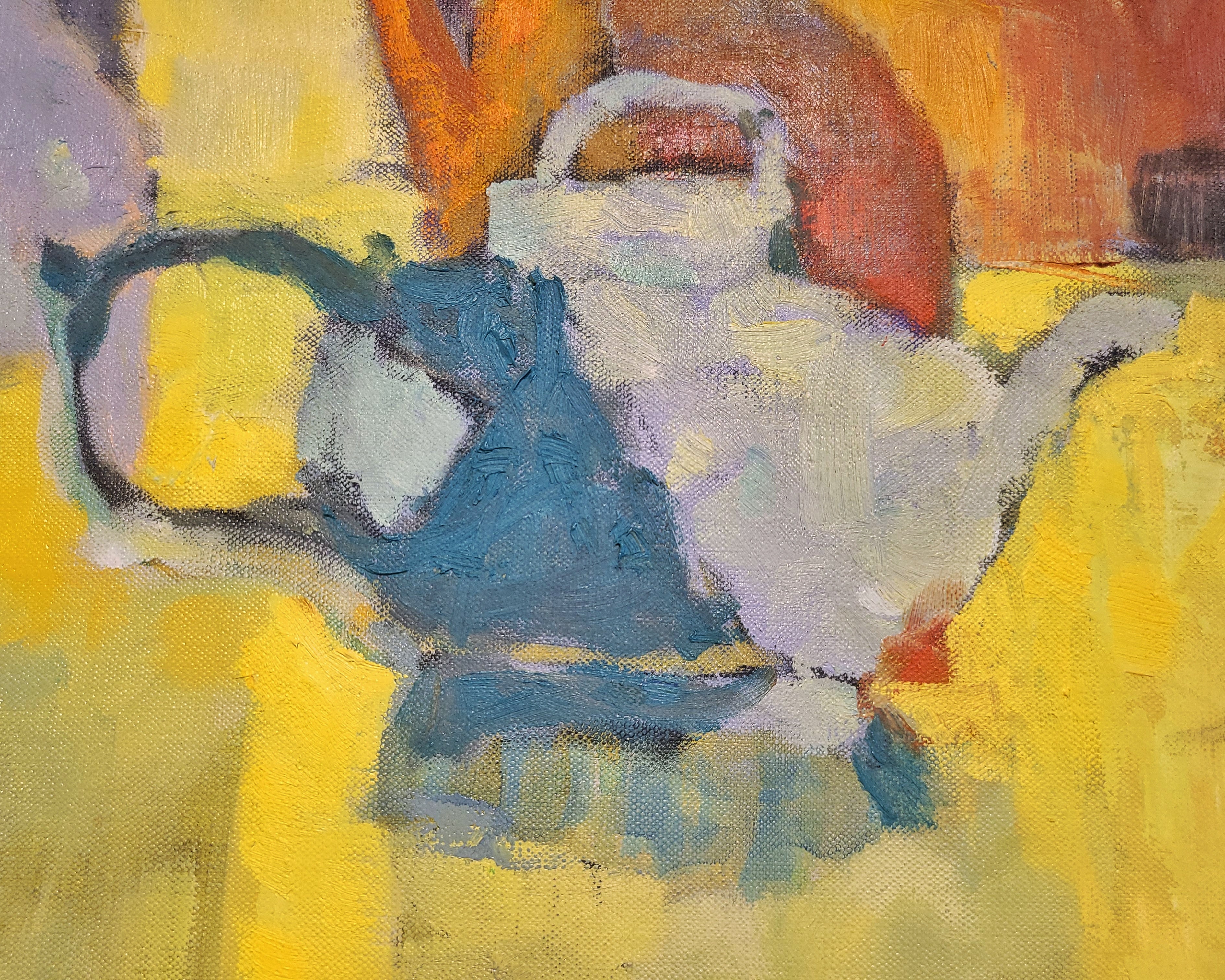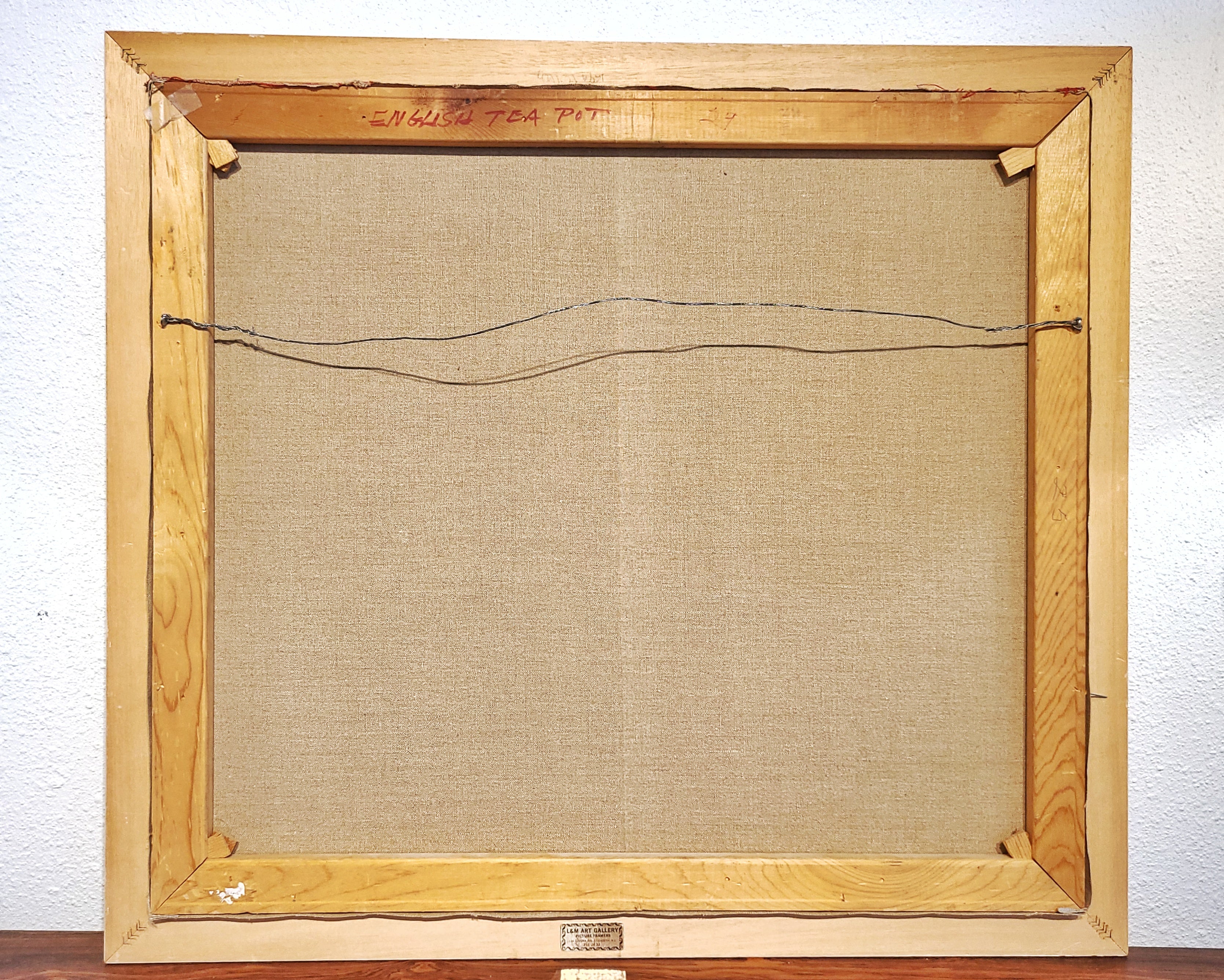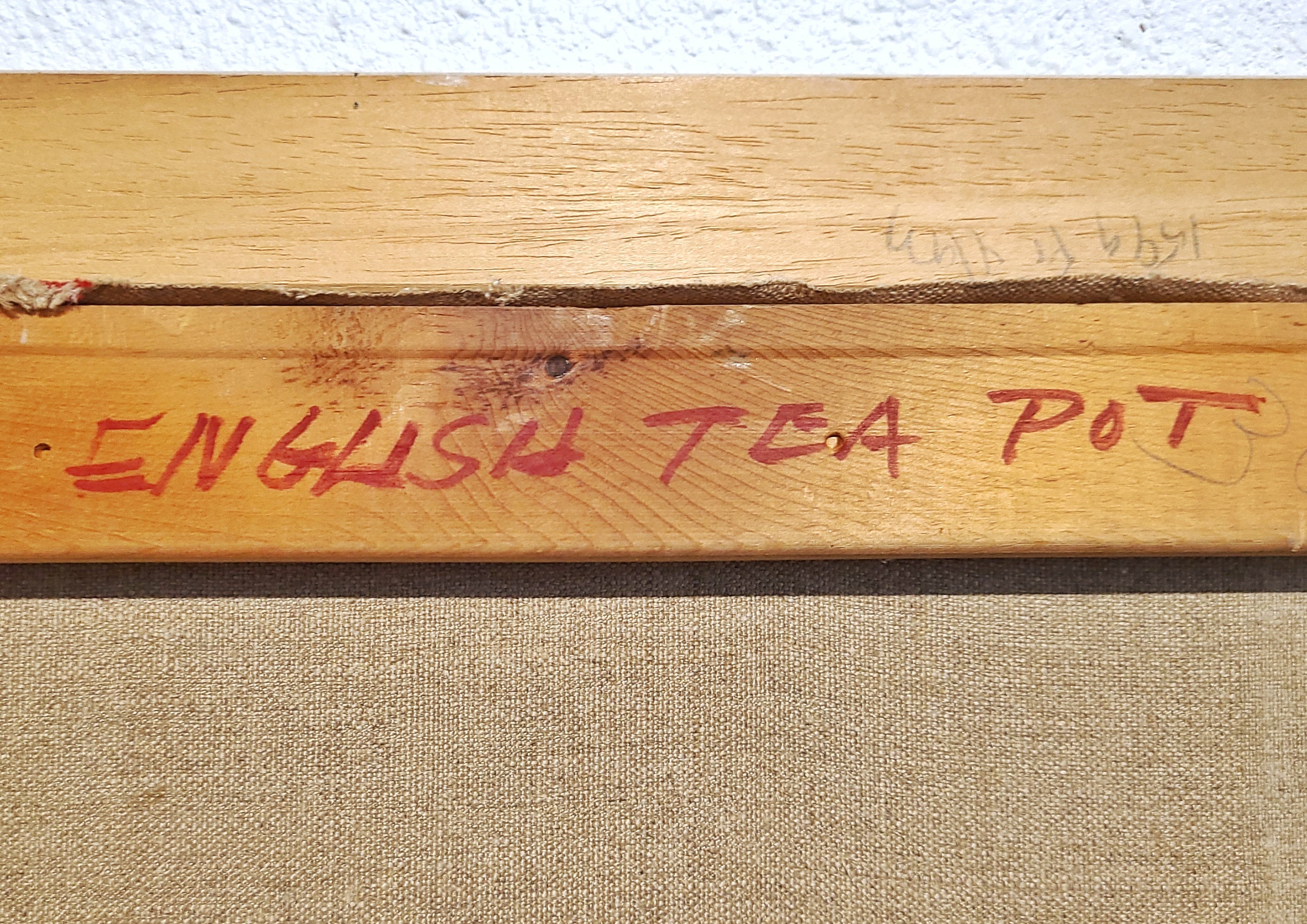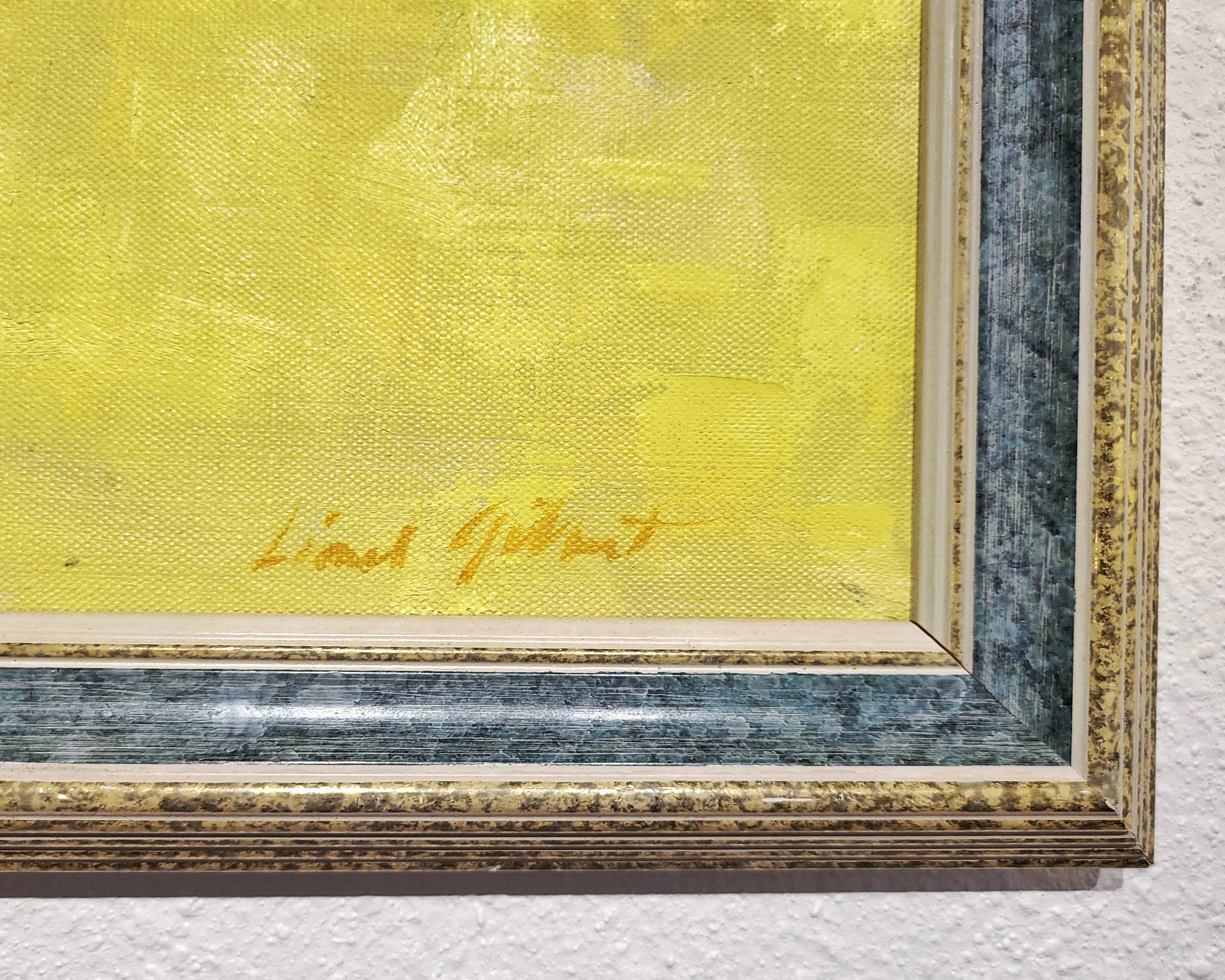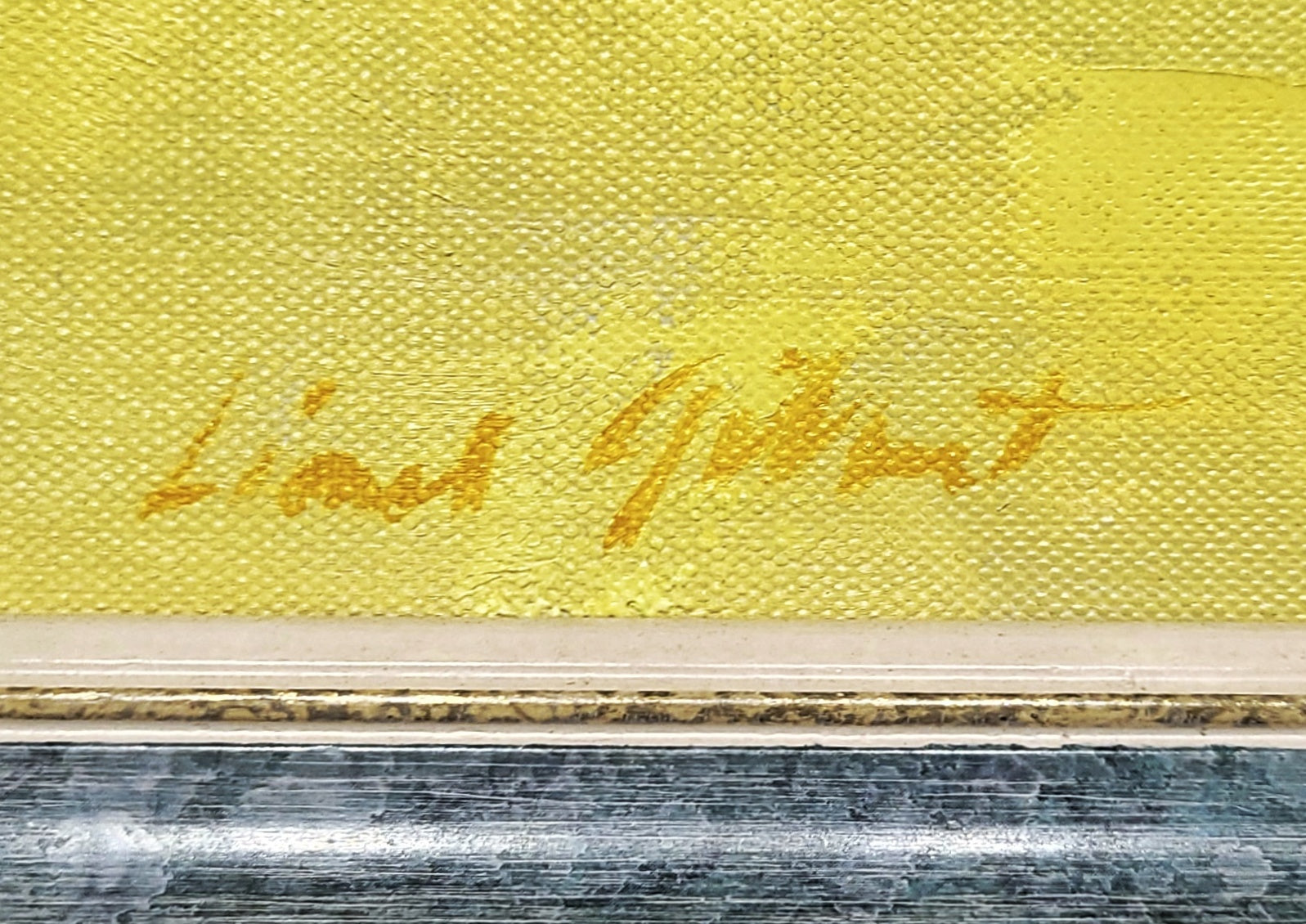 LIONEL GILBERT OIL ON CANVAS STILL LIFE ENTITLED 'ENGLISH TEAPOT"
CONTACT US HERE ABOUT THIS ITEM.
An abstract expressionist oil on linen still life by the prolific illustrator and painter Lionel Gilbert (1912-2005).  The subject is rendered in bright shades of yellow, green, blue, orange, and red, and signed by the artist on the lower right corner.  The title is written en verso on the stretcher: 'English Tea Pot.'  It is presented in a wooden frame painted in cream, white, and blue.  Sight 25" x 29" Frame 28" x 32".
LIONEL GILBERT was born in 1912 in Newark, New Jersey.  He began his artistic training at the age of twelve when he began attending the Saturday children's program at the Newark School of Fine & Industrial Art.  He went on to graduate from the school in 1933 and moved to Paris to study at the Academie de la Grande Chaumiere and privately with Salcia Bahnc and Suzanne Valadon. When he returned to the United States in 1938, he moved to Glencoe, Illinois, and went to work for the Chicago W.P.A. (Works Project Administration) in its easel painting division. There, he worked as an easel painter and taught painting and drawing at the Community House Winnetka through the W.P.A.'s program there.  During his time with the W.P.A., Gilbert also created several large murals in many public buildings in the US.
From 1940–41, Gilbert studied with László Moholy-Nagy at the School of the Art Institute of Chicago and worked as a professional photographer and illustrator for the Kling Studios from 1942-46, first in Chicago and then in Cleveland as an illustrator for Kling's Ohio studio. In 1946, he moved to New York City as a freelance illustrator and had his illustrations published in numerous magazines including American Magazine, Women's Home Companion, Family Circle, and Collier's. In 1955, he was appointed a United States Air Force artist and was sent to England to paint pictures depicting various aspects of Air Force life in and around air force bases in England. From 1955–57, Gilbert studied painting with Sam Adler at New York University before moving to Toronto, Canada as the head illustrator for Art Associates from 1957–64.  He returned to New York in 1964 and continued to work as an illustrator for Charles Cooper Studio for a single year from 1964–65.  In 1965 Gilbert abandoned his career as an illustrator to become a full-time artist and instructor.  He taught at the 92nd Street Y Art Center from 1967 until 2002. and became affiliated with Alonzo Gallery in NYC where he had numerous solo and group exhibitions from 1968 through the early 1980s.
When one thinks of the New York School the mind is instantly transported to New York City during the 1950s and 60s when it became a melting pot of visionary artists, writers, jazz musicians, and dancers. The individuals of this avant-garde circle drew their inspiration from Surrealism and the artists were captivated by its philosophy of subconscious liberation. Out of this fascination, Abstract Expressionism was born. Canvases became dominated by highly abstracted forms, bold palettes, and intense gestural displays of human emotion where the finished piece was not just an image but rather a record testifying to the moment an artist's brush met its surface.
Lionel Gilbert moved back and forth between abstraction and figuration, at once describing specific objects and presenting flat, unrecognizable forms.  For years, he worked as a mural artist and an illustrator, creating images that not only represented reality but documented history. In the sixties, his direction shifted: no longer using the paint to tell stories, he began to explore what the paint itself—its materiality, color—can reveal, independent of its descriptive capacity. His work from this period calls to mind Matisse, Braque, and Leger in their cubist sensibility and handling of space.  Rather than placing focus on the act of painting itself, as many Abstract Expressionists did, Gilbert chose to involve himself with the abstraction of his subject matter. This led him to replace rapid brushstrokes for blocks of color that were oftentimes organized around semi-automatist forms, which is reminiscent of the work that preoccupied Hans Hoffman in the 1950s.
Lionel Gilbert was a prolific painter from the 1930s until his death in 2005.
Details
Dimensions

32ʺW × 1ʺD × 28ʺH
Styles

Abstract Expressionism
Boho Chic
Mid-Century Modern
Frame Type

Framed
Art Subjects

Abstract
Still Life

Period

1960s
Place of Origin

United States of America
Item Type

Vintage, Antique or Pre-owned
Materials

Linen
Oil Paint
Wood
Condition

Very Good Condition, Original Condition Unaltered, No Imperfections
Color

Yellow
Condition Notes

Excellent Vintage Condition
Item Type

Vintage, Antique or Pre-owned
Materials

Linen
Oil Paint
Wood
Condition

Very Good Condition, Original Condition Unaltered, No Imperfections
Color

Yellow
Condition Notes

Excellent Vintage Condition